Tents come in all shapes and sizes but perhaps the size of tent that most will have slept in, at least once in is a 2 man or 2 person tent. This is the size of tent that gets pitched in a garden for a kid's first camping experience, taken to festivals, up mountains, and down to beaches. It's a versatile size of tent that's usually small and light to carry and easy to pitch. 
Most 2 man tents fall into two categories, tunnel, and dome tents. These mainly differ in internal shape and space and wind resistance, but unless you're going for a geodesic tent we find that there's little real-world difference in the shapes so it just comes down to personal preference.
What to look for in a 2-man tent
As with any tent, the most important thing is that you're suitably protected from the elements. This means that the flysheet and groundsheet should be waterproof, ideally the seams will be taped, and the structure can resist forces from winds. Check the waterproof rating and ensure it reads at least 1500mm, check for taped seams, decent quality poles, and good ventilation. Twin skin is usually better than single skin as it's the more breathable of the two options, so you won't get condensation forming on the inside of the tent.
The Best 2 Man Tents
Best 2 man tent for Duke of Edinburgh awards
Vango Nevis 200, £155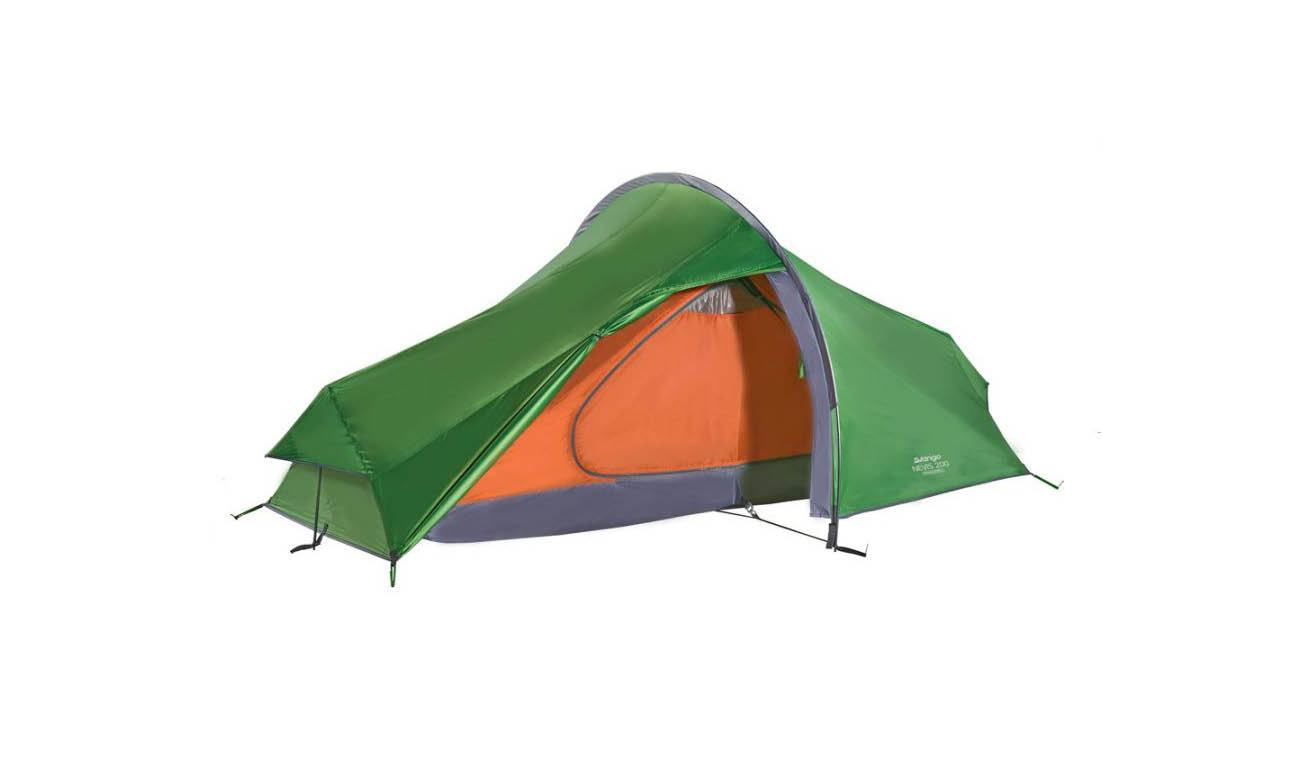 This tent is popular with energetic young adventurers but there's no reason it shouldn't be used by creaky old folk either. What's most impressive about this tent is the price to weight ratio, which is why it's great for backpacking duties. A total weight of 2.02kg is easily shared between 2 people, and the pack size is also impressively small at 46 x 15cm. Internally the Nevis offers just enough space for two, but only one side entry door which means clambering over your tent partner for late night wees. Unlike other lightweight tents, the Nevis 200 has quite a beefy flysheet and groundsheet, which is a relief when pitching on abrasive ground.
Buy Vango Nevis 200 Camping Tent: £98.76 at Amazon <<Best Deal>>
Buy Vango Nevis 200 Camping Tent: £100 at Winfields Outdoors
Best 2 man tent for space
Vango Omega 250, £285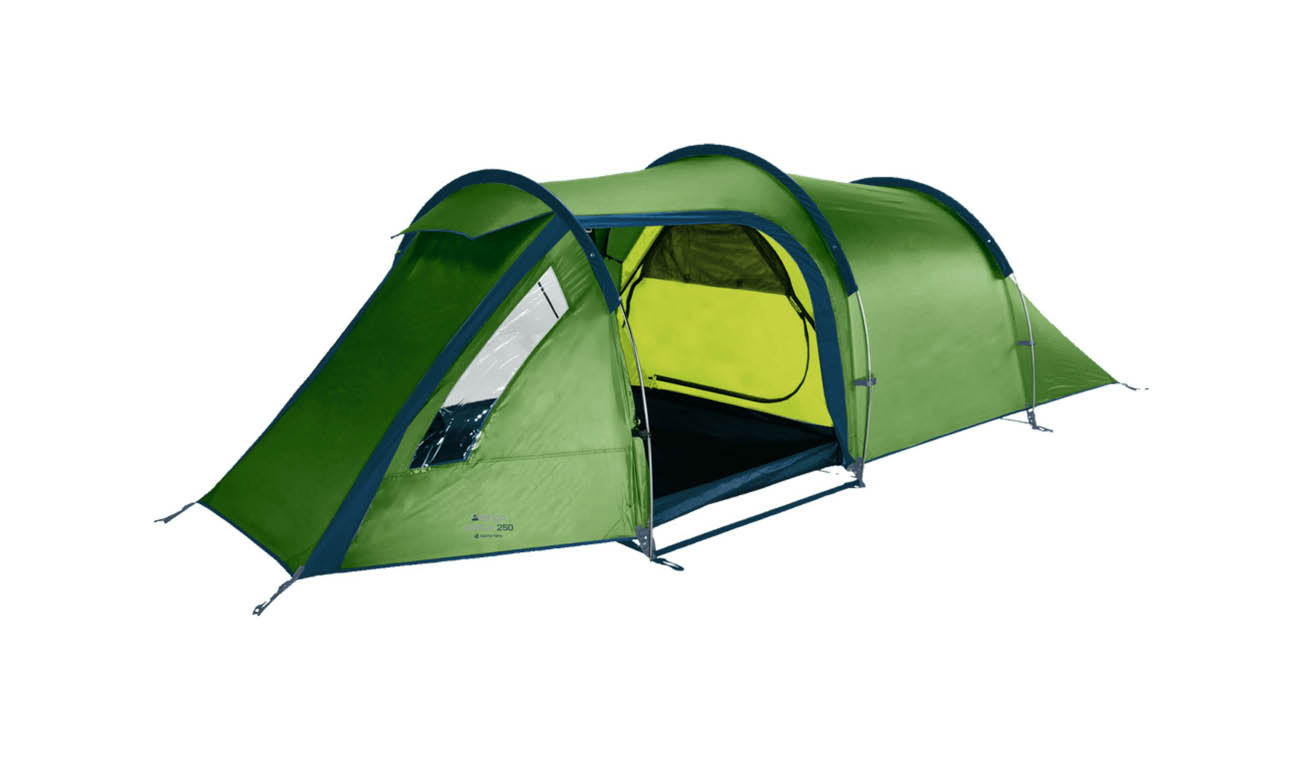 This weighs more than any tent on this page, but the space is hugely tempting. Not only is the sleeping area generous, with good width, length, and head height, but you also get a very large vestibule which can be used as a living area, or for gear organisation and storage. The sleeping pod has a sewn in groundsheet and the living area has a clip in bathtub floor which is perfectly adequate for the intended use. Although this is a heavier and larger 2 person tent, with a weight of 4.05kg and pack size of 48 x 18cm it's perfectly feasible to use the Omega 250 for bikepacking, cycle touring, or longer treks through the hills, sharing the weight between two. Vango tents tend to be built to last, and the Omega 250 is no exception with an almost overly engineered 70D, 6000mm HH groundsheet. There are loads of nice touches which elevate the Omega 250 including excellent ventilation, storage pockets, dual entry doors, and crystal clear windows.
Buy Vango Omega 250 Camping Tent: £213.37 at Amazon
 
Best Pop up 2 man tent
Decathlon Quechua 2 Person Pop Up Tent - 2 Seconds, £60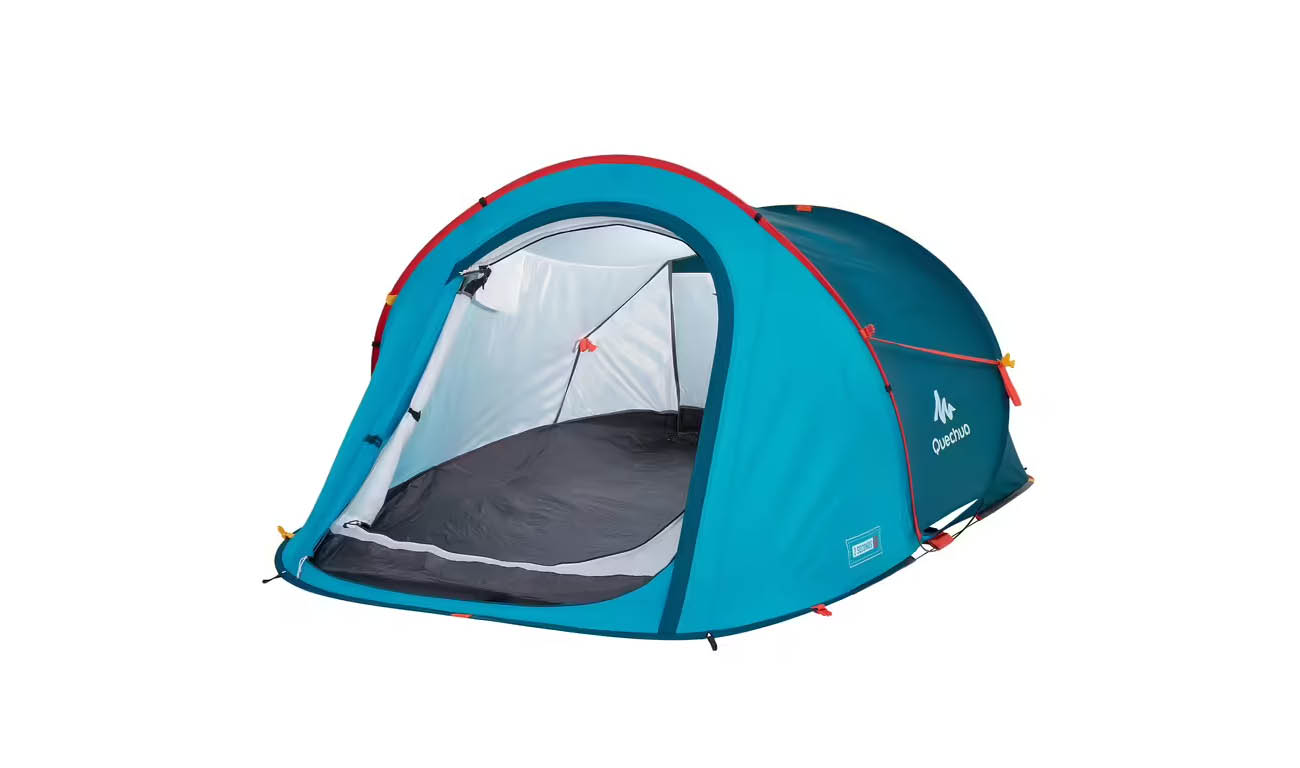 If you want the camping experience, but not the associated hassle then you need a pop-up tent. Decathlon's Quechua brand offer a 2 second pop-up tent design that packs away into a small disc shaped bag for easy transport and storage. The flysheet is reasonably high performing and comes equipped with a pre-hung inner, giving campers a decent 120cm width and 98cm head height. The freestanding structure has been tested in winds of up to 50km/h, but don't expect this to withstand a mountain storm.
Buy Decathlon Quechua 2 Person Pop Up Tent: £59.99 at Decathlon
Best 2 man tent for ultralight hiking
Big Agnes Fly Creek HV UL2, £480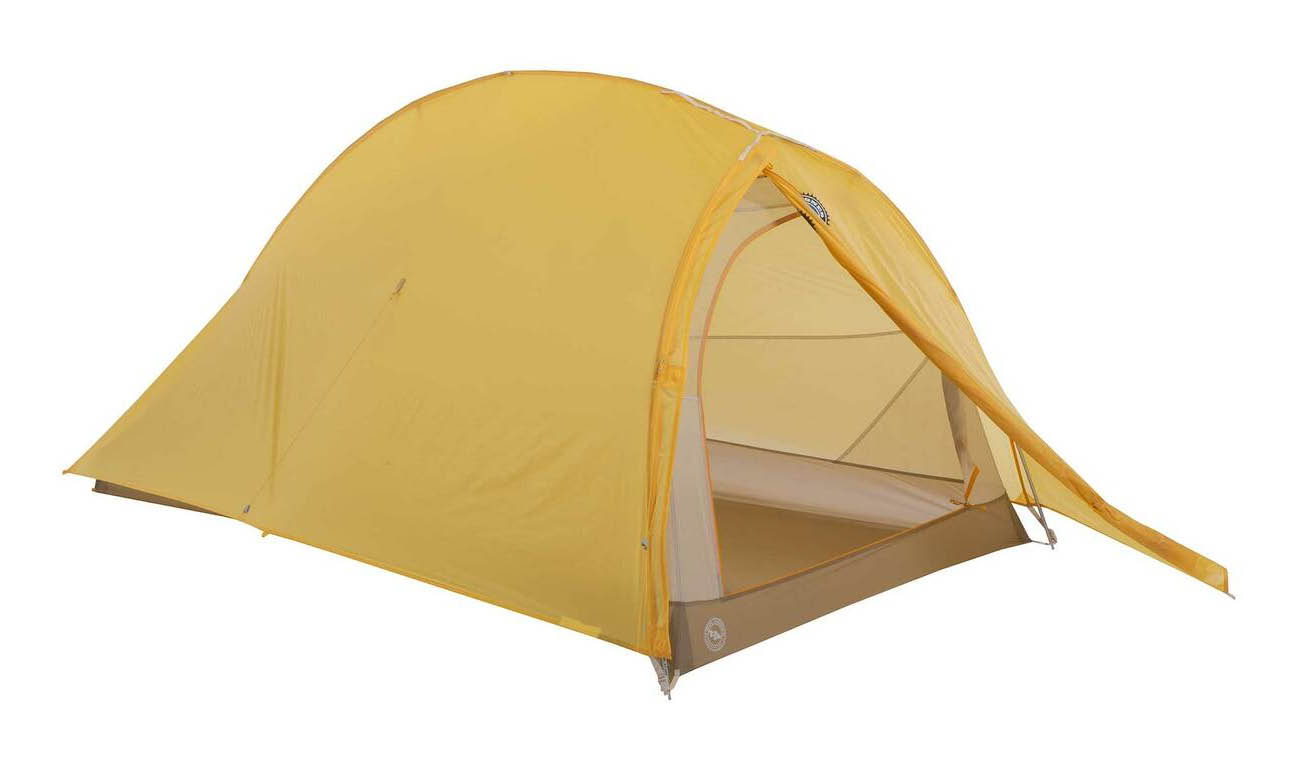 Ultralight tents don't have to be cramped, that's what Big Agnes seem to think anyway. This spacious 2 man tent weighs an astoundingly low 1.05kg but gives a generous 132cm width and an internal height of 107cm. The lightweight fly fabric is also quite 'airy' and the inner is mostly mesh, increasing the feeling of space. Watch out though, that mesh inner won't offer much protection from gusting winds. You enter through the front of this tent where there's a reasonable vestibule for storing muddy boots. The fabrics are predictably fragile so it may be worth pairing the Fly Creek HV UL2 with a footprint to protect the groundsheet from punctures.
Buy Big Agnes Fly Creek HV UL2 Camping Tent: £480 at Ellis Brigham

Best 2 man tent for festivals
Coleman Kobuk Valley 2 Blackout, £100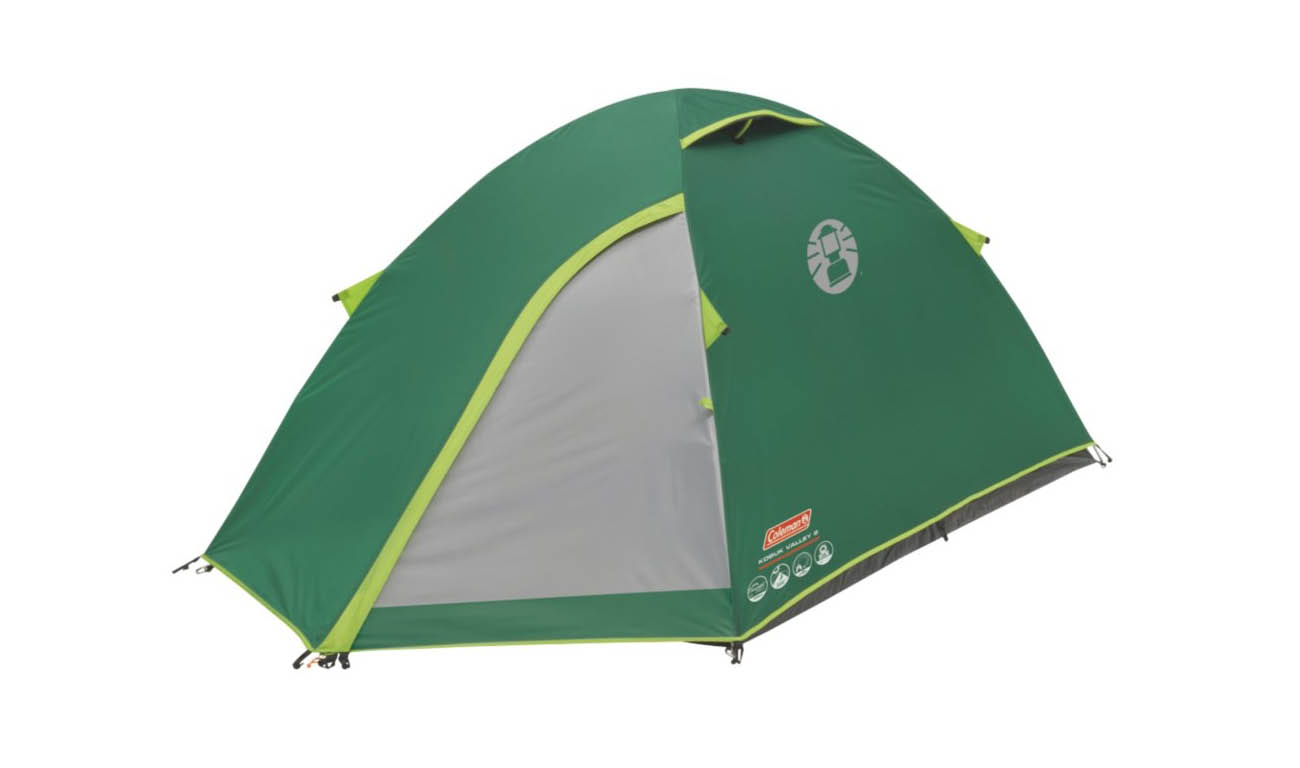 Why is this the best 2 man tent for festivals? Because it has a blackout inner. That means that you can dance the night away and still get your beauty sleep when the sun rises the next day. Not only that, but a blackout inner has a cooling effect, making it easier to sleep in balmy summer weather. The Kobuk Valley 2 is keenly priced  but offers a more sturdy shelter than most flimsy festival tents. At 3.2kg and a fairly company 58 x 14cm the Kobuk Valley 2 is reasonably easy to lug to your pitch and it has good ventilation, through no-see-um mesh in the front door and a large rooftop vent for a cross-flow of air. 
Buy Coleman Kobuk Valley 2 Blackout Camping Tent: £84.89 at Amazon

Best budget 2 man tent
Decathlon Quechua MH100, £30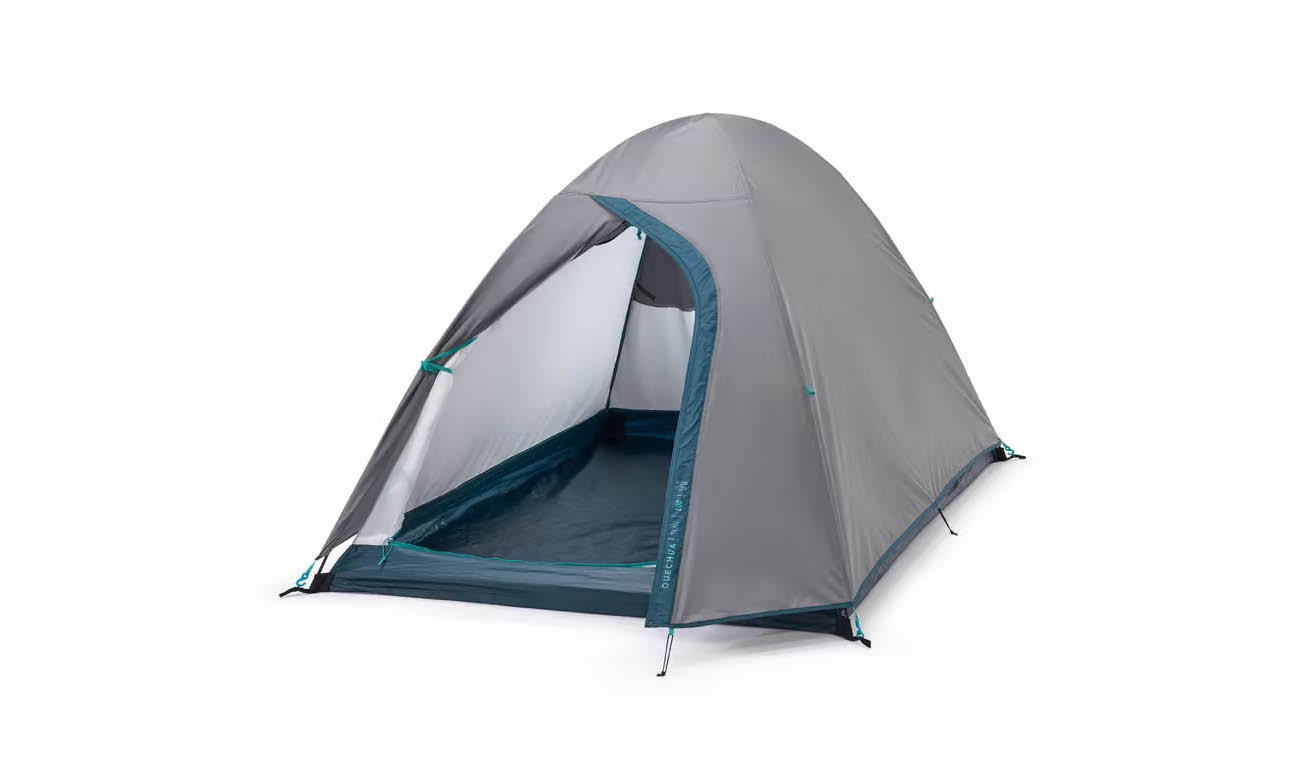 If you're on a budget you can't go far wrong with this well-built 2 man tent from Decathlon's in-house brand, Quechua.
The most important things to consider when you buy any tent are waterproofing and stability in wind. It's a given with more expensive tents that it will keep you protected in bad weather but it's always worth checking these stats when you're buying a budget tent. And this one ticks all the boxes, with 2000mm waterproofing on the flysheet and 2400mm on the groundsheet, which is sewn-in for maximum protection. Although not made of premium materials the MH100 has been tested to withstand winds of 40km/h which is a reasonably blustery night. We wouldn't recommend trying to weather a severe storm in this tent, but for mild weather camping duties it's a winner. It has decent ventilation, packs down small, weighs only 2.6kg and the sleeping and sitting space is actually very generous for a 2 man tent. We don't think you can find a better 2 man tent for the money.
Buy Decathlon Quechua MH100 Camping Tent: £29.99 at Decathlon
Best Lightweight 2-man tent for couples
MSR Hubba Hubba NX, £570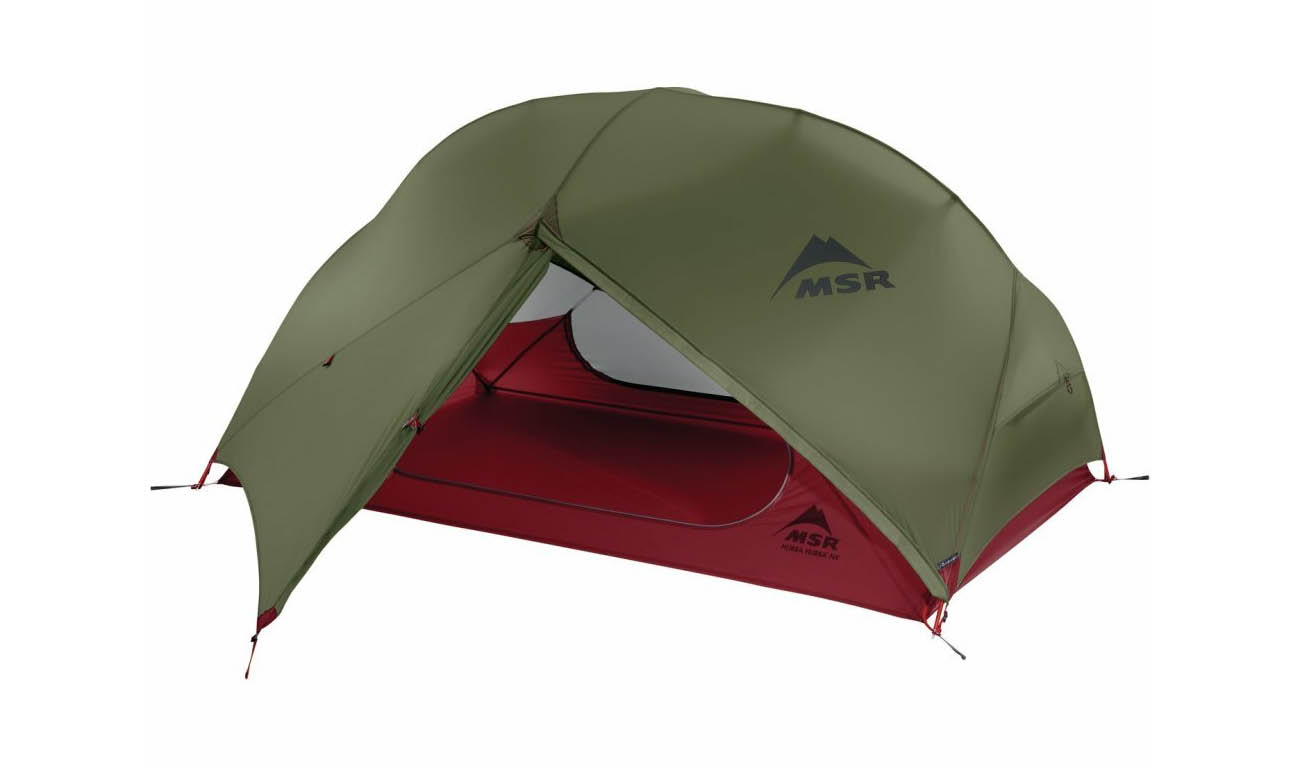 A tent that's perenially popular with backpackers and wild campers, MSR's Hubba Hubba NX offers comfort, practicality, and protection without the weight penalty. Although not the lightest 2-man tent at 1.72kg, the Hubba Hubba NX offers plenty of space inside, a pair of decent vestibules, a door on each side, and excellent protection from the elements. A single DAC Featherlite pole splits at both ends to create a Y-shape with an additional spreader pole at the head of the tent. The 1m head height is enough for most to sit up in, and the width comfortably fits two lightweight sleeping mats side by side. Although the materials are lightweight the fly and floor fabrics are fairly strong at 20D and 30D respectively.
Buy MSR Hubba Hubba NX Camping Tent: £513 at Amazon <<Best Deal>>
Buy MSR Hubba Hubba NX Camping Tent: £570 at Cotswold Outdoor