Four person tents come in a wide variety of shapes and sizes, designed for a wide variety of different purposes. Start searching for the best four person tents online, and you'll find everything from expedition-style tents, designed for getting way out in the great outdoors to family tents with porches, built for maximum comfort at music festivals.

Where's best to start? You could look at a tipi style tent, or one of pole-less inflatable tents, and there are even pop up tents designed for four people (although these are less common than two man models, because they're so big when folded). Which model is best for you really depends on what you want to do with it.
Four Person Tent Buyer's Guide: What to Look For
Size, weight and layout:
Most people searching for four person tents are looking for something to handle family camping adventures. The first criteria to consider when looking for a family tent is the size, and the layout. Do you want your children to have a separate bedroom? Or are you happy all bunking in together? Do you mind if they're sleeping next to you, or would you prefer to have more living space between you? And how tall are your children? If they're older, we'd recommend looking at a layout with two bedrooms that gives you and the kids separate space, so you can all get a good night's sleep.
Obviously, the larger the tent, the bulkier and heavier it will be. This might not be an issue if your camping holiday involves cruising round car-accessible campsites in the New Forest, or touring the many excellent camping and caravan parks of the Lake District, for example. But if your idea of a family camping adventure involves a long distance walk, then the weight and bulk become much bigger concerns.
Waterproof and weatherproofing:
All the best family tents (like the best waterproof jackets) come with a hydrostatic head rating. Usually written as 5,000mm or 10,000mm (or sometimes just 5k or 10k) this tells you how much water the outer tent fabric can resist before droplets start forming on the inside. The higher the number, the more waterproof the tent is.

More waterproof tents tend to be more expensive, but if you're only after a festival tent, you could opt for something cheaper and buy a portable tarpaulin to rig up over the top. Of course, if your camping trip involves hiking, that sort of thing is probably a non-starter, because a tarp means extra bulk and extra weight.
If you're heading off on a truly intrepid camping holiday, it's worth looking at other weatherproofing design features too. These include whether the tent has a separate flysheet (which adds waterproofing, but also weight and bulk), the number of guy ropes (you'll need more if you're likely to encounter storms), tent pegs, and even the tent's shape (low-slung, tunnel tents perform better in high winds than tall domes, for obvious reasons); All of these factors will affect the tent's price, obviously.
Four Person Tents: How we Chose the Best
We've chosen a variety of quite different four-person family tents here at a range of different price points. Fairly obviously, the £1,300 Fjällräven Abisko Endurance expedition tent and the £180 Decathlon option are designed for different things, and have very different levels of features, waterproofing etc.

We're not necessarily trying to compare like for like here. Each of these tents has different plus and minus points. Instead, we're trying to show you the range of options out there. After years of testing tents in all kinds of situations, from 7-day hikes north of the Arctic Circle in Sweden, to sunny festivals in the south of England, we can safely say that each one of these models excels at what it's designed to do. If you're looking for the perfect family tent for your needs, there's a very good chance you'll find it on this list.
Four Person Tents: TL/DR Summary
If you're looking for a spacious family tent at a decent price, you can't go wrong with the Coleman Castle Pines. It's combines a vast, covered living space with two inner bedrooms that are kept cool by the brand's signature blackout bedroom technology. While it's not light enough for hiking trips, it's perfect for festivals, and great for family camping adventures. For that reason, we've made it our editor's choice.
At the other end of the scale, the least-expensive tent here is the Decathlon Aprenaz, which offers a great option if you're on a strict budget. However, if you can extend to spending a little bit more, we'd recommend the Vango Cragmor 400 tent. It's lighter, more packable, and the build quality is far better. Its combination of decent family tent features, high-performance fabrics and reasonable price means we've chosen this as our best budget pick.
Vango Cragmor 400 - £230 [Best Budget Pick]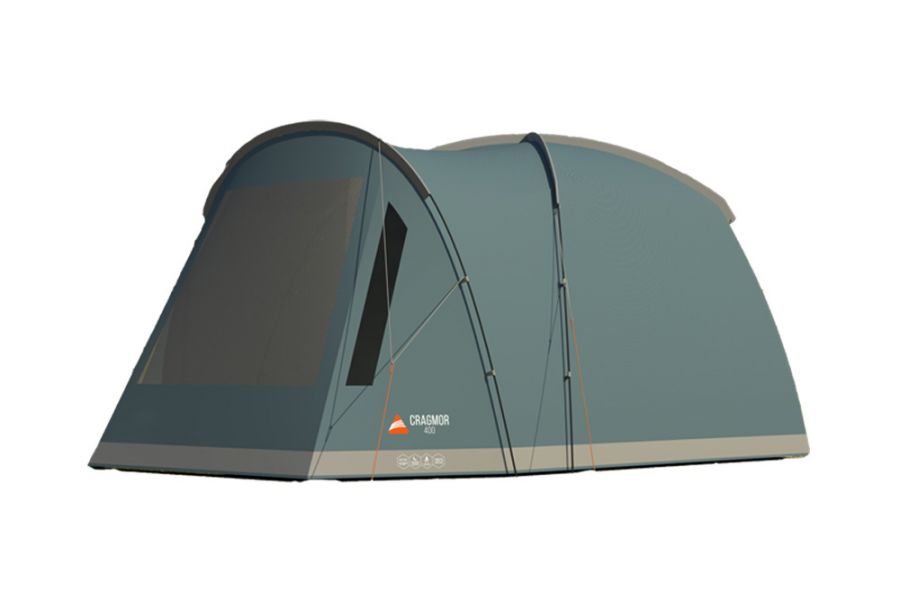 This four-man, three-poled model has a hydrostatic head of 3,000mm, meaning it will withstand most British weather conditions. It's a surprisingly spacious tent given its small footprint( it's just 3.85m long and 2.60m wide) an impression probably helped by the large porch area.
It's not the lightest, at 8.8kg when packed, and the bedroom is reasonably tight for four people, but this is a great option if you're looking for compact tent for a family camping adventure, at a very reasonable price. It would work well for festivals too, where campsite space is often hard to come by.
Buy Vango Cragmor 400: £223.48 at Amazon
Coleman Castle Pines 4 Person Tent - £800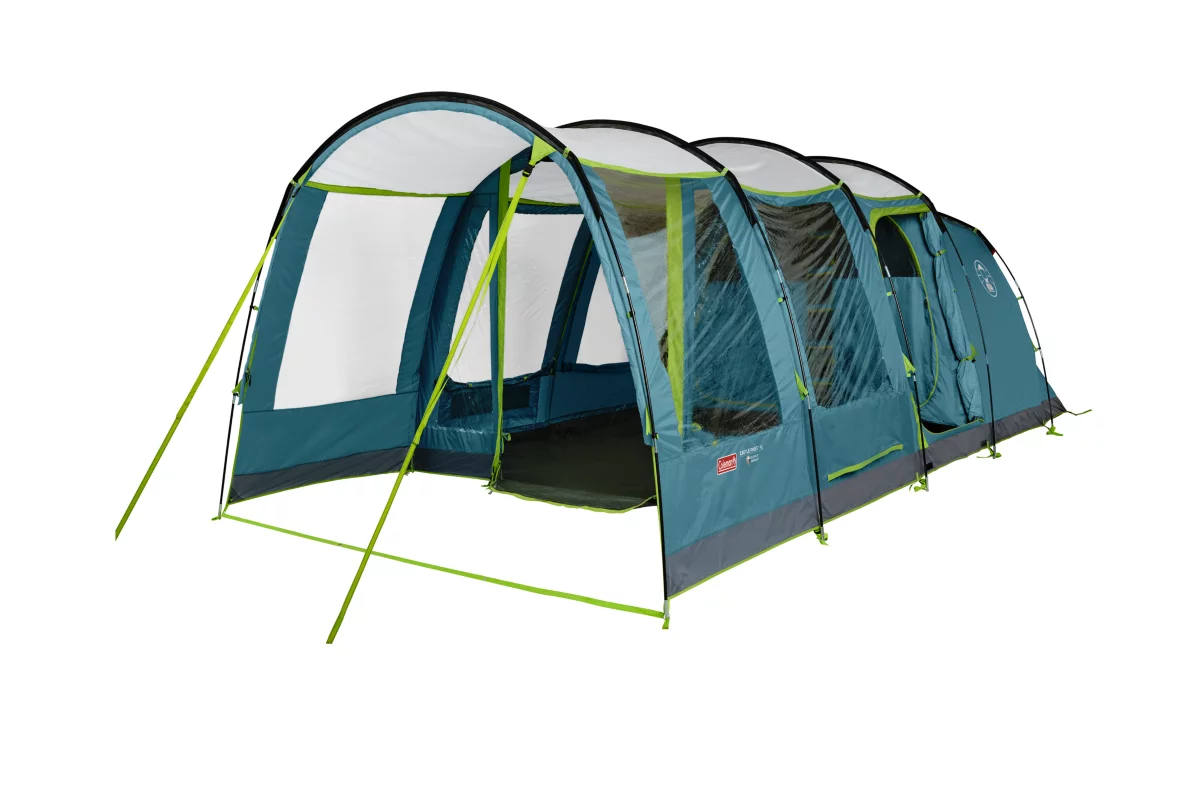 Coleman pioneered the idea of Blackout bedrooms, with an interior coating of black on the fabric which helps keep the light out, and leaves the inside feeling up to five degrees cooler during the day, and one degree warmer at night.

This is incredibly helpful if you want to wake up at a normal time during the British summer, where the early sunrises mean that tents can feel like roasting ovens by 6am. It really works too—we've used a Coleman tent at festivals for years, and often managed to sleep past 11am, by which time our fellow festival-goers are gasping for shade.
This four person tent is the big daddy of Blackouts, with a massive 5.9 square metres of sleeping space, divided into two side by side bedrooms, and 8.1 square metres of covered living space. It weighs a lot (at 23.1kg, you wouldn't want to hike any great distance with it) but if you're looking for the ultimate family tent, this is pretty hard to beat.
Buy Coleman Castle Pines 4 Person Tent: £494.49 at Amazon
The North Face Super Dome - £360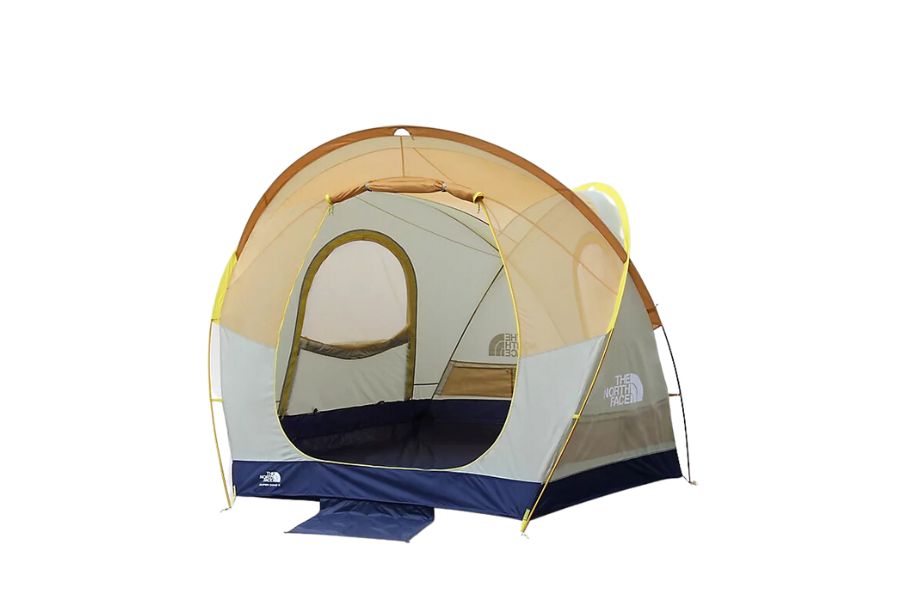 The North Face is famous for its expedition tents. If you've ever seen pictures of Everest Base Camp you'll probably have noticed their distinctive black and yellow branding somewhere. The Super Dome draws on that lineage, but is altogether more affordable, at just £360.

As you'd expect, given the price difference, it's not as heavy duty as many North Face tents. But if you're looking for something to take on a long distance hike in the UK, the waterproof rating and weatherproof features here will be more than up to the challenge. For four people, this is a relatively lightweight tent, tipping the scales at 6kg, and it packs down small enough to be strapped onto a backpack too. A family tent for more intrepid families, then.
Buy The North Face Super Dome: £410.62 at Amazon
Buy The North Face Super Dome: £359.99 at Ellis Brigham <<Best Deal>>
Alpkit Khort Backpacking tent - £375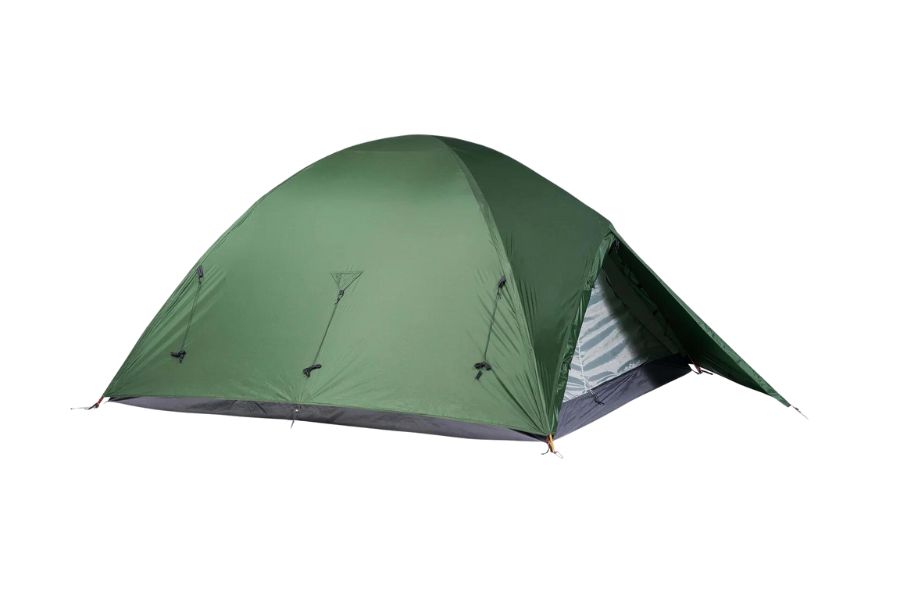 If your ideal camping trip involves walking in Snowdonia, or a bikepacking mission in the Peak District, this is arguably the best tent listed on these pages. It's super lightweight for four people, weighing just 3.45kg, and packs down to 40cm x 18cm—making it easy to fit in a hiking backpack.

Of course, space is pretty tight inside, with the internal footprint just 240cm x 225cm. But the low-slung design makes it stable in a storm, and the weatherproofing is excellent. Alpkit only sell direct to consumer, allowing them to keep their prices low. Given how well this performs, it's a bargain.
Fjällräven Abisko Endurance 4 - £1,300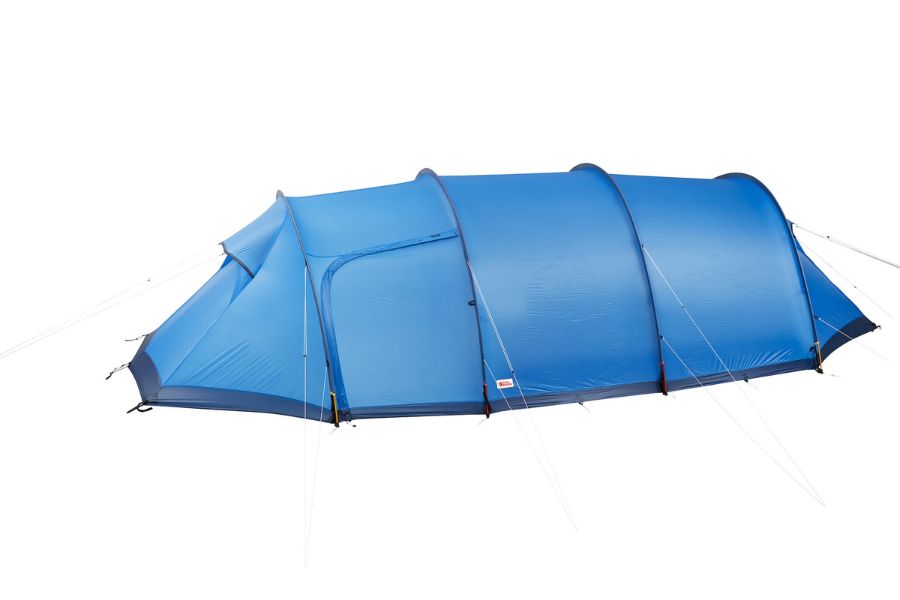 This is by far the most expensive tent we considered, but merits its inclusion on this list as the kind of Platonic ideal of what a four person tent can be. Designed for four season usage, it's lightweight (weighing just 4.39kg) and surprisingly spacious inside. The tunnel design, plentiful guy ropes, well designed pegs and separate inner tent mean it can handle the most brutal of conditions too.

We tested the two-person version of this on a seven day hike through northern Sweden, and it survived winds of up to 70km an hour one night. We awoke to find several of our fellow campers tents had collapsed completely, and all we'd suffered was a bit of noise from the rain hammering the canvas. Of course, not everyone's budgets will stretch to the Fjällräven Abisko 4, but if you're looking at family tents for serious trekking, this is basically the best.
Buy Fjällräven Abisko Endurance 4: £1278.09 at Amazon
Decathlon 4 Man Tent With Poles - Arpenaz 4.2 - £180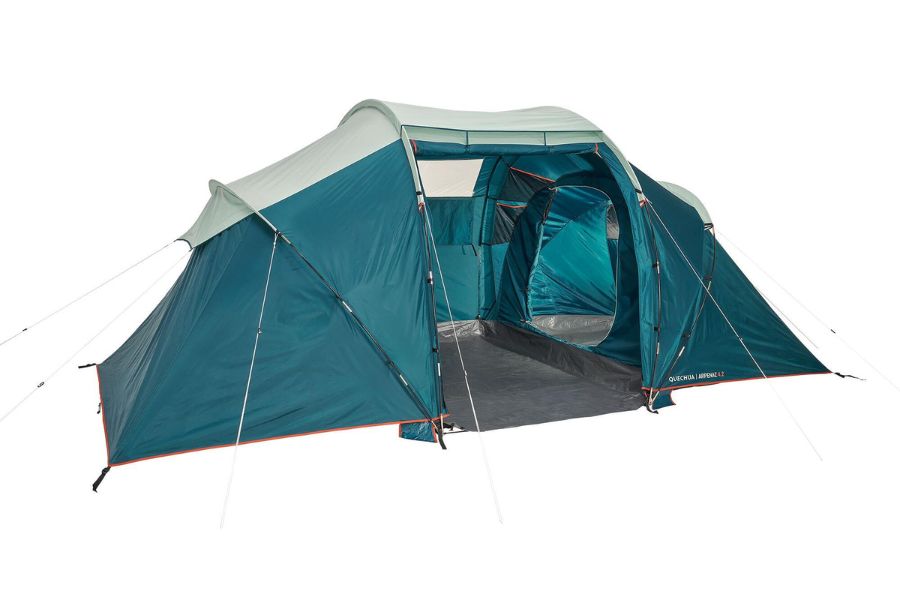 At the opposite end of the scale from the Fjällräven Abisko 4, this inexpensive four person tent is a decent option if your priority is keeping the costs down. For the price, it's impressively waterproof, with a 2,000mm hydrostatic head. But what you gain in waterproofing, you sacrifice in size and weight—there's just 3.5 square metres of living space and it weighs 11.7kg.
If you're after a family tent for a festival, or for an outdoor adventure where you can drive close to your chosen campsite, this would be a great option. But as with all Decathlon gear, it's worth remembering that the build quality tends not to be as good as with more expensive brands.
Buy Decathlon 4 Man Tent With Poles - Arpenaz 4.2: £139.99 at Decathlon
Best Four Person Tents: Conclusion
This list of the best family tents for four people is far from exhaustive, but should give you a decent starting point for your shopping. If you need other camping gear, have a look at our list of the best water bottles or the best camping and backpacking stoves, and if you're looking for inspiration on where to go, why not check out our experts' recommendations on the best campsites in Yr Wyddfa (Snowdonia) National Park or the best campsites in the Lake District.