Before you buy a backpacking backpack there are a few things to consider.
Buyer's guide to backpacks
Hip belt
On larger hiking backpacks the hip belt carry's 80-90% of the load. These therefore need to be wide, well cushioned, and well ventilated. Hip belts are also a great place to locate pockets for quick and easy-to-access gear.
Shoulder straps
Shoulder straps do the primary task of keeping the backpack on your body, they also take a small amount of the weight of the backpack and work to stabilise the pack on your back when you're walking, as well as helping to transfer the load to your hips. Look for well cushioned, wide, well ventilated shoulder straps if you're planning on carrying heavy loads.
Load lifters
These work alongside the shoulder straps, sternum strap and hip belt as well as the frame of the pack to form the suspension system. The idea of the load lifters is pretty much as it sounds, to lift the load away from your shoulders and transfers it through the suspension system to your hips.
Sternum strap
The sternum strap is there to ensure the shoulder straps don't slip off as you're walking.
Suspension system
The combination of frame, shoulder straps, sternum strap, hip belt and load lifters make up the suspension system. The main aim of a suspension system is to distribute weight around the body and to provide stability to the load you are carrying on your back. Suspension systems can be fixed or adjustable.
Here are our best backpacking backpacks for 2021, make sure to check back regularly as we are constantly updating this feature with releases of new and exciting gear.
Fjallraven Keb 52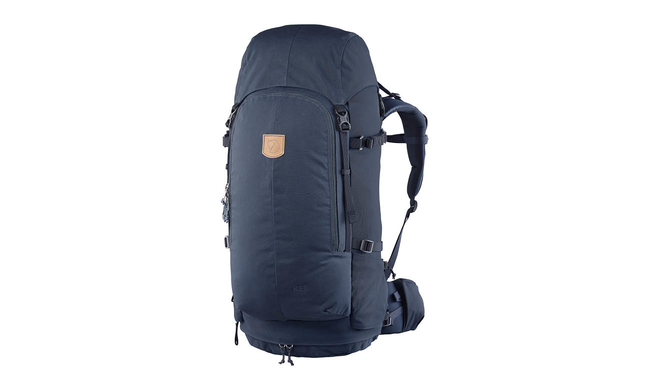 Best for: Long treks thanks to excellent durability and carrying comfort
Fjallraven's Keb 52 is a relatively heavy hiking backpack (2260g) but it somehow manages to make the load feel light. It sounds strange but it's simply a result of good design allowing the pack to feel like an extension of the body, transferring weight down to the core and hips. The back panel is adjustable to quite an extent so we would be surprised if most people couldn't find a decent fit, there is also a women's specific version.
In a classically Scandi, and in particular Fjallraven style, the back panel slides up and down on an FSC certified Birch wood frame treated with linseed oil. Apart from being eco friendly, reducing CO2 emissions by 90%, and seriously robust this also looks awesome. Those lovely design touches are continued on the G1000 front panel and classic floating lid. If a hiking backpack is ever going to be considered a looker it's this one.
Kit is accessed from different places on the backpack, the main is a drawstring top which has an extendable capacity. There is also a zip at the bottom where you would normally store a sleeping bag and an additional zip running the vertical length of the backpack. This offers the quickest and easiest access to gear without having to deal with the faff of buckles and drawstrings.
The front zipped kangaroo pocket is handy for separating out gear. It has an internal sleeve and zipped pocket within it for extra organisation. There are additional pockets on the inside and outside of the floating lid and there are two stretch hipbelt pockets, although we found these quite small considering the size of the pack.
The side pockets are very shallow and aren't constructed of the usual stretch material, but we found that the webbing strap adjusters did a fine job of holding a 1 litre Nalgene bottle in place.
The base and sides of the Keb 52 are waterproof so there are no worries about putting the pack down on wet ground, and the G1000 material around the rest of the pack is water resistant. A raincover is also included for when the heavens open.
As we've already mentioned this backpack has a superb, anatomical design that sits well on the back and feels ultra-stable on the trail. It also has heavily cushioned shoulder straps and hipbelt so is good for longer treks like the Kungsleden in Fjallraven's native Sweden.
Overall, the Keb 52 is a fantastic hiking backpack for longer treks into the mountains where comfort, fit and durability are more important than low weight.
Osprey Archeon 45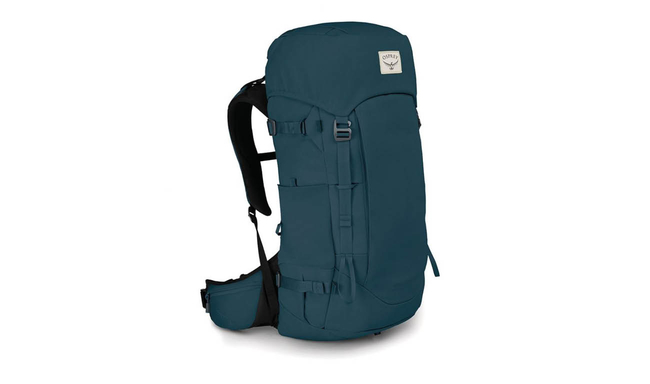 Best for: Eco conscious hikers looking for a durable, if not lightweight backpack
The Archeon 45 backpack feels immediately comfortable on the back and there are no issues with getting a good fit through the back panel and full range of adjusters. The back panel is a little more toned down than most other Osprey multi-day hiking backpacks, comfort is still great, but ventilation is lacking. The structure is reassuringly well built though, utilising a panel and stays which makes the Archeon feel absolutely rock solid on the back when loaded up.
There is a reasonable amount of cushioning on the straps but the hipbelt feels a little stiff. This can be difficult if you have pronounced hipbones, it does however add a great deal of stability.
The Archeon opens right out like a suitcase from the two front zips and has a drawstring closure at the top. This gets very little use as the zips are so effective in giving you unencumbered access to your gear.
Internally the lack of suspended mesh on the outside means that the main compartment is flat backed and therefore easy to pack. The two small, zipped mesh pockets inside would have been more useful if they were bigger. There are two very generous hipbelt and stretch side pockets for swallowing gear and water bottles as well as pockets on the inside and outside of the lid.
If the Archeon looks wholesome and natural to you then it's probably because it is, at least in comparison to most other backpacks. Osprey have gone all out to make the Archeon 45 out of 100% recycled fabrics and to use metal, rather than plastic hardware where possible. This goodness results in the pack tipping the scales at 2kg, a far cry from their ultralight packs, the Exos and Levity but the trade-off is that the build is more solid and durable.
Salomon Out Night 30+5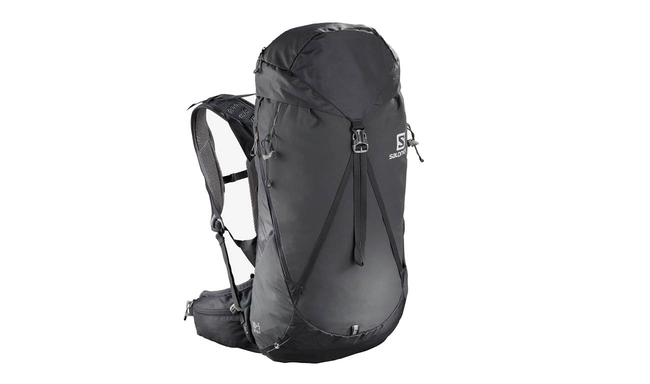 Best for: Fast and light overnight adventures
The Out Night 30+5 is all about comfort on the go.
An unframed back system and clever choice of materials leads to a light weight of only 756g, which is perfect if you want to move fast. Despite a lack of conventional sturdiness, the Out Night is comfortable to wear, Salomon have nailed this type of bag thanks in part to developments that have come from their running packs.
Padding is good for this size of pack and the harness system is fantastic, it's stable and doesn't fight against the movements of the body.
The main compartment is spacious and there's a separate zipped stretch pocket at the front. What fits in here is very much dependant on how stuffed out the main compartment is.
Stretch side pockets hold water bottles and the removeable lid adds an extra five litres of capacity if you need it, or saves a little weight by being removed if you don't.
The side zip gives great access to gear inside the main compartment and everything else is easy and intuitive to access, with plenty of organisation options, especially for this small size of multi day backpack.
The silhouette of the Out Night is tall and long, this helps with fast movement, whether walking or running as the pack then doesn't get in the way of your arms.
As an overnight pack for a fast and light hiking and wild camping adventure or even a running trip, this is a superb option.
Gregory Optic 48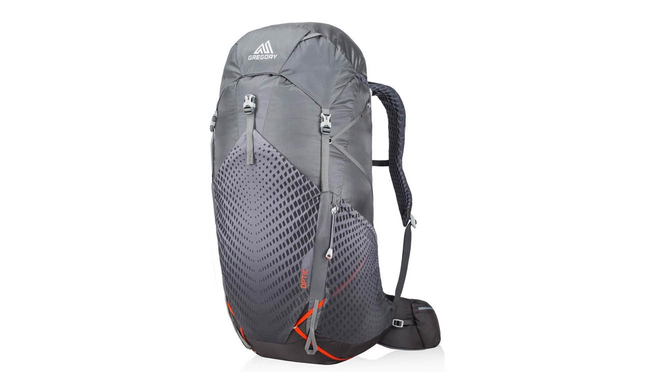 Best for: Lightweight multi-day backpacking, but still with good gear organisation
Gregory's Optic 48 is designed to carry 14kg but weighs in at only 1104g, placing it firmly in the lightweight hiking category. Fit is good, with well-placed shoulder straps and hip belt, but with no adjustable torso length you need to take care to get the right size.
Shoulder straps are stripped back but still wide and sturdy enough not to bite into shoulders, even with a fully loaded backpack. The comfortable hip belt is well-padded and has contours in all the right places and, unusually for a lightweight backpack you even get a pocket on each side.
The AeroSpan back system keeps the main body of the pack hung away from direct contact with your back, allowing excellent airflow between the two and comfort from it is excellent.
The easily accessed stretch side pockets are great for water bottles or stuffing an extra warm layer into and there's also a large front stretch mesh pocket, again great for extra layers or separating out wet clothes.
Internally it's a one compartment bag apart from the hydration sleeve, making it simple and light. You can easily fill this pack with enough kit for an overnight hiking trip or a day climbing at the crag.
The body is tough but due to its light weight isn't indestructible. The base is similar, but much thicker, being 210D High Tenacity Nylon. Having said this, I used the Optic 48 pack scrambling over the Cuillin Ridge, on a wet day, and it showed no signs of damage even when scraped against many a sharp rock.
Overall, both the Optic 48L and 58L are fantastic packs, especially if you're prioritising weight over compartmentalised storage. It's a stripped back bag for those who don't want to be held back from a summit push by carrying too much.
Lowe Alpine Altus 42:47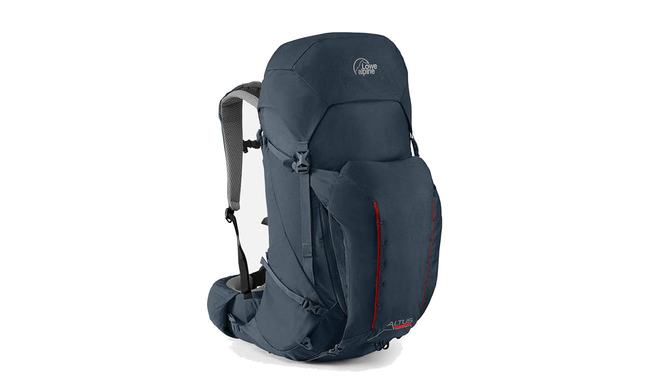 Best for: Obsessive gear organisers
The Altus is a versatile backpack, with a 42 - 47 litre capacity thanks to a big floating lid and clever top. This additional 5 litres of storage space can make the difference between an overnighter and a true multi-day hiking trip.
The Altus hits the gear organisation sweet spot, with loads of options to logically separate clothing from sleeping gear and food. Zipped pockets on both sides of the floating lid offer ideal storage for headtorches, gloves and scarves, while at the front of the bag you'll find a kangaroo pocket, this is big and secure enough to be useful, but also houses a large, zipped pocket down one side which is ideal for quick access to waterproof clothing.
A zipped section in the main compartment allows you to isolate the bottom of the pack for safe storage of a sleeping bag. You can easily access kit inside the main compartment thanks to a front zipped clamshell opening, not having to evacuate all your carefully packed belongings to find what you need is a definite plus point.
Water bottles can be stored in the side pockets more convincingly than in some packs, thanks to a mix of solid materials for security and stretch mesh, but the pockets aren't quite cavernous enough to stuff a jacket into if you're tight on space.
The carrying system on the Altus mixes aluminium stays with mesh and Air Contour foam. The wraparound hipbelt is chunkily cushioned for comfortably carrying a full load, when properly adjusted the Altus can transfer weight down to the hipbelt as good as any other pack we've tested.
It's easy to get the Altus sitting flush with your back and the load feels very stable - we'd have no hesitation in recommending this backpack based on comfort alone.
All the compression adjusters across the bag are ridiculously intuitive and almost impossible not to use, thanks to being integrated into things like the side pockets and kangaroo pocket. You don't need an advanced degree in rope dynamics to use any of it either, as it all fastens with simple buckles and ladder lock adjusters.
Overall a fantastic, versatile multi-day backpacking pack. It has the perfect capacity for both overnight wild camping trips and hut-to-hut hiking adventures. Build quality and durability are both superb, storage is great and it's comfortable to carry, highly recommended.