Part of the joy of living al fresco is dining al fresco and, of course, cooking al fresco! There's nothing better than sitting in a field on a summer's day gently simmering a stew, or some pasta while you watch the world go by. Although the engineering that goes into a gas camping stove is fairly basic, with a fuel canister connected to a valve and some form of ignition, not all camping stoves are created equal.
What to look for when buying a camping stove
Some camping stoves have a piddly low output, this means that the flames are small and not that hot and therefore it will take longer to boil a kettle, not good when you're gagging for a brew. You can check the output of a camping stove by looking for the maximum energy output, usually rated in Watts (W) or Kilowatts (KW). Anything upwards of about 2000 Watts is decent.
Another thing to consider when buying a camping stove is the amount and size of burners. Cooking for one? You might get away with a single burner making for a much more portable camping stove. This doesn't leave much leeway for creative cooking but you will get by for basic meals and heating water. If the site you are intending on visiting is windy then you also want to check whether the camping stove mentions wind protection. This often comes in the form of elevated burners and protection around the lid.
Lighting a camping stove is tricky if you have forgotten the matches, but some come with Piezo ignitors built-in so there is one less thing to remember. Some of the larger camping stoves meant for family camping trips even have a grill, albeit usually quite small.
The current trend in camping stoves is for a multi-function stove that acts as a BBQ, and stove in one. These are arguably more fun to use but can create a lot of mess from the juices of frying meats.
Fuel for camping stoves comes in many shapes and sizes so you will need to check whether the camping stove you are buying is compatible with your choice of fuel. This matters because some fuels come in tiny, water bottle sized canisters that are readily available and others require much larger gas bottles that you need to visit a camping shop or garage when you need a top up.
The best camping stoves
The best budget camping stove
Campingaz Camp Bistro 3 Stove, £30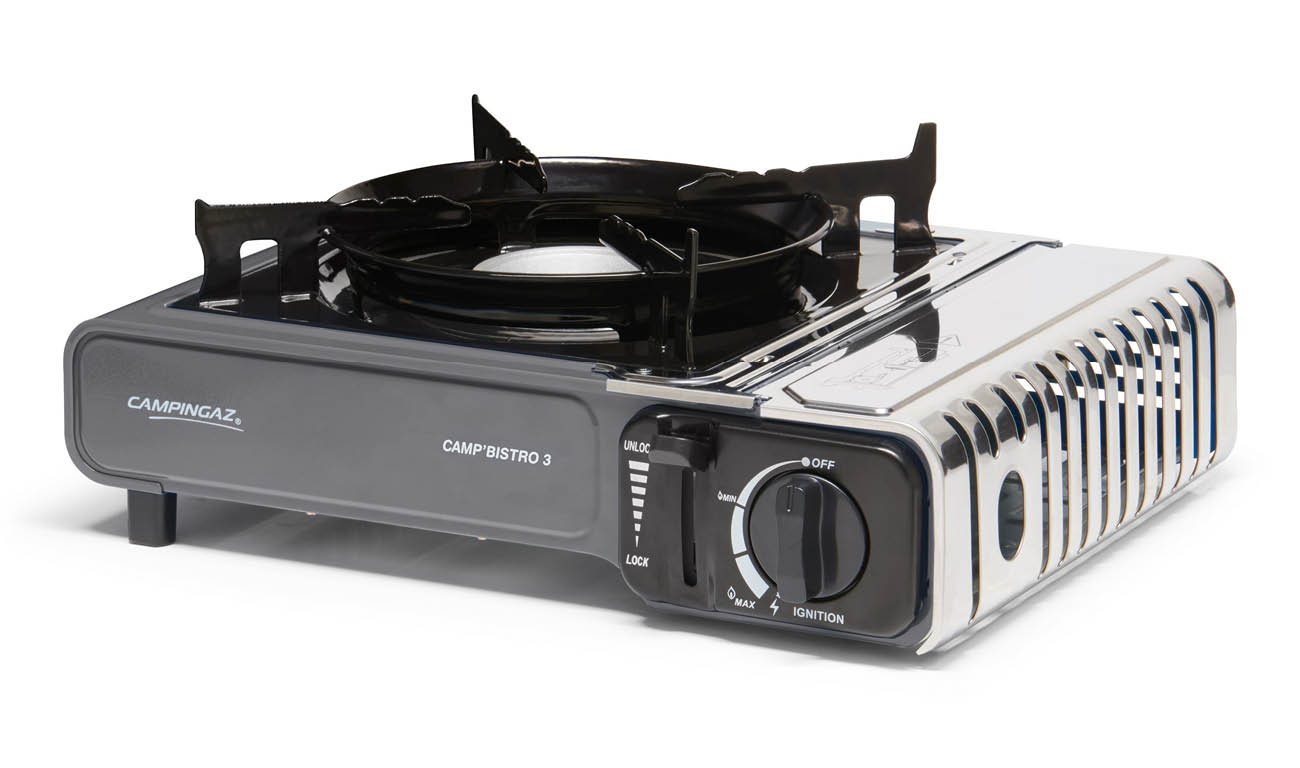 This camping stove does the job of camp cooking with minimal fuss. For those on a budget or occasional campers the Camp Bistro Stove is a perfect choice. It only offers one burner, but in a way that plays in its favour as it's ultra-portable as a result while still being sturdy enough to hold a big frying pan or a pot of pasta. It kicks out 2200 Watts of heat and is equipped with a Piezo ignition for easy match-free lighting. A simple dial allows you to tweak the heat and the Camp Bistro takes a readily available and cheap CP250 gas cartridge that slides into the side of the stove. All this is neatly packaged inside a sturdy plastic carry case.
Buy Campingaz Camp Bistro 3 Stove: £30 at Amazon
Best camping stove for families
Vango Combi IR Grill Cooker camping stove, £125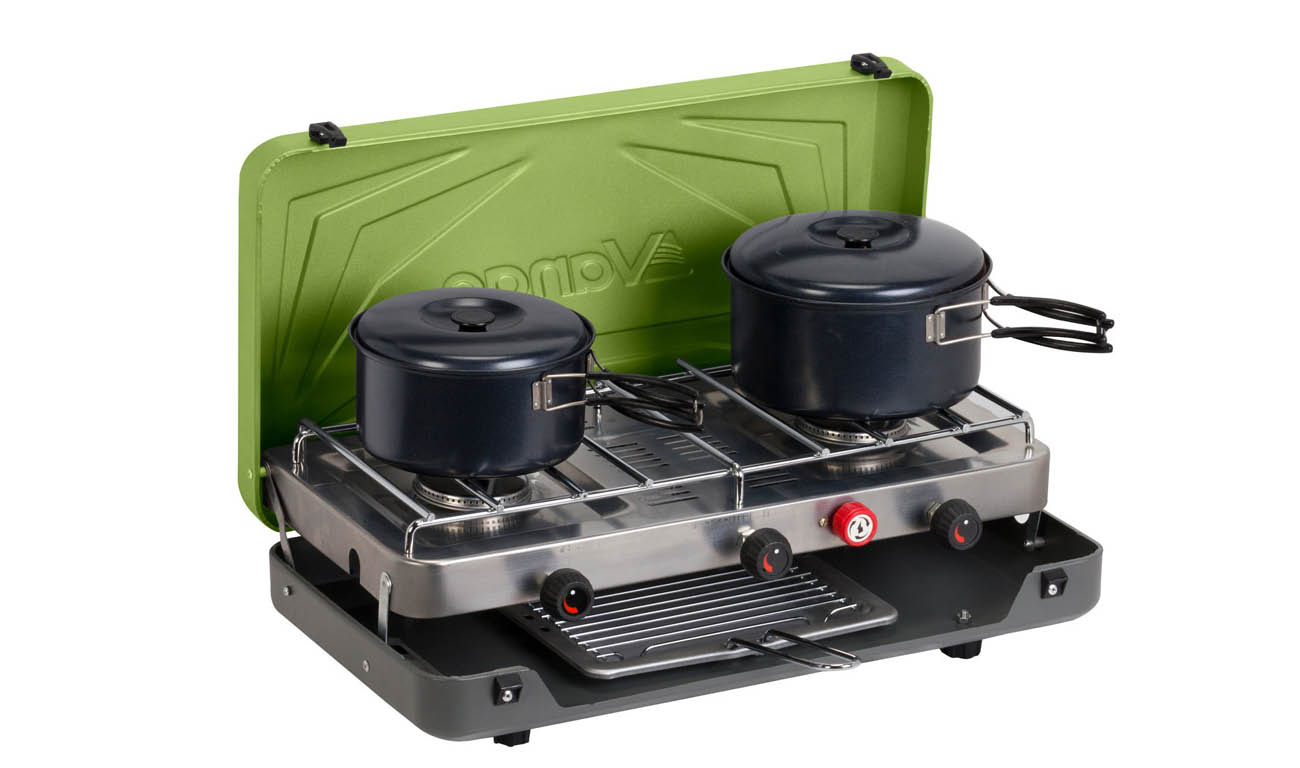 If you're a keen campsite chef then you will want something that houses two pans simultaneously. Vango's Combi IR Grill Cooker has plenty of space for that, all wrapped up in a fancy package. What's different about this stove is the Infrared grill with a high heat output and low fuel consumption, saving 10% on fuel. An auto piezo lights each burner as you turn the knob although the output is on the low side at 1900 Watts. The IR Grill Burner folds into itself and the lid acts as both wind protection and protection from spitting fat and hot water. All of the materials used are high quality, from the chrome steel burner grate to the stainless steel drip tray.
Buy Vango Combi IR Grill Cooker Camping Stove: £63.95 at Amazon
Buy Vango Combi IR Grill Cooker Camping Stove: £59.99 at Winfields Outdoors <<Best Deal>>
Best camping stove for safety
Cadac 2 Cook 2 Pro Deluxe, £145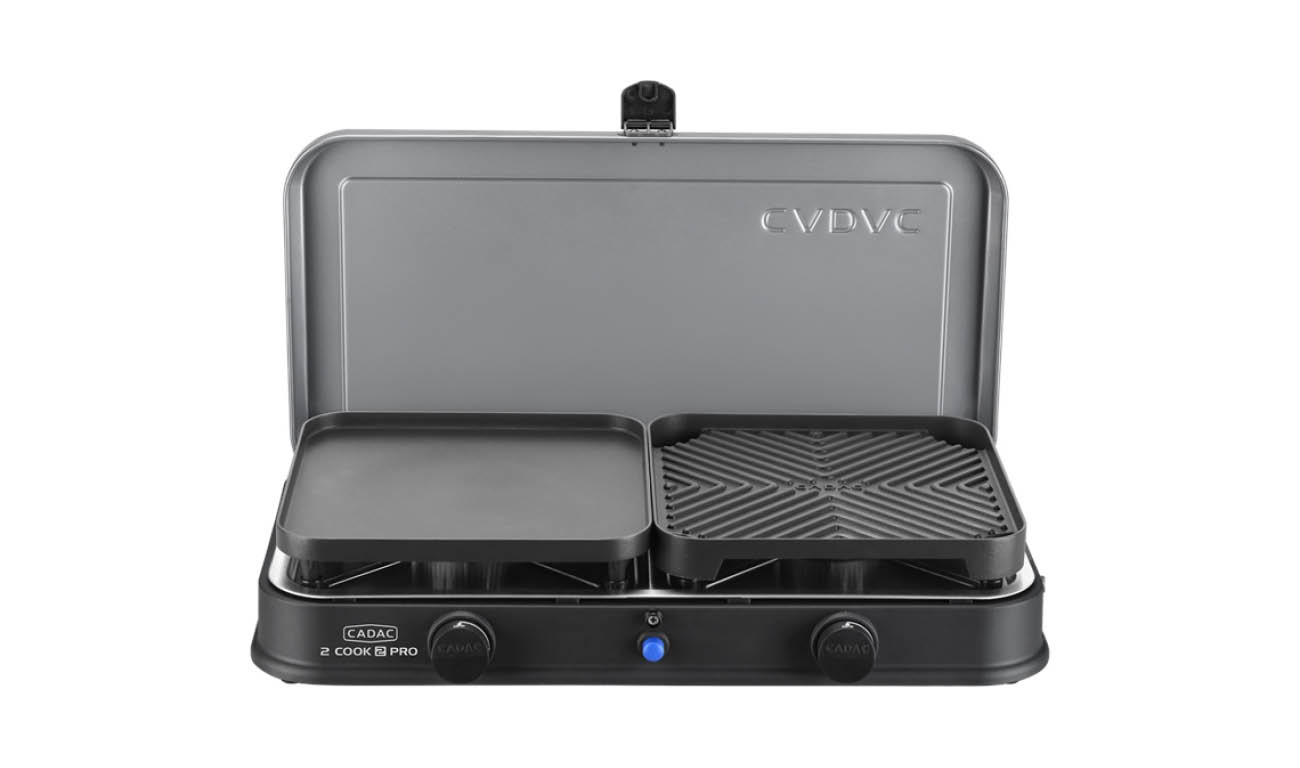 Cadac are super popular with caravanners and motorhomers but their 2 Cook 2 Pro Deluxe is an excellent choice for the more space-conscious camper.
This is a camping stove with a twist. Much like the larger Cadac grills, the 2 Cook 2 Pro Deluxe features high power burners with a griddle plate and plancha. This makes for fantastic, BBQ like taste out of a gas stove. Of course, you can use the stove without these additions, the burners are rather close together but are large in dimension so accommodate small to medium sized pots and pans side-by-side. The simple folding design is easy to pack into the zipped fabric case. The gas safety button is a nice touch, ensuring that the gas can't be inadvertently turned on and the Piezo ignitor quickly lights each burner.
Buy Cadac 2 Cook 2 Pro Deluxe Stove: £128.99 at Amazon <<Best Deal>>
Buy Cadac 2 Cook 2 Pro Deluxe Stove: £130 at Winfields Outdoors
Best camping stove for that BBQ taste
Campingaz Party Grill 400 CV, £85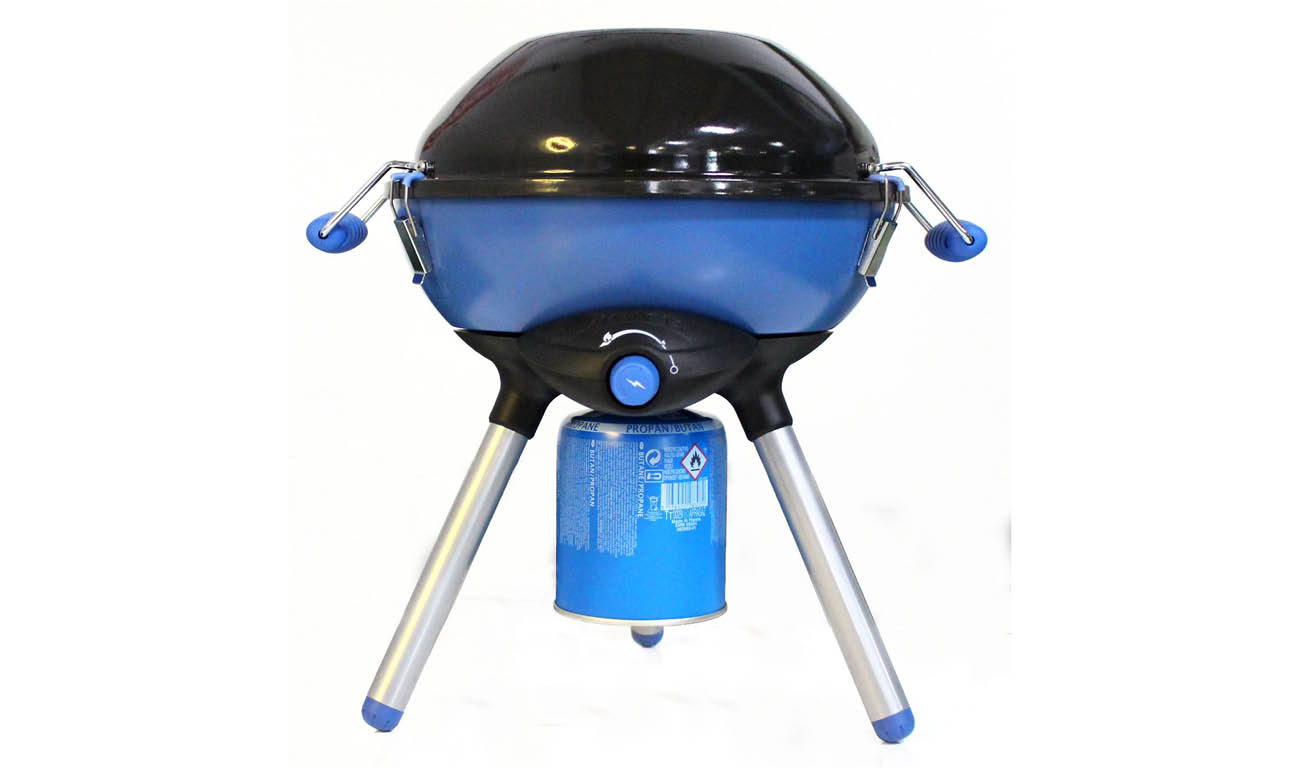 One of the most popular stoves with campers, the Campingaz Party Grill is a fun, practical stove that makes great tasting food. Why is this? Because you can grill, griddle, and BBQ on the party grill sealing in the taste. The myriad cooking options make the Party Grill the only camping stove you need and we prefer the CV version, which itilises a smaller easy click CV300+ or CV470+ gas cartridge, rather than a larger remote canister. The water compartment makes the Party Grill easier to clean but the nature of the cooking you are likely to do on the Party Grill (BBQ) means that it gets muckier than most. The practical carry bag makes this easy to transport, it's bulkier than normal camping stoves, but it's worth it for the amazing tasting food.
Buy Campingaz Party Grill 400 CV: £97.35 at Amazon <<Best Deal>>
Buy Campingaz Party Grill 400 CV: £129.99 at Winfields Outdoors
Best lightweight camping stove for hikers
MSR Pocket Rocket 2, £50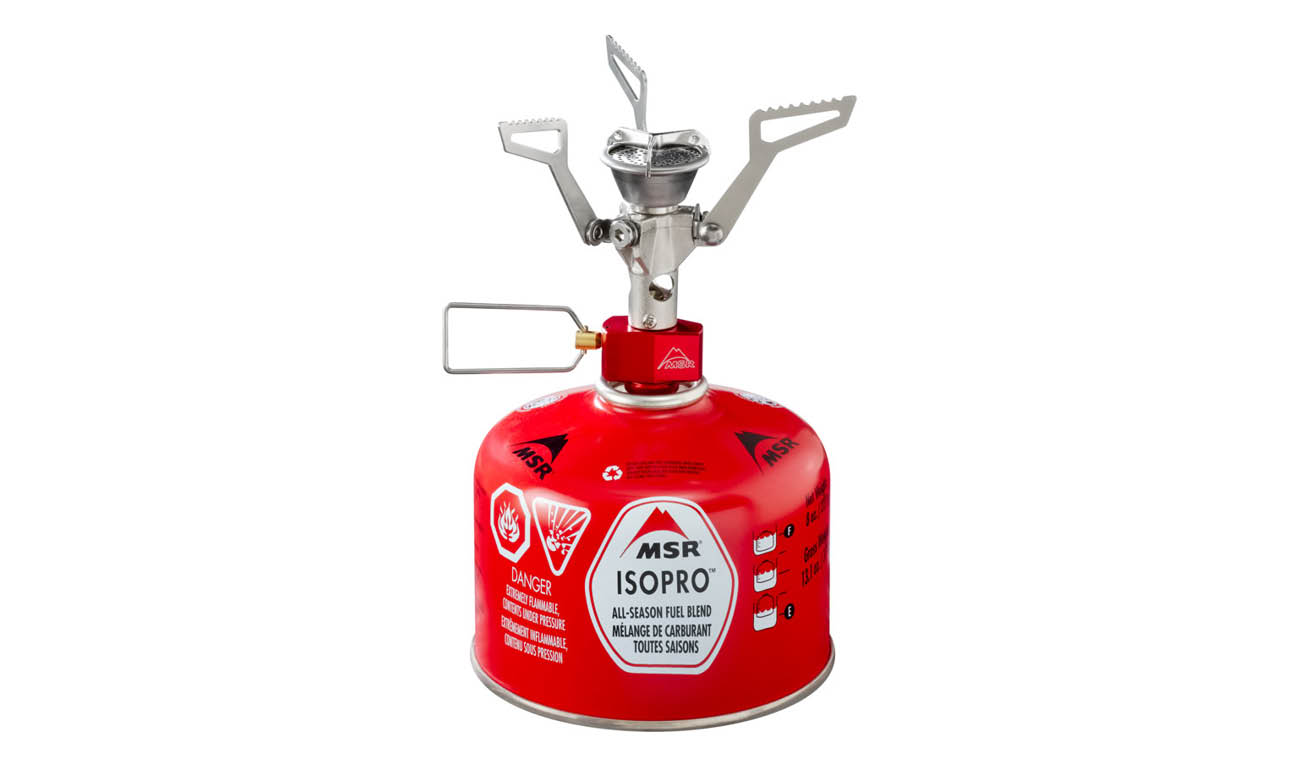 When you need something lightweight and tiny to stash in your backpack for an on-foot or on-bike adventure the MSR Pocket Rocket 2 is the stove to reach for. This tiny device screws onto a highly portable butane/propane blend canister and despite being tiny, kicks out a fierce amount of heat, boiling 1 liter of water in just 3.5 minutes in ideal conditions. Obviously, the type of activity this camping stove is aimed at means you might be in less than ideal conditions, and in this case, a makeshift windbreak out of rocks or a piece of folded-up tinfoil works a treat. The Pocket Rocket 2 weighs 70g, yes that's grams, and fits in the palm of your hand. Amazingly, the tiny pot supports are capable of holding a backpacking-sized pan full of water for yummy (not yummy) freeze-dried meals.
Buy MSR Pocket Rocket 2 Stove: £46.75 at Amazon <<Best Deal>>
Buy MSR Pocket Rocket 2 Stove: £49.50 at Millets
Best all-in-one camping stove for lightweight adventures
Jetboil Flash 2.0 Cooking System, £135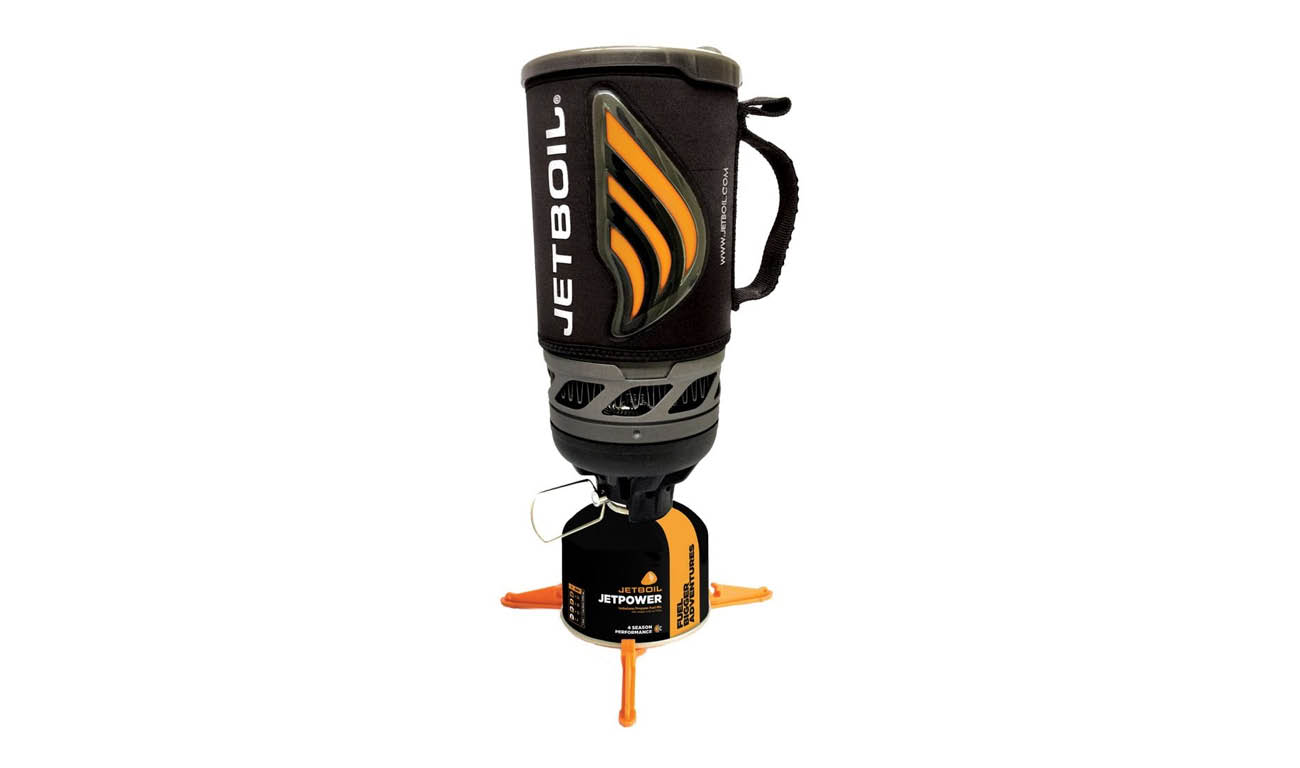 One step up from the MSR Pocket Rocket 2 is an integrated cooking system. Once again, these are designed for lightweight adventures, so stashing in a backpack rather than a car. These cooking systems are far more advanced than the basic screw in Pocket Rocket type but are much larger and heavier as a result. The Flash 2.0 features heat exchanger technology, which takes an already fierce flame, protects it from wind, and uses trick engineering to transfer all heat into the integrated pot. If you want food and hot water quickly when you're in the wild country, this type of camping stove is for you. Coming in at 398g including the stabilizer, the Flash 2.0 is perfect for those lightweight adventures.
Buy Jetboil Flash 2.0 Cooking System: £124.99 at Amazon
Buy Jetboil Flash 2.0 Cooking System: £115 at Go Outdoors <<Best Deal>>