Whether you need a cathedral-like family tent big enough to host a wedding in, or a small 4 man for lightweight family adventures, we would recommend going for a tent with air beams rather than poles. And the simple reason for this is ease of pitching, when a large family tent takes 20 minutes to pitch start to finish you can get on with enjoying your holiday a lot sooner.
The downside to airbeam tents however is that they tend to command a higher price and there is a certain inevitability to suffering from a potentially holiday ending puncture.
Space, light and storage are also primary concerns, and the likes of Vango offer large crystal-clear windows in living areas, while Coleman have excellent blackout bedrooms, so you don't have to rise with the dawn chorus. Some form of living area is a must with a young family, and we think that bigger is better. We also like tents with an awning out front, which is a handy space to relax and eat in, shaded from the sun and rain. Some also offer side doors with small porches.
Quality of fabrics usually varies with cost, but it's unusual to find a tent from one of the big manufacturers that doesn't offer good all-round protection from the elements.
Here is our pick pf the best family tents this year. Make sure to check back in on this feature as we will be updating regularly as new and exciting gear is released.
Vango Longleat Air 800 XL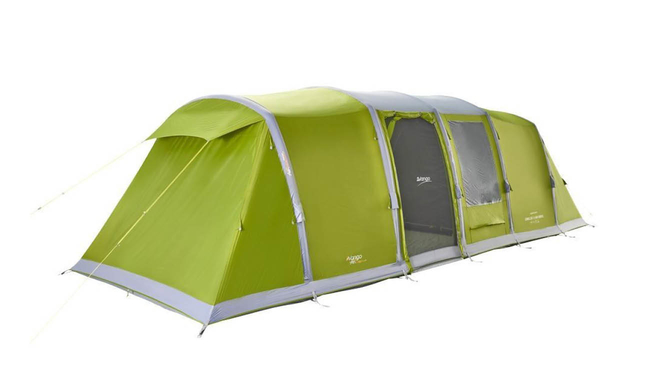 Best for: If a vis a vis layout is the only option
+ Vis a vis layout affords some privacy
- Living space is compromised as a result
The Longleat Air 800 XL is a vis a vis style tent with bedrooms at either end and a small living space in the middle.
On test the tent pitches in about 20 minutes using Vango's intuitive airbeam system and the usual array of pegs and guylines. The airbeams inflate from the outside and we found the valve system faultless and easy to use, unlike Coleman's which were fiddly.
Space in the living area is more cramped than you would expect considering the gargantuan 8 person sleeping capacity. Unless you were really roughing it, you would not want any more than four people in there at any one time. The head room feels a bit lower than usual too and the space feels generally narrow and lacking the light airy feel of most large family tents.
The bedrooms are as you would expect, an inner pod hanging at each end of the tent. These have a removable divider inside splitting each pod in two. In typical camping style the bedrooms are only just big enough for the people they are designed for, we really do recommend that this tent is reserved for families of four – perhaps six at a push. There are storage compartments on each side of the pod, something that is incidentally missing from the living area.
Outside, the Longleat Air 800 XL is unremarkable, there is no porch or awning, which makes it feel a little dated and lacking in creature comforts compared to other family tents.
Overall, the Longleat Air 800 XL lacks refinement and features and only really makes sense if a vis a vis layout is an absolute must, even then better options exist. We must commend it though for its low £650 price tag, which despite inherent design flaws makes the Longleat Air good value for money.
Coleman Valdes Deluxe 4 XL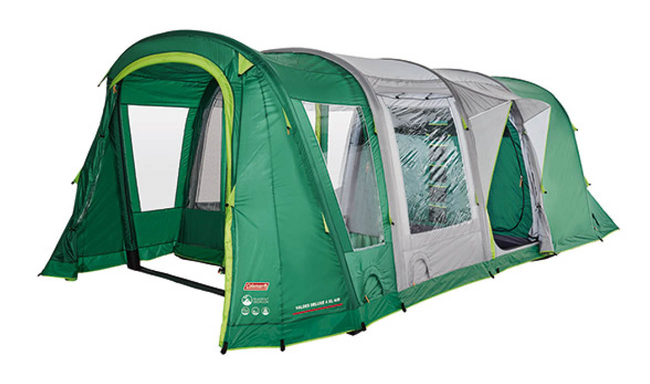 Best for: Compact footprint but with plenty of living space inside
+ Superb design and quality construction
- Fiddly inflation system
This 4 man tent took a little longer to pitch than we were expecting, at least the first time. Inflation points are accessed through flaps to the inside of the tent, these are hard to find with the tent material all bunched up on the floor. The inflation valves are fiddly too and can let all the air out that you have just laboriously pumped in if you don't set them right. Once you get the hang of the quirks of the inflation system the Valdes Deluxe 4 pops up in around 25 minutes.
The Valdes XL looks compact on the outside but living space inside is bright and airy and has loads of headroom right to the edges, as well as generous floor space for a family of four. Another massive plus point is in the covered vestibule. The whole front can be fully opened making it a superbly versatile, utilitarian space for storing wet and muddy footwear, setting up a camp kitchen or shading from the sun, perfect for the rigours of family camping then.
The blackout bedrooms genuinely work, on a bright day barely any light bleeds through, which is great for those who like a lie in. On the flip side it feels a little like you're sleeping inside a bin bag.
Storage is available in both bedrooms as well as in the living area and the divider between the two 'rooms' is removable for co sleeping or to create a bigger bedroom for two.
Ventilation throughout is decent promoting good airflow through the tent and reducing condensation. Unlike many other large family tents the rear bedroom vent can be sealed shut with a zip which is handy for cold, windy nights.
The storage bag is mercifully big for re-packing at the end of your holiday and has roller wheels which make it easier to transport to your car.
If you're looking for a compact footprint but spacious, bright interior for your family of four the Valdes Deluxe 4 XL is a winner.
Quechua Air Seconds 4.1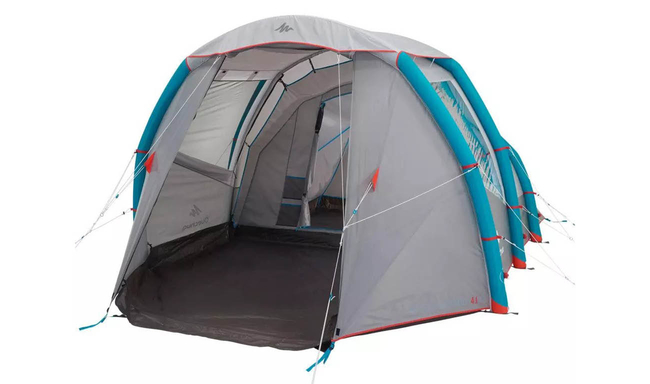 Best for: Small families looking for an air tent on a budget
+ Easy to store, transport, and pitch
‐ Missing some of the finer touches of more expensive tents
A family tent this simple is all about convenience and ease, so the Air Seconds 4.1 should be quick to pitch, and with this done in less than 20 minutes we think it is. It's also very easy to handle when in its carry bag and has a small pack size, so family camping holidays might only necessitate a hatchback rather than an estate car with roof box.
The large f4 man bedroom does not have a divider down the middle to split it into two 2-man bedrooms, which is not ideal if you're looking for an element of privacy. The width per person is generous though at 70cm and the length is good enough for luxury camping mats like the 200cm long Zempire Megamat double.
Head room is limited due to the sloping back of the tent, but that's to be expected with a smaller family tent. There are two storage pockets each side of the sleeping area and a few hanging hooks for lights, making it a comfortable set up.
The living area is essentially all ventilated by virtue of the bathtub floor, which is not sewn in, allowing wind to whip up under the flysheet and similarly heat and condensation to escape from the inside which is perfect in the balmy summer months but a little chilly in colder weather.
The living space is a great shape and feels spacious for a tent with such a small footprint, allowing you to put out a few chairs and a table to relax and eat. Covered space could easily be extended with the use of a tarp near the front entrance.
Large windows which let in plenty of light and the front door spans the width of the tent and can be strung out to create an outdoor shelter from the sun. The door slopes from top to bottom so If you're not careful rain can drop off it into the inner of the tent so it's worth taking a few old towels to mop up if you're expecting wet weather when you go camping.
Build quality is ok, clearly not on a par with much more expensive Vango or Outwell options especially in the subtle details but for the price we can live with that.
Vango Alton Air 500 tent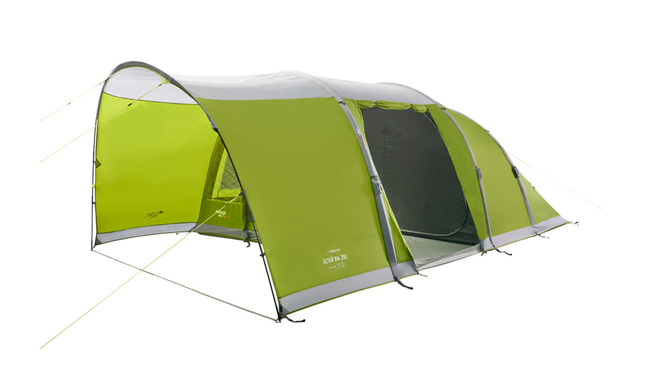 This lovely, mid-range family tent offers a great introduction to camping for a family of four (we don't recommend attempting to fill it with five bodies).
With the asking price on family tents regularly upwards of £1000, the Alton Air offers a better value alternative, but also a more compact footprint. The small living area is extended by the external sun canopy which is great for preparing food and storing muddy boots, and the bedrooms can be split or opened to create one large master.
With inflatable airbeams and a simple structure and layout we found the Alton Air 500 tent easy to pitch quickly, allowing us to get on with enjoying our holiday with minimal fuss.
The comparatively low weight and pack size also make the Alton Air 500 a great option if space or weight is a concern.
Robens Klondike Bell Tent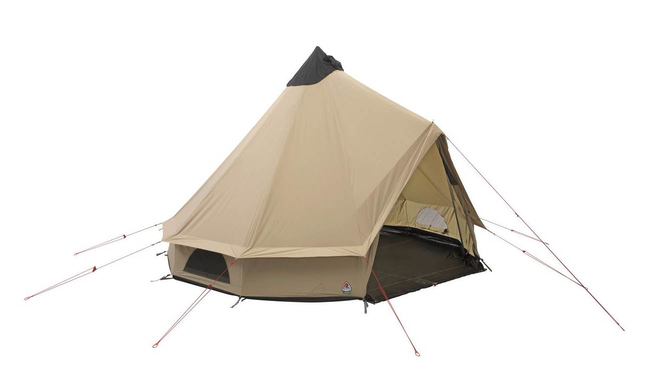 Best for: A completely different take on family camping
+ Feels so much more airy than conventional tents
‐ Pitching is a learning curve
For such a supposedly old-fashioned tent the polycotton package of the Klondike is small at 80 x 27 cm and weighs a shade under 17kg - not ultralight by any means but still reasonable for a '6 man'.
Pitching isn't as simple as an air tent but once you've familiarised yourself with the method it only takes about 20 minutes but requires a bit more physical effort than we're now used to.
Outside, the Klondike fills a surprisingly small footprint and cuts a refreshingly natural look. Inside the Klondike is decidedly Tardis like, its high head height and polycotton fabric making it feel bright and airy. It lacks that sickly plasticky smell that plagues other new tents and feels healthier and more natural inside. Ventilation comes from low-level zipped mesh vents and an apex vent at the peak which is operated by two internal lines.
Being a geodesic shape, the internal space is divided up into segments, with a double self-inflating mat one side of the central pole and a further two beds running adjacent the entrance area is kept clear for lounging around. If camping with a family, you will probably want to add a tarp outside to extend the covered space.
To add a further blow to conventional family camping the Klondike is compatible with a wood burning stove, we have never felt so hygge.
Coleman Mackenzie 6 BlackOut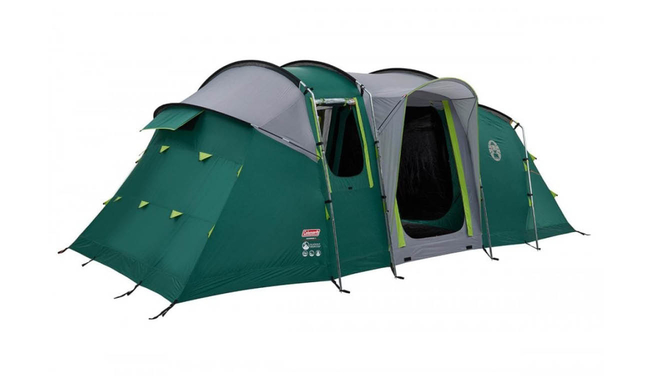 Best for: Compact vis a vis sleeping
+ Great head height and those BlackOut bedrooms
‐ No 'indoor outdoor' space
Don't be put off by the lack of air poles on the Mackenzie 6 as pitching is still a relative doddle, easily achievable in around 20 minutes and of course you save money over air poled equivalents.
Inside there are two pre-hung bedrooms, one large 4p bedroom with a divider that turns it into two 2p bedrooms and another that sleeps two in the corner of the living area, for a vis a vis style sleeping arrangement.
The living area is surprisingly spacious and has decent head height although the extra bedroom obviously eats into this space. If not being used, we would recommend removing it.
The Mackenzie 6 features BlackOut bedrooms for sound sleep in the summer months. These really do work and the coating even adds a touch of insulation without noticeably affecting how breathable the fabric feels.
Two large doors at either side of the tent create a light, airy feel as well as easy access in and out, clear windows help with the feeling of space and can be fully opened or zipped with no see um mesh to keep the bugs out.
Being a smaller family tent there's no 'inside outside' area in which to cook or store muddy boots but the side door is equipped with a peak to keep the rain off briefly when entering.
If you prefer the reliability of steel poled tents and want a more compact footprint for your family holidays, then the Mackenzie 6 is a superb option. We rate the build quality and features highly enough for the £550 price tag to stand up against the competition, and the versatility from the extra bedroom is a welcome addition.