Best Hiking Backpacks: Buyers guide
Most hikes of any length at all will benefit from a backpack to carry essentials, whether sandwiches and a warming brew or a waterproof jacket and GPS. Any day-hiker knows that an astonishing range of stuff can easily accompany you on even a short jaunt, including maps, car keys, wallets, etc - the hiking backpack is the answer! 
Before you head out and buy your next hiking backpack, read our buyers guide to help you find one that's right for you.
Best Hiking Backpacks: TL/DR
Of the vast number of packs out there we've whittled down the numbers to just a handful, picking out the new Lowe Alpine AirZone Trail 35L Hiking Pack as a winner, thanks to a strong spec list and upgraded heat-shifting back panel. It has to be said that the Decathlon MH500 Mountain hiking backpack charges into second place, and first place from a pure cost point of view, due to a practical design and downright good value. While the Lowe Alpine delivers an excellent premium experience, the Decathlon MH500 delivers a significant chunk of that for essentially half the cash, and that's worth considering carefully. 
Best Hiking Backpacks: Backpack capacity
The sweet spot for hiking backpacks is around 20-50 litres, although this is a wide margin that will vary considerably depending on what you're planning. Shorter walks in the summer months might see a daysack pack as small as 12 litres to be enough for the job. For scrambling and climbing you may need to carry more kit so increase the capacity to around 40 litres, and if an overnight stop is planned you'll be heading for the 50 litre end of the market to fit in sleeping bag, tent and cooking gear including a camping or backpacking stove. In the colder months you'll need extra layers too, so that's worth factoring in. 
Best Hiking Backpacks: Backpack fit
Backpacks either come in one size or a range of size options, from small to XL. Some of the more feature rich daypacks will have an adjustable torso length, ensuring you can tweak the backpack to your size. Refer to the manufacturer's website for specifics on how to measure and choose the right backpack size for you. 
When you're trying on a backpack make sure you do up the sternum strap and hipbelt and check that the shape feels right on your body. It helps if there's a bit of weight in the pack to get a better feel for real world use, and a lot of outdoor shops have sandbags available for this exact purpose. Don't be at all worried about trying the backpack for a while in the shop or at home - it's absolutely vital that the fit is good, or it'll very quickly become a thoroughly unpleasant ordeal to carry. Test different weights and different body positions to check nothing digs in, and make sure the hipbelt sits comfortably and firmly on your hips to take the load - you should be able to slacken off the shoulder straps almost entirely and still carry the load comfortably. 
Best Hiking Backpacks: Essential features
A good daypack will come with a hip belt and sternum strap as a minimum. This ensures that the pack stays stable on your back when you're walking. A well designed back system will transfer most of the load away from your shoulders to the stronger core of your body via the hipbelt.
Check the back panel for ventilation as this will be important on hot, sweaty hikes. Most packs will have some kind of foam with channels cut out for air to move. Some more technical backpacks have a suspended trampoline back panel. This keeps the pack completely clear of your back, allowing for excellent ventilation.
Side compression straps help to snug everything in place inside the backpack so it doesn't swing around as you walk, and load lifters will help you to correctly balance the weight on your back.
Consider a hydration sleeve to be a minimum requirement, although for short and simple walks a simple water bottle is often the easiest option, so make sure you have side pockets that can hold a bottle and are easy to access.
Internally it's handy to have multiple storage options, split into pockets and compartments so you can organise your gear.
Best Hiking Backpacks: Pricing
Although it's tempting to grab a bargain, the best hiking rucksacks will last for decades, so it's absolutely worth taking the time to choose one that's right for you, and most importantly is as comfortable as possible. Hiking backpacks range in price from £55 up to £170 to £200 at the more premium end of the market, although it's possible to spend much more too. 
Best Hiking Backpacks: Carry system
Some of the more comfortable and stable backpacks have a bit of structure to them, whether aluminium stays or a semi rigid back panel. Trampoline mesh back panels are brilliant for temperature regulation, allowing air to flow freely around the back and can also be very comfortable to wear, but on a daypack they take up vital space inside and make the pack an awkward shape internally. They also add weight to the pack, which can easily add up when you've filled it, so keep an eye on weights with this in mind. 
Padding on the shoulder straps is vital but can also be very welcome on the hipbelt, although it's a fine balance between having lots of padding and the bag becoming too heavy and cumbersome.
Now you've got the lowdown on finding the best backpack for your needs check out our list below to find some great options at every price point.
Lowe Alpine AirZone Trail 35L Hiking Pack £130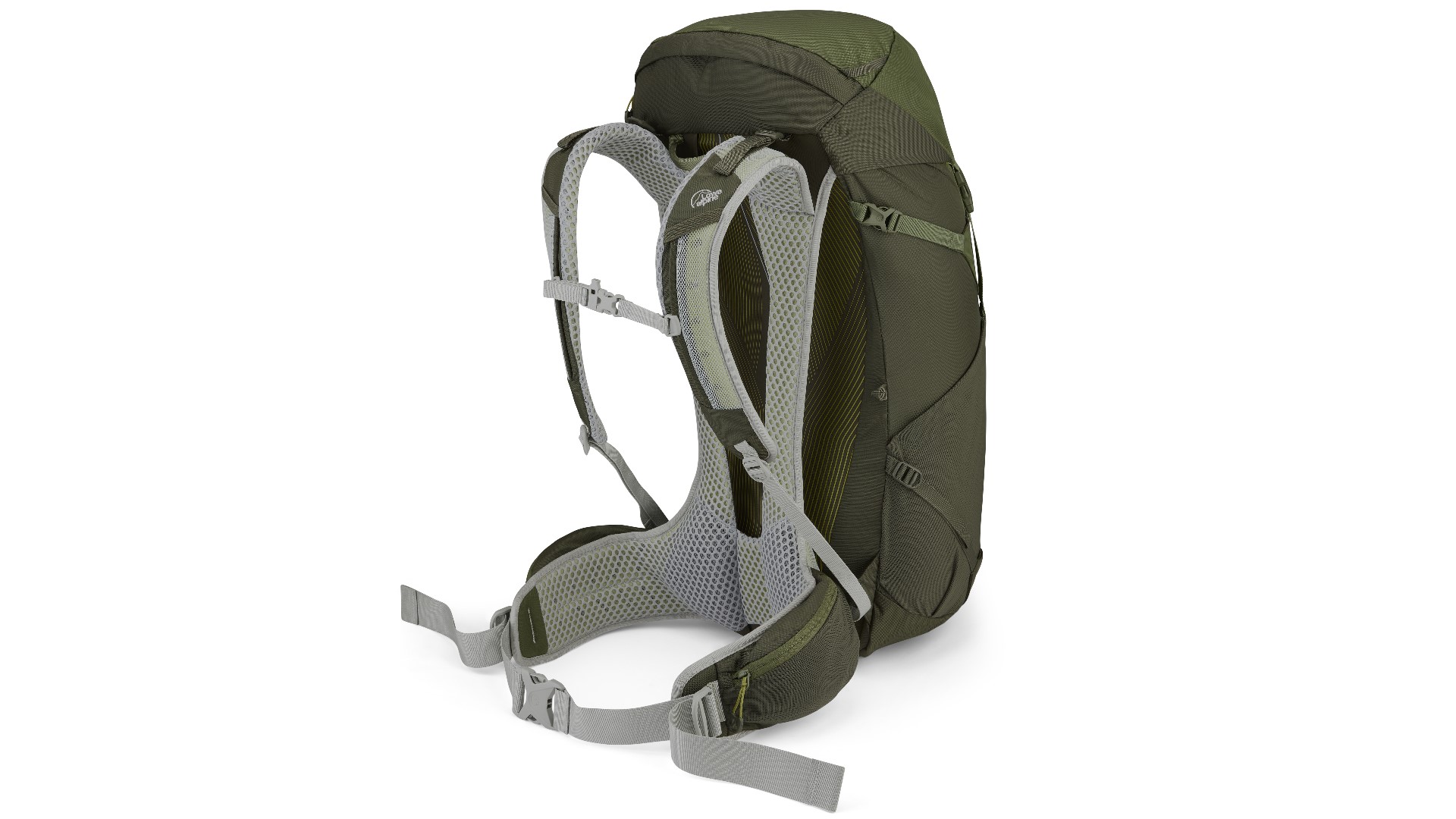 The newly-redesigned for 2023 Lowe Alpine AirZone Trail 35L hits all the right notes as a proper hiking backpack. Volume wise it's easily enough for three season activities, and could cope with hut-to-hut style trekking too. The big sell is the suspended mesh AirZone back system, which has been redesigned in the newest model. 
There's a new convection channel designed to guide heat and warm air out of a vent hole between the wearers shoulders, keeping the back panel cooler than older models. The generous hipbelt still has a quick-adjust feature to minimise hassle when layering up or down, and the zip pockets are ideal for small items that need to be close at hand. 
Hydration compatible, there are also stretch mesh water bottle side pockets for quick access, and a bungee system for attaching poles, axes or extra layers. Finally, all this weighs in at a mere 1.24kg, which isn't bad at all. 
Buy Lowe Alpine AirZone Trail 35L Hiking Pack: £29.95 at Amazon
Decathlon MH500 Mountain hiking backpack 40L £70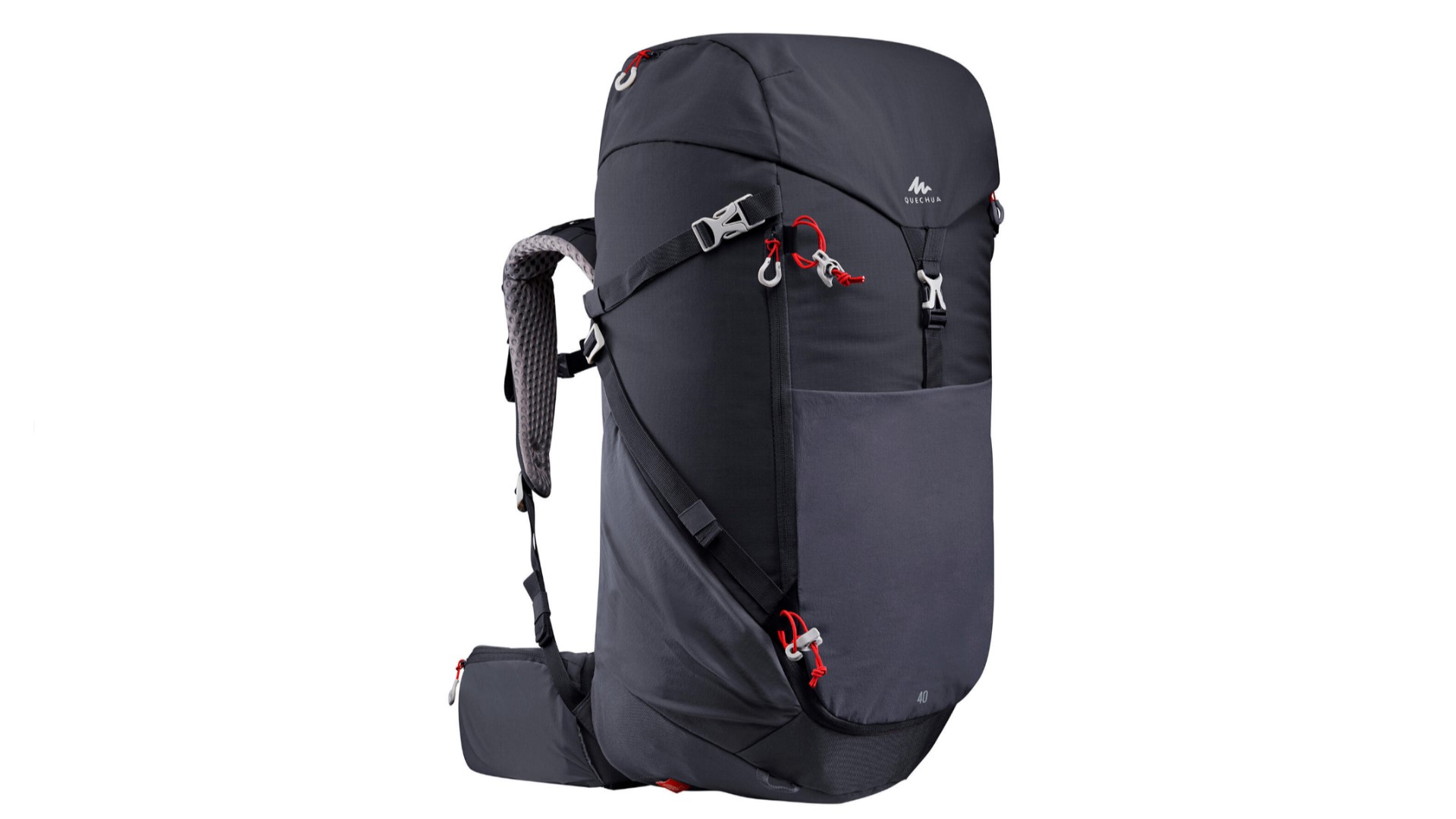 Decathlon does a fine job of producing excellent value items that are surprisingly hard to beat, and this hiking backpack fits that profile exactly. A decent 40L volume makes it perfect for hiking trips without being cumbersome, and a range of backsizes means you can choose be best length to suit. Weight is a highly reasonable 1,260 g in size S, 1,390 g in size L, and the mesh back is designed for breathability, albeit less breathable than fully suspended models. 
Generous pockets allow waterbottle storage, and the unusual side zip gives access into the pack without needing to remove everything - potentially handy. Belt pockets, zipped top pocket and pole storage bungees are present and correct, and the compression straps are effective enough to be useful - there's even a raincover for those that need it. Overall, you could easily spend double and get less, so this is well worth a look - just check the fit carefully. 
Buy Decathlon MH500 Mountain hiking backpack 40L: £64.99 at Decathlon UK
Deuter AC Lite 23 backpack, £80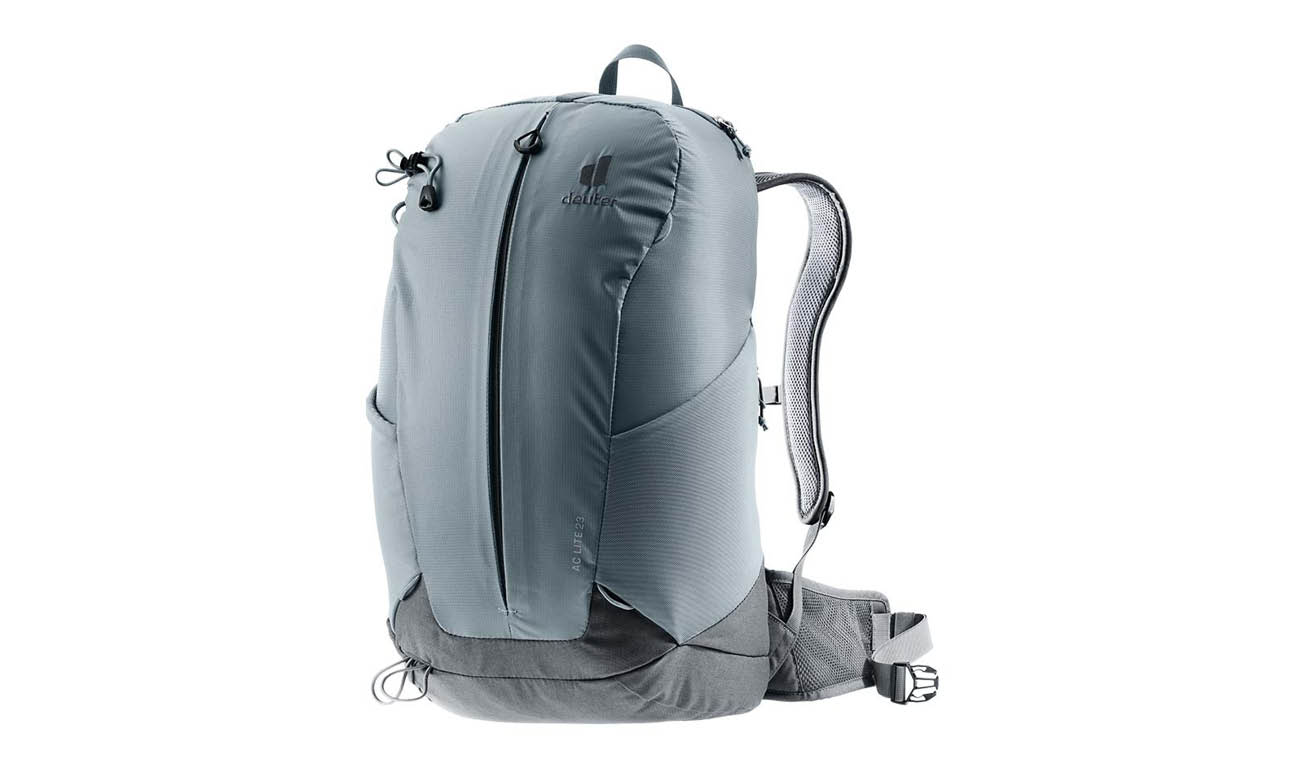 Deuter's Aircomfort carry system is a standout feature of the AC Lite 23. It features a trampoline mesh design that's just as comfortable as Osprey's offering and gives you an alternative to the behemoth brand.
The adjustable sternum strap, hip belt, and shoulder straps allow for an excellent carrying experience that is both comfortable and stable. The elasticated walking pole strap is quick and easy to use and, if you need to carry a helmet, the dedicated docking loops on the front of the backpack allow you to easily add a stretch mesh helmet holder.
One of my favourite features of the Deuter AC Lite 23 is the long zip opening at the front, which provides excellent access to kit. Plus, the stretch side pockets easily swallow large water bottles, allowing for easy access on the go. 
This backpack comes with a rain cover, which isn't an accessory you always see included with daypacks, but it's a handy addition given the fickle UK weather.
Overall, the Deuter AC Lite 23 backpack is an excellent pack if you like trampoline mesh back systems. It's fantastic in hot weather, is well-built, and is comfortable to wear all day long.
Buy Deuter AC Lite 23 backpack: £67.78 at Amazon
Buy Deuter AC Lite 23 backpack: £49 at Blacks <<Best Deal>>
Montane Azote 25 backpack,£95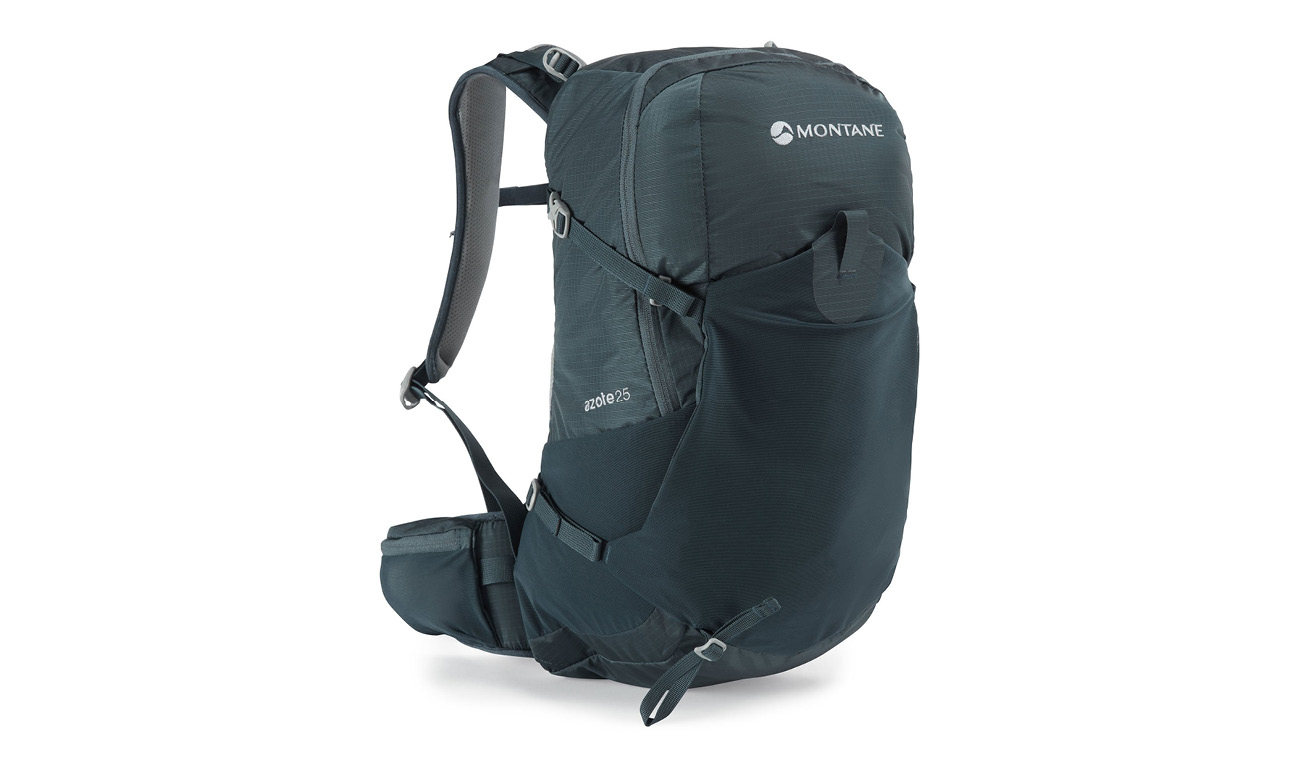 The Azote 25 is a 25-litre daypack that's described by Montane as their most functional, go-anywhere, do-anything daypack.
We would say that's true, but it's ideally suited to hiking. First up, the back system is one of the most comfortable on test. It features a proper hipbelt that wraps around the waist and, unusually for a daypack has a handy zipped pocket on each side. The wings of the hipbelt are wide and well-cushioned with little cut-outs to relieve pressure.
The back panel features mesh covered high density foam with deep cut outs for optimal ventilation making it airy and comfortable on long walks. The mesh covered shoulder straps are wide and have ample cushioning, with all this protection you can really load the Azote 25 up and still have a comfortable carrying experience.
On trail the Azote 25 is stable thanks to a mix of excellent adjusters and anatomical shaping. The sternum strap clips on one handed and is elasticated to account for natural movement in the chest. The back panel is adjustable, which is perfect for someone like me who has a particularly long back. There are no instructions on how to make the adjustment, and the fact that it adjusts at all could easily be missed, but with a bit of investigation it's easy to work and successfully adjusts the length of the back from short through to long.
A hydration bladder can be conveniently placed in-between the back panel and lining of the bag, which doesn't take too much space away from the main compartment or adversely affect comfort.
The main compartment opens with a u-shaped zip which extends right down the bag, allowing easy access to kit at the bottom. We would have expected to see a small, zipped pocket here but it's just one big compartment.
There is, however, a zipped pocket on the top of the bag for small items and the two stretch side pockets are big enough for a Nalgene bottle. The front kangaroo pocket is stretchy enough to hold a waterproof jacket and has an extra layer of security to hold the jacket in place by means of a simple clip.
Overall, this is one of the best backpacks for walking. It's comfortable, practical, and durable and has a few added benefits over other backpacks that make it a particularly compelling buy.
Buy Montane Azote 25 backpack: £90 at Cotswold Outdoor
Fjallraven Abisko Hike 35 backpack, £150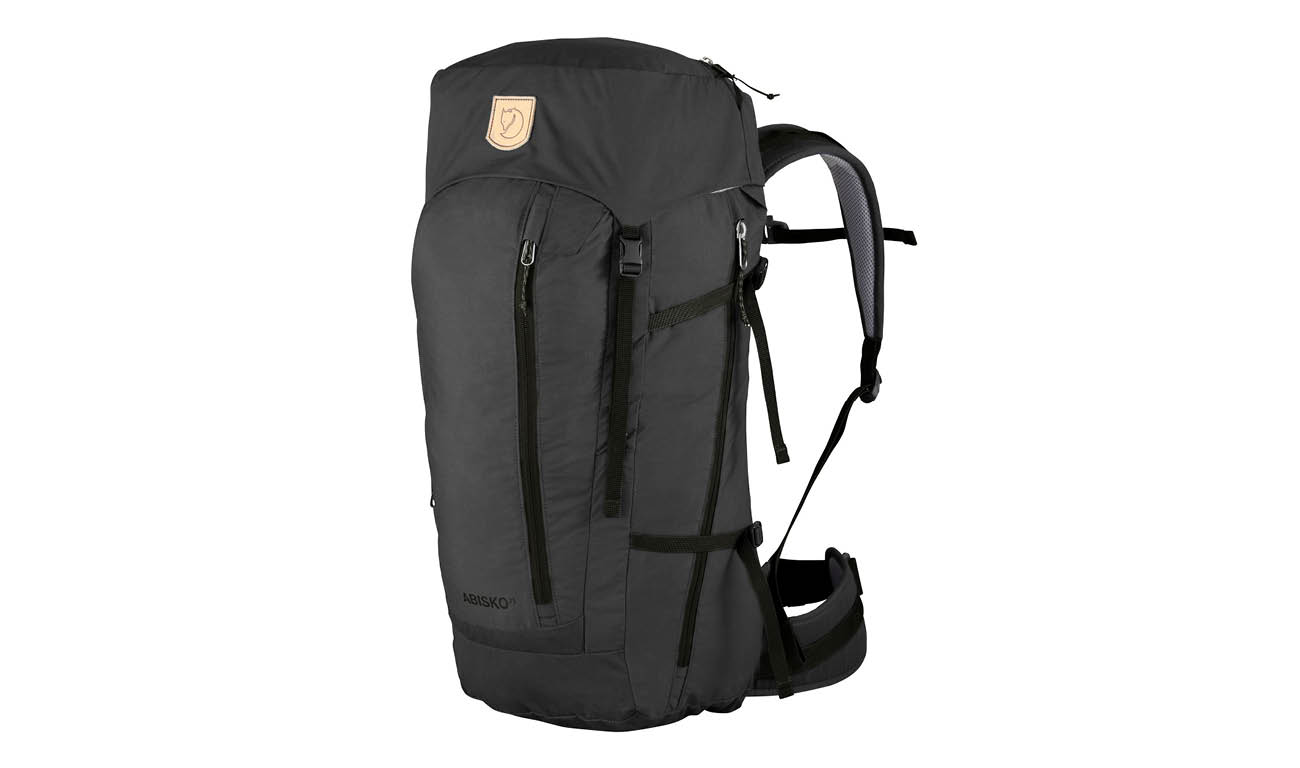 This backpack could equally go into our list of best backpacking packs. Its sturdy build means it can take some weight and act as a solid daypack or light overnighter. Fjallraven's tough G1000 outer fabric lends the bag durability as well as a unique aesthetic, and the aluminium stays and reinforced back panel allow the Abisko to be loaded up with lightweight camping kit while still feeling stable on the back. The hipbelt feels perfectly anatomical, hugging the waist without any discomfort. Like the shoulder straps it doesn't feature any pockets, making the whole front of the pack as you wear it bereft of quick access storage for things like energy gels.
Storage elsewhere is just right though, there is a single side pocket for a drinks bottle and pockets both sides of the floating lid. One additional front pocket rounds off the gear organisation potential, which for a bag of this size is plenty, and reduces endless hunting through unnecessarily numerous pockets.
Access to the main compartment is through a top drawstring, best used for packing and the side zip which runs the length of the bag is the preferred option when you're on the trail.
The sum of all these parts is a somewhat perfectly formed daypack which can be utilised as a lightweight overnight pack too.
Buy Fjallraven Abisko Hike 35 backpack: £140 at Amazon.co.uk
Vaude Brenta 30 backpack, £140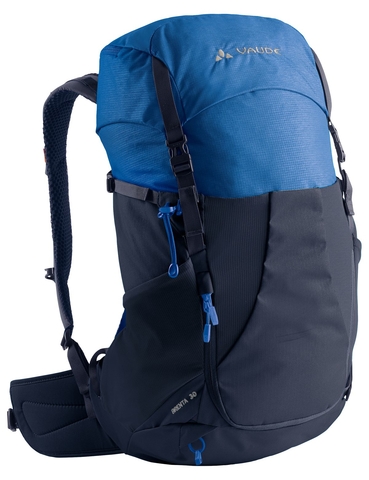 An update to the original Brenta brings with it a fresh new look and improved gear access. The Brenta 30 is one of the most accomplished daypacks going, perfect for hiking needs. Yes, it's more expensive than others but this is a daypack with features normally found on multi-day packs.
The trampoline mesh back system is both incredibly comfortable and breathable thanks to a big gap between the back panel and your back for airflow. You can adjust the back to get a more precise fit for your particular back length too which is a real bonus for regular day hikes. The shoulder and hipbelt straps are anatomically correct so wrap neatly around the contours of the body, providing a perfect carry system even with a heavy load. Cushioning on both is sufficient for daypack loads and there's a hipbelt pocket to help with gear organisation.
Storage and access to kit is excellent, with a top loading main entrance and zipped u-shape opening giving access to kit in the depths of the bag. There are also three big stretch mesh pockets, one on either side and one at the front for rain gear as well as the usual pockets on the lid and of course the big main compartment, altogether making for an absolutely ideal backpack for a day walking on the hills.
Buy Vaude Brenta 30 backpack: £96.76 at Amazon.co.uk
Whichever capacity of hiking backpack you end up choosing, it's worth taking your time and getting the best fit and value you can. A good hiking rucksack will last you for many years of outdoor adventures, from mountain adventures in Snowdonia to soaking up the beauty of the Lake District's activities, you'll not regret the right choice. If you're feeling all fired up already, then your next stop might well be to pick up one of the best two-man tents, or browse for the best sleeping bag.