A good waterproof jacket is an essential part of your kit for almost any outdoor activity, especially in the UK, where the weather is so often unreliable. There are a whole range of different types to consider, from insulated jackets with waterproof outers, to shell jackets designed to withstand the worst that the elements can throw at you. For many activities, however, it's not so much the weather protection or the warmth that you want to prioritise, but the weight.
Lightweight Waterproof Jackets - Why They're Useful
There are plenty of occasions where having a lightweight waterproof jacket that you can easily stash in your hiking backpack makes more sense than carrying a heavy-duty shell. If you're only going for a short walk, rather than a multi-day, long-distance hike, for example, you probably don't need a heavy duty shell designed for alpine ascents.

If you're rock climbing or bouldering, a shower usually means game over for the day. Again, unless your chosen crag is miles from your car, you're not going to be spending enough time in the rain to get soaked, so a waterproof that won't add too much weight to the rope, harness, quickdraws, and protection you're already carrying makes a lot of sense.
For trail runners, saving weight becomes even more important. Which is why many of the best lightweight waterproof jackets (including three of the six models we've selected here) are designed primarily with trail runners in mind.
Lightweight Waterproof Jackets - What to Look for When Buying
Jackets designed for trail runners are generally a good place to start. But beware: some of the most lightweight trail running jackets, particularly cheaper ones, are are merely water-resistant, rather than fully waterproof.

To be considered fully waterproof, a jacket should come with "hydrostatic head" rating (usually 10,000mm, 15,000mm or 20,000mm) and a breathability rating, which will be quoted in grams per square metre per 24 hours. (For more on what those ratings mean, read our waterproof jackets buyers' guide).

While the most waterproof jackets are made from three-layer fabrics (which include a face fabric, a waterproof membrane, and a liner) lightweight waterproof jackets are usually made from 2.5-layer fabrics. These swap the liner for a thin "half layer".

We've selected three trail running options, and also some more generalist lightweight waterproof jackets (both men's, women's, and unisex) at a range of different price points. Different brands have different definitions of what constitutes "lightweight," but we've put the cut-off point at 450g, with the added requirement that they pack down relatively small.

As with most waterproof garments (including waterproof shell jackets and waterproof over trousers), there are some trade-offs between breathability, weight, and levels of waterproofing. As a general rule, those that are lighter, more breathable, more waterproof, and more packable will cost more.
The Best Lightweight Waterproof Jackets: TL/DR Summary
If you're looking for something super high tech, they don't come any better than The North Face Futurelight jacket listed below. But that £270 price tag won't be within everyone's budget, so if you're happy to carry a little more weight, but want to save, take a look at the Decathlon MH150.

If you're after a generalist's jacket that doesn't weigh too much, the Helly Hansen Loke is a great option, at a good price. But for the very best combination of weight, waterproofing, packability, and price, we'd recommend the Inov-8 Race Shell Jacket. At £130, it's an incredibly reasonably-priced lightweight waterproof jacket, and our overall Editor's Choice.
Inov-8 Raceshell Half Zip Running Jacket - £130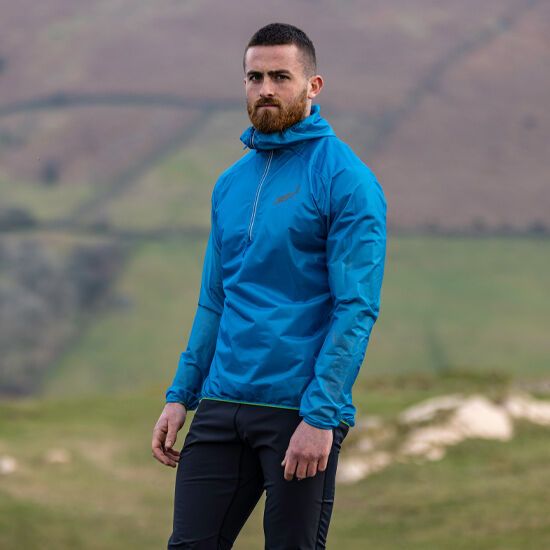 Weight: 100g

This unisex waterproof jacket by British trail running brand Inov-8, is one of the lightest we've ever held, weighing just 100g. Unsurprisingly, given the lack of bulk, it packs down absolutely tiny too. The waterproof and breathability ratings of this 2.5 layer shell are highly respectable: 15,000mm and 15,000 g/m2/24 hours, which is more than enough to deal with bad weather and heavy rain. The full seam taping offers extra protection too.

There's not much in the way of features here — no handwarmer pockets, or pit zips, for example — but that's all deliberate, because removing them helps save weight, and make it more easily packable. The same is true of Inov-8's decision to put a half zip instead of a full-length frontal zipper. For a rain shell which weighs this little, this is incredibly reasonably priced, too.
Buy Inov-8 Raceshell Half Zip Running Jacket: £129.99 at Ellis Brigham
The North Face Men's Lightriser Jacket - £270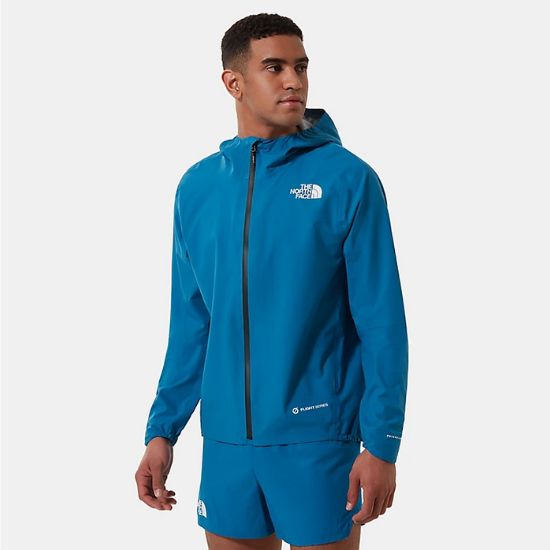 Weight: 200g
Made of The North Face's signature Futurelight fabric, this ultra-lightweight waterproof trail running jacket tips the scales at just 200g. It's small enough to pack down into its own, internal mesh pocket, waterproof enough to withstand powerful showers, and highly breathable. If you ever needed to go running in a tropical monsoon, this would be the jacket to wear.
Of course, this kind of tech doesn't come cheap, but the high price The North Face are asking only reflects this jacket's high performance.
Buy The North Face Men's Lightriser Jacket: £269.99 at Ellis Brigham
OMM Halo+ Jacket - £150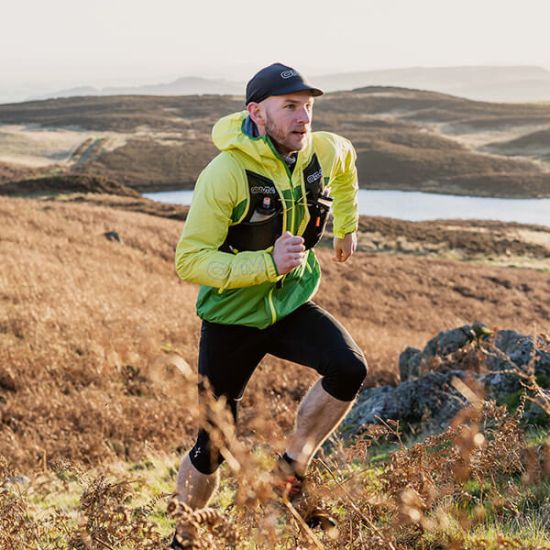 Weight: 130g
When it comes to making ultralight jackets—and all kinds of other lightweight gear, for that matter—OMM has an impeccable pedigree. The initials stand for 'Original Mountain Marathon'—the gear brand was spun out of the event of the same name, now in its 54th year.
Designed to help competitors tackle the legendary two-day trail running challenge, this packable waterproof jacket boasts a hydrostatic head of 10,000mm and a breathability rating of 10,000g/m2/24 hours, as well as fully taped seams. The OMM Halo+ weighs just 130 grams, and stuffs into a sack the size of a tennis ball—making it a brilliant rain jacket not just for trail running, but for a whole range of outdoor activities where speed and weight reduction are priorities.
Buy OMM Halo+ Jacket: £94 at Amazon <<Best Deal>>
Buy OMM Halo+ Jacket: £125.96 at Alpinetrek
Helly Hansen Loke Jacket - £120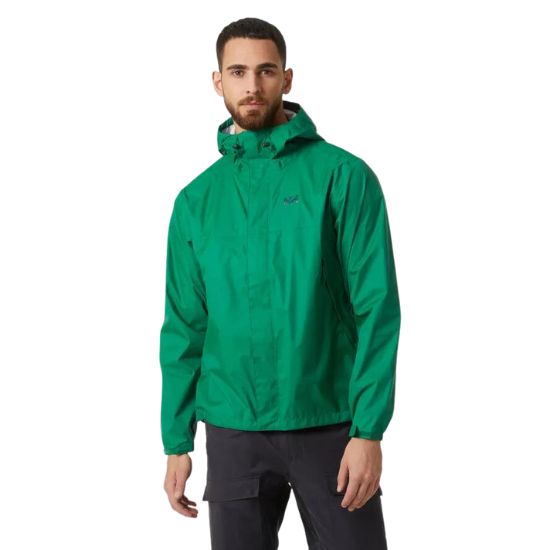 Weight: 325g
Founded in 1877 by the eponymous Norwegian sea captain and his wife, Helly Hansen has a long history of producing brilliant waterproofs of all weights—aimed at everyone from fishermen and sailors to alpinists and skiers.

The Loke comes in towards the bottom end of their line in terms of price, but its 2.5 layer Helly Tech Protection face fabric offers respectable waterproof and breathability ratings of 5,000mm and 5,000g/m2/24 hours. At just 325g, it weighs very little, and while it doesn't pack down as small as the OMM jacket (see above) if you're looking for general purpose lightweight waterproof jackets, this is a great option.
Buy Helly Hansen Loke Jacket: From £70.44 at Amazon <<Best Deal>>
Buy Helly Hansen Loke Jacket: £82.36 at Alpinetrek
Decathlon Quechua MH150 Lightweight Waterproof Jacket - £80 [BEST BUDGET OPTION]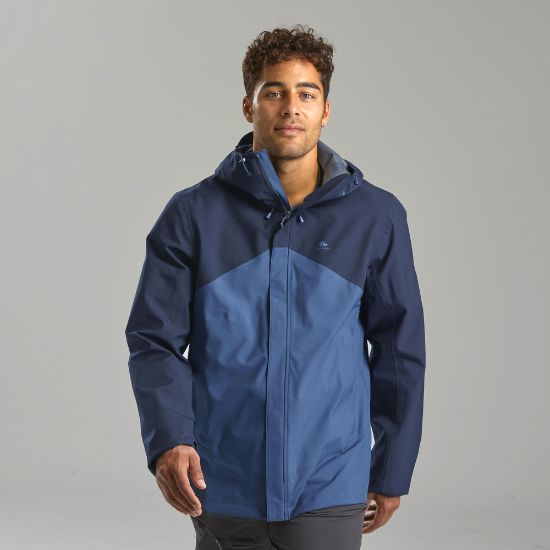 Weight: 425g
French company Decathlon have made themselves into a global player in the outdoor market by producing functional gear at a fraction of the price. This women's lightweight waterproof jacket (also available in men's sizes) is a classic example. Part of Decathlon's Quechua brand, which they use on their tents and hiking gear, the MH150 is a three-layer waterproof jacket with fully-taped seams, and a hydrostatic head rating of 25,000mm. All of which is impressively technical.

It's not the lightest jacket on these pages (a women's medium is 425g), nor does it pack down as small as the models by Inov-8, or OMM, for example. In addition, Decathlon kit doesn't, in our experience, last as long as gear made by other brands. But if you need something that works and you're on a budget, this is still a great option—you won't find lightweight waterproof jackets with this tech spec, for that kind of price, anywhere other than Decathlon.
Buy Decathlon Quechua MH150 Lightweight Waterproof Jacket: £44.99 at Decathlon
Berghaus Deluge Jacket - £120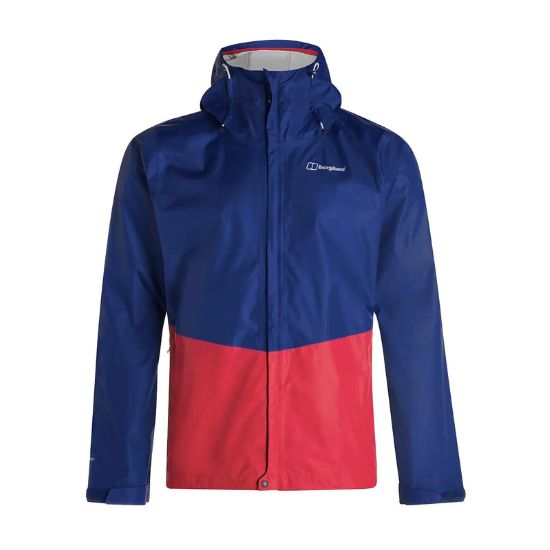 Weight: 378g
As the name of this lightweight waterproof from British company Berghaus suggests, it's made for dealing with heavy rain showers. The face fabric is the brand's signature Hydroshell material, a 2.5 layer shell fabric with their own waterproof membrane (rather than one from a third-party 'ingredient' brand, like Gore-Tex).
Using this helps keep the costs down, making this a great jacket for outdoor generalists on a bit of a budget. It's designed primarily for hiking, with a fully-adjustable hood, including a fitted peak, and pit zips. And while those features do add a bit to the overall weight of the jacket compared to some of the trail running models listed above it's still very lightweight, especially for the price.
Buy Berghaus Deluge Jacket: £71.70 at Amazon
Best lightweight waterproof jackets: Conclusion
Listing three trail running jackets alongside three more generalist jackets might seem strange, but it gives a good idea of the trade-offs between weight, waterproofing, and price that will dictate which jacket is ultimately right for you.

If you perhaps want the extra durability that comes from having a three-layer fabric, and you're happy to carry a little bit more weight, take a look at our overall list of the best waterproof jackets from this year.

Our gear experts have also reviewed other products you may find useful, including the best family-sized tents, the best water bottles for walkers and the best hiking backpacks. Happy shopping!