Along with a decent pair of walking boots or shoes, a good waterproof jacket is arguably the most important bit of outdoor kit you can buy. In the UK especially, where encountering bad weather is a matter of when, not if, waterproof coats are essential for pretty much any outdoor activity, from hiking to camping, to simply taking the dog for a walk.
The best models are multi-functional, meaning there's no need to buy a separate waterproof cycling jacket, a different jackets for commuting, hill walking, or watching a band at a muddy festival.

What to look for in a waterproof jacket
So, what should you look for in a men's waterproof jacket? First and foremost, it has to keep out the rain, and be windproof, obviously. But you'll also want to make sure you choose a jacket that's made of breathable fabrics — permeable materials that let moisture out and allow it to move away from your body. (Gore-Tex is probably the most famous breathable material, but it's not the only one.)

There's no point having a jacket that keeps the rain out if you're going to get soaked with sweat as soon as you start doing any kind of activity. As soon as your sweat cools, it will leave you as cold and clammy as if you'd been rained on. If your waterproof jacket isn't properly breathable, you may as well be wearing a bin bag.

Other things to look out for include the hood (hoods come in various different types), the number and arrangement of the pockets, the amount of stretch in the fabric (useful if you're into climbing, for example) and how durable the fabric is vs. how lightweight it is. It's not always a straight trade-off between durability and weight, but as a general rule, heavier fabrics are less likely to rip than super lightweight ones. Similarly, what the size the jacket scrunches down to — how easily 'packable' it is — sometimes involves a trade off. Lighter jackets tend to be more packable, but less durable.
Shell jackets vs. insulated jackets
While some waterproof jackets offer a level of insulation, here we've concentrated on the more common type: lightweight, 'shell' style jackets, that let you layer up underneath. While they may be less warm in and of themselves than insulated jackets (like those famous North Face down jackets) shell jackets are usually more breathable, and more versatile.

This list is not exhaustive (there are tons of other great brands out there) but for our money, these are the best men's waterproof jackets out on the market in 2022.
Patagonia Men's Calcite Jacket - £280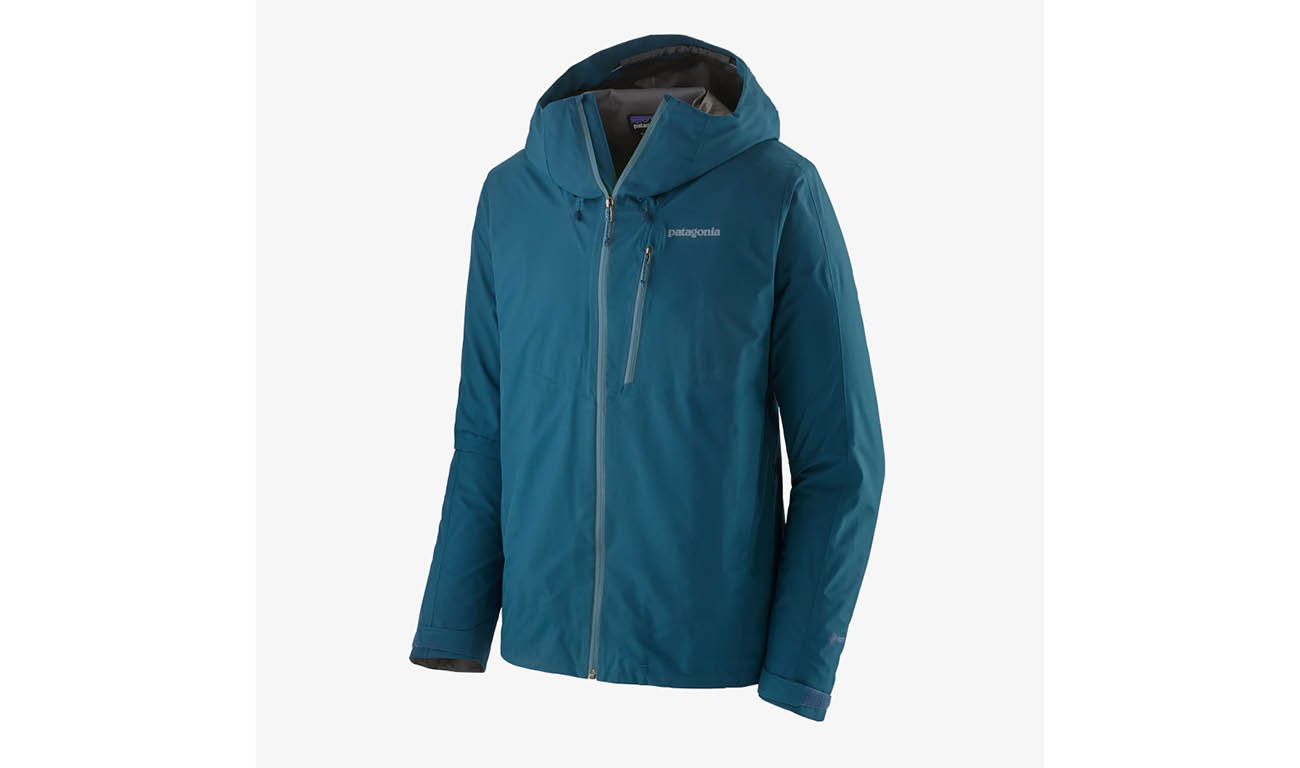 This isn't the top of the Patagonia men's waterproof jackets range. (That's the ultralight, and slightly more pricey, Storm 10 jacket, designed for "fast alpine assaults"). But if you're looking for a high performance all rounder, to use for hiking, camping, and other general outdoor activities, the Patagonia Calcite jacket hits the sweet spot between spec and price.

Made from Gore-Tex's highly breathable, highly packable 'Paclite' fabric, this jacket weighs 411 grams and packs down small. The material is eco-friendly too, made from 100 percent recycled polyester, so it's in keeping with Patagonia's commitment to the highest environmental standards. It's also Fair Trade Certified sewn, meaning those making it earned a premium for their work.

A water repellent DWR coating and waterproof zips offer high levels of protection against the elements. It's only available in three colours - a red, blue and a black - but they're chosen specifically as ones that are unlikely to go out of fashion. Patagonia kit is built to be highly durable, and the brand will repair it for free if needs be, so you won't have to throw this away.
Buy Patagonia Calcite Jacket: From £224.97 at Amazon <<Best Deal>>
Buy Patagonia Calcite Jacket: £279.95 at Alpinetrek
The North Face Men's Mountain Light FutureLight Triclimate Jacket - £420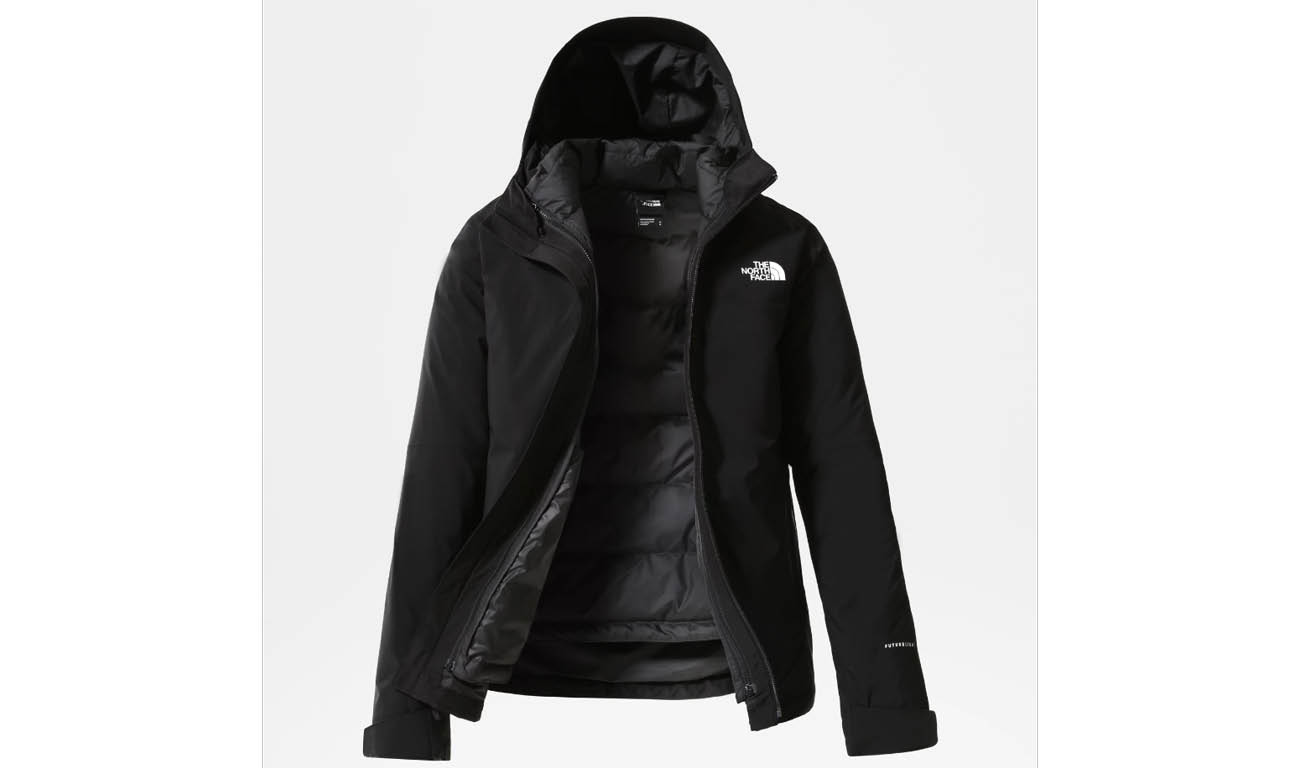 This might look pricey, even for a high end waterproof jacket, but with the Triclimate Jacket, you're actually effectively getting two for the price of one. This features a shell made of The North Face's patented FutureLight material — one of the most breathable fabrics on the market — and a separate insulator jacket, filled with down, for you to wear underneath. The idea, as the 'Triclimate' part of the name implies, is that you can wear one, or the other, or both, giving you three different options depending on the climate. If it's cool and relatively dry, you can wear the insulator alone. If it's warm and wet, go for the waterproof shell by itself, and it's cold and wet or snowy, wear both at once.

The North Face's FutureLight material, introduced with great fanfare in 2018, uses a process called nano-spinning to create a lightweight, waterproof, breathable membrane that competes with the best Gore-Tex in terms of performance. The Mountain Light in the name refers to one of The North Face men's waterproof jackets from the 80s, from which this model takes design cues.

The brand famously makes some of the best lightweight men's puffer jackets on the market, and the zip-in insulator layer here is no exception. Its external fabric has a DWR coating that'll keep you dry if it starts to drizzle, and it's filled with 550 fill responsibly-sourced goose down that will keep you toasty and warm.
Buy The North Face Men's Mountain Light FutureLight Triclimate Jacket: From £528 at Amazon
Buy The North Face Men's Mountain Light FutureLight Triclimate Jacket: £419.99 at Ellis Brigham <<Best Deal>>
Berghaus Men's MTN Seeker GTX Jacket - £320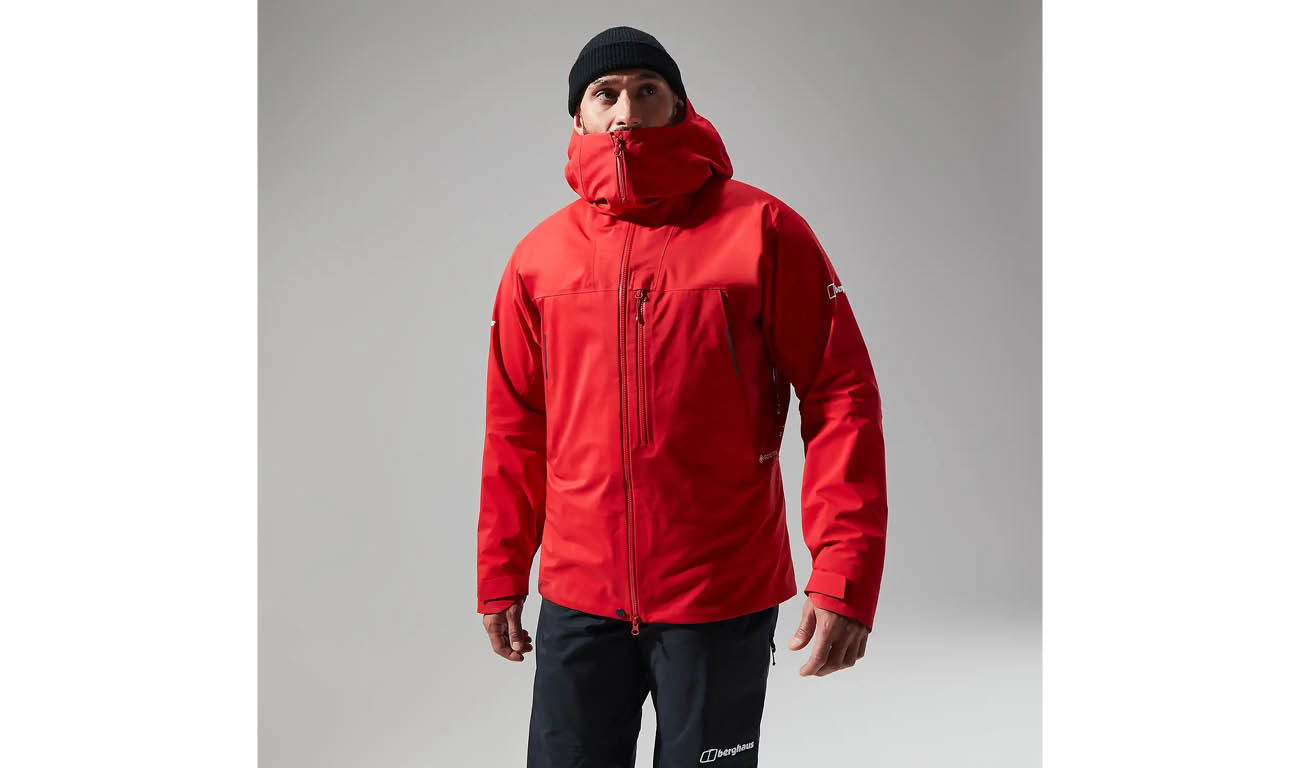 British brand Berghaus has long had a reputation for producing high spec gear that won't break the bank. This men's waterproof comes in at the upper end of their price scale, but for that you're getting a really high spec jacket that can be used not just for hiking and a range of other outdoor activities, but for mountaineering too.

The exterior is made of Gore-Tex's 3L Performance Fabric, which is one of the toughest and most durable materials Gore-Tex make, as well as one of the most waterproof. It's got specially articulated sleeves allowing more movement, a hood that's compatible with a helmet and pockets positioned in such a way that you can still access them even while you're wearing a harness. It's not the lightest or most packable jacket on the market, weighing in at 585 grams, but it'll handle any kind of bad weather you can throw at it - from heavy rain, to high winds, to snow storms.

Those features might sound like overkill if you're just looking for a regular waterproof jacket to go hiking in, but trust us, you'll appreciate the extra protection when the weather closes in. For this price, you'd be hard pushed to find a higher spec jacket.
Buy Berghaus Men's MTN Seeker GTX Jacket: £307.99 at Amazon <<Best Deal>>
Buy Berghaus Men's MTN Seeker GTX Jacket: £320 at Berghaus
Montane Men's Phase Waterproof Jacket - £300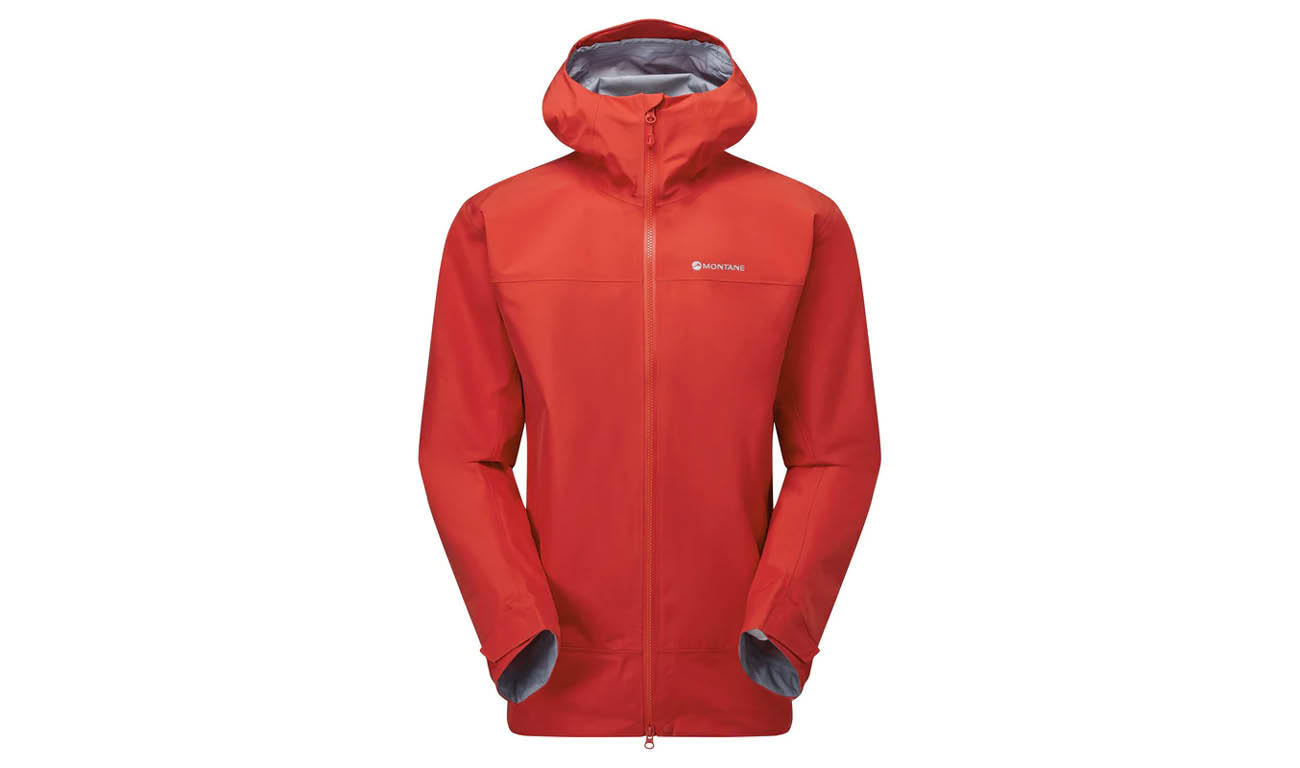 Montane make a whole range of excellent outdoor gear, and some of the best lightweight waterproof jackets for trail running on the market. This is their flagship hill walking jacket, which combines a solid level of waterproof protection with a high level of durability. Available in three colours (blue, red and grey) its understated styling won't look out of place on the commute into work either.

The outer layer of the Montane Phase jacket is made from the tough, breathable, 40 denier Gore-Tex Performance material. The adjustable cuffs, cinchable hem and two way zip make the fit customisable, and with all sizes available - from men's S through to XL and even XXL - finding one that fits won't be a problem. A peaked hood and a waterproof zip with an internal storm flap make the jacket suitable for whatever weather the outdoors throws at you. And with a weight of just 430 grams, this packs down pretty small for a tough waterproof too.
Buy Montane Men's Phase Waterproof Jacket: From £216.63 at Amazon <<Best Deal>>
Buy Montane Men's Phase Waterproof Jacket: £300.95 at Alpinetrek
Rab Men's Arc Eco Waterproof Jacket - £215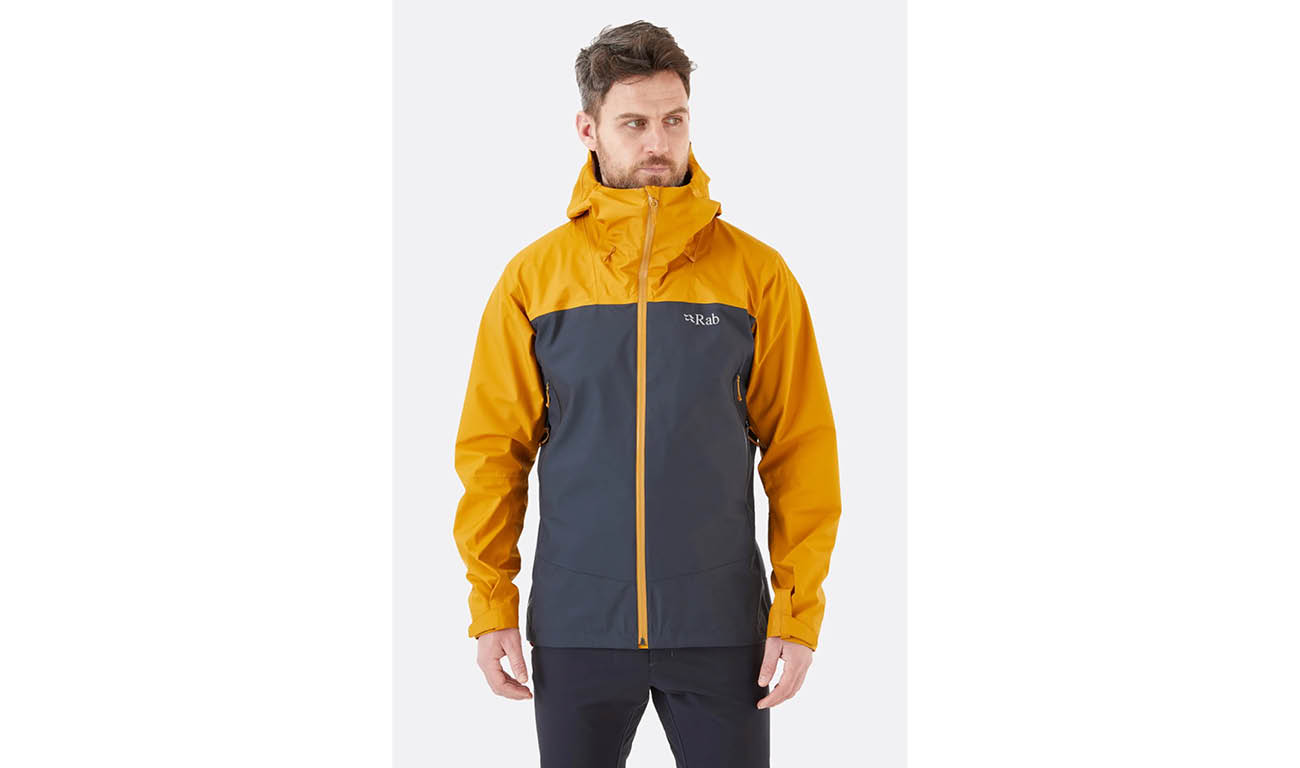 Founded in the Peak District by the legendary Sheffield-based climber Rab Carrington, Rab Equipment enjoys a reputation for making the highest quality mountain gear, with classics like the Rab Microlight Alpine Jacket, a down-filled insulator, selling well year after year.

This high performance waterproof shell sits near the middle of the Rab range - it's not as high end (or as pricey) as the Kangri mountaineering jacket, but it boasts more features than the £180 Downpour jacket. The outer material is made of Pertex (one of the main rivals to Gore-Tex) and is highly waterproof and breathable. What we like most about this particular kind of Pertex (known as Pertex Shield Revolve) however, is that it's made of 100 percent recycled polyester - hence the 'Eco' in the jacket's name. All three layers are made of a single polymer, which makes it much easier to recycle when the time comes.
There's a DWR waterproof coating on the outer for extra protection, as well as a range of features designed to increase comfort, like the YKK Aquaguard waterproof zips, the drawcord hem and the fleece-lined chin guard. It's available in a wide range of colours, including orange, red, navy blue, green and grey.
Buy Rab Men's Arc Eco Waterproof Jacket: From £193.50 at Amazon <<Best Deal>>
Buy Rab Men's Arc Eco Waterproof Jacket: £215 at Cotswold Outdoor
Arc'teryx Men's Beta AR Waterproof Jacket - £500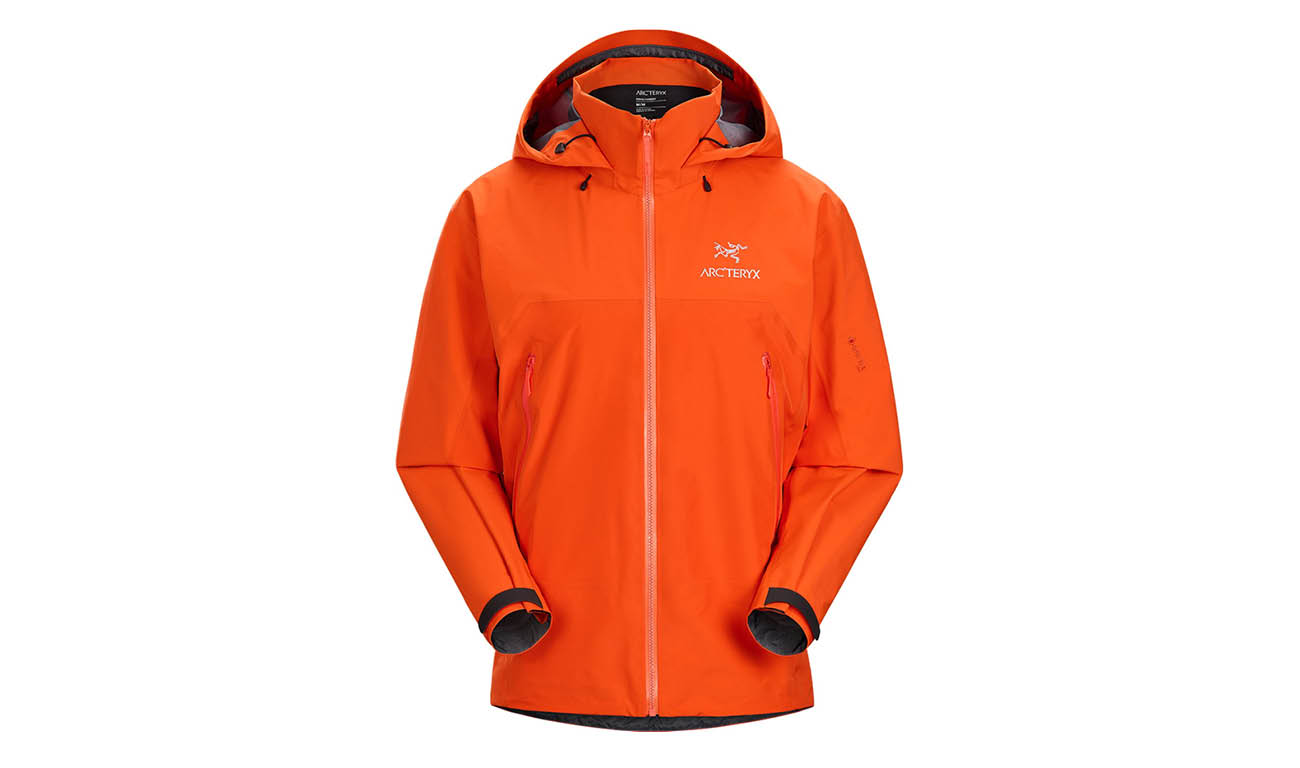 Like The North Face and Patagonia before them, Arc'Teryx have recently found their jackets becoming objects of desire among the streetwear crowd. But don't be fooled by the fact that they make waterproof coats and down jackets that work in an urban situation — Arc'Teryx also make some serious high end mountaineering gear, packed with premium priced tech.

The Beta AR Waterproof Jacket isn't the top of the Vancouver-based brand's range, but as the price tag shows, this is still a super high spec jacket. Built for versatility, this windproof and rain proof jacket is made of a variation on Gore-Tex's Pro material that Arc'Teryx developed specially with the brand. It's super rugged and durable, but nonetheless still relatively light (this whole jacket weighs just 455 grams).

Available in a range of sizes (from XS to XXL) and multiple colours (including brown, yellow black and grey) this is a comfortable all rounder, and one of the best men's hiking jackets money can buy.
Buy Arc'teryx Men's Beta AR Waterproof Jacket: £319.95 at Alpinetrek