A sleeping bag is the unsung hero of every camping trip, keeping us warm and cosy overnight - especially when combined with the best two-man tent for the job. Get the wrong sleeping bag though and you're in for an uncomfortable and cold experience - similar to walking socks, which can inflict similar discomfort if not carefully chosen. How do you pick the right sleeping bag for you then? Read our short guide below to find out and then head down the page to our pick of the best sleeping bags to buy now.
Best Sleeping Bags 2023: Buyer's Guide
What do you intend to use your sleeping bag for? If you're going camping with the family, you will never be carrying your sleeping bag further than car to tent. This gives you the flexibility to buy a sleeping bag that's comfortable, warm and costs a lot less than a technical sleeping bag. The downsides are that it will be bulky and heavy.
On the flipside if you want a sleeping bag for backpacking and wild camping you need it to be as small and light as possible while still keeping you warm at night. This is usually expensive, and you'll usually be looking at a 'mummy' style design to minimise weight and maximise warmth. 
Best Sleeping Bags 2023: Winter, summer, what season bag do I need?


Sleeping bags are separated into broad categories of warmth, or 'seasons' with the most common being 3 season. A sleeping bag in this category should keep you reasonably warm in spring, summer, and autumn months.
A 4 season, or winter sleeping bag can be used across all seasons, but more commonly they're only used in winter due to being big, heavy, and too warm for summer.
Two (2) season sleeping bags don't provide much in the way of heat, so are best reserved for only the warmest summer nights. 
Best Sleeping Bags 2023: TL/DR Summary


Sleeping bags are a tough group to grade due to the huge variety in performance and cost - splashing out on the crazy light Thermarest Hyperion 20F or the Sea to Summit Spark SPIII will see you snug and smug in equal measure. However, our star pick has to be the down-filled Rab Neutrino 400 - it's tried, tested, lightweight and top quality. The down is ethical, and it'll keep you warm and happy for decades to come. 
At the budget end of the spectrum, the Kelty Cosmic Synthetic offers huge bang for buck, with an epic comfort rating and robust synthetic fill that'll laugh in the face of wet weather. It is relatively weighty though, but there's a three-season version that tackles that issue somewhat.  
Best Sleeping Bags 2023: Comfort, limit and extreme ratings
Within each sleeping bag category each sleeping bag is rated on comfort, limit and extreme temperature ranges.
Limit is the limit at which you will be able to sleep in a sleeping bag without the cold disturbing your sleep, and the extreme rating is the point at which you are in danger of death from hypothermia.
Both of these ratings are therefore best ignored unless you intend to wear your entire camping wardrobe to bed with you.
The rating to focus on is comfort. A sleeping bag with the right comfort rating will keep you genuinely warm and comfortable when the temperature outside is matched with your comfort rating.
Best Sleeping Bags 2023: Down or synthetic insulation
Sleeping bags are filled with either animal derived down insulation or man-made synthetic fibres.
Down insulation tends to provide the best warmth for weight and is highly compressible. This makes it the insulation of choice for technical, lightweight sleeping bags meant for bike packing and backpacking.
Down comes in a variety of qualities, with the ratio of down to feathers shown as 90/10 or similar. The higher the first number the better.
Down insulation also has a fill power or FP rating. Anything over 650FP is good. 800FP is excellent and provides the best warmth for weight.
Synthetic insulation sleeping bags come in many flavours. There are almost as many synthetic insulation types as there are sleeping bags. Don't be fooled by the marketing lingo here though. Generally, when a sleeping bag is synthetic insulated look for it to be an insulation that tries to mimic down, with loose individual fibres rather than a constantly extruded mat of fibres.
Synthetic insulation varies massively in its compressibility, warmth and weight so pay attention to these ratings on your sleeping bag to gauge its effectiveness.
The big kicker here is that down becomes useless when wet, as the feathers lose their insulating 'loft' and clump together, reducing a proud, plump sleeping bag to a miserable soggy mess. Synthetic insulation on the other hand tends to blithely ignore damp and stays relatively warm whatever the conditions, making it a great choice for anywhere with weather. Down manufacturers have spend recent years applying all manner of water-repellent treatments to down to protect it, some more successfully than others. 
Now that you're educated on how to buy a sleeping bag take a look at our pick of the best.
Best sleeping bag for hiking trips
Rab Neutrino 400, £345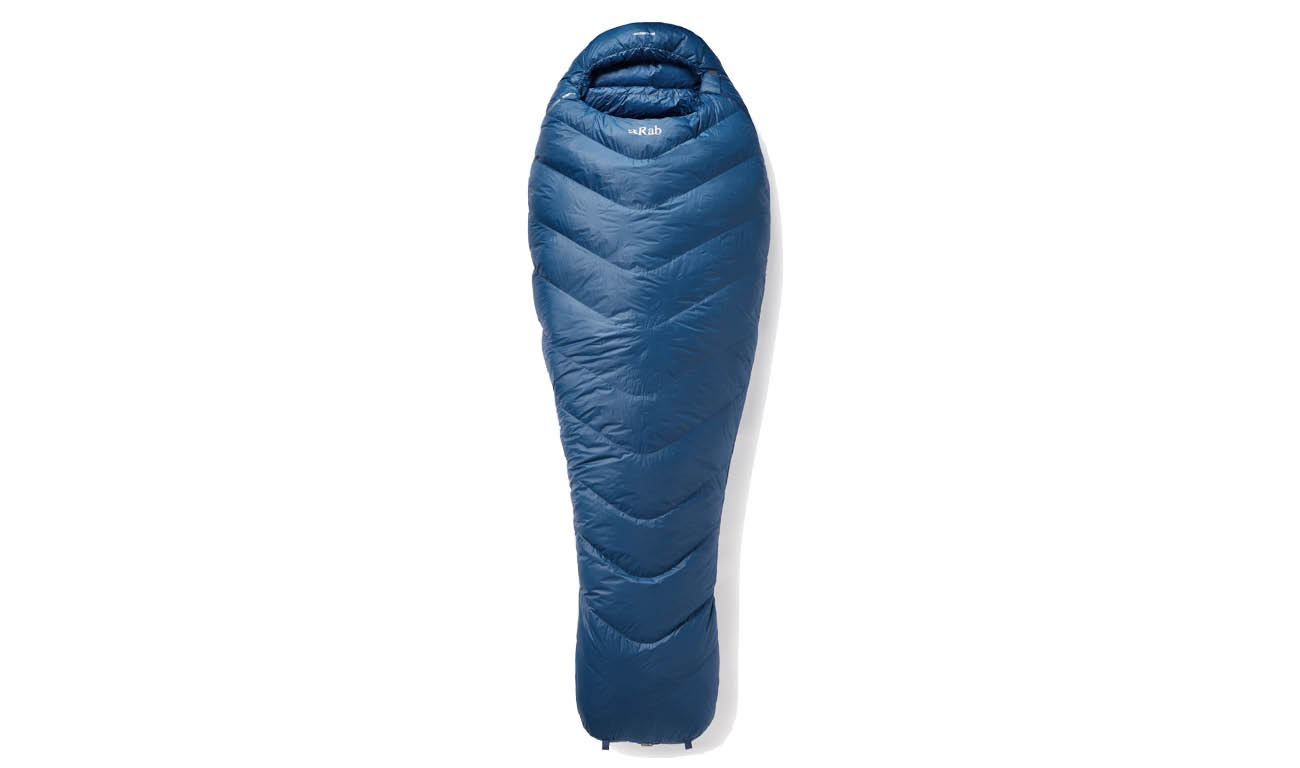 Fill: 800FP down
Comfort rating: -1C
Weight: 0.775kg
Pack size: 36 x 19cm
Shoulder width: 77cm
Foot width: 47cm
RRP: £345
A classic 3 season bag, the Rab Neutrino 400 has been part of Rab's sleeping bag line for years. It's designed as a lightweight sleeping bag where warmth to weight is the main concern.
As such, the Rab Neutrino 400 is one of the narrowest sleeping bags on test, especially at the feet where it tapers down to a particularly tight 44cm. This helps retain maximum warmth when in use, a tapered mummy shape is known to be the most efficient for heat retention.
Sleeping in the Rab Neutrino 400 is still comfortable despite the lack of wiggle room. It has a warm neck baffle and effective hood, and side sleeping is not an issue. The 800FP down is R.D.S certified and features a PFC free DWR for better wet weather performance.
Warmth builds quickly in the Rab Neutrino 400, and although the temperature rating is Rab's own, it puts in a solid performance, easily providing comfort at the claimed temperatures and slightly beyond.
Considering the warmth of this sleeping bag it's impressively lightweight. It almost rivals the ultralight Sea to Summit Spark listed below and is not far off Rab's own Mythic 400 ultralight sleeping bag, but saves you around £100 off both. This makes it a compelling choice, even if you're an avid gram counter.
The zip features an anti snag bonded zipguard like most of the other sleeping bags on test, but it does tend to catch every now and then. With a light touch you can easily de-snag so it's more of a frustration than a deal breaker.
Durability across the Rab Neutrino range is excellent, we have a heavily used Rab Neutrino that's around six years old and it's still going strong, if a little smelly. For this reason we consider the Rab Neutrino to be a good buy, expensive gear is often worth it in the long run.
Overall, the Rab Neutrino 400 provides exactly what you would expect at this price point and nothing you wouldn't. It offers a mix of lightweight warmth and small pack size that is ideal for fast and light adventures, whether hiking, cycling or climbing.
Buy Rab Neutrino 400 Sleeping Bag: £515.44 at Amazon
Best Budget Sleeping Bag (Summer)
Decathlon Forclaz MT500 Trekking Sleeping Bag £40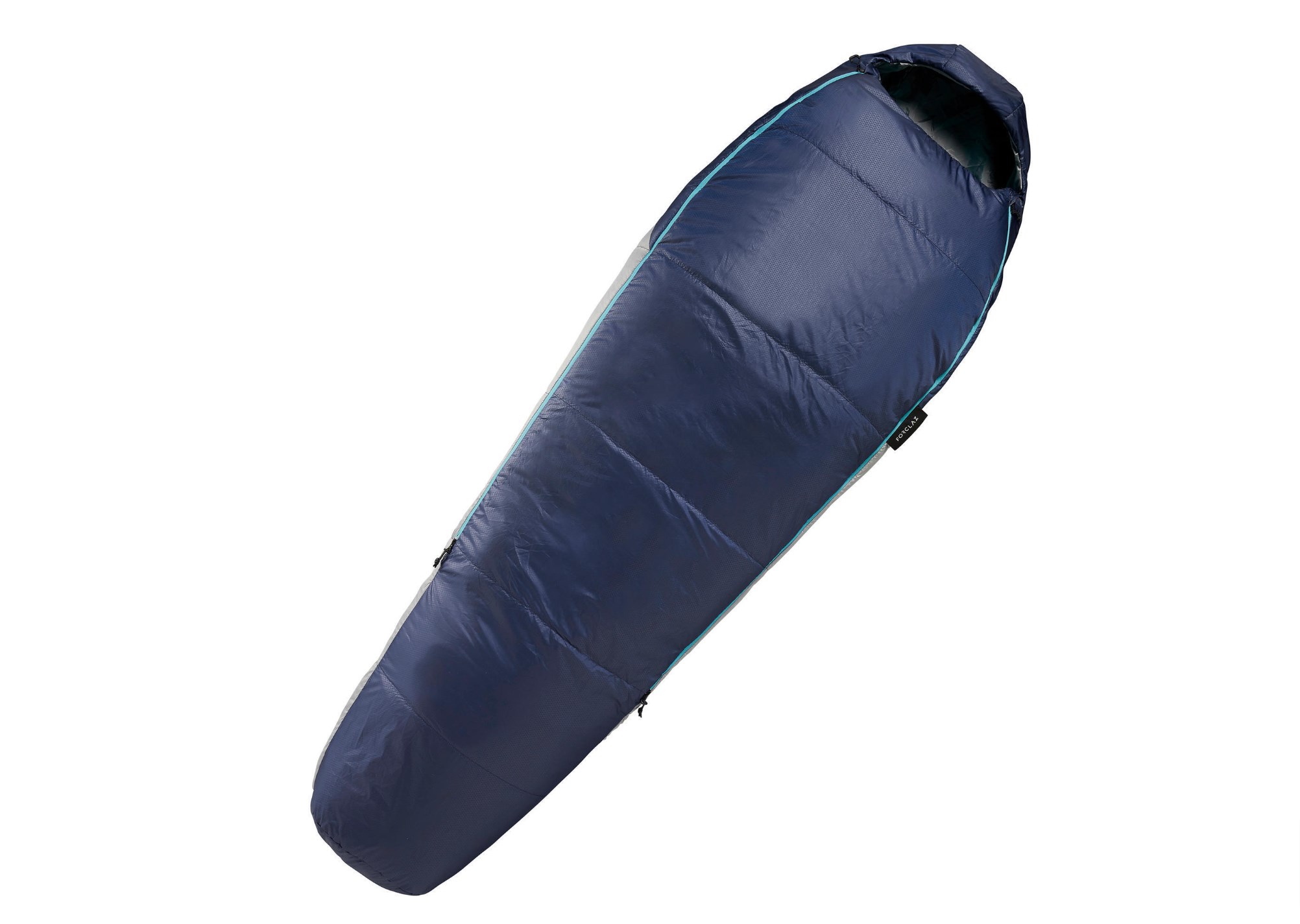 Fill: Synthetic
Comfort rating: 15°C
Weight: 680 grams
Pack size: 4.5 litres
Shoulder width: N/A
Foot width: N/A
There's a lot that could be said about the Forclaz MT500 Trekking Sleeping Bag, but the crucial specs are firstly the price, and secondly the weight. £40 and 680 grams respectively, making this the cheapest and one of the lightest sleeping bags available. There is a catch or two, of course, but as a starting point that's an astonishing proposition for the budget-concious camper. 
The catch (of course) is that the temperature rating isn't considerable, with a comfort temperature 15°C, limit temperature 10°C, but for a synthetic sleeping bag at a portable weight this is something of a bargain. A double-sided zip system improves ventilation on warm nights, and also allows two bags to be zipped together. At this pricepoint it's hard to complain, and while the DWR coating might not be much more than a nod to weather-resistance, the synthetic insulation won't be bothered by condensation anyway.
Buy Forclaz MT500 Trekking Sleeping Bag: Decathlon £40
Best budget winter sleeping bag
Kelty Cosmic Synthetic, £99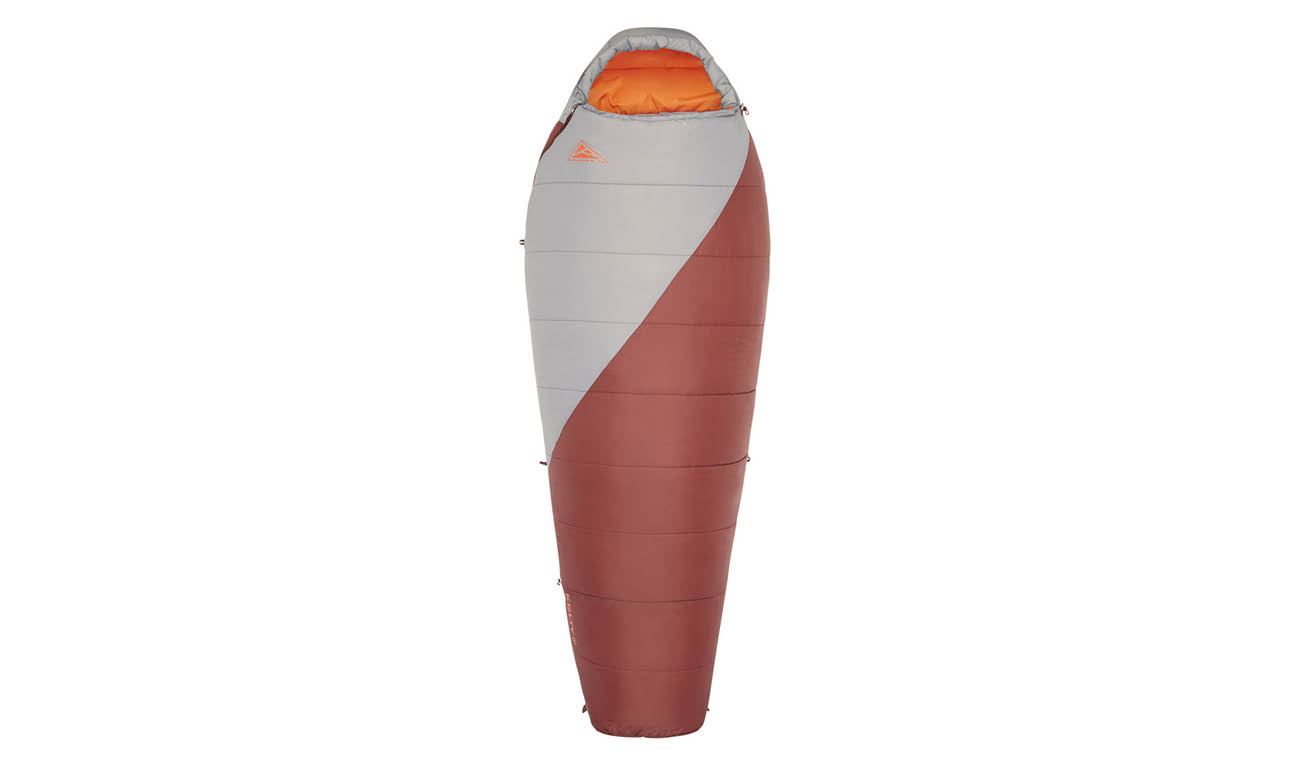 Fill: CirroLoft Synthetic
Comfort rating: -8C
Weight: 2kg
Pack size: 43 x 28cm
Shoulder width: 75cm
Foot width: 50cm
Coming in at the budget end of backpacking sleeping bags, the Cosmic Synthetic fills an important gap, helping make the outdoors more accessible to young people and those not wanting to, or able to spend large wads of cash on outdoor equipment.
The insulation in the Cosmic is CirroLoft synthetic. This is a constantly extruded insulation, much like your duvet at home with a constant layer of insulation rather than individual fibres. While this works well at home, it works less well in a sleeping bag that needs to be stuffed into a stuff sack and then reshaped when you pull it out. It also makes it more difficult for the sleeping bag to move with you at night as you toss and turn.
So, it isn't an ideal fill for a backpacking sleeping bag and it certainly isn't very compressible. The packed sleeping bag takes up a mammoth space in your backpack, or more likely strapped to the outside of it.
Having said that, it is warm, offering up a winter busting -8C comfort rating which makes the weight and pack size less of a bug bear. It's worth noting that the Cosmic Synthetic comes in a range of temperature ratings and the 3 season specific Cosmic Synthetic 20 sees a considerable reduction in weight and pack size versus the Cosmic Synthetic 0 on test. you would still be getting 3 season warmth and excellent build quality at a ridiculously low price of around £70.
Inside, the design tapers at the feet but you get loads of space at the hips and plenty at the shoulders, allowing you to toss and turn at night. The neck baffle is particularly warm and comfortable, but the hood suffers somewhat from the flat insulation which doesn't wrap around your head as easily as fluffy (but expensive) down.
The zip snags a little as you might expect but it isn't so frustrating that we wouldn't recommend the sleeping bag on that basis alone, as even the most expensive sleeping bags tend to have snagging zips.
Despite the limitations of the Cosmic Synthetic, the fact that it's made by a well-respected outdoor brand, is warm, and amazing value I would still recommend it to friends looking to get into backpacking and wild camping on a tight budget.
Buy Kelty Cosmic Synthetic Sleeping Bag: £98.95 at Amazon
Best 3 season sleeping bag for space
Rab Ascent 700 Down Sleeping Bag, £290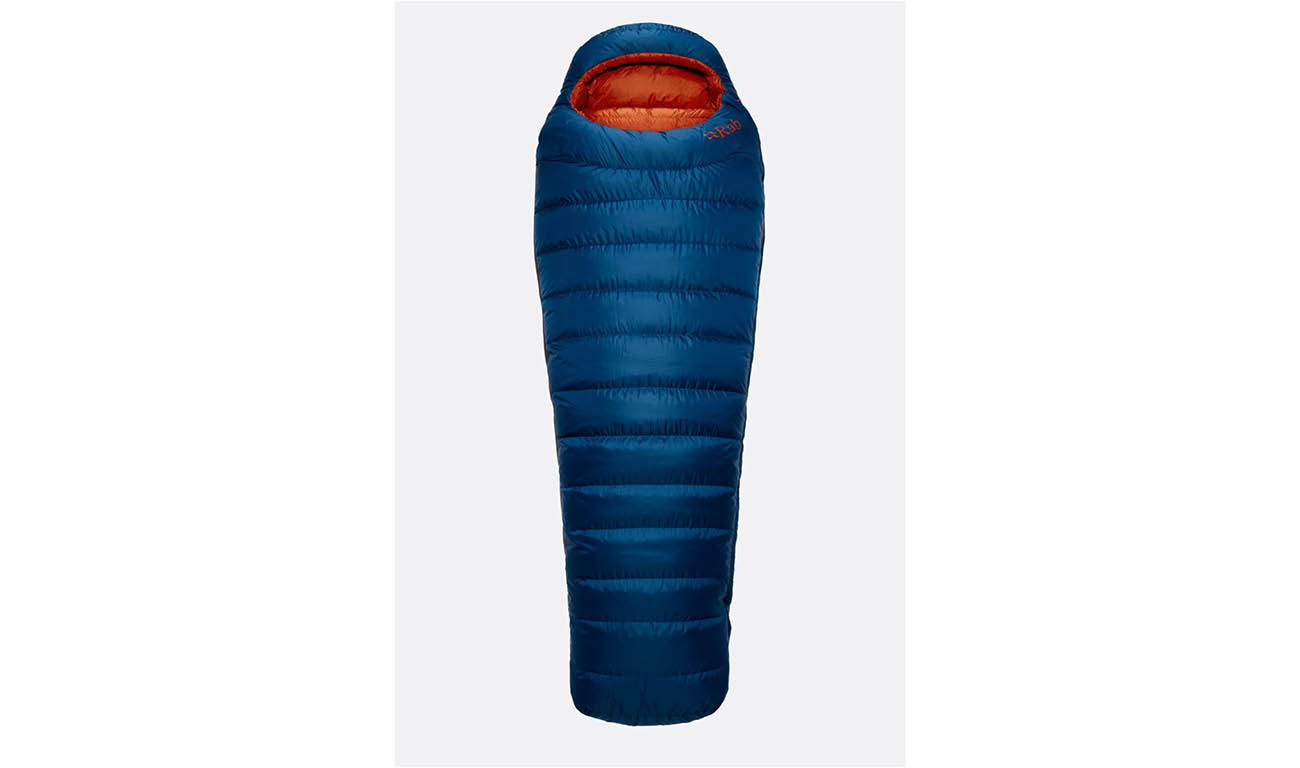 Fill: Down
Comfort rating: -2C
Weight: 1.29kg
Pack size: 40cm x 22cm
Shoulder width: 75cm
Foot width: 56cm
One of the most surprising things about the Ascent 700 is how spacious it feels inside. For a lightweight sleeping bag that weighs 1297g on our scales (inside its stuff sack) the Ascent offers the sleeper excellent comfort. Rab touts the Ascent 700 as being ideal for those buying their first down sleeping bag, but we think it's also great for irregular users of sleeping bags, or simply those that prefer a more spacious option. The footbox is wide and although the Ascent 700 tapers in slightly at the hips this is barely noticeable. This wider shape won't be optimal for heat retention as there is more room for heat to escape, but we found that the Ascent 700 sleeping bag warmed up quickly and then stayed warm all night long. This is partly thanks to a cosy adjustable neck baffle and hood, and baffling down the zip length to keep heat in. The regular size is generous enough in length for this 6ft 2" tester, so unless you're particularly tall don't bother with the long, it will just add unnecessary weight. The Ascent 700 measures a reasonable 40 x 22cm in its stuff sack, not tiny but you pack the bag quite loosely, especially compared to something like the Sea To Summit Spark series so there's potential to utilise a smaller stuff sack if space is an issue.
Buy Rab Ascent 700 Down Sleeping Bag: £254 at Blacks
Best sleeping bag for travel
Sea to Summit Traverse TVII, £185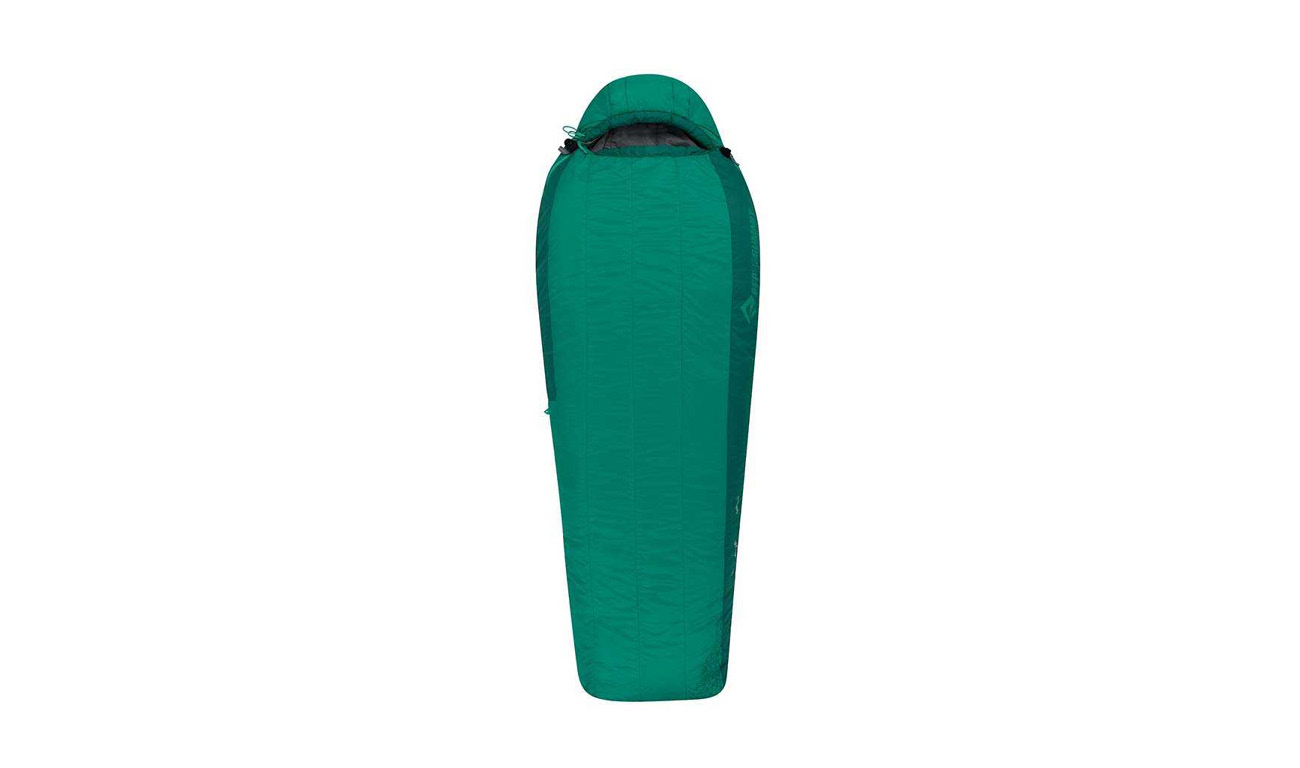 Fill: Synthetic
Comfort rating: 2C
Weight: 1.13kg
Pack size: 18cm x 33cm
Shoulder width: 75cm
Foot width: 45cm
This innovative sleeping bag from Sea to Summit offers a 2 degrees C comfort rating in a package that weighs 1130g (regular size). That's a decent weight for a sleeping bag with a synthetic fill and compares favourably to other lightweight sleeping bags on the market. It also packs down to 18 x 33cm, easily small enough to stuff into a backpack or travel suitcase.
Bridging the gap between camping and travel, the Traverse TVII has a tapered rectangular shape. It offers a bit more width in the hips but shoulder and foot width is on par with other lightweight sleeping bags.
Inside the sleeping bag you get your usual drawcord adjusted neck baffle and hood, but you also get an excellent and unique zip system. With a half zip one side and full zip the other, the Traverse TVII can be used like a quilt when the temperature allows. An added touch is the foot zip so that on particularly warm nights airing yourself is easy. All these zips run completely snag free for easy night time adjustments.
Thermolite is used throughout the Traverse TVII. This is lightweight and durable offering insulation, warmth, temperature control and water-resistance without bulk. It performs well in this sleeping bag, building warmth quickly and retaining it.
At £185 you can't really go wrong with the Traverse TVII. It offers genuine 3 season warmth with little weight and pack size penalty and the excellent build quality that Sea to Summit is known for.
Buy Sea to Summit Traverse TVII Sleeping Bag: £171.95 at Alpinetrek
Best sleeping bag for ultra races
Thermarest Hyperion 20F, £435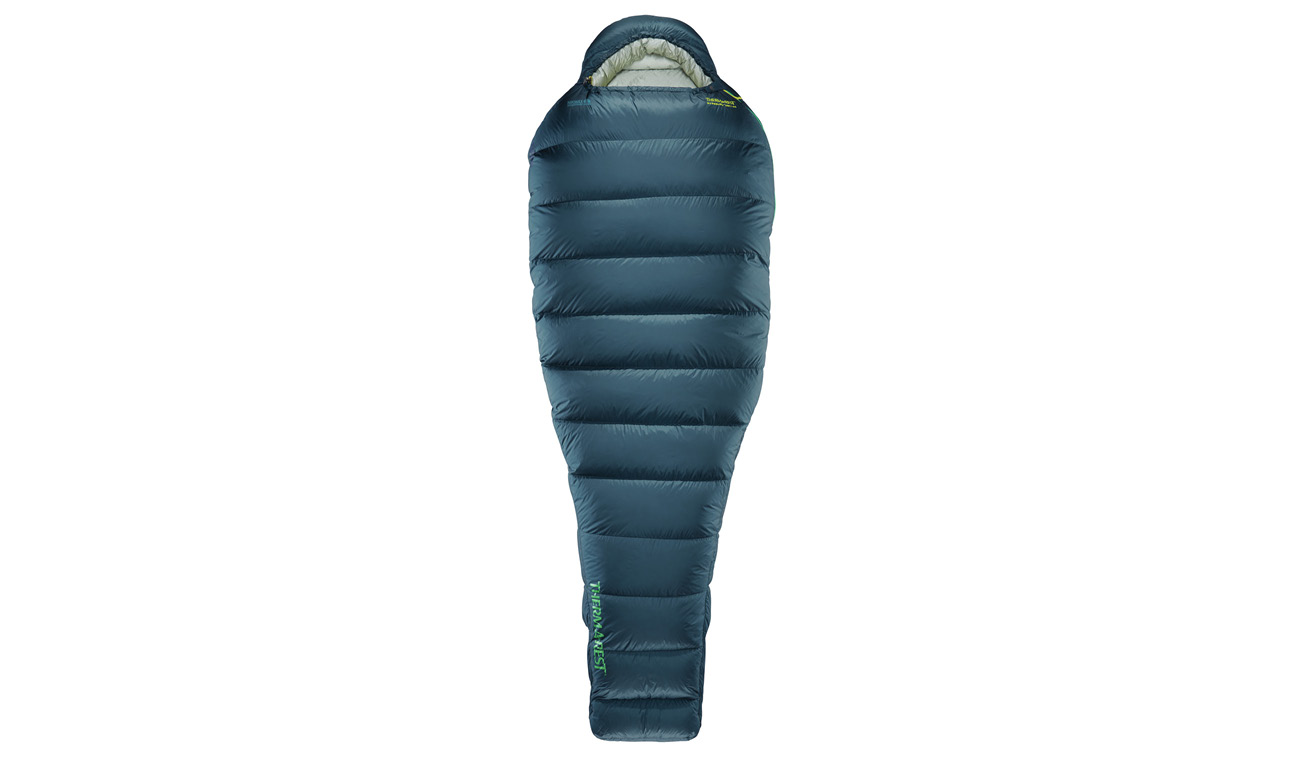 Fill: 900FP Down
Comfort rating: 0C
Weight: 0.58kg
Pack size: 15cm x 20cm
Shoulder width: 72cm
Foot width: 40cm
With a comfort rating of 0 degrees C and weight of 580g the Hyperion is a true ultralight sleeping bag. Competing with the likes of the Sea to Summit SPIII, Rab Mythic, and Mountain Hardwear Ghost Whisperer the Hyperion is for no-compromise ultralight adventure.
Like the other sleeping bags mentioned, the Hyperion uses a high grade 900 fill Nikwax hydrophobic down to provide warmth without weight. This lofts up gloriously to provide a puffy bed of feathers in which to sleep. The hood and neck baffle of course get the same treatment, and all of this is encapsulated in a box baffled construction to minimise down migration and maximise loft.
Packed up and compressed the Hyperion is ridiculously small, at 15 x 20cm. Once unrolled the Hyperion takes on the same technical mummy shape of other ultralight sleeping bags. It's tight inside, a little tighter in fact than the Rab Nuetrino 400. This is great for warmth retention and allows a lower overall weight, but you must be comfortable with a very cosseting mummy shape to get on with the Hyperion.
Once inside though the down goes to work and you won't believe you're getting so much warmth from such a small and light package.
If ultralight is a must then the Hyperion 20F should be on your list.
Buy Thermarest Hyperion 20F Sleeping Bag: £416.50 at Amazon
Best budget sleeping bag for the depths of winter
Snugpak Softie Expansion 5, £146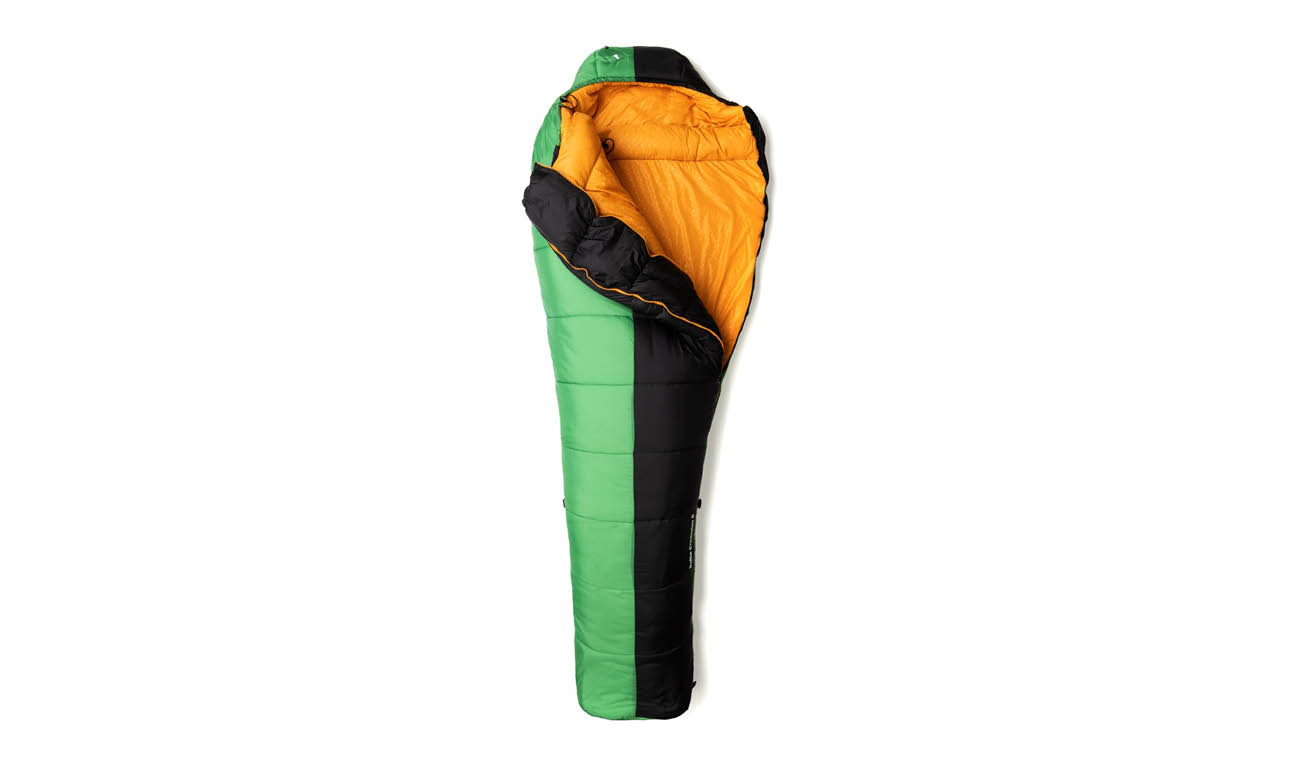 Fill: Synthetic
Comfort rating: -15C
Weight: 2.3kg
Pack size: 32cm x 26cm
Shoulder width: 70cm – 85cm
Foot width: 45cm
Snugpak's Softie Expansion 5 is at the budget end of what we would consider being proper sleeping bags, especially one with a winter friendly comfort rating of -15C. This hasn't been EN tested and is Snugpak's own temperature rating. The reflective heat lining helps, but having used the Softie Expansion 5 we feel this is a tad optimistic if compared directly to other sleeping bags reviewed here.
It has a fill of Snugpak's Softie synthetic insulation, this broadly mimics down in that it isn't constantly extruded. It consists of what feel like separate lofty fibres rather than a matt of insulation like on Kelty's similarly priced Cosmic. This makes it better than Kelty's synthetic insulation, it packs better, feels better, and works better.
In its slimmest form the Snugpak Softie is very narrow and restrictive, but this lends itself well to maximum warmth retention, and this is where you will get towards the maximum temperature ratings. Expansion happens along the side baffle which features another zip to add around 15cm of room inside the sleeping bag, right down to the ankles. With the Softie expanded it feels like one of the most spacious sleeping bags on test, and overall comfort is excellent. Bear in mind that expansion happens along the side baffle so you will lose heat through the extra space and also through the zip stitching.
The zip runs the length of the bag and has minimal attempts at anti-snagging and therefore catches on the sleeping bag material every now and then. It isn't as smooth running as some, but then this isn't a £300 sleeping bag.
Once inside the sleeping bag, the hood offers extra warmth and comfort. This is adjustable via a very basic toggle pull that's a bit fiddly to use from inside the bag. There's also an adjuster to cinch in the neck baffle for maximum cosiness.
There's an internal Velcro sealed pocket for stashing items you want close at hand, but annoyingly this sits in an awkward position right on top of the chest.
Snugpak have made the length of the Softie Expansion adjustable via a simple clip on each side of the bag, this is useful for shorter people and kids as it reduces dead space in the sleeping bag which could otherwise lose heat.
Winter sleeping bags are big and heavy, there's no avoiding that, and the weight and pack size of the Softie Expansion 5 limit it to either strong backpackers or car campers. The Softie Expansion comes in a range of temperature ratings though, and the Softie Expansion 2 would be a fantastic 3 season choice for wild campers and backpackers on a budget.
Buy Snugpak Softie Expansion 5 Sleeping Bag: £146 at Amazon
Best 3 season sleeping bag for versatility and price
Vango Cobra 400, £280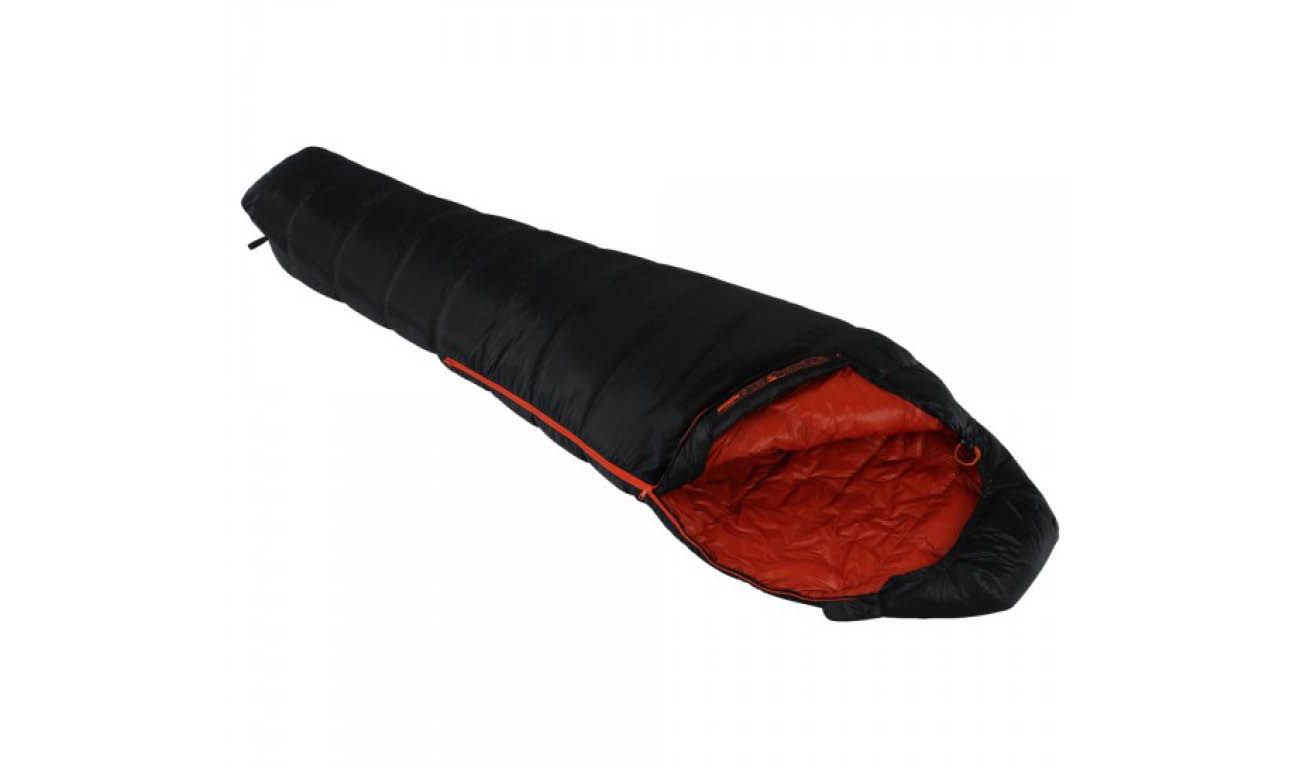 Fill: 90/10 goose down
Comfort rating: -1C
Weight: 0.92kg
Pack size: 20cm x 16cm
Shoulder width: 75cm
Foot width: 48cm
RRP: £280
Best for: Lightweight 3 season camping
If you think Vango only make cheap sleeping bags for the odd family camping holiday, then you need to look at the Cobra range.
This backpacker friendly 3-seaon sleeping bag strikes the ideal balance between weight, pack size and warmth, all in a nice, simple design.
It has a mummy shape and is about average inside for a technical 3 season sleeping bag in terms of wiggle room. It offers up just enough foot and shoulder space without negatively affecting heat retention.
Inside, the Cobra 400 is a comfortable place to be with the hood up and fully cinched via drawcord adjusters. The neck baffle adds warmth and is also adjustable.
The zip is one of the smoothest running on test, thanks to internal piping which keeps its teeth away from the sleeping bag fabric. This makes it easy to get into and out of the sleeping bag in a bleary eyed state in the middle of the night.
Heat builds up quickly thanks to a premium fill of 90/10 goose down which offers fantastic warmth to weight. As with many lightweight sleeping bags, Vango's Cobra 400 utilises heat reflective technology to add a useful extra bit of warmth with very little weight penalty. The overall comfort rating of -1C makes the Cobra 400 sleeping bag ideal for wild camping and backpacking during spring, summer, and autumn months.
The internal pocket is handy for stashing valuables but like Snugpak's Softie, the pocket sits on top of the chest so we don't use it for heavy items that can prod you as you sleep.
The Cobra 400 sleeping bag is a really bold statement from Vango. Their premium lightweight camping kit used to be reserved for the Force 10 brand, but the Cobra 400 proves that Vango can do technical, lightweight camping gear as well as anyone else. This just pipped Rab's Nuetrino to the post of best lightweight 3 season sleeping bag because it offers much the same in the way of specifications but at a slightly lower price.
Best 3 season sleeping bag for fussy sleepers
Sierra Designs Cloud 20, £335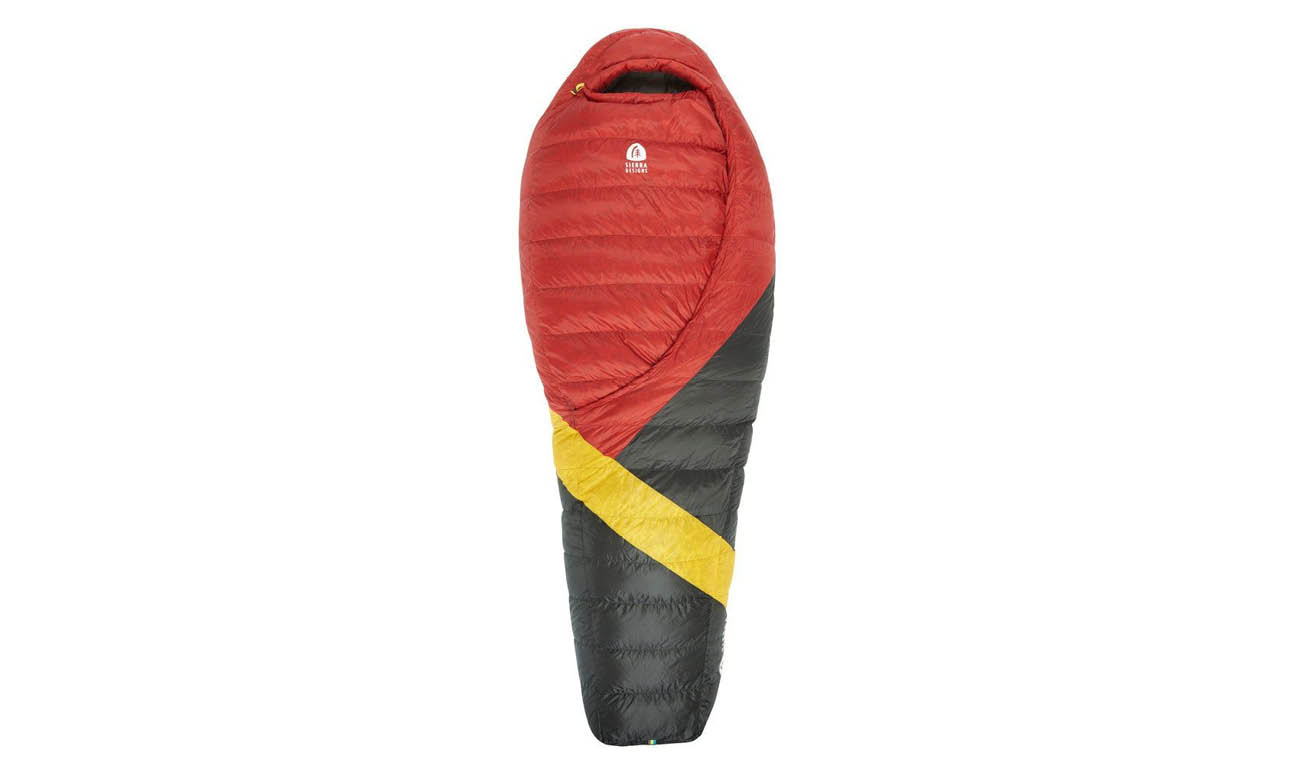 Fill: 800FP down
Comfort rating: -3C
Weight: 0.88kg
Pack size: 38 x 19cm
Shoulder width: N/A
Foot width: 55cm
Sierra Designs' Cloud 20 sleeping bag says no to zips. It looks like a swaddling blanket for a baby and feels like one when you get in it. At the foot end it's business as usual for the most part, and then you find the hole for poking your feet through on a balmy summer's night. At the top of the sleeping bag there is an unusual offset design which you pull around you and tuck in. This works much like any normal blanket or quilt, when you're warm you chuck it off and when you're cold you snuggle into it. This is something you naturally do in your sleep at home, so the Cloud 20 takes advantage of instinct to help you regulate temperature.
This system isn't as warm as a zipped mummy sleeping bag, after all there are inevitably going to be some air gaps but if you like to toss and turn, throw your arms in the air and generally be a fussy sleeper the Cloud 20 makes perfect sense.
Besides the wacky design the Cloud 20 sports all the usual features of a lightweight sleeping bag. It has a fill of premium quality down which is predictably warm and comfortable. The weight and pack size of the Cloud 20 are both excellent considering the -3C comfort rating, which in use feels about right, presuming you adopt the fully swaddled position.
On the underside of the sleeping bag there's a big sleeve for sliding over your sleeping pad. I think this should be mandatory on lightweight sleeping bags, so you don't feel like you're sleeping on a slip n' slide. It fits over most backpacking sleeping pads and works really well.
You can cinch the hood of the Cloud 20 down using a drawcord adjuster, the feel isn't quite the same as the normal hood on a sleeping bag, but it's no less comfortable and warm as a result.
The Cloud 20 makes perfect sense for wild camping in British summers, where the temperature can drop dramatically overnight. It allows you to naturally regulate your temperature and gives you more freedom as you sleep. Having said that, it isn't the best sleeping bag for the colder months where maximum heat retention for minimum weight penalty is the primary concern.
Buy Sierra Designs Cloud 20 Sleeping Bag: £334.95 at Amazon
Best winter down sleeping bag
Thermarest Questar Down, £285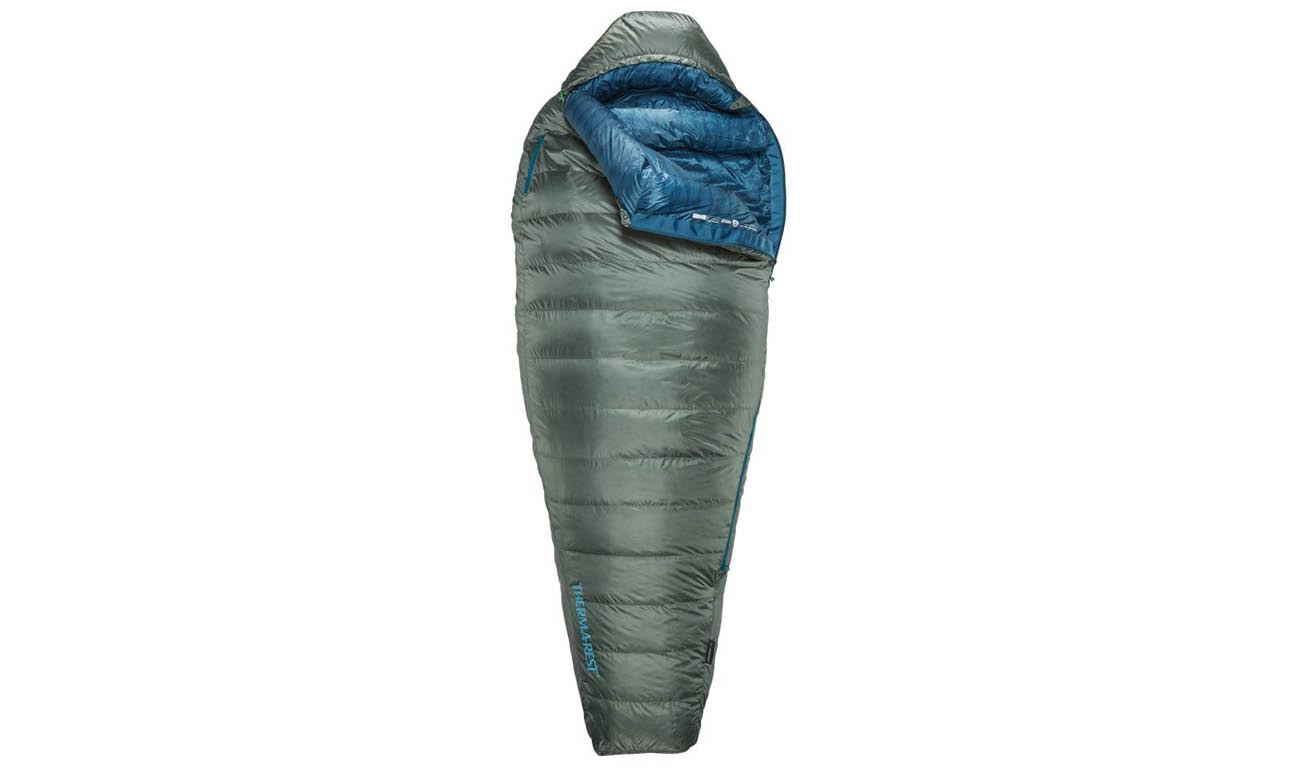 Fill: 650FP down
Comfort rating: -10C
Weight: 1.21kg
Pack size: 20 x 25cm
Shoulder width: 80cm
Foot width: 55cm
Thermarest's Questar is an intriguing sleeping bag that ticks many boxes for lightweight winter backpacking. It comes in three temperature variants, the one on test is the winter version and has a comfort rating of -10C which is about as cold as UK winters get.
Insulation comes in the form of 650FP down, which isn't the highest quality down, but the Questar still manages very respectable weight and pack size considering this. If you also consider that this is one of the most spacious sleeping bags on test the Questar gets more and more attractive.
Inside is a pleasant place to be, the material is comfortable, and the foot warmer pocket is a nice touch. The adjustable hood and plump neck baffle are particularly cosy on a cold night and zoned insulation means that no matter what your sleeping position the sleeping bag should retain warmth.
The Questar is kept in place on your sleeping mat using a pair of elasticated sleeves which hook over the mat and help you and your bag stay in place at night.
Unusually for a sleeping bag, the zip is completely snag free and smooth running thanks to an excellent design which combines a special zip and sewn in material that stops the teeth catching on the fragile material.
This is easily the best combination of weight, pack size, features and warmth making it the best winter sleeping bag on test.
Buy Thermarest Questar Down Sleeping Bag: From £220 at Amazon <<Best Deal>>
Buy Thermarest Questar Down Sleeping Bag: £292.46 at Alpinetrek
Best Ultralight 3 Season Sleeping Bag
Sea to Summit Spark SPIII, £450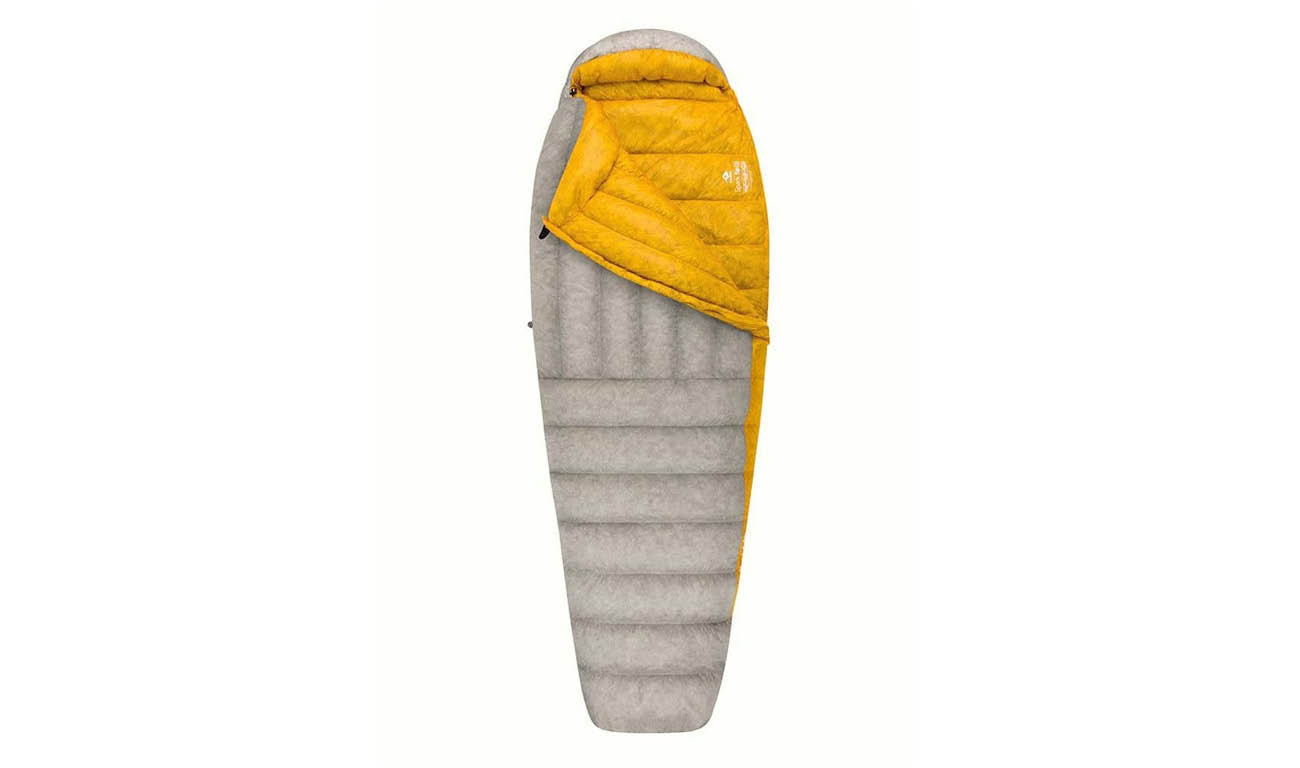 Fill: 850+FP Down
Comfort rating: -2C
Weight: 0.665kg
Pack size: 15 x 35cm
Shoulder width: 80cm
Foot width: 48cm
If you know your ultralight backpacking gear you will have heard of Sea to Summit's Spark range of sleeping bags. They are ridiculously lightweight and offer tiny pack sizes.
They achieve this by using only the lightest materials, like the wafer thin 10D nylon shell and 7D lining fabrics, but they don't skimp on comfort or build quality.
To achieve this amazing warmth to weight the down must be the very best, and it is. 850+ fill power R.D.S certified Ultradry down to be exact. This is complemented by a fantastic hood which nestles right over the head when cinched up. You only get a neck baffle at the front, but this is still a surprising addition considering the low weight of the sleeping bag.
We have the long version of the Spark on test which is a little wider than the regular and offers loads of space inside, in fact a surprising amount for such an otherwise technical sleeping bag. This is great for comfort, meaning we wouldn't hesitate to use this sleeping bag even on car camping trips, but you do lose a little heat through that extra space.
Spark sleeping bags used to have ¾ length zips to keep weight down, but Sea to Summit have updated the range to include an easier entry full-length zip. The lack of anti-snag does mean that it catches on the material a little too much, but it's a worthy compromise in the pursuit of ultimate weight savings.
Yes, it's expensive but it's probably the most versatile sleeping bag on this list. It's comfortable enough to use car camping and light enough for any adventure. The warmth is enough to take you into winter with decent base layers, and the build quality is superb.
If you're seriously into your outdoor kit and looking for the lightest 3 season sleeping bag, the Spark SPIII should be top of your list.
Buy Sea to Summit Spark SPIII Sleeping Bag: £433.66 at Amazon
Buy Sea to Summit Spark SPIII Sleeping Bag: £429.95 at Alpinetrek <<Best Deal>>
Best Sleeping Bags 2023: Conclusion
Choosing a good sleeping bag is a vital part of a good outdoor sleeping experience, and overall is one of the most important items of outdoor gear you'll buy - maybe just after walking boots or a waterproof jacket.