Best Sleeping Mats for Camping: Intro
There are a bewildering number of camping mats (or sleeping pads) on the market, from enormous inflatable beds to tiny slivers of foam, and working out which will be the best camping mat for you at first glance seems an impossible task. However, panic not. With this guide we'll explain the pros and cons of the various styles of mat/pad, and get into specific recommendations to help you choose. 
You'll also want to consider completing the setup with one of the best sleeping bags and more than likely a hiking backpack to carry it all in. 
Best Sleeping Mats for Camping: TL/DR Summary
If you want the best camping mat money can buy, then go for the Thermarest NeoAir XLite NXT Sleeping Mat or the Sea to Summit Ether Light XT Sleeping Mat - they're both lightweight, warm enough to use any season you fancy, and pack down to almost nothing. They're not cheap though, and if finance is a big issue, then the Yellowstone Eva Camping Mat is a fantastic buy at a shade over a tenner. it's essentially indestructible, surprisingly comfortable, and will last forever. 
Best Sleeping Mats for Camping: How to buy
There are two main groups of camping mats - inflatable and closed cell foam. The former tend to be warmer and more like your mattress at home, while the latter tend to be colder and more like that scouts camping experience that put you off tents for years. However, that's not the whole story. Inflatable mats tend to be considerably more costly than simple foam numbers, and the cheaper inflatables have a nasty habit of deflating, so quality is key. Inflatable camping mats also pack down incredibly small, making them perfect for longer backpacking and hiking trips. 
Foam mats on the other hand can be astonishingly cheap, and unlike their more delicate air-filled brethren, are nearly impossible to destroy. This makes them perfect for more rugged scenarios, and also the reason that remote expeditions tend to combine the two technologies, so that when some lummox puts a crampon through your expensive inflatable mat, you have the foam to fall back on. Foam doesn't pack down very well, so you'll often see these mats strapped to the outside of hiking backpacks. 
Aside from these practical details, there is another key factor you'll need to consider, which is the R-Value of the mat you're considering. This figure indicates how well the mat will insulate you from the cold ground, and thus which seasons it is intended for. Higher R values (above 2) are suitable for winter use, and will thus be heavier than lower-rated, three and four season mats. It's worth considering too that colder sleepers will enormously benefit from using a warmer mat even in summer, as it'll reduce the work the sleeping bag needs to do, allowing you to use a much lighter (cheaper) bag or even just an inner liner when the temps really rise.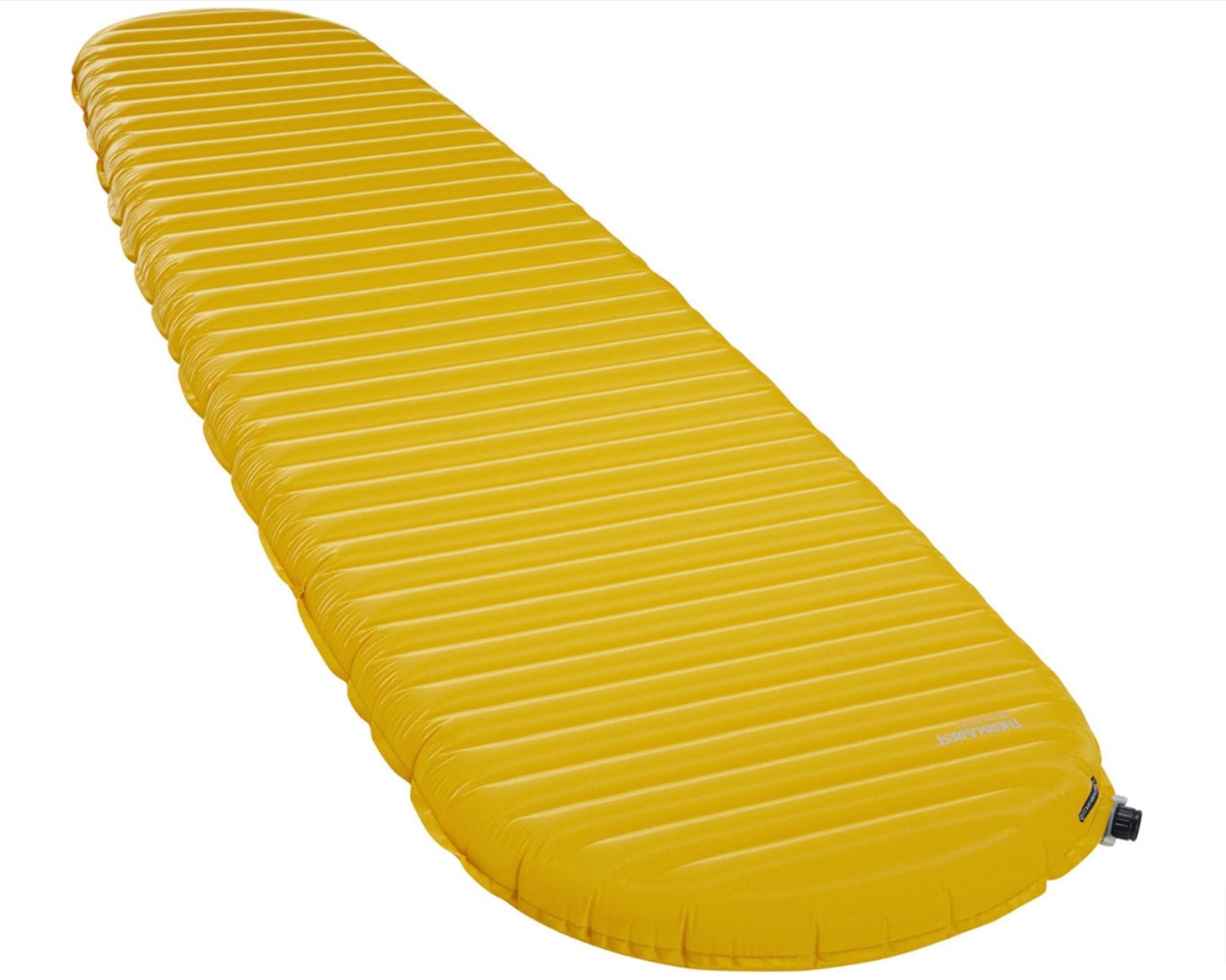 Thermarest NeoAir XLite NXT Sleeping Mat
The Thermarest Neo has been on the market for years in various iterations, proving wildly popular for several reasons. Firstly, it packs down incredibly small (about the size of a drinks can), and offers winter-capable insulation for your camper, simultaneously being very light indeed. The latest iteration, the NeoAir XLite NXT Sleeping Mat, offers a 4.5 R-value, which is good for year-round conditions, but weighs in at 370 grams - an impressive combination. 
The main issue with NeoAir mats in the past was that the materials used inside the mat to improve insulation were quite 'crinkly' to sleep on - akin to a crisp packet - which could make for a noisy night's kip. However, the NeoAir XLite NXT has taken steps to address this, now claiming that an "improved internal construction reduces noise by 83% compared to the previous model". 
The NeoAir XLite NXT Sleeping Mat packs down to just 23 cm x 10 cm, but inflates to a 7.6 cm mattress in just a few puffs. The only real disadvantage here is that you still need to physically 'blow' it up, which adds moisture to the inside of the pad. 
Buy Thermarest NeoAir XLite NXT Sleeping Mat: £199.99 at Amazon <<Best Deal>>
Buy Thermarest NeoAir XLite NXT Sleeping Mat: £249.95 at Alpinetrek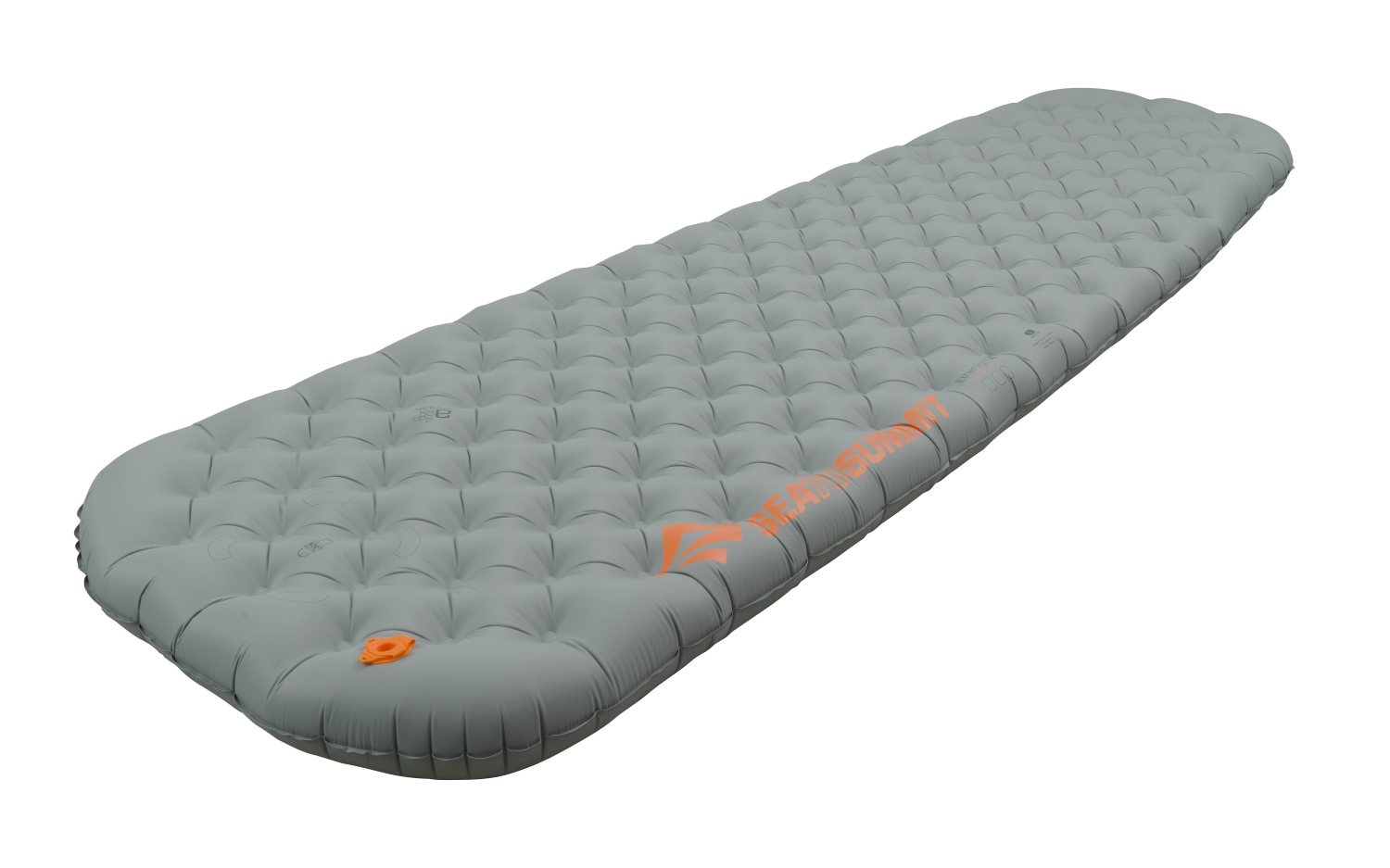 Sea to Summit Ether Light XT Sleeping Mat
The Sea to Summit Ether Light XT is something of a challenger to the established Thermarest monopoly. An inflatable mat that weighs in at a reasonable 470g, it'll inflate to a plush four inches thick, delivering an R-Value of 3.2 as a result. That's technically a three-season mat, but it'll stretch to winter with a good sleeping bag - depending on how warm you sleep, etc. 
The nylon design means it's relatively silent in use, and the ingenious valve system allows easy inflation and deflation, as well as fine-tuning the fill when temperatures vary. A final bonus is the stuff sack, which doubles as a pump. This is clever as there's no need to blow directly into the mat, preventing moisture buildup. 
Packing down to the size of a large water bottle, the Sea to Summit Ether Light XT isn't the smallest or lightest mat on the market, but it delivers considerable comfort that balances the scales nicely - one to consider. 
Buy Sea to Summit Ether Light XT Sleeping Mat: From £143.10 at Amazon <<Best Deal>>
Buy Sea to Summit Ether Light XT Sleeping Mat: £146.16 at Alpinetrek
Yellowstone Eva Sleeping Mat With Foil
The Yellowstone Eva is an excellent example of less is more. It's enormously cheap, very lightweight, and packs down into a substantial roll that'll have to be strapped to the outside of a rucksack backpack. However, the upsides are that it can't be punctured by sharp rocks or mishandling by your colleagues, and it'll do the basic job of insulating you from the ground. 
Many an expert camper will take along a mat such as this to provide a protective base layer under their more expensive inflatable mat, as well as to boost a cheaper inflatable's insulation value. Something to consider, as well as using it solo in the warmer months. 
Overall, it's less comfy than the competition, but at a fraction of the price you'd be daft not to consider it. 
Buy Yellowstone Eva Sleeping Mat with Foil: £12.99 at Amazon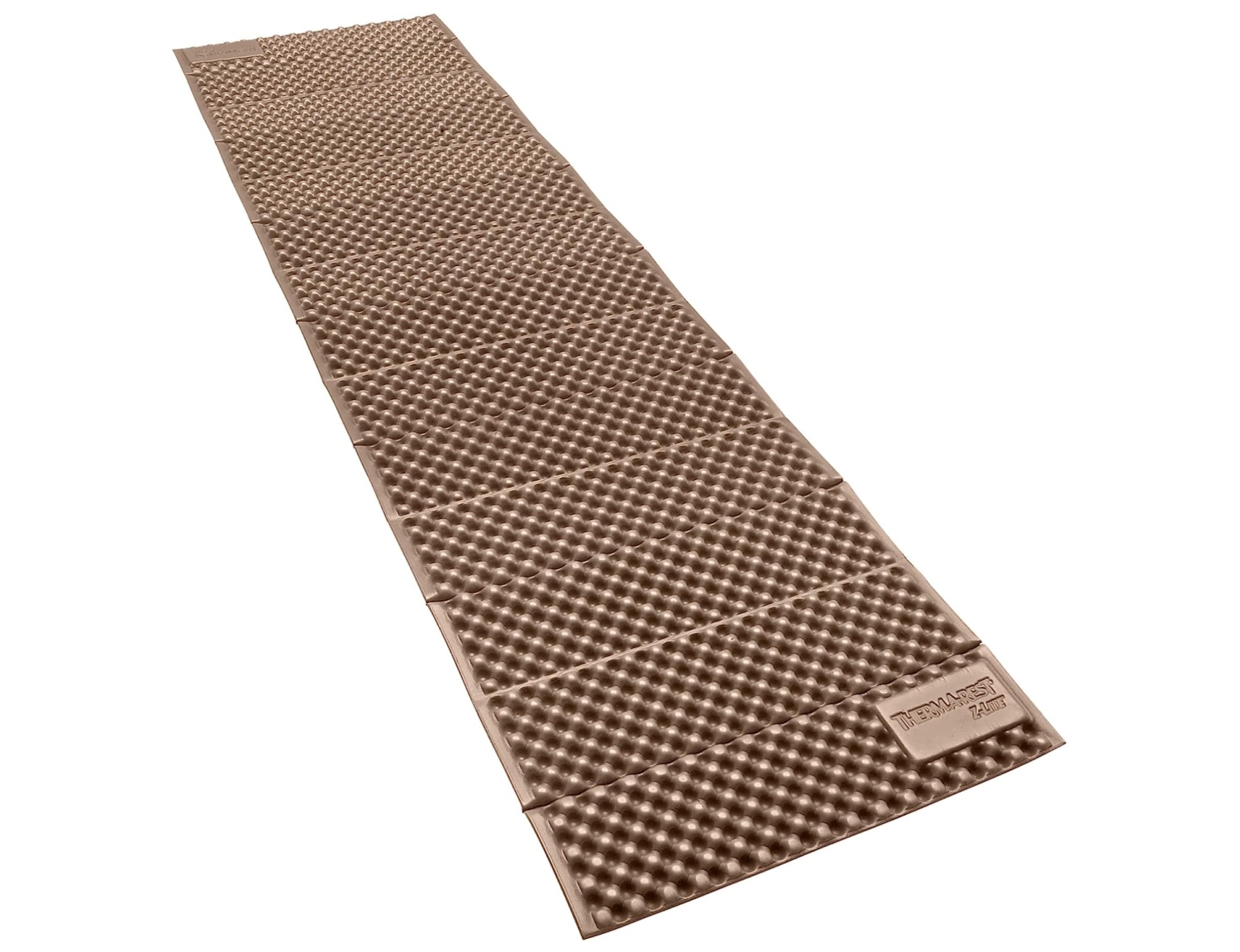 Therm-a-Rest Z-Lite Sleeping Mat
The Therm-a-Rest Z-Lite Sleeping Mat attempts to answer the major problem with foam mats such as the Yellowstone Eva, which is that they refuse to pack down into anything resembling a compact form. The Therm-a-Rest Z-Lite has an egg-box design moulded into the foam, which then keys into the other layers when folded, resulting in a slightly-more-compact rectangle shape. 
Packed down it measures 51 cm x 13 cm x 14 cm, which isn't too bad, and offers an R-Value of 1.7 - enough for summer, and ideal as a base for another pad. It's also a handy shape and size to sit on when folded, and nothing short of a shredder will damage it. Well worth considering, as it'll last forever. 
Buy Therm-a-Rest Z-Lite Sleeping Mat: £53.99 at Amazon
Buy Therm-a-Rest Z-Lite Sleeping Mat: £49.46 at Alpinetrek <Best Deal>>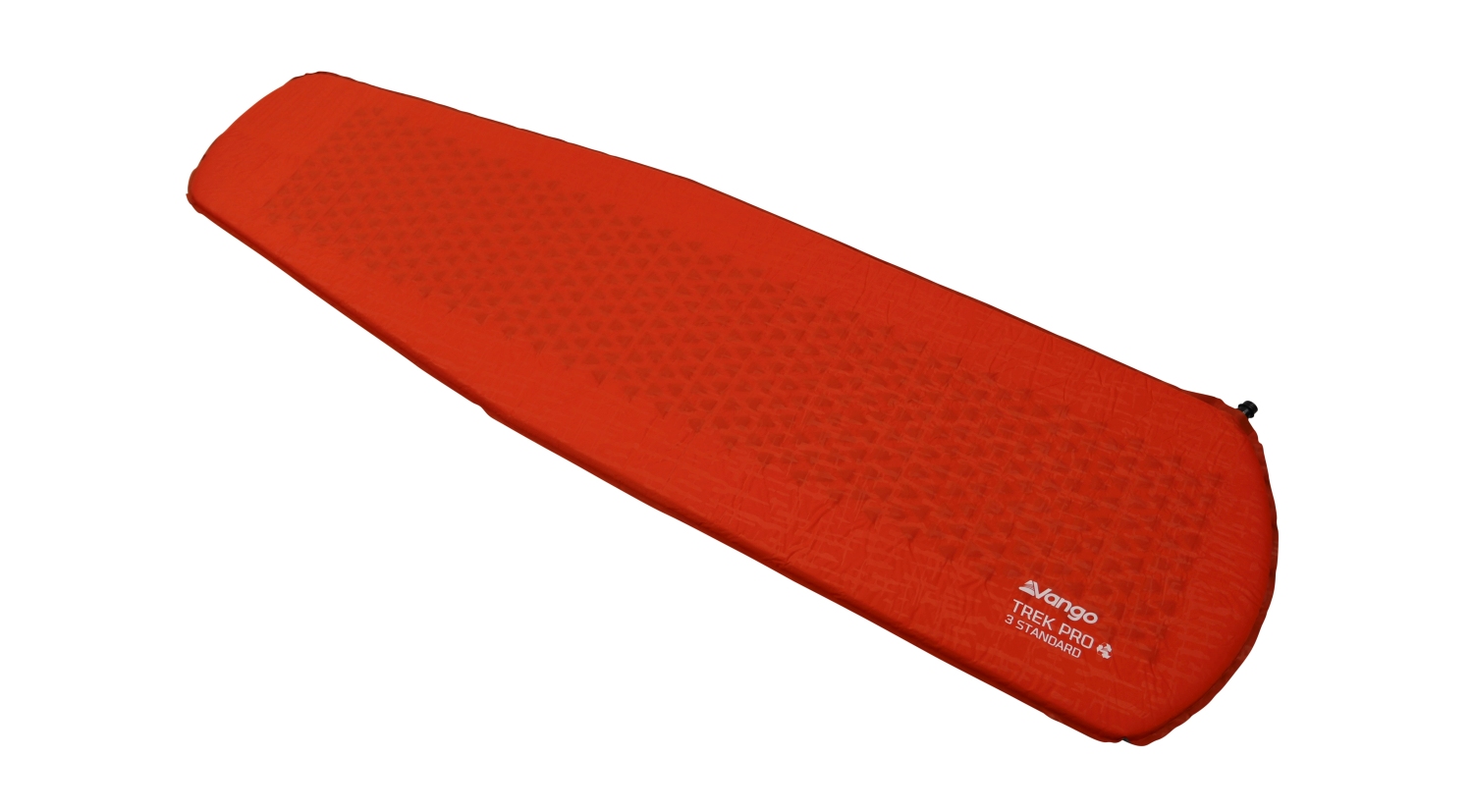 Vango Trek Pro 3 Sleeping Mat
The Vango is a good example of the stereotypical inflatable camping mat, which will fit the bill in a host of camping scenarios. Weighing in at a relatively chunky 837 grams, it's not lightweight, but at £48 quid (or less) there's plenty of bang for buck here. The R-Value is right up there though, at four, putting it in second place if you take that factor in isolation. 
Unlike the cheaper end of the inflatable mat world, the Vango is well-built and designed to last, and the  ingenious click-in and click out valve design makes it easy to inflate and deflate at the end of a trip. It's also packed with foam, so self-inflates if left for long enough (several hours), which is a helpful factor if you've better things to do with your evening than blow mats up. It will require a final topup to get it fully inflated though, which is a common theme among 'self inflating' mats. 
 
Overall the Vango Trek Pro 3 Sleeping Mat is a solid contender, just a little too solid for longer hikes and treks. However, price is on its side, which is probably why it's promoted as 'Duke of Edinburgh Award Recommended'. 
Buy Vango Trek Pro 3 Sleeping Mat: £51.95 at Alpinetrek
Best Sleeping Mats for Camping: Conclusion
Sleeping mats do tend to epitomise the cost factor of outdoor gear - if you want lightweight but comfortable, you'll pay more, if you're willing to economise on comfort or weight then costs fall dramatically. The best way to get a good setup that's wallet-friendly is to combine foam and inflatable mats, but this inevitably results in lower packability and -frankly - more faff in general. However, if you're looking to get the very best, the Neoair and the Ether Light XT offer easy operation, oodles of comfort, and lots of warmth. 
Whether you're planning a week in Wales checking out The Best Walks in Snowdonia: 6 Great Walking Routes or camping in the New Forest, there's a sleeping mat out there for you. 

Read next: Best Camping and Backpacking Stoves 2023