Hiking boots range from pumped up trainers to stiff mountaineering boots and the first thing to decide is which end of the spectrum you sit. Generally, the softer and lighter the boot the more comfortable, but before you head out in your best slippers consider that you still need protection from stones and rocks and a stable platform to walk on. As the terrain gets steeper and rockier so the shoes and boots get stiffer and have more protective features to deal with the impact and twisting of travelling over it.
Three-season walking boots are probably the most versatile walking footwear, suiting most people for most types of weather on most UK terrain. These blend stability with comfort and for most walkers these are the best walking boot option as they cover so many bases.
If you want to head out for a walk in the winter and you're expecting snow then you will need to consider the boots' compatibility with crampons; generally the more serious the winter walk, the more serious crampon is needed and therefore the stiffer the walking boot will need to be to take that crampon.
Walking boots buyers guide
Build quality
Walking boots should be waterproof and breathable as well as pretty sturdy. Although some new boots will be stiff they shouldn't be uncomfortable – if they are, then they're not for you.
Fit
Finding the right fit is everything. Take time trying your boots out in the shop, and wear the socks you'll be wearing when on the mountain in the boots. Don't be rushed into buying; if you're not 100 per cent happy with the way the boots feel, don't buy them.
Care
Don't forget to regularly clean and treat your boots with some form of waterproofing – this will ensure many years of good service, as will drying them properly after use.
Uppers
The upper should give you support and protection from the elements as well as knocks. A rand runs between the upper and sole offering extra protection.
Lining
Look for a Gore-Tex or other waterproof lining to keep your feet dry even if water gets past the outer.
Ankle cuffs
In theory the higher the cuff the more support it will give your ankle, but a mid-cut can give extra dexterity and comfort on extended hikes and treks.
Outsole
A stiff outsole is good for scrambling and using crampons but some flex will aid comfort when walking. Treads vary in depth but should help grip mud as well as rock.
Crampons
Decide if you want to use crampons – there's no point getting stiffer, more expensive crampon-compatible boots if you'll never use them. If you do want spiky feet, check the boots will fit the right crampons you'll need. Here's a list of the types of crampons available…
Best walking boots 2020
Berghaus Explorer Trek GTX | £130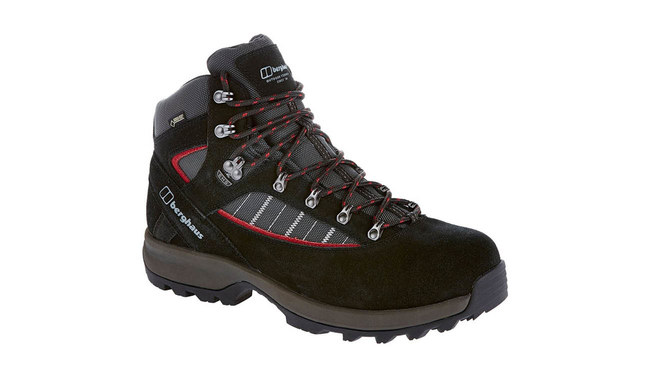 Best for: Light walking duties on easy going paths
These walking boots from Berghaus sound neither here nor there if the marketing blurb is to be believed and in some ways that's true – they do what Berghaus do best – middle of the road. That's not to be disparaging of the boot or brand, these boots will appeal to a wide audience in the middle ground of walkers and for good reason.
Slip your feet into the Explorer Trek Tech Boot and you'll find a typically British spacious fit but this doesn't mean your feet slop around all over the place, foot hold is still decent.
The upper is supple almost to the point of being too soft, leading to a lack of stability but this is countered by comfort from the get-go. The Vibram sole also flexes too much for proper mountain walks but offers good general grip and just enough protection from stones underfoot.
The Explorer Trek Plus is a great boot for general lowland walking marketed at a great price.
Hardcore hikers going on mountain walks will want something a bit stiffer with a more technical approach.
Zamberlan Vioz Plus | £179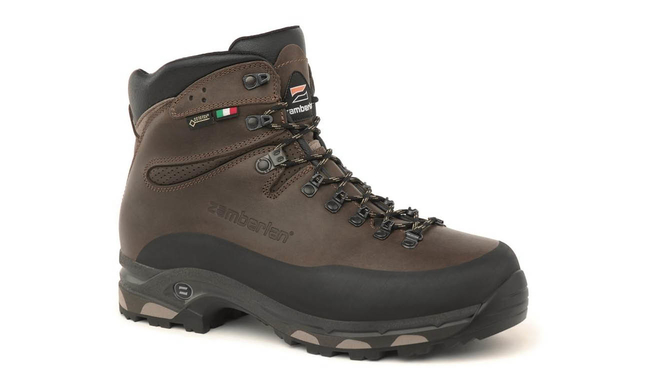 Best for: Venturing into steep UK hills
The Vioz Plus are popular hillwalking boots in the UK with a traditional leather look and stiff, mountain walking characteristics.
If you're used to lightweight walking boots these take some getting used to. The leather is thick, supportive and can take a beating, but it doesn't have a lot of give in it, at least initially.
The soles are stiff too, again loosening a little over time, but these are never going to be flexible boots - great for mountain walking, giving a solid, stable and robust platform but comfort can suffer on gentler walks.
To counteract the stiff sole Zamberlan have built in roll which encourages you to keep moving from hell to toe which is welcome in what could otherwise be described as a cumbersome boot.
The stiff sole and chunky insole offer excellent protection from general trail feel which could get uncomfortable over long walks so the Vioz Plus lend themselves well to multi day hikes and longer treks over rough terrain.
In terms of longevity the Vioz Plus boots are built to last. The leather is excellent quality and has high wear resistance. A lightweight rubber reinforcement protects the lower portion of the upper and the lacing eyelets are of the highest quality. If anything, the sole will wear out on these lovingly crafted Italian walking boots before anything else.
Merrell Moab 2 Mid | £130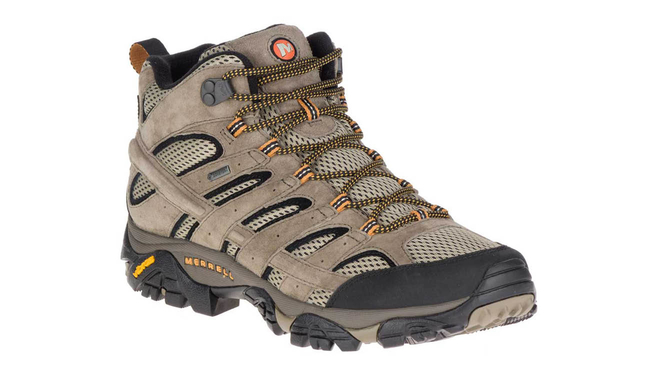 Best for: Budget walking boots that perform and last.
Long running model, the Moab is back in its latest updated mid version. Offering a classic Merrell fit of mid width in the heel with the mid-section opening up into a slightly more spacious toe box. This holds the heel of your foot firmly in place while allowing your toes room to splay – a superbly comfortable and blister free set up.
The flexible sole is comfortable from the off, there is too much trail feel in the forefoot but otherwise stability and comfort are both good. The Vibram TC5+ sole offers great grip across variable terrain and the footbed is both comfortable and supportive.
The upper pairs leather with breathable mesh and a good sized protective toe cap to prevent scuffing and toe stubbing, and we found overall construction and durability to be excellent.
Excellent value for such a capable, comfortable and well-built walking boot.
Salomon Cross Hike Mid | £165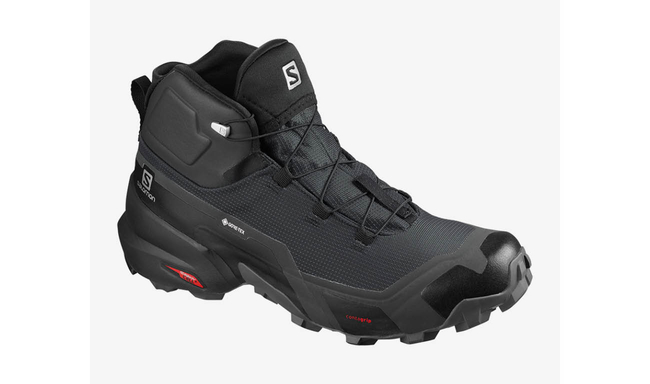 Best for: Hop, skip and jumping along the trail
These slightly unusual looking hiking boots straddle the line between walking and running footwear.
Fit is narrow and foot hugging, there is a little space in the forefoot for toes to splay but overall, the Cross Hike's will suit narrow feet. The Speed Lace system cinches the laces tight through a toggle rather than a conventional knot and when paired with welded overlays this results in solid support.
As a result, foot hold is particularly good, with just the smallest amount of heel slip.
Comfort is excellent right out of the box and continues to be excellent, the only consideration is if you're trudging over rough terrain mile after mile, where some would prefer a stiffer, more traditional walking boot.
The chunky tread grips well on mud, gravel and most other surfaces but watch out for greasy rocks. The mid sole feel precise and sporty, just like a trainer/boot crossover should but there's sufficient cushioning for great comfort.
If fast hiking is your thing but you want a little more support than trainers can offer the Cross Hike Mid offers a good compromise.
Keen Venture Mid | £130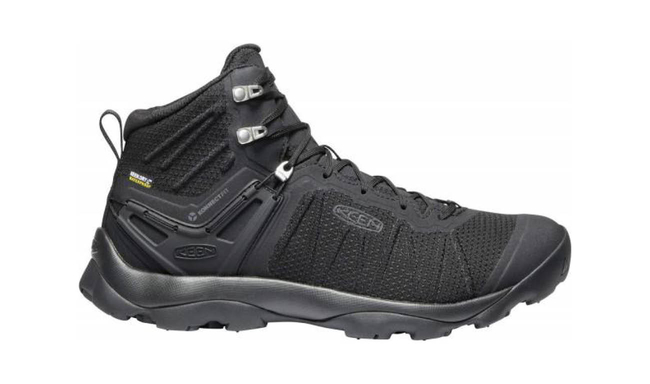 Best for: A great all-rounder
Keen's Venture Mid is impressively lightweight for such a sturdy three season walking boot, with a supportive but supple leather upper offering all day walking comfort. A lightly cushioned midsole protects the feet just enough from proddy things underneath and cushioning is sufficient to feel comfortable on long walks.
There is very little heel lift or unwanted movement thanks to a fairly narrow fit, and Keen's Konnectfit system, which ties the heel and ankle into the lacing system making for blister free walking boots.
The Keen.Dry membrane and gusseted tongue work together to keep water out, obviously a waterproof membrane will always run a little hotter in the height of summer but on the whole, we haven't found this to be a problem.
The outsole offers great grip, including on wet, slick surfaces like rocks and tree roots. The lug pattern sheds mud effectively and a shank through the midsole assists in stability without making for an overly rigid boot.
The appearance is perhaps a little boring but if you prefer muted styling then you'll get along with the Venture Mids just fine.
Danner Trail 2650 mid | £148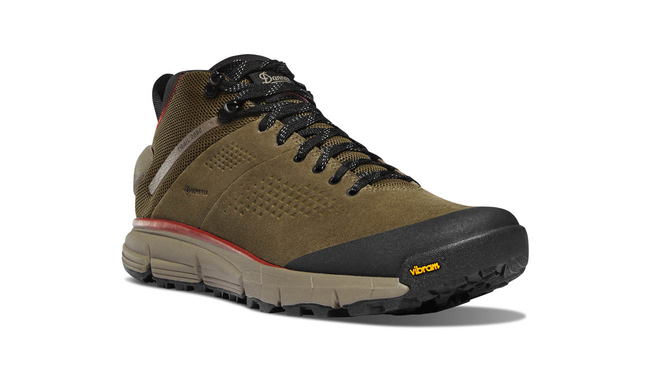 Best for: Style conscious hikers
We loved the original Trail 2650 which came in a shoe version but does the mid add anything?
Like the shoe, the mid is immediately easy to get along with, offering just the right balance between support and comfort. Immediate comfort means this boot isn't stiff enough to take on mountain hill walks with crampons for instance but for most people the Trail 2650 mid offers just what you want in a walking boot.
Grip from the outsole is excellent, they hold just long enough on greasy rocks to keep you upright and they're particularly sticky when descending muddy trails.
The 2650 mid offers quite a close fit but there is still a little wiggle room for the toes up front, this allows them to splay naturally. Foothold is excellent, we didn't experience any untoward heel slip, perhaps thanks to the massive external bolster in that area.
Cushioning at the heel is decent enough but there's a bit too much trail feel at the forefoot, these boots would definitely benefit from a more chunky insole.
Looks are subjective but not many people would argue with the low key but fashionable appeal of the 2650 mid. They don't look so good you won't get them dirty, but you could wear them about town without any bother.
If you want to look good on the trail and feel comfortable while doing it, get your trotters into the Trail 2650 Mid.
Scarpa SL Activ | £260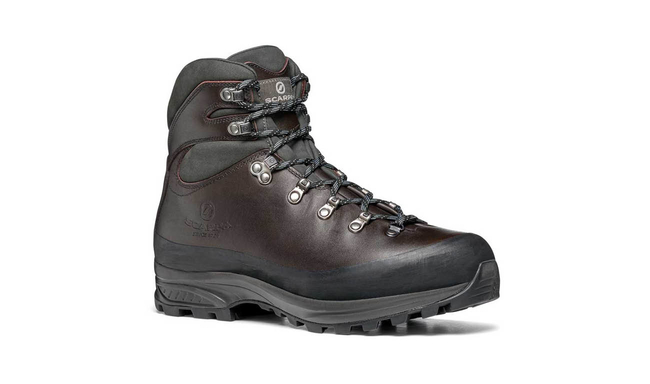 Best for: Deep winter walks in the hills and mountains of the UK
Built with a good deal more heft than your average three season hill walking boots, the burly and stiff characteristics make the Scarpa SL Active boots suitable for UK winter walks and overseas treks. The outer is built with Scarpa's thickest and toughest leather which has been impregnated and has minimal stitching so is still largely waterproof despite not having a liner.
Cocona on the inside and a soft leather heel section prove both durable and comfortable in what is otherwise an uncompromisingly stiff and heavy boot at 1918g per pair in a size 46. This weight can feel cumbersome but with regular use you get used to it.
Foot hold is firm, especially across the midfoot and up front you get a fairly narrow toe box, with just enough wiggle room for comfort. You can dial in the fit thanks to lacing to the toes, although you'll be fighting against the thickness of leather when you cinch up the laces. These boots need serious breaking in and we would recommend you do this along relatively gentle paths before taking on hikes in the hills.
If good old-fashioned bombproof leather boots that last forever are your thing and you can deal with the associated weight and stiffness then the SL Actives are a solid option.
Salewa Mountain Trainer GTX | £152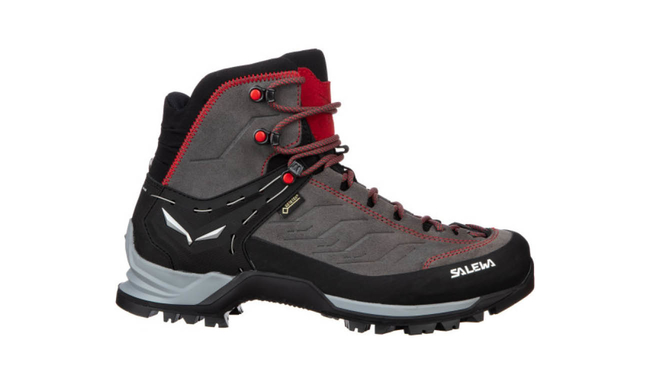 Best for: Scrambly ascents
Salewa's Mountain Trainers are aimed towards 'alpine trekking in mixed and technical terrain', so any terrain with a lot of ups and downs, loose rock and mildly scrambly faces is fair game. Classic alpine lacing to the toe and Salewa's excellent heel cradle system allow you to get a precise fit across the whole boot, giving great support and decent comfort without any blisters. Ever-reliable Gore-Tex keeps everything bone dry.
Good ability over technical terrain but stiffness makes the Mountain Trainer overkill for easier walks.
Salomon Quest Prime GTX | £145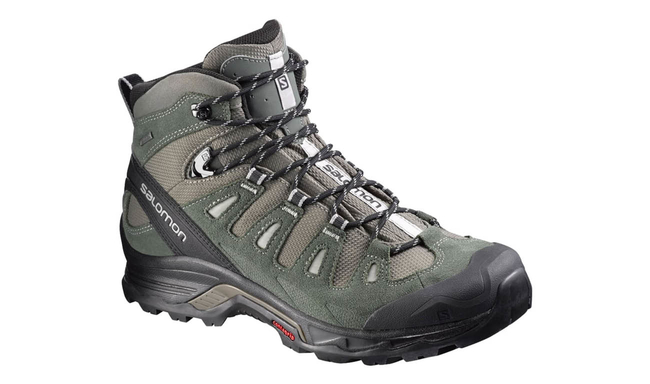 Best for: Multi-day backpacking on moderately technical terrain
The Quest Prime boots feel great to wear straight out of the box, with soft, plush inners and a supple outer that takes very little wearing in, plus a light weight that doesn't weigh you down over long distances.
The depth and pattern of the sole's lugs gives good grip on varied terrain, with the Quest Prime offering surefooted handling on all but the most greasy and polished of rocks and tree roots. The sole feels fairly neutral on the transition from heel strike to toe off without much noticeable roll, but the lively mid-stiff sole makes up for this with a good bit of energy return.
You get plenty of cushioning around the ankle and good support, but the tongue could do with a little more padding to fend off abrasion from knotted laces. Gore-Tex waterproofing takes the grimmest weather conditions in its stride. You wouldn't want to be strapping into crampons and going for a full-on winter yomp in the Quest Prime boots, but stick to low level paths and moderate mountain terrain and they'll do you proud.
An impressive mix of weight, performance and comfort all wrapped up in a great value package.
Aku Tengu Lite GTX | £215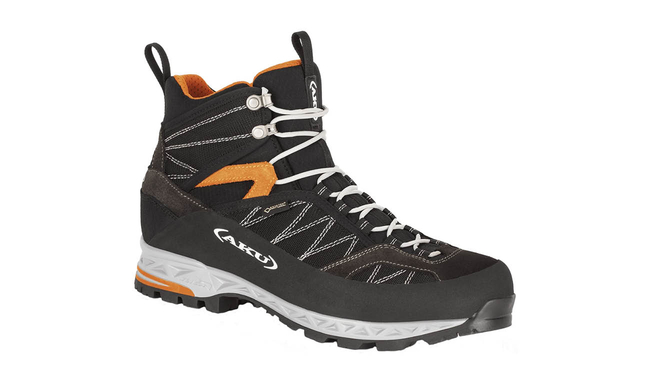 Best for: Serious amounts of walking comfort with a side helping of technical performance
Aku have done a fantastic job with the Elica Natural Stride System, and one of the first things we noticed during testing was indeed how natural these boots felt to walk in. The heel area of the sole feels stable to land on and provides good grip that continues across the outsole thanks to deep lugs and sticky Vibram rubber.
Walking in the Tengu Lites feels comfortable and stable, with a slight roll off the heel and bounce off the toe into the next stride. An even distribution of weight across the footbed minimizes hotspots, and thanks to a low weight of 510g per boot you don't get dragged down by the Tengus, even on a long hike.
It's easy to achieve a precise fit in the toebox, which is perhaps a little more spacious than most Italian boots. The overall width of the boot is narrow though, especially across the midfoot where it really tapers in - this is a boot we would recommend you try on in person before you buy. The overlaid material that extends from the heel offers great stability and makes the boots quick and easy to get on and off.
Comfortable, light, lively and nimble, if rather expensive.