When it comes to walking socks you would be unwise to scrimp. Ok, a cheap pair of walking socks might work just fine for the daily dog walk, but for walks that extend into miles, and hours your socks become a vitally important part of your foot protection system. Get a rubbish pair and they will start bunching up, eventually causing blisters.
Proper walking socks are shaped to take foot movement into account and are made from materials optimised for comfort, cushioning, abrasion resistance, and breathability.
They are usually tailored, using different weights of material on different parts of the feet, who knew socks could be so complicated?
In our experience though, walking socks from recognised, trusted walking sock brands will do the job well, the rest is down to personal preference on what type of socks you like to wear.
Which type of walking socks should I buy?
There are a few main differences to consider when choosing your walking socks. The first is how high the socks come up your legs. This can be described in a number of ways by different manufacturers, but the main sizes applicable to hiking are low-cut, usually for summer wear with trainers or hiking shoes, mid-cut also known as crew or micro crew, perfect for wearing with walking boots, and knee-high or over the calf, for wearing with higher footwear like wellington boots, ski boots, or some winter walking boots.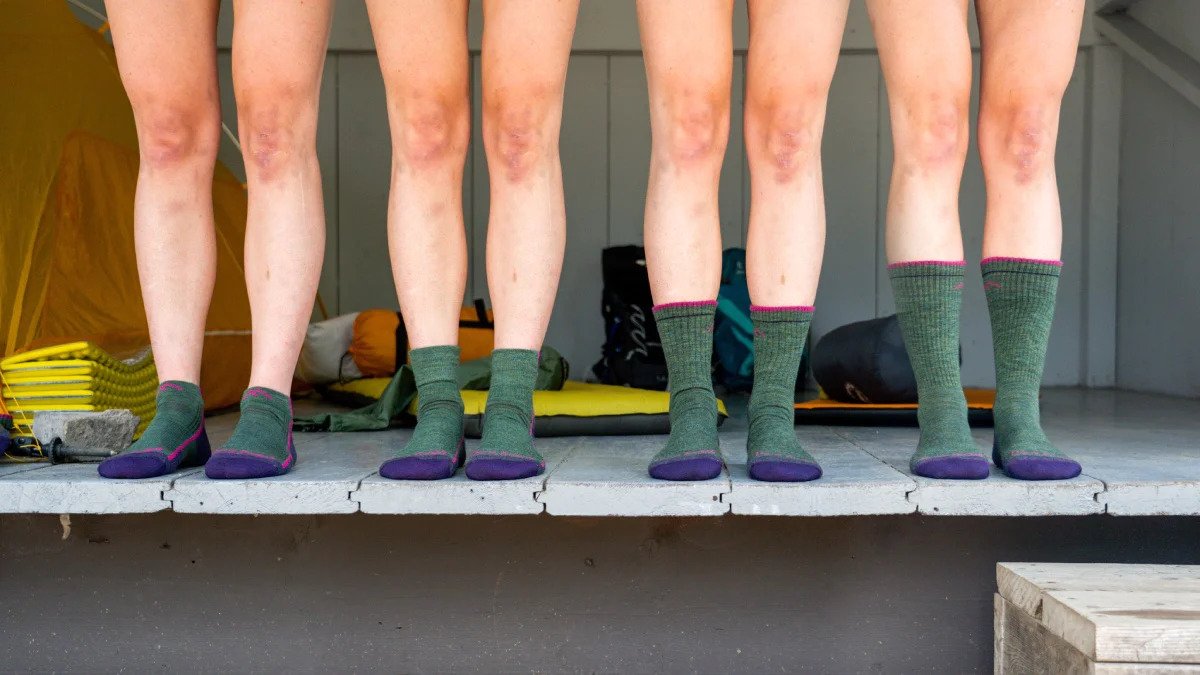 The other major consideration is the weight of the socks. These are often simply listed in weights or cushioning. Lightweight is better for keeping cool and moisture wicking making them perfect for summer walking, midweight offers a good balance of comfort, warmth, and moisture-wicking for general walking, and heavyweight is for maximum comfort and warmth in the winter.
Best walking socks 2023
Best walking socks overall
Bridgedale Hike Midweight Merino Socks £14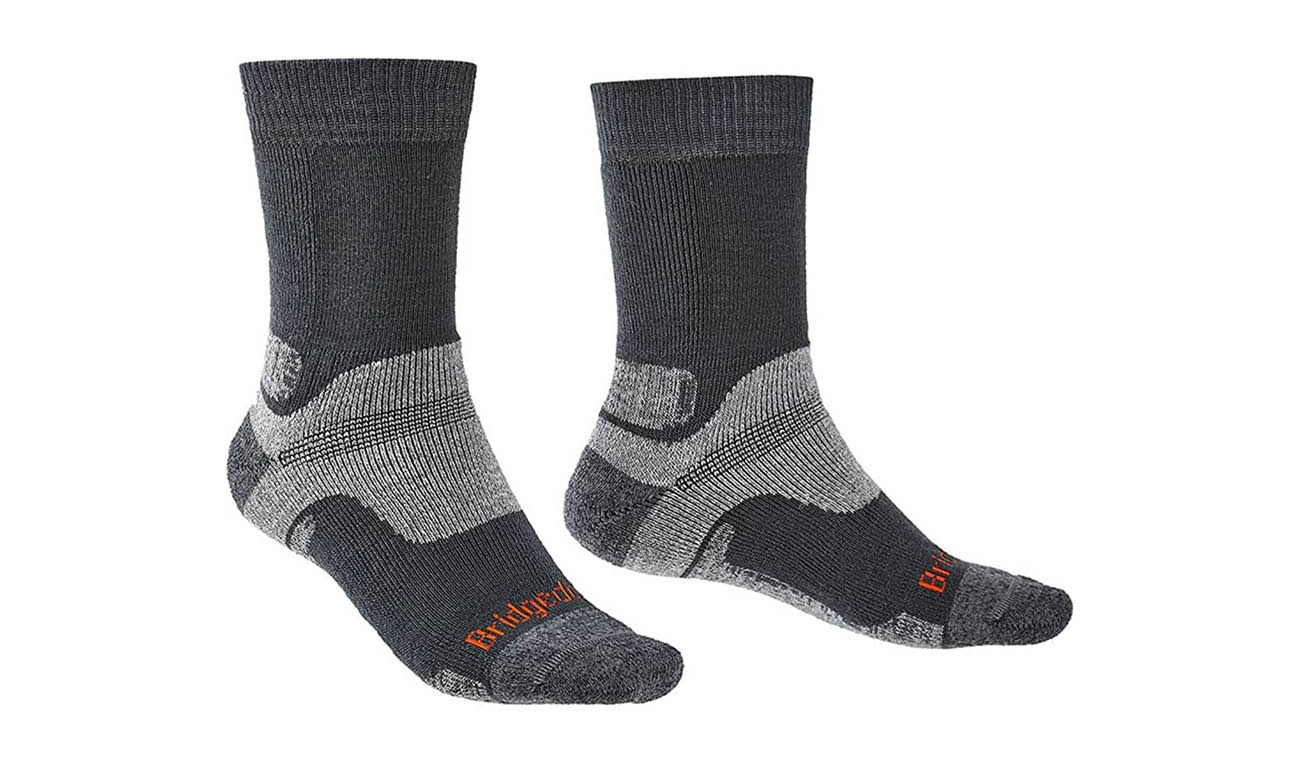 Composition: 26% New Wool, 18% Merino Wool, 38% Nylon / polyamide, 17% Endurofil™/ polypropylene, 1% LYCRA® / elastane
Height: Mid
Weight: Midweight
Available in: Men's and women's
A classic walking sock, originally named the Trekker, Bridgedale have been making and refining this sock for many years. The Hike Midweight socks feature, as you guessed midweight cushioning providing a good balance between cushioning and breathability. The elasticated arch and 3D shaped heel cuff keep the sock firmly in place on your foot and the Flat Toe Seam further enhances comfort and ensures a long day of walking without blisters. The performance blend of wool and nylon ensure excellent moisture wicking along with great durability. The zonal padding keeps the most cushioning in particularly vulnerable areas while making the sock a little more lightweight elsewhere, which is better for the summer months.
Buy Bridgedale Hike Midweight Merino Socks: £14 from Amazon
Buy Bridgedale Hike Midweight Merino Socks: £17.60 from Cotswold Outdoor
Best walking socks for comfort
Smartwool Classic Hike Full Cushion £16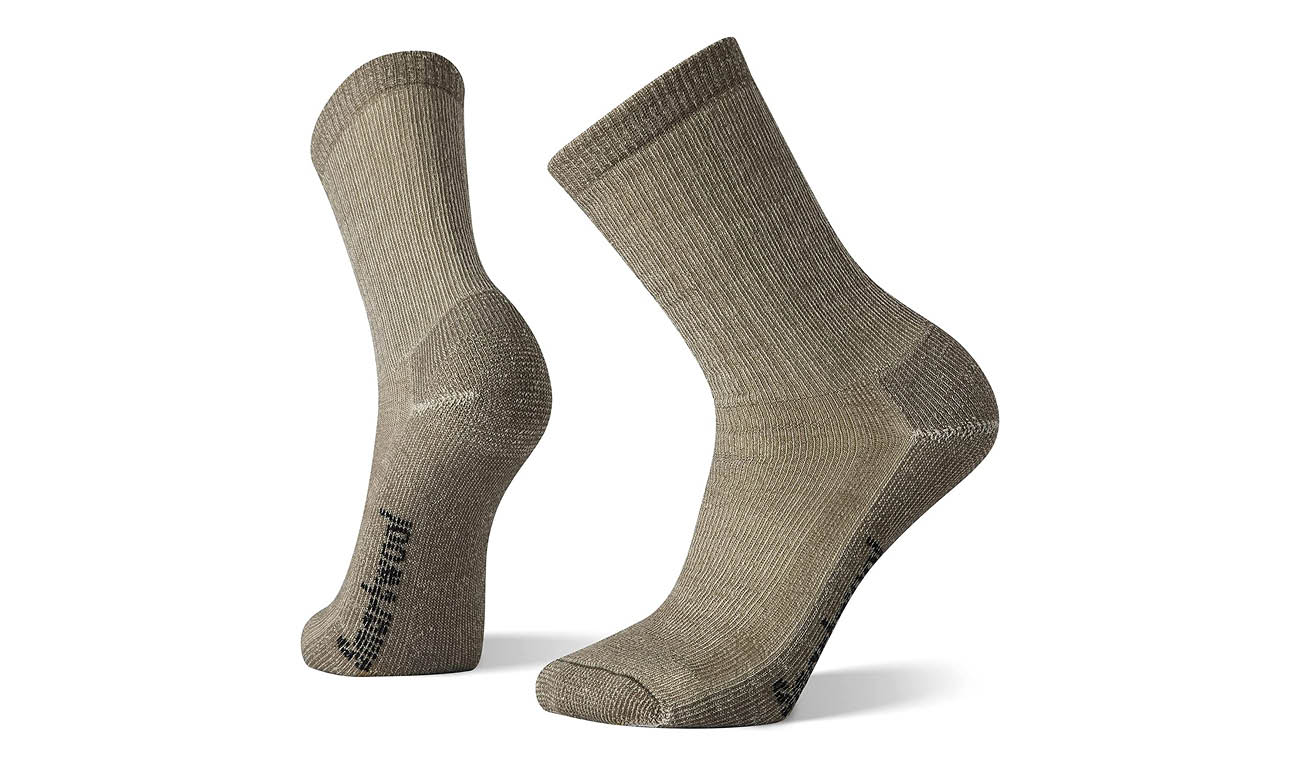 Composition: 62% Wool 37% Nylon 1% Elastane
Height: Mid
Weight: Full cushion
Available in: Men's and women's
Smartwool are masters of creating socks with merino wool and have been at it for long enough to know what they're doing. Their Classic Hike Full Cushion walking socks focus on comfort and durability, giving you sumptuous cushioning all over. This also makes them ideal for the cooler months or for filling out walking boots or walking shoes that are slightly too big.
Made from 56% merino wool, these walking socks do a great job of regulating temperature and keeping bad smells at bay for longer. Everything else here has been optimised for comfort on long walks, including a flat knit toe seam and a 4-Degree Elite Fit System which essentially locks the sock in place over the foot for less sock slippage. In our experience, this system works faultlessly.
Buy Smartwool Hike Full Cushion: £19 from Amazon
Buy Smartwool Hike Full Cushion: £25 from Ellis Brigham
Best bamboo walking socks
BAM Technical Walking Socks £17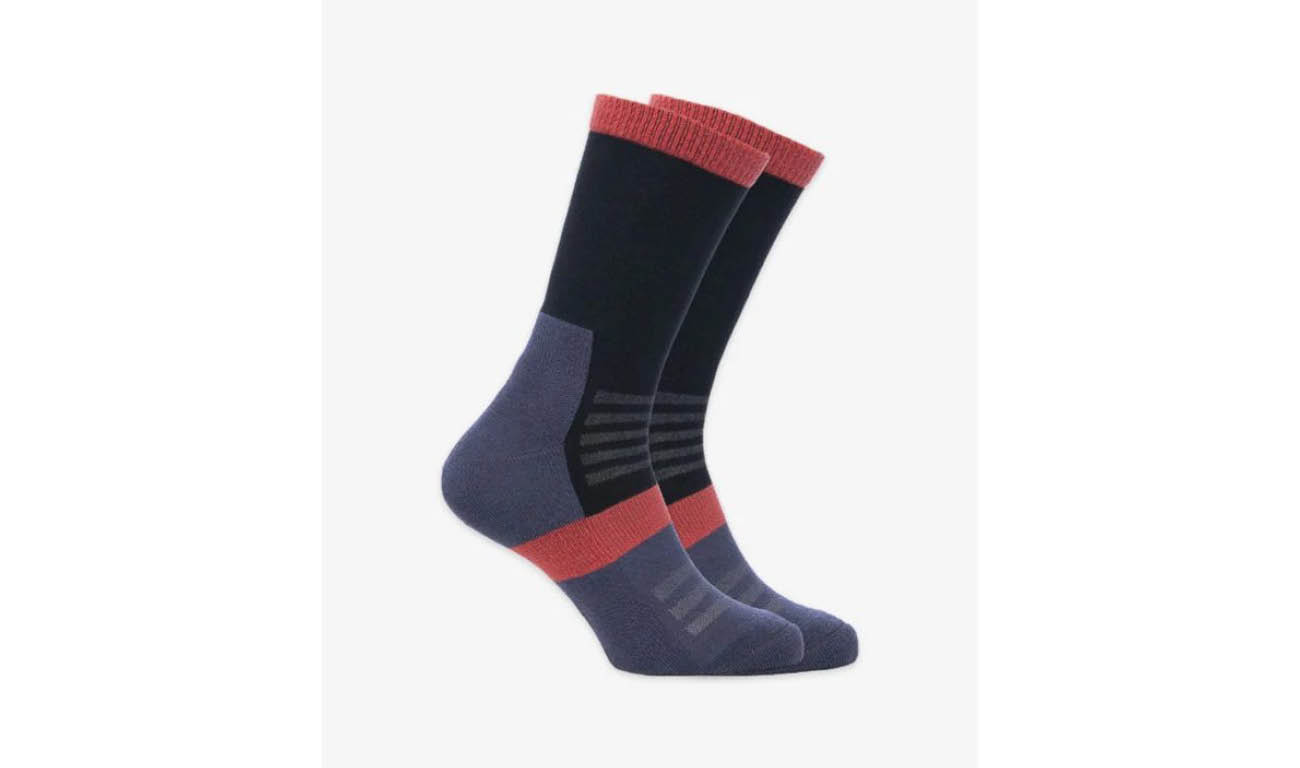 Composition: 68% Viscose Bamboo, 14% Polyamide Recycled, 17% Merino Wool, 1% Elastane
Height: Mid
Weight: Midweight
Available in: Men's and women's
With all of the features you would expect from technical walking socks, but with the added benefit of Bamboo, BAM's Technical Walking Socks are well worth consideration. Bamboo may sound less than ideal as a sock material, but it's sumptuously soft, naturally antimicrobial, temperature regulating, and moisture wicking, much like merino.
These walking socks are midweight, and half-cushioned which means that there are areas of cushioning where you need them most but where you don't need so much cushioning the socks have been optimised for breathability and moisture-wicking, keeping your feet cool and dry.
The Technical Walking Socks have been shaped specifically for walking and the height is ideal for your average pair of walking boots. They have elastic areas around the ankle and instep to ensure a perfect fit all day.
Buy BAM Technical Walking Socks: £17.60 from BAM
Best lightweight summer walking socks
Darn Tough Light Hiker Micro Crew £17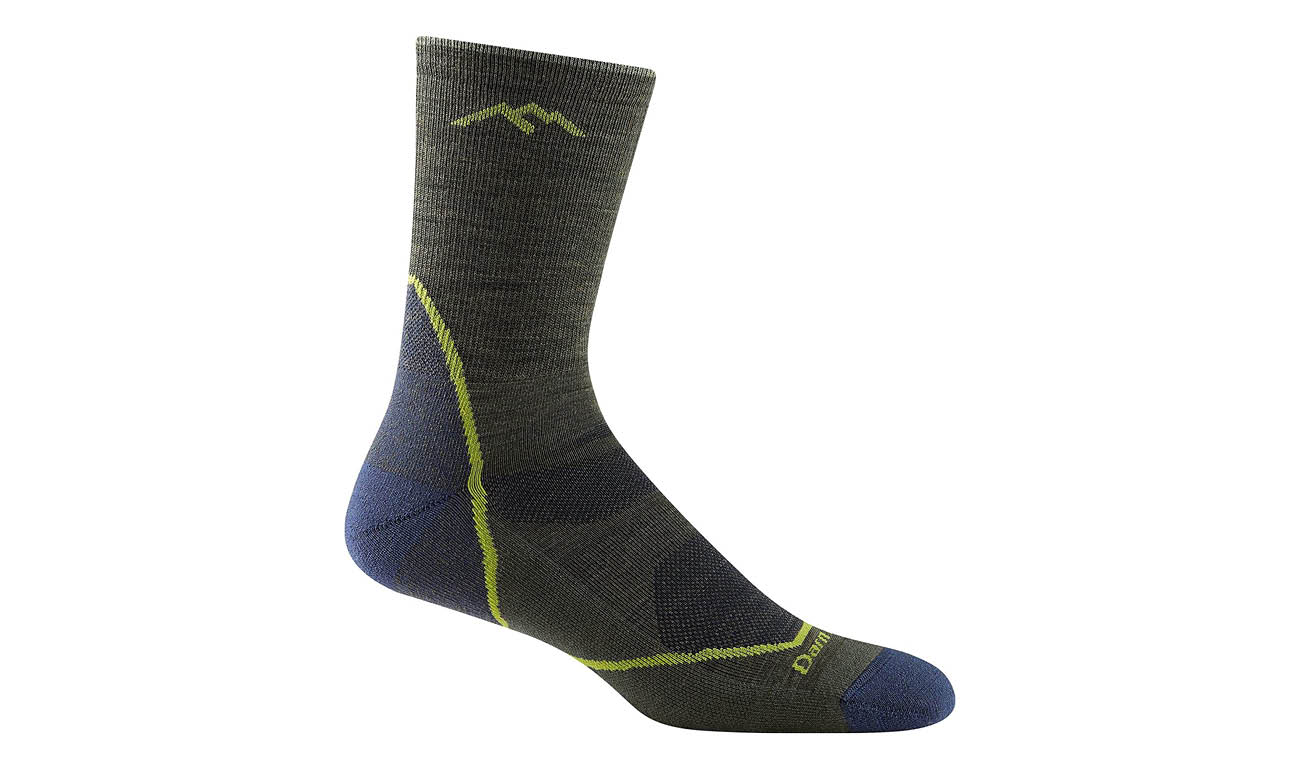 Composition: 54% Nylon 43% Merino Wool 3% Lycra Spandex
Height: Mid
Weight: Lightweight
Available in: Men's and women's
These lightweight merino blend socks are perfect for summer hiking, where you don't want a thick sock gathering sweat in your walking boots. They feature fine gauge knitting and a focus on breathability, with areas of mesh panels to let your feet air. The merino mix helps with thermo regulation, keeping your feet at an even temperature and wicking sweat away from the skin.
Despite a focus on keeping your feet cool the Light Hiker socks still promise comfort, with cushioning underfoot, at the ankle, and around the Achilles to ensure mile after mile of pain-free walking. The micro crew fit extends just above a standard walking boot, giving you ideal coverage for both boots and shoes. Darn Tough socks are 'still' made in Vermont, USA, and feature a lifetime guarantee, which in our experience you are unlikely to need as they last forever.
Buy Darn Tough Light Hiker Micro Crew: £25 from Amazon

Best low-cut ankle socks
Smartwool Hike Light Cushion Ankle Socks £18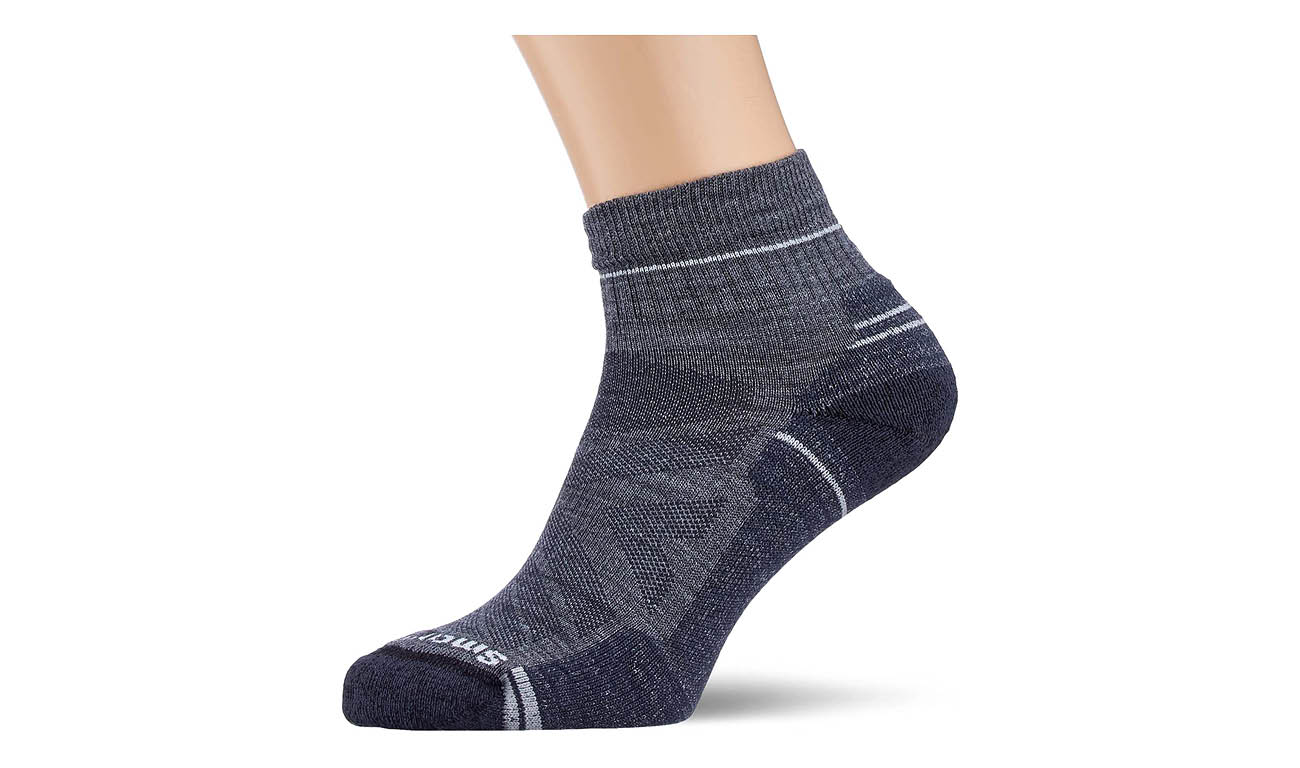 Composition: 56% Merino Wool 11% Nylon 31% Recycled Nylon 2% Elastane
Height: Low-cut
Weight: Lightweight
Available in: Men's and women's
We love Smartwool socks and these are some of the best low-cut socks for summer walking. They feature the Smartwool 4-degree Elite Fit system which gives perfect flexibility at the ankle joint, as well as loads of other comfort and performance-orientated features. These include mesh venting zones to maximise breathability, a Virtually Seamless Toe to ensure you don't get any rubbing in your walking shoes, and Indestructawool, which keeps the socks in prime condition for longer. The height is perfect for pairing with sporty walking shoes and shorts in the balmy summer months, where the naturally antimicrobial merino wool blend will help keep your feet fresher for longer.
Buy Smartwool Hike Light Ankle Socks: £17.93 from Amazon
Buy Smartwool Hike Light Ankle Socks: £19.99 from Ellis Brigham

Best value walking socks
1000 Mile Unisex Twin Pack Trek Walking Socks £15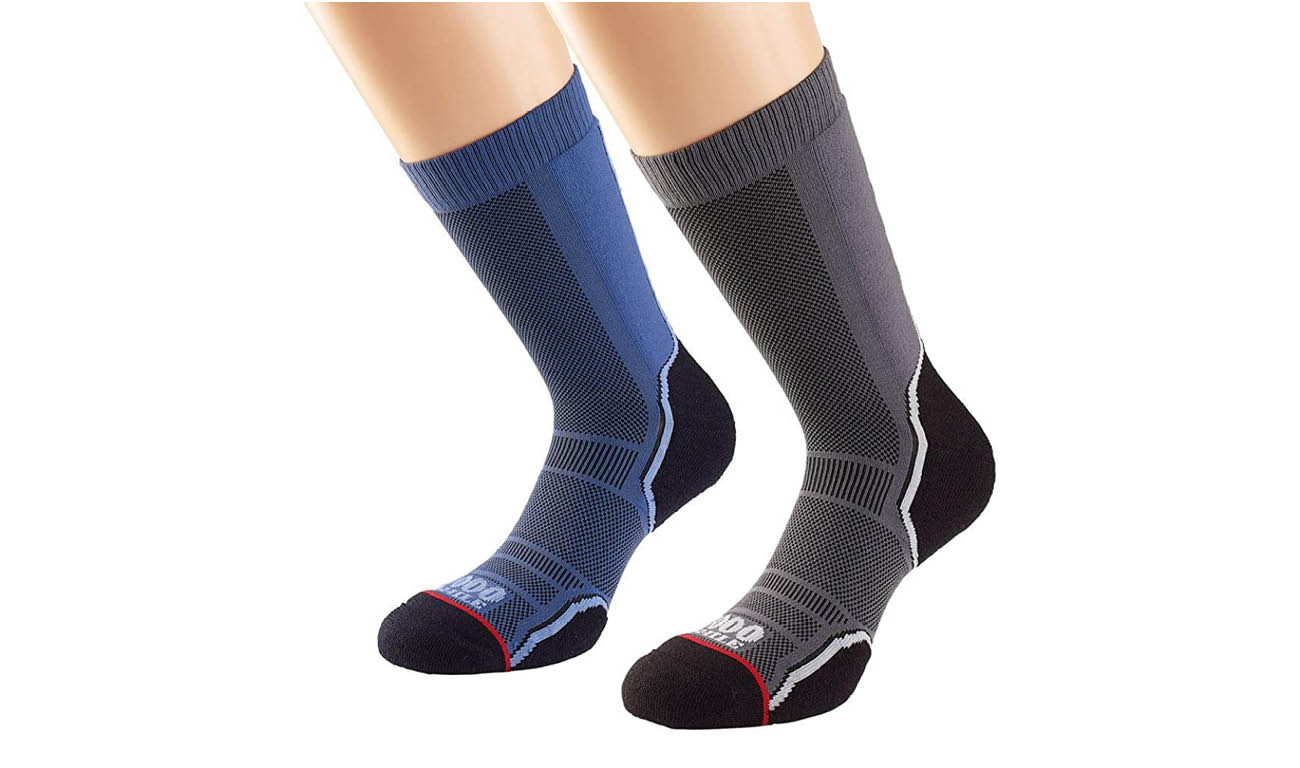 Composition: Heel and toe: 70% Acrylic, 30% Wool; Upper: 98% Polyamide, 2% Elastane
Height: Boot
Weight: Midweight
Available in: Men's and women's
These socks are superb value considering that they are from a respected walking sock brand known for making comfortable, durable socks. These mid-weight do-all socks are perfect for walking, but like other walking socks they can also be put to good use cycling and for other outdoor activities. They have an interesting material mix, using wool in the heel and toe but not in the upper, which probably allows them to offer slightly better value than other name-brand walking socks.
Like other walking socks, the 1000 mile Trek socks focus on minimal seams, excellent moisture management, and great fit. With elastic at the arch and cuff the Trek socks stay firmly in place, and mesh panels in the upper keep your feet cool in hot weather.
Buy 1000 Mile Trek Socks: £10 from Amazon
Buy 1000 Mile Trek Socks: £17.32 from Decathlon