Alongside a waterproof jacket and a decent pair of hiking boots or trail shoes, a water bottle is probably the most important bit of hiking or trekking equipment you can carry. Because, let's face it, you never want to face being stuck without water on a long walk.
Water bottles aren't just for the outdoors either. With water refill points now proliferating at train stations, airports, and on street corners everywhere, a resusable water bottle is now an essential accompaniment to urban life. Not only are reusable water bottles increasingly convenient and cheap, they prevent adding more single use plastic to an already clogged and inefficient global recycling system. 
They may sound like the simplest bits of kit, but reusable water bottles actually come in a wide variety of shapes and sizes, designed for a wide variety of highly specific uses. Hiking bottles are different from trail running bottles which are different from thermoses etc. This round up includes a mixture of different types - each of which we believe is the best in class. Which one is best for you? Well, that depends on what you want to do with it.
Nalgene Wide Mouth Water Bottle, £16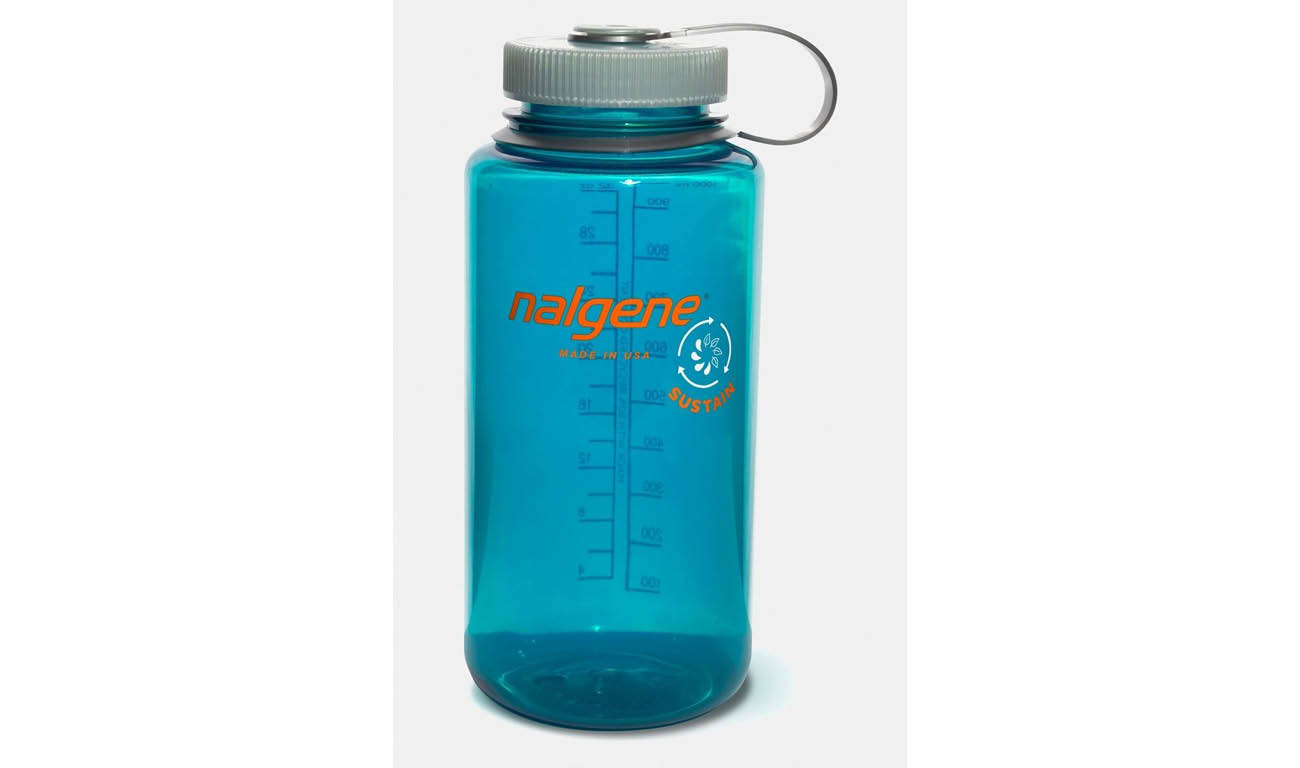 Nalgene reusable water bottles are as close as it gets to an industry standard. Made from highly heat resistant plastic, they can handle hot tea, or ice cold water, and they're completely dishwasher safe. Active Traveller has owned one of these for three years, and it's proved hard-wearing, versatile, and incredibly useful. These days, the plastic they're made of is recycled too, making them less carbon intensive. 
The wide mouth design of this 1 litre bottle makes filling it easy, even in the shallowest of streams, and it's also great if you want to add ice cubes. Nalgene doesn't have any special heat retention properties, but if you're looking for a basic, all-round workhorse of a water bottle that will last a long time, this is a good place to start.
Buy Nalgene Wide Mouth Water Bottle: £18 at Snow and Rock
Smartshake EcoBottle, £18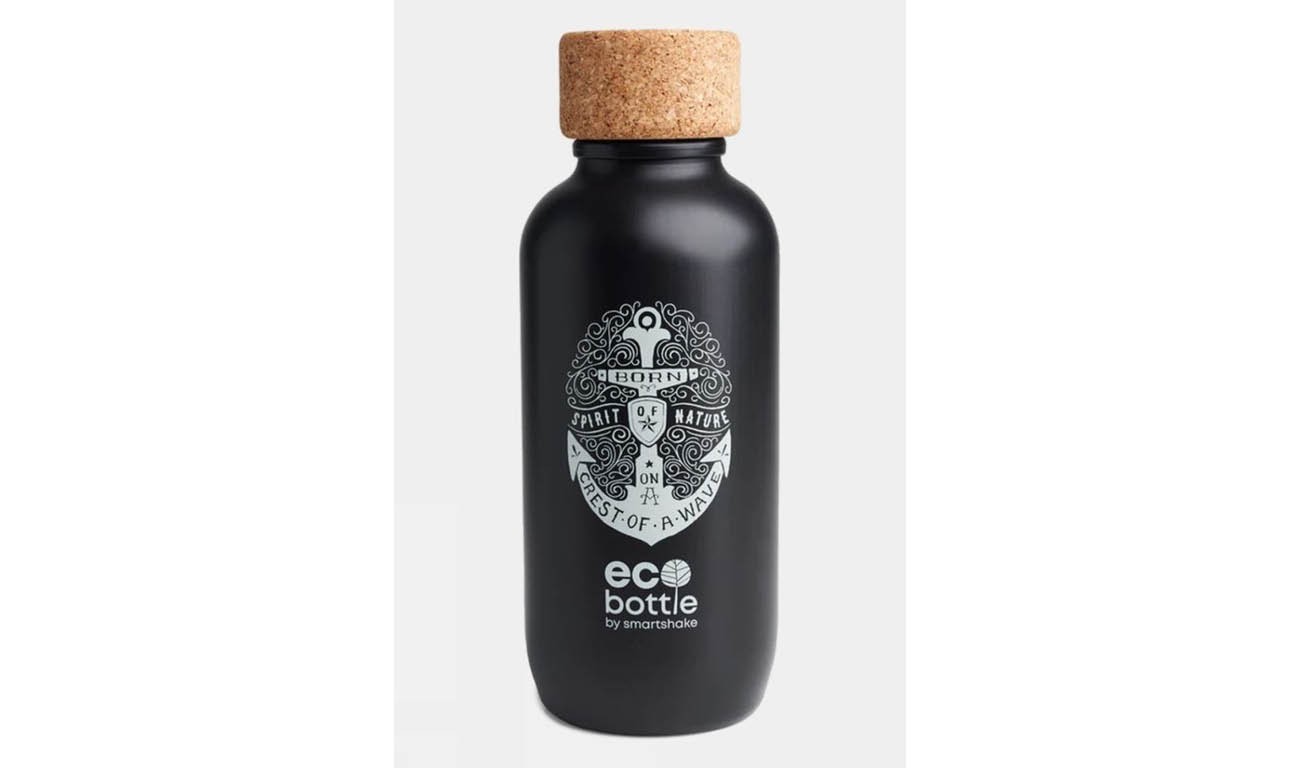 The Smartshake EcoBottle is made of cork and sugarcane biomass that would otherwise be thrown away as waste, and manufactured in a Swedish plant using electricity that's 70 percent sourced from renewable supplies. 
The company is scrupulous about its environmental transparency, and it calculates that each bottle shipped and sold in northern Europe (including the UK) has a carbon footprint of minus 2.37kg. Given that the 650ml bottle weighs considerably less than that, it's not a bad start. Freezer safe and dishwasher safe to 55 degrees C, this is a great option for cold liquids. 
Buy Smartshake EcoBottle: £17.99 at Snow and Rock
Hydro Flask Standard Mouth 21oz, £35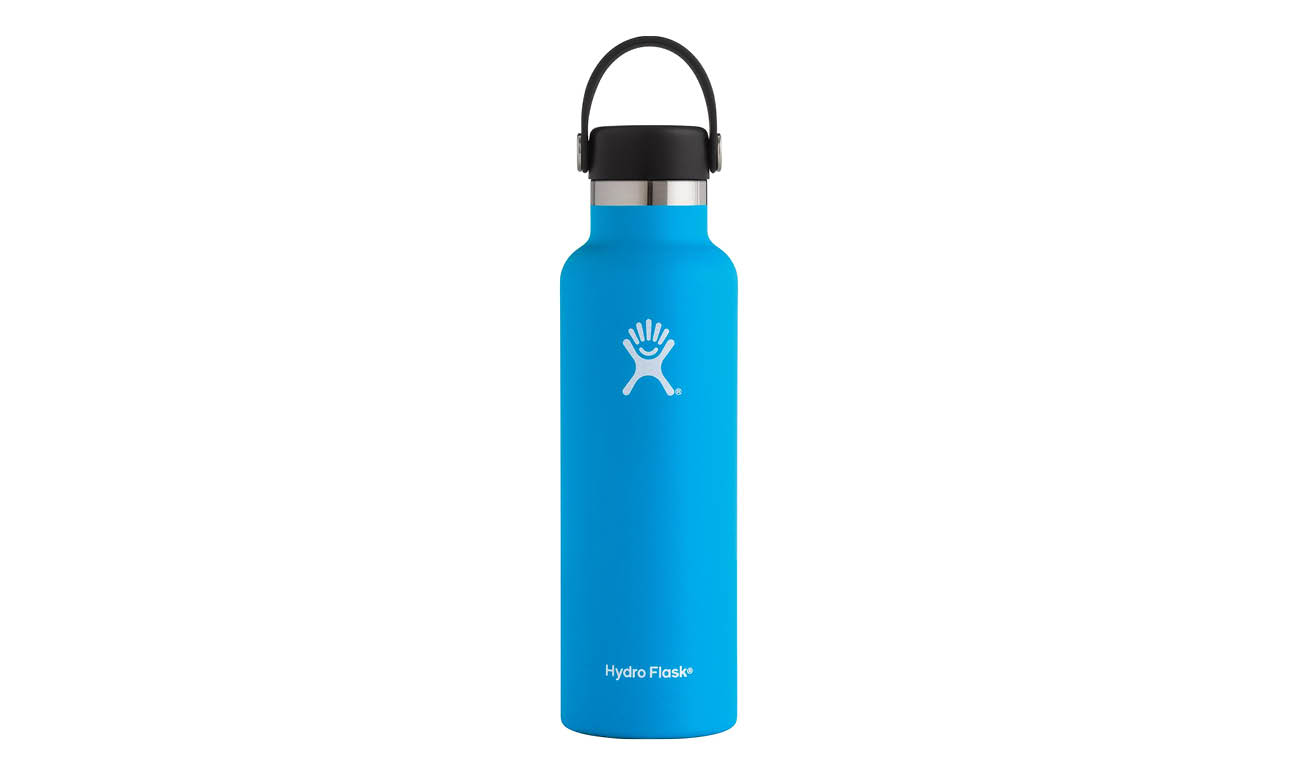 Hydro Flask make just about the best thermos flasks going. They claim that their stainless steel bottles keep hot drinks warm for 12 hours, and cold drinks cool for 24. Having owned a Hydro Flask vacuum insulated bottle like this for four years, Active Traveller has had a chance to put this claim to the test in a wide range of different conditions: from ski touring missions in minus 20, to baking hot hikes in the Moroccan desert, and we've never found it wanting. 
In fact, the flask is so effective at keeping hot liquids hot that if we're embarking on a single day ski touring mish, we now make our tea with a mixture of boiled water from the kettle and cooler water from the tap—we've found if we just use boiling water, the tea stays too hot to drink! Made of 18/8 pro-grade stainless steel, this is tough (our one has survived some pretty big drops), light at 340g, and fits into a backpack easily. If you're looking for a thermos, your search should start here.
Buy Hydro Flask Standard Mouth 21oz Water Bottle: £34.99 at Ellis Brigham

Lifestraw Go Stainless Steel Water Bottle, £62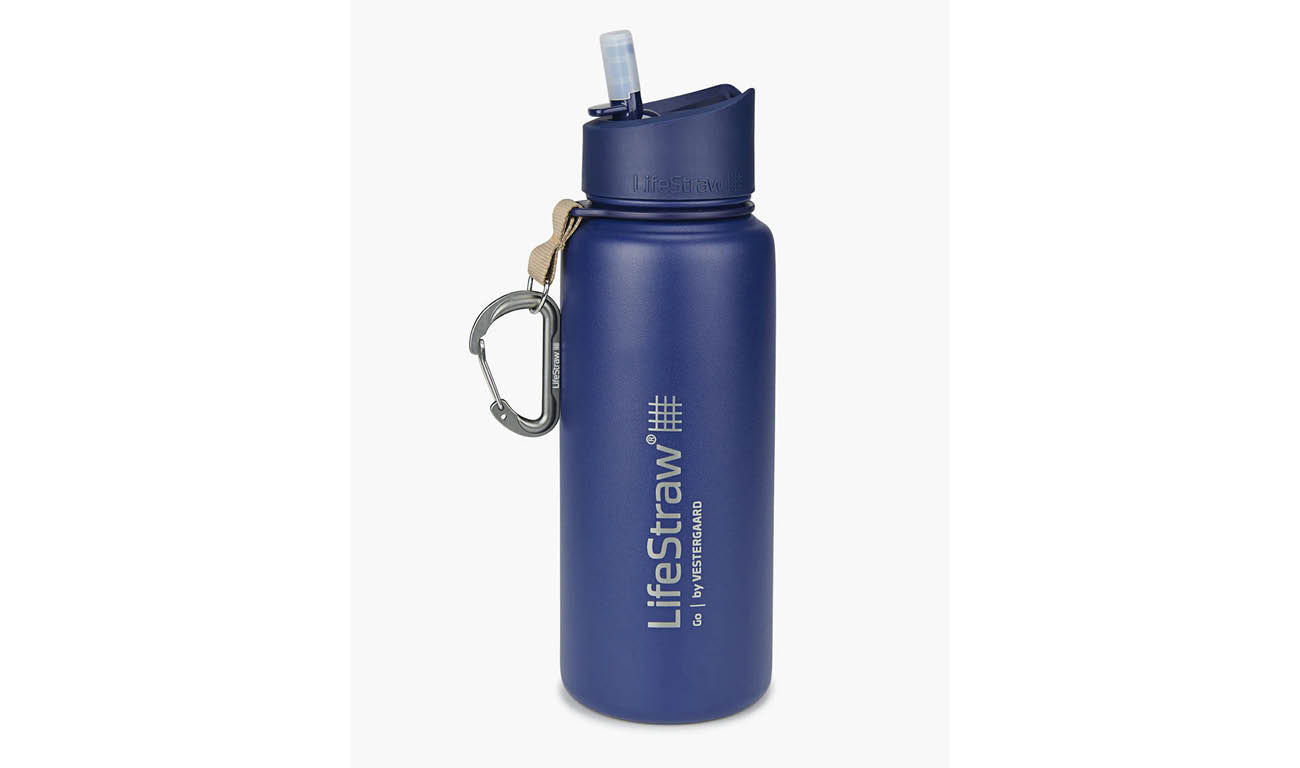 The LifeStraw is one of those inventions, like the Babelfish from Hitchhiker's Guide to the Galaxy [https://youtu.be/iuumnjJWFO4?t=126], that's so useful, it almost sounds like science fiction. Invented in Denmark, this low-cost, straw-shaped filter provides clean drinking water by removing bacteria, parasites and other impurities as you suck. We've tested a LifeStraw by drinking from a muddy puddle, and can report that it 100 percent works.
Once the company had perfected the straw filter itself, they began selling it with integrated reusable bottles, as the LifeStraw Go, and more recently introduced this top of the range stainless steel model, which features double wall vacuum insulation to keep cool liquids cool. 
The utility for hikers is obvious. You no longer need to worry about if a sheep has died upstream from where you're filling your bottle, and you no longer need to carry water purification tablets. But while this is a "nice to have" for hill walkers, in countries where access to clean drinking water is a health issue, the LifeStraw has proved a genuine life changer. 
Which is why they launched their unique "Give Back" program in 2014, which ensures that for every LifeStraw product sold, a child is guaranteed clean drinking water for a year. So far, the company estimates, it has provided over 6 million kids with a year of safe water. Not bad for a simple reusable water bottle with a straw!
Ultimate Direction Fastdraw Water Bottle, £27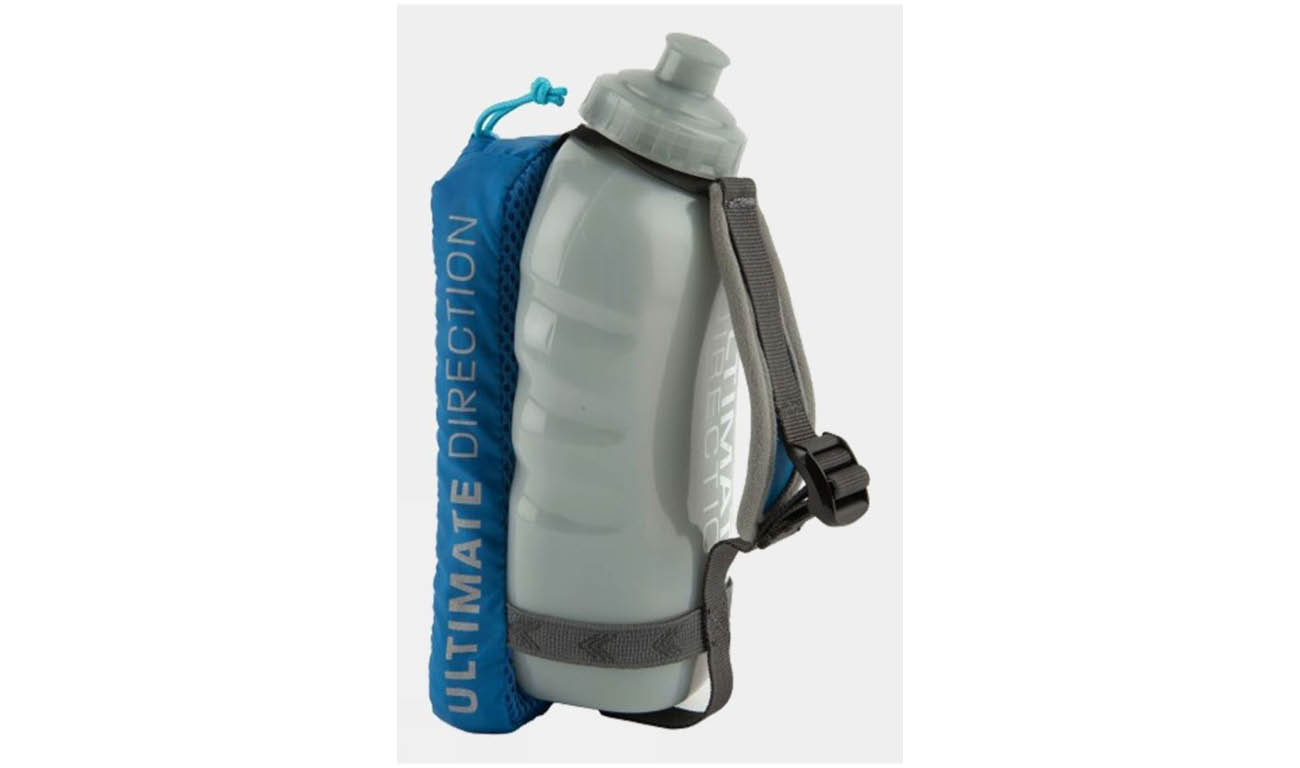 If you're looking for a reusable water bottle specifically for trail running, look no further. This lightweight model is made of flexform plastic, which is ergonomically shaped to make holding it easier as you run. There's a pop top cap to stop your water spilling, which is made doubly splash proof with a bite valve. 
The polyester strap will keep it secured to your hand, but the main innovation is the integrated, zip up phone pocket, with a clear plastic front so you can see your screen easily. If you don't like the discomfort of running with a vest, this is a great solution. Lightweight, inexpensive, and super practical.
Buy Ultimate Direction Fastdraw Water Bottle: £27 at Snow and Rock
CamelBak Eddy+ 1L Water Filter Bottle by Lifestraw, £50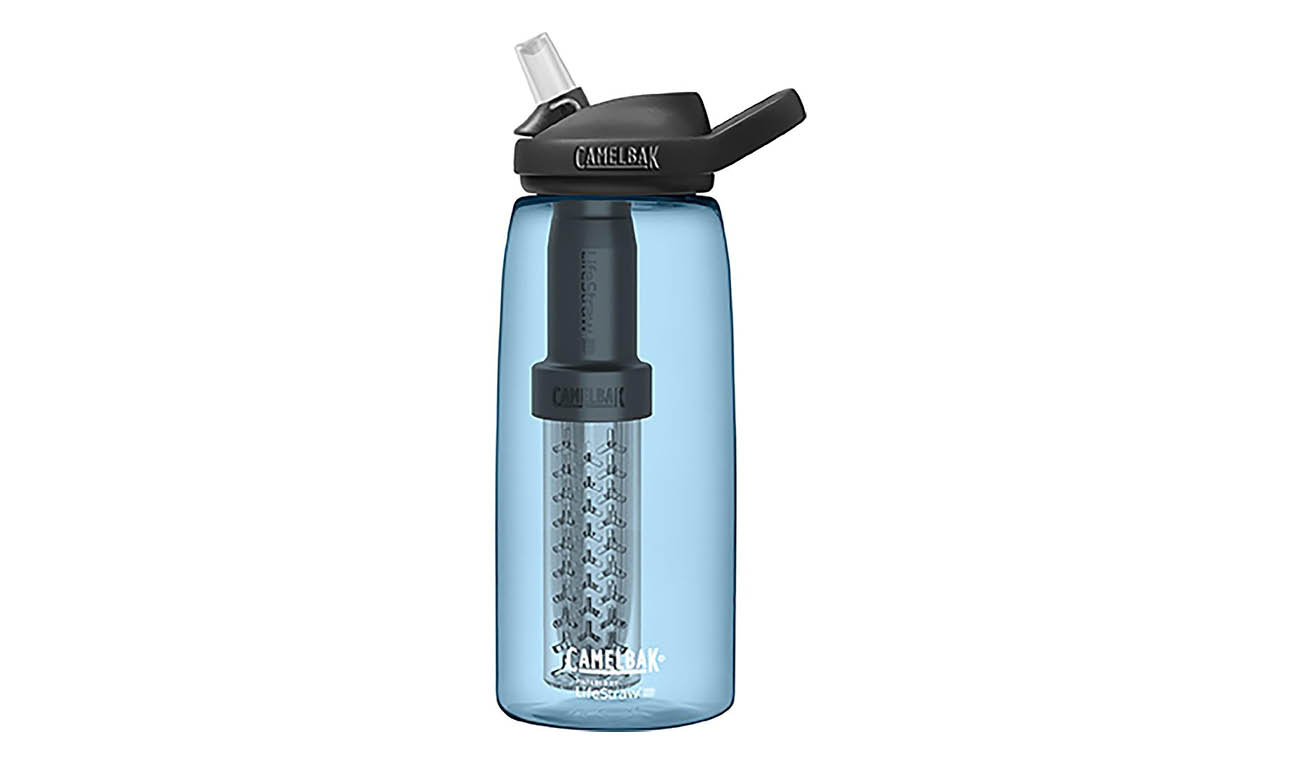 CamelBak are best-known for their backpack mounted water bladders, but they also make an excellent range of reusable water bottles too — from soft flasks to tougher, hard bottles like this one. The shell here is based on the brand's best-selling Eddy+ design, which is a durable, dishwasher safe, 1 litre plastic bottle. But CamelBak have upgraded this basic shell by integrating a LifeStraw into the cap. 
This means that you don't have to worry about the source of your water when filling up, as the straw will filter it before it reaches your lips. It's great for hiking trips, and perfect for travel to countries where the water supply might not be 100 percent reliable or clean. While it's not insulated, unlike LifeStraw's metal water bottle, listed above, it's cheaper, and just as tough.
Buy CamelBak Eddy+ 1L Water Filter Bottle (by Lifestraw): £50 at Ellis Brigham