Gear for bike camping comes with the obvious proviso of needing to be lightweight; believe us, all that gear can add up to a catastrophic, bike crushing amount of weight if you get it wrong, but, fall into the trap of prioritising weight over all else and you risk being caught out, alone in the wilderness with a tent that leaks, a stove that blows out or a sleeping bag that doesn't keep you warm.
So it's fairly obvious that your kit needs to be durable and needs to perform well as well as being as lightweight as possible, oh, and it should be good value too - tall order indeed, but we think we've found some great bits of kit for bike camping that ticks all of these boxes.
Lifeventure Dristore Drybags » £30
This nifty set of drybags will keep water out of your kit whatever your adventure. You get three high quality stuff sacks made from 30d siliconized cordura, a waterproof and tear resistant material.
All the drybags in the set are on the large side ranging from a 10 litre bag to a huge 40 litre bag and total weight of all three is under 200g.
The time-served roll-top closure system with single click-shut buckle works without fault and keeps everything snug. The bags can be used as stuff sacks to keep gadgets or clothing organized and we've even used one as a compression sacks for sleeping bags and jackets. cotswoldoutdoor.com
VERDICT - 4.5 Overall
+ Even the middle sized bag can take a sleeping bag
- Would potentially need to a buy smaller set for smaller items
MSR Windburner Stove » £95
Wind is the bane of every camper's cooking efforts, with the heating efficiency of some stoves impaired so much by it that they might not boil a pan of water at all.
MSR's Windburner tackles this problem with a high-tech enclosed radiant burner, which is almost entirely impervious to weather. And it works, with a 1 litre boiling time of well under five minutes – regardless of how windy it is.
Once you've bought your IsoPro fuel canister, what you have is an entire cooking system, with insulated pot, lid, cup, burner and canister stand all included – which all packs inside the pot, including the canister.
VERDICT - 4 Overall
+ Packs up really neatly including gas canister
- Expensive but it works!
Lifesystems Micro LED Headtorch » £15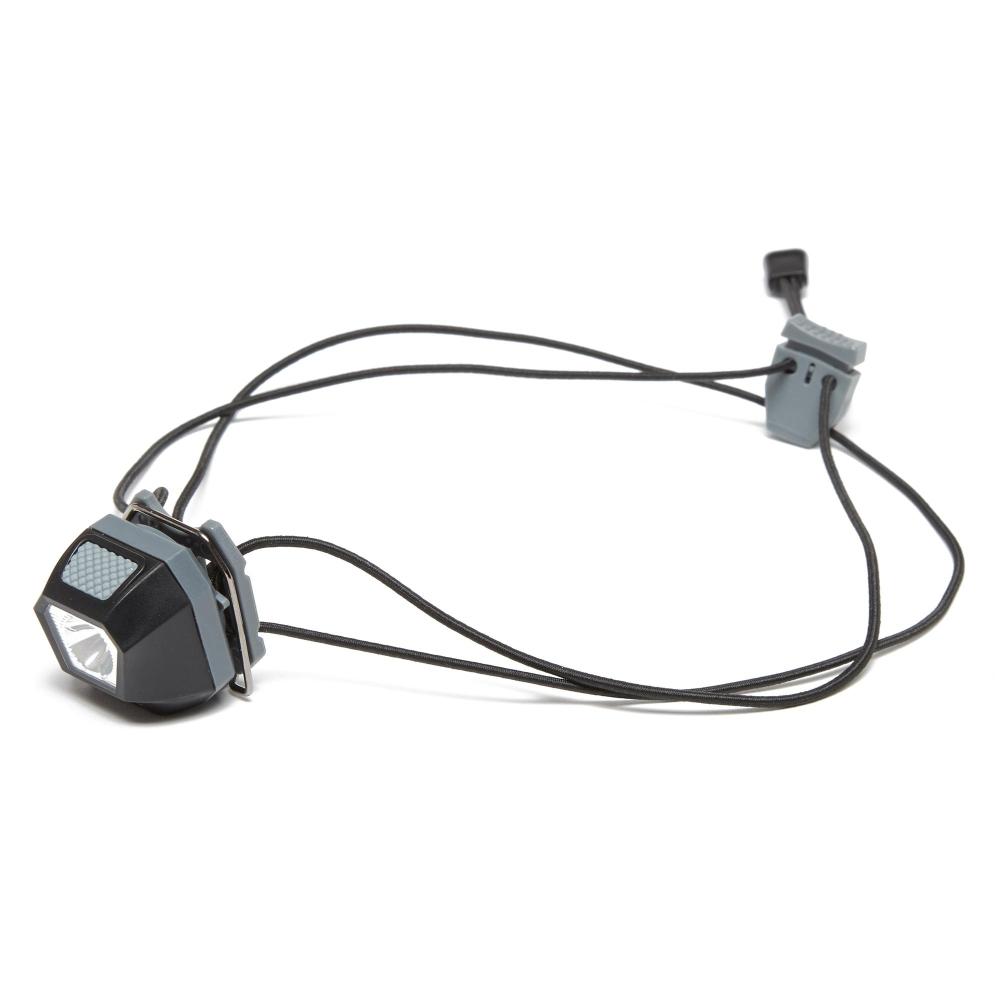 For just £15 and weighing in at a featherweight 30g including batteries, Lifesystems' pocket-sized Micro LED head torch packs a heavyweight performance punch that will embarrass many other bigger, heavier headtorches.
Squeezed into its tiny 33mm x 36mm x 28mm headlight cube, along with a pair of easily sourced CR2032 batteries (included), are one high-power 24 lumen ML-E Cree white LED and a pair of red LEDs. Everything else is purely for holding the torch on your head.
You get five different lighting modes - high, low and flashing for the Cree White LED, as well as a flashing SOS and constant for the red - for use when you don't want to impair your night vision with a white light.
The head torch body is made of a tough ABS plastic, is IPX6 waterproof rated and comes with a double looped elasticated string strap with a toggle adjustment to keep it on your head. A hinged plate on the back of the head torch body allows you to angle the beam up or down, and the Micro LED head torch even comes with a handy, bright red, ripstop storage bag.
Fantasic price, great performance and loads of versatility from a tiny package, Lifesystems' head torch is so useful and compact, it's almost an outdoors 'Every Day Carry' that you won't leave home without. What's not to like?
Vaude Power Lizard SUL 2-3P » £470
less than 1.4kg is an incredible weight for a 2-3 person tent and the equivalent weight of a one person bivvy shelter each, when shared.
With one external hoop and two end poles, with the flysheet and inner left attached the Lizard is easily put up in about 7 minutes.
The interior is fine for two with room to sit up in the middle and enough length for our 6ft 2in tester. A vestibule can take a trekking pack and will roll back for stargazing.
The fly is a featherweight 20D silicone coated Ripstop with a hydrostatic head of 3000mm, and the structure feels easily strong enough to cope with UK hill weather.
vaude.com
VERDICT - 4.5 Overall
+ Quick, easy set up and fantastically light
- This level of weight saving comes at a price
Platypus Gravityworks 2L Water Filter » £80

Simple to set up and use as the name suggests the filtration process is carried out by force of gravity rather than by manual pumping: simply hang the full reservoir above the collection vessel, unclip the shutoff clamp and let gravity do the rest of the work.
Water runs through surprisingly quickly, with a full 2L of dirty water taking just over a minute to process into clean, safe drinking water.
As well as removing particulates, the system meets all EPA & NSF guidelines for the removal of Bacteria and Protozoa including Giardia, Cryptosporidium, E. coli, Salmonella and Cholera.
gooutdoors.co.uk
VERDICT - 5 Overall
+ Fast, hassle free clean water that you didn't need to carry
- Nothing
Therm-a-rest EvoLite camp mattress » £80
The three-season EvoLite is built with a skeleton construction of foam beams with alternating air channels across its width resulting in a level of comfort unrivalled by conventional air mattresses. An added bonus is that the trademark rustles and squeaks are all but completely gone.
The top and bottom fabrics are durable 30d mini rip polyester which is a reasonable defence against jagged rocks and the like. If it isn't you'll need the optional repair kit.
The rolled up EvoLite is bigger than most lightweight expedition air mattresses but is a good best of both worlds compromise.
cascadedesigns.com
VERDICT - 4 Overall
+ Camping companions will thank you for the lack of noise it makes!
- Foam beams add to bulk and weight of rolled up package
Vango 1 Person Cook Kit » £18
Only weighing 225g this one-person cook kit certainly ticks the lightweight camping box.

Both pans are hard anodised and non-stick meaning that they only need a quick rinse by the trailside after each use The smaller pan can be used as a lid for the larger one and makes an excellent mug.
The contoured, heat resistant carry handles are foldable and the pans stack on top of each other for packing into the provided stuff sack.
It's a shame the smaller pan can't be packed inside the larger one but the void created between the two can be used for packing other cooking essentials into.
vango.co.uk
VERDICT - 4 Overall
+ Good value
- Lack of clever packing solution
Vaude Arctic 800 sleeping bag » £220
With a fill weight of 800g of fully synthetic Primaloft Black, and rated for 'comfort' at 0 C (and an extreme rating of -22 C) the Arctic 800 is built for cold night comfort. Even when it's wet.
Firstly it does this with its choice of synthetic Primaloft insulation, which, although water resistant can insulate even once it's got wet.
Secondly, the head and foot sections of the Arctic 800 are water proof to protect the sleeping bag from wet tent walls.
Other features include a mummy-shaped cut, a thermal collar inside, and a drawcord which can shorten the bag for smaller people.
vaude.com
VERDICT - 4.5 Overall
+ Waterproof ends and a weight of just 1.25kg; left and right zips available
- Nothing
PackTowl Nano » £9
Measuring 48cm x 48cm this towel packs down into a tiny little mesh stuff sack complete with lanyard and carabiner clip.
It's big enough to wear as a head band and at a push to dry the whole body after a shower.
It also dries itself impressively fast – just clip it to one of the guy ropes on your tent or on to your backpack, and in warm weather it should be totally dry within a few hours.
The patterned design adds a touch of style and fun to what could otherwise be quite a utilitarian item and at a price of just £9 it represents excellent value for money as a travelling essential.
cascadedesigns.com
VERDICT - 5 Overall
+ Tiny package but great drying power
- Nothing