Tasiilaq Fjord Walk, East Greenland
A perfect opportunity to explore stunning Arctic flora and fauna, this hike in East Greenland is one not to be missed for those who want to get lost in the wilderness. Greenland can be intimidating in its vastness, but there is so much stunning scenery to see, with the Aammaqqaaq peninsula being no exception.
A great way to begin this hike is with a boat trip to the peninsula, passing through a stunning iceberg-dotted fjord, and getting up-close and personal with monolithic towers of ice. It's a breath-taking experience and definitely one to remember your camera for!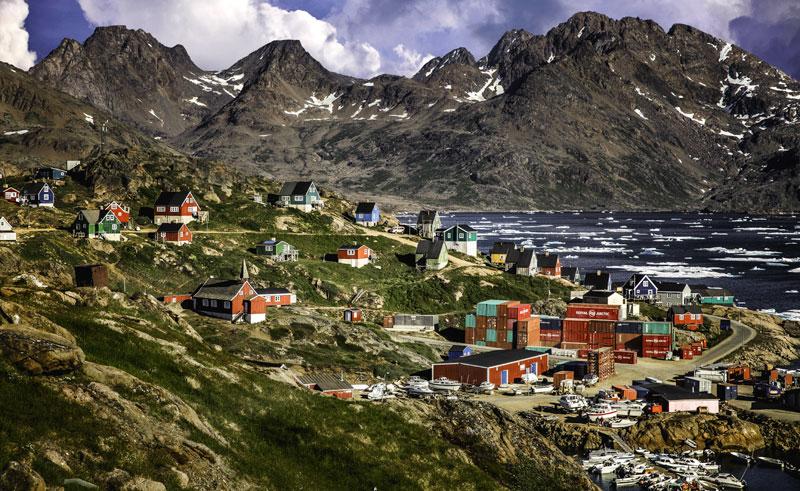 Once on the shore, you will weave through stranded ice floes on the way to a large estuary, the perfect place to spot seabirds and admire a waterfall that flows through a gorge before tumbling into the water below. There will be a river crossing to negotiate, before reaching a small group of sparkling lakes at the top of the fjord.
BOOK IT: Incorporate this walk into a 9-night Greenlandic adventure to really get to grips with this spectacular country. Combine mountain treks with boat cruises and helicopter sightseeing trips when booked with Discover the World.
Latrabjarg Cliffs Coastal Path, Iceland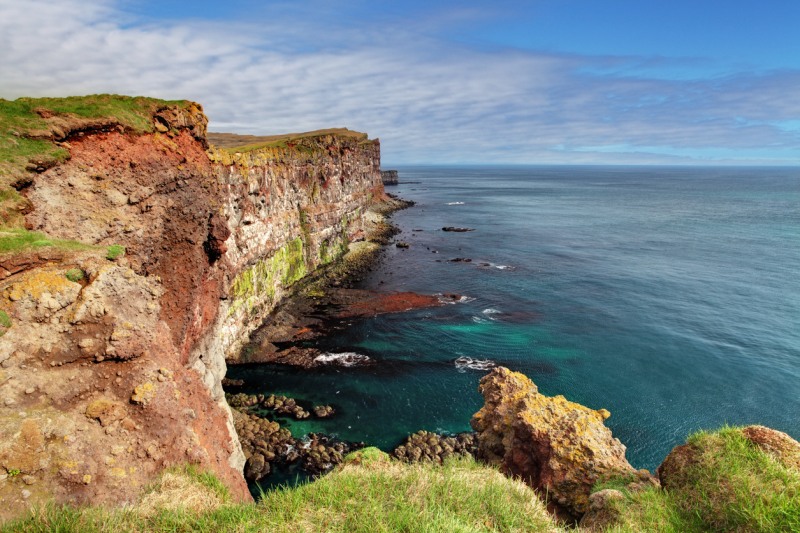 Latrabjarg in the West Fjords is an area of windswept cliffs jutting out into the ocean from the most westerly point of Iceland. The 400m high cliffs make for a stunning backdrop on a unique coastal hike.
The sheer sides of the cliffs are a paradise for all kinds of birdlife, making the hike a unique opportunity to see some of the area's most iconic wildlife up close. For example, the grassy edges of the cliffs are often dotted with puffins, docile enough not to fly away when you try and snap a photo, and you'll see razorbills, guillemots and loads of other bird species flitting about the area on the way to their nests on the cliff faces.
After your dizzying walk up on the high cliffs, don't miss the chance to meander along the red sands of Raudisandur beach below to truly appreciate the grandeur of the jagged cliff faces as they tower above you. On a clear day, it's even possible to spot the imposing Snaefellsjokull glacier in the distance.
BOOK IT: Take a tour of these beautiful coastal with Discover the World's 'Best Escorted Tour in Iceland'. Visit all of the must-see sights Iceland has to offer with an expert local guide on a 15-night trip. This package even includes the extra experience of touring the island in a luxury Mercedes Benz 4x4 Supertruck!
Fjord Adventure and Hiking to Raudmelen, Norway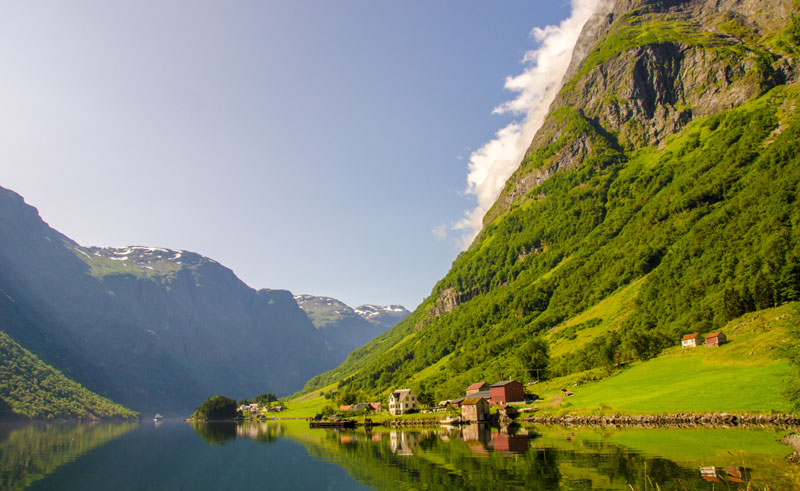 Exploring Norway by foot is a great way to immerse yourself in this magnificent landscape. Dip your toes in the crystal clear fjords and visit UNESCO World Heritage sites along the way as you embark on your Nordic adventure.
Raudmelen is a mountain which summits at an impressive 972m, towering above the small village of Balestrand down below. It's a lovely mountain hike to the top, beginning on a gentle nature trail where you can admire the scenery at a sedate pace, before you veer off and turn sharply up a steep wooded path.
There are breath-taking views to be had all along this route in whichever direction you look. Stop off at Orrabenken and enjoy the stunning vistas of the Sognefjord 370m below you, and look back at the pretty buildings of Balestrand.
There are photo opportunities at every turn, but particularly special views can be found when you reach the top. From here you can see the Sognefjord, as well as the beautiful mountain plateau of Stolsheimen and the rocky mountainsides off towards Esedalen. Truly a hike for those looking for a vast array of different landscapes to explore, Norway is the perfect place for an adventure.
BOOK IT: Book a 6-night escorted getaway to Norway with Discover the World for the perfect opportunity to try this hike. Trek through the beautiful Nordic landscape and try your hand at sea kayaking, trips on chairlifts and fjord safaris.
Laugavegur Highland Walking Trail, Iceland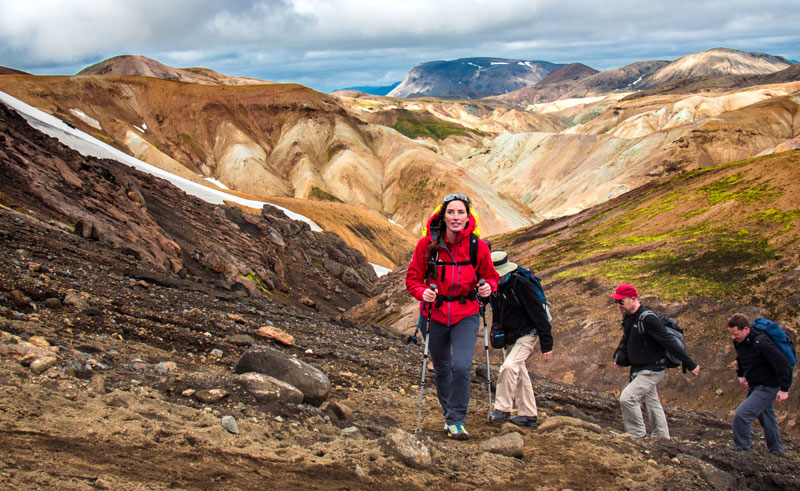 The Laugavegur Highland walking trail is a 4-day trek which covers 55km through some of Iceland's most spectacular scenery. Linking Landmannalaugar with the 'hidden' valley of Thorsmork this hike is the perfect opportunity to explore the rugged highlands of Iceland's interior.
The mountains of Landmannalaugar are part of the Fjallabak nature reserve, and are truly a sight to behold. Made up of the volcanic rock, rhyolite, they are stunning colours of rich reds, striking yellows and greys, striped with black lava flows. The landscape is scattered with bright blue lakes and hot springs, thanks to the geothermal activity of the area. Add to this the stunning national treasure of Thorsmork, an area of beautiful wooded valleys and ringed on three sides by glaciers, this is an awe-inspiring landscape to hike through.
The terrain is extremely changeable, and you'll negotiate all kinds of conditions underfoot, from river crossings and rocky scrambles, to defined paths and meadows. With around 4-7 hours of walking per day, this trek is perfect for the average hiker.
BOOK IT: Take this walk in a small, guided group for a truly unforgettable experience. Discover the World offers 6-night packages specifically for this trek, with an expert guide and support vehicle so you won't have to carry all of your gear.
Tongariro Alpine Crossing, New Zealand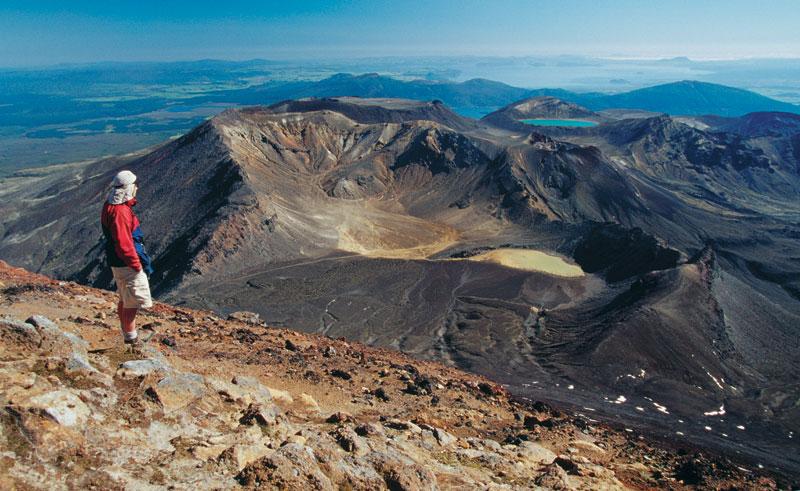 Widely renowned as one of the best day hikes in the world, the Tongariro Alpine Crossing on New Zealand's North Island is the ultimate bucket list trek. The 19km trail into Tongariro National Park covers extremely changeable volcanic landscapes, so your walk will take you through everything from dense forest to barren highlands.
You'll begin in the Mangatepopo Valley and follow a stream along lava flows and igneous rock formations on your way to the first stop-off; South Crater. You'll be treated to panoramic views of the surrounding peaks, and you might even see as far as the soaring Mount Taranaki on the far west of the island if weather conditions allow.
From there you'll meander up to Red Crater, the highest point on the trail, and admire the striking geology, before heading on to dazzling Emerald Lakes, which certainly live up to their name! You'll also be able to spot geothermal pools, and an abundance of local flora.
BOOK IT: Try a 24-night holiday to New Zealand and fit in this iconic trek along the way! Discover the World offers wonderful packages to allow you to explore, such as a driving your own 4x4 around this remote landscape.
In association with