What is glamping? Literally it's a portmanteau of "glamorous" and "camping," but we like to think of it more as a state of mind. If you're the kind of person that loves the romance of spending a night under canvas, but doesn't want to give up any mod-cons, then glamping is for you. Think of it as camping, just with more style.
From glamping sites with hot tubs or activities on demand, to super high-end, luxury glampsites; from bell tents, to yurts, to South African-style safari tents - or even glamping with no tents at all - there are a huge array options when it comes to glamping in the UK. In fact, there's often so much on offer that the choice can seem bewildering.
Which is why we've produced this guide, to help you sort the wheat from the chaff. This carefully curated selection represents, for us, the very best glamping sites in the UK.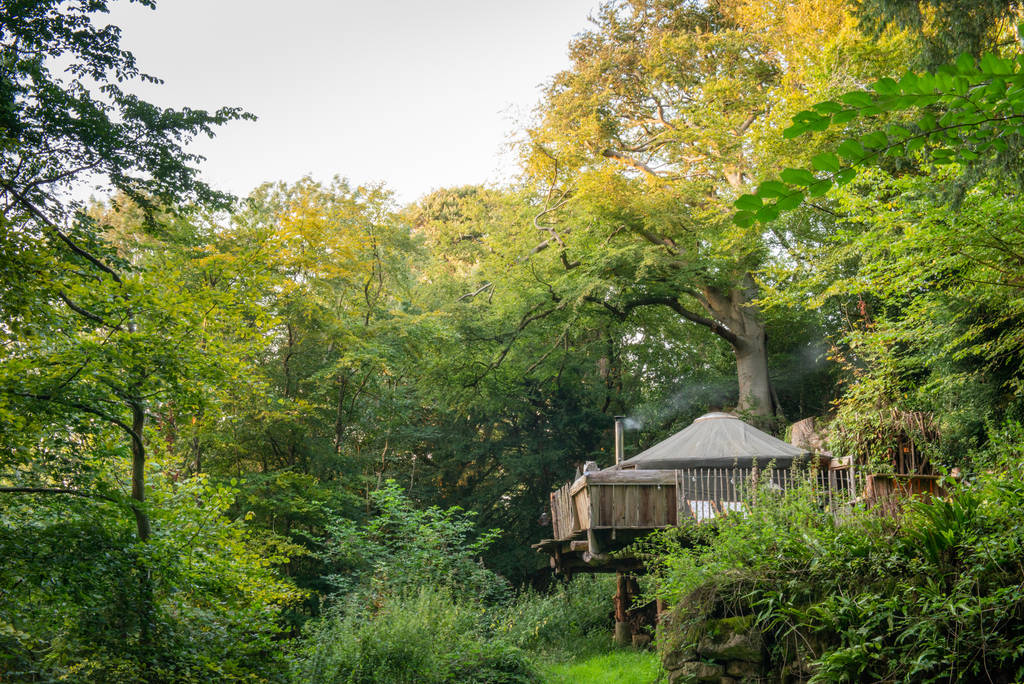 Bramblewood Yurt, near Bath, Somerset
From £145 per night. Sleeps 2.
A few miles North East of Bath, tucked away in a wood in the Cotswolds Area of Outstanding Natural Beauty, you'll find the treehouse-like form of Bramblewood Yurt. As a one tent glamping site, the yurt lets you feel truly alone.
The traditional Central Asian structure is mounted on a sizeable wooden deck on stilts, which boasts a wood-fired bath, allowing you to relax and soak outdoors under the stars. There are rocking chairs, and a barbecue / firepit area. If the weather's not playing ball, you'll be more than cosy in the tent itself, with its sheepskin covered sofa, wood-burning stove and large, comfortable double bed.
The walking in the Cotswolds is, of course, some of the best in the country, and the historic city of Bath is just a short drive away - as of course is the bustling cultural hub of Bristol, and there are plenty of great walks around Bristol too.
Bramblewood Yurt isn't big enough for families, but if you're a couple looking for a secluded, romantic getaway, glamping accommodation doesn't come much better than this.
For more information, check out canopyandstars.co.uk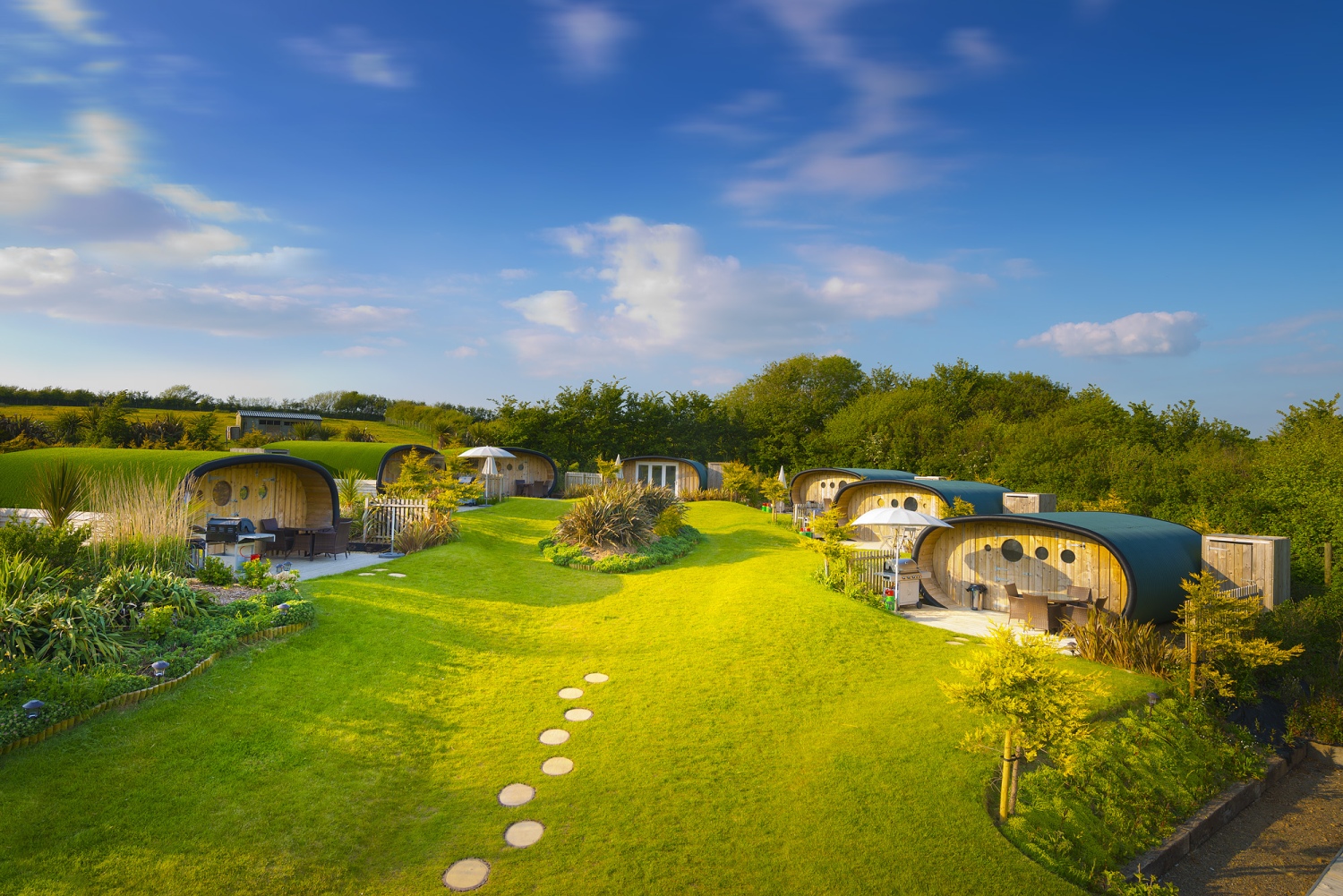 Atlantic Farm, near Bude, Cornwall
From £69 per night. Each pod sleeps 2 adults + 2 kids.
While we love safari tents and yurts as much as the next glamping enthusiast, there are times - and times of year - when glamping in the UK feels a more sure thing with a proper roof over your head.
Atlantic Farm's take on glamping accommodation is a series of luxury glamping pods, which look a little like hobbit holes, and are just as comfortable inside. King-sized beds are angled to enjoy the light flooding in from full-length windows at the front, which open out onto spacious decking areas.
For those who enjoy winter glamping holidays, these are perfect - they're well insulated, and there's underfloor heating too. In terms of activities nearby, Bude is hard to beat, with every watersport imaginable on offer. Atlantic Farm, as the name suggests, is just a mile or so away from the coast, and there are several excellent surfing beaches within walking distance - hence why our experts picked this out as one of the best surfing campsites in Cornwall.
Each pod at Atlantic Farm can sleep two adults and two children, so they're perfect for families. If you're taking the kids, make sure to visit Tintagel Castle, inextricably linked with the legend of King Arthur, which is nearby. There's also some great walking in Cornwall.
For more information, check out atlanticsurfpods.co.uk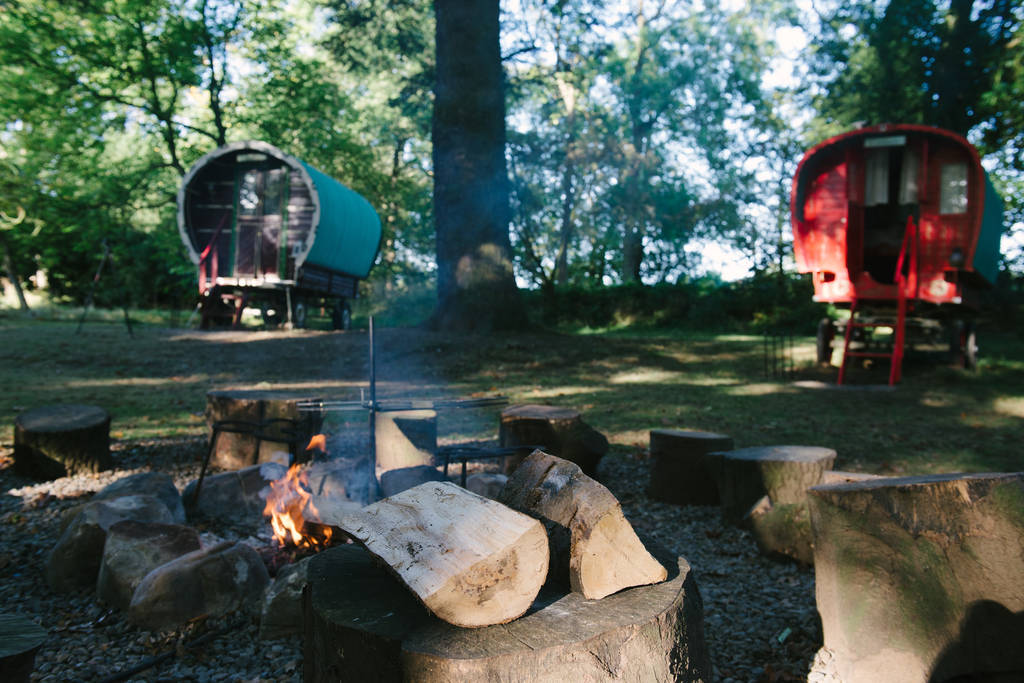 Copper Beech Glade, near Harrogate, Yorkshire
From £150 per night for the whole site, which sleeps 6.
The stately home of Markington Hall dates back to 1086, when it was mentioned in the Domesday Book, and the current building has been home to the Wilberforce family, descendents of the abolitionist William Wilberforce, since 1731. The trio of traditional gypsy caravans which make up the glamping site at Copper Beech Glade might not be quite as old, but each boasts its own rich history.
Bella, Carmen and Rosita, as they're known, all travelled far and wide before coming to rest here. Clustered around a central fire pit, and a cabin with a kitchen (for when the weather's not good enough to cook outside) they sleep six, offering the perfect glamping holiday getaway for a large family group.
The Hall is on the edge of the Nidderdale Area of Outstanding Natural Beauty, and the Yorkshire Dales Park, home to many of the best walks in Yorkshire. The historic spa town of Harrogate is just a short drive away too.
For more information, check out canopyandstars.co.uk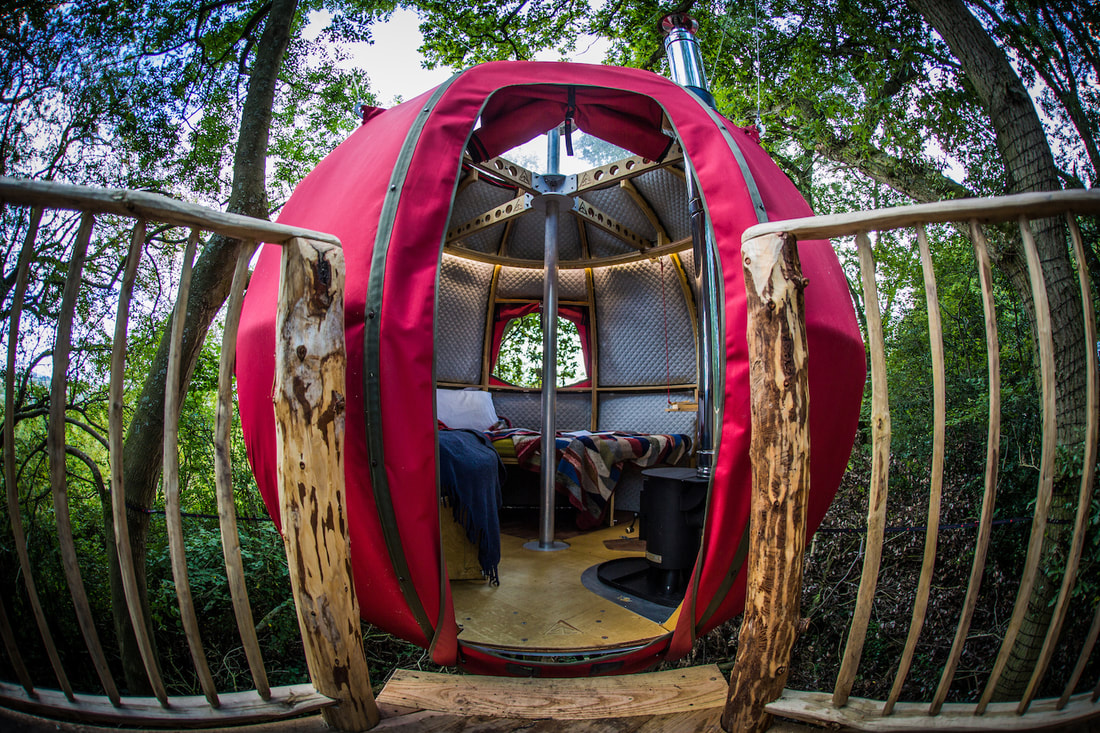 Brook House Woods, Herefordshire
From £115 per night, the Goji tree tent sleeps 2.
Glamping in the UK often encompasses a whole range of accommodation types, but few sites run the full gamut like Brook House Woods, a high-end glampsite in Herefordshire. Their six 'rooms' include everything from a Hobbit Hut, to a tree house, but for us the pick of the bunch is this epic, circular tree tent, suspended between the branches of an ash and an oak tree.
Named Goji, it has a private compost toilet, a shower with a view of the woods, and private kitchen as well as access to a barbecue area that's shared with the neighbouring glamping hut (the Hobbit Hut, in case you're wondering).
A short drive away from the Malvern Hills to the East, or the Wye Valley Area of Outstanding Natural Beauty to the south, Brook House Woods offers access to some excellent walking routes. They also offer specialist woodworking courses (one of the owners is a furniture maker) and are planning to expand to include other activities, including home brewing, in future. As UK glamping experiences go, you'll be hard pushed to find anything more unique.
For more information, check out brookhousewoods.com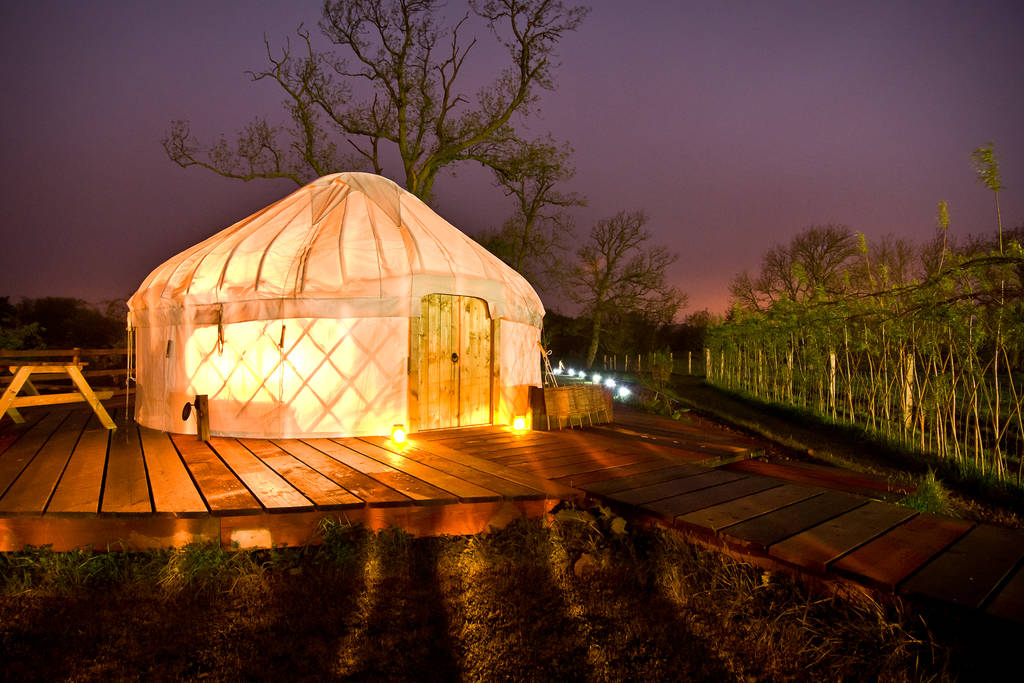 Stuc a'Chroin, near Stirling, Scotland
From £110 per night. Sleeps 4.
The Struc a'Chroin yurt, on the edge of Loch Lomond and the Trossachs National Park, has come a long way from its Kyrgyz roots, but by furnishing the original Central Asian structure with locally-sourced materials, the yurt's owners have made it fit right into the rugged landscape.
Go glamping in Scotland and you'll quickly realise that comforts like a wood-burning stove are non-negotiable. Thankfully Struc a'Chroin and its sister yurts, Ben Ledi and Ben Lomond are well kitted out. In fact, Stuc a'Chroin was recently chosen by our team of experts as one of the best wilderness camps in the word, listed alongside safari tents in California and glamping pods in Switzerland.
Loch Lomond and the Trossachs is home to some of the best walks in Scotland, including the epic West Highland Way, where you can see occasional Aurora Borealis displays to rival Lapland. And if the weather's not great, or the kids don't want to walk, there are arts and craft courses a-plenty on offer at the West Moss-side Centre (a renovated 19th century property-turned-art gallery).
For more information, check out canopyandstars.co.uk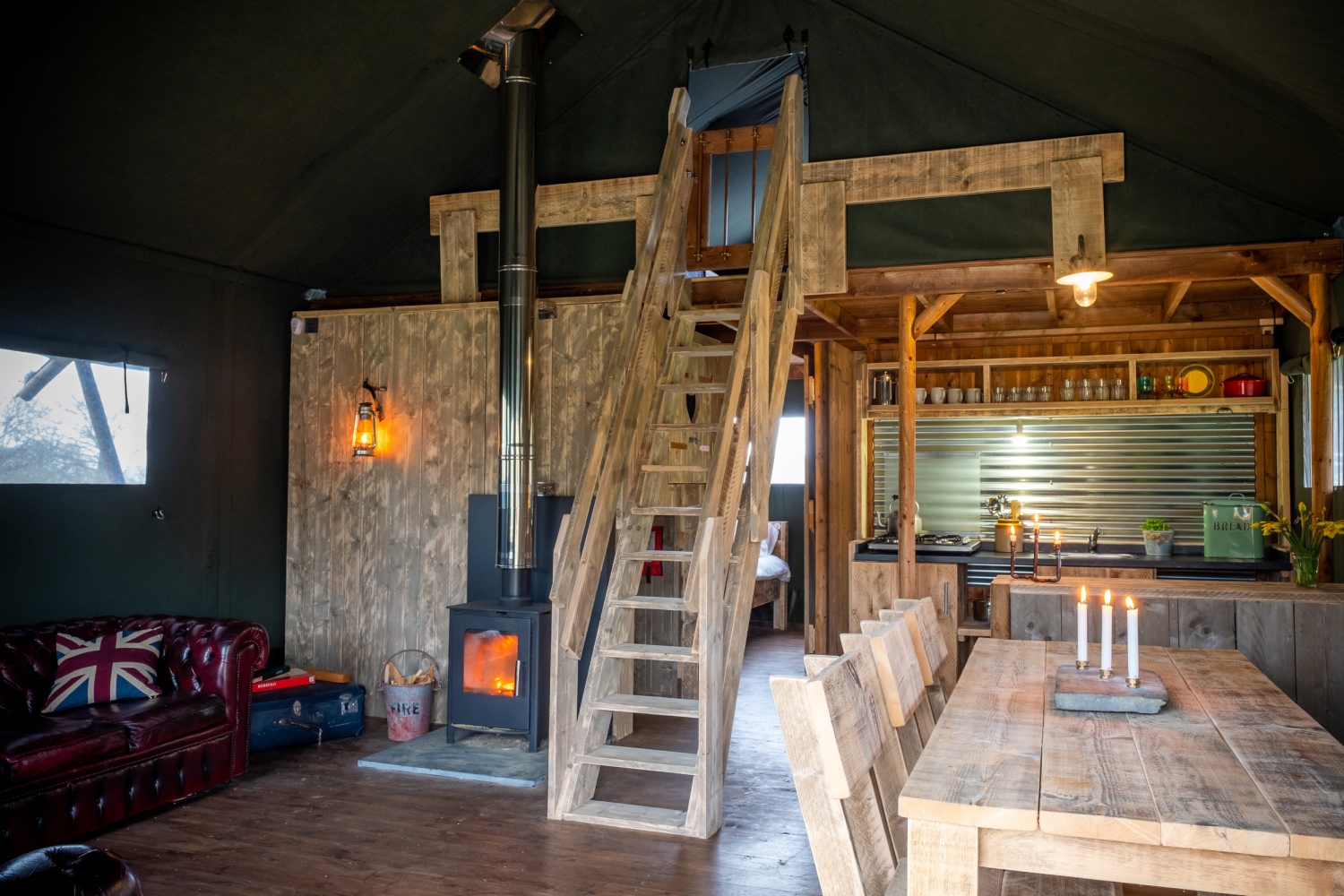 Sloeberry Farm, Pembrokeshire, Wales
From £110 per night. Sleeps 4.
Bell tents, safari tents, and huts are all very well, but luxury camping doesn't get much better than the specially-designed canvas lodges installed on Sloeberry Farm, a charming glamping site near Cardigan Bay on the North Pembrokeshire coast.
The deluxe tents, mounted on wooden platforms, each contain a fully equipped indoor kitchen, a log burner, and an ensuite shower. Outside, these cabins cum safari tents have their own fire pit and BBQ areas, and perhaps best of all, each has its own wood fire hot tub.
If UK glamping holidays are your thing, Pembrokeshire should be high on your list. Remote and rugged, but without the crowds of Cornwall, this county in the west of Wales is home to some of the best coastal walks in the world, never mind the UK.
For more information, check out sloeberryfarm.com