Running isn't always about trying to go fast! A large proportion of my training is much slower and more leisurely, for this I like to head to stunning locations to enjoy more varied terrain.
Running amongst inspiring scenery really helps to boost my motivation.
As a fourteen-year-old I used to love running back and forth along sandy beaches and this helped to start a lifelong love of coastal running. I've since gone on to run hundreds of miles along the path over the past thirty or so years.
Though I'm a Devonian, I also love branching out to Cornwall and exploring what this equally beautiful part of the world has to offer.
Here are seven stand out running routes in Devon and Cornwall, although it was very hard to keep the list so short! During these runs you'll get to enjoy wonderful views of dramatic cliffs, pebble or sandy beaches and tumbling surf as well as inland rolling farmland, woodland and areas of upland heathland and moorland. Hillsides are dotted with farmsteads and nestled in the valleys are pretty little hamlets and villages - what could be better?
Sidmouth to Beer, 9 miles
Best for: Extreme climbs
My local stretch of coastline along one of the most spectacular areas of the Jurassic Coast. It's also one of the more severe sections as the climbs are tough but the views are well worth the effort. You'll need a good head for heights, as the cliffs tower hundreds of feet above the pebble beaches far below.
Park at the Norman Lockyer Observatory car park and head east along the coast path towards Beer. To avoid some of the more extreme climbs follow the inland paths, but I find this takes away some of the fun! You can run this as a one-way (nine miles) route or as a long run out and back (18 miles), alternatively, you could take an inland route on your return. Once in Beer it's just another mile or so to Seaton if you're still feeling strong but I tend to finish at Beer. There is a bus that you can take back to Sidmouth if you don't have the option for a lift.
Locals tip: Park at the carpark opposite the Norman Lockyer Observatory to avoid running up the very steep Salcombe Hill from Sidmouth.
Hope Cove to Salcombe, 7 miles
Best for: Spotting wild ponies
One of my favourite sections of coast path! With its high cliffs towering above remote little coves and some spectacular headlands this is a really fantastic stretch.
Rugged rocky outcrops, bracken and heather give this area a wild feel similar to the moors, especially when windswept in the midst of winter.
The start point is near the lifeboat station in Inner Hope where you'll see steps leading to a steep climb to Bolt Tail. Follow the path and you'll cross Bolberry Down and then on to Soar Mill Cove. This little beach is a great spot for a quick dip in the sea. From the beach cross the small bridge and follow the signs for Bolt Head or Salcombe. Along the way you might even see a wild pony or two! Beyond Bolt Head you'll eventually hit the road leading down to South Sands Beach and if you want to you can continue further onwards to Salcombe town centre.
The estuary at Salcombe is beautiful and if you fancy cooling off it has some sandy beaches and plenty of other places for a dip in one of the small coves.
Locals tip: Hope Cove gets pretty busy in the summer so aim to run in the quieter months when it's much easier to park and for the most part you'll have the path to yourself.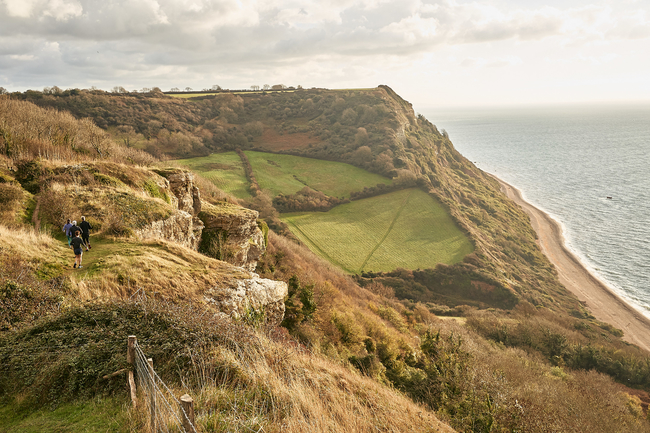 Croyde to Woolacombe, 5 miles each way
Best for: A quick dash
I'll often make a beeline for Baggy Point footpath during family beach trips or short camping breaks. Start at the National Trust car park in Croyde where the path starts out very moderately, but beware, as you climb and head towards the spectacular Baggy Point it narrows significantly, so be extra careful as it's a long way down to the base of the cliffs! Once you reach Baggy Point headland to your east you will see Mortehoe headland which lies beyond Woolacombe Beach.
During the run you'll have the option to head down to the beach and run along it from Putsborough or take the South West Coast Path through the dunes. Another option is Marina Drive above the dunes - a scenic car park stretching along the hill side. If the tide is out I always take to the beach, normally running right at the waters edge where the sand is firmer. A good plan is to run a loop using two of the above combinations.
Out to sea, if it's a clear day, you'll see Lundy Island and the Welsh coastline and if you get very lucky you might spot a grey seal.
Locals tip: Not far beyond the houses near the national trust car park, you'll come across some huge whale bones beside the path.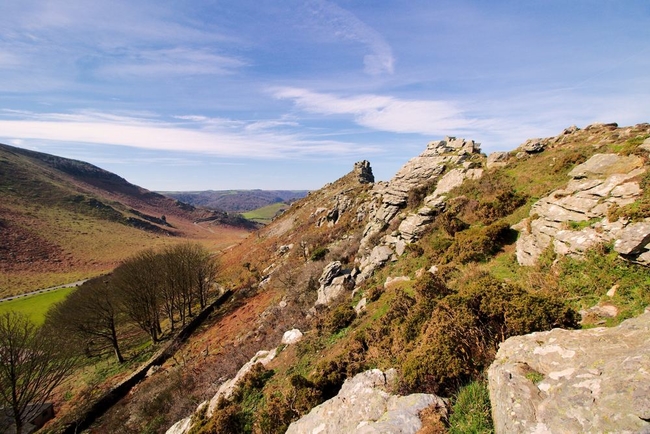 Lynton to Combe Martin, 14 miles
Best for: Spectacular views
I've added this run because I think the views over the Valley of the Rocks and Heddon's Mouth are amazing. Great Hangman, where Exmoor meets the sea, has far reaching views over the Bristol Channel and is the highest sea cliff in England with a cliff face of 800 feet and the actual summit is just over 1,000 feet above the surf. Overall you will climb around 3,000 feet during this run and some of it pretty steeply. Take care as there is a short section of road after Castle Rock, in the Valley of the Rocks, which can be a bit busy in the summer months as this is a popular tourist area.
Locals tip: This 14-mile section of path is best run in conjunction with a bus or lift back to your start point.
Salcombe to Torcross, 9 miles
Best for: Exposed cliff top running
I've included this section for those that really enjoy exposed cliff top running as this is what it's great for. Starting at the Salcombe estuary you head east towards Torcross past a lighthouse with dramatic views above sandy coves far below.
Although I love sunny days some of these coastal routes are amazing in the midst of winter with raging surf and bracing winds, it feels like the landscape really comes alive in poor weather.
The sounds of crashing surf and strong winds makes you feel exposed to the full force of the elements.
The coast path has some rocky and very uneven sections, so you will need decent trail running shoes with plenty of grip. However, you'll also be running along level firm trails and even some short sections of country lanes, because of this I opt for a more flexible trail running shoe and the Saucony Peregrine ISOs are my go to. Another consideration is planning your run if you want to avoid out and back running, so you'll want to check bus times or arrange a drop off and pick up.
Locals tip: Make sure you take a camera and ensure you stop from time to time to enjoy the beautiful views, remember running isn't just about trying to run fast.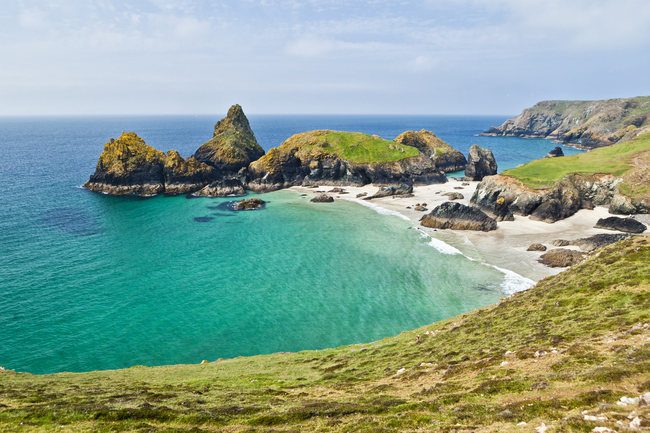 Poldhu To The Lizard, 8 miles
Best for: A mid-run dip in the sea
From Poldhu look for a sign post on your right to the Marconi Monument and follow the South West Coast Path. You'll pass the Marconi Monument and head down to Polurrian Cove. Along the way you'll pass Mullion Cove Hotel and harbour before heading inland and climbing back up following the coast. The path is easy going but make sure you always follow the coast and don't wonder off along the paths that are further inland. You'll pass Parc Bean Cove and on to the picturesque Kynance Cove. At low tide you can run along the beach, if the conditions don't allow follow the path by the cafe. Back up on the cliffs you'll pass Pentreath Beach, round Old Lizard Head and then onwards to Lizard Point. You're now at England's most southerly point! You can then head inland to Lizard Town to complete your run. There are busses in both Poldhu and Lizard Town for your return journey.
Locals tip: Kynance Cove is beautiful and a great spot to cool off with a mid-run dip in the sea.
St Ives to Pendeen Watch, 13 miles
Best for: Remoteness and natural beauty
This isn't a run for the faint hearted! With around 3000 feet of climbing and lots of rocky sections it's not the place to head for a fast pace, but if you're after remoteness and natural beauty then this is the run for you. You'll need to take some precautions as there aren't many major settlements for an easy bail out point and I'd pack plenty to drink, some high energy snacks, an extra layer of clothes and a phone. There is a bus stop at each end of the route so you can get back to St Ives. The area is beautiful with moorland sweeping down to tumbling surf and rugged cliffs. Start your run behind Porthmeor Beach to the west of St Ives and follow the Acorn South West Coast Path sign posts.
Locals tip: Pack plenty to drink, some high energy snacks, an extra layer of clothes and a phone.
Saucony UK ambassador Jo Pavey wears the Peregrine ISO for all of her off-road running, available to buy for £110.00 from saucony.co.uk