The Lake District National Park offers some of the best walks in the UK. While some of these, like a hike up Scafell Pike, are incredibly challenging, other Lake District strolls can be surprisingly peaceful and flat. Here are some of our favourite routes in the Lake District, including a climb up a fell cherished by Alfred Wainwright and a lakeside ramble through a quieter area of the Lakes. 
Whether you're choosing to climb to the summit of a mountain or stroll around a tranquil lake, make sure you wear a good pair of walking boots. The ground in this part of Cumbria can be muddy and is often uneven. And remember to bring a waterproof jacket – the scenery might make you feel like you're exploring a whole new world, but remember this is England, and it might rain.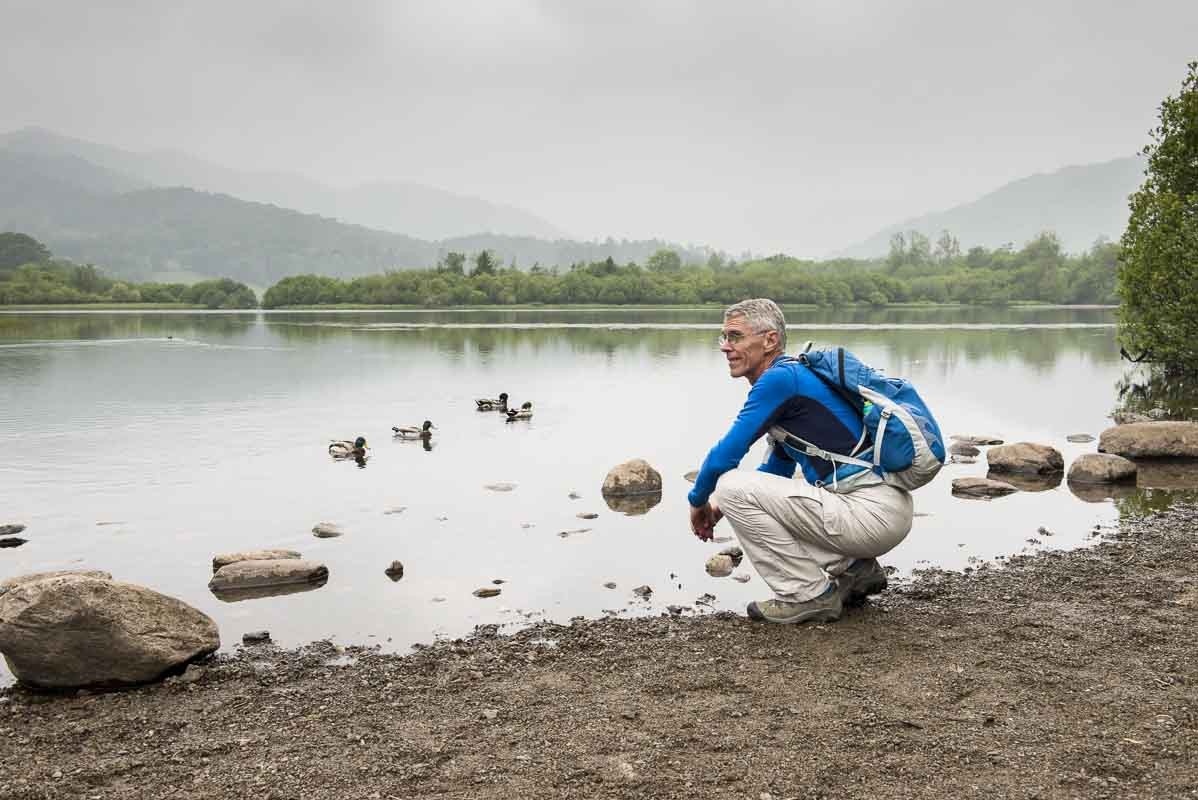 Elterwater to Skelwith Bridge Walk
4 km / 2 hours
Enjoy a small part of the Cumbria Way long-distance walking path with this shorter walk. This Lake District walk is popular with both locals and visitors to the area because of its beauty. You'll follow a smooth, well-maintained trail that starts in Elterwater near the Langdale valley, and the paths near Skelwith Bridge are suitable for wheelchairs and pushchairs. 
Along the way, you'll enjoy stunning views across the fells as you look back towards Elterwater, and looking towards the lake, you'll see water flowing peacefully over rocks. The village of Elterwater is full of character, and the little cottages here are quaint. If you didn't stop for refreshments at the halfway point of Skelwith Bridge, you should definitely find one of the excellent pubs or cafes here for an afternoon cup of tea. 
Perhaps the best thing about walking from Elterwater to Skelwith Bridge is the adorable Herdwick sheep that wander around, keeping the grass cropped short.
For more information on this enjoyable walk in Cumbria, read our full Elterwater to Skelwith Bridge walking guide.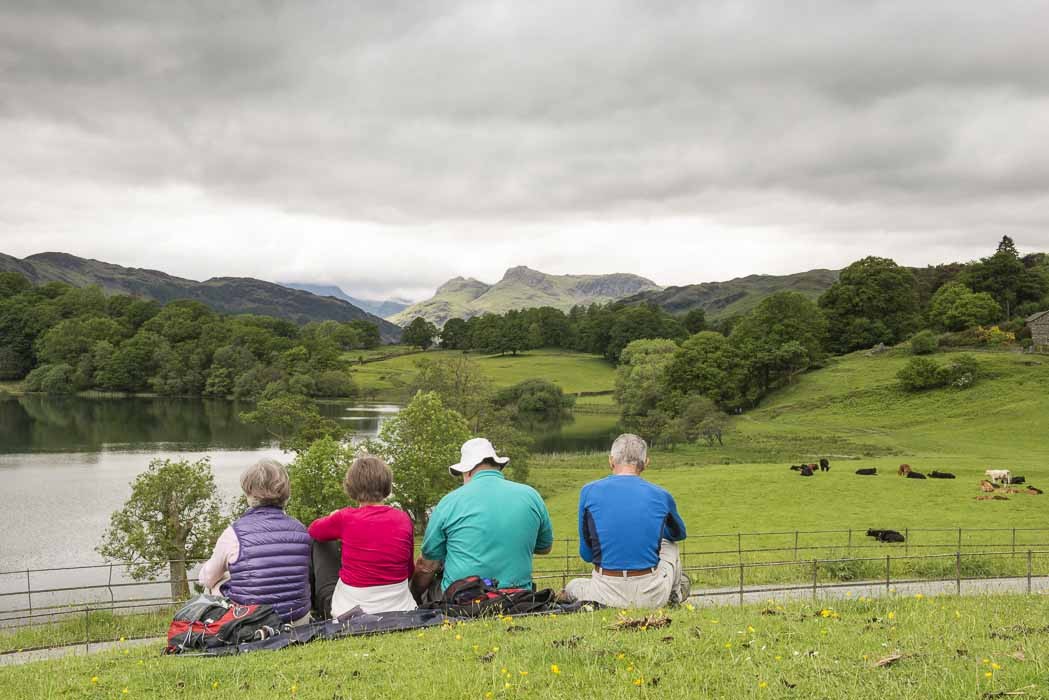 Loughrigg Fell, Terrace Walk from Rydal
5 km / 3 - 4.5 hours
If you want to enjoy some classic Lake District views without a long slog up a Cumbrian mountain, the Loughrigg Fell walk is for you. It's certainly one of the best walks in the Lake District and has inspired many great writers including Hemmingway, Wordsworth, and Beatrix Potter. From the summit of the fell, you'll have views over Grasmere and Rydal Water, and Loughrigg even counts as a Wainwright, so you'll be able to experience all of the key aspects of a walk in the Lakes. 
The fell itself isn't quite tall enough to be called a mountain, but it is perfect for an introduction to hill walking. The route is only around 3 miles long, making it an enjoyable afternoon ramble, with time for afternoon tea in one of the many cafes in nearby towns Grasmere or Ambleside. 
For a detailed description of this beautiful route, read our full walking guide to Loughrigg Fell, the Terrace Walk From Rydal.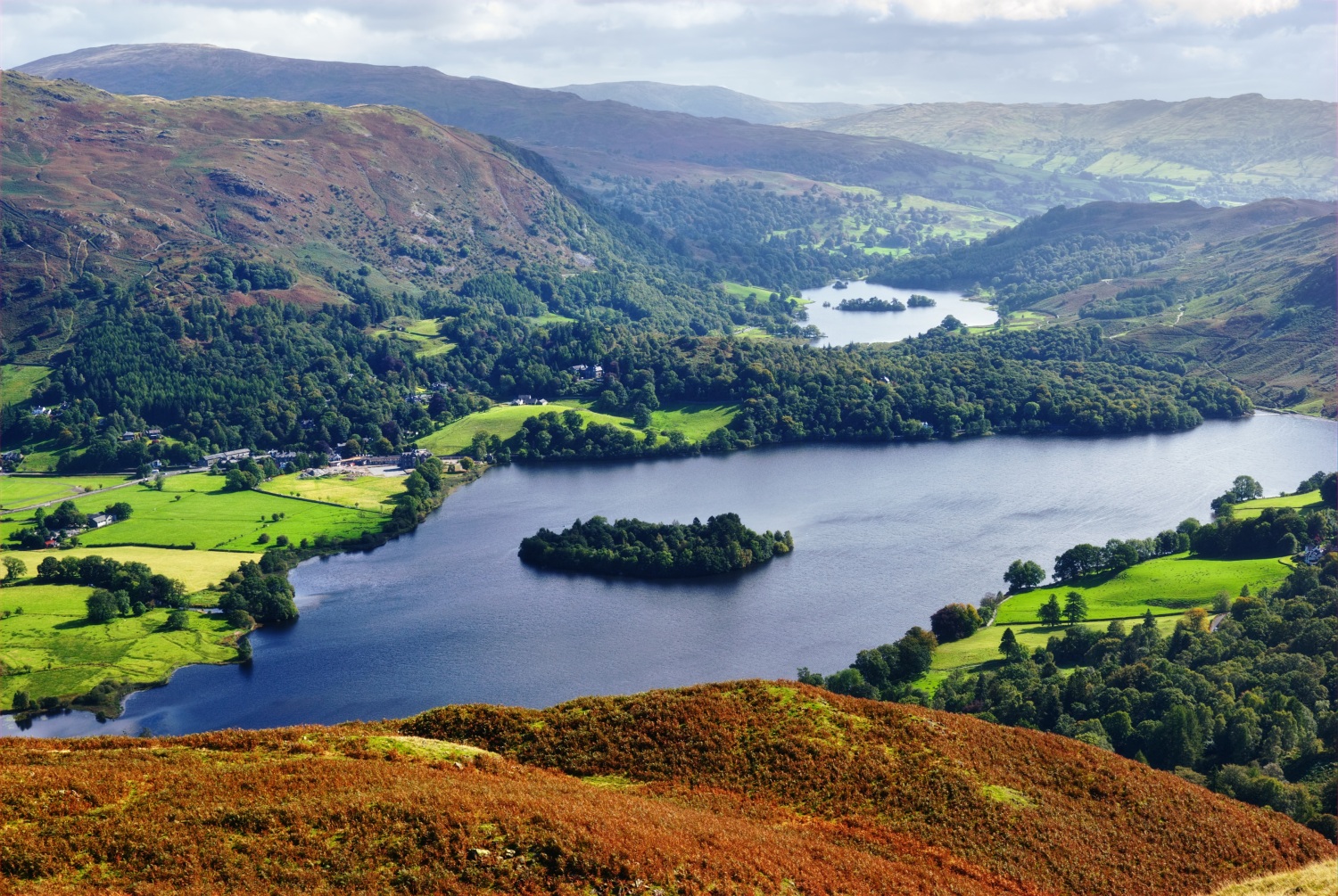 Round Grasmere
6 km / 2 hours
Another classic route to follow when walking in the Lake District, this walk around Grasmere lake will feel simply magical. With ducks to feed and stones to skip across the water, your little ones will love this gentle stroll. The village of Grasmere is just a mile away from the shore, so you can head to the high street after your walk and buy some refreshments in the form of the famous Grasmere gingerbread. 
This part of Cumbria was described by Wordsworth as being, "the loveliest spot that man hath ever found." Following this lakeside route, you'll enjoy the wooded glades that grow near the water's edge, and witness the natural beauty that inspired Wordsworth and other poets. 
Most of the paths around Grasmere are flat and well-maintained, making this one of the best walks for pushchairs and young children.
More information is available with our full walking guide Round Grasmere.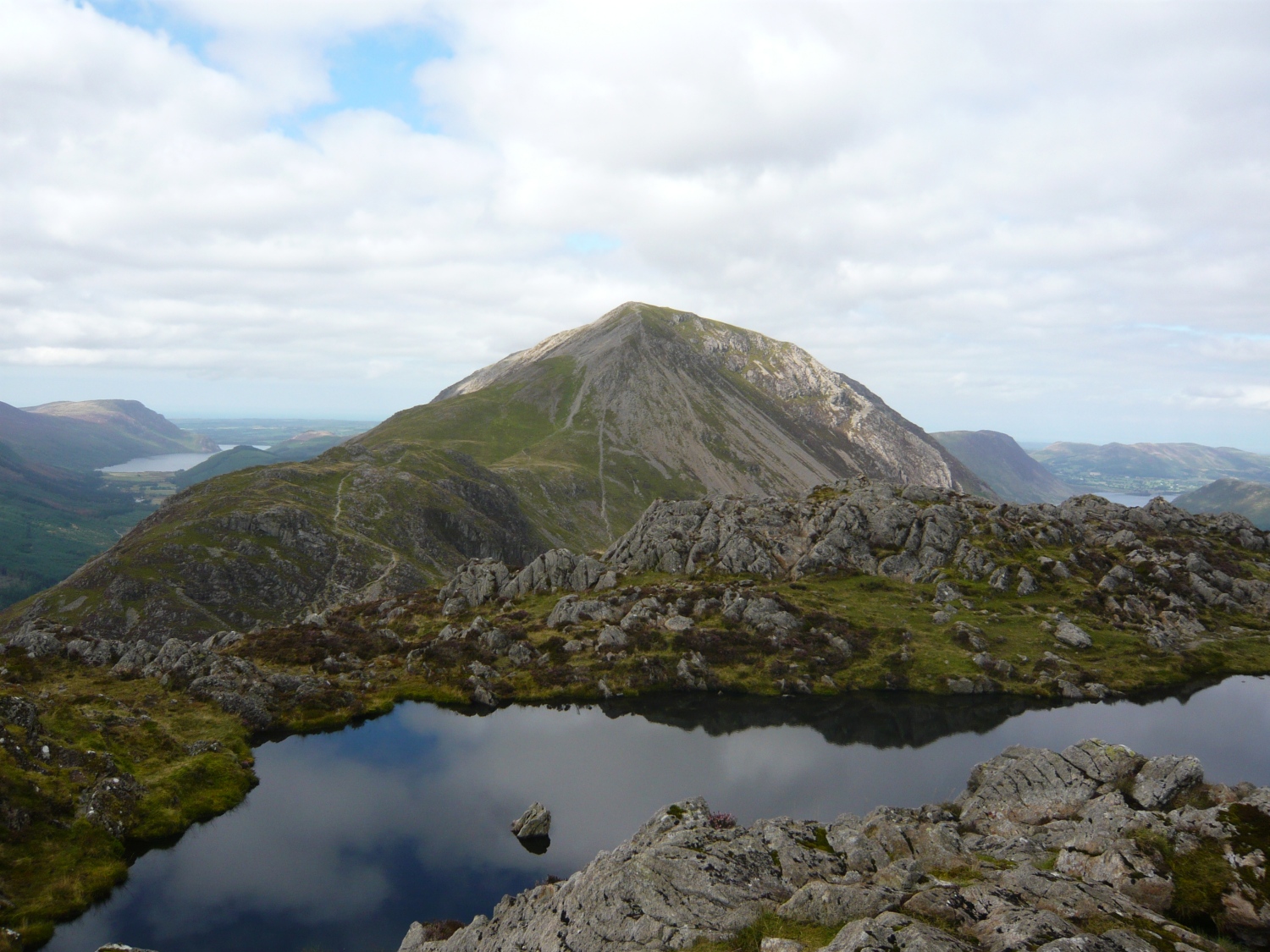 Haystacks Walk
8.9 km / 4.5 hours
Alfred Wainwright held Haystacks dear in his heart. Some may even say it was his favourite Lakeland fell, and we can see why. The stunning views over Buttermere are surprising given the relatively short climb to the fell's summit, and in the valley below, you'll see Crummock Water glittering in the light. 
Buttermere is one of the most beautiful valleys in the Lake District. This sounds like a bold claim, but catch a glimpse of any of the three lakes here, or climb any of the surrounding fells and walk along the ridges, and you'll see why Buttermere is one of the most popular valleys in the Lake District. From the very top of Haystacks, your views will extend across Crummock Water to Rannerdale Knotts, which sits peacefully at the opposite end of the valley. 
If Wainwright said that Haystacks was one of the best walks in the Lakeland, who are we to argue?
If you're looking forward to enjoying one of the most wonderful walks in the Lake District National Park, read our Haystacks Walk guide.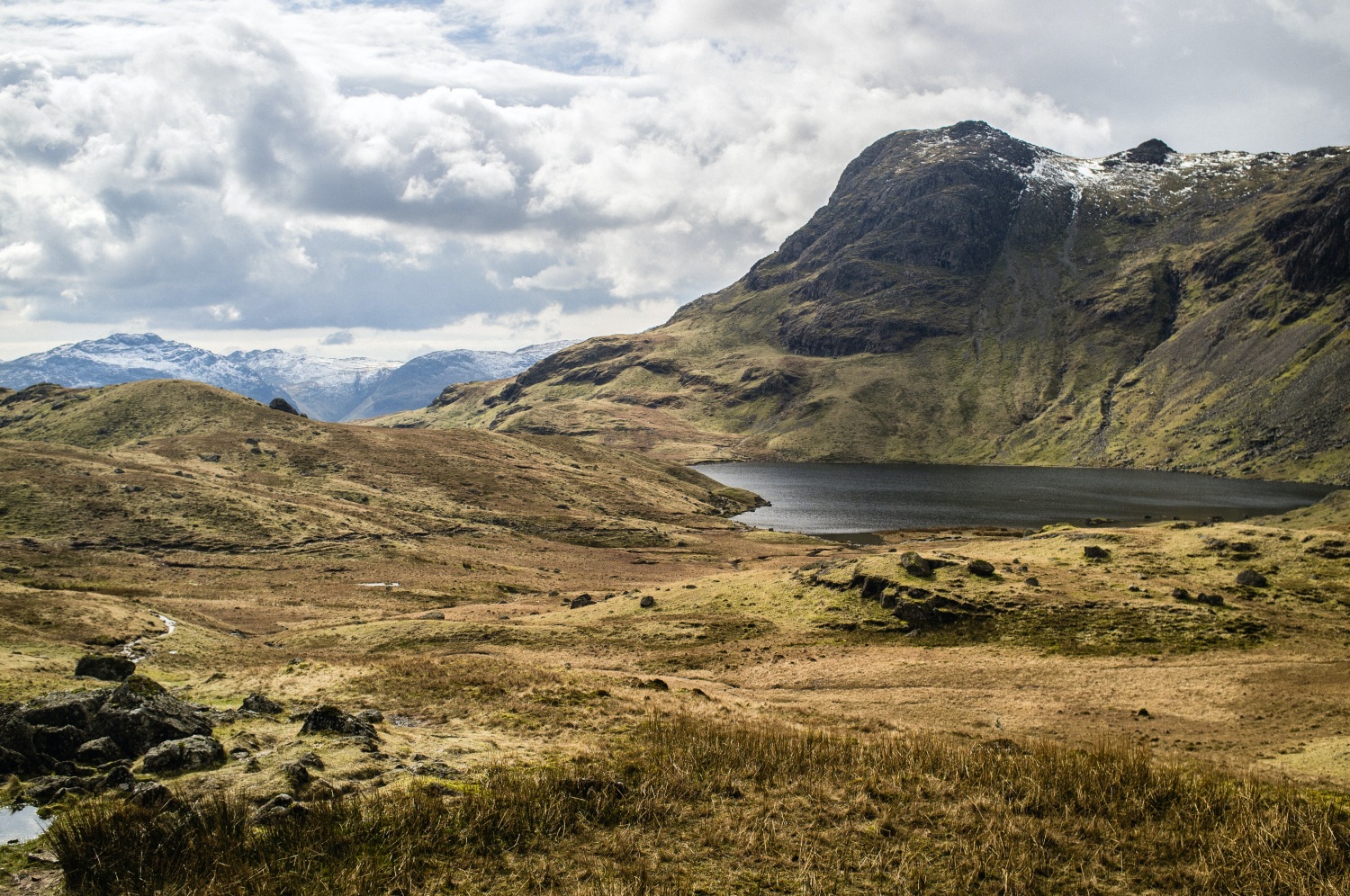 Harrison Stickle 
6.5 km / 3 - 4.5 hours 
From Windermere and Ambleside, and any approach to Langdale, Harrison Stickle's rocky summit dominates the view. The fell simply demands that you climb it, and with a scramble up Jack's Rake and simply perfect views from the summit, why wouldn't you hike up Harrison Stickle? 
The fell itself forms part of the Langdale Pikes, a trio completed by Pike of Stickle and Loft Crag. Wainwright loved these fells too and included them in the third volume of his beautifully illustrated walking guide. Any of these three hills will offer a rewarding hike, but Harrison Stickle is one of our favourites. 
When climbing this wonderful fell in the Lake District National Park, make sure you're prepared for a day in the mountains. It's certainly not a hill to attempt in trainers! But at the top of this wonderful fell, you'll realise just why a hike up Harrison Stickle is one of the best walks in the Lake District. 
If you only decide to head up one mountain in Cumbria, make it this one. For more information on this route, look at our full Harrison Stickle walking guide.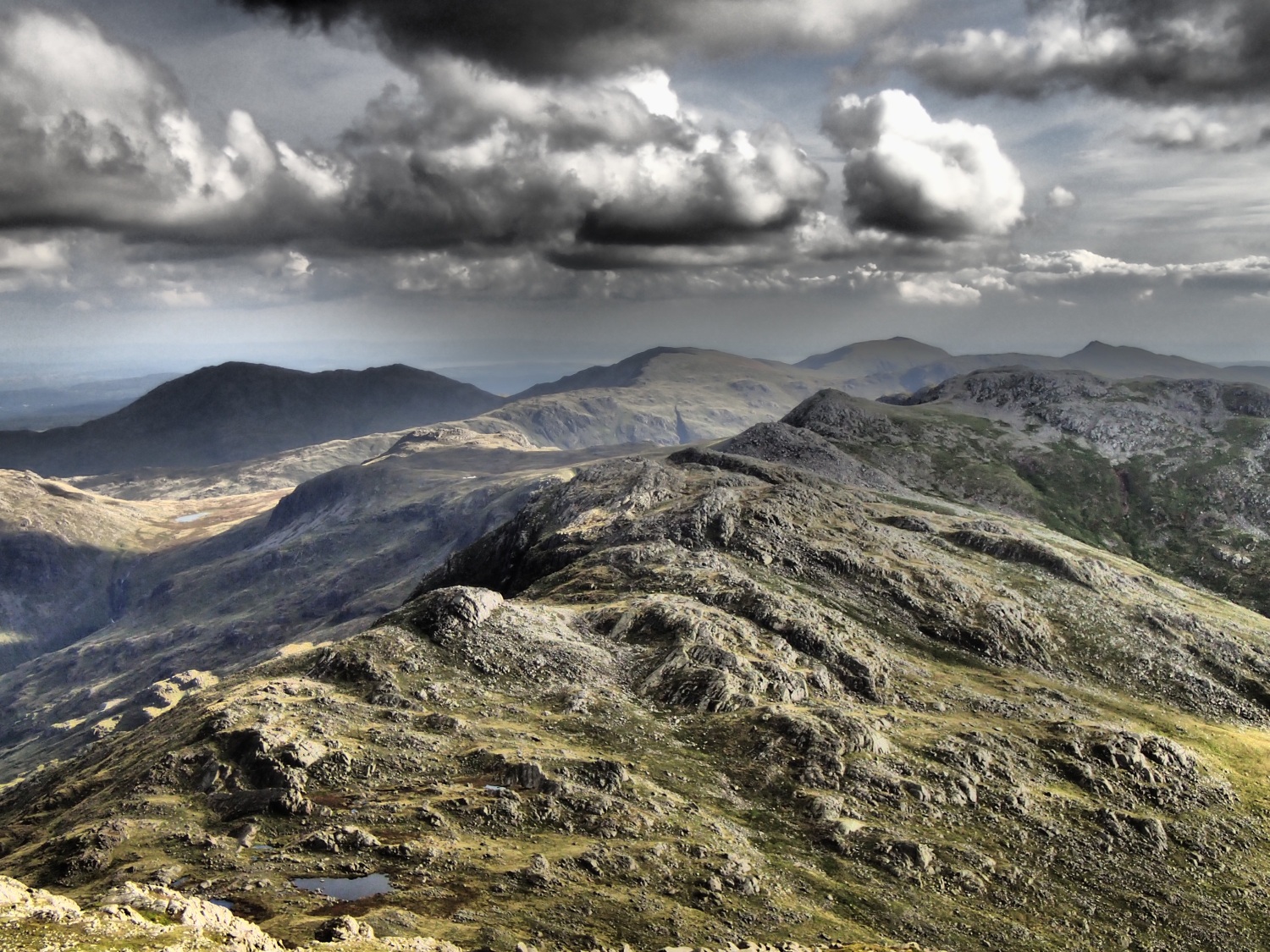 Crinkle Crags
8.5 km / 4 hours
Crinkle Crags is another iconic walk in the Lake District. Situated at the far end of the Langdale valley, Crinkle Crags is flanked by Bowfell and Pikes of Blisco, with the former offering a longer hike through the mountains if you fancy climbing it after the Crinkles. 
While it's easy to assume that Crinkle Crags would offer just one summit (it's just one fell, after all), it's actually five smaller ones, with each of its 'crinkles' acting as a separate summit. It is certainly a demanding ascent to the top of this fell, but it's exhilarating too; each crag and mini-summit brings with it changing views of the surrounding landscape. From the summit ridge, your efforts will be rewarded with picturesque views across Langdale and Upper Eskdale. 
Wainwright described Crinkle Crags as being, "Much too good to be missed," so if you're visiting Cumbria, this walk through the Lake District National Park has to make your bucket list.
Find out more with our full route guide to this Crinkle Crags hike.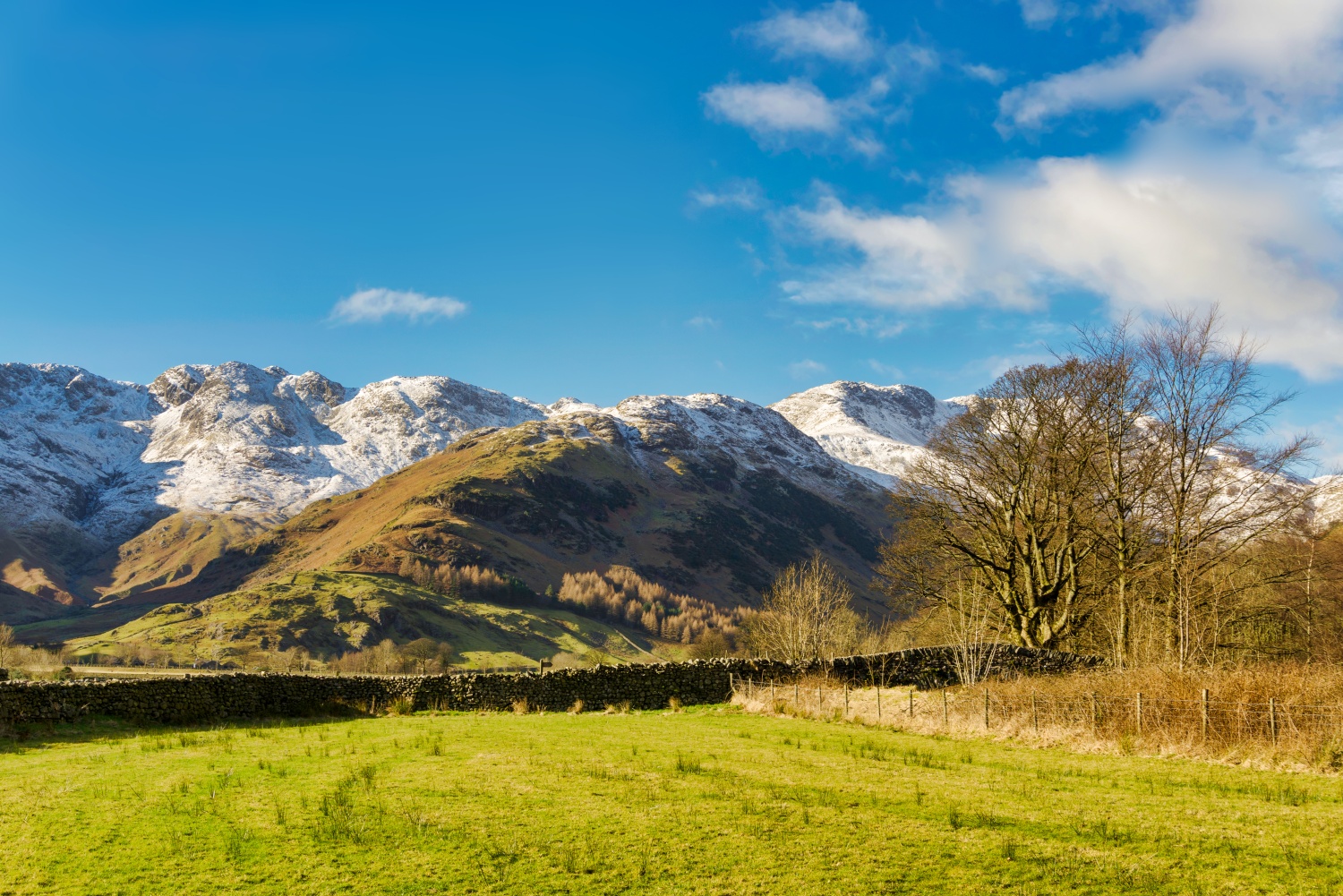 Bowfell via The Band
9.6 km / 3 hours
Standing proud at the end of Great Langdale is Bowfell (or Bow Fell on an Ordnance Survey map). This is one of the most iconic fells in the Lake District. Its pyramid shape is recognisable anywhere, and Crinkle Crags sits quietly next to it. A hike through these hills is arguably more enjoyable than climbing the tricky Helvellyn via Striding Edge because these fells offer varied terrain and beautiful, ever-changing views. 
As you follow The Band to the summit of Bowfell, you'll pass Three Tarns, which is a wonderful place to pause for a breather. This is quite a demanding walk, but the views of Scafell Pike, the Pennines and Windermere make it all worth it. Once you've descended back down to the valley floor, you'll be pleased to know you can head to one of the many Lake District walkers' pubs for a well-earned pint. 
If climbing Bowfell seems like the hike for you, find out more with our guide to Bowfell via The Band.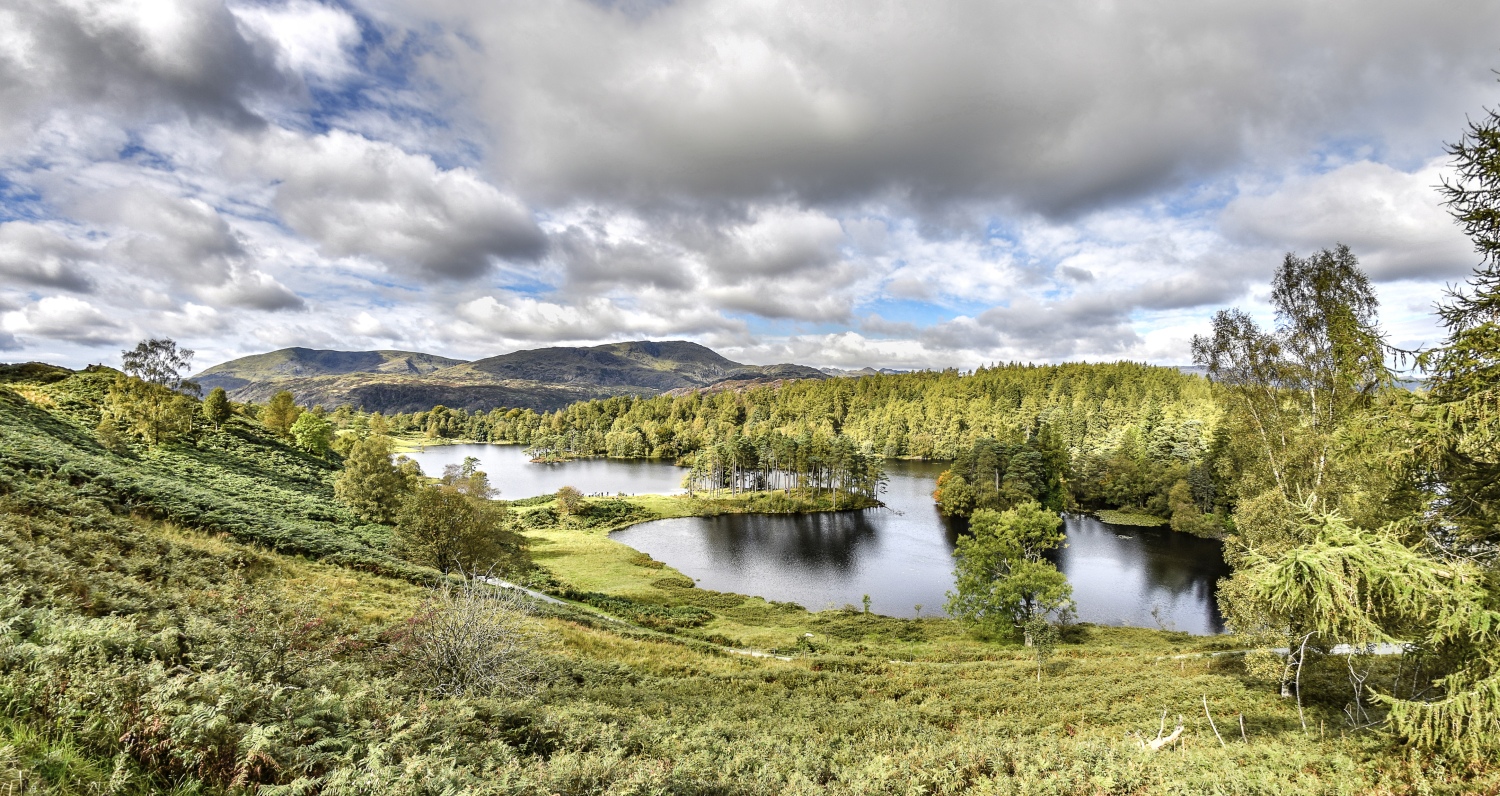 Tarn Hows Circular Walk
3.2 km / 1 hour
This Tarn Hows low-level walk offers family fun in the heart of the Lake District. It's just a short distance from Coniston, where the famous Old Man of Coniston stands, so if you're in the area, pop by to enjoy the walk. The circuit around the tarn starts and ends at a National Trust car park, and it's sure to bring you closer to nature. It's home to rare flora and fauna, and some adorable Belted Galloway cattle graze peacefully near the well-maintained paths. 
An immersive adventure in the Lake District, you'll love the stunning scenery of the surrounding mountains without having to climb them. At just 2 miles long, the circuit around Tarn Hows should only take around an hour, but with so many opportunities for little ones to explore and play, it might take you a little longer! 
Settled between beautiful Lake District fells, the tarn is the perfect place to stop for a picnic, but you could always stroll into Coniston to visit one of their many wonderful cafes for a spot of lunch instead.
If you're planning on walking this route, check out our full Tarn Hows walk guide for more information.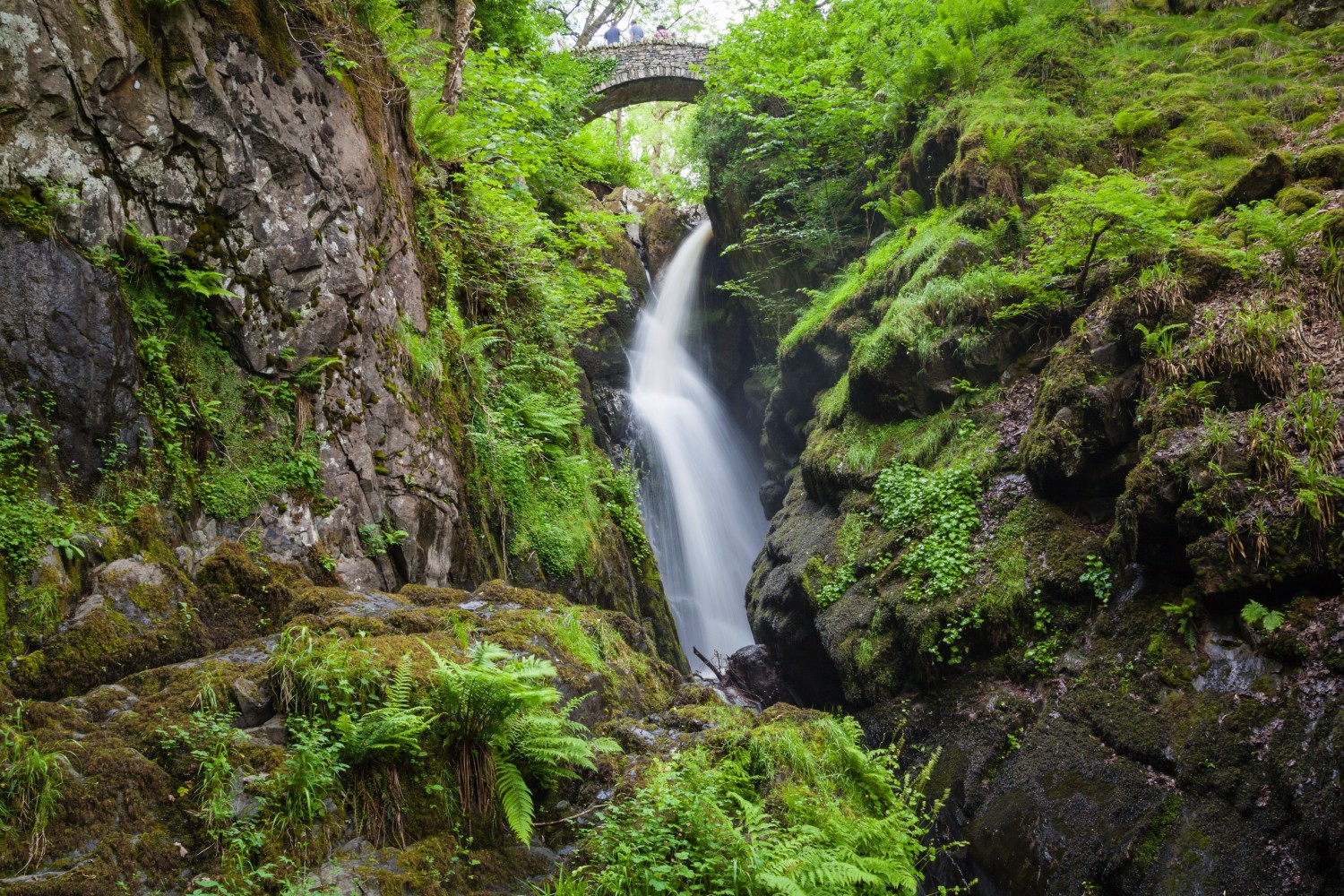 Aira Force and Gowbarrow Trail
7.2 km / 1.5 - 3 hours
Home to one of the most famous Lake District waterfalls, visitors flock to Aira Force to marvel at its power and beauty. The surrounding area is stunning too, with Helvellyn's famous ascents, Striding Edge and Swirral Edge, nearby. 
A hike to the top of Gowbarrow Fell will reward you with views across Ullswater, the Lake District's second-largest lake. You can follow paths winding through magical woodlands where red squirrels hide or stroll through open glades. Walking around Aira Force, the paths might be a little busy as it is a popular tourist attraction in Cumbria, but once you move away from the main paths and start the circular route to the top of Gowbarrow, it will just be you surrounded by nature. 
Watch red squirrels scamper through the branches of the towering trees, or, after climbing to the top of the fell, look out over the Pennines, which sit to the northeast. If you're staying near Ullswater, head to the Aira Force car park and enjoy this peaceful walk. 
More details can be found in our full guide to Aira Force and Gowbarrow Fell.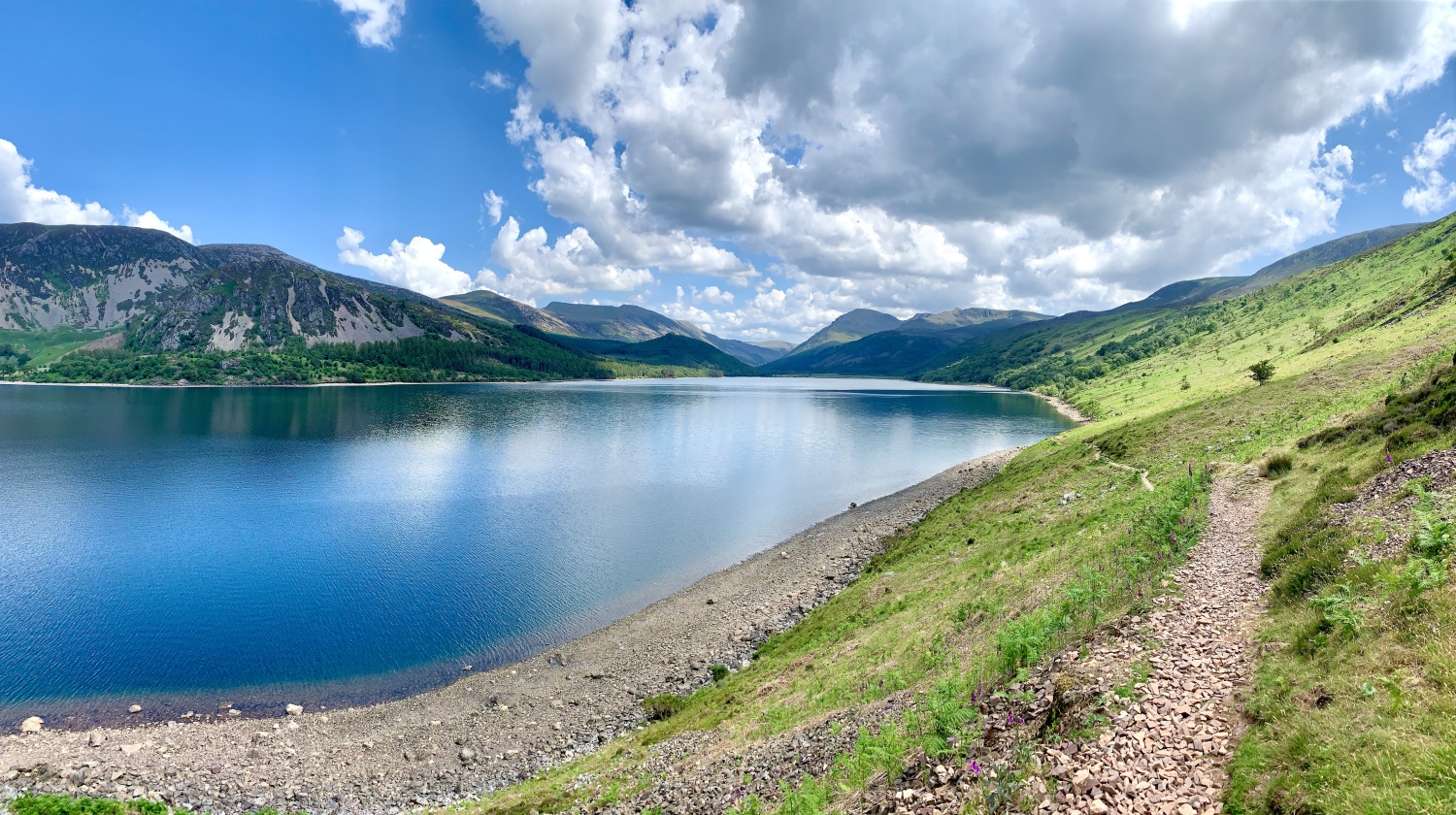 Ennerdale Water Circular Walk
10.5 km / 3 - 4 hours
This might be one of the quietest walks in the Lake District. Ennerdale is the westernmost lake in the national park, which is one of the reasons it is less popular. This remote Lakeland paradise is a haven for wildlife because of the Wild Ennerdale project, which is a more natural approach to land management. This has helped rare butterflies and birds to thrive, making this Lakeland landscape a magical place to explore. 
This route around Ennerdale Water will bring you close to the wilderness of the Lakes, without demanding any climbing of the Lakeland fells. Instead, enjoy a peaceful waterside stroll searching for fish in the crystal clear waters, listening for the call of the cuckoo, or trying to spot cattle as they graze in almost 360 acres of land.
Find out more about a tranquil stroll here with our Ennerdale Water Walk full route guide.