When it comes to cycling, Tenerife, in the Canary Islands off North Africa, doesn't enjoy quite the same international profile as some other areas of Spain. Mallorca, where Bradley Wiggins likes to train, or the countryside around Girona, or even neighbouring Gran Canaria, are all more famous among the two-wheeled fraternity.
To most Brits, Tenerife is probably still best-known as an affordable winter sun destination - with all the attendant snobbery that goes along with that characterisation. And yet, with its year-round sunshine, climbs which can take you from sea level up to 2,000m, rolling coastal roads, and an incredible diversity of landscapes and microclimates, the island of Tenerife is a cyclist's paradise.
Bike rental is available all over the island, and it's not just sit up and beg bikes for tourists either - head to Bike Point Tenerife and you'll find carbon fibre road frames with full disc brakes, hard tails by BMC and the latest e-Bikes for rent.
As for cycling routes? Well there are more world class itineraries than you can shake a stick at. Whether you're a lycra-clad road cyclist or a diehard mountain biker, a complete amateur or a top pro, you'll find something to enjoy here - so it's no wonder that cycling in Tenerife is becoming more popular with each passing season.
The ten Tenerife cycle routes we've listed below - five for mountain bikers, five for road cyclists - are just a start. But they'll give you a flavour of why this small, volcanic island is one of the best places in the world to go cycling right now.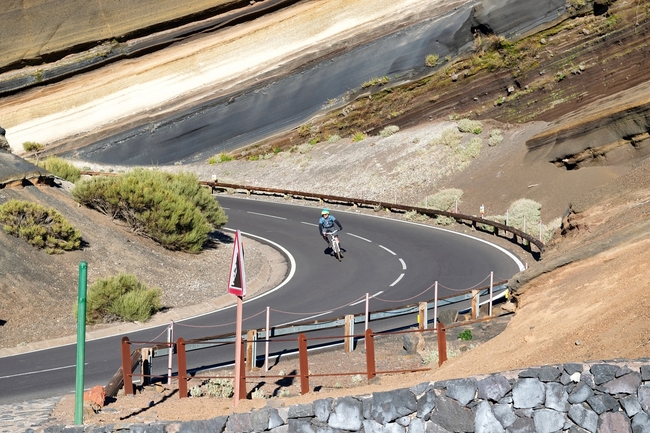 Cycling in Tenerife: Road cycling routes
Garachico to Santiago del Teide sea to summit loop
Distance: 54km
Total ascent: 1,589m
Estimated duration: 3 hours
Start/Finish: Garachico
This stunning road cycling route in the north west of Tenerife starts and finishes at the seaside town of Garachico, with its biggest climb over the Erjos pass at 1,107m. You'll be spoilt for views of Tenerife's deeply ravined mountainscape as you tackle numerous switchback climbs, before reaching the spectacular viewing point above Santiago del Teide. After that the challenging descending begins in earnest - the final 10 km is mostly downhill back to Garachico.
Full route information including maps and gpx file
La Orotava to the Teide National Park and back
Distance: 98km
Total ascent: 2,727m
Estimated duration: 5 hours
Start/Finish: La Orotava
This circular route, a tour of the northeastern 'corner' of Tenerife, takes in what is technically the highest mountain in Spain, Mount Teide. It's challenging, but well worth the effort. The route takes you up and then back down the mountains, so the first half of your ride, up Mount Teide, with be a breath-taking ascent, and the second half a glorious descent back down.
Highlights includes the beautiful Rosa de Piedra rock formation and the views from the 2,300m Izaña astronomical observatory in the Teide National Park. There are also the lookout points La Tarta, Ayosa and Ortuño, as well as the lush Corona Forestal nature park. If you're looking for a one cycling route that can take you on a tour of the island, and simultaneously all the aspects that make it so popular with cyclists, this is a great ride to start with.
Full route information including maps and gpx file
Over Teide from Costa Adeje and back
Distance: 162km
Total ascent: 3,950m
Estimated duration: 8 hours plus!
Start/Finish: Costa Adeje
Tenerife might be best-known among Brits as a beach-lounging destination, but just wait until this ride becomes more popular. If there was a prize for the most challenging and rewarding days in the saddle anywhere in the world, this circular road cycling route in the south of Tenerife would certainly be a contender.
Starting at sea level in the coastal resort of Costa Adeje, the first 120km are almost all climbing up Mt Teide, past the Izaña Astronomical Observatory, to the Las Cañadas del Teide Parador hotel. Grab a bite to eat, and a coffee, or perhaps something a little stronger at the bar and restaurant, before starting your 40 km long descent back to the coast. Its an epic day out in the saddle, but not for the faint-hearted. Make sure you've worked on your fitness back at home before attempting to tackle this one.
Full route information including maps and gpx file
Santa Cruz to Pico del Inglés and back
Distance: 52km
Total ascent: 1,235m
Estimated duration: 2.5 hours
Start/Finish: Santa Cruz
With a start and finish in Tenerife's capital Santa Cruz this circular road route in the northeastern tip of Tenerife is one of the island's most popular half-day itineraries. After a brief warm up along the coastal road, you face a tough switchback climb to the Abicor lookout point.
Another brief respite later and you'll be climbing again to the Pico del Inglés 998m lookout. Take some time to catch your breath here and soak up the fantastic views of Santa Cruz, Anaga, La Laguna and Mount Teide. This is the highest point on the route, from where the long descent begins through the laurel forests and back to La Laguna and Santa Cruz.
Tenerife north coast ride, Buenavista to Punta del Hidalgo
Distance: 75km
Total ascent: 1,786m
Estimated duration: 3.5 hours
Start/Finish: Buenavista del Norte / Punta del Hildago
Crossing the whole north coast of Tenerife, this 75km road ride is a coast to coast with a difference. Starting on the north-western tip of the island in the town of Buenavista del Norte, you'll ride an undulating route on excellent roads with the Atlantic ocean on your left.
Although accessible to most, without any serious climbs, there are still some challenging sections, so you'll need a reasonable level of fitness. As cycling routes on Tenerife go though, this is a great one to start off with. The rewards, are many, especially the gorgeous views of the Orotava Valley from the Humboldt lookout at kilometre 40.7.
Full route information including maps and gpx file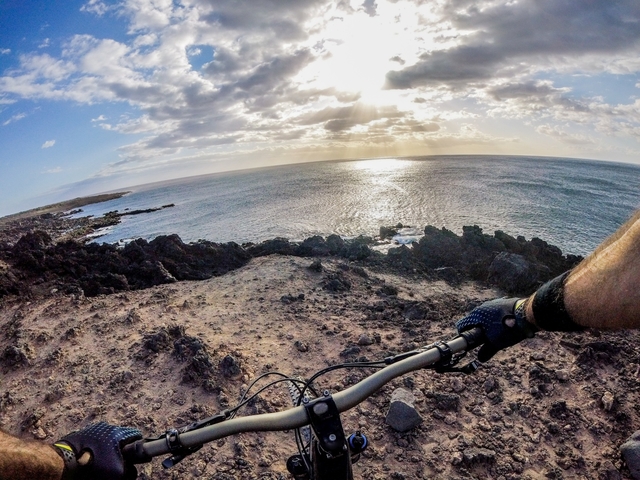 Cycling in Tenerife: Mountain bike routes
BC-1 Northern Forest Route
Route length: 85km (with 53km of connected trails)
With a challenging 85km of trails on its main route and 53km of variants, Tenerife's Northern Forest Route is the most extensive on the island. It joins up 15 towns in the North and West, plus six of Tenerife's protected natural spaces.
Starting in Las Raíces, Las Lagunetas, the trail runs over many of the most characteristic landscapes in the county of Acentejo and connects, via off-shoot trails, with the rural towns of Agua García, Ravelo and Los Nateros. The route finishes at the Montaña Cascajo, next to island road TF-38. But with a total of 13 derived routes or variations, riding it all could be the mission of a lifetime.
Full route information including maps and gpx file
BC-2 Las Raices - Las Lagunetas Route
Route length: 6.53km (with 3.6km option)
Running entirely within the protected landscape of Las Lagunetas, with its pine woodlands, gently rolling hills and deep ravines, Tenerife's BC-2 mountain bike trail runs from the woodland recreation area of Las Raices, to the Forestal Park centre deep in the woods. It's a short one, but there's lots of variety along the 6.5km length of this off-road cycling route.
There is about 395m of gentle climbing all the way and a 3.6km optional extra if you want to stop off at the La Esperanza campsite. Staying there is free but you'll need to get a camping permit through the Tenerife Cabildo (Island Council) Offices in person in Santa Cruz first.
Full route information including maps and gpx file
BC-3: Guia de Isora Route
Route length: 9.3km
In the north-west of Tenerife, deep in the Corona Forestal Park just east of Arguayo, this easy 9.3km mountain bike route follows forest tracks, starting and finishing on the island road TF-38. With just 233m of vertical gain, this is not a tough route, and the first 7km of the route is undulating but generally downhill.
From about 3km in you'll ride the Pista Canal de Vergara which follows the path of a river, and then the Pista de Fife, which takes you back up to the road and the finish, with 2km of climbing. If you're new to off-road riding, this is a great cycling route to get started on.
Full route information including maps and gpx file
BC-4 Pinares de Sur y Volcanes Negros
Route length: 16.6km
This stunning mountain bike route in the south of Tenerife takes in an incredible variety of scenery, mostly on the southern flanks of Mt Teide.
Starting at an altitude of 1,250m at the El Contador recreational area, the ride takes you on a steady climb through sheltered pine forests, joining the Pisa General de Arico, which in turn leads you to an area known as the Volcanes Negros (Black Volcanos), in the municipality of Arico.
With a total of 834m of climbing up to a finishing altitude of almost 2,000m above sea level this cycling route will certainly get your lungs working.
Full route information including maps and gpx file
South Route
Route length: 42.3km
Like its counterpart in the north, Tenerife's South MTB Route is long but hugely rewarding. The main trail runs to 42.29km but you can also opt for the 38.8km of alternative routes and variants. Plenty to put you and your bike to the test properly.
With plenty of challenging terrain, the route runs through a large part of Tenerife's mountainous southern terrain with spectacular pine forests providing welcome shelter from Tenerife's almost guaranteed sunshine. The route has five derived variants for plenty of route options.