Heading off on a human powered adventure without a support vehicle or hotel to hotel luggage service inevitably means carrying everything you need to eat, sleep and cook on your back. And in that situation weight and pack size becomes an obsession, every gram counts and every millimetre of space is accounted for. Luxuries are ditched and everything has its purpose, materials are scrutinised for their inherent weight and strength properties and pack sizes are as small as possible to avoid over stuffing.
This little niche of the adventure market is growing as more and more people search out meaningful trips where they can get back to nature and reconnect, or 'rewild' themselves. 
For most people lightweight gear is all about price versus weight versus durability. Everyone has a budget and most aren't limitless so finding those special bargains is somewhat of an art.
How to buy lightweight backpacking kit
Weight
First on any self respecting gram counters list is always weight and you can geek out to the nth degree about this particular subject. With lightweight gear the other two factors listed here are always a consideration, yes a lighter version might exist but will it be durable and can you afford it? When researching your next lightweight kit purchase a great place to start is a specialist retailer who understands your needs. One of our favourites is Ultralight Outdoor Gear who stock niche brands and sort their listings from lightest to heaviest!
Durability
What's more, you have to consider whether that ultralight but ultra thin tent is going to hack it in the environment you're taking it into, or whether that tiny stove is going to take the weight of the big pot of pasta you wanted to cook for the whole camp. Look for durable materials like Dyneema and get a handle on the range of deniers, or thicknesses materials come in. A thicker material will be more durable, in the example of tent floors some go as low as 15D which is wafer thin and will necessitate the use of an additional footprint in most situations, whereas the F10 Helium on test has a 70D floor making it reasonably tough and therefore more durable.
Budget
Third on the list is budget, and most people will have to make compromises in their kit depending on the depth of their pockets. Ultralight gear tends to appeal to a niche, and away from the mass market costs are always going to be higher. Add to that design time and use of exotic materials like titanium and Dyneema and you've got a recipe for some seriously wallet busting prices. There is a happy middle ground though, and in every gear category you'll find that perfect item for you that marries a lightweight and packable package with durability and a fair price.
Some of our favourite brands who consistently hit the sweet spot are Alpkit, Exped, Montane, Wild Country and F10. 
Sea to Summit Spark SP1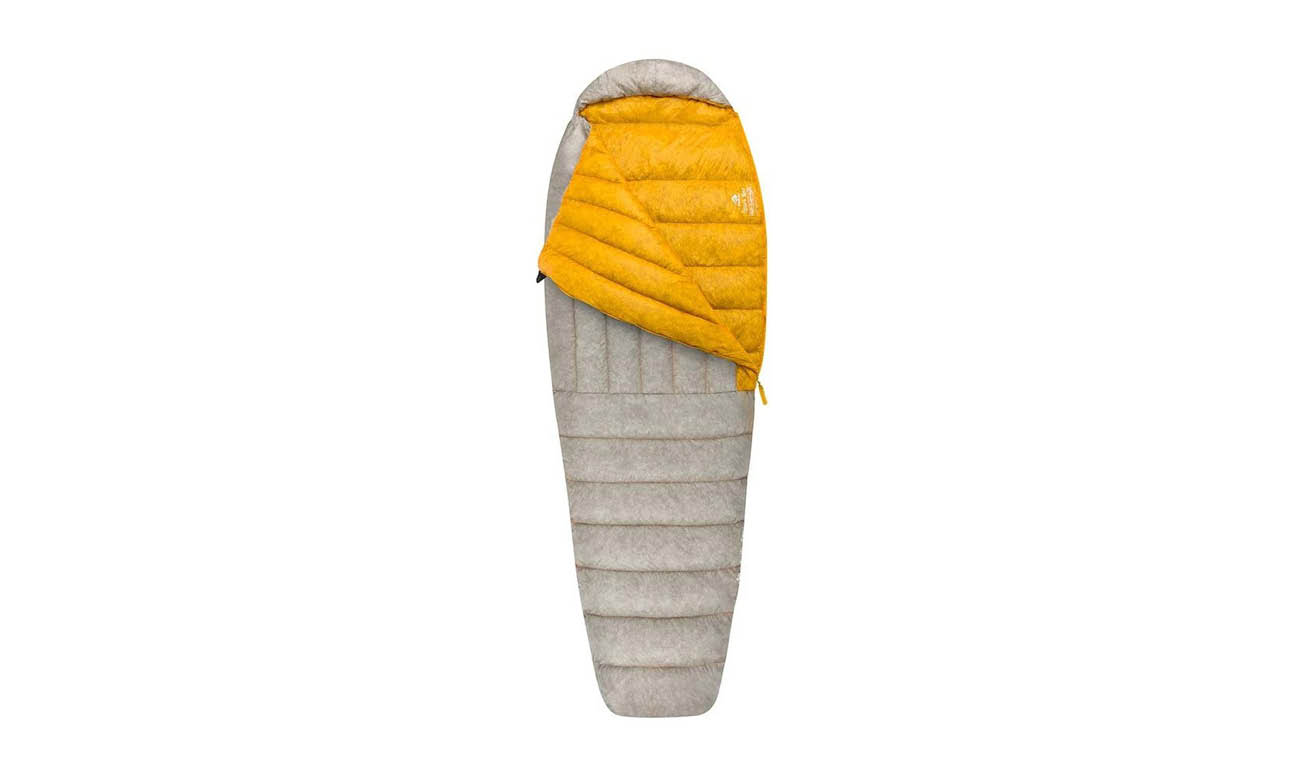 If you want the ultimate in light weight and packability you won't go far wrong with the Spark SP1 sleeping bag. Offering a comfort rating of 9 degrees C the Spark is good for summer camping and you can also push it into milder spring and Autumn weather with the addition of some toasty base layers and perhaps a light mid layer in the sleeping bag with you.
The fill is top notch 850+ fill power down which is treated with a DWR and uses Responsible Down Standard certified down. The outer and inner materials are predictably thin and lightweight, 10D on the outer and wafer thin 7D on the inner, this is actually so thin it's see through, but the quality is superb so the sleeping bag still withstands harsh mountain conditions, you just need to look after it.
Inside, Sea to Summit have updated the Spark SP1 to provide more wiggle room for the shoulders and hips and as a claustrophobic sleeper (not a great trait for someone keen on lightweight camping!) I have no issues with the space inside the SP1.
Packing down into a tiny 1 litre bottle sized stuff sack the SP1 really is the last word in ultralight camping kit.
Alpkit Kraku Stove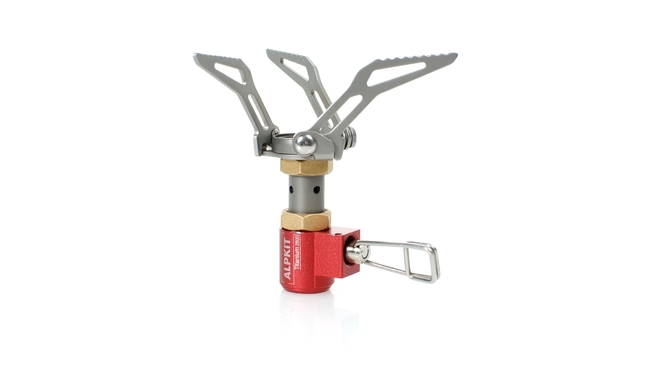 A favourite of ours for combining all three principles of lightweight gear, the Kraku is a cracking little stove at a great price. It's a simple little thing but does the job well, and with a lightweight windshield it can cope with most conditions. The Kraku weighs just 45g making it, in Alpkit's words 'possibly the world's lightest camping stove'. It achieves this through liberal use of the backackers favourite material - titanium alongside a small form. As such it's only really suitable for solo cooking duties, pair it with a suitably minimalist titanium mug/pot and a 100g gas canister and you're good to go.
F10 Helium 1 tent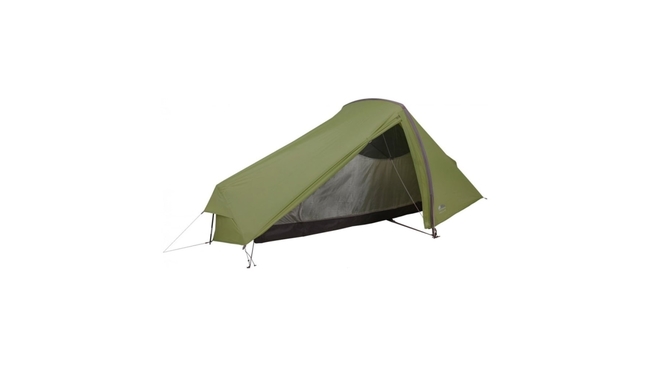 Once again British offshoot of Vango, F10 come up with the goods in their super affordable ultralight tent, the Helium 1. It weighs a tad under 1.2kg which isn't the lightest but it comes in at a low price of £240, making it one of those special sweet spot bargains. Its tunnel design is stable in wind and the 70D bathtub floor fends off punctures meaning you don't have to bring an extra footprint. There's reasonable space inside with just about sitting height and space for a lightweight mat and a decent vestibule for boots and a small pack. With a mix of Yunan poles and Dyneema guylines F10 haven't scrimped on the tech and all this comes in a pack size of only 40 x 13cm.
Mountain Hardwear Lamina sleeping bag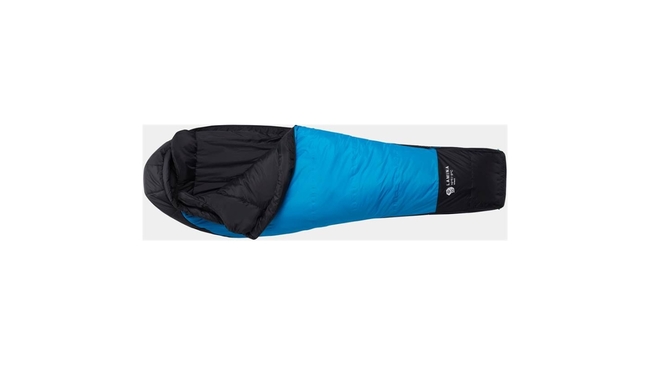 Mountain Hardwear's new Lamina -1 sleeping bag has a healthy fill of Thermal Q synthetic insulation and welded construction rather than stitched, which helps eliminate cold spots. Synthetic insulation is  better in damp conditions as it doesn't lose loft like down does, but for most it's unlikely you'll be getting your sleeping bag wet anyway. There are a few welcome improvements over the original like a more spacious foot box and magnetic closure rather than velcro at the collar and the 30D Ripstop shell is tough and durable. Comfort rating is 3 degrees Celsius with a respectable weight of 936g all-in-all making the Lamina -1 an excellent lightweight 3-season option.
Exped Synmat UL Winter LW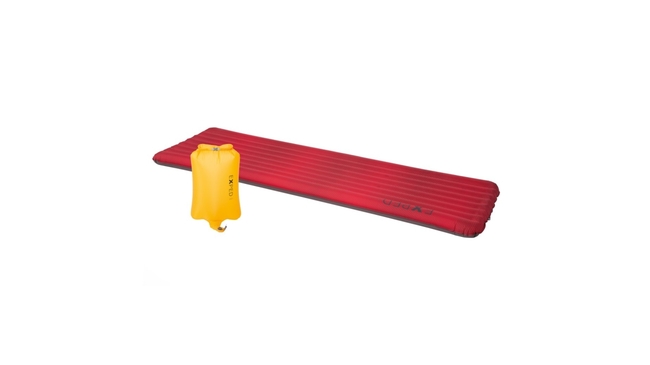 We love Exped's Synmat and Downmat so thought we'd give the Synmat Winter a try and even added a touch of luxury by choosing the LW (long, wide) version. Obviously this isn't the lightest mat in the Exped family so if you're the type who likes body mapped torso mats and chewing coal for breakfast then you might want to look away now. Weight is 820g, you could cut that by two thirds with Thermarest's Uberlite but then you wouldn't be super warm (with an r value of 5.0) or super comfortable with a dream like - at least in backpacking terms - 197cm length and 65cm width to spread out on. The 9cm thick microfibre filled air chambers provide a comfortable night's rest for both back and side sleepers - so go trim back the rest of your kit so you can afford the extra weight of this. For a lighter 3-season option check out the Synmat UL regular.
Hydrapack Shapeshift Reservoir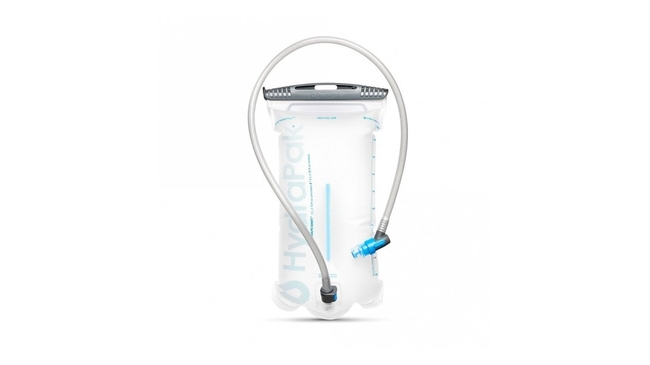 Not only is this one of the lightest 2 litre reservoirs out there at 141g but it's also, in our opinion one of the best. The baffled design increases stability by stopping water sloshing around and 'Shapeshifts' the reservoirs volume from 1.5 to 2 litres depending on whether the zip lok style central slider is open or closed. Cleaning reservoirs is always a hassle so the wide mouth opening which allows the reservoir to be turned inside out and thrown in the dishwasher is a massive bonus. The high flow valve is effective, letting water flow easily without excessive sucking and the whole construction is durable and leak proof.
Osprey Exos 48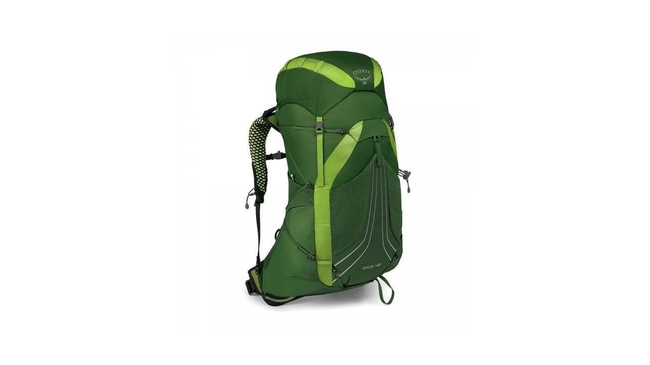 It's no surprise that the Exos 48 has been included in this list. A firm favourite among lightweight backpackers and thru hikers the Exos marries comfort, practicality, weight and price perfectly. There are lighter, more expensive packs out there but the Exos foregoes the use of exotic materials and pared down to nothing designs for a more balanced approach that has a wide appeal. Weighing 1.19kg the Exos more or less rivals the similarly comfortable and capable Gregory Optic 48 for weight but comes in a full £55 cheaper. Granted, it's lost a bit of it's appeal since being updated and losing its hipbelt and shoulder strap pockets but this is still our go-to pack for lightweight backpacking.