Anyone who's into adventure sports has thought about it. The dream of moving to the mountains, and living in a place where you can jump on your bike, grab your walking boots or, in winter, your skis, and head out into the hills straight from work. 
The problem, of course, is that employment opportunities are often limited in the mountains. If you're a bar-tender, a hotel manager or a snowboard instructor, great. If you're an PR professional, an electrician, a quantity surveyor,  or well, almost anything else, then it's probably less easy. Unless you fancy jacking it in and opting for a complete change  of career,  jobs in ski resorts themselves can be hard to come by. 
But that doesn't mean the dream has to die completely - after all, there are plenty of towns and even cities around the world  within spitting distance of the mountains that are big enough to need a full range of professions - from lawyers to plumbers to wedding planners, and everything in-between. 
Here is a selection of our favourite mountain towns. All of these have a permanent, year-round population of 10,000 or more, and all offer incredible opportunities for those who want to live adventurously all year round. If you're not looking for a complete lifestyle change, you can carry on reading too, as these are still excellent places to go on holiday. But just be careful: you may find yourself falling in love.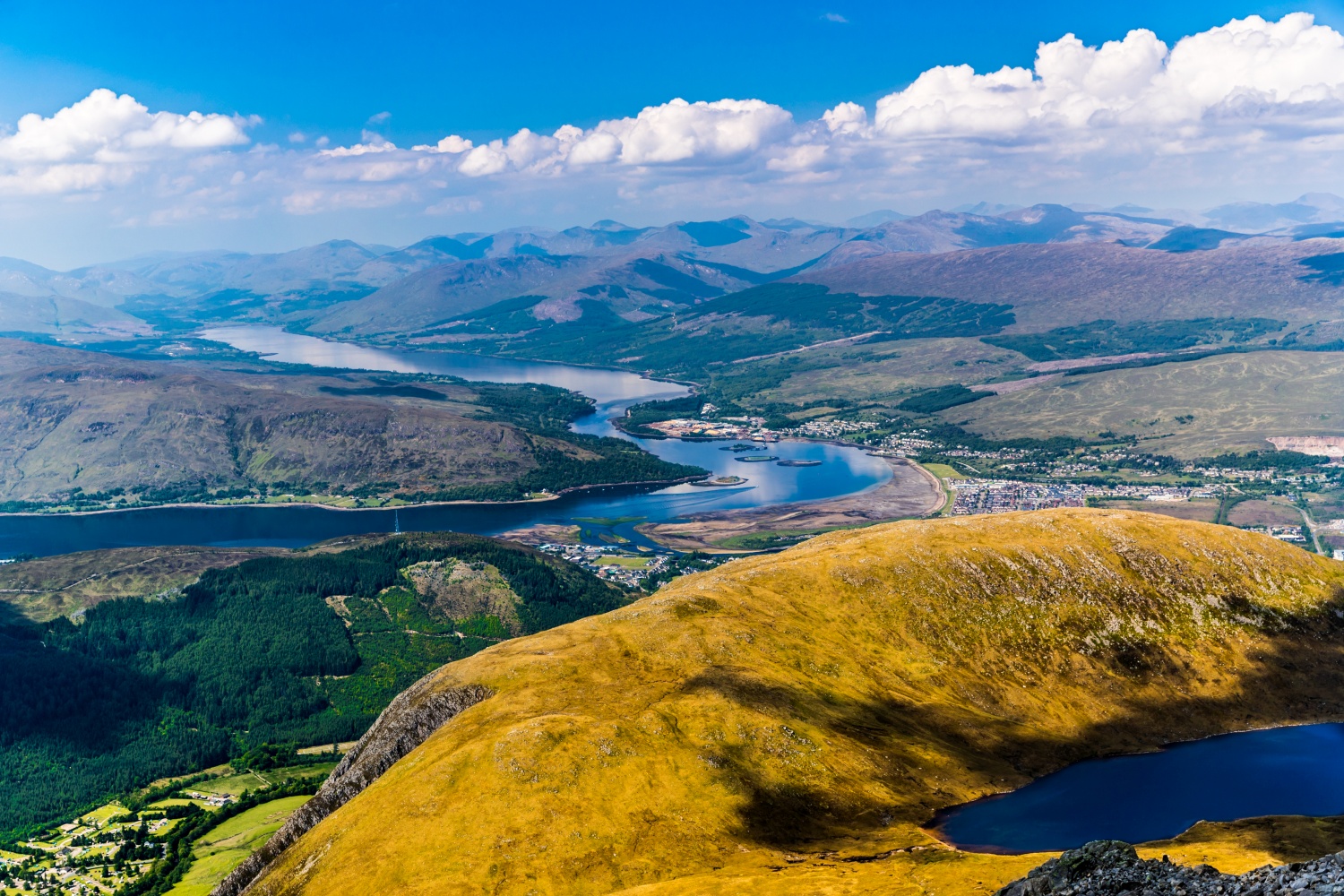 Fort William, Scotland
Fort William proudly bills itself as 'The Outdoor Capital of the UK', and with good reason. Situated at the southern end of the Great Glen on the shores of Loch Linnhe and Loch Eil, there's enough to keep kayakers and sailors happy for starters. But it's the huge mass of Ben Nevis here that's the star attraction. 
The various corries and couloirs of the Scotland's highest peak offer world-class climbing year round. If it's skiing or snowboarding you're into, then the lifts of Nevis Range is right on your doorstep, and if that's not enough, there are the wild mountains of Glencoe just to the south. Lift-access terrain may be limited compared to international destinations, but if you're prepared to go ski touring the possibilities are endless. Fort William is also rightly famous for its mountain biking, with the best-attended event of the World Cup downhill calendar held here every year, and the hiking around here is unparalleled in the UK.
Of course, this being the Scottish Highlands, the weather isn't always ideal for outdoor pursuits. Snow coverage is often patchy in winter, and the changeable conditions can make it tough to plan expeditions at any time of year. But if you can hack it here, you can hack it anywhere. As experienced climbers are fond of saying, "the Himalayas are good training for Scotland". Still one of our favourite mountain towns anywhere in the world.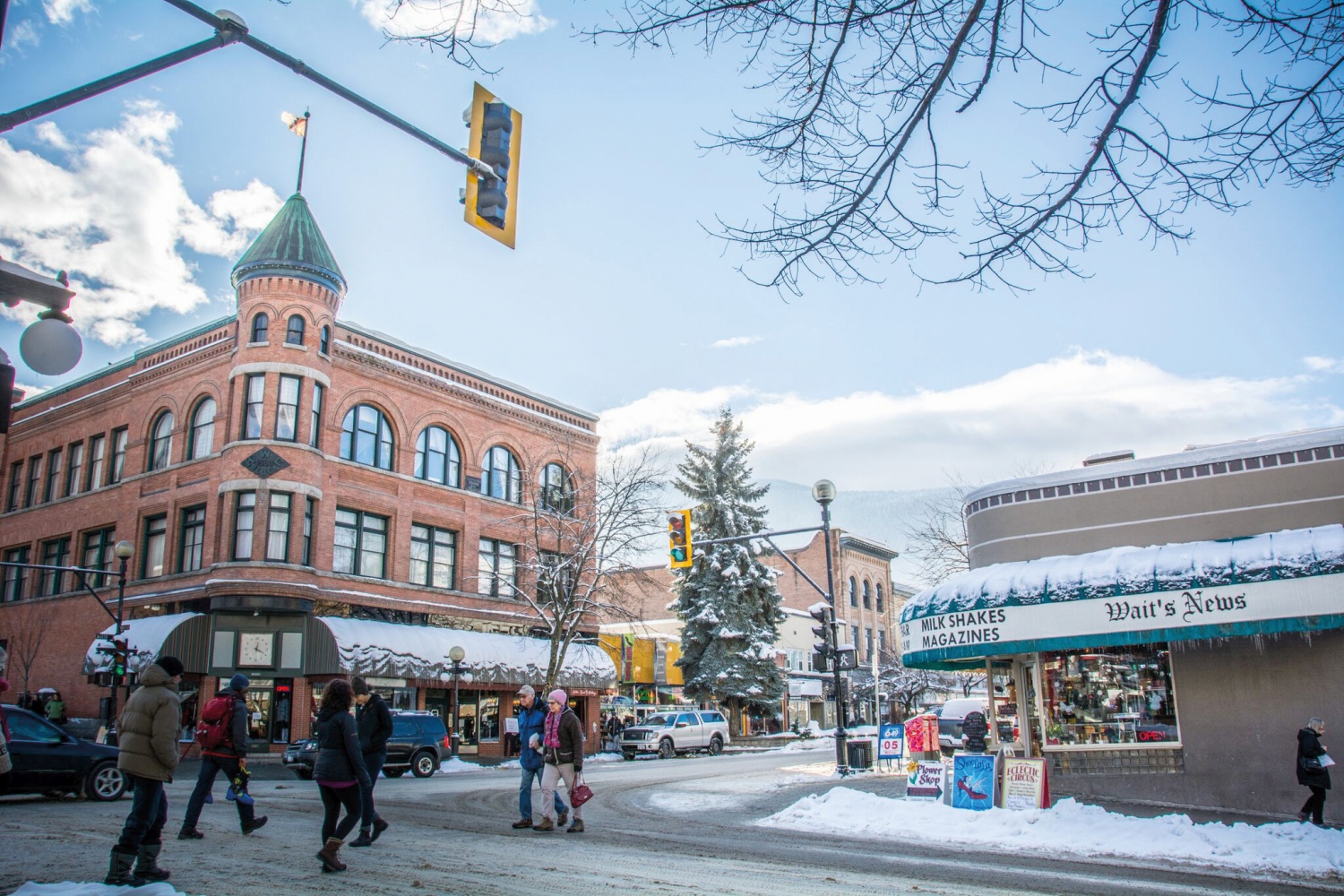 Nelson, British Columbia
Most people would probably expect Whistler to get the vote as Canada's top mountain town, but Nelson, a few hours's drive further into the interior, is more eclectic, more authentic, and considerably cheaper when it comes to the cost of living (or, indeed, visiting). 
Nelson is in the Rockies, as opposed to the Coastal Range, which means that while the snow falls less frequently than in Whistler, when it does, it tends to be lighter and fluffier. The town's satellite ski resort, Whitewater, boasts some of the best powder in BC, and on the rare occasions when the off-piste there isn't great, there are countless other ski hills nearby, and around 20 local cat-skiing and heliskiing operations to explore. 
In summer, the local mountains and forests have top notch mountain biking and hiking trails. There's plenty of wildlife including grizzlies and elk, and when the mercury rises you can cool off with a dip or a paddle in Kootenay Lake. The continental climate here means that average highs are 28 degrees C in June, July and August, making swimming glorious, even if the water itself is ice cold.  
Afterwards head into town and sample the great mix of bars, coffee shops, restaurants and live music, arts and theatre. Famously, Nelson was one of the favourite hangouts of American draft dodgers during the Vietnam war, and a healthy dose of that laid-back, hippie vibe still lingers.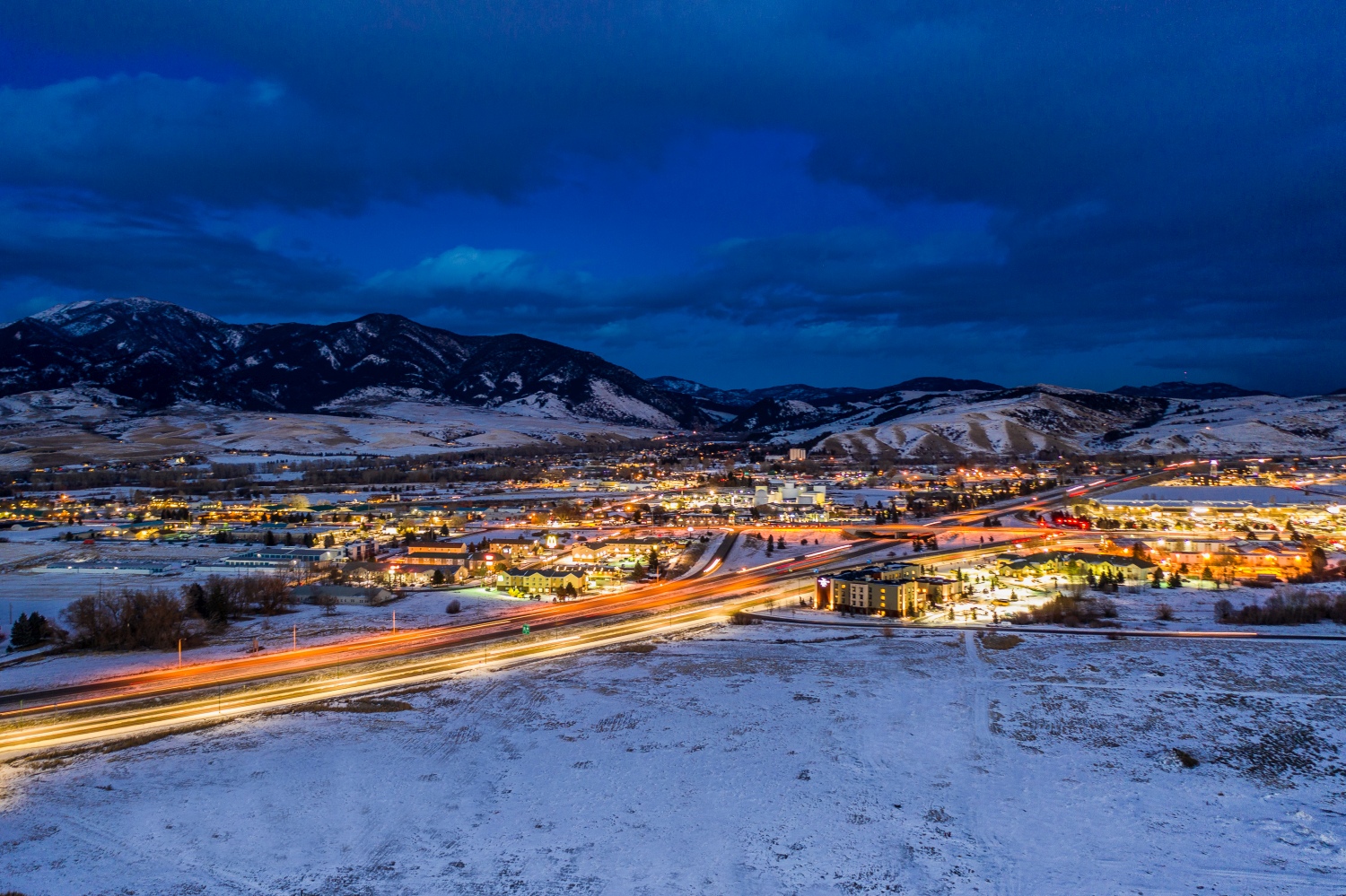 Bozeman, Montana
The university town of Bozeman is a funky little spot with superb outdoor activities right on the doorstep that regularly tops polls of the most liveable towns in America. In winter the small local ski hill Bridger Bowl offers superb and often very challenging powder skiing, while an hour or so south is Big Sky, the largest ski resort in the USA. A further 45 minutes south and you're in Yellowstone National Park.
In summer there is plenty of great hiking and biking (both road and mountain) and even the fly fishing on the nearby Gallatin River is world class – it was the location for the film A River Runs Through It. You can also go rafting and kayaking here on the Yellowstone and Madison rivers. 
With a permanent population of just under 50,000 people, the town itself is small enough to be manageable, but large enough to have every conceivable amenity. It's home to several sizeable outdoor companies including Simms Fishing Products, Kletterwerks Backpacks and the excellent Oboz Footwear. There's also an ever-growing tech sector here, and, inevitably, an amazing selection of coffee roasteries and microbreweries.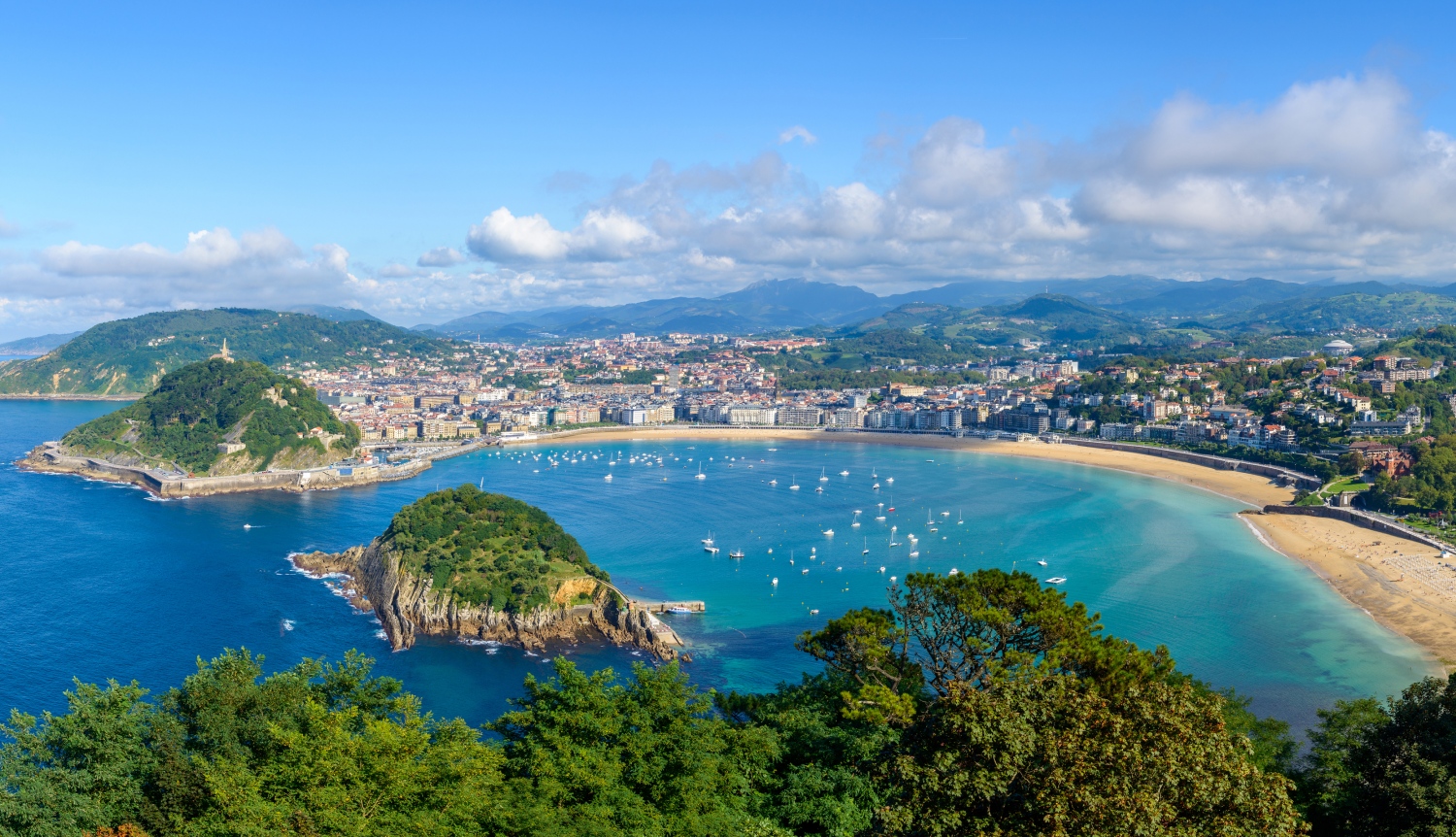 San Sebastian, Spain
Located on the rugged coast of northern Spain, just a stone's throw away from the peaks of the Pyrenees, and surrounded by lush green countryside that has more in common with the Pacific Northwest than the arid central Iberian plain, San Sebastian is an outdoor sports lovers' paradise.  
You can do it all here, from skiing in winter, to hiking, mountain biking and road cycling in summer. Oh, and did we we mention the city boasts a stunning beach with a world class surf break just a few hundred metres from downtown? 
It's not just the outdoors here that's great either. Famously one of the most foodie cities in the world, San Sebastian boasts more Michelin-starred restaurants than you can shake a stick at, as well as amazing museums and theatres.  As part of the Basque Autonomous Region, it's home to a unique culture that's different from the rest of Spain - all of which helps make it a truly special place.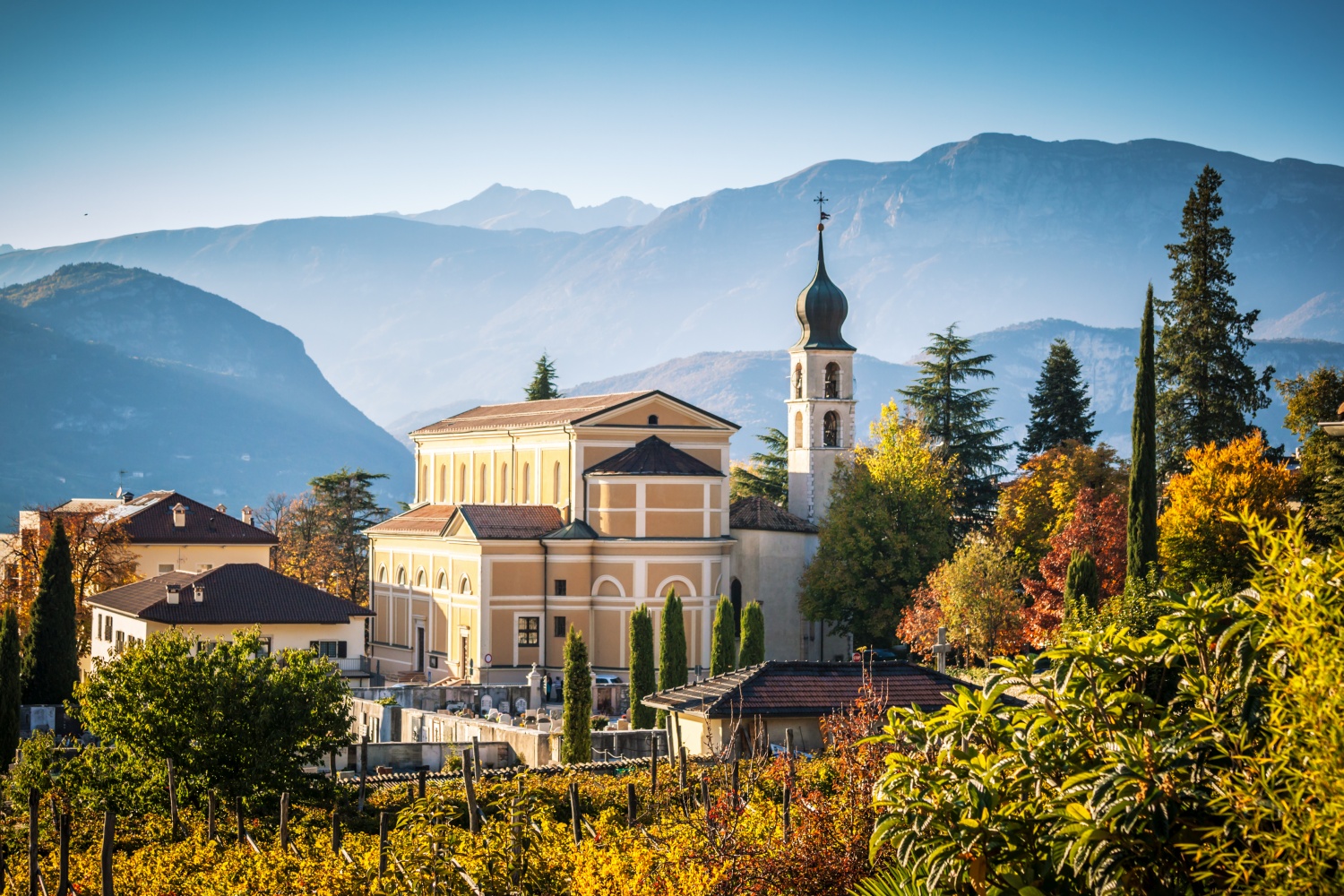 Trento, Italy
Tucked away in a steep-sided valley in the Italian Alps, the regional capital of Trentino is one of Italy's most liveable cities. It's large enough to boast every conceivable amenity, and industrialised enough to offer plenty of employment opportunities (not a given in Italy). At the same time, it's still small enough and rural enough to make getting out into the nearby mountains easy. Public transport is clean, green and efficient, and the air quality is impressively pure for a city of 120,000 people.
There are two small ski resorts within a half hour drive of the city centre - Monte Bondone and Fai della Paganella - and a whole host of larger ones that you can get to inside an hour and a half, including Passo del Tonale, which boasts some of the country's highest lift accessed terrain, and world class ski touring. In summer, these resorts and more throw their lifts open for mountain bikers, and the hiking is world class. 
It goes without saying that the pasta, pizza and wines you'll find in Trento and the surrounding area are incredible - this is Italy, after all. But the city has also begun embracing less traditional food and wine too. There's an artisanal gin distillery here, and at least one microbrewery.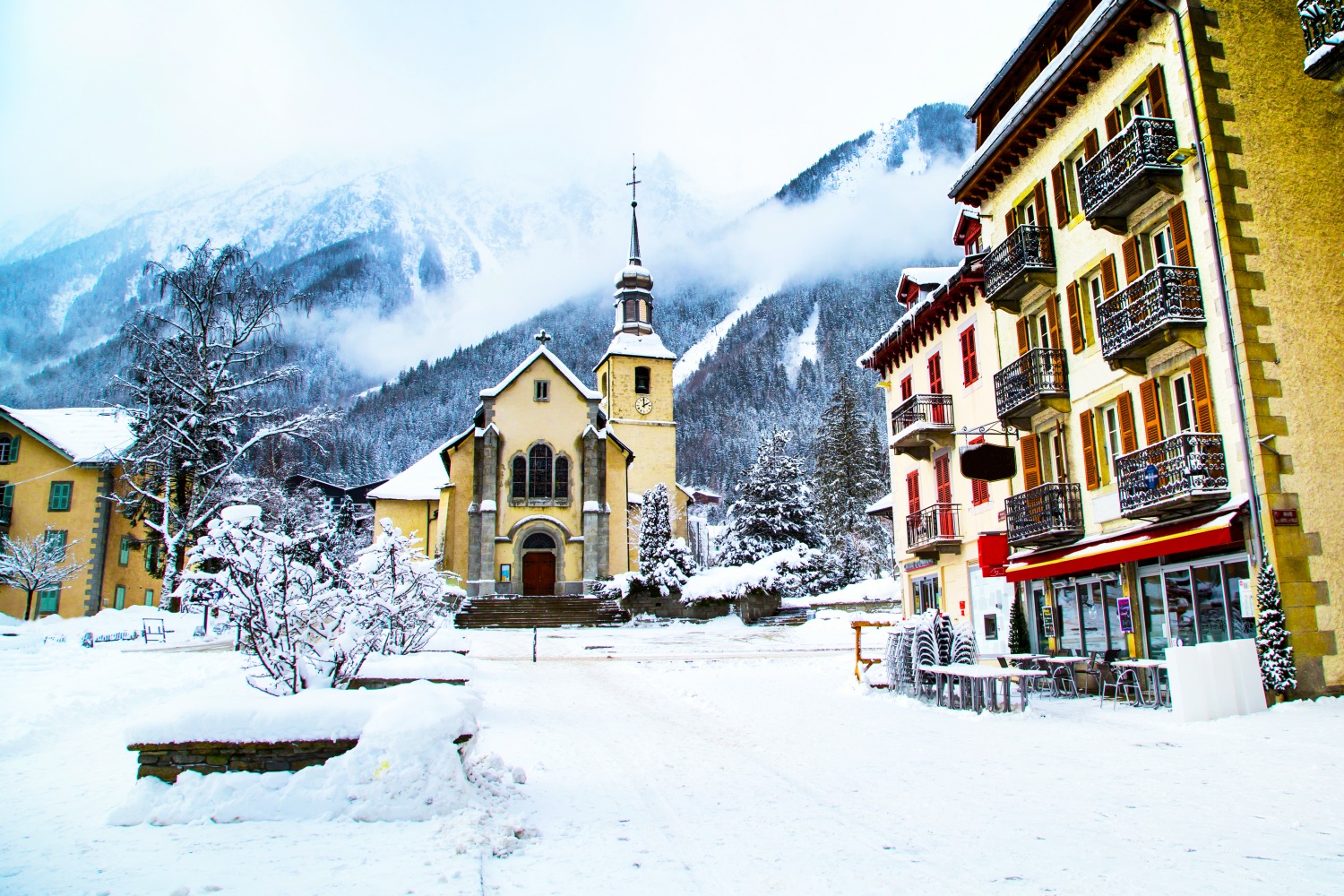 Chamonix, France
Perhaps the most famous mountain town in the world, Chamonix is where it all started. The whole idea of mountain sports essentially evolved here, after Europe's young nobles began including what was then a small farming village as part of the Grand Tour in the 1700s, drawn by the dramatic seracs and crevasses of the Mer de Glace. 
Climbing, mountaineering, alpine skiing - all of these activities that we love essentially owe their existence to this town at the foot of Mont Blanc. But despite the fact that people have been testing themselves in these mountains for more than 300 years, there are still new lines being ridden, and new routes being climbed every year. The mountains here are so abundant, so steep and so stunning, that you could live here for an entire lifetime (as many people do) and never get bored. 
The town itself is always buzzing with a mix of residents and visitors from all over the world. The bars and restaurants are excellent, running the gamut from traditional French brasseries serving steak tartare and red wine to vegan delis with craft beer on tap. The cost of living isn't as cheap as some of the towns on this list - this is a ski resort after all - but when you can step out of your front door and walk to some of the most famous lifts in the world, it's hard to complain.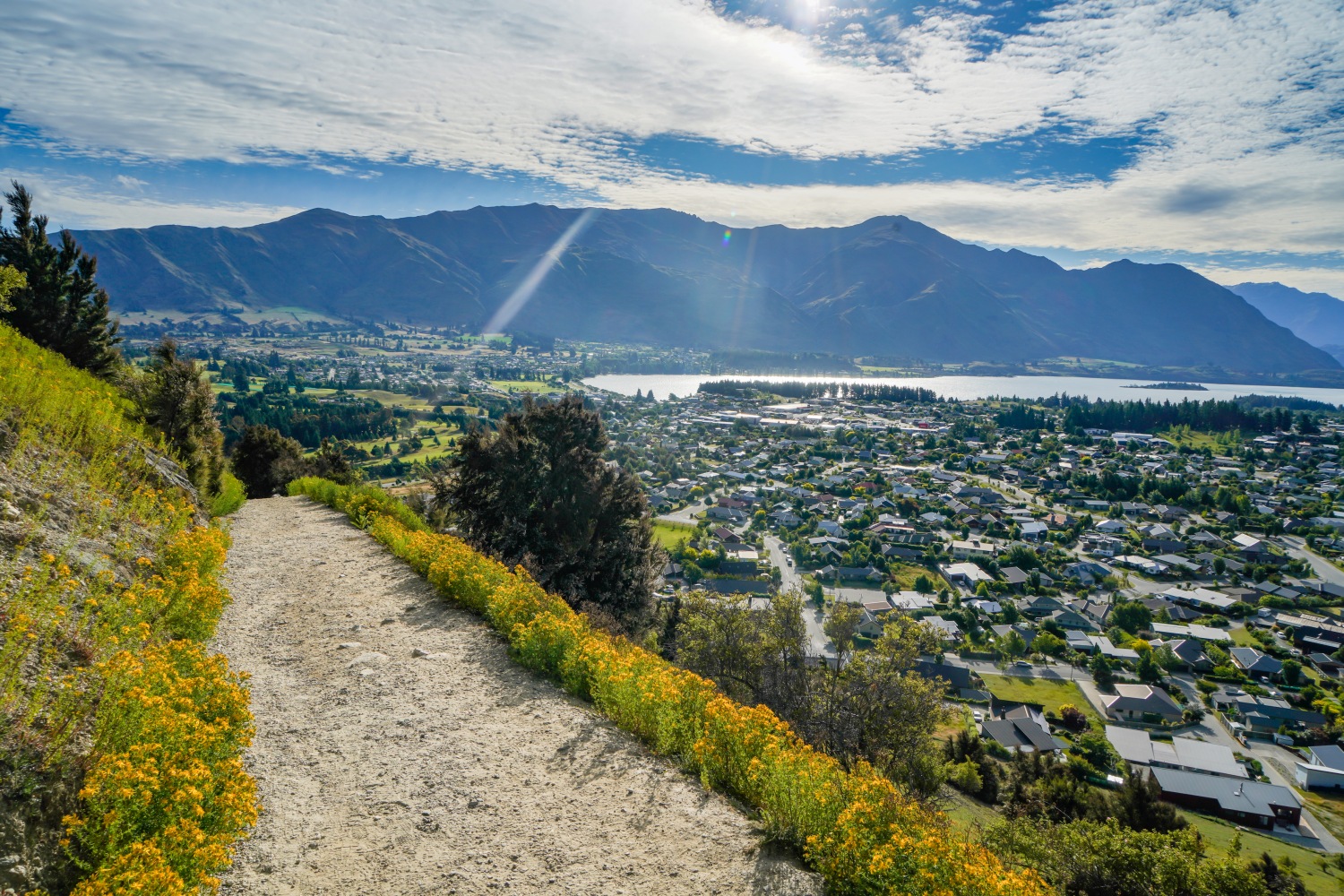 Wanaka, New Zealand
Located in New Zealand's Southern Alps on the shores of the eponymous lake, Wanaka is the snowiest place in the country, with three ski areas – Cardrona Alpine Resort, Snow Farm and Treble Cone, nearby. Visit in the summer, and you're even more spoilt for choice with unforgettable hiking terrain, great mountain biking, plenty of water-based action on the lake and local rivers and paragliding and skydiving all readily available. 
The small town itself and its alluring collection of bars, restaurants, pubs and hostels is a great place to just hang out, surrounded as it is by spectacular mountain scenery. Queenstown, an hour to the South, is larger and more famous. As one of the standard stop offs on the classic backpacker route around South Island, it arguably boasts better scenery and offers more outdoor activities. But if you want the real Kiwi deal, it's Wanaka you should head to. It's small, with a permanent population of around 10,000, but that gives it a tight-knit, community charm.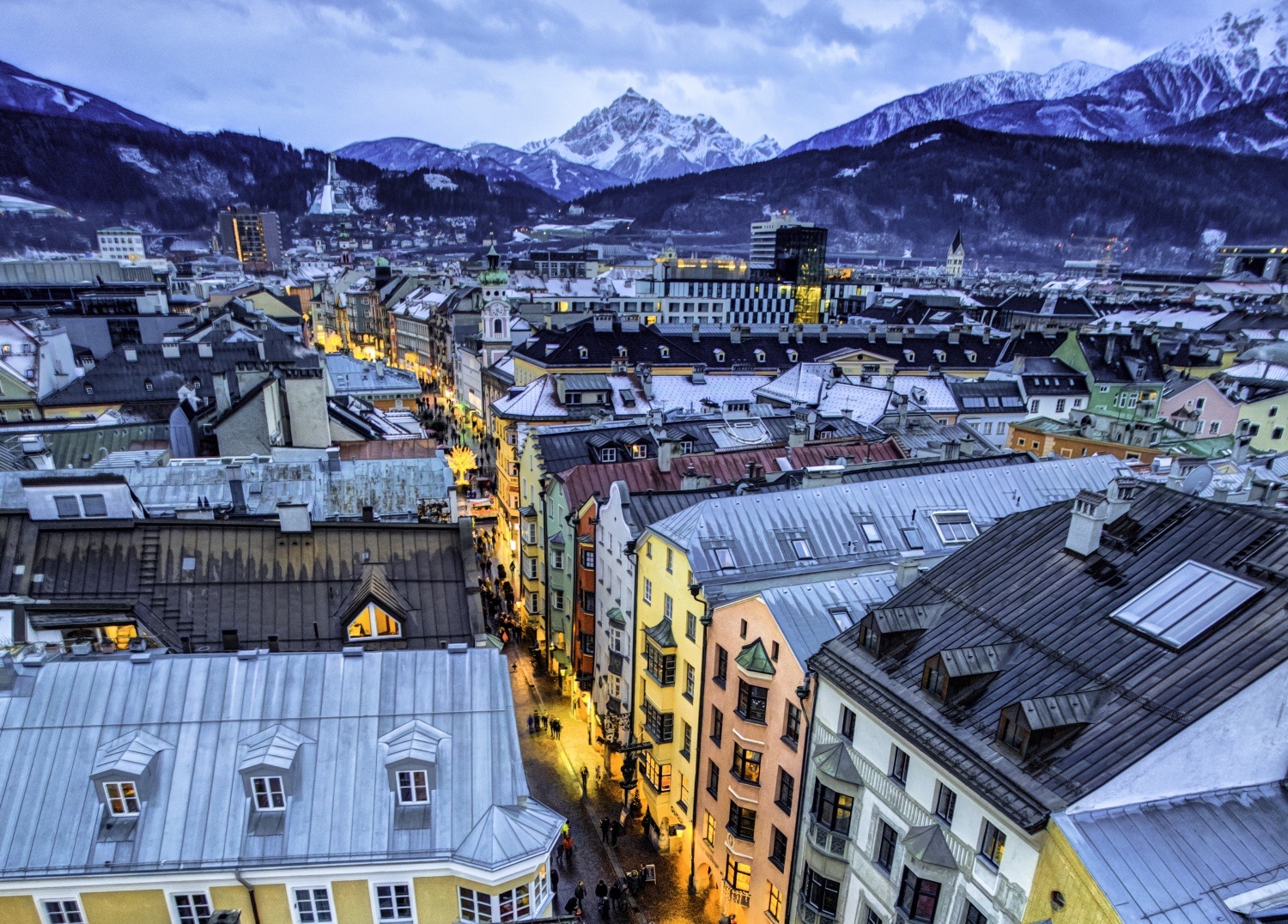 Innsbruck, Austria
Until recently, Innsbruck was best-known to tourists as a gateway city - the kind of place you'd fly into before catching a transfer elsewhere to go skiing. In recent years however, the municipal authorities have put a lot of effort into marketing it as a destination in its own right, crucially introducing a scheme which allows you to access all the 13 small ski resorts around the city on a single lift pass. For locals, this was merely an acknowledgement of something they already knew - that the skiing and snowboarding right on their doorstep is world class. 
The introduction of the liftpass has definitely seen an uptick in the number of tourists staying in town during the winter, but thankfully it hasn't changed the vibe of this charming university town for the worse. If anything, the fact that the local museums and art galleries are included on the pass means that business is now booming year round down in town, as well as up in the hills. 
On the surface of it, Innsbruck looks like any other pretty Austrian alpine settlement (albeit on a larger scale) but don't be fooled. Beneath that chocolate box exterior there's a vibrant nightlife scene, with  bang-on-trend bars and underground clubs that have earned it the nickname "Innsbrooklyn".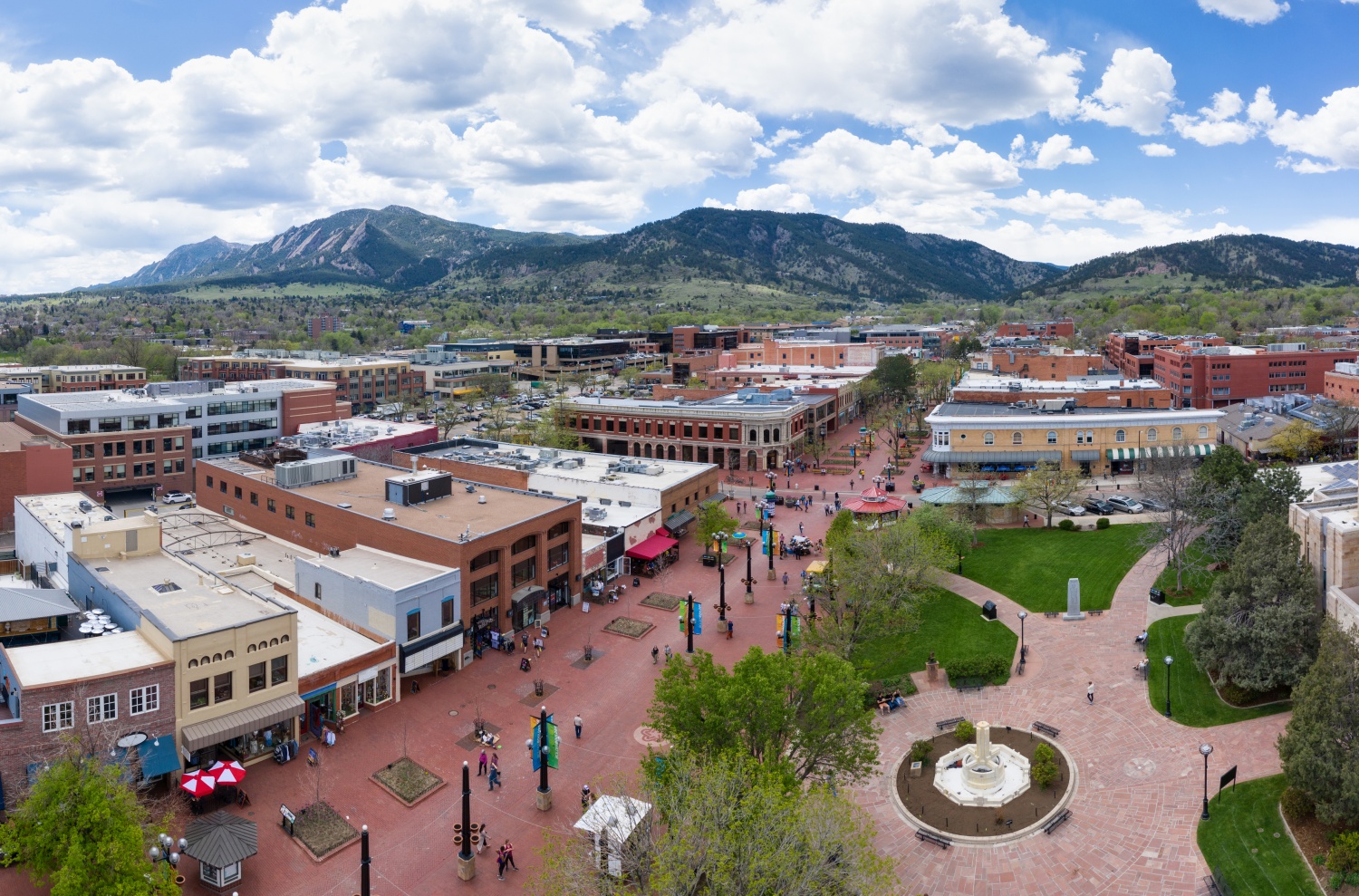 Boulder, Colorado
A few miles Northwest of Denver, tucked a little closer into the foothills of the Rocky Mountain National Park, lies the idyllic town of Boulder. Home to around 100,000 people, this small city regularly tops lists of the most liveable places in North America, and a 2017 survey by National Geographic named it "the happiest city in the US".  These things are hard to quantify, obviously, but if Boulder's citizens are particularly cheerful, it's probably due to combination of unparalleled access to outdoor recreation and the buzzy atmosphere of the town. 
In just a few hours drive from downtown you can reach several of the world's most famous ski resorts, including Vail, Breckenridge and Aspen, and there are countless other smaller hills closer by. In summer, there are amazing opportunities for mountain bikers, and an incredibly lively road biking scene. The hiking trails here are some of the best in the world - both for day hikes, and long, multi-day itineraries - and it goes without saying that the climbing is incredible.
Down in the town itself, you'll find a world-renowned university and a main street that's packed with locally-owned businesses as opposed to chain stores. This is the kind of city where there's a craft brewery on every second block, as well as more bike shops than you can shake a stick at. If you're looking for a city-sized base from which to explore the mountains, they don't come much better than Boulder.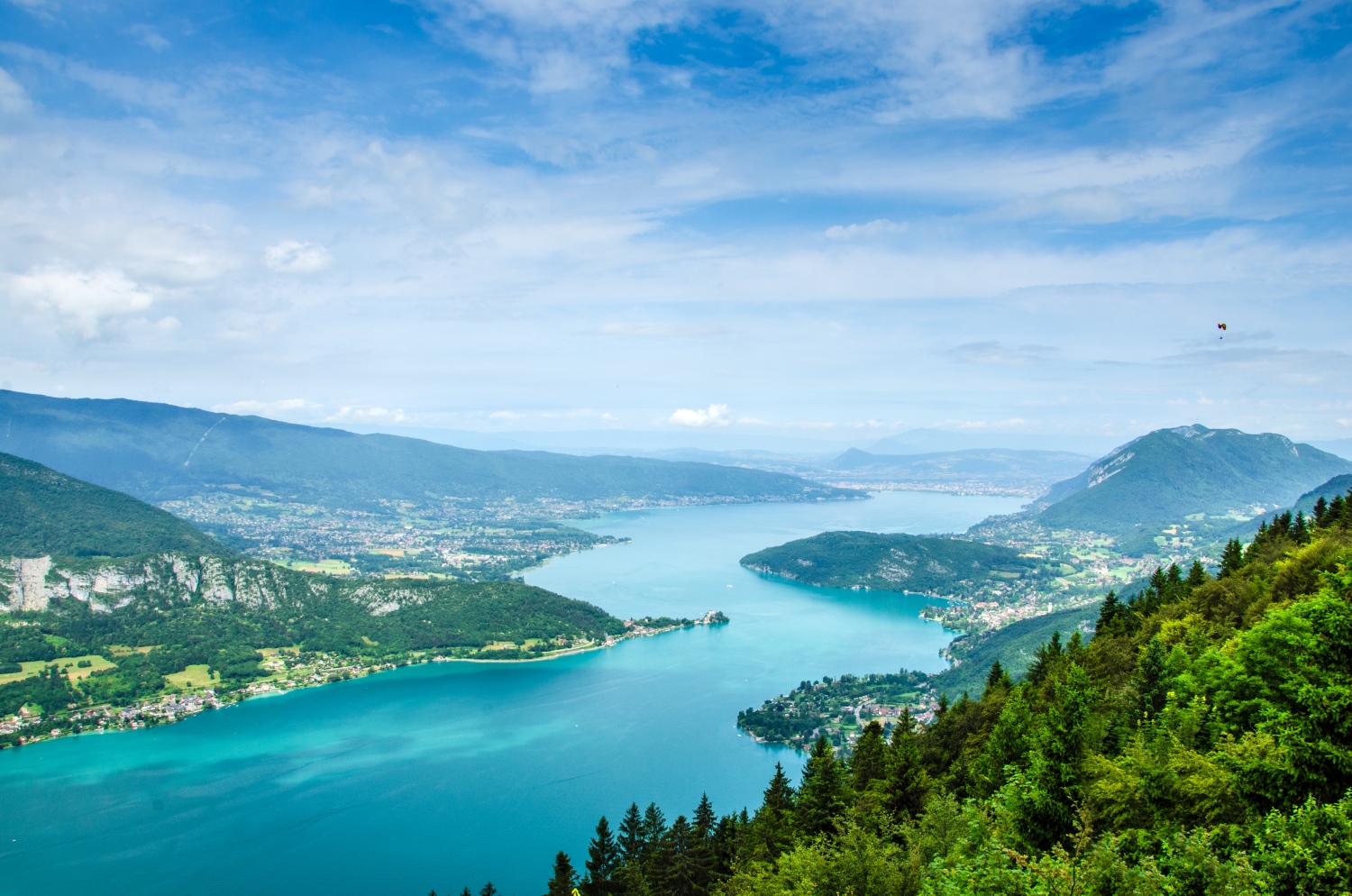 Annecy, France
Hundreds of thousands of British tourists pass through Annecy every year on their way to the ski resorts of the Haute Savoie region, and although we have no scientific evidence to prove it, we reckon at least 50 per cent of them probably look out the windows as they drive through and think "I could live here". 
With its picture postcard setting, clustered round one end of a steep-sided mountain lake, and beautiful historic centre, Annecy is one of the prettiest cities in France. But it's the surrounding countryside that really makes this small town special.
There are incredible outdoor activities right on the doorstep here - from stand-up paddleboarding on the lake in summer, to skiing in nearby La Clusaz in winter. Trail running, cycling, climbing, kayaking - Annecy has it all, so it's no surprise that outdoor industry giant Salomon has its global headquarters here, and the town is also home to countless smaller outdoor brands, including the ski gear manufacturer Eider.