MOUNTAIN ZIPLINING, SWITZERLAND
Strap in – it doesn't get more exhilarating than flying full-pelt over the Swiss Alps on a zipline. The famed First Flyer is 800 metres of panoramic meadow and mountain views over the Jungfrau region, quite literally the roof of Europe.
As you journey towards Schrekfeld, hanging 50 metres in the air surrounded by snow-capped peaks, you'll reach speeds of up to 54 miles per hour. Older children can take on the Flyer if they weigh over 35kg.
PRICE: From £25 for adults. jungfrau.ch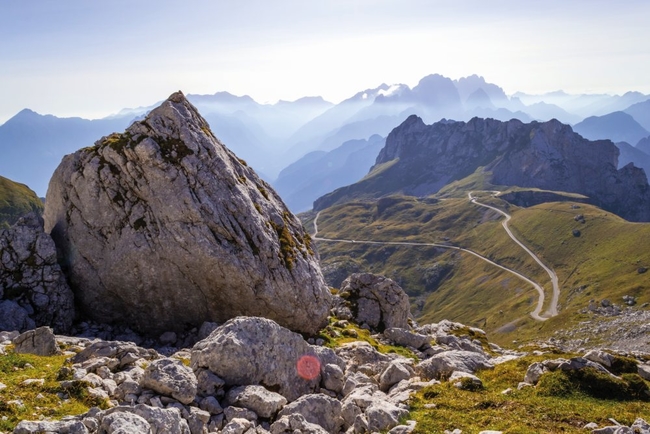 CONQUER MANGART SADDLE, SLOVENIA
Slovenia's mountain ranges are some of the most glorious and crowd-free in the Alps, and Mount Mangart, the fourth highest peak in Slovenia at 2,679 metres, is reached by a winding road that should top every cyclist's bucket list.
The Mangart road has punishing inclines of up to 20% but rewards you for your efforts with views across neighbouring Italy once you reach the famed Mangart Saddle, at over 2,000 metres.
BOOK IT: From £1,093 with viator.com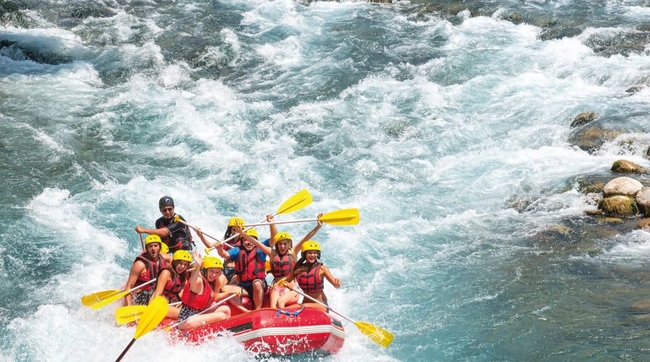 RAFT ON THE DORA BALTEA, ITALY
Ready to get wet and wild? Italy's Dora Baltea river is 150 miles of fast-flowing rapids – the perfect challenge for rafters of all abilities.
Fed by the melting snow from Mont Blanc and the Brenva Glacier, conditions for rafting in the Dora are best in early summer, when water levels are highest. Take on a longer, more technical route or a short burst of fun suitable for all the family with instructors at Rafting Mont Blanc.
PRICE: From £26 with raftingmontblanc.com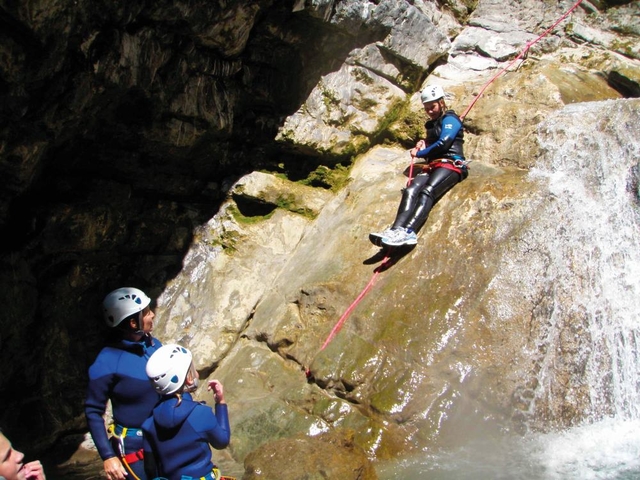 CANYON IN MONTMIN, FRANCE
If the idea of descending a vertical rock face fills your kids with excitement rather than dread, canyoning might just be your new favourite family adventure.
The rocky canyons of Montmin near Lake Annecy are a dream to abseil down, and the surrounding rivers and waterfalls let even small thrill seekers take on seven-metre-high jumps into the rushing water. Adventurers as young as 10 can take part in the activities with Annecy Canyoning.
PRICE: From £57 with annecycanyoning.com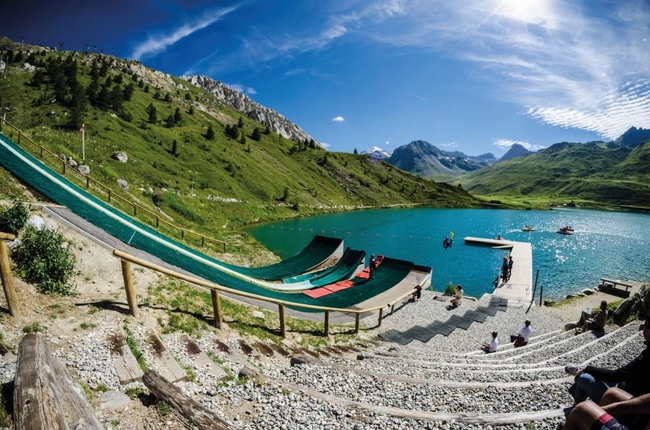 GO LAKE JUMPING IN TIGNES, FRANCE
Jump on in, the water's lovely. Think you can't get your big air fix once winter's over? Head for Acroland, which pops up each summer on the side of the blue waters of Tignes Lake.
The slides and ramps are perfect for thrill-seeking freestylers. Braver individuals can ski, BMX or skate down a massive 35 metre ramp and anyone over 14 can launch themselves down the huge curved slide. Serious fun on a hot summer's day.
PRICE: From £7 per hour. seetignes.com

SWIM IN LAKE ANNECY, FRANCE
Every keen wild swimmer should take a dip in the crystal-blue waters of Lake Annecy in their lifetime. Snowy mountains skirt the lake's circumference, but in the summer months water temperatures here are pleasantly mild - a nice contrast to the Baltic-like temperatures of British lakes in summer.
For the daring, the Roc de Chère area is a favourite for cliff jumpers and is a walk off the beaten track, the perfect peaceful spot on busier days.
PRICE: This ones free! lac-annecy.com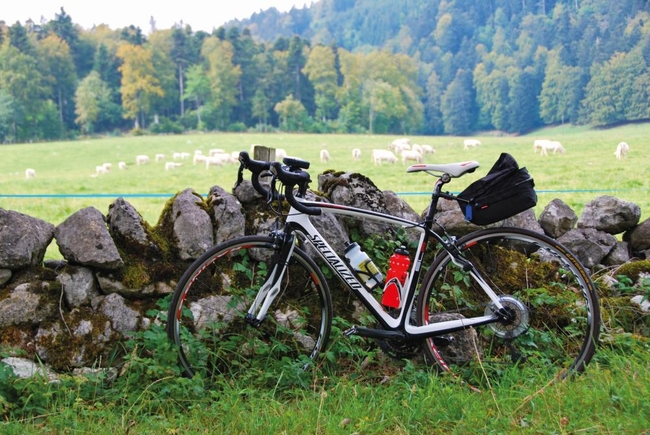 CYCLE THROUGH SWITZERLAND
The winding roads of the Swiss Alps are a must-do for any self-respecting road cyclist. The big hill climbs will reward you with stunning views, and the gentler valley roads will take you through sleepy mountain villages that are straight out of a postcard.
Bike Switzerland's self-guided ten day Alpine tour includes some of the most iconic mountain passes in the Alps.
PRICE: From £3,408 with bikeswitzerland.com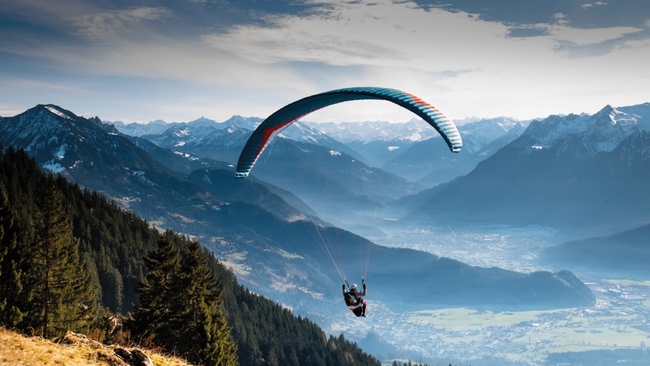 PARAGLIDE OVER AUSTRIA
Is it a bird, is it a plane? Get an eagle eye view of Austria's Alps by paragliding above the snow-capped peaks of the Arlberg massif. An experienced instructor from Flight Connections Arlberg will take you high into the mountains above St Anton and then literally make you run off a cliff.
There's nothing like hanging suspended over the mountains – you can even try taking control of the parachute as you slowly float down to the valley.
PRICE: From £130 with fca.at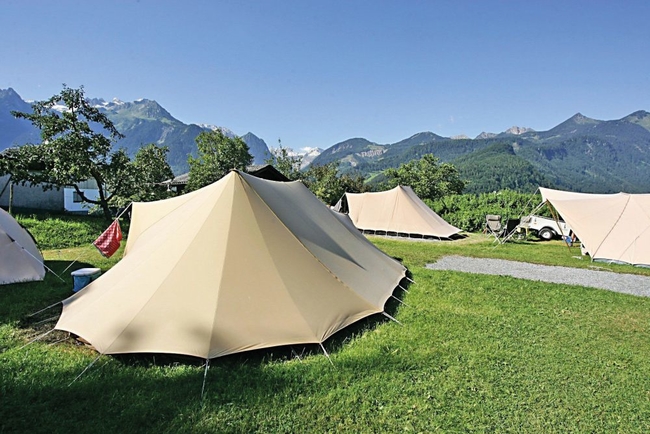 CAMP UNDER THE ALPS, AUSTRIA
Fancy unzipping your tent of a morning to a view of soaring mountains? The star of the show at the friendly Sonnenberg campsite is the panoramic vista of the surrounding Alpine peaks.
If you're itching to explore them, take the nearby Pfänder cable car up to access over 3,000 marked routes to keep you happily hiking. Sonnenberg (which means 'sunny mountains') has 115 grassy pitches and is open from May to September.
PRICE: From £20 per night with coolcamping.com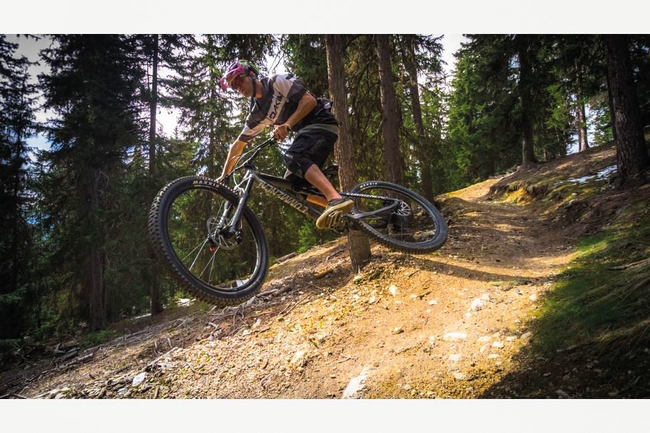 MOUNTAIN BIKE LES ARCS, FRANCE
Eight lifts are open in July and August in the French resort of Les Arcs to allow mountain bikers to ride from 2,700 metres all the way to the valley floor on miles of alpine and forest trail.
Cut your teeth at the Les Arcs Bike Park, a summer playground for all levels of dirt lovers. Novice bikers can brush up on their skills in the practice parks while the more experienced can tackle endurance runs.
PRICE: From £20 for adults. en.lesarcs.com