Berkönig Swiss Vintage Cycling Festival
26-27 August, Gstaad, Switzerland
Proving that retro cycling culture has never gone out of fashion, this summer the Swiss mountain town of Gstaad is hosting the first Swiss Vintage Cycling Festival. A celebration of all things vintage cycling – namely the clothing and bikes – and posing in them, the two-day festival centres around two free-to-enter races from the festival village – one a sartorial Pedaleur de Charme cruise of between 15-59km, the other a 121km BergKönig (King of the Mountains) epic over historic grand tour passes with 2,860m of vertical ascent. The only rule for both rides is that cycling kit and bikes must all be pre-1986 – the date the first 'modern' bikes were said to be invented. The rides are strictly not races with prizes going to categories such as Loveliest Tandem Couple, Coolest Service Car, Rarest Vintage Jersey and Oldest Bike.
bergkoenig.weebly.com
Mountain Mayhem
16-18 June, Gatcombe Park, Gloucestershire
This summer the original and biggest 24-hour mountainbike enduro in Europe will return to Princess Anne's Gloucestershire estate for the fourth year in a row. The big jumps of the world- famous horse evening course are off bounds but the woodland and lakeside course is both tough and beautiful for the 2,000 mountain bikers who will attempt to ride as many of the 8-mile laps as possible in 24 hours. Most entrants will be riding as members of relay teams who can ride as many or few laps as they like, with the 'hard nut' solo category made up of mtb endurance specialists (and the occasional self-deluded member of the Cycle Traveller editorial team!)
Other categories include fat bikes, single-speed and women-only teams and there is a Mini-Mayhem for young shredders, as well as loads of trade stands and food stalls. The festival and camping is half the fun, with nighttime laps fun and slightly surreal as a constant stream of high-powered bike lights threads through the forest and campsite.
mountain-mayhem.com
La Médocaine VTT
19-20 May, Arsac, Gironde, France
Hosted in the celebrated Médoc wine region of south western France, the Médocaine mountain bike festival could be seen as the world's longest cycling fancy dress pub crawl – if it wasn't vineyards that you were pedalling between rather than pubs… There are no less than seven route distances to choose from – 20km up to 80km – each one reading like a posh restaurant wine menu, with the likes of Monbrison, Giscours, Graviers and Margaux en route.
Before you get totally carried away, although the routes link up as many of the vineyards and chateaux between Arsac and the Gironde as humanely possible, you won't be expected or encouraged to taste a tipple at every one. Considering the routes include forest trails, bumpy tracks and some stiff climbs – and that riders will be dressed as everything from Minions to Disney characters – this is just as well. What does every finisher receive for their effort (other than a hangover)?  A bottle of wine, of course.
medocainevtt.com
Eroica Britannia
16-18 June, Friden Grange, Newhaven, Peak District
Set in the spectacular cycling heartlands of England's Peak District, the Eroica Britannia is the very British interpretation of Italy's legendary retro cycling festival. Instead of the dusty white roads of Tuscany, you get the sinuous and sometimes steep tarmac of a quintessentially English national park, plus the signature challenge of Derbyshire's own 'strada bianchi', the gravel High Peak Trail. There are three route to choose from: a 25 miler with a gentle 381m of vertical gain, a 55-mile 'Sportsman' route with 1245m of vertical, and a leg-stretching and steel-frame bending (especially with those obligatory big gears) 100-mile 'Hero' route with 2562m of vertical. It's not just about the riding though – this huge three-day festival welcomed some 40,000 people last year with is mix of live music, bike jumbles, bars, eateries, camping, and a daily family programme for the kids – all with a retro theme celebrating cycling's glory years.
eroicabritannia.co.uk
Bike Festival Garda Trentino
April 28 – May 1, Lake Garda, Italy
This traditional mountain bike season opener takes place at the top end of northern Italy's beautiful Lake Garda, amongst the lakeside Venetian architecture of Riva del Garda. The main event is the Rocky Mountain BIKE Marathon on the Saturday, where 2,500 odd riders can choose between four courses of different lengths and difficulty, from the 28km Ronda Facile, with its 702m of vertical ascent, to the 90km Ronda Extrema, with a whopping 3,838m of vertical gain. In 2016 some 3,000 athletes took part over the weekend, with over 40,000 visitors in total. All the courses start and finish in Riva and climb into the breath-taking mountain scenery above the north of the lake. As well as a busy bike fair, which takes over the town for two days of demos, trade stands and live music, there are eMTB (electric MTB) courses, a junior trophy for young shredders and the crowd-pleasing Pumbattle World Series, where two riders race head-to-head along a 100m pump track.  
riva.bike-festival.de
Tour de Yorkshire
April 28 –30, Yorkshire
Bourne of the legacy created in 2014 when England's largest country hosted the opening stages of the Tour de France, the three-day Tour de Yorkshire stage race still continues to bring the best riders in the world to the towns and hills of northern England. In 2016 the race attracted two million roadside spectators with good crowds and shows guaranteed in any of the stage start or finish towns: namely Bridlington, Scarborough, Tadcaster, Harrogate, Bradford and Sheffield, as well as on classic climbs such as the Silsden, Shibden Wall and the cobbles of Haworth high street. On the Saturday the professional women will take on the Tadcaster to Harrogate stage 2, and then on Sunday 30 April, it's the amateurs' chance with the Tour de Yorkshire Ride sportive. Three route distances are available: 45km, 75km and 100km, plus a women-only event, with the start and finish in Fox Valley Sheffield, where you'll (hopefully) cross the same line as the pros will later the same day, cheered by the same crowds.
letour.yorkshire.com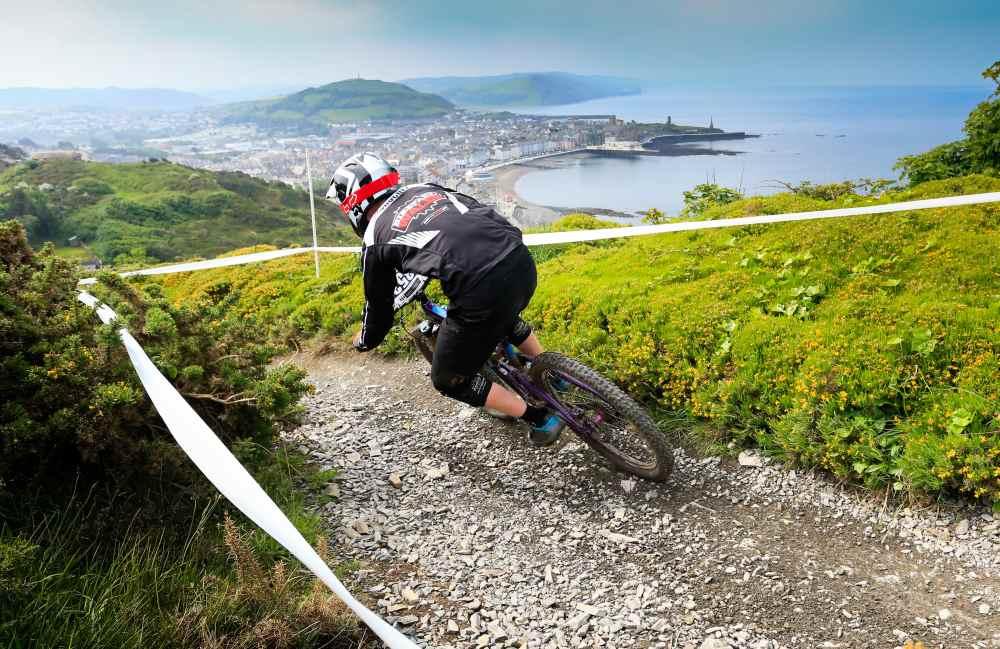 Photo credit: Huw Fairclough
Aber Cycle Fest
22-30 May, Aberystwyth, Wales
Downhill MTB racing, road sportives, criterium racing, junior races and some fancy dress… Wales' Aber Cycle Fest week has it all, for everyone. Now in its eighth year this West Wales cycling festival in the coastal university market town of Aberystwyth is still growing, with events including guided night rides, roller racing, time-trials, a film night, a Pro's vs Locals hillclimb, the Conquer the Cliff Downhill Race at Constitution Hill, the Continental Welsh Wild West Sportive on the Sunday, and a round of the exciting ITV4 Pearl Izumi Tour Series of professional criterium racing around the town centre.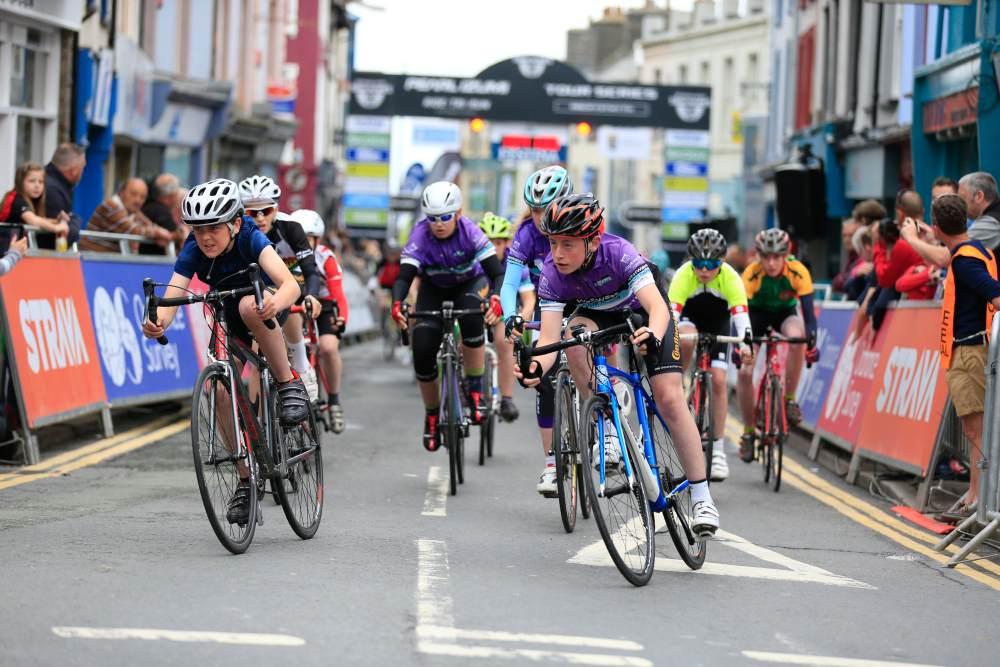 Photo credit: Huw Fairclough
There are races for everyone from pros (who you can watch race from the comfort of a pub garden) to eight-year-olds in the Schools races, as well as a tongue-in-cheek Town vs Gown 'fancy dress' race between locals and students.
abercyclefest.com
Girona Cycling Festival
12-18 June, Girona, Catalonia
If you want to find out why some 80 professional cyclists live in the northern Catalonia city of Girona, then its bike week is the best way to find out. The medieval town itself is a labyrinth of cobbled alleyways and shady courtyards that's steeped in history, with the foothills of the Pyrenees starting where the town finishes. Highlights of the festival include daily group rides, the Hill Climb Els Angels, a nocturnal criterium road circuit race through Girona old town, and a post-race party on the Thursday. The week's riding culminates in the 125km Girona Granfondo road ride, which starts in the cobbled streets of the old town and takes in the forests and slopes of the extinct volcanic cones in the glorious Garrotxsa region, with 1,700m of vertical ascent.
gironagranfondo.com
Edinburgh Festival of Cycling
8-18 June, Edinburgh
The fifth annual cycling festival in the Scottish capital is 11 days of cycling workshops, talks, culture and rides all across the city and beyond. Covering everything cycling from transport to sport, leisure to culture and fun to foolish, this is a wide-ranging festival and certainly not just for the lycra loving crowd. Come and Try events include 'Getting Started in Road Cycling Confidence Booster workshops, Electric Bike test days, Group Riding workshops and Velodrome Taster sessions. Talks include the likes of Cycle Traveller's own Ed Shoote and Rebecca Lowe. Those lycra lovers won't go lonely though, as there are almost 30 organised bike rides, from the Bethany Sportive on the Saturday, to scenic tours across the Forth Bridge and back, to city hill climbs, Edinburgh culture tours and the Edinburgh Night Ride. For the truly brave there is the World Naked Bike Ride Edinburgh 2017…
edfoc.org.uk
Keswick Mountain Festival
8-11 June, Keswick, Cumbria, Lake District
There is so much more than just cycling on offer at the KMF but that's the beauty of it. Take on one of the led mountainbike or road rides or the Back O'Skiddaw 70km sportive around the northern Lake District, then return to your campsite in the festival village on the shores of Derwent Water, where you can be part of one of the country's most inclusive outdoor festivals. The four-day show has speakers and live music from the likes of Cast, Peatbog Faeries and KT Tunstall, navigation and climbing workshops, canoeing, triathlons and open water swims to take part in, as well as a free festival village with dozens of outdoors industry exhibitors to meet and greet (including Active Traveller).
keswickmountainfestival.co.uk