Porthcawl
There are several breaks in Porthcawl, including Black Rock, a point break which when it's working well can produce a long, fast right-hander, The Esplanade (aka 'The Esp'), a fast left-hander breaking over shallow rocks that's popular with skilled locals, and Rest Bay, a popular beach break just north of Porthcawl. This makes it one of the best places to go surfing in South Wales.
This is perhaps the best spot for people who are learning to surf, since the waves tend to break quite slowly and as such, are pretty user-friendly. It works at most stages of the tide, which has one of the biggest ranges in the world round this stretch of coastline.
No one would claim the coastline around Porthcawl is a picture of Welsh loveliness, but access is easy from the conurbations of southern Britain and there's a cheap and cheerful atmosphere to the place; it also makes a good stop-off point if you're travelling further west and fancy breaking your journey for a quick surf, since the coastline here is only about three miles from the M4 and there's plenty of parking close to all the breaks.


Threeclif Bay, Gower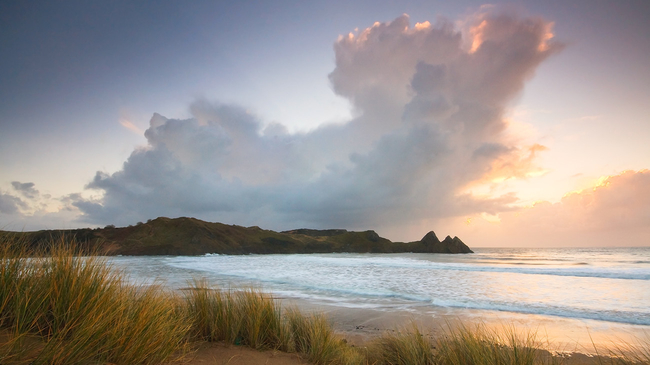 Threecliff Bay is a beautiful sandy bay ringed by cliffs on which are the ruins of Pennard Castle. It gets its name from a three-pointed outcrop of rock projecting from the cliffs on the east side of the bay, and you'd almost surf here as much for the scenery as the waves. At low tide, Threecliff links with Oxwich Bay to give a 3-mile long crescent of sand.
When there's a decent swell running you'll find decent beach breaks here, and it's not usually too crowded. It's best at high tide, although it does work right through from low tide, and it's quite well sheltered from winds by the Great Tor cliffs above the beach. It's a bit of a faff getting here as you can't park above the beach, but that may be a good thing as it stops the place from being overrun by surfers!
Pete's Reef, Gower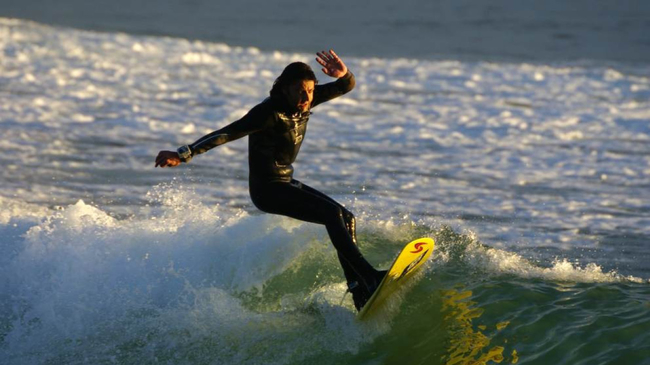 Pete's Reef is a very popular left- and right-hand reef break, which picks up just about any swell going. This isn't a break for novice surfers however - both the left and right are fast and hollow, albeit short in length – but the thrill of the ride makes up for that. The reef breaks best at low tide, when it's very shallow. Pete's Reef is named after local surf legend Pete Jones, aka 'PJ', a former European surfing champion – you may even bump into him at…
Llangennith Beach, Gower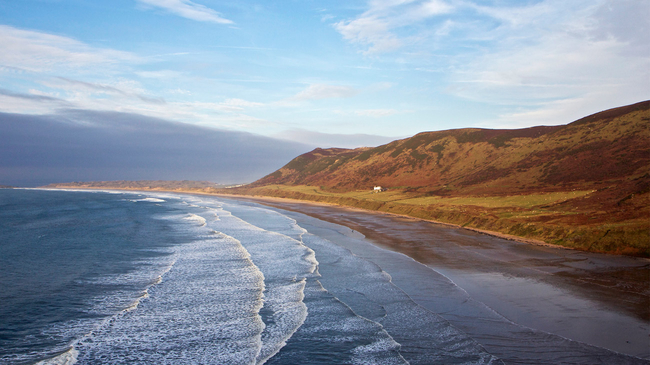 This is one of the most popular surf spots on Gower, if not in the whole of Wales, and it has waves to suit beginners and experts alike. It's a consistent beach break with peaks all the way along its two-mile length, and it works on swells from any direction, which means it's always busy when there's a good swell running, especially in summer and especially around the main access point in front of Hillend Campsite. That said if you're prepared to walk along the beach you should be able to find less busy peaks.
Unlike many Gower breaks Llangennith works at all stages of the tide, although once the waves get over about 4ft the paddle out, through line after line of white water, can be very hard work.
It's a particularly popular spot with beginners, with a Welsh Surfing Federation surf school based here. After your surf session take time out to call in at PJ's Surf Shop in Llangennith village, one of the oldest in Wales.


Manorbier, Pembrokeshire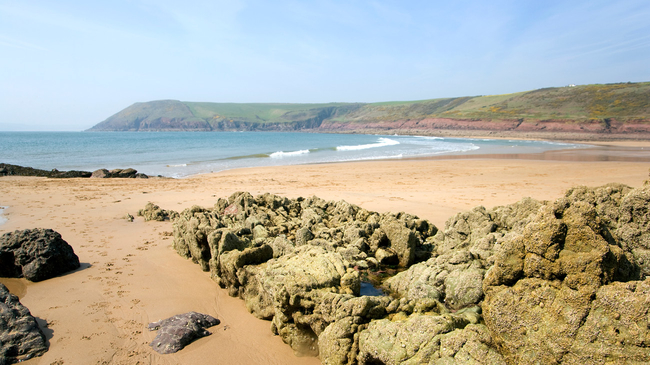 Manorbier is a lovely little bay overlooked by a medieval castle and church, with a good right-hander off the cliffs at the west end of the bay. This breaks over a rocky reef, then onto a sand bottom and is best just after high tide, although it can work right through the tide on a good swell. There are also waves in the middle and on the left of the bay as the tide recedes.
Unfortunately it can be crowded here with a mix of hot locals and surfers from the Gower and South Wales who are happy to forsake their own local waves to drive west and hit Manorbier- which gives some idea of how good it can be. But it's worth persevering with busy conditions to get one of those rights when they're firing!
Freshwater West, Pembrokeshire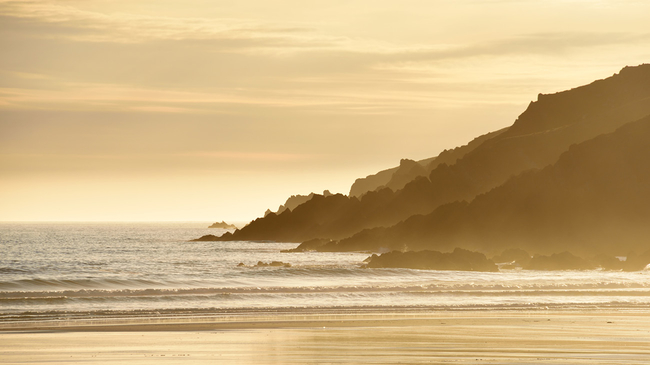 'Fresh West' is is the spot everyone heads for if the surf elsewhere in West and South Wales is too small since it's one of the best and most consistent wave in the country, hence the fact that it's the venue for the Welsh National Surfing Championships every May.
Because of its consistency Fresh will always be busy when there's a swell, but it's a huge, relatively remote beach with peaks all along its length so if you're prepared to walk you can usually avoid the worst of the crowds.
The main beach can produce some powerful and often quite large left and right-hand peaks depending on the condition of the sand banks, and it has good waves at all stages of the tide apart from high; to the south end of the beach there's a good peak in front of the rocks at 'Little Furzenip' at low tide; and just south of here in what's known as Middle Bay there's a good right and a left over rocks and sand towards high tide. The latter two spots are best avoided by novice surfers, and everyone should watch out for a longshore current on bigger swells.
Newgale, Pembrokeshire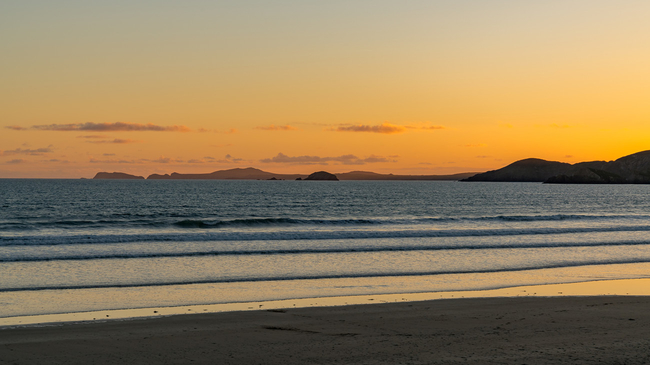 One of the most magnificent stretches of beach in Pembrokeshire, with peaks all along its length and easy access since a road runs right above it. The size of the beach means crowds are rarely a major problem. On a nice clean swell Newgale can be great fun and can sometimes put up waves with good long walls on them.
It's not usually too good on low tide, and backwash off the pebble bank at the top of the beach spoils the waves at high tide, but there are surfable waves at all stages in between.
The generally fun waves to be found here mean this is perhaps the most popular beach in Pembrokeshire for novice surfers, with surf lessons and surf hire available from Newsurf which is literally 50 metres from the beach; next door is an equally convenient campsite and the surprisingly dull Duke of Edinburgh pub.
Cardigan Bay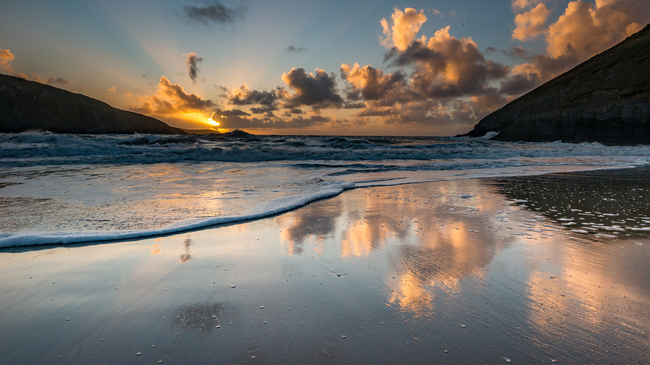 From Cardigan in the south to Aberystwyth in the north there are a number of pebble and boulder point and reef breaks which have enormous potential, but they only work on a very big swell (the doesn't necessarily mean the waves will be big; it just requires a big swell to create even modest sized surf along this stretch of coast).
Until quite recently these breaks were 'semi-secret' spots, and in the interest of my own health and my wish to surf here again I'm not going to name any of the specific breaks for fear of incurring the wrath of the locals (and friends who also like to surf here).
That said, since most of these breaks can be seen from the main coastal road all you need do is go exploring on a big swell and you can hardly fail to score. And just to make it even better, you may also end up surfing alongside dolphins since there's a healthy resident bottle-nose dolphin population in Cardigan Bay.
Porth Neigwl / Hell's Mouth, Lleyn Peninsula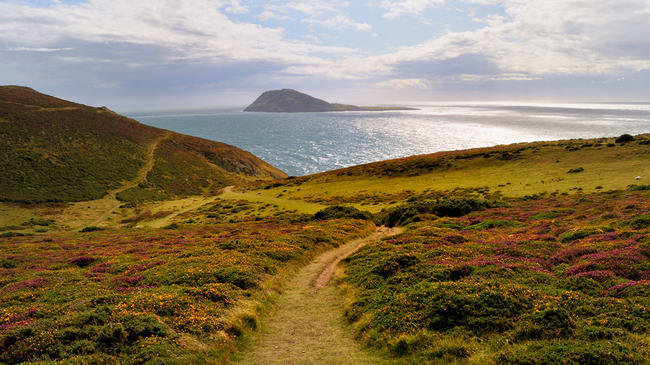 The best-known surf spot in North Wales, picking up most swells from a south or south-westerly direction, Hell's Mouth is an impressive four-mile long bay with peaks all along its length on a good swell.
In small conditions the best chance of a wave will be in the south-east corner of the bay under the low sea cliffs, where a good left breaks over a rock reef at low tide, ending on sand. A bit further along the shore there's a good right-hander breaking over a rock outcrop at high tide.
As you move further north-west along the bay the waves tend to become smaller. Reputation and consistency mean that Hell's Mouth is invariably busy, and if you're a beginner surfer your best bet for user-friendly waves is the middle of the bay.
Rhosneigr, Anglesey
Rhosneigr has two beaches; Traeth Llydan to the south of the town, and Traeth Crigyll to the north, which in turn passes into Traeth Cymyran to the north again. All of them face south-west and consequently work on a good south-westerly or westerly swell.
There are fun peaks in the middle of both Traeth Llydan and Traeth Crigyll and you may find an occasional left off the rocks of Carreglydan at the south end of Traeth Llydan. Less frequent is a right off the rocks at the north end of the beach.
All the beaches are pretty safe for beginners on smaller swells, but there's a rip by the river mouth at the southern end of Traeth Crigyll. Traeth Llydan and Traeth Crigyll are easily reached from Rhosneigr, but access to Traeth Cymran is not so easy, and involves either a long walk north from Rhosneigr, or a walk south via the tongue-twisting hamlet of Llanfairyneubwll.
For more info on these surf spots and hundreds more throughout the UK check out 'Surf UK' by Alf Alderson (Wiley Nautical, £14.95)