There's something primeval about our enthusiasm for treehouses—something related to our primate past, perhaps—that means it never really goes away, no matter how grown up we like to think we are.

Treehouse stays feel somehow more special than regular hotels or holiday homes, and sleeping high above the ground, suspended in a canopy of green, definitely adds an element of romance to any getaway.
Unsurprisingly, with glamping becoming increasingly popular, many of the UK's best glamping sites have built treehouses (especially those glamping sites without any tents at all) and there are now a plethora of luxury treehouse holiday options to choose from in England, Scotland, Wales and Northern Ireland. Here's our pick of the best treehouse stays in the UK.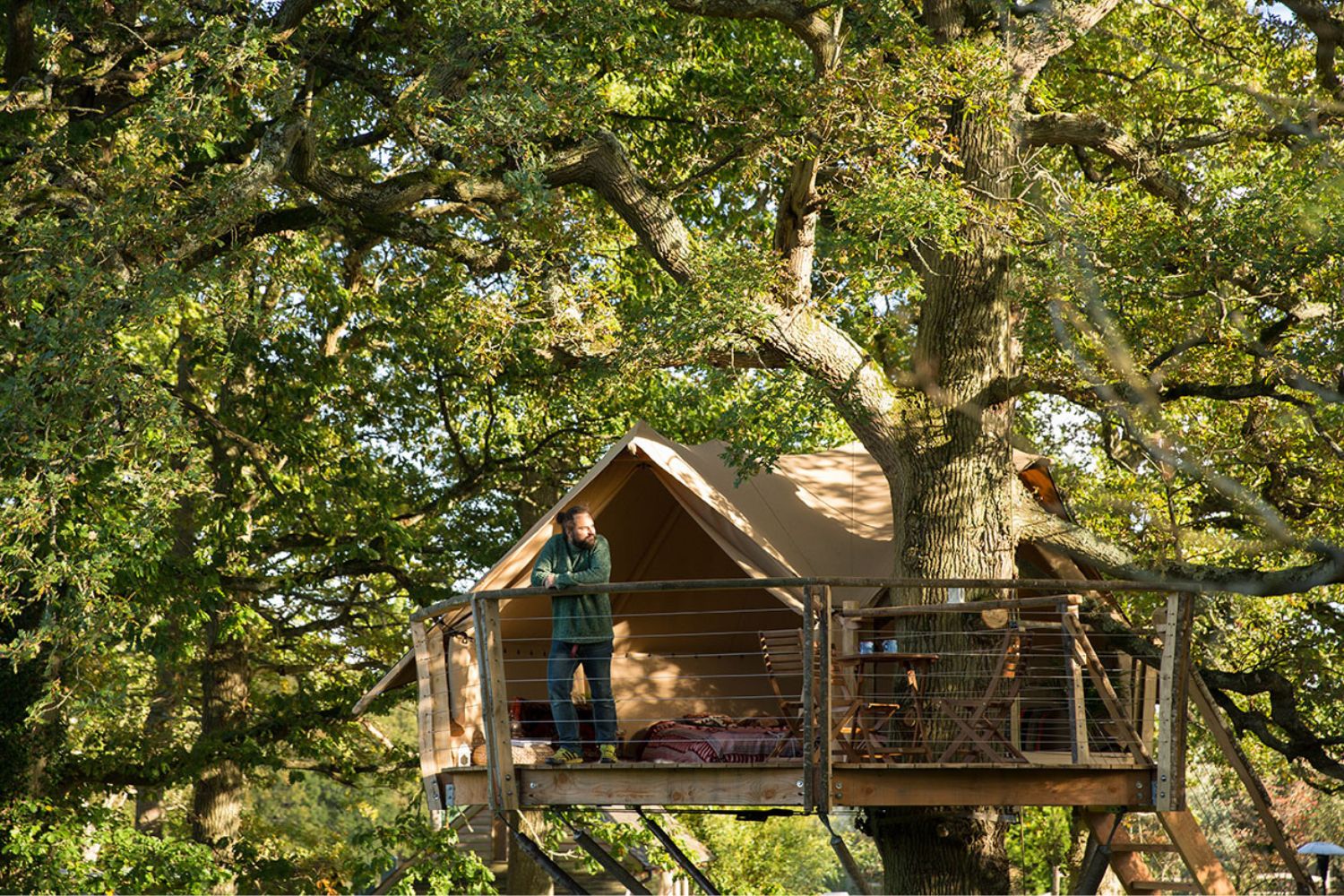 Tawny Owl Treehouse, Knepp Rewilding Project, Sussex, England
Built on the edge of an ancient woodland, this luxury treehouse offers a cosy escape within easy driving distance of London or Brighton. It's entirely off grid, with battery powered lighting, while a wood-fired stove, fuelled by sustainable wood, provides heat and boils the kettle. The treehouse also offers visitors the chance to gain an insight into one of the UK's most successful and best-known rewilding projects.

Since 2002, Charlie Burrell has worked on restoring the land of the Knepp Estate to its former, pre-agricultural state. Deer and other large herbivores roam free, beavers have been reintroduced to the rivers, and the natural un-managed vegetation has attracted dozens of bird species that had disappeared from the land. Where better to survey Britain in its original, wild state than from halfway up a tree?

Find out more and book on the Knepp Estate website.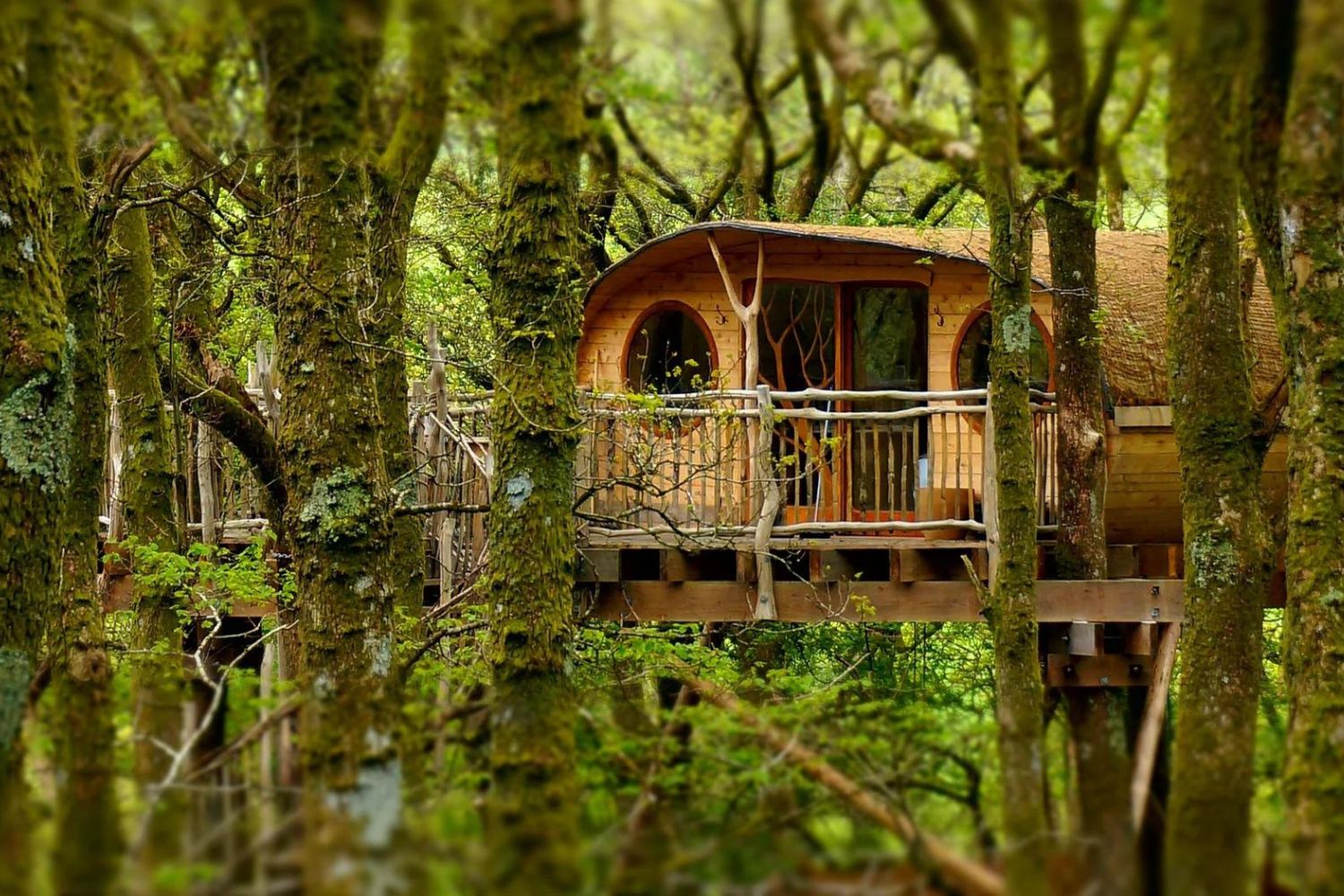 The Living Room Treehouses, Powys, Wales
There are no fewer than six luxury treehouses tucked away in this wood in Wales, each offering its own quirky design features. From Hobbit hole-style windows, to winding spiral staircases, these look like they've been lifted straight from the pages of a fairytale, but the comforts inside are real.
Each treehouse features a luxurious double bed, plus two fold out bunks for children. They're well-insulated and heated by a central wood-burning stove, which also heats the spring water-fed shower. Despite the lack of electricity (lights are battery powered) there's a full-equipped kitchen and each house has its own, en-suite Swedish-designed compost toilet. Luxury indeed!

To book and find more info, visit the Living Room website.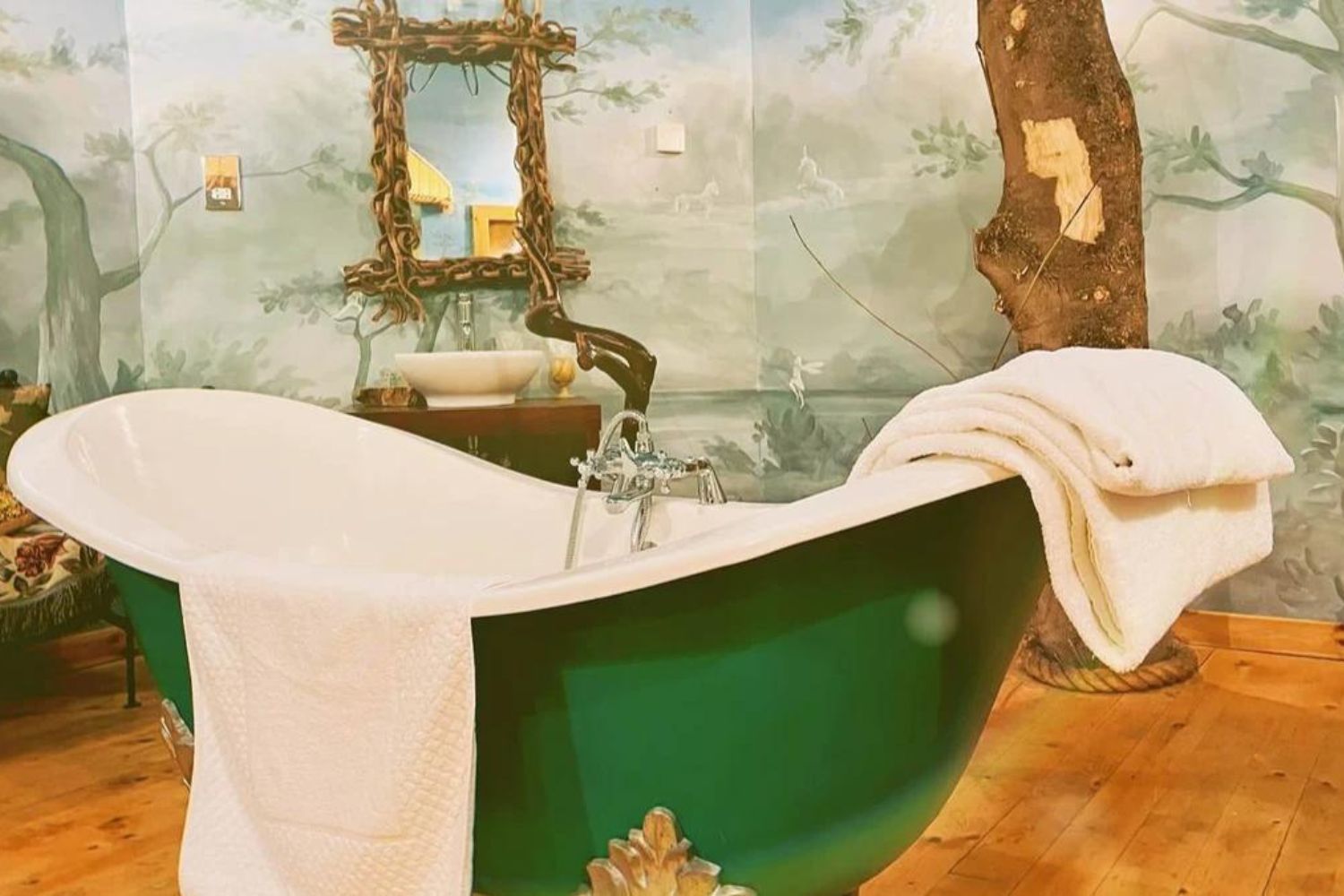 Fernie Castle Treehouse, Fife, Scotland
Built across six, high sycamores and accessed by a door that features stained glass panels, this Scottish treehouse, also known as the Deer Hunter's Lodge, offers treehouse glamping of the most glamourous kind.
The treehouse is fully wired up and plumbed in, with a large, free-standing bath tub in the bath room and a massive, king size bed made of elm wood. There's a flatscreen TV, coffee maker and even a fridge full of champagne. If luxury treehouses are your thing, the Fernie Castle Treehouse has got you covered.

Find out further details and book on the Fernie Castle website.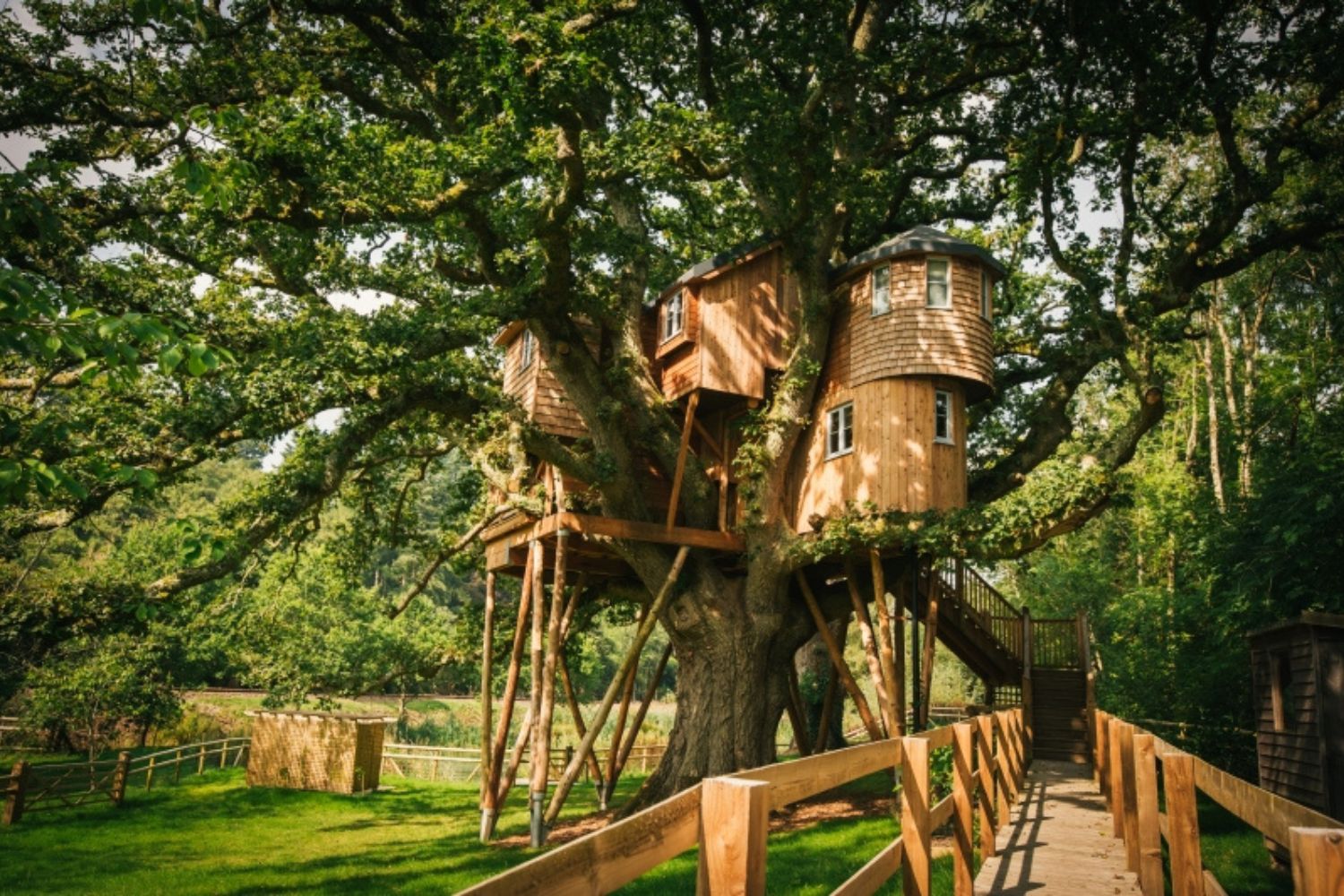 Treetops Treehouse, Devon, England
Built in the ground of the Fox and Hounds Country Hotel in Devon, this impressive structure barely looks like a treehouse at all from the inside. The rooms are massive, with space for a freestanding bath tub in the bathroom, and a king size bed in the master bedroom. Kids get their own separate bedroom, with two single beds, and the kitchen even features a dishwasher.
Outside, there's a picturesque balcony overlooking the hotel's fishing lake, and there's plenty of space to roam around the grounds. With Dartmoor just a 30-minute drive in one direction, and the stunning Devon coastline just half an hour to the north, you won't be short of options for activities. Luxury treehouse holidays plus adventure? Sounds ideal.

Find out more and book at the Fox & Hounds Hotel website.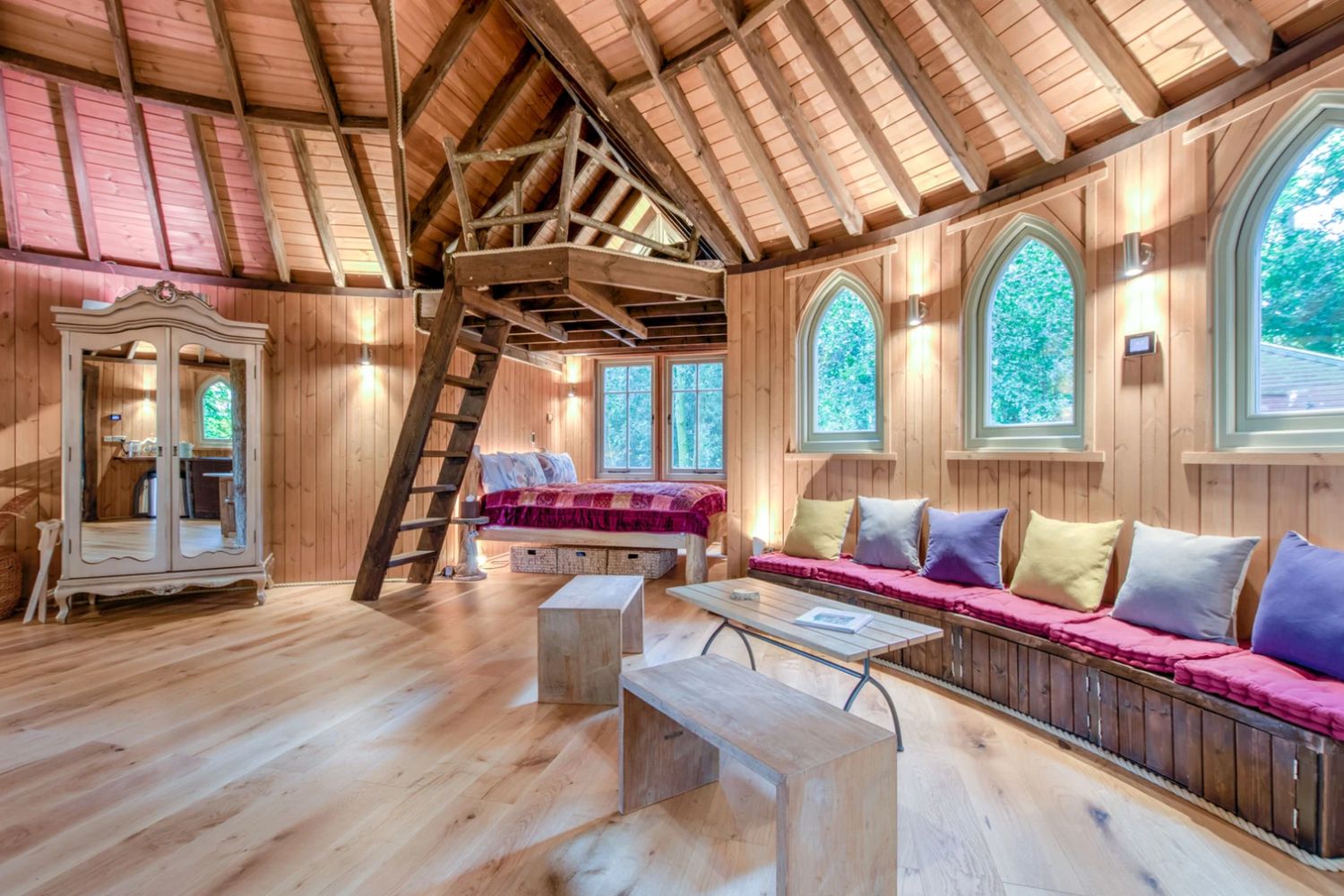 Cedar Hollow Treehouse, Oxford, England
Hidden away in Shotover Country Park, on the outskirts of Oxford, this romantic treehouse is full of features inspired by local author C.S. Lewis' Chronicles of Narnia. A wardrobe opens onto the woods outside, there are magical witch-like details, including fairy light-strewn balconies, and there are even lions—well, stone sculptures of lions anyway.
The treehouse is spacious, with a double bed plus a separate bedroom for kids, a fully-equipped kitchen, plumbed in shower and even a sauna, with a glass front looking out over the woods.

For more details and bookings visit the Cedar Hollow website.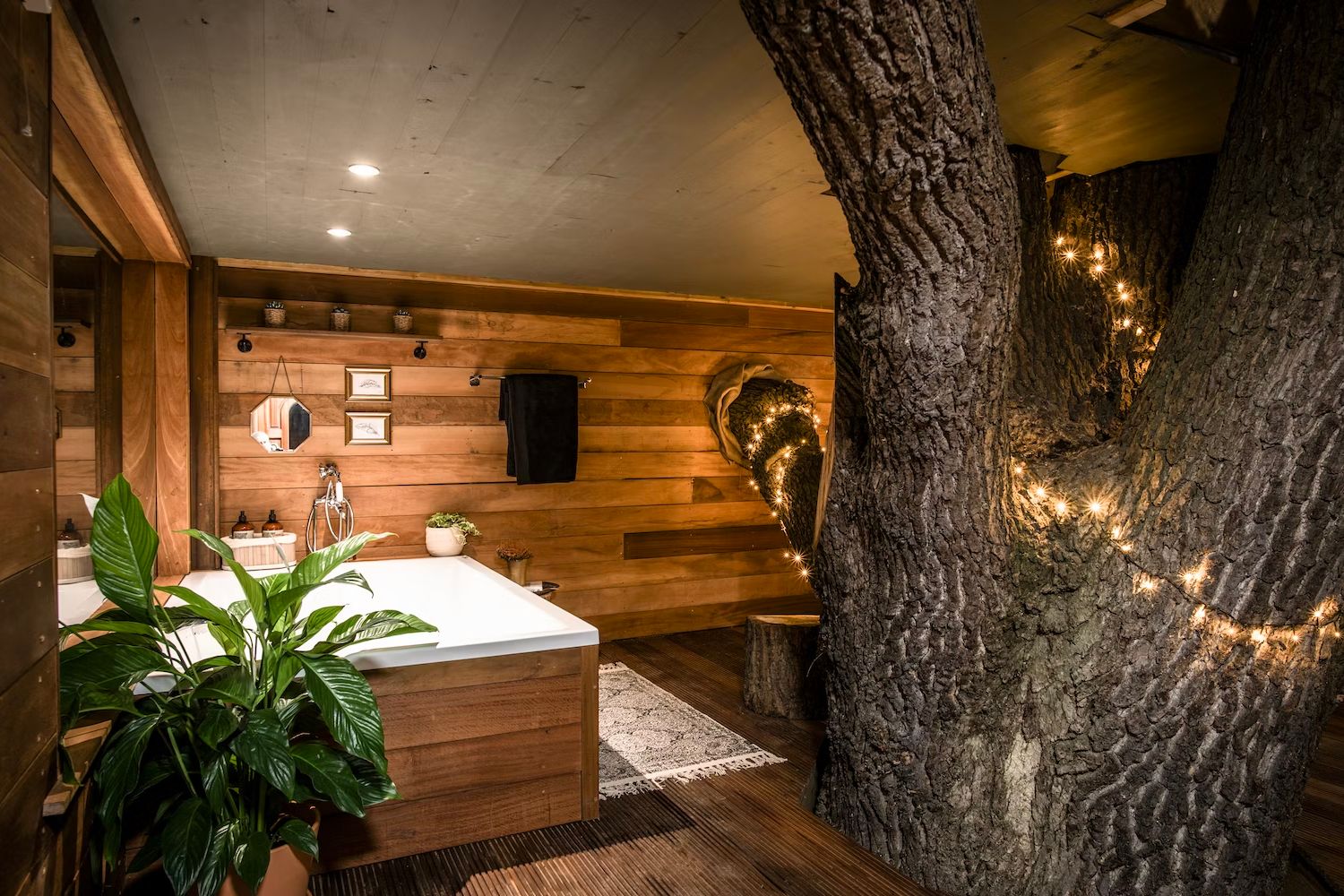 The Old Oak Treehouse, Coleman's Farm, Essex, England
This romantic treehouse getaway, built into a 500-year-old Essex oak, has branches weaving through the walls. It's an impressive two-storey structure, with large glass panels letting in loads of light downstairs, and a master bedroom big enough for a king size double bed, upstairs. Outside, hammocks hang on the balcony.
Despite the fact that you're just an hour from London, there's plenty of great walking in the area, and loads of pretty little country villages to explore. Or alternatively, you could just kick back and relax with a good book, because there's no better way to enjoy the fairytale experience of staying in a treehouse than letting your imagination wander.

Find out more and book at the Coleman's Farm website.