Moel Siabod Walk - Why Go
Most people, particularly on a first visit to Snowdonia National Park, will head straight to Mount Snowdon, and then - if they're lucky and can find a space - will park their car in the Pen y Pass Car Park and hike either the Pyg Track or the Miners Path up to its impressive 1,085-metre summit. Now there is nothing wrong with that, as both are great hikes, but with countless trails and routes zig-zagging across this beautiful wilderness, it's well worth branching out a little further.
The surrounding hills and valleys offer some great walking terrain and lovely landscapes to explore, from high ridge-walks, scrambling over rocky outcroppings and hiking through heather covered hillsides to lakeside footpaths and finding hidden waterfalls. Tackling some of the tamer peaks surrounding Snowdon is also a great idea of you are part of a mixed-ability group or like to walk with the kids. With that in mind, we'd like to tell you about one of the most amazing Snowdonia walks: Moel Siabod.
You can often stand alone on top of this fantastic mountain and look at the mass of ant-like hikers across the valley on Snowdon. Moel Siabod is a wonderful half-day walk, right in the heart of Snowdonia national park, and sees a fraction of the traffic that the better known peaks do.
Moel Siabod Walk - What to Expect
Moel Siabod (meaning 'shapely hill' in Welsh) is part of the Moelwynion mountain range, about 10km east of Snowdon. This trail will offer welcome respite from the crowds of Snowdon, but is no less impressive. One of our favourite walking routes in north Wales, the trail is a 6-mile, 4/5 hour loop which takes in all kinds of terrain from exposed rocky scrambles to forest track with lakes and quarries to spot along the way. And, of course, the icing on the cake that is the spectacular views of Snowdonia National Park from the summit.
As we said, the terrain on this trail is pretty mixed, so make sure you have some sturdy waterproof walking boots for those ubiquitous boggy sections and a decent waterproof jacket to protect against the unpredictable mountain weather.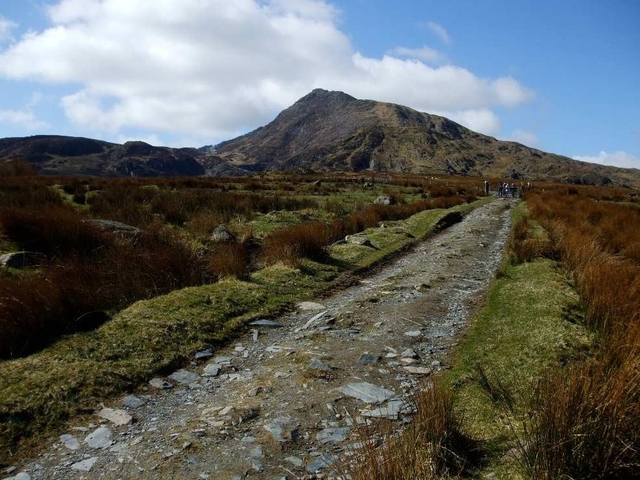 Moel Siabod Walk- The Route, Part 1
It is possible to begin a walk up Moel Siabod from Plas Y Brenin outdoor centre, but for a more varied route, we recommend kicking off from the small roadside carpark by Pont Cyfyng bridge, a mile or so south of Capel Curig on the road to Betws y Coed. Head over the bridge, and the Afon Llugwy river, and you'll find yourself walking uphill on a small road which takes you past a farmhouse.
Where the road ends, it turns into a path that leads over a stile and through a sheep field before slowly climbing up to a small lake and then a very deep, disused, quarry lake fed by small waterfalls. The footpath is a well-made stone/mud affair and on the first part of this hike the going is easy.
After hiking past a third lake, a pretty lake called Llyn y Foel with a tiny island and a lovely setting, you have a couple of route options. You can scramble up a steep unstable scree slope (keep well-spaced out if in a group) or tackle the Daear Ddu ridge.
Moel Siabod Walk - The Route, Part 2
The Daear Ddu ridge appears easy, and is if you stick left. But watch veering too far to the right, especially if you are with children. You'll quickly find yourself next to a knife edge vertical drop - it's easy to back away from but can come as a bit of a shock. 
One great thing about Daear Ddu ridge is that's it's as difficult as you make it, so mixed ability groups can all tackle this route. Once you've crossed the boggy patch to get to the start of the ridge, you can have a full-on exposed rock scramble, or not even get your hands dirty on the way to the top. Once at the summit, sit back and enjoy the view across to the Snowdon Horseshoe and beyond to the Carneddau and Glyderau mountains.
The route down is along a second ridge to the northeast, and while not particularly steep-sided, it's exposed, leaving you exposed in bad weather. You can lengthen the hike by heading north towards and through the small woods that you'll easily spot, or simply follow the ridge round to the right and retrace the early part of the hike until you're safely back to Pont Cyfyng.