GR11: Pyrenaen trail
Southern Pyrenees
Distance: 378km Time: 24 days Difficulty: Challenging
The most mountainous of all the GR trails running through Catalonia. Starting on the Mediterranean coast at the Cap de Creus lighthouse, it traverses the southern Pyrenees, finishing in the Barravés Valley to the south of Vielha in Val d'Aran. The 24 stages take in natural spaces such as Aigüestortes i Estany de Sant Maurici National Park, Alt Pirineu and Cap de Creus Natural Parks, and historical sites, such as Sant Pere de Rodes monastery.
Best for: lovers of high mountain scenery.
GR1: Transversal trail
Pre-Pyrenees
Distance: 355km Time: 25 days Difficulty: Strenuous
The GR1 starts at the Greek and Roman ruins of Empúries in the Gulf of Roses on the Mediterranean, and crosses to Finisterre on the Atlantic side. The Catalan stretch, divided into 25 stages, goes up to Pont de Montanyana, where it passes into Aragón. The trail goes through towns of major historical importance such as Besalú and Ripoll, with their fine examples of Romanesque architecture. The final stretch takes in a bridle path carved out of solid rock.
Best for: history buffs.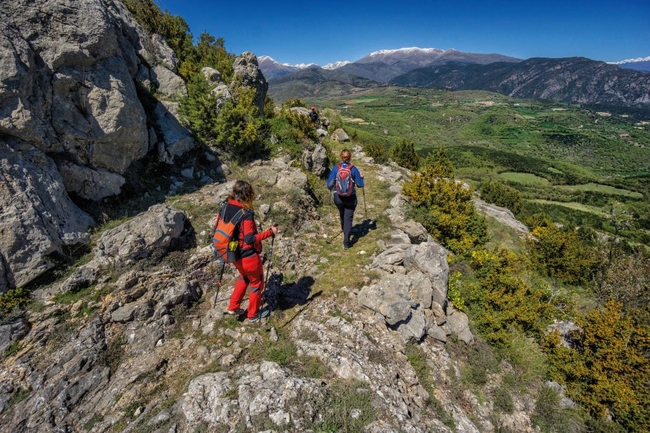 GR99: Ebro Path
Ebre River
Distance: 165km Time: 7 days Difficulty: moderate
The Catalan section of the Ebre Nature Trail crosses areas of natural interest such as the Delta de l'Ebre natural Park, one of the most important bird reserves in Europe, declared a UNESCO Biosphere Reserve in 2013. Hikers will also experience the history, culture and local cuisine of towns like Miravet, with its Knights Templar castle and pottery neighborhoods and Tortosa, where the Iberians, Romans, Arabs, Jews and Christians left their mark.
Best for: bird watchers and wildlife lovers.
GR 92 Catalonia with sea views
Costa Brava/Baix Ebre
GR 92 is also known as the Camí de Ronda (Round Trail). Typical of the Catalan coast, it is a magnificent way to discover small coves, vertiginous cliffs, charming beaches and other destinations not easily accessed by car. Two stretches of this multi-stage trail are highlighted in the walks opposite.
Best for: coastal walkers.
Camí de Ronda Costa Brava
Distance: 43km Time: 2 days Difficulty: Moderate
A shortish coastal stretch of the GR92, especially designed for experienced hikers, who have two days available. It can be made during a weekend or on selected dates. The route, which begins in St. Feliu de Guíxols and ends in Begur, is impressive since it goes through the best beaches and coves of the Costa Brava, and part of the route is along a narrow path that winds between cliffs, crystalline creeks and sandy beaches of thick grain.. On the first day, it is advisable to stop at Cala del Pi and the second day in the area of Cap de Planes, el Crit or Aiguablava.
Best for: beach lovers
Camí de Ronda Ametlla de Mar
Distance: 16km Time: 1 day Difficulty: Modest
This very beautiful stretch of the coastal GR92 lies north of the Ebre delta and goes from L'Ametlla de Mar to L'Ampolla. It allows you to enjoy a dip in the crystal-clear water, weather permitting, of course. This where the GR92 gets fully 'Mediterranean', in its itinerary for coves and cliffs, with gentle slopes on the waterfront You can also add on an extra excursion along the platja de la Marquesa to the lighthouse at Punta del Fangar – especially serene at sunset!
Best for: coastal romantics.
Visit catalunya.com for more information.