There's hard-core, back-to-nature camping and then there's glamping – a gentle way to put some of life's luxuries back into the great outdoors, without taking away all the adventure.
Glamping combines the best of both worlds – exciting outdoor activities such as wildlife watching, hiking, paddling and cycling, with the calm luxury of a comfortable bed in well appointed, pre-pitched platform tents or teepees and yurts, and often includes catering and guiding services.
It's the perfect way to experience nature – especially in spring and autumn when a sleeping bag and a roll-mat may not be quite enough. Here are eight of the best glamping experiences Ontario has to offer.
Bartlett Lodge 'Tent and Breakfast', Algonquin Park
Bartlett Lodge is reviving old-time Algonquin Park accommodation for those looking for a camping experience with a difference. A Tent and Breakfast Stay includes a night in a kingsize bed in one of its new resort platform tents. Complete towel and bedding service is included. The crowning touch is a deluxe breakfast in the Lodge Dining Room. Open May to October.
Price: from $225 pp, per night.
Glamping in the Canadian Boreal Forest with Wild Exodus, Timmins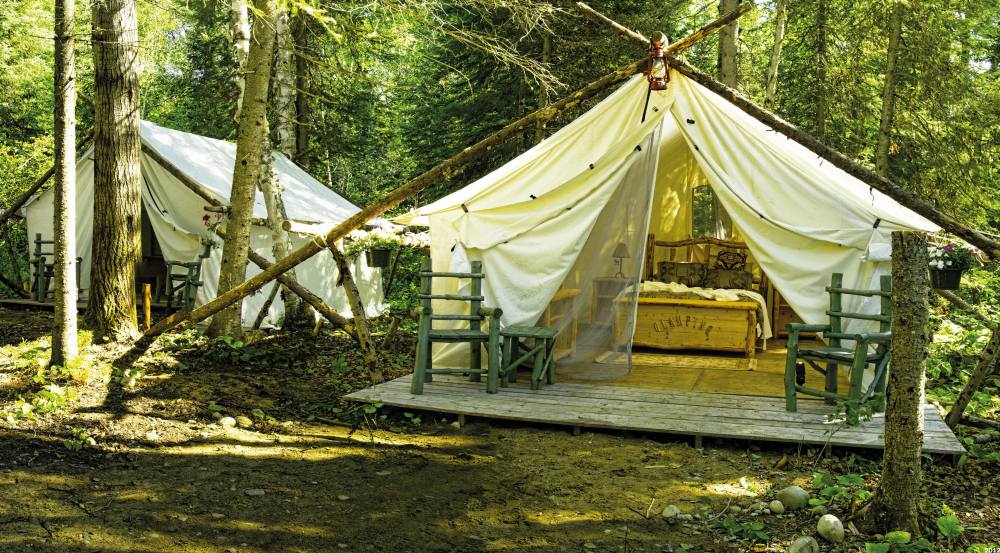 Experience all-inclusive luxury camping and adventure in Canada's boreal forest besides beautiful Kenogamissi lake. Hike with a trapper, float down ancient canoe routes, and enjoy excellent meals and comfortable sleeping accommodation while learning about the boreal forest, its evolution and man's impact on it. A true glamping experience.
Price: from $190 per night
Whispering Springs Tent Camp and Nature Spa
Sitting deep in the rolling hills of Shelter Valley, just 1.5 hours east of Toronto, Whispering Springs offers the charm and comfort of a boutique hotel nestled within 200 acres of Canadian wilderness. The elegant safari tents, with en-suite bathrooms, allow you to connect with nature without compromising comfort or convenience. Open May to October.
Price: from $295 per night (sleeps two).
Nature's Harmony, Mattawa Voyageur Country
This unique glamping site offers a fully-furnished traditional Mongolian Yurt in its own secluded wilderness setting with a private view of the Laurentian Mountains. The yurt is equipped with a small woodstove, double bed and futon. The site also has a large deck with a BBQ. The outdoor ecoshowers are located close to the main lodge. Open year-round.
Price: $85 per night based on double occupancy
Nature Retreat, Northern Edge Algonquin, South River
A sanctuary from technology and mobile phones, Northern Edge Algonquin Retreat & Awareness Centre offers adventure and rejuvenation. Nestled on a hillside surrounded by lush greenery, these wood and canvas structures – complete with feather duvets – offer a chance to sleep in the fresh forest air as well as guided nature experiences. Available May to September.
Price: on request.
Harmony Outdoor Inn, Parry Sound
Escape to this unique waterfront resort which offers luxury glamping tents in a secluded woodland setting. Each morning, wake up to a blissful session of sunrise yoga on the beachfront deck. Learn to kayak or stand-up paddle boarding from the dock, or swing in the shade of the trees in a waterfront hammock. Explore the amazing Georgian Bay UNESCO World Biosphere Reserve.
Price: from $165 per night.
Teepee Glamping - Spirit Island Adventures, Manitoulin Island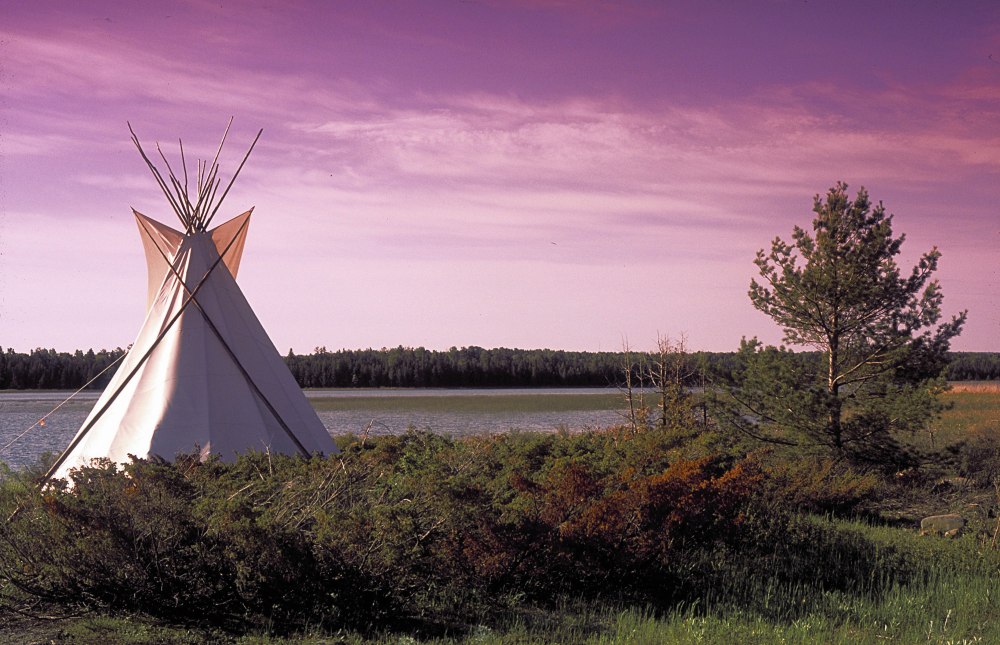 Nestled amongst jack-pine and spruce, enjoy comfort and hospitality that reaches back centuries as you explore the rich culture and natural wonders of the Ojibwe, Odawa, and Pottawatomi peoples. Premium Teepee sites are outfitted with apple strip wood flooring, twin or king beds with plush duvets and bedding, buffalo hides and furs for a memorable experience.
Price: from $155 a night (double occupancy).
Wilderness Suites Luxury Glamping at Long Point Eco Adventures
Wilderness Suites is the perfect basecamp to explore the Long Point UNESCO World Biosphere Reserve. Tastefully furnished to create an authentic atmosphere, the decor matches with local tastes and history. Overlooking the amazing vista of Long Point Bay, you can also go ziplining, mountain biking and star gazing. Open May to end of October.
Price: from $195 a night.