If you travel a lot you've probably gone through the pains of buying cheap suitcases only for the wheels to fall off after a few trips, so good quality luggage is probably a vital component of your kit list. And the ORV Wheeled Duffel from Eagle Creek is reassuringly solid and burly all over.
Construction is a mixture of serious sounding stuff like 'Bi-Tech Heather', 'Helix Poly Twill' and 'Bi-Tech Armour'. All well and good but if it doesn't produce the goods in the corridors of the world's airports then no fancy names will make us pay the asking price.
In practice, the 1000D main fabric is as thick and tough as you could wish for. This fabric is then reinforced in vulnerable high wear areas. Big chunks of rubber in the corners and sections of cushioning on the front of the Wheeled Duffel provide highly effective protection for the contents inside. All the zips have chunky pullers and glide effortlessly, stitching is also impeccable in this and all other areas of the case.
Storage is excellent, we particularly like the internal laptop and tablet sleeves that are conveniently placed on the inside of the lid. These allow for quick and easy extraction in rushed airport security queues, the sleeves are easily accessible through the main compartments two-way zip, even with the case standing up. The main compartment is otherwise uneventful, with 32 litres of storage space and a couple of small mesh organisation pockets down one side.
On the outside you get two zipped pockets for quick and easy access to keys, wallets, passports etc. The lower pocket is big enough for a few items of dirty clothes if you don't have any other way of separating them and the top pocket has a zipped mesh compartment with key clip and other small organisation pockets. As a neat additional touch Eagle Creek have incorporated an elasticated strap into the top of the case so you can quickly lash your coat to it when you start to boil up in the airport.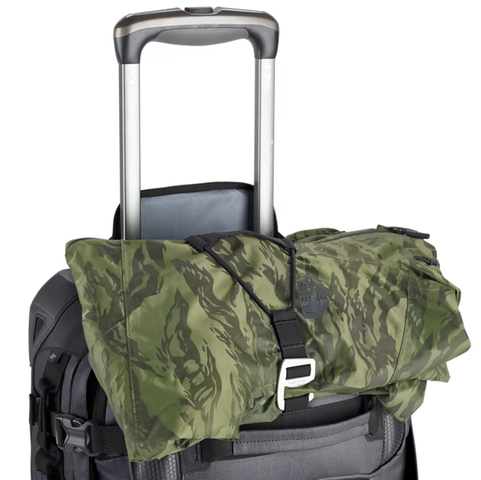 There's a distinctly solid feel to the extending handle, which is long and therefore great for taller people. It doesn't always lock in place in the intermediate position if you whip the handle up quickly, but this is a minor gripe. Although the wheels are excellent off-road efforts there will be times when you need to carry the case, and for this there are no less than five grab handles - one on the top, one on either side and two on the front.
Finally, although expensive the ORV Wheeled Duffel is covered by Eagle Creek's lifetime 'No Matter What' warranty. Eagle Creek will repair or replace your bag free of charge should any damage occur to it - regardless of reason, this clearly adds a lot to the value proposition and demonstrates Eagle Creek's commitment to top notch build quality.
If you want an international carry-on sized wheeled case that will last and is every bit the weekend warrior then the ORV Wheeled Duffel is a great option.