What makes a great camera bag is often a matter of taste and personal preference, but it's almost universally accepted that a small but robust sling bag is an indispensable piece of kit for the keen adventure photographer. 
Classic small camera sling bags are designed to carry a camera with a lens attached and a few choice accessories. But what happens when you want to take an additional lens with you?
This is where the likes of the Gomatic McKinnon Camera Sling 8L bag come in. This is the sort of bag that you grab for a family day out, a walk in the countryside, an urban architecture shoot, or of course to capture your travels. It's reasonably small but features a semi-hardshell design that protects your camera better than the usual padded fabric you might find on other small sling bags. This makes it feel very protective, the trade-off is that it's a little more cumbersome to carry as a result. 
Having said that, the design of the Gomatic McKinnon Camera Sling 8L is impeccable, as you might expect from a Peter Mckinnon collab. The outer zip is incredibly tough but glides smoothly to reveal a clamshell-like opening. Inside the bag, you will find space for a modern mirrorless or small DSLR and extra lens, as well as compartments for batteries, filters, SD cards, and keys. You're provided with two velcro equipped dividers that can be organised in a way that suits your needs. In addition to the main compartment, you can use the space at the other side of the opening to stash small and narrow things like additional filters and straps.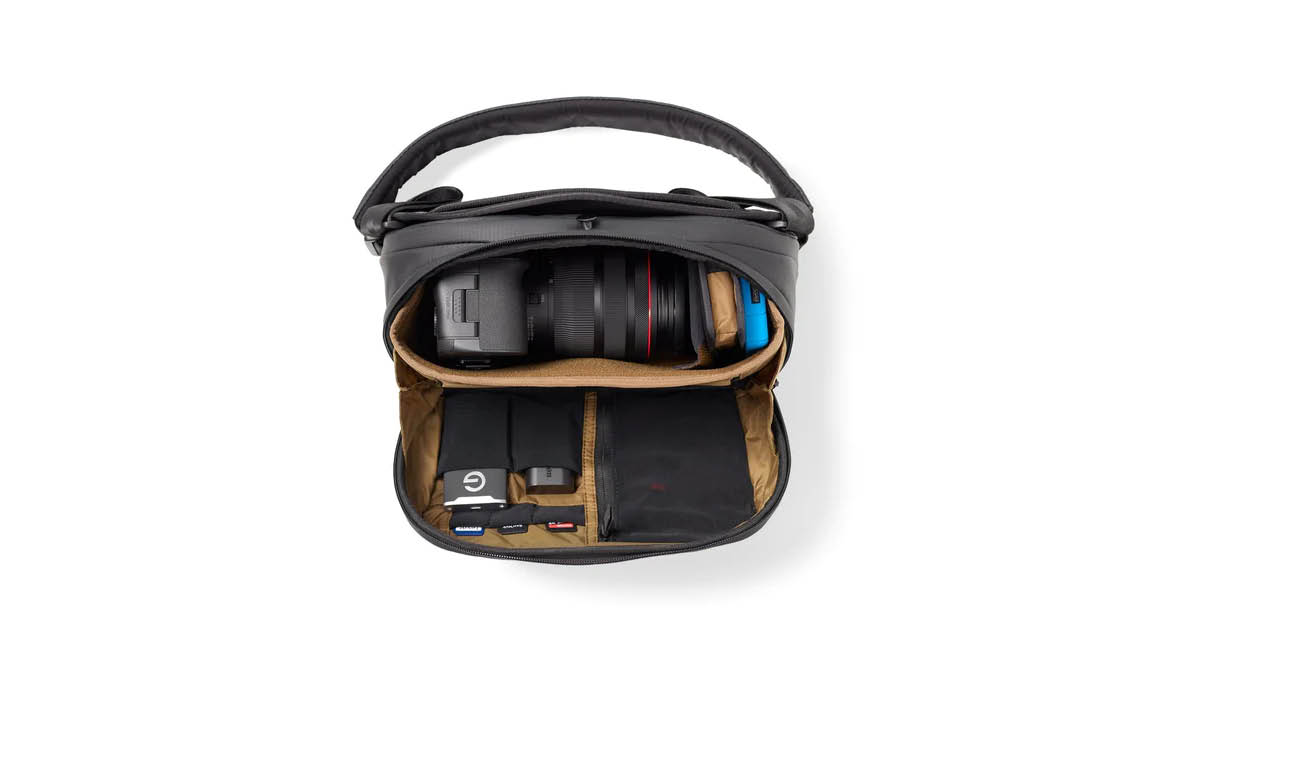 Given the number of times I have been too lazy/busy to close the zip of my camera bag, I absolutely love that Gomatic have included a hook and loop on either side of the opening. With the zip open, you can very quickly loop the elasticated string over the hook to temporarily hold the bag closed, keeping the contents secure.
A smooth fleece material lines the bag, not only protecting your kit from scratches but giving the Gomatic Sling Bag a premium feel.
The adjustable carrying strap makes the bag easy to lug around and there's an EVA foam back panel for added comfort and ventilation. Although a sling bag doesn't really need these extra touches they are certainly nice to have.
The luggage pass-through strap doubles as a quick grab handle, and if you want to carry extra kit around there's even an external strapping system for attaching a tripod or jacket to the bottom of the bag.
The final icing on the cake of this fantastic, and practical sling bag is that it fits perfectly inside the McKinnon Camera Bag 35L, that's next on the list then.
READ NEXT: The Best Travel Photography Kit