Coleman's Octagon Blackout 8 is a curious tent, blending some of the benefits of a bell tent, event shelter, and normal family/couple's tent. There's no denying this is an appealing mix straight off the bat. It has a certain glamping vibe that feels more fun than your average tent.
If you have experience pitching one of Coleman's event shelters, the Octagon 8 follows a similar format. However, in this case, there is a lot of putting together of pieces to do, being an octagon tent with eight sides to support.
The main poles come in a series of shock-corded sections. The top sections meet at an 8-way pole retainer sitting at the centre top of the tent. They then clip into retaining sleeves at the eaves. The remaining poles create the side walls, slip into the same sleeves as the roof section at the top, and sit over metal pins at the bottom. In addition to the main structure, the Octagon 8 features a hinged door and a small porch above the door. These both require further shock-corded poles. Once the main structure is up, you have the job of squaring up the Octagon and setting the guylines. This is all a bit of a faff although the colour-coded sleeves make pitching intuitive.
Despite being marketed as an 8-person tent, we feel that the Octagon is more of a bijou couples' tent. It's the perfect size and shape to fit a luxurious double bed and choice pieces of furniture. In this configuration, the Octagon 8 feels every bit as glamptastic as it's trying to be.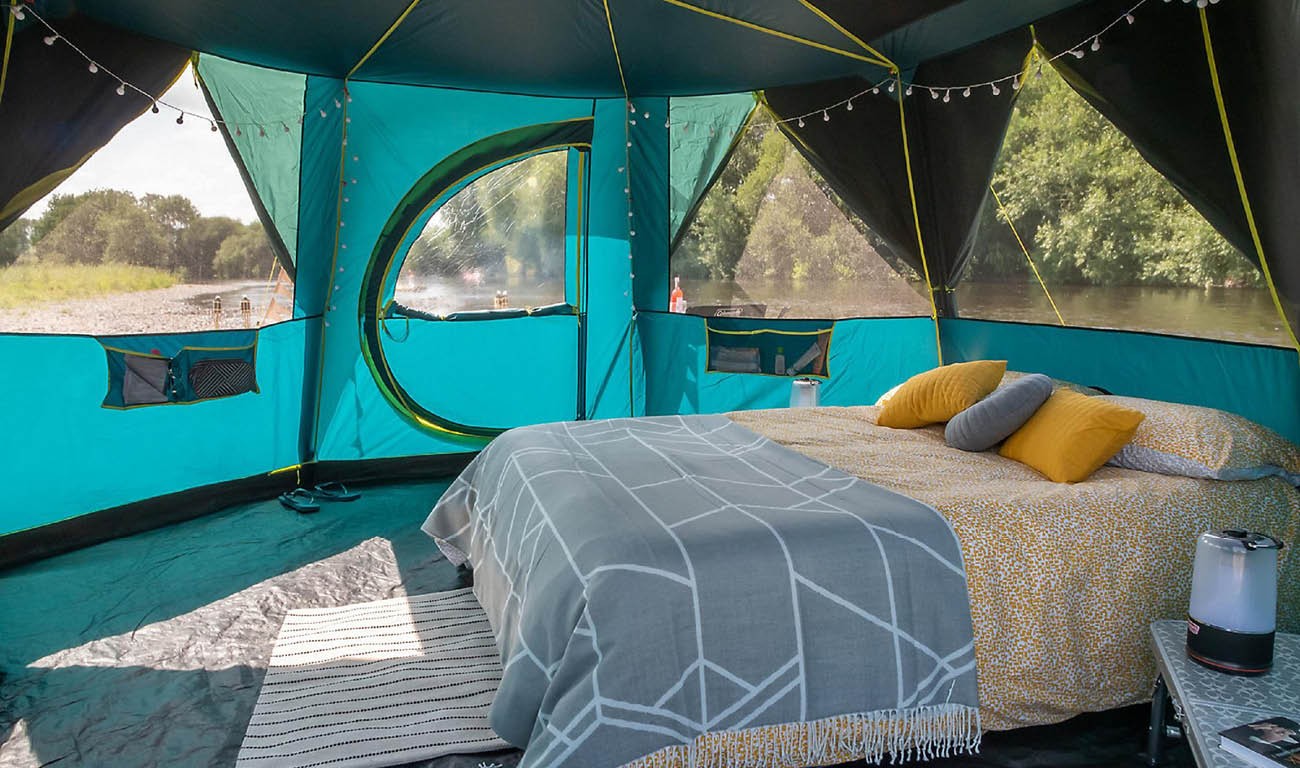 Ultrafine bug mesh covers the entire upper half of the Octagon 8 tent, allowing 360-degree views. The exterior curtains can be pinned open, or the flysheet can be completely removed to enjoy the views, although we would caution against this in the British climate! When the rain starts, or at night time, the curtains zip closed from the outside, weatherproofing the Octagon 8 with a 4500 mm hydrostatic head and taped seams.
Inside, the space is open and very airy with the curtains open. With the tent fully shut blackout really does mean blackout. You will need the lantern hanging hook and a nice bright lantern to see. Luckily there is a small window within the hinged door to let a little natural light in.
Much like Coleman's event shelters, the Octagon 8 packs down long and thin into an 85 x 30 x 30 cm wheeled bag. Unsurprisingly, considering the sheer quantity of poles, the Octagon weighs a shade under 30 kg so you'll need those wheels to lug it around.
Overall, this is the kind of tent that you want to sleep in. It's much more fun than your average family or couples' tent and it also has versatility as a garden shelter.