If you like the sense of freedom and connection that comes with a trail shoe but are looking for an altogether more durable and protective package then you need to take a look at the new Salomon Outpath Pro GTX.
Moving 'fast and light' in the hills is definitely the way forward but freedom of movement can have its downsides. If you're prone to ankle rolls for example then stripped down, uber-lightweight trail shoes can leave you feeling pretty vulnerable in uneven terrain. They also have a habit of wearing out faster than Kilian Jornet which can be pretty disappointing if you've spanked a fair whack of cash on a top-of-the-range shoe.
Weighing in at just 390g, the Outpath Pro GTX may feel as light as a running shoe but it has clearly been built to withstand and endure the demands of the trail. The mid-cut profile offers a level of ankle stability and protection that trail shoes just aren't able to deliver and the full bootie construction really does keep your feet dry when tramping through bogs and muddy terrain.
The Outpath Pro GTX has been constructed to keep you moving efficiently along the trail and to keep the trail where it belongs - on the outside of your shoe. The gusseted tongue stops grit and gravel from getting inside and the protective heel and toe caps, GORE-TEX waterproof protection, and abrasion resistant lining all combine to make this a tough trail contender.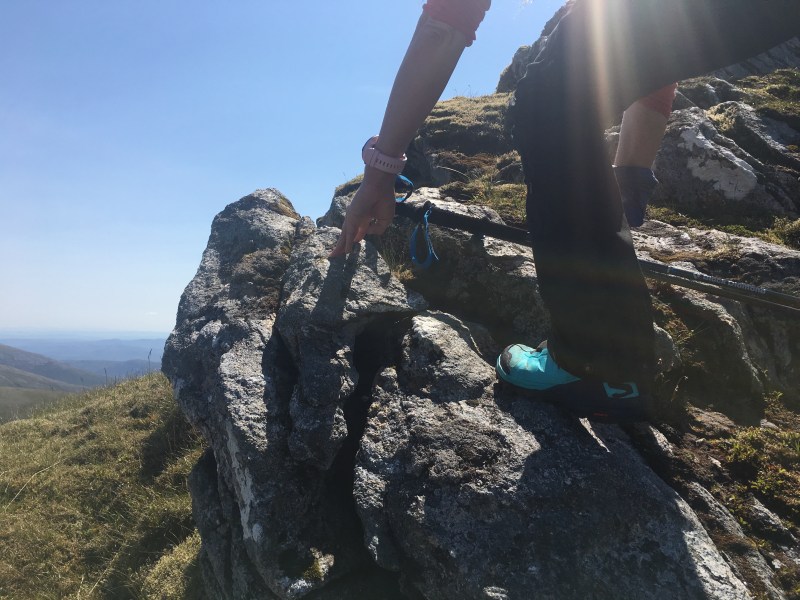 Despite all this, the on-trail feel of the Outpath Pro GTX is still very much that of a hiking shoe and whilst the EVA shaped footbed does offer a decent level of cushioning underfoot, you still feel very connected to the trail due to the flexibility of the shoe.
Freedom of movement is all well and good but you need to feel secure. Salomon claim the Outpath Pro GTX to have a 'precise forefoot fit' but we found them to be a little too sloppy around the toe box for our narrow low profile feet which made them feel a little less accurate in steeper, technical terrain.