Scarpa's Terra GTX walking boots are designed to provide comfort right out of the box. This means they're softer than most Scarpa boots, more keenly priced, at £185, but no less well-built. These lightweight walking boots provide ample support for those sticking to gentle paths and trails, and paired with a good daysack for hiking will see you well prepared for many a happy ramble. 
Scarpa Terra GTX Walking Boots Review: TL/DR Verdict Summary
If you want Scarpa's legendary build quality and walking boot heritage, but you're a recreational, rather than hardcore walker then these boots are the right choice for you. There aren't many competitors to the classically brown leather-clad but easy going Terra, and in fact, most come from Scarpa themselves, but look towards Berghaus' Hillwalker II, Meindl Peru, or the Altberg Fremington for viable alternatives.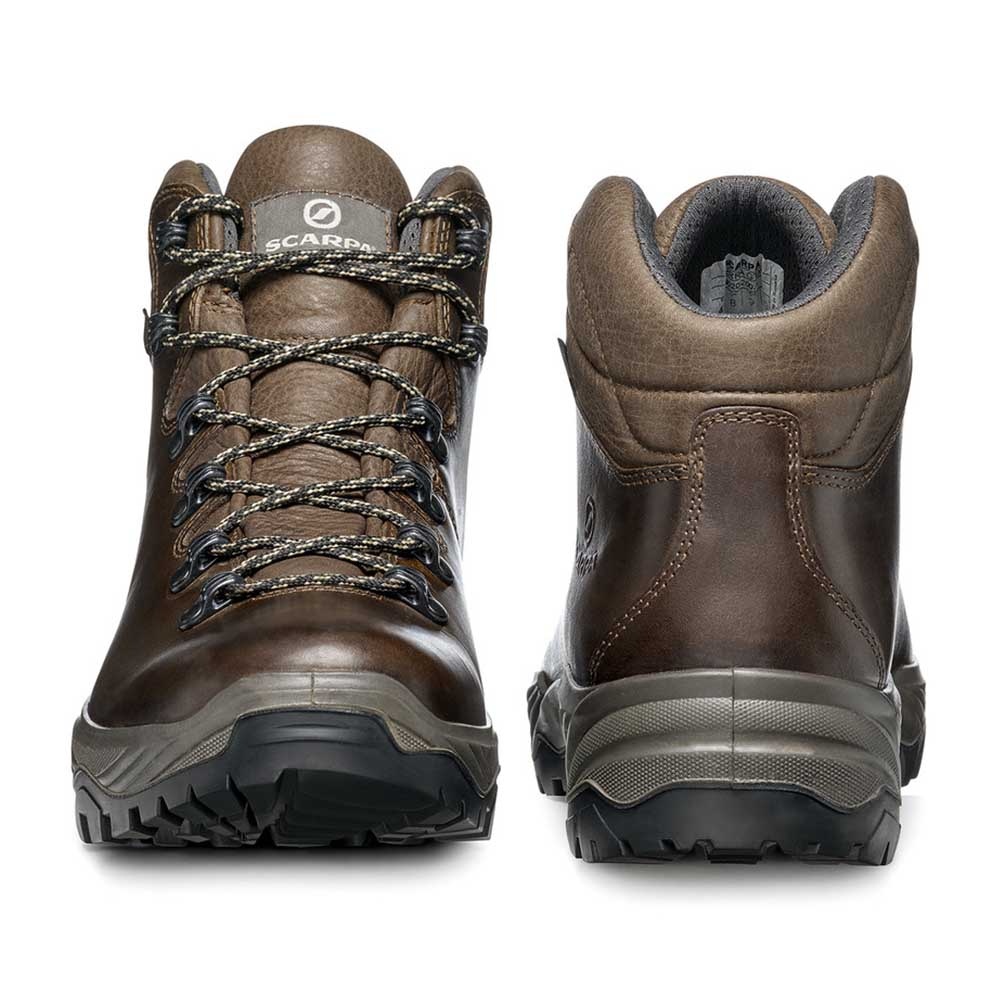 Scarpa Terra GTX Walking Boots Review: Key features
As with much of Scarpa's footwear, the Terra GTX boots use premium materials. This includes a hardy 2mm leather upper, a grippy Vibram Energy II sole, and a reliably waterproof and breathable Gore-Tex liner. Scarpa have designed this on a reasonably roomy last, with plenty of space in the toe box and enough width for the average British foot.
Scarpa Terra GTX Walking Boots Review: Performance and comfort 
This best-selling model has been in Scarpa's range for around 10 years, with an update back in 2019. It features a spacious fit (for Scarpa boots anyway) with plenty of wiggle room around the toes, giving a natural splay. Despite a generous fit that suits British feet, the design of the last is such that your feet are still held firmly in place. 
The back of the boot contours around the foot and comfortably clamps the heel in place to ensure that you don't develop blisters from constant rubbing. As you would rightly expect from premium boot makers, the material inside is well thought out to ensure there are no uncomfortable areas. 
This pairs excellently with the design of the leather upper, which flexes naturally with the foot to create a slipper-like feel. Substantial cushioning around the ankle and tongue keeps your feet feeling well-cosseted all day, altogether making for a nice alternative to stiff walking boots.
Although the midsole is crafted for comfort, it feels a little too soft for our taste. It was stiffened at the last update but we feel it could benefit from being stiffened up a tad more to offer more all-terrain versatility. As it stands, the midsole is perfectly adequate for well-maintained tarmac, gravel paths, and grassy trails, where you can chuck these boots on, safe in the knowledge that your feet won't get sore from wearing them.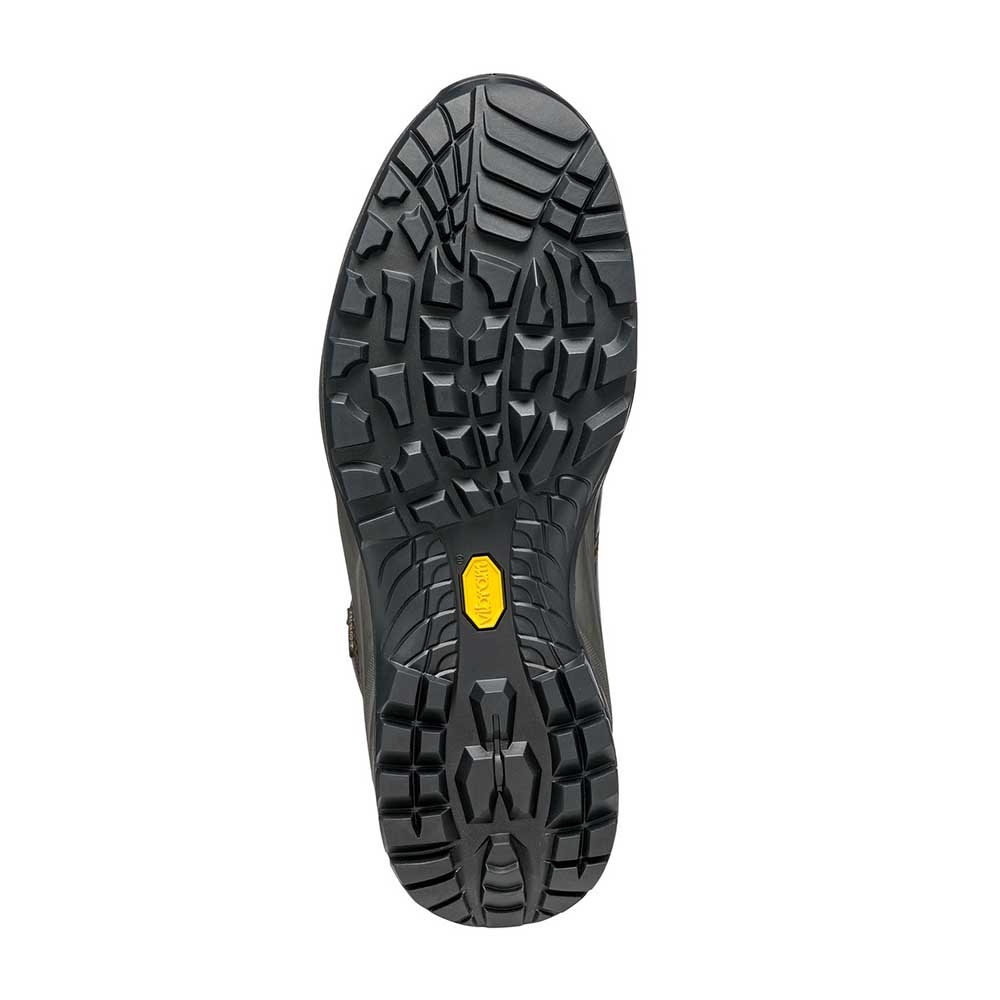 The Vibram Energy II outsole is optimised for use on these surfaces, although it doesn't offer full 'off-road' capability there's enough mud-shedding lug depth for the odd soggy winter walk. The grip on surfaces the Terra GTX will typically encounter is class-leading and the rubber is relatively long-lasting.
Incorporating a Gore-Tex lining the Terra GTX walking boots are reliably waterproof. This is helped by an element of natural waterproofing from the leather upper, and it's worth keeping the leather in good condition with specialist cleaning products to ensure this continues. The Gore-Tex lining is relatively breathable, which is welcome on hot walks, but opt for a non-lined walking boot if your walking is mainly done in dry, hot climates.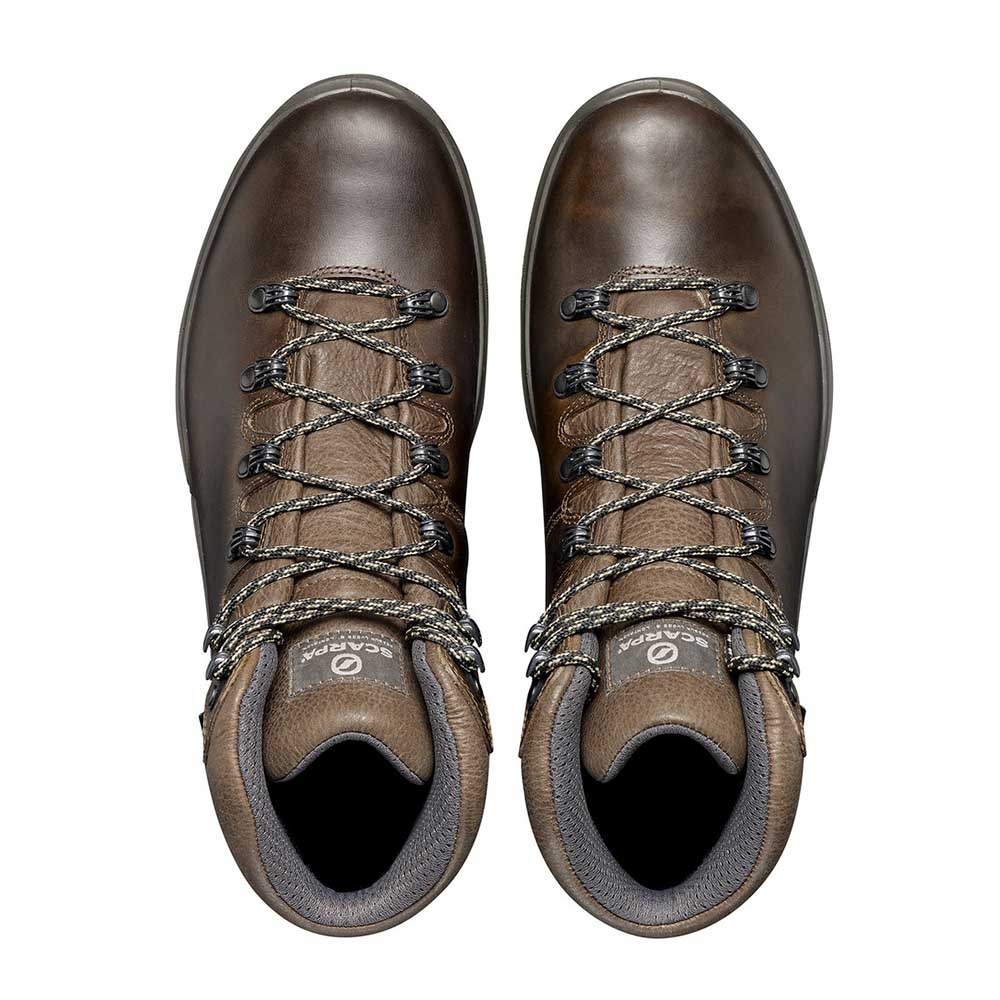 Scarpa Terra GTX Walking Boots Review: Durability and long-term reliability 
The overall durability of the Terra GTX boots is excellent considering the intended use. The front doesn't feature the usual chunky rubber rand, but this only serves to defend boots and toes against large rocks anyway, and you're unlikely to find these on your average towpath. 
Excellent quality stitching is used throughout and things like lacing eyelets are solid and secure. Crafted from 2mm leather, the upper resists light abrasion and scuffs from undergrowth and we couldn't find any reports of the upper prematurely coming away from the sole unit. 
The Terra GTX can not be resoled, but the impact of gentle countryside walks is lower than that of hill and mountain walking so they should still prove to be long-lasting and durable boots.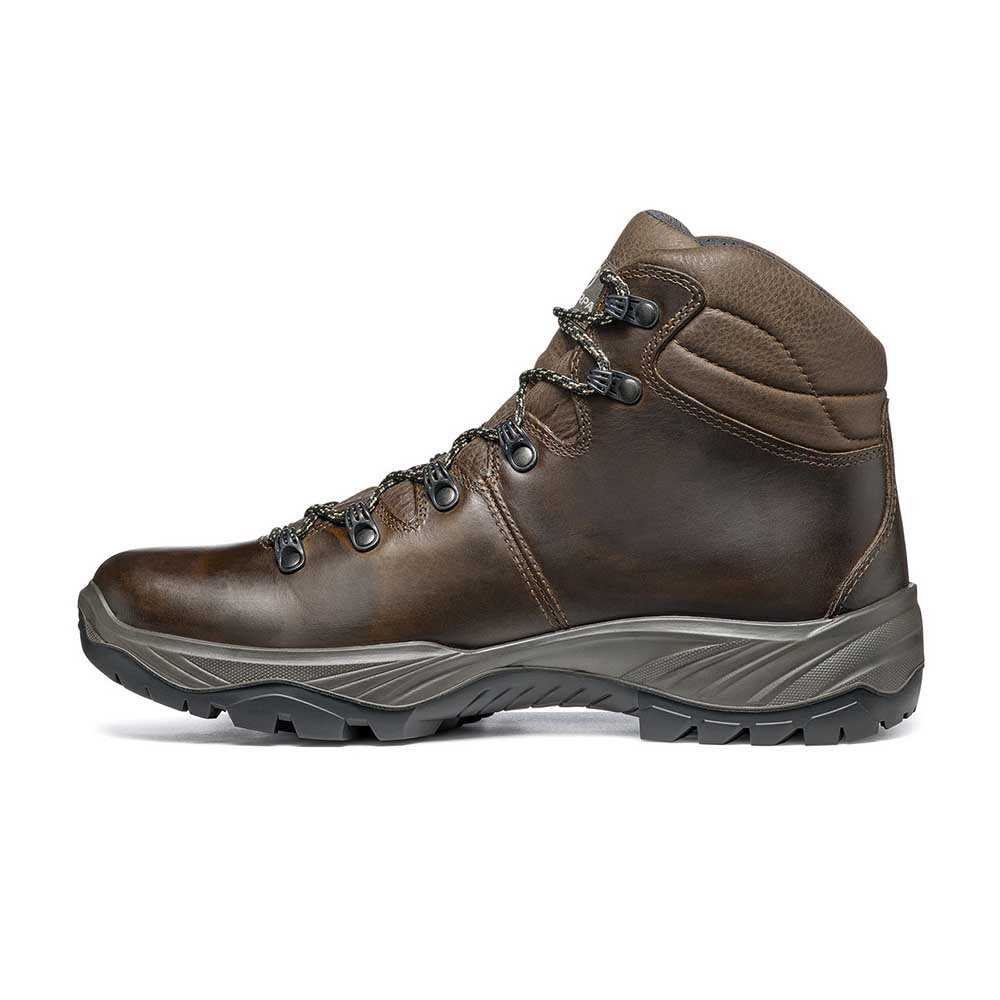 Scarpa Terra GTX Walking Boots Review: Conclusion
We can see why the Scarpa Terra GTX Walking Boots are some of Scarpa's bestselling boots, they're lovely in most regards for general walking duties provided you don't push them too hard. They also sit at a favourable price point compared to competing leather boots on the market, and with Scarpa heritage and build quality behind them that makes them a bargain.
We found the Terra GTX boots comfortable to walk in straight out of the box. There's no denying that they're quite soft, both in the upper and sole, which is very flexible in all directions, but the boot is still stable and responsive when you're hiking on paths and trails that the Terra GTX was primarily designed for. 
There's a bit more trail feel through the soles than we would like, which does eventually become tiresome over long distances, but you can partially combat this issue by using thicker insoles. On short walks, the trail feel isn't an issue and makes you feel a little more connected to the ground beneath you.
Heavy cushioning around the ankle and tongue really adds to the feeling of comfort and the inners of the boots feel as comfortable as your favourite slippers (well, almost). We don't have any complaints about rubbing or blisters yet over mostly short (8 miles and under) walks.
The walking platform beneath you is neutral and stable so feels very natural and easy going and the weight, at 1230g, is pretty good considering the build quality and materials used.
We would recommend the Terra GTX walking boots for those that love getting outdoors, perhaps to tackle Snowdonia National Park's best walks, but have no inclination to climb a mountain.
Buy Scarpa Terra GTX boots: From £154.88 at Amazon.co.uk
READ NEXT: Best Lightweight Walking Boots