Different spokes
Mountain biking incorporates various disciplines:
Cross-country (XC) – a trail that usually runs through forest or more exposed grassland, often including singletrack (narrow trail)
Downhill (DH) – fast, technical, steep trails, usually with a specialist bike
Freeride – specialist park with jumps, drop-offs, berms (see Trail talk below) or just riding the terrain around you

Mountain biking has been an Olympic sport since Atlanta, 1996, and continues to grow in popularity…
Cross-country is the Olympic discipline, with men racing 40–50km (six to seven laps) and women 30–40km (five to six laps)

The course is designed to take approximately 2hrs, 15mins for men and 2hrs for women

London 2012 will see riders heading to Hadleigh Farm, Essex, a 550-acre site with the backdrop of the ruins of 700-year-old Hadleigh Castle. A technical course with hilly terrain and challenging gradients
Trail talk
Berm: banked corner
Boulder/rock garden: trail section that is covered in rocks
Camel bumps/double: two consecutive jumps with gap in between
Drop-off: steep (often vertical) and sudden drop in the trail
Full suss: bike with front and rear suspensions
Gnarly: rough, dangerous, often steep, section of trail
Granny gear: the lowest gear, used for steep climbs
Hard tail: bike with front suspension and rigid frame at rear
MTB: mountain biking
North shore/timber trail: wooden, raised section of trail
Pearler: a particularly big 'stack'
Stack: crash
Tabletop: plateau with ramp on either side
Whoops: series of small jumps
Continued...
---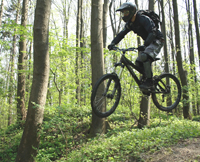 Grade Expectations
Mountain bike trails are colour-graded in a similar way to ski runs:
Green (easy): length,
Blue (moderate): length, 10–20km; shallow/moderate climbs and short sections of steeper climbs, over unsurfaced roads, bridleways, byways and quiet roads; suitable for children 10+ and fit families
Red (difficult): length, 10–50km; range of challenging climbs and descents over any terrain/trail; suitable for skilled riders who are comfortable tackling moderate trails, using quality, off-road bikes
Black (severe): length, up to 100km, including 'skills courses'; any navigable climbs/descents over any gradient, often including 'drop-offs'; suitable for expert riders capable of taking on technical terrain, including challenging singletrack, severe climbs and descents, using quality, off-road equipment
Thanks go to…
…four chaps from Marin County, California, who, in 1974, combined a 21-speed cyclocross bike with a one-speed downhill version with fat 'balloon' tyres and thumbshift gears, thus inventing the mountain bike as we know it today, or so they thought. However, a mountain bike concept dates even further back, to 1953, when John Finley Scott designed and built his 'Woodsie' bike, sporting flat bars, fat tyres, and multiple gears while studying at Reed College, Oregon.
To get you started, here are handful of the UK's best MTB spots
Glentress, nr Peebles, Scottish Borders
One of the much-lauded 7 Stanes mountain bike centres scattered across the south of Scotland, Glentress boasts spectacular trails to suit all abilities, including skills area and freeride park. Add top-class facilities and a great atmosphere and you'll appreciate why Glentress is consistently recognised as one of the best MTB centres in the country. forestryandland.gov.scot
Swinley Forest, Berkshire
With 2,600 acres of pine woodland available, Swinley Forest is an ideal location to learn to ride. An expert mountain biking area keeps downhillers and freeriders happy, but its wide variety of more moderate trails make it ideal for novices and families. www.gorrick.com/swinley

Coed Y Brenin, North Wales
This purpose-built centre in stunning Snowdonia is a draw for riders from Wales and beyond. The first forest in Britain to be developed specifically for mountain biking includes all-weather singletrack and an exciting dual slalom course, as well as a host of exciting trails for all levels. www.mbwales.com

Fort William, Scottish Highlands
The annual Mountain Biking World Cup takes place near Fort William. There are trails for everyone, from gentle cross-country to the best downhill these shores have to offer, the only terrain in Britain you need a ski lift to get to! www.ridefortwilliam.co.uk

images: Shutterstock.com