The Transporter is a duffle bag designed for adventure. Osprey marries together versatility, durability and comfort in the Transporter to produce a duffle that would be at home in anyone's collection.
The slick new design comes in 5 different colourways and is certainly pleasing to look at, but it's not just a pretty face. The Transporter is made of a strong TPU laminated nylon which is soft to the touch, lightweight and water resistant.
The Transporter's versatility means that you can rely on it to be your trusted companion on almost any kind of expedition or trip. It's available in 4 capacities, 40, 65, 95 and 130 litres, the smallest of which is compact enough to conform to the EU's rules on carry-on luggage sizes. The Transporter boasts multiple pockets both inside and out for a more organised packing experience as well as 4 external grab handles to make picking up and supporting the weight of the pack as easy as possible.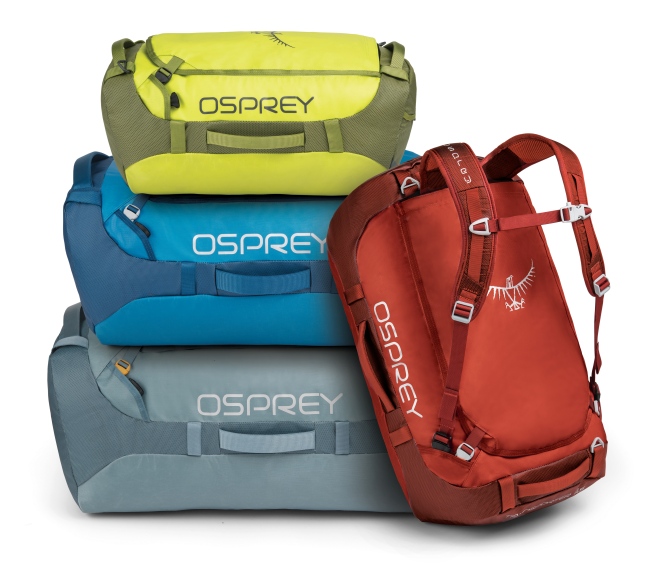 The main attraction here, though, is the hidden carrying system which allows the duffle to be carried as a backpack. The comfortable harness can be stowed in a pocket in the lid of the duffle when not in use, and easily attaches to the multiple tethering points when needed. The harness also features a sternum strap to optimise weight distribution and comfort. Osprey have made it their mission to impress with this duffle and have even included a detachable padded shoulder strap with the 40 and 65 models for yet another carrying option.
Some other extras include internal compression straps to let you take advantage of every single square inch of space, lockable zips to keep all your gadgets secure, ID card holder, internal key clip and emergency whistle.
Whether you need a reliable and lightweight bag as your carry-on for a weekend getaway in Tuscany, or something sturdy enough to be chucked onto the back of a snowmobile for a month of getting lost in the Canadian wilderness, the Transporter should be at the top of your luggage list.
At a Glance:
• Water resistant
• Durable
• Lightweight
• Can be carried as a duffle, shoulder bag or backpack
• Storable backpack harness
• Multiple harness attachment points
• Sternum strap with emergency whistle
• Variety of pockets (external and internal)
• 4 grab handles
• Internal compression straps
• Lockable zips
• Internal key clip
• ID card holder
Prices:
40L - £100
65L - £120
95L - £130
130L - £150