ITALY'S AOSTA VALLEY is a true outdoor playground. Four of the Alps' highest peaks lie within its bounds, providing the base for a multitude of adventure activities from superb rafting on snowmelt-fuelled rivers to summer skiing at over 3,500m.

But the Aosta Valley offers so much more: being strategically located on the borders of France and Switzerland, this has long been a historically signifi cant region, refl ected in the many castles that lie in the valley fl oor and some of the best Roman remains outside of Rome itself. The Aostans are also passionate about their regional specialities: from Fontina cheese to locally grown chestnuts, the natural alpine bounty is transformed by skilled chefs and knowledgeable mamas into superb dishes from the hearty and rustic to Michelin-star gastronomy.
A comfortable eight-hour drive from the channel ports and with three international airports (Geneva, Milan and Turin) less than two hours away, this is one of the easiest parts of the Alps to reach from the UK. It's also one of the best value, with a superb lunch in one of the many fi ne pizzerias costing less than 10 euros. Aosta remains a secret waiting to be discovered.
www.aosta-valley.co.uk

1 Climb the Gran Paradiso
 
At 4,061 metres, the giant that gives its name to the Gran Paradiso National Park is the highest mountain in the Graian Alps and the only 'four thousand' one fully within the Italian borders. The peak's Valle de Cogne slope is truly terrifying: a colossal rockface with a drop of approximately 700m! The mountain is 'easier' to climb from the 'Vittorio Emanuele' Refuge, which is reached via an easy track from the village of Pont di Valsavarenche. Mere mortals can enjoy walking along the park's footpaths and admire this majestic monument of nature.

2 Go mountain biking in La Thuile
 
With more than 1,000km of country roads, the Aosta Valley could be called the home of mountain biking. Mule tracks, farm roads and wooded paths offer cyclists the chance to experience ever-changing scenery. La Thuile, for example, has 16 cross-country trails between Italy and France totalling 220km, and 15 downhill and freeriding routes served by two chairlifts equipped to transport bikes.
3 Road cycling around Mont Blanc

The imposing face of Europe's highest mountain (4,807m) overlooks all the municipalities of the valley bottom, which include La Salle, Morgex, Pré-Saint- Didier and Courmayeur, which together with La Thuile make up the 'Valdigne'.This region, often a leg of the Giro d'Italia tour, is continuing the magic of Italy's famous pink shirt. Try Ciclotour 13, from Morgez to La Thuile, which was included in a 2006 stage of the Giro.

4 Whitewater thrills
 
From April to September the foamy, mountain streams become a hive of spectacular sporting activities: canoeing, kayaking and rafting offer water enthusiasts emotional experiences, among fast-fl owing water and natural slides. Experience is not necessary as every raft, crewed by 6-8 people, is led by an expert guide
5 Visit the spa at Pre St Didier 

The springs here were known in Roman times, but the fi rst foreign visitors came to 'take the waters' in the 1600s. An unforgettable day in this recently renovated spa at the foot of Mont Blanc includes whirlpool baths, toning cascades, themed saunas in wooden chalets, aromatic steam baths, a mud-treatment area, colour therapy rooms, aromatherapy rooms, relaxing rooms for admiring the spectacular views.

6 Stay on a working farm
 
From their beginnings as a back-tonature break for city dwellers, farmhouse holidays have, over time, become a much sought-after accommodation formula for those preferring a rural tourism experience. Choose from more than 40 working farms in the Valle d'Aosta region, offering everything from educational stays to gastronomic experiences.

7 Follow the wine route 
 
…for a close encounter with the men and women who produce some delicious wines, sometimes in extreme geographic and climatic situations. The Aosta Valley Wine Route consists of fi ve itineraries, from the Vini del Monte Bianco to the Vini del Monte Rosa, which offer a comprehensive introduction to a region that has been producing wine since Roman times.
8 Trek in the shadow of the Matterhorn

At the end of the spectacular valley of Valtournenche rises the mountain described as 'the most noble rock in Europe' by the English writer and poet John Ruskin. There are plenty of walking routes, from easy trips to the numerous alpine lakes to more challenging trails to the Great Balcony of the Matterhorn, where you might spot marmots, chamois, squirrels, hare and foxes. Try the Tour du Cervin, the paths of the Alta Via 1 High Mountain Route, or the trails that lead up to the mountain huts scattered throughout the area.
9 Climbing in the Monte Rosa

The growth of sport climbing has seen the proliferation of specialist 'climbing gyms', both indoor and outdoor. From the hamlet of Estrepieraz, for example, the climb varies from walls with good holds to steep cliffs with more diffi cult routes, while at Tschachtelaz, the east wall routes have been there for years and are used by Gressoney alpine guides for courses and events.

10 Canyoning in Aosta
 
Dive into an emerald green water well or descend a foaming waterfall in this fastgrowing activity – a part water, part mountain sport that takes you on a descent down the small mountain streams, often enclosed between high, rocky walls, and overcoming obstacles en route. You don't need any particular training or mountaineering skills but this activity should be undertaken with professional mountain guides.
---
11 Try the Tor Des Geants

Starting and fi nishing in Courmayer, this 200-mile unique endurance trail race (11-18 September) provides a unique challenge for participants. There are no compulsory stages, and the winner is the runner who completes the race in the shortest time, making his or her own decisions on when and how long to stop for rest and refreshment. The route is a sightseers' dream, climbing to 24,000ft and taking in breathtaking – literally – views in the Gran Paradiso Natural Park and the Mont Avic Regional Park. www.tordesgeants.it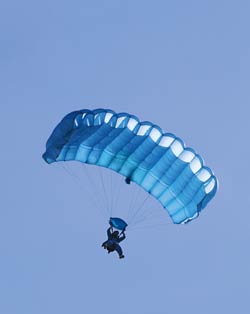 12 Paragliding in Cervinia

Soar over the peaks and valleys on a tandem fl ight with Fans de Sports Club, based in the hamlet of Antey-Saint-Andre, from where you can fl y all year round – weather permitting.
13 Explore the Roman monuments on Aosta town

The surrounding walls of the Roman city are still visible today, and visitors can wander through extensive reminders of the past, from the Roman theatre and the Praetorian gateway to a villa where you can still see signs of the underfl oor heating system. From the garden in Piazza Giovanni XXIII you can access the Criptoportico Forense Forum (above), an underground building, illuminated by light wells. And don't miss the impressive Augustus Arch, the 'symbol' of Aosta town.
14 Fishing in the alpine lakes

From the Dora Baltea, that runs along the central valley, to the clear streams that fl ow into the side valleys, to the Alpine lakes, there is incredible variety here for sports fi shing enthusiasts. An annual fi shing calendar tells you where and when fi shing is allowed, and lists the permits needed and equipment, techniques and bait allowed.
15 Spend time in the saddle

A day spent riding a horse corresponds, on average, to half an hour or 40 mins driving, and taking it easy allows you to fully appreciate your surroundings and experience nature without disturbing it. There are numerous, specialist equestrian centres available in Valle d'Aosta, offering everything from riding lessons and taster sessions to treks for beginners and experienced riders.
16 Get to grips with a via ferrata

Via ferrata is Italian for 'route with irons', and the ferrate are mountain routes pre-equipped with fi xed cables, steps (stemples), ladders and bridges, allowing walkers and climbers to access terrain without needing to use their own ropes and belays – and without the risks associated with unprotected scrambling. A classic route is the Borelli bivouac trail from Courmayer which takes you up to Aiguille Noire de Peuterey, one of the symbols of mountain climbing in the region.
17 Summer skiing in Cervinia

Don't fancy the beach? Why not head for the glacier of Plateau Rosa - a vast, natural terrace overlooking Cervinia, at an altitude of over 3,000 metres. Enthusiastic skiers will be able to enjoy an unusual landscape in the middle of August, on perfectly prepared slopes, perhaps with a light sprinkling of fresh snow, which is not unusual at these altitudes. The Cervino Ski School has a permanent offi ce on Plateau Rosa, at an altitude of 3,480 metres, where you can arrange all types of lessons.
18 Learn some bike tricks in Pila

Practice what the experts teach at the Pila Bike Park (entrance just six euros). Beginners' lessons are available, while expert riders can play to their heart's content on state of the art structures, such as wall rides, gaps, balancing bridges, skinnies and drop bridges. The new park adds to attractions for bikers in Pila: there are already permanent downhill and free-ride slopes at the Bike stadium, four trails with three variants, on the Pila-Aosta route, 11 km with a descent of 1,730 metres over tracks and cross-country trails.

The region is dotted with fabulous medieval castles. Ussel in Chatillon, built by Ebalo II of Challant in the 14th century, is a beautifully renovated example of valdostane – fortress architecture. The well-preserved turrets of Fenis (below) evoke a fairytale image, while the courtyard frescoes of Issogne castle, near Verres, offer a unique insight into everyday life in the Renaissance era.

20 Adventure park-life
 
Swing from tree to tree, balance on Tibetan-style bridges...Valle d'Aosta's numerous adventure parks offer safe but fun sport courses with different levels of diffi culty, perfect for children, teenagers and adults.