Lulworth Cove is a favourite among visitors from the UK and abroad. Famed for it's rugged beauty and Jurassic coastline where you can see fossils from bygone eras. It's a wonderful destination for walks, relaxation, and taking in the sea air which is always a cathartic activity, especially when you live inland. As a husband and wife who both grew up by the sea, nothing can replace a daily dose of gently crashing waves. We visited Lulworth with our two young children when the waves were doing much more than just gently crashing, with wind and rain to match.
Visitors to Lulworth Cove and the Jurassic Coast are spoilt with world-class scenery, but that's part of the reason it's mobbed in the summer, the car park stretching out to ever-increasing acreage to consume the tourists. Our trip, which falls the week before Christmas, has given us the whole village and coastline practically to ourselves. It feels rather indulgent but gives us the peace, isolation, and tranquility that we need.
Only there for the weekend, we resist the temptation to hunker down in our Lulworth Cove cottage, complete with a log-burning stove. The cottage is a great place to warm up with a spacious living-dining area decorated in a modern cottage style. The small back patio leads onto steeply rising stairs giving access to the large terraced garden above. The kitchen is well-appointed offering a true home-from-home feel and all three bedrooms upstairs are spacious, warm, and comfortable. As a family, we love this place for its location, decor, and comfort factor.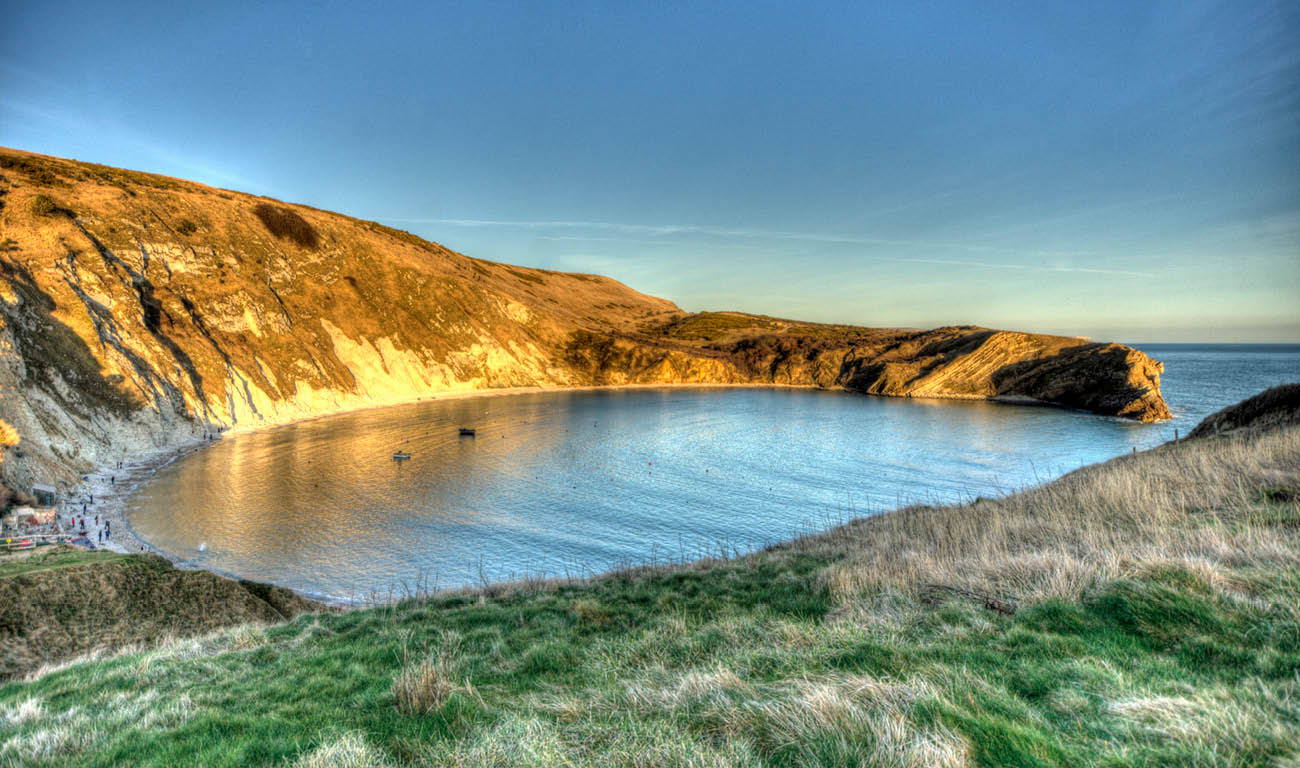 Thankfully, the location of the holiday cottage is just a stone's throw from Lulworth Cove itself, within the pretty village of West Lulworth. Our position is on the main road - a small country lane that terminates right on the edge of the beach opposite the Lulworth cove car park. This affords us sea views from the top of the garden which rises steeply up the hillside.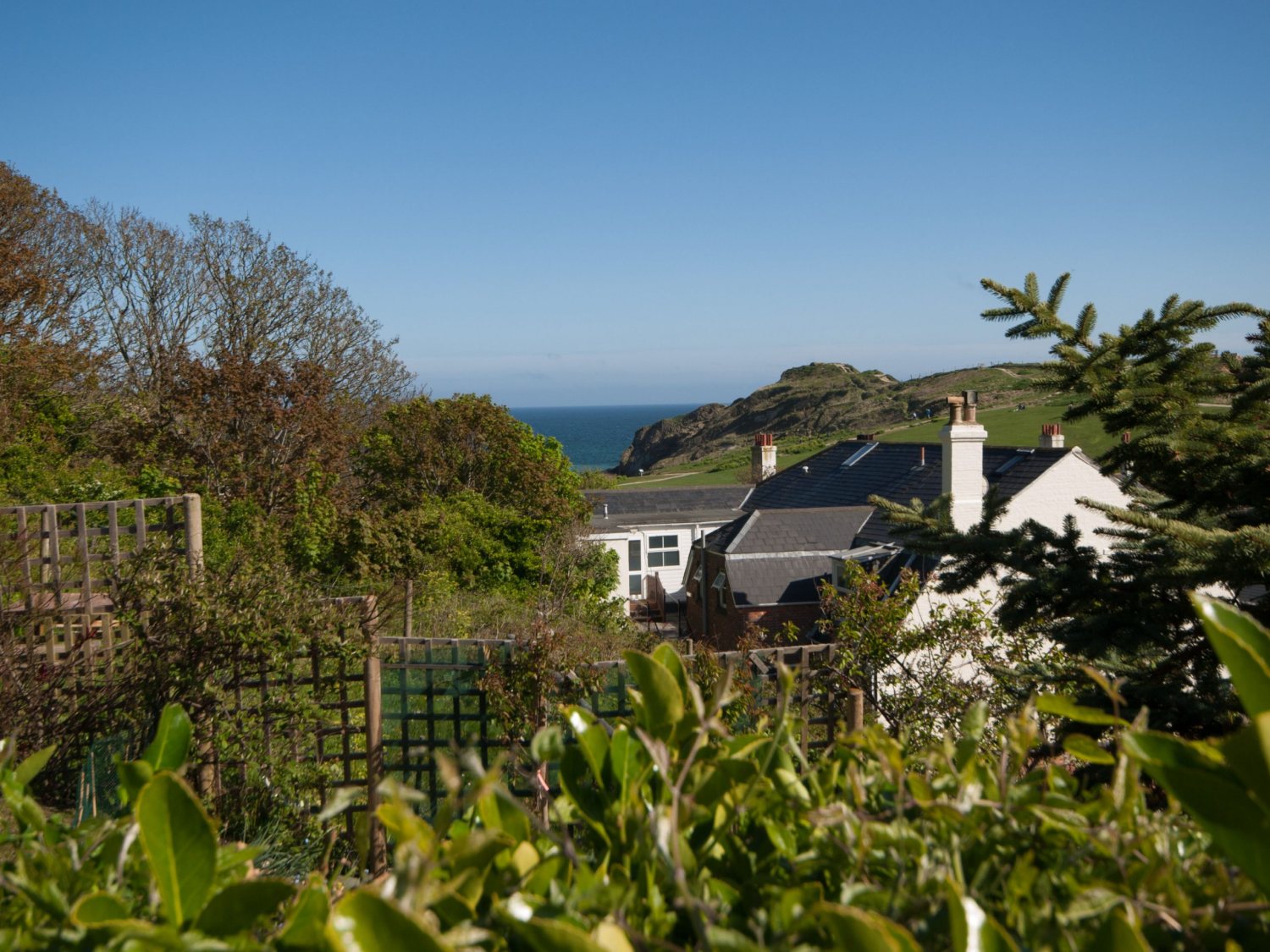 This part of West Lulworth is home to a handful of useful amenities, with a small development in the car park housing the Lulworth Estate gift shop, Lulworth Outdoors, and the staple of the British seaside, a fish and chip shop. Dotted around the rest of the small village you'll find a handful of pubs and restaurants to keep you fed and watered. In this sense, West Lulworth is the perfect location for a quick weekend getaway, with everything so easily accessed you have no reason to leave.
Beyond West Lulworth the Dorset Coastline is stunning, punctuated by historic villages, thatched cottages, and breathtaking views. This makes it an ideal base for a family holiday.
Despite the intense rain and wind, we're not going to be beaten. We want to experience the Hygge of the holiday cottage, which is delightful when it's lashing it down outside, but also the beauty of this World Heritage Site. So we don our walking boots, many warm layers, and as much waterproof clothing as we can find and head out to the South West Coast path. Follow the path in an easterly direction and you will eventually reach the famous Fossil Forest which will amaze kids.
Approximately 150 million years ago, a global decrease in sea levels led previously submerged areas to become colonised by plants and trees. When the climate became wetter again, this forest flooded and the trees perished. Their stumps, trunks, and roots were preserved by calcareous sediment from freshwater algae deposits.
Today, visitors can observe bowl-shaped depressions that were formed when the tree trunks decomposed, leaving behind calcareous tufa, as well as ripple marks of an ancient sea floor, fossilized algal mats, and impressive "broken beds".
Unfortunately for us, the access to this part of the coast path is blocked for maintenance works, so we head West to see the equally as mesmerising Stair Hole and Durdle Door. These areas are accessed via a steep but short walk up the coastline, affording far-reaching views of West Lulworth and the Jurassic Coast beyond. We make it to the top of the coast path with views down to Durdle Door one side and Lulworth Cove the other. At this point we have to lean into the wind as we're almost being blown over, we're soaked to the bone, and freezing cold but we feel that tingly sensation of energy and life away from Netflix and our phones. We head far enough along the coast path to feel like we've been for a walk and then retreat back to the cottage, our clothes saturated but a sense of achievement in our bones.
Visit Dorset Cottage Holidays for more information and to book.