Once I was the sort of person who would set out on a walk in flip flops. But no longer. These days I am all about the right gear – and when it came to climbing Teide I couldn't have been more relieved to have abandoned my former foolish insouciance.
Because Spain's highest mountain and the world's third tallest volcano seems all too accessible. If you take the easy route, an eight-minute cable car journey and a short one-hour path to the summit is all it takes to reach the roof of Tenerife, and those sunny beaches just a few miles away make it seem like even the weather is on your side.
But climbing Teide is far more serious than its accessibility implies. My ascent – taking the full route up, no cable car – was scheduled for early March and for days beforehand it looked unlikely, with snow falling on the peak and the trails closed due to ice.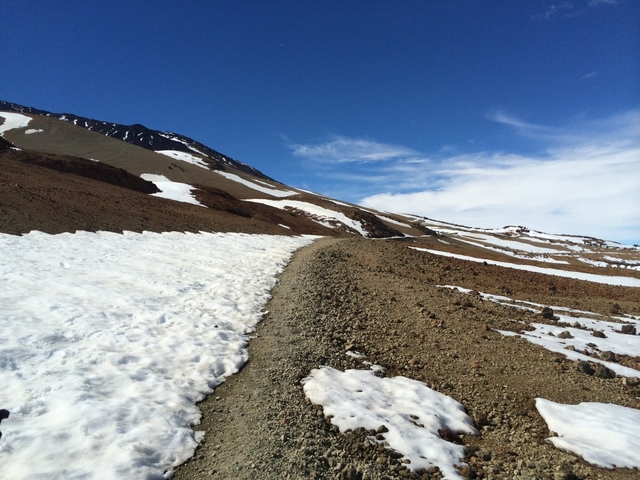 The Climb
Undeterred, I set out with Felix de la Rosa of Oditen, starting at Montaña Blanca, where a small car park marks the trailhead for La Rambleta and the Refugio de Altavista.
From here the eight-kilometre hike to the refuge takes about four hours, following a wide path that is at first so wide as to be accessible to 4WD vehicles. The ascent is gentle and this first section would have been easy had it not been for the snow. The patches of unmelted powder became more and more common as we rounded the base of the mountain and my boots were quickly damp. The right gear was already essential – in this case my SealSkinz waterproof socks.
After a couple of kilometres the path narrows and we suddenly find ourselves above the clouds, looking down on their tufty tops, with nothing but the odd mountain ridge poking through. Tenerife's coastal resorts are nowhere to be seen.
Over the last few kilometres the path becomes snow-bound and instead of following it religiously we must pick our way over rocks, clambering ever steeper and higher. I start to feel the burn as Felix points out the radio mast at the refuge, egging me on for the final kilometre, up to 3,260 metres above sea level.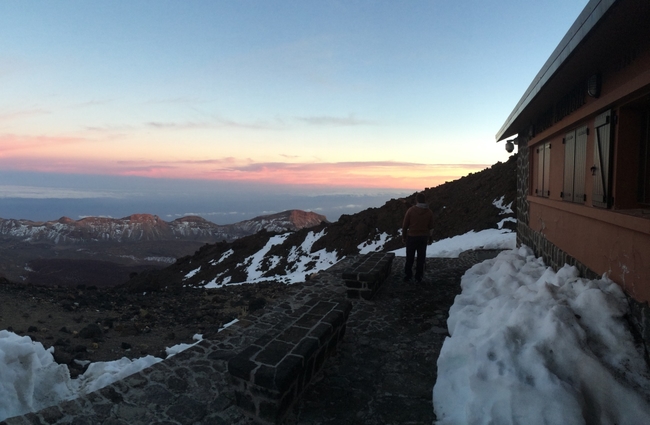 Reaching the refuge
Reaching the refuge feels like what arriving at a five-star hotel feels like under other circumstances. The facilities here are very simple but, exhausted by the climb and ready for my bed, I am delighted with first the heating and later the bunk beds with their cosy duvets. I am tempted to climb straight into bed but Felix calls me outside for sunset – and one of the most spectacular things I have ever seen.
As the sun dips behind Teide, the volcano casts a shadow across the landscape, dominating the pinkening skyline like a giant, dark pyramid. It lasts for just a minute or two but it will remain in my mind forever – I've never seen anything like it.
After a restless almost-night of not-quite-sleeping (altitude makes slumber difficult and gave me a headache) we wake at 5am to get up to the peak for sunrise. I am not normally a morning person but this morning it is easy to leave my bed and within a few minutes we are dressed and striding out into the snow once again.
I can focus only on the ground, picking my way through the snow and between the rocks in the endless darkness. And yet it is not endless. About one hour into our walk (more a trudge at this point, if I'm honest) the sky begins to lighten around us and I realise sunrise is fast approaching – time to speed up.
It is tricky to find the path beneath the snow (and, after a cold night, the ice) but after a while of picking our way across rocky ridges we finally spot the cable car's upper station off to the left, giving us our bearings and a mental push to conquer the final ascent.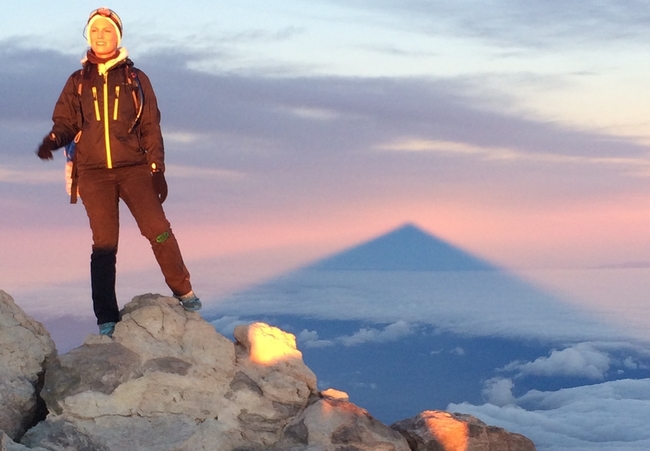 Pico del Teide
Thousands of people take the short hike from here at La Rambleta to the summit every year but the cable car is not running yet (it starts up at 9am) and so only those who stayed at the refuge are on the trail. Consequently we have the landscape almost to ourselves and as we finally reach the last few metres of ascent and find the ground levelling out, the sun pops up above the horizon, seemingly just for us.
I am wearing seven layers of clothing, my hands are numb with cold and my legs are wobbling like jelly, but reaching 3,718 metres just in time for sunrise makes it all worthwhile. Standing tall on the highest rock I can find I stretch out every limb and take it all in.
A sea of clouds cloaks Tenerife and the Atlantic Ocean surrounding it. Peaking their heads cheekily above it are the neighbouring Canary Islands of Gran Canaria, La Palma and La Gomera. The day's young sun reaches out its rays to light up Teide's sulphurous rocks in rosy pink. And that triangular shadow from last night, which I thought I would never be lucky enough to see again, once again dominates the view. Sure, I could have got the cable car up here, but not in time for sunrise, and that, it turns out, would have been to miss the point entirely.
Mount Teide visitor's guide:
Where is Mount Teide?
Sitting pretty as the highest point in Spain, Mount Teide sets an imposing silhouette against the volcanic landscape of the largest of the Canary Islands, Tenerife. You might be surprised to discover that Teide is one of 11 volcanoes in Spain and 7 in the Canary Islands, located off North Africa's west coast.
Sitting around 43km from the island's main hub of Santa Cruz de Tenerife the base station for Teide is easily accessible from the popular tourist resorts of Puerto de la Cruz (41km) and Costa Adeje (62km).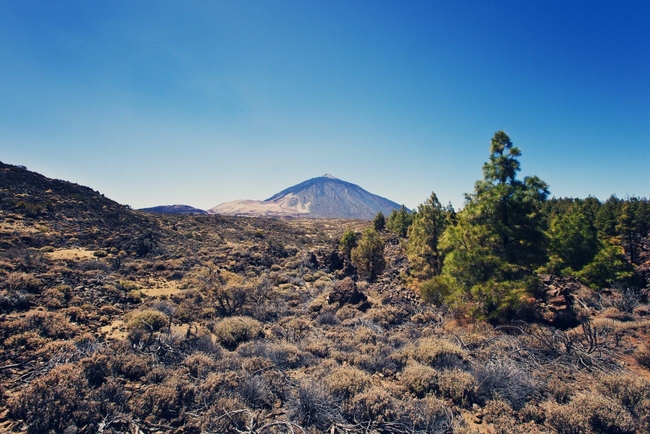 Teide National Park
Surrounding the volcano is a spectacular landscape of petrified lava, craters and vents and the geologically significant rock formation of Los Azulejos, with a covering of blue-green copper oxides that glint in the sun.
Although the peak is the main attraction for many, the national park is a worthy trip in itself. Known locally as Las Cañadas del Teide or Parque Nacional del Teide the national park is the largest on the Canary Islands and is a designated UNESCO World Heritage Site.
Is Mount Teide still an active volcano?
Mount Teide is an active, but dormant volcano with the last eruption occurring in 1909. Seismologists suggest that it could erupt again some time in the future.
Can anyone walk to the top of Mount Teide?
You must have a permit to climb Teide. Apply online here as far in advance as possible as numbers are limited. If you opt to follow the full route, as Helen did then you will need to be reasonably fit and are well advised to wear decent hiking footwear and breathable clothing as well as packing extra layers like a down jacket and lightweight waterproof coat.
We always recommend that you take an emergency survival blanket or bivvy bag when heading out on long walks into mountains. For those who prefer to see the views but with a shorter walk the cable car option takes you to within an easy one hour walk of the peak.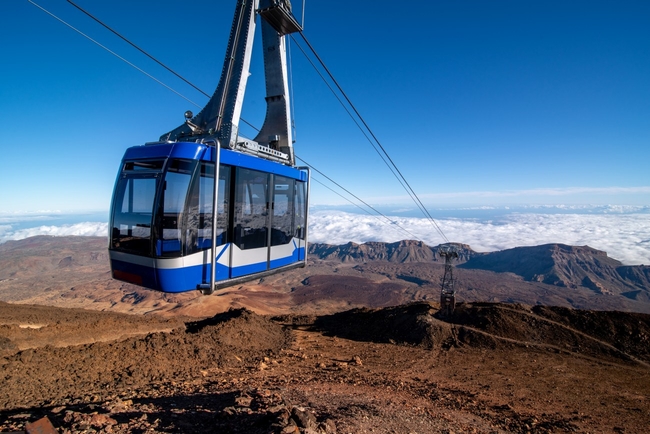 How much is the cable car up Mount Teide and when does it run?
The cable car runs from 2,356 metres above sea level on the main road through Teide National Park to 3,555 metres above sea level at La Rambleta. It runs daily from 9am, closing times depend on time of year, check the full timetable here. The ride takes just eight minutes and costs 27 euros return and 12.50 euros one-way for adults.
For more information on Tenerife visit the tourist board's website here. I also found the "Lonely Planet Canary Islands (Travel Guide)" very useful on this trip.
Where can I stay on Mount Teide?
A night in Altavista del Teide Refuge costs 25 euros and should be booked in advance. There is space for 54 hikers so get in early to reserve your place. There are three dormitories and beds and bedding are allocated on arrival. Rooms are heated and there are toilets and sinks but no showers. Drinks (including water) can be bought from a machine but you will need small change. There is wifi (also payable at a machine requiring change) and good 3G coverage. You will need to bring all your own food.