This all started, as most great cycling plans do, over a pint. My biking buddy Brad and I had a burgeoning idea - we wanted to ride three routes in three national parks in the north of England, all in one three-day burst of energy and spinning wheels.
It took Cycle Traveller saying yes to a story and Ribble Bikes offering us two touring bikes on loan to translate our plan to reality, to load up panniers and take on asphalt, gravel and rocks across three of the most glorious wild corners of the UK. We were going to hit Northumberland first, speed down to the Lake District second and, if we had anything left in our legs, finish off with the Peaks.
We'd be driving between the national parks and yes, there would be plenty of cake stops - our three ride challenge was to be as much about the pleasure of cycling as ticking off three great routes. Plus, I really wanted a Bakewell tart.
We set off from Brown Rigg Lodges in Bellingham in Northumberland, where our Ribble Adventure 725 touring bikes have been hastily unpacked and assembled. In our enthusiasm to get started we've only quickly planned our ride along Route 68, the Pennine Cycle Way. And after a mere 45 minutes of barrelling through the beautiful Northumberland countryside on easy-going tarmac, lined with dry stone walls, we decide to toughen up and make better use of our bikes' 2.8inch tyres by going in search of something a bit more bumpy and interesting.
Poring over our dog-eared map, we stumble across the Sandstone Way, a 120-mile mountain biking route that winds between Berwick-upon-Tweed and Hexham in North Northumberland. Decision made - we unceremoniously jump over a couple of stiles in search of the Way and find ourselves on open rolling moorland with views stretching out for miles around. In the distance, smoke is rising in plumes from gorse fires as we crunch our tyres along the trail.
We might be on a route best suited to mountain bikes, but the chunky tyres and forgiving geometry of our adventure tourers mean that we can still comfortably eat up the miles, even if it does take a fair whack of effort to tackle the frequent uphills in these parts when you're this loaded with panniers.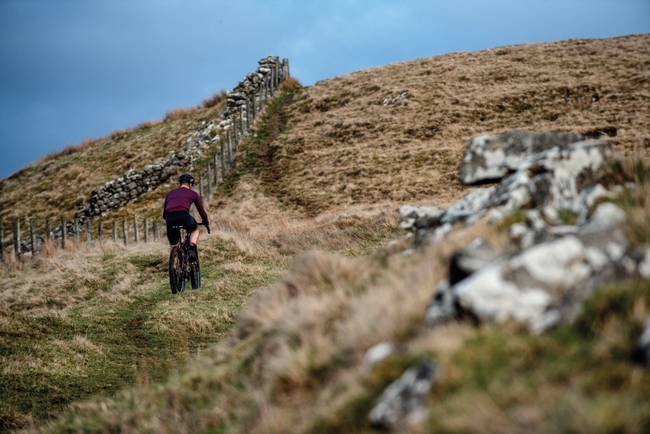 Hours fly by as we follow the Sandstone Ridge across the moors. We suddenly realise we're getting short on time and daylight, so we re-trace our outward route and head back along the trails, the beam from our bike lights showing the way back to Bellingham. We walk, mud-splattered, into the Riverdale Hall Hotel and find all our wishes granted - it serves up the kind of hearty pub grub you always crave after a chilly day in the hills.
Cumbrian thrills
The next morning, we're up early to load up the car and head south. Time to get our second national park of the weekend in the bag. Clouds begin to gather on the horizon as we speed down the motorway, bikes strapped to the back of the car, but it looks like the weather will hold for long enough for us to tackle our next glorious corner of Britain - the iconic mountains of the Lake District. Its lush green hills are somewhere I know well - I've mountain biked over miles of singletrack and wide gravel forest roads in Grizedale Forest and around Coniston Water, and now I'm itching to ride in the glorious Cumbrian hills again.
Spirits are high as we dig out a map and trace out the Hawkshead Moor Trail, a 10.5 mile track that takes in much of the forest on the western side of the valley overlooking Coniston Water, with the highest point of the Coniston Fells, Coniston Old Man, rising up grandly behind the lake. The trail is mostly gravel forest road, with undulating climbs and undaunting descents, and easily tackled on our sturdy rides. But as we pass an undulating red graded mountain bike trail that intermittently weaves alongside the forest road, the mountain biker inside both of us suddenly lusts for more, and we head off-piste.
The North Face Mountain Bike Trail is described as suitable for mountain bikers only and requiring a high level of skill and fitness. Well, we are reasonably fit mountain bikers, we decide – we're just not quite on mountain bikes... The trail seems like the perfect opportunity put our rides through their paces on something a little more challenging.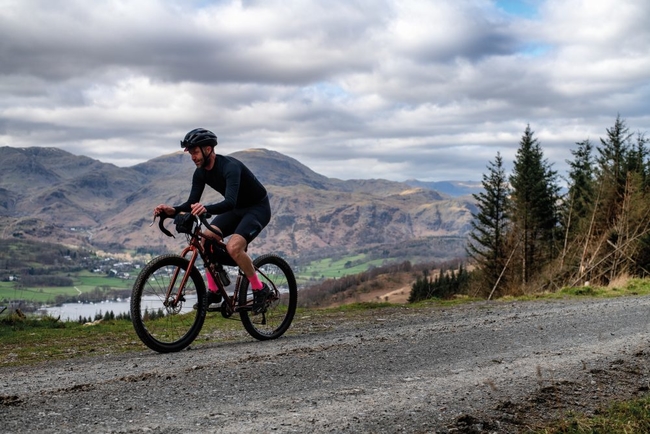 Going old school
Riding mountain bike-specific trails on a fully rigid bike with drop bars is something I haven't done since the mid-1990s, and I have to say it proves hilarious fun, if a little on the hairy side. The bikes turn out to be more than capable of handling this sort of terrain if a rider feels madcap enough to put them through it.
Line choice is critical, and we have a few touch-and-go moments without the usual benefit of a six-inch travel suspension. but it's tremendous fun to take mountain biking back a few decades to a time of simpler machines, and in such wonderful surroundings.
I must say, though, that getting overtaken by a couple in jeans and riding hire shop mountain bikes is a new and humbling experience as a mountain biker! We bite off the exhilarating final descent of the red trail and emerge, bones rattled but in one piece.
Our third and final day dawns and we're into a rhythm now - an early start and a drive, this time south to the Peaks. We leave our tiny Coppermines cottage base in the centre of the pretty village of Coniston and head south towards the Peak District with one goal in mind - to take on the Monsal Trail, one of the area's most famous off-road cycle routes.
The trail follows a rail route that once rattled busily with trains from Manchester to London, but the trains stopped running back in 1968. Now, the entirely flat route is suitable for just about any bike, but our touring rides are proving ideal for chugging through the miles along the gravel track and clocking up a decent average speed.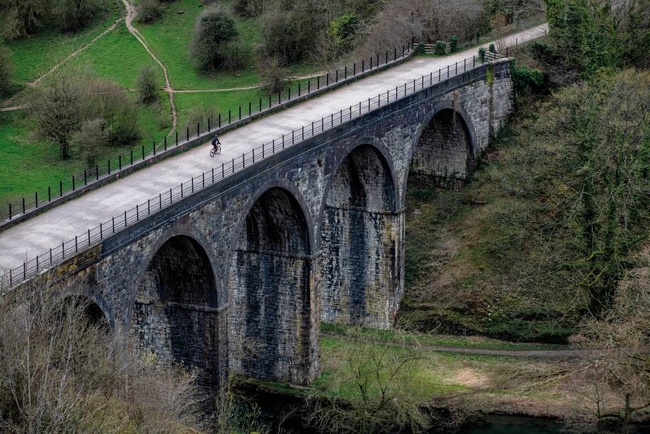 We join the trail at Topley Pike junction in Wye Dale and pedal through deep railway cuttings and tunnels and over the stunning arches of Monsal Head viaduct towards Bakewell, visions of Bakewell tarts propelling us forward. We've been tipped off that the best coffee to be had in town is at The Lambton Larder, where a deli counter groans with delicious treats and the staff serve up fresh salads and sandwiches. Back on the bikes after our pitstop and the riding route is easy-going. Our last day is proving a relaxing way to cover the miles after the tougher rides of Northumberland and the Lakes, but the surroundings are jaw-dropping, with striking views of the limestone landscape of Monsal Dale as a backdrop. And our cycle ends, as all good cycles do, over a well-deserved pint.
Over the past three days we've ridden just about every kind of terrain that a touring bike can tackle in Britain, from winding hill roads, tree-lined gravel track and heather-clad open moorland all the way up to taking on technical mountain bike singletrack. And it turns out that a touring bike like the Ribble Adventure 725 really can take you just about anywhere.
With some planning, an adventurous rider could tackle this jaunt as an epic week-long cycle tour, linking all three of the National Parks together in one big ride. As a more genteel undertaking over a long weekend, our triple whammy of roads and trails makes for a rewarding tour of three of the most stunning areas of the United Kingdom, conquerable by just about any level of rider.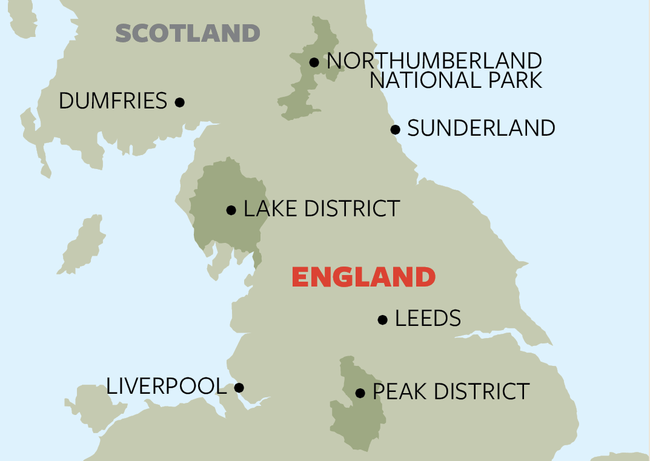 Travel info:
What to pack
Waterproof layers, padded shorts, gloves and a helmet.
Food and drink
Riverdale Hall Hotel Restaurant, Bellingham, serves up hearty portions using local ingredients.
The Lambton Larder, Buxton Road, Bakewell, is a friendly deli which does delicious fresh food, perfect for packing in your panniers.
Where to stay
Brown Rigg Lodges, Bellingham
Self-catering lodges and guest rooms ideal for overnighting cyclists taking on the Sandstone Way. From £40 per night.
The Coppermines Lake Cottages, Coniston
Coppermines list eight self-catering cottages around Coniston, many with cycle storage available.
From £121 per night.
Useful links
Lake District National Park
Northumberland National Park
northumberlandnationalpark.org.uk
Peak District National Park