The air around us as we walk, redolent of hot earth and sun-baked wood, carries tantalising tangs of fennel and camomile, and the only noise I can hear is birdsong punctuated by the occasional bee.
The sun glistens on the turquoise sea and thickly forested, sweeping hills. Near the horizon, behind the elongated big toe shape of Sithonia, Halkidiki's second peninsula, is Kassandra, its third - a green sliver close to the horizon that is so dark it is nearly black. My guide, Pavlos, who has been laid on by my hotel, turns towards me, proudly proclaiming, "This is heaven on earth!" I marvel at a panorama comprised of more shades of green vegetation than I could possibly count beneath an electric-indigo sky, turn around to see mountains transformed by distance into subtle glowing shades of blue, take a deep breath, and agree.
This 2,000m, 360-degree viewing point is the actual and literal high point of our walk of a new 32km trail emulating one taken by Aristotle through Halkidiki in Greece, and one of eight new paths that have been put together by local experts to show the history, geography, and nature of this undeveloped gem of a place.
Starting in Ancient Sagira, Aristotle's birthplace, the trail takes you through bright glades that segue into tree-tunnels of dappled light where occasional breaks in vegetation reveal the hills, sky or sea.
Now, on the way back down, I find myself distracted by exotic butterflies which float around us in the sunlight. Ancient Greeks believed they were human souls revelling in their freedom.
As we walk through open meadows, deciduous forests, and stands of pine and ash, Pavlos points out wild fruit and herbs that the travelling philosopher might have eaten or given as medicine to Alexander the Great. We find strawberries and cornflowers on the sides of paths, camomile and dill in pastures, mint in the valleys, as well as fennel and oregano (which I mistake for chives because of the purple flower) everywhere. I learn that oregano is derived from the Greek word for 'mountain ornament', that it must be picked wild to be medically efficacious, and that a substance obtained from the herb is still used in medicines today.
We end the day's trek at Aristotle's Park, back where we started. This grassy area surrounded by almond trees, turkey oak, poppies, and birds is enormous fun, with working models that demonstrate the laws of physics discussed in the philosopher and scientist's books. We swing pendulum-like inertia spheres high as a tree, photograph our reflections in a Newton's Cradle with great silver ball-weights bigger than our heads, and spin discs with designs that morph when they're moving. Then, before returning to our hotel, we take one last look at the well-preserved ruins of an ancient Byzantine Hamman next door.
Sermon on the mount
The following day begins at the Byzantine tower of Prosforios. From the beach side I can imagine it as the lonely high tower it might have once been. From the land, though, it is clear that it is now intrinsic to the fishing village of Ouranopolis, itself once a thriving city founded towards the end of the fourth century BC. Ouranopolis is also known as the gate to the holy community of Mount Athos because it is where visitors take boats to the Holy Mountain, only accessible from the sea.
As we pass a huge greenhouse, I take a quick look inside, and a friendly old man insists on showing me the tomato, his favourite fruit. The reason is simple: it's his best cash crop.
We walk on the beach past birds circling fishermen fixing their nets near the pier and only rejoin the road when our way is blocked by waves breaking white and foamy on dark, slippery rocks. I remark that the steps back to the road are wonderfully maintained, and Pavlos tells me that locals keep the area nice on a voluntary basis: "The government has no money. They don't help. But we know that tourism helps us so we do what we can."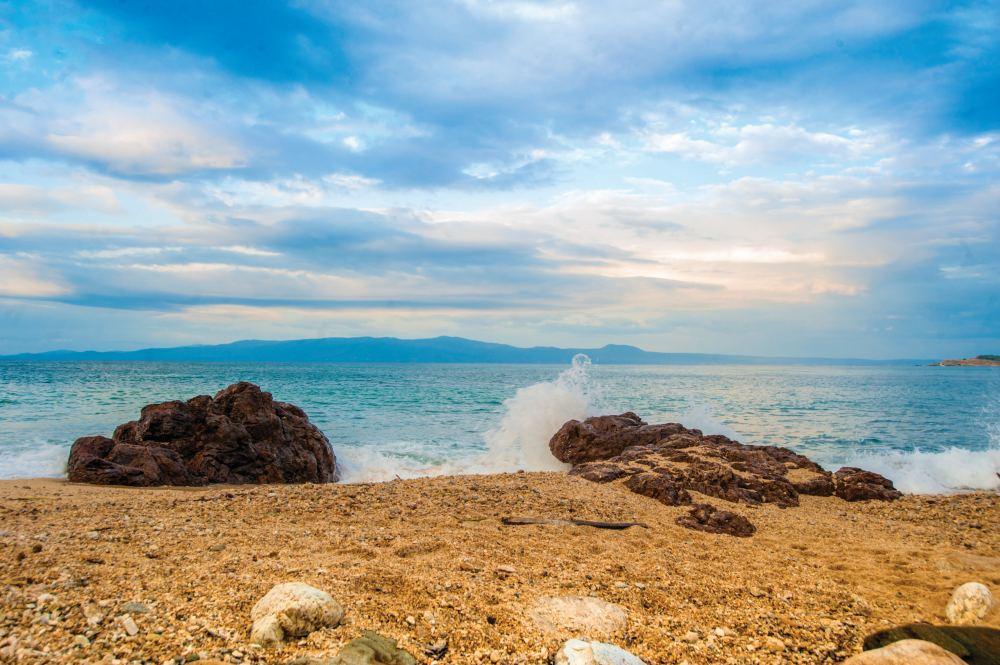 Ancient olive trees, figs, dog rose, dill, fennel, giant cowslip, and grass all vie for space along the roadside, and the combination of sunshine and moisture from an earlier storm turns the road a milky white. Our conversation turns to the economy and how people manage. Pavlos explains, "Here we have three jobs: our official one, one for extra money, and anything else - like fixing those steps - we can do. We do anything so we survive." I look to the left and see expensive-looking houses set back in vineyards and olive groves overlooking the choppy green-grey sea and say nothing because I don't know how to answer. Meanwhile the vegetation becomes thicker, smells of mint, mallow and dog rose intensify, and we find huge beetles with carapaces like glittering gems on cowslip flowers bigger than a human head.
The road dips and bends and the Zygos Monastery comes into view. From a distance the outer wall and the few buildings upslope look whole, but close examination of the walls reveals huge cracks which are the results of successive earthquakes over years.
We wander around the castle and excavations. First mentioned in a manuscript dated 942, Saint Athonite began monastic life here in 958 and it is thought the monastery, dedicated to the prophet Elijah, was established around 991. With 11 towers on 5.5 acres, it was destroyed just before 1198. But many of the walls themselves survive, providing a good idea of how spaces and buildings were organised for worship. Despite damage from recent earthquakes and lack of resources, the preservation continues.
The forbidden Holy Mountain
Anyone can access the site of the monastery and it's the closest you can get without a permit - and the closest any female can get - to the holy mountain of Athos. We follow the wall toward the sea and while I am taking photographs of the double Byzantine eagle in an ironwork fence, a man in civilian dress with military bearing appears and smokes his cigarette at me in a very pointed way. We take the hint and carry on walking.
Like a storybook forbidden kingdom the Holy Mountain is surrounded by a wall, part of which is less than 50 meters from the Zygos excavations on the other side of a broad tinkling stream. Here the stream runs under the dappled shadows of tall stands of trees, before widening into a miniature creek as it approaches the sea. Thick tangles of bushes slowly decrease until the wall, stream, and beach are submerged.
Squinting at my big map of Greece to get my bearings, I see that just below Thessaloniki, Halkidiki is said to have the shape of Poseidon's trident. Since there's more to the region than the three pronged peninsula, I think it looks more like a three-pronged spork, with Mount Athos on the furthest tine. Unable to walk the long way back because rain has increased the likelihood of mudslides, we return the way we have come under a warming sun and in a light of a clean, dreamlike clarity.
Reading about the background of each walk before I came out I learned that the Greek historian Herodotus wrote about how King Xerxes led his fleet to battle with ancient Greece along a canal of his own making through the narrowest part of the Athos Peninsula. Blown away by the idea that someone created a canal in 480 BC, I am determined to walk Xerxes' route as part of my trip. We start by wandering the well-maintained white and sand-coloured ruins of Ancient Stagira, an ancient city founded in 655 BC. Roughly 200 years later it was occupied by Xerxes. Aristotle was born there a century later, and in 348 BC Philip of Macedon destroyed it, only to rebuild it later and resettle the enslaved inhabitants in return for Aristotle tutoring his son.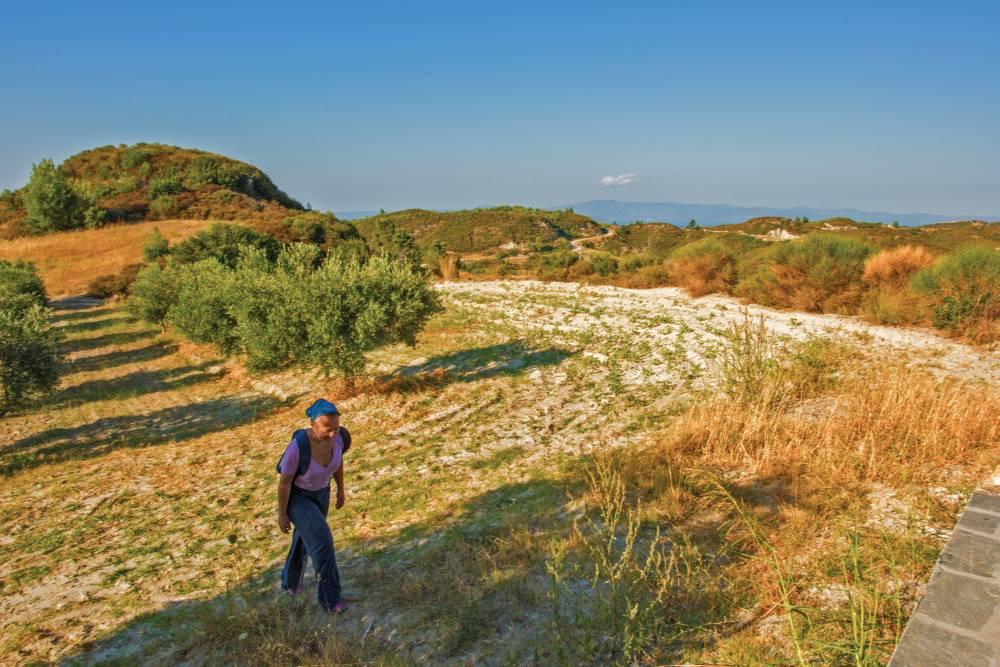 I find a well maintained pathway and all the right signs, but have to check the map to be confident we're following the canal route because these days it's just a nice little path. The land here is flat with well-ordered fields and few ruins. By accident I've timed it well and the mid-day breeze, created by the difference in temperature between the landmass and the sea, makes an otherwise hot day very pleasant. The route instructions suggest I travel by ferry to Amouliani, but I cheat and am taken there on a speed boat by the Captain of the Eagles Palace Yacht Club where I join less active friends for a healthy Mediterranean picnic before continuing with my walk.
And what a walk it is! The route meanders across sandy beaches criss-crossed by nothing but bird and animal tracks, where aggressive nesting seagull parents dive-bomb me as I pass close to their chicks. I walk over great, dark, rounded bedrock veined with sparkling white quartz and curving golden beaches caressed by crystal clear seas in which dart shoals of tiny fish; splash through sandy lagoons; find perfect ports; and a road flanked by spring flowers. Taking my time, I enjoy both the solitude and stupendous scenery, only heading back once it's time for dinner.
On the Mademorchorian Walk I'm doubly happy that the Eagles Palace Hotel and Spa has hired Pavlos on my behalf because he translates when I meet George, mayor of three local towns, who tells me about the gold mining that has been done here for thousands of years.
The mayor takes us to an unused surface mine hidden under deciduous forest, and then to a stunning view of steep green hills spreading into a flat, wide wetland valley with an open-cast mine to the right and Port Lagos at its end. He tells me that the wetlands are an EU protected park but that everyone has a right to roam in Halkidiki provided they don't camp overnight. He explains how silver and gold have both been mined in this area for thousands of years, and that the black rock I walked on yesterday contains aluminium which is also mined, and shows me where Alexander the Great smelted metal for his weapons.
Roaming free
Emboldened by my newly discovered right to roam, I add impromptu wanderings to the scheduled walks with Pavlos. One such takes me to a 2,000 year old tree, and I discover that the cheap huts I thought were for people in trouble to overnight in were used for raising pigs. On twisting paths through deep pine forests and over hills steeped with the heady scents of oregano and thyme, we pass ruined churches buried in vegetation, broken aqueducts, and multi-coloured beehives. I stop to admire plunging panoramas of pine rolling into valleys and the sea, tiny white towns, and ports with blue-sailed boats, visit the village and forest of Varvara and bathe in its magically secluded waterfall. On roads everywhere tortoises bask in the sun. I'm told the tracks I find are of wolf, fox and wild boar. I reflect that my schoolgirl's knowledge of Greece meant I've been long unaware of most of what Halkidiki has to offer. I had no idea that nature parks and mining could coexist in this way or that gold mining still occurred here.
On my last night I watch from my room as the glowing blue mountains on other peninsulas are slowly overcome by the oranges, vermilions, and purples of sunset. This has been an undeniably spectacular and intensely educational trip. While the biggest surprises for me were what I learned of the mining and the herbs, I'll take home fond memories of the warmth of the people, their connection with the land, and their dedication to preserving as much history as possible with, or without, external help.