It starts to dawn on me that this trek will be unlike anything I've done before when I am picked up in a monster truck – and then it is confirmed when, four hours later, I'm dropped off among a cluster of multi-coloured mountains.
Heavy rain clouds blanket the sky and dim the scene, but a kaleidoscope of orange, yellow, red and green rock still blares out from the alien hillsides.
"There's a natural hot spring just over there, if anyone has brought their bathing suit," says our guide, Bjorn, seemingly oblivious to the fact there's a bone-piercing wind careering into us from further up the valley and that stripping off is just about the last thing any of us want to do.
This bizarre but remarkable little place is Landmannalaugar, the first (or last) of several unpronounceable staging posts on a three-day, 55km trek through southern Iceland known as the Laugavegur.
It's the most famous and popular hiking trail in the country, and given that Iceland is home to some of the most spectacular landscapes and natural features on the planet, that is quite a status to hold.
The route is busy with European and North American walkers in the peak season of July and August, but it's mid-June and the badly broken mountain road connecting Landmannalaugar with civilisation opened only yesterday, so we have the place pretty much all to ourselves. Not that there's much here - just a refuge, an empty campsite and a warden's hut interrupting nature at its bedazzling, bewildering best.
Unsurprisingly, Bjorn's offer is firmly rebuffed, so instead we pull on our boots for a short warm-up walk to the summit of the adjacent Blue Peak.
It's a slight disappointment to find it isn't actually blue given that normal geological laws don't appear to apply here, but all is forgiven when we clamber up its steep flanks to find unbroken views of the neighbouring mountains and valleys below awaiting us.
The hike down the opposite side and back to Landmannalaugar proves just as spellbinding, as huge scree slopes tumble into a vast lava field topped by a layer of crunchy snow, fire juxtaposed seamlessly with ice.
It's a tantalising couple of hours of walking, but day is starting to give way to night and so we retreat to the spacious and spotless refuge to gorge from a giant pan of piping-hot pasta and then retire to the empty rows of bunks.
We need the carbs and rest, because the first day of the Laugavegur will take us a hefty 24km up on to and along a mountain ridge called Hrafntinnusker (try saying that after a shot of schnapps) and then back down to the second settlement on the route, Alftavatn, which sits on the shores of a lake sharing the same name.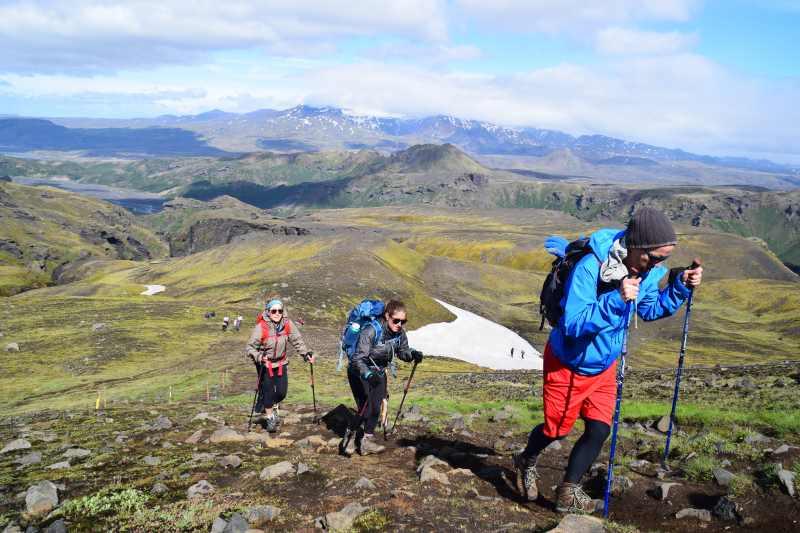 Clouds still linger in the sky and the wind continues to howl when we leave Landmannalaugar early in the morning, but we're too distracted by sulphur pools, lava sculptures and all the colours on show to pay too much attention to the weather.
The landscape then morphs from volcanic to Arctic as we climb slowly up to Hrafntinnusker, which is covered in a thick coat of snow and is shrouded in a dense mist.
The whiteout quickly becomes so blinding that Bjorn has to navigate on instinct rather than landmarks and the only objects I can see are the fluorescent jackets and backpacks of my fellow walkers, all of whom are struggling to stay upright in the now gale-force wind.
Views of the surrounding mountains are well and truly blocked out, but I don't really care, because it feels like we're on a polar expedition and I bound across the deep, powdery snow with relish.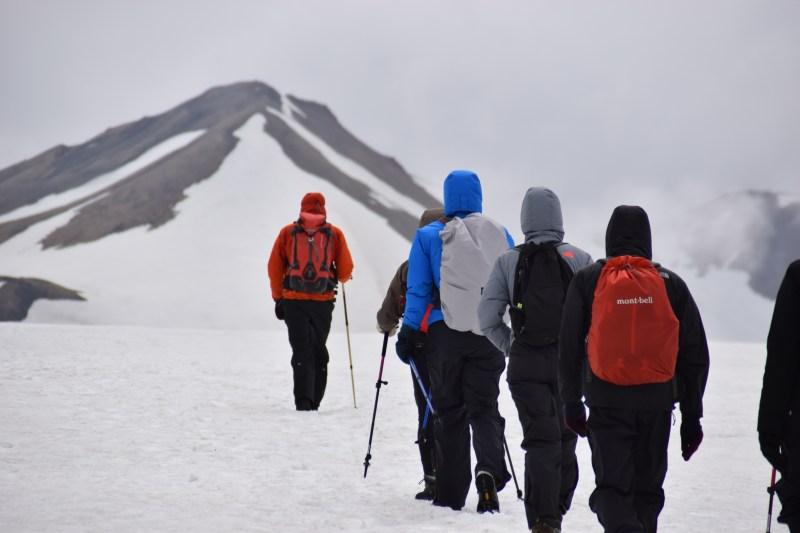 After a couple of hours battling the elements, we stumble upon a refuge about halfway along the day's route and head inside for shelter, lunch and the chance to warm frosted gloves on electric heaters.
By the time we venture back out, the mist is beginning to clear and great peaks slowly appear through the whiteness. They're no match for the Himalayas or Alps or Andes, but they're spectacular in their own way and cameras are soon clicking frantically to capture them before the clouds roll back in.
We then descend off the ridge and down below the snow line once more towards the waiting Alftavatn, which sits in a valley surrounded by perfectly conical summits and, like Landmannalaugar, is little more than a refuge and a campsite.
The view looking directly down on it from the edge of the ridge could sell Iceland all on its own - volcanoes and rivers and lakes and snowfields - but what makes it truly remarkable is that just off to the east we get our first glimpse of Myrdalsjokull, one of the six ice caps that Iceland is home to.
It's so big that, at first, I mistake it for a sprawling cloud trapped by the mountains, yet on closer inspection I can make out glaciers pouring off its outer edges and it soon dawns exactly what I'm looking at.
Rain starts to fall heavily as we approach Alftavatn, but the refuge is every bit as warm and cosy as we could wish for in our drenched and wind-battered state and we pass the evening cooking, drying clothes, playing cards and sharing stories of treks past.
Heavens wide open
The heavens are still wide open when we set off the following morning and I momentarily kick myself for visiting Iceland so early in the summer season. But after a while I come to the realisation that this is a wild and unforgiving lump of rock in the north Atlantic and that wind, rain, sleet and snow are just as quintessentially part of the experience as waterfalls, volcanoes and glaciers. The weather is, by some subconscious quirk, what I came to see and feel and, as the kilometres tick by, I learn to embrace it.
What I hadn't expected, however, was having to strip off and wade into an icy river about an hour into the day.
Although the Laugavegur is fairly well-trodden, the multitude of rivers it crosses aren't bridged and so all of them have to be forded.
"Everybody take your pants off," shouts Bjorn through the wind as we reach the first, his impeccable Icelandic giving no indication that he's actually from Germany.
"You're joking, right?" I protest. "Can we not just roll our trouser legs up?"
Apparently not. Conditions here are so volatile that there is no way of judging how deep the rivers are and unless you want to risk getting your trousers soaked, it's wise just to take them off altogether.
Stripping in the wind and rain is a painful process, but it's child's play compared with actually setting foot in the torrent. Imagine breaking your foot and crossing an Icelandic river feels much the same.
With arms linked for support and trekking poles wielded for stability, we dash across to the salvation of the far bank as fast as possible and then throw our trousers and boots back on before feeling abandons our poor legs completely.
The landscape opens out as we leave the river behind and we soon find ourselves striding through a black-ash desert flanked by volcanoes draped in the last of the winter's snow.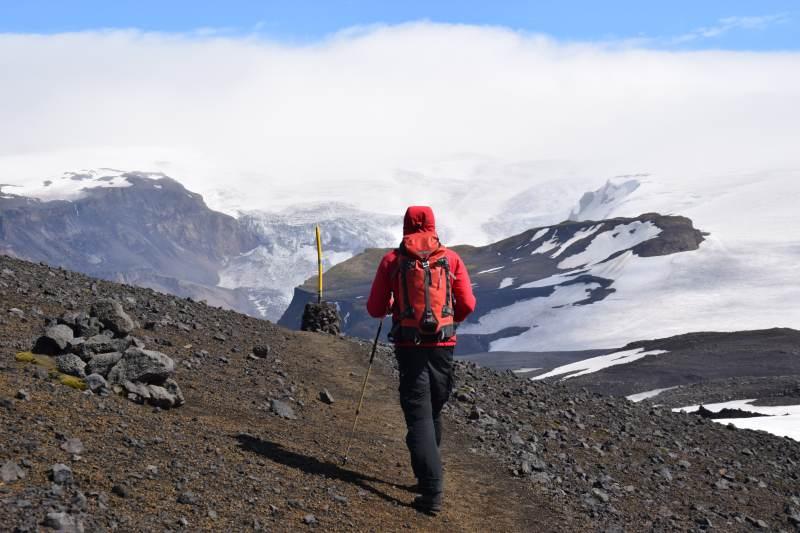 The desert is so vast that it takes us most of the day to cross, but greenery returns just before we arrive at the third refuge on the route, Botnar.
This time we share a room with three Dutch girls who are walking in the opposite direction and they delight in telling us about the sunny weather and dramatic views they have spent the day enjoying.
Sadly, we have no such luck and rain once again greets us when we set out the following morning, although it's just about clear enough for us to marvel at a spectacular gorge cut by the rampaging Emstrua river.
The clouds finally part early in the afternoon, and trees and even forest also return as we descend away from the barren highlands towards the end point of the trek, Thorsmork.
Like the Laugavegur's other staging posts, there is nothing here in terms of services and facilities - a couple of refuges a couple of kilometres apart is your lot - but Thorsmork is hemmed in by mountains to the north and the Myrdalsjokull and Eyjafjallajokull ice caps to the east and south, and it consequently occupies one of the most stunning locations you could possibly imagine.
We climb a small hill next to our refuge called Valahnukur and the summit offers us a front-row view of half a dozen glaciers, but this is merely a taster of the wonders awaiting us the following day.
Capping it off
Although the Laugavegur trek is now over, Thorsmork is home to some of the best hiking in the country and so on our fifth day, we climb 10km up to a pass known as Fimmvorduhals, which separates Myrdalsjokull and Eyjafjallajokull.
Myrdalsjokull is considerably the bigger of the two caps, at just under 600 square kilometres, but Eyjafjallajokull is the most famous courtesy of an eruption in 2010 that kicked out enough ash to ground air traffic throughout Europe and beyond for the best part of a week.
Bright sunshine and clear skies at last replace clouds and heavy rain as we leave the refuge and the timing could not be more perfect.
The route up to the pass follows a jagged, spectacular and at times knife-edge ridge called Kattarhryggir that bisects deep grassy gullies, and as we gain height, the Myrdalsjokull cap slowly comes into full view.
We had seen only fleeting glimpses of it through the cloud on previous days, just brief hints at its size, but now we can marvel at it in its entirety and the sight is almost overwhelming.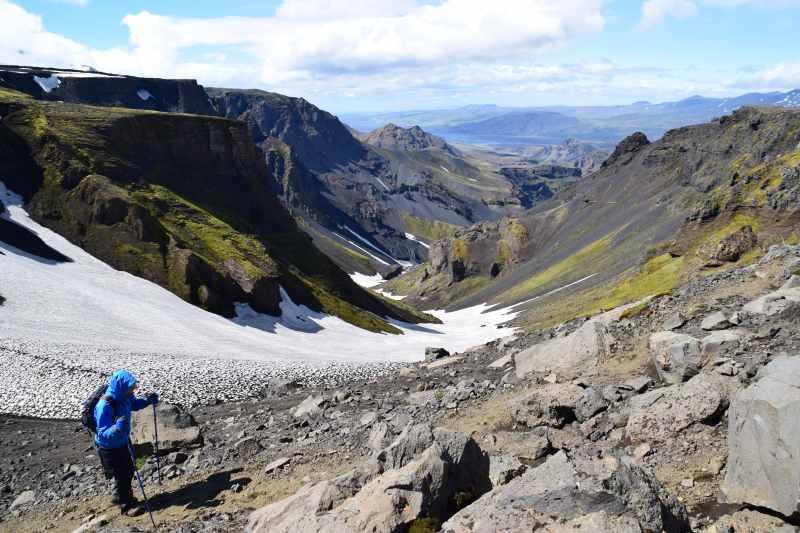 The cap dominates the horizon off to the east and it's a struggle to count the number of glaciers I can see falling from its outer edges and down into the valleys. You can find snowcapped mountains or deserts or canyons on just about every continent, but this is one of only a handful of places in the world where you get such staggering, unbroken views of an ice cap and it feels a privilege to be here.
But the best is still to come. We continue up the Kattarhryggir ridge until reaching a rocky plateau and then climb a steep snowfield leading to Fimmvorduhals, from where Myrdalsjokull and Eyjafjallajokull are both in full view, not to mention the Magni and Modi craters that formed during the 2010 eruption.
A freezing wind whips the pass, but it's such a unique and magical place that it only seems right to stop here for lunch on beds of six-year-old lava covered in snow.
Although we eventually leave reluctantly, there is no need to despair because the descent back down to Thorsmork proves just as dramatic. We had not really noticed the far-reaching vistas north on our way up, transfixed as we were by the volcanoes and glaciers ahead, but now there is no missing the unbroken line of sight over the textured green mountains of Iceland's highlands.
These mountains form the backdrop almost all the way to Thorsmork, where our monster truck is once again waiting to whisk us away from this mesmeric world and back to the quaint but comparably ordinary surroundings of Reykjavik.
Sensing our need for a gradual reacclimatisation, our driver breaks up the journey by stopping at the Sejlandsfoss waterfall, which is so impossibly perfect that even a fantasy novelist could not come up with something as beautiful.
I climb back into the truck one final time spellbound by this latest reminder of the unique beauty of Iceland, a remarkable little country with few peers.
Top tips for hiking in Iceland
Don't cut costs on waterproofs. It rains a lot in Iceland and if your waterproof gear isn't up to scratch, it will be badly found out. Invest in the best jacket and trousers you can afford - you won't regret it. Boots have to be waterproof, too. You're just as likely to be walking on snow as you are trail, so watertight footwear is essential. Practise your low-light photography before you go. Perfectly clear days might be few and far between, but even cloudy days can produce stunning images in Iceland - as long as you know what you're doing. Take trekking poles. Even if you don't usually use them, you will be thankful for them when it comes to river crossings. Another must for river crossings is a spare pair of old trainers. River beds are rocky and dangerous, so having something to put on your feet is imperative.
Our trip
Matt travelled with Extreme Iceland on their five-day 'Laugavegur and Fimmvorduhals Hiking Tour'. Trips run from June to September and cost £1,350, depending on exchange rate. Visit extremeiceland.is or email This email address is being protected from spambots. You need JavaScript enabled to view it.