"Guernsey: The Sunshine Island" reads the vintage rail poster I spot as I grab my bags from the carousel. I've landed on the second-largest of the Channel Islands, and the weather immediately delivers on its promise. I step outside into balmy late-summer sunshine, far removed from the thick clouds I left behind in London.  
Guernsey is a law – and a weather system - unto itself. The Channel Islands may be part of the British Isles but this isn't technically the UK – Guernsey has its own parliament, its own government (the States of Guernsey) and its own culture. Life here feels both familiar and far removed from what I've left on the 'mainland', back over the water in England.
Here, you'll hear snatches of French spoken in the street, words from Guernsey's patois, Guernésiais. The Guernsey pound note is often used as tender. Post boxes are blue. The landscape is subtropical in places, and on a clear day you can see France across the sea. And spring arrives a whole month sooner than on mainland UK, bringing with it that gloriously reliable sunshine – this is the sunniest place in the British Isles.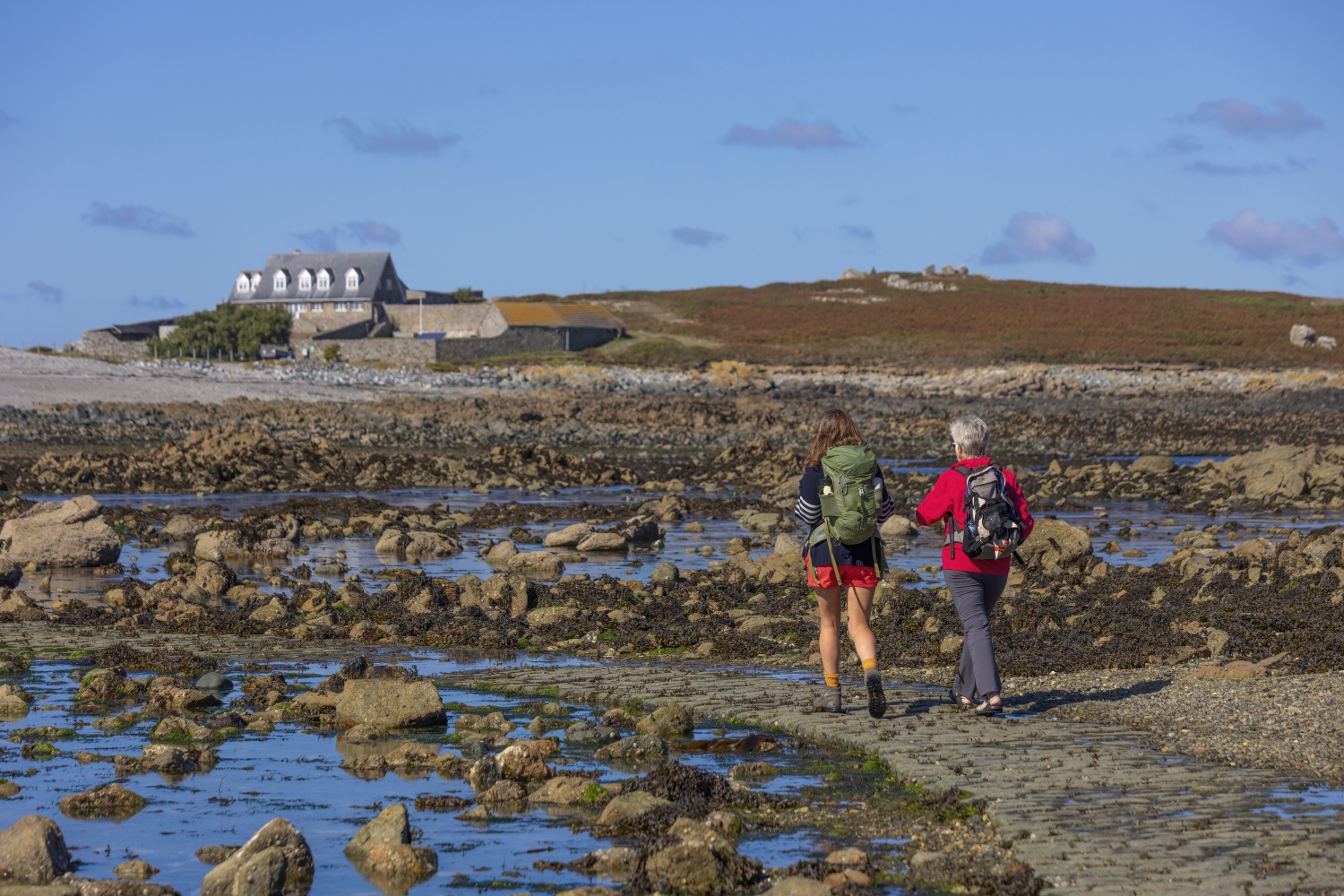 The best way to get to grips with an island's geography is to explore along its edges, and the next morning I join Gill Girard, a walking guide whose family have lived on Guernsey for generations, to hike a slice of the 40 miles of rugged coast path that encircle the island. The trail soon opens up to jaw-dropping views of green cliffs and sandy beaches. It's a scene that deserves to be immortalised, and so thought one of the island's most illustrious fans. Renoir visited the Channel Islands in 1883, and now we stand in the exact spot, looking down on Moulin Huet Bay, where he painted Baie du Moulin À Travers des Arbres.
Gill knows these shores like the back of her hand, and takes me in search of a hard-to-find swimming spot. We walk across a seaweed-strewn causeway to the little tidal island of Lihou for a dip in the temptingly-named Venus Pool. This deep rock pool is uncovered at every low tide, its clear water warmed by the late summer sun – it's a favourite with locals, but we have it to ourselves for what feels like dipping in our own private ocean bath.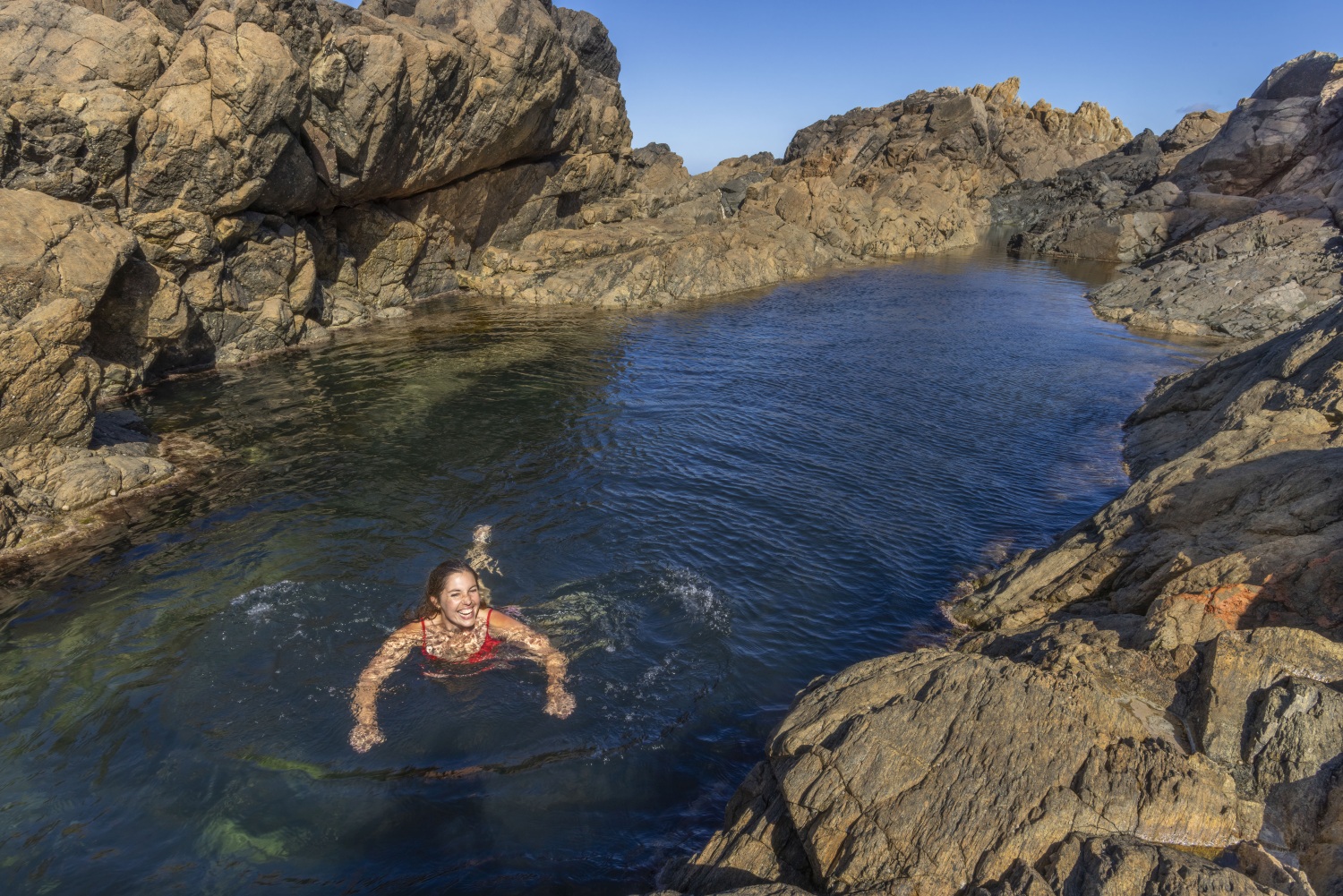 On the walk back across the causeway, a round tower with narrow slits for windows dominates the coast. It's a German observation tower, used as a lookout in the Second World War. When we get closer, I realise that the field around it is a rabbit warren of trenches. Even though I knew that the Channel Islands were occupied by German forces from 1940-1945, it's still a shock to come this close to so solid a reminder of Guernsey's past.
To learn more, I swap my boots for a bike and cycle over to Guernsey's small but brilliantly curated Occupation Museum, where sometimes shocking exhibits tell the story of the struggles of local people who lived under Nazi rule. Among the uniforms and firearms, some items stand out. A child's gas mask. A doll-size toy stove, made from scrap metal by an inmate in a concentration camp. A restored fishing boat that two young men successfully escaped to the British mainland in. And posters warning that anyone caught painting a V for 'Allied Victory' on walls would be summarily shot.
It's a sobering history, but back on my bike, what strikes me as I pedal the leafy lanes is how pleasant modern-day life is here now. People stop and chat, and want to know where I'm going to visit so that they can ply me with tips. A local women emails me directions to a secret beach. Everyone seems to know everyone, children play outdoors – things just move slower on an island where the max speed limit is 35 mph and you can drive north to south in just 30 minutes.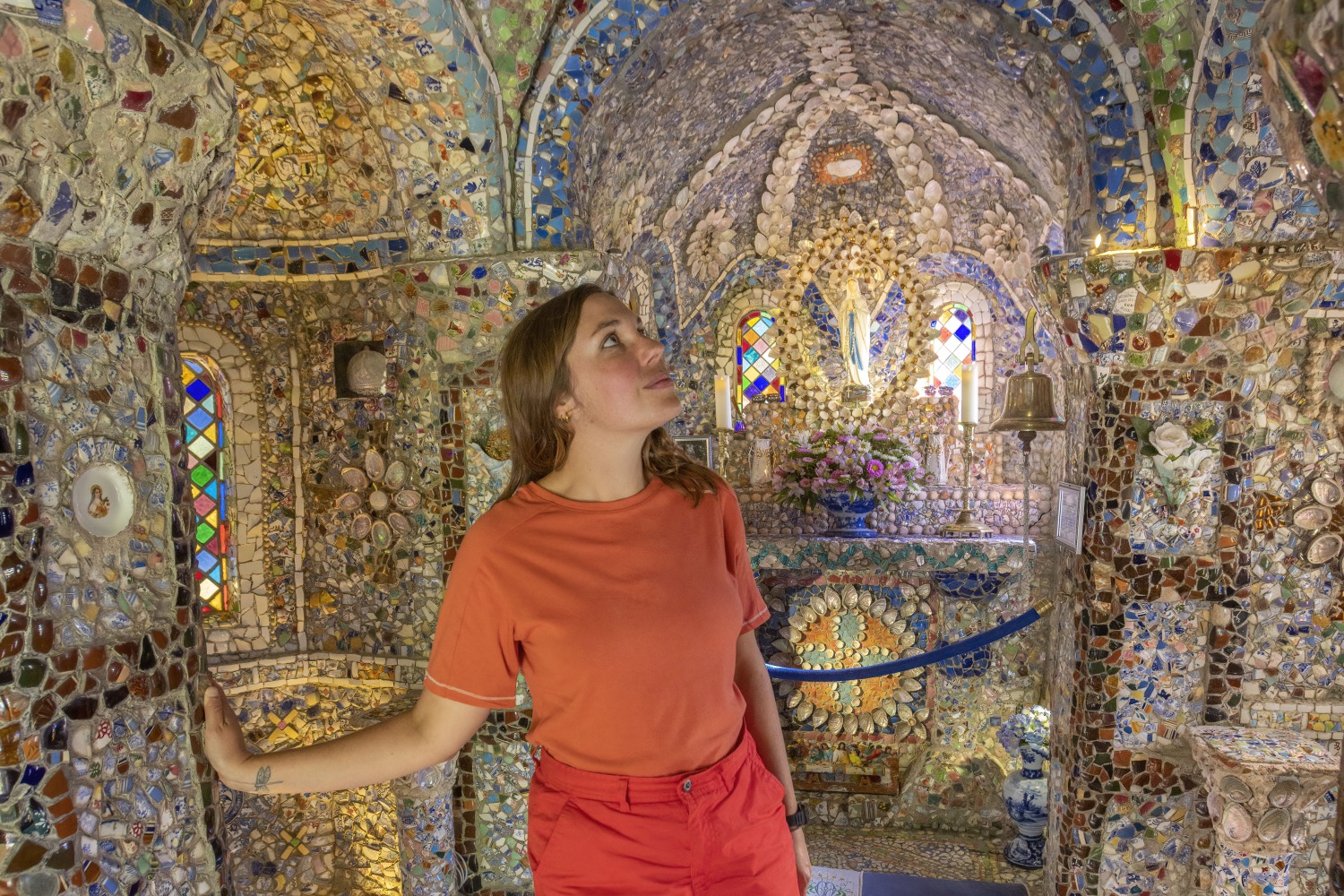 My next stop comes highly recommended by one of my self-appointed local guides. Visiting churches may not be top of my list when it comes to adventure travel, but on Guernsey you absolutely have to make an exception for what has to be the most charming chapel I've ever seen. The tiny structure of the Little Chapel is covered inside and out in a rainbow of mosaics made from broken pottery. The roof is lined with the iridescent shells of ormers, a snail-like mollusc considered a delicacy here, and the result is more Aladdin's Cave than centre of worship – this has to be one of quirkiest stops on a cycle loop of the island.
Life on Guernsey may be laid back, but that doesn't stop inhabitants from being a decidedly adventurous bunch. Jacqui Hunt from Guernsey Swim Adventures invites me to join her annual autumn equinox swim the next evening. I'm expecting a quick sunset dip, but I arrive at twilight to find group of forty hardy swimmers busy popping head torches into their brightly-hued tow floats. Jacqui has a spare one for me, and I realise I'm in for a proper nocturnal adventure. We wade into St Peter Port's harbour as night falls and swim through the inky water - I can see the orange and pink glows of tow floats in front of me and the first few stars above.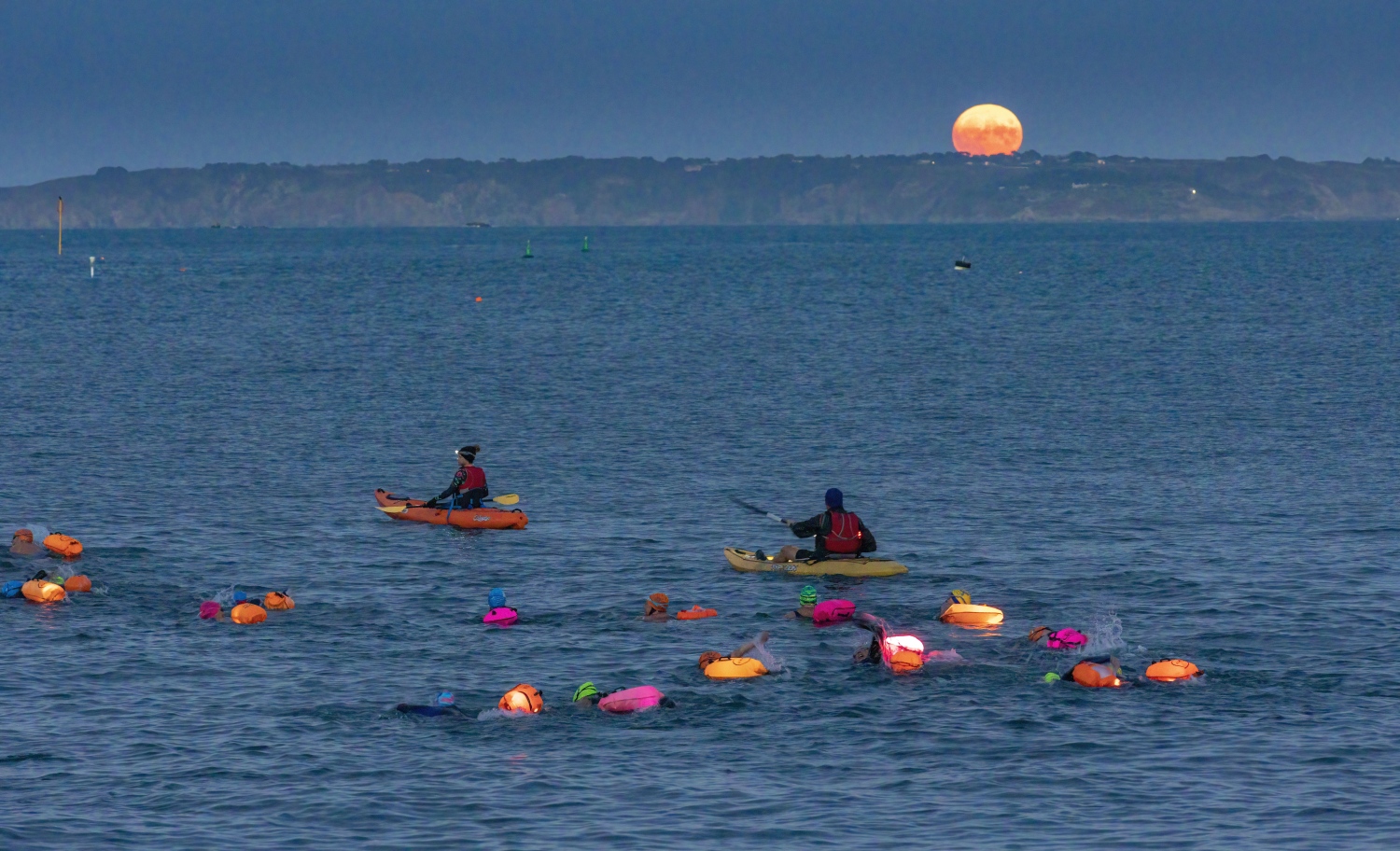 When we near Castle Cornet, which stands on the edge of the ocean keeping guard over the town, its lights suddenly blink on, and a huge yellow harvest moon rises in the sky, bathing our group of swimmers in gold light. It's one of the most magical swims I've ever experienced, and the show isn't over yet. As we make it back into the harbour after a two-kilometre loop, a fellow swimmer tells me to peer down at my fingers under the water. Sparks of bioluminescence eddy around them.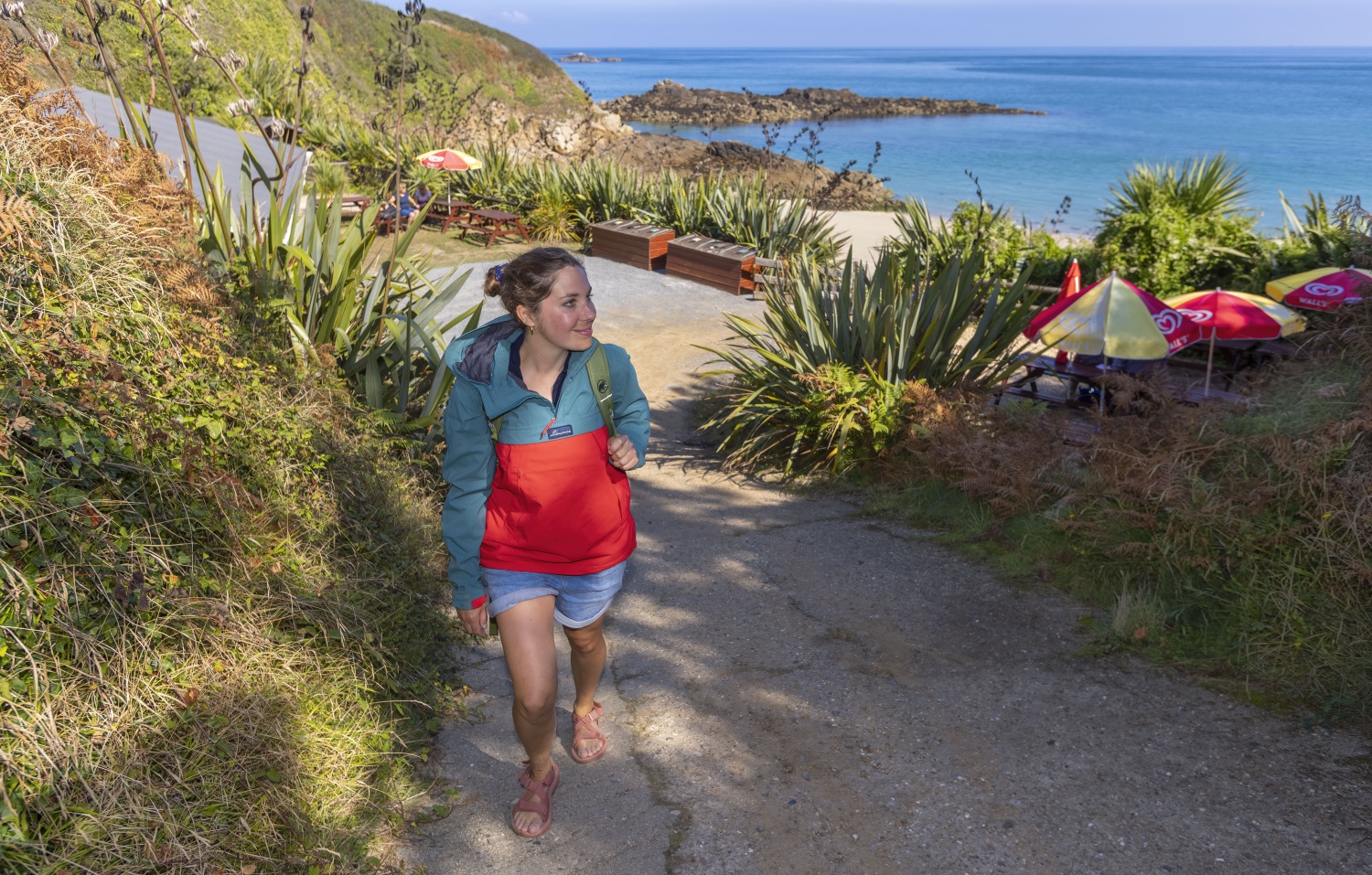 The next day Jacqui takes me to seek out more of Guernsey's wild side, and we walk the coast path in search of Le Jaonnet Bay. It's a hefty clamber down a vertiginous cliff path and then a climb down a steep ladder to reach this cove, but it's so stunning that it's worth any trek. It's also a popular nudist beach, and we spot a few sunbathers enjoying that lush Guernsey sunshine as nature intended them to, but we decide to stick to wearing our swimmers, caps and tow floats since we're headed into the ocean.
Jacqui leads me on a fast-paced swim around to the next bay, and once again, I'm glad I've got a guide – Jacqui takes me into narrow openings between tall rocks where the ocean swell swooshes us in and out at speed, like a water slide. "I often spot seals doing this!" Jacqui tells me as we glide back out into the clear shallow water.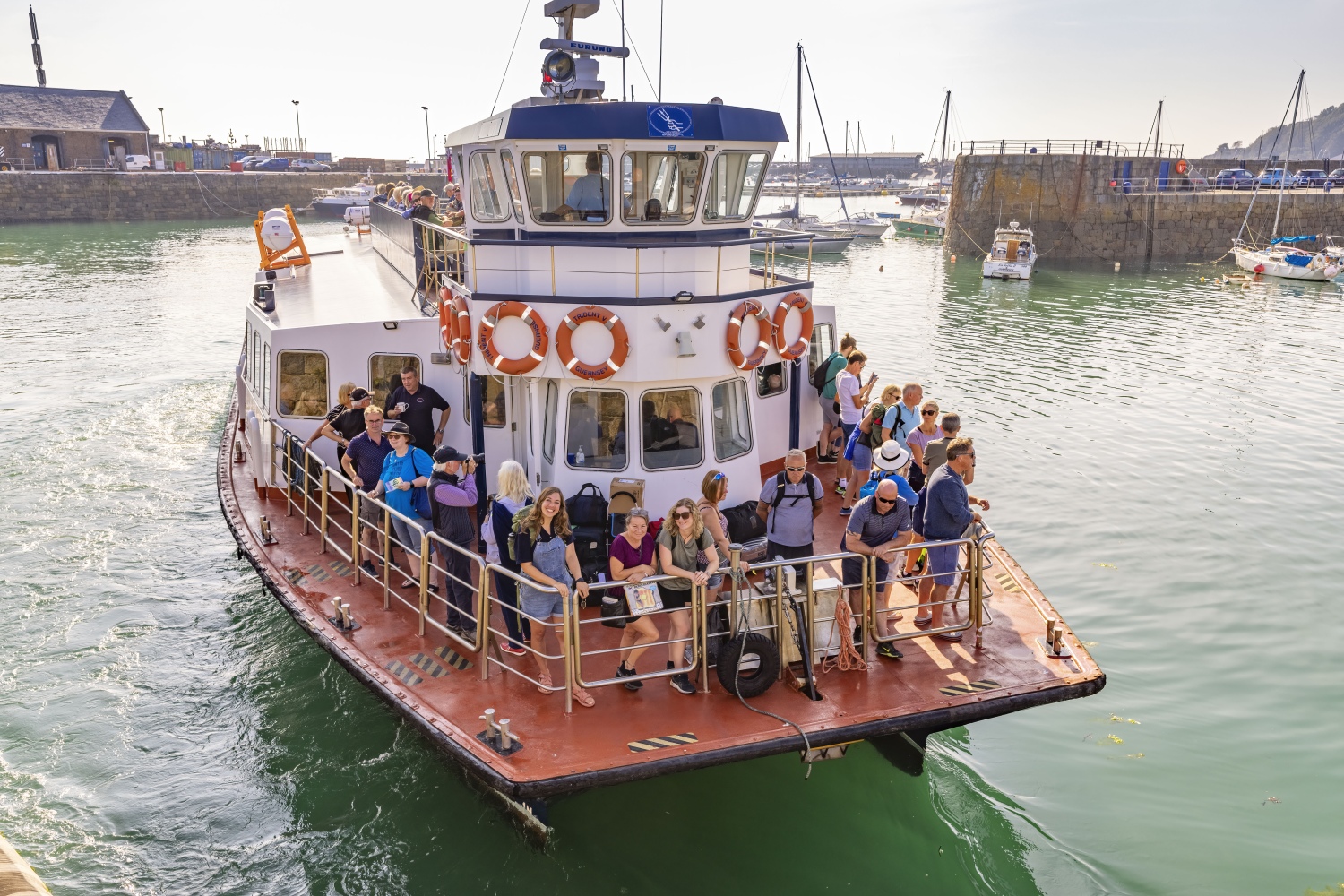 I'm up early to catch a ferry across to Sark, where I step off the boat and into a simpler way of life. There are no cars on this island - locals get around by bike, and the only traffic jams are when two horses and carts cross paths. I do as islanders do, and rent a rattly old sit-up-and-beg bike from Avenue Cycles. It's properly old fashioned, with a basket on the front and a bell that trills any time I go over a bump. But you couldn't get a better steed for exploring Sark.
I cycle down country lanes and past hedge veg boxes, waving at a farmer who wishes me 'a good day on the island'. I cross the dramatic La Coupée, or The Cut, a soaring isthmus that connects Sark with Little Sark, with a dramatic 260-foot drop from it to the temptingly clear waters of La Grande Greve beach.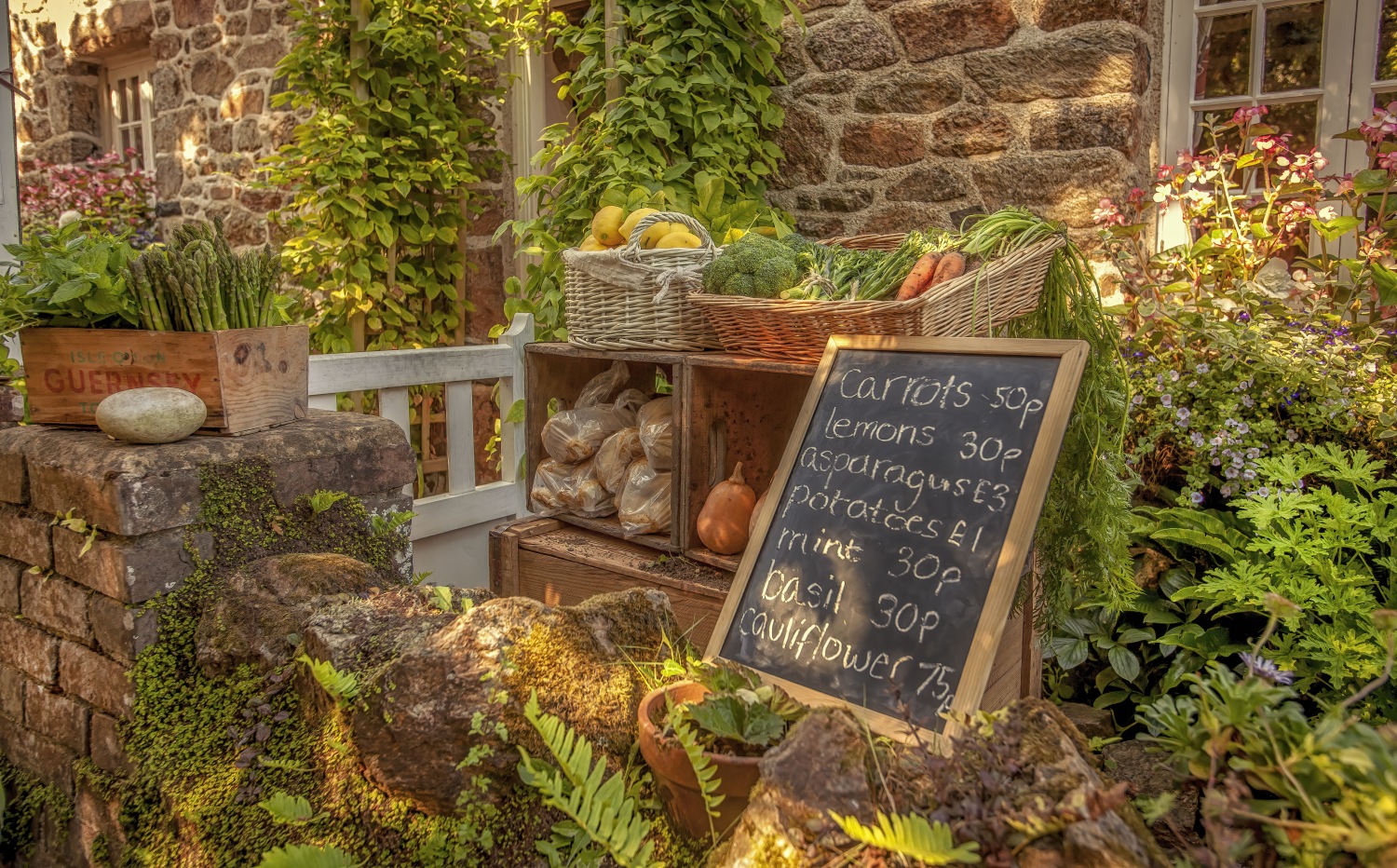 There's also adrenaline-fuelled adventure to be found on otherwise sleepy Sark. In the afternoon I meet Alfie Ford-Parker of Outdoor Guernsey, and get wetsuit-ed and booted up for spot of coasteering. Alfie takes me at my word when I assure him I can swim – we're soon leaping into gullies, clambering through narrow sea caves, jumping off spine-tinglingly tall rocks and squeezing down narrow crevices. You can't get more hands-on with this glorious coastline than this. I emerge strewn with seaweed to pedal back to the ferry still in my wetsuit, apparently a normal enough sight on Sark.
It's another short ferry hop from Guernsey to the little island of Herm. Herm is also car-free, and I'm expecting a pocket-sized version of Sark. But this island is completely different. It's small - you can walk the coast path in two hours – and has a gentler landscape that's a gem for ocean lovers. Around every headland is another huge sweep of beach, with soft white sand lapped by crystal clear water. I hike through the dunes and stop for a swim on Shell Beach.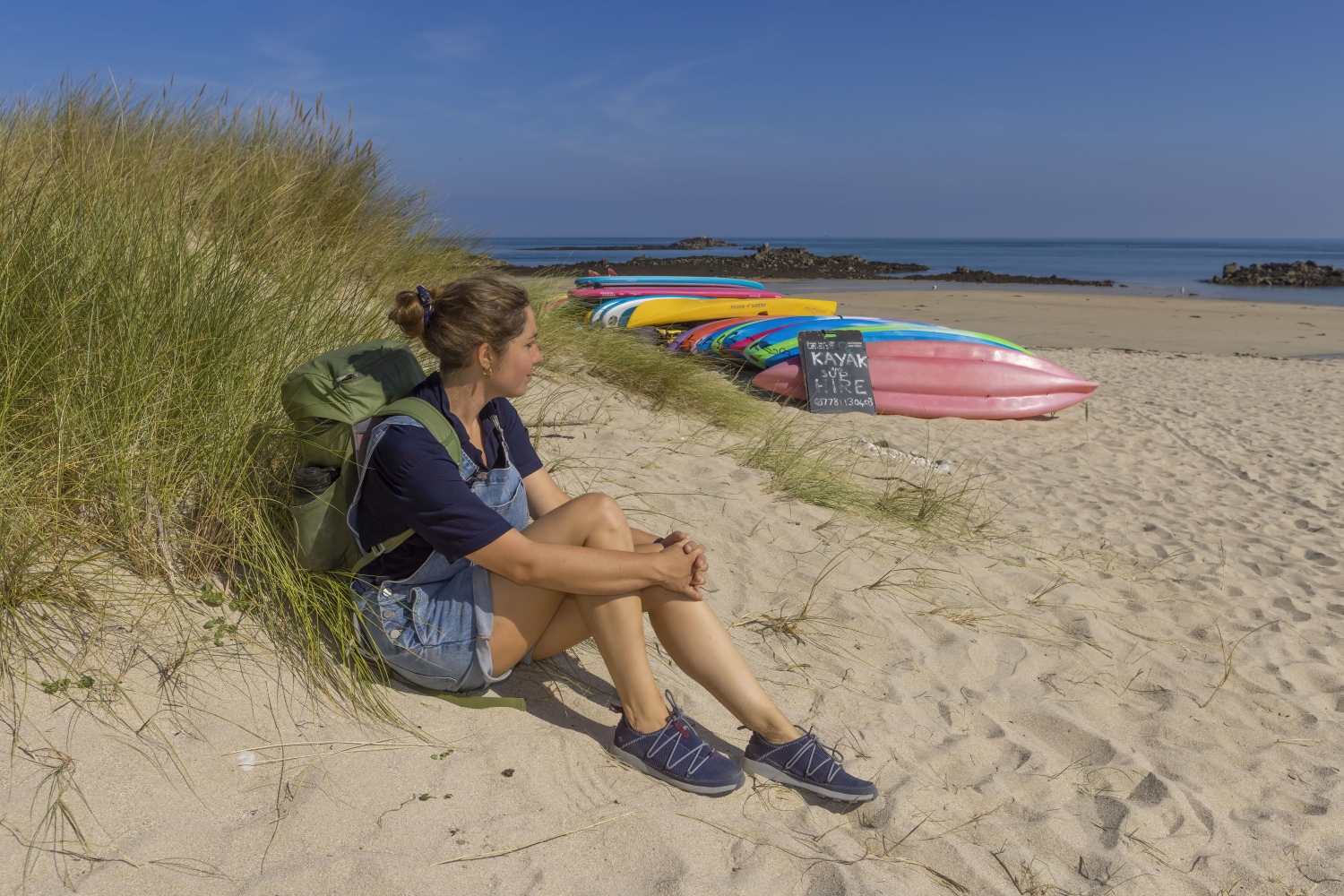 Named for the millions of tiny shell fragments that make up its sugary sand, it's home to water so clear that there's no need for a snorkel to spot the little fish that flit in the shallows. It's hard to believe that this tropical spot is anywhere even remotely near Britain. The beaches are almost deserted, but on the way back to the ferry I find out where everyone else in, when I call in at the Mermaid Pub and join the crowd propping up the bar. The bartender has a Scottish brogue, but like so many locals I've met here, he tells me that he came to these islands as a young man for a few weeks - and ended up stayed for decades. There must be something in the (sea) water.
Standing on the deck of the ferry back to Guernsey on my way to the island's (tiny) airport, I have a palpable sense of leaving good something behind. It turns out to be the sunshine. As the plane rises on the short journey to London, we fly straight into a thick bank of cloud, obscuring the still sun-kissed Channel Islands below.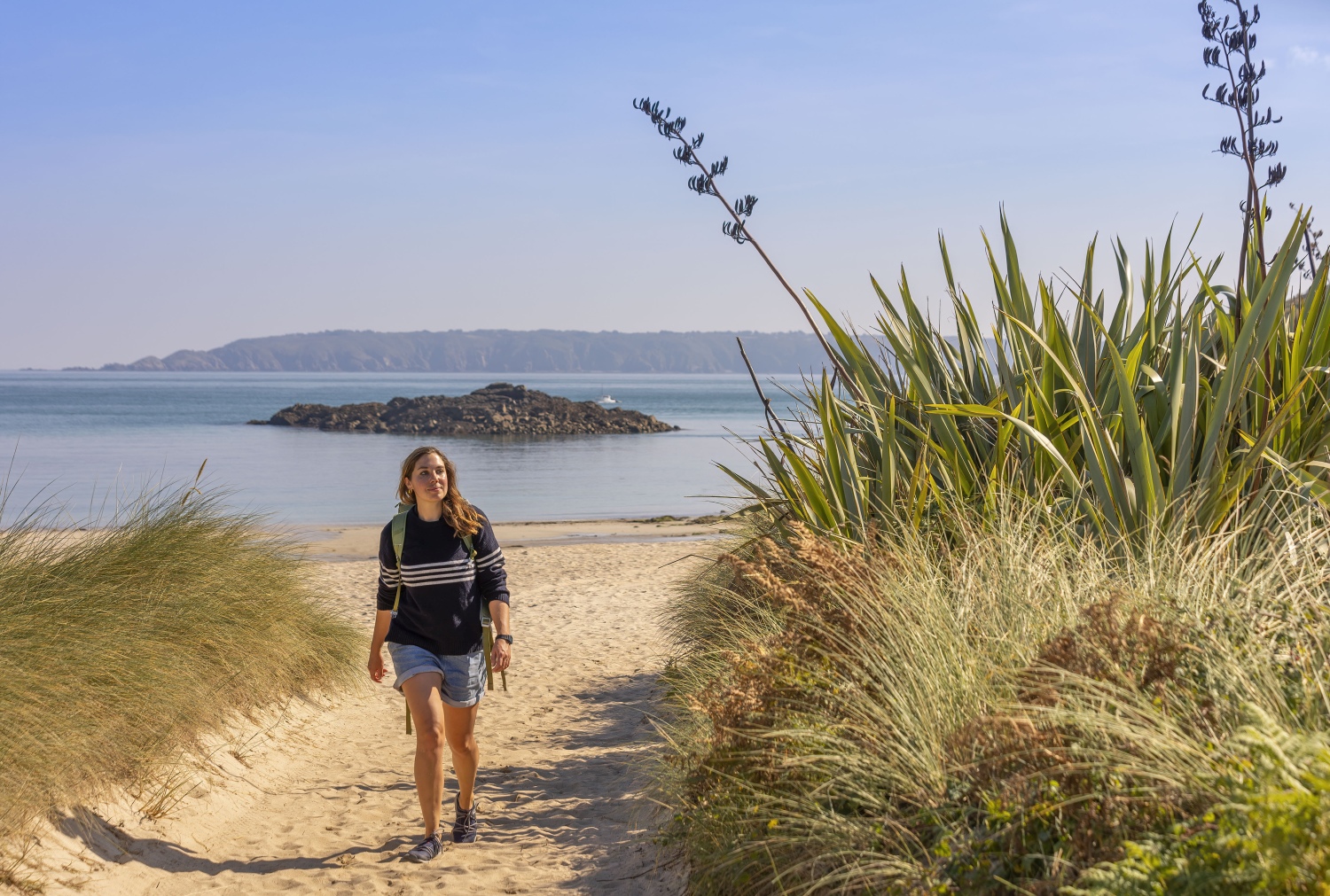 Island info
Sark
Sometimes called the 'crown jewel of the Channel Islands', Sark's two square miles, edged by wild, rugged coastline, are a gorgeous place to walk, cycle, or explore from the water on a coasteering adventure with Outdoor Guernsey. The island population of 500 get about by bike, tractor or horse-drawn carriage – and until 2008, they lived under Europe's last remaining feudal system. Sark is a haven for rare wildlife and plants, and is also a wonderful place for stargazing, as it's so free from traffic and light pollution.
Herm
Small but charming Herm is perfect for beach lovers – Shell Beach's wide sweep of sand and the pretty cove of Belvoir Bay are highlights. There's a permanent population of just 60 people, and the only (and luckily the best) way to get about is on foot – try walking the island's 3.6 mile circular coast path, which makes for a great day of beach and café-hopping. 
Guernsey
Guernsey is a brilliant island for adventure – cycle quiet lanes, hike the entire 40 mile coast path, kayak past white sand beaches and hidden coves or go for a swim safari with Guernsey Swim Adventures in waters home to one of the biggest tidal ranges in the world. Past fans of Guernsey's charms include Victor Hugo and Renoir. The 63,000 locals who call the island home are sometimes known as 'donkeys' for their stubborn streak, but offer visitors a friendly welcome.
Alderney
Alderney is just one and a half miles in width but manages to pack in some gorgeous, crowd-free beaches plus an airport, a population of 2,030 people and some extremely rare blonde hedgehogs.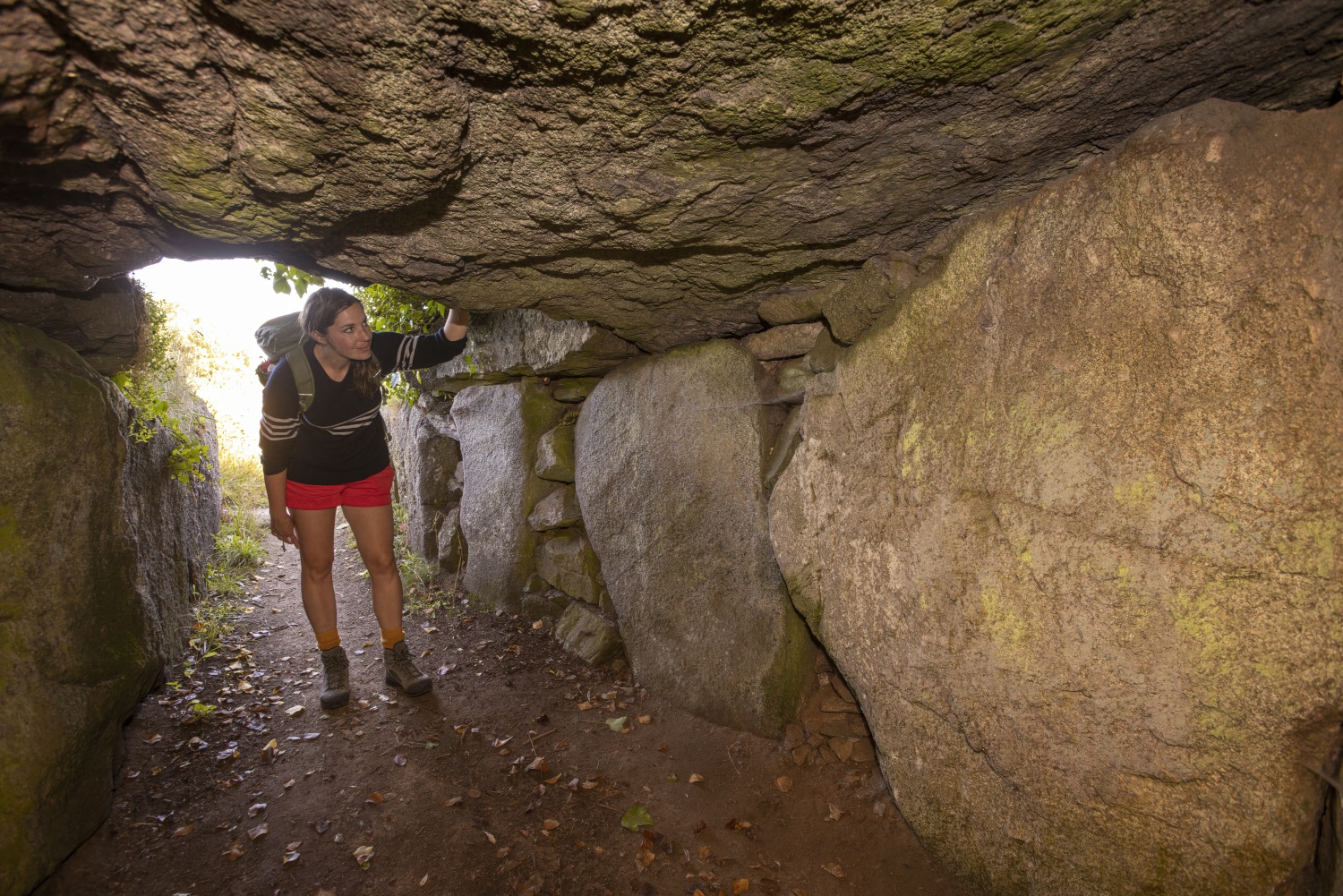 Ancient treasures
Guernsey is home to fascinating Megalithic remains dotted around the island. 
La Grand Mere
The 'grandmother', a Neolithic statue carved in 2500 BC, still sits benignly at the gate of St Martin's church, and is often wreathed in flowers by locals.  
Creux es Fees Passage Cave
The rather spooky Creux es Fees burial cave was in use for 4,000 years, and is said to be an entrance to the fairy world. 
Castle Church Menhir
Resurrected (and re-erected) in 1878, this towering figure is said to represent the Mother Goddess, and like many pagan statues on Guernsey, was discovered on the site of a modern church. 
La Varde
La Varde burial chamber, on L'Ancresse Common, is the largest megalithic site in Guernsey at 10 metres long. It was unearthed in 1811, when bones, pottery and stone tools were found inside.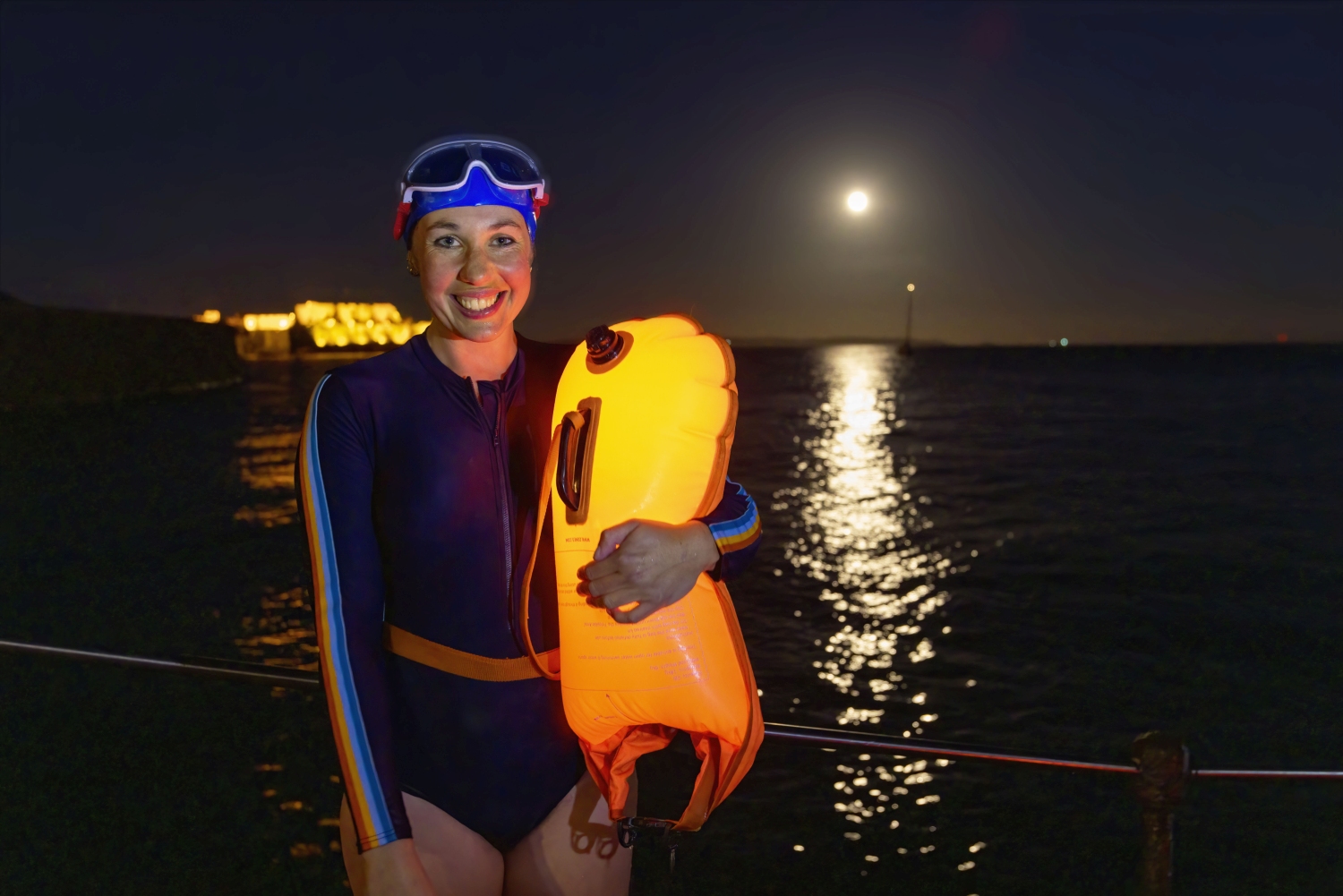 Travel info
Sian's trip
Sian's trip was supported by Visit Guernsey.
Health and safely
Guernsey and the other Channel Islands are very safe and easy to get around. While the speed limit is only 35 miles/hour on Guernsey, cyclists should still be cautious on the narrow and sometimes busy village roads. Guernsey's beautiful coastline is very tempting for swimmers, but be aware of the big tidal changes that happen here, and always check tide times if swimming, or if crossing an island causeway. 
What to pack
Pack hiking boots, waterproofs, a wetsuit for cold water swimming and plenty of sunscreen.  
Some of the gear Sian wore was outdoor adventure wear supplied by UK brand, Craghoppers. Great kit such as the Dynamic Short Sleeved T-shirt which has Dynamic 12000 tech that helps to boost stamina and reduce muscle fatigue by reflecting natural infrared rays back into the body, and the Nevis walking socks with built-in arch support and anti-bacterial action help to keep you fresh and protected against the elements. 
Sian also wore the Craghoppers Lady Locke packaway shoes which are perfect for travelling light and act as a great, grippy water shoe, and the Anderson Cagoule jacket which features an AquaDry membrane and concealed hood for outstanding weather coverage in changeable conditions, and is made with 110g of recycled materials. 
Getting there
Aurigny Airlines fly from London Gatwick, Stansted, Manchester, Leeds Bradford, East Midlands and Bristol to Guernsey from £102 return.
Take a three-hour ferry from Poole or Portsmouth to Guernsey with Condor Ferries, from £100 each way.
Getting around
On Guernsey, a hire car will let you get around the island speedily, but limited parking makes renting a bike an easier option if you don't have lots of luggage. Hertz offer car hire from £45/day. Outdoor Guernsey hire out bikes and offer cycle tours. Bike hire rates on request, cycle tours £45/day. 
Bikes are available to hire on car-free Sark from Avenue Cycles for £9/day. Herm and Lihou can only be explored on foot.
Food and drink
Try Guernsey's traditional gâche – a rich fruit cake best served with Guernsey butter and a cuppa. 
Where to stay
La Barberie Hotel, St Martin, Guernsey
Tucked away in peaceful St Martin, La Barberie does a fine line in old-world cosiness and modern dining, and makes the perfect starting point for hiking Guernsey's coastline. From £120/night.
Stocks Hotel, Sark
Stocks has been putting visitors to Sark up in luxury since the 1700s, and the restaurant, which uses ingredients sourced straight from the island, is a highlight. From £184/night.
La Vallette Campsite, Sark
Relaxed camping field with glamping pods. Panoramic views of France and overlooking Grève de la Ville Bay, the perfect spot for a morning swim. Adults £10/night.
Herm Holiday Cottages, Herm
Herm offer self-catered cottages and cabins of all shapes and sizes – try the Fisherman's Cottage, which has an open fire and a view of the harbour. From £455/week.