I am about to embark on the Coast to Coast, a 192-mile walking route across England, but something appears to be awry. Instead of sporting my usual hiking clobber, I am wearing running gear. I've swapped stiff walking boots for light trail shoes, and have replaced a heavy rucksack with a tiny backpack. I may look out of place on what's famously a walking trail, but I feel gloriously unencumbered.
Also in his jogging get-up is Mark Sandamas, director of Coast To Coast Packhorse, a company that helps walkers, cyclists and runners take on this cross-country route; "One of the best things about trail running is the freedom it affords. Your pace is dictated by the constantly-changing landscape. You hike up steep sections to preserve energy and then let the brakes off and flow downhill. It's a more natural – and more fun – way of moving through the fells than sticking to a regimented walking pace."
I have come to the Lake District to run part of the Coast to Coast, a much-loved route devised by British fellwalker Alfred Wainwright in 1973. The trail picks its way from St Bees Head, on the Irish Sea, to Robin Hood's Bay, on the North Sea, traversing the Lake District, the Yorkshire Dales and the North York Moors. The route has long been a favourite of walkers, but now trail runners can easily traverse it too.
This year, tour company Coast to Coast Packhorse are launching guided running holidays of the entire route, with options of ten days (averaging 19 miles daily) and 12 days (averaging 16 miles daily), as well as self-guided options. With only four days to spare, I'll make it about halfway around, running a total of 83 miles to the town of Kirkby Stephen.
We set off from St Bees beneath thick cloud – and immediately face a steep climb up the towering red sea cliffs. I slow to a walk, taking Mark's advice to adjust my pace to my terrain. I spot nesting puffins and seals in the crashing Irish Sea before picking up speed again. Up a sloping field sits the headland's dumpy white lighthouse, Britain's last to be laboriously lit by coal fires before they switched to oil in 1822.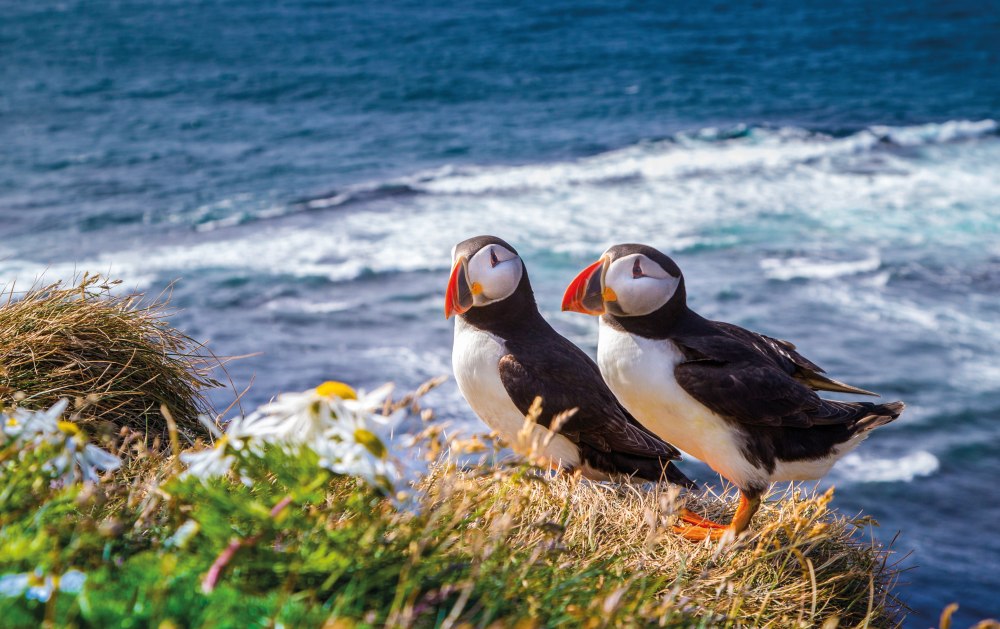 The first day is a 16-mile leg. We head east towards Ennerdale Bridge, a hamlet that sits just inside the Lake District National Park. The famously beautiful Lakes have been even more lauded after the area was awarded Unesco World Heritage status, and it's easy to see why as we reach the top of Dent Fell. The climb to its 325 metre peak is gruelling, but we are rewarded with our first, magnificent view over the lush green Lake District mountains.
After five hours we arrive at our first stop for the night, The Shepherds Arms in Ennerdale, my legs shaking and caked with mud. Accommodation is different on each night of the trail, and includes a 17th-century inn in St Bees and an old Quaker meeting hall in Grasmere. All serve hearty food that proves perfect for powering us up the fells. I feel exhausted but exhilarated as I wolf down a restorative dinner of steak and ale pie and head for the Shepherd's comfy beds.
One of the benefits of running the route is that there's time left for exploring when you arrive for each night's stay. On different days I snatch an hour at the Wordsworth Museum in Grasmere, go for a wander around 12th-century Shap Abbey and take a contemplative hike up to Haystacks, the hill where Wainwright's ashes were scattered.
Despite moving more quickly than the walkers we encounter, I never feel as though we are rushing. We pause to admire scenic spots such as Crummock Water glistening in the distance, and take breathers looking down upon heather-cloaked fells tumbling into sheep-speckled dales. Jogging along the trail makes me feel like we are travelling through time.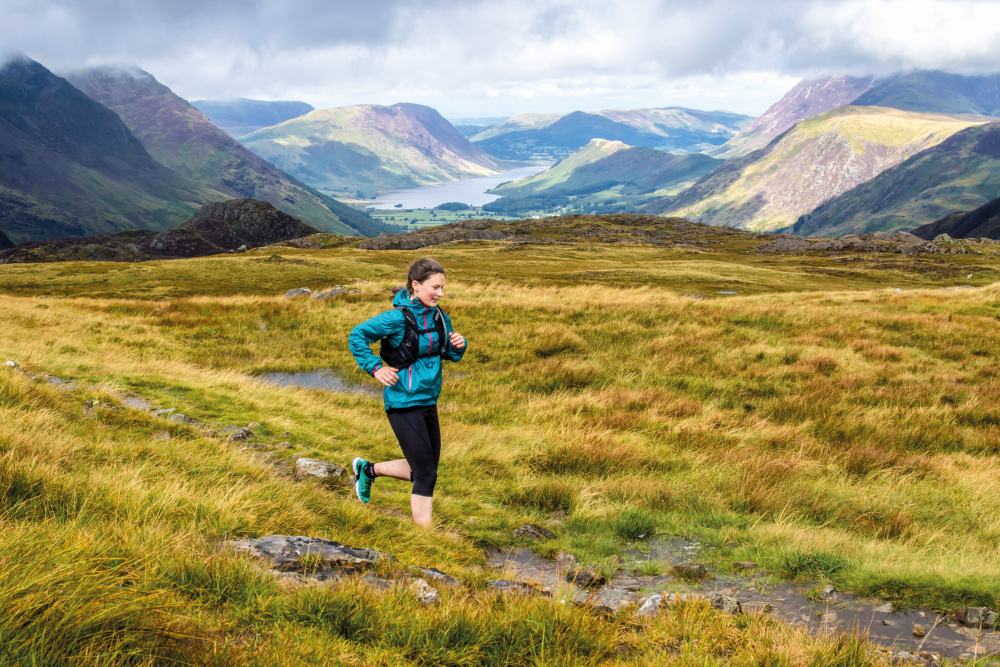 We pass Iron Age stone circles and Norman churches and the geology also changes dramatically along the route; the red sandstone of St Bees - remnants of 250 million-year-old desert rivers - giving way to green slate at Honister and the limestone of the Westmorland Plateau. It's like a science and a history lesson in motion. Mark believes the option of running the route will attract a younger crowd to the Coast to Coast.
"Trail running appeals to the mud runner type," he says. "It's accessible, requires very little kit and instantly immerses you in nature. You don't have to be a hard-core runner, but you do have to be after adventure."
I see what he means on one of the toughest sections of the route, the ascent up Loft Beck. Sweat drips from my nose as I plod up the steep, rocky track, my heart pounding with every laborious step. Mud squelches underfoot and rain pelts my waterproof jacket. And yet, somehow, the combination of exercise and the total immersion in my surroundings makes me feel thrillingly alive.
As well as not having to worry about navigation, being with a guide means I pick up tips on improving my fell running technique. "Look ahead, lean forwards and don't overthink it," Mark instructs as we encounter a particularly tricky descent, before he leaps down the rock-strewn slope with feline agility. I try to follow his advice and gradually get quicker – but it turns out that going down the trail is just as hard as going up it.
By my fourth and final day, I'm starting to get a good rhythm. As we leave the village of Bampton, bound for the market town of Kirkby Stephen, I switch off my brain and let my legs take over. With tranquil Ullswater behind us, we run through Orton village and glimpse the Nine Standards Rigg – nine huge stone cairns that have stood on the summit of Hartley Fell for centuries – before entering the North Pennines.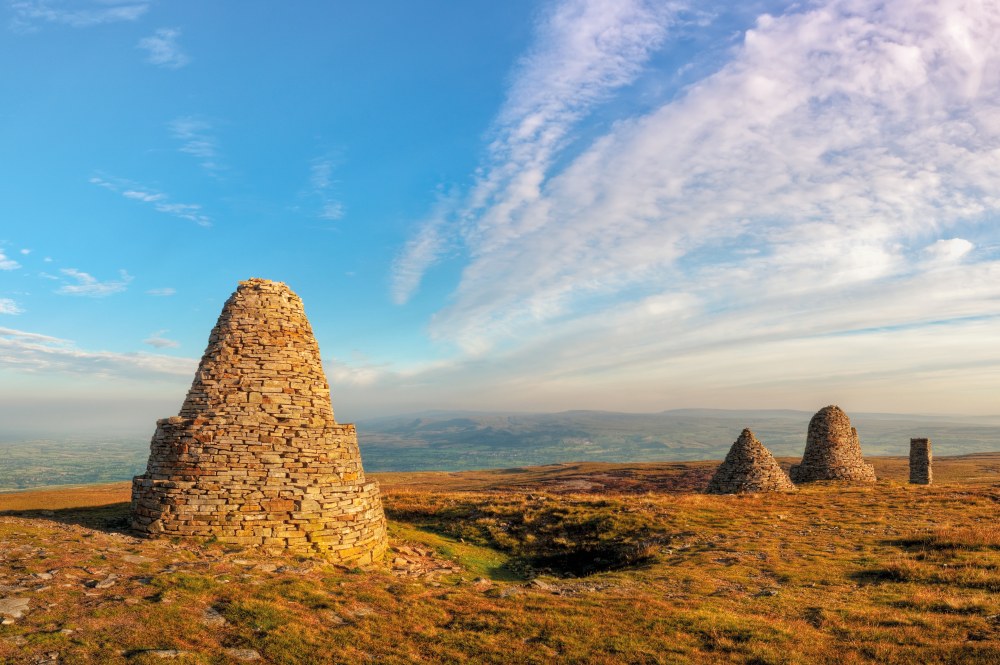 We splash through streams, scramble over stiles and zip past countless walkers, and all the while I'm honing my newfound skill of fell running. When we finally arrive in the cobbled streets of Kirkby Stephen I'm utterly spent. But with 83 miles of adventuring in wonderful scenery and a new favourite sport under my belt, I also feel a far greater sense of satisfaction than if I'd have walked my way here from the coast.
Three more long-distance trails to try
The Pennine Way, England
Fancy a challenge? Running 268 miles along the rugged backbone of England, from Edale in the Derbyshire Peak District to Kirk Yetholm on the Scottish border, this trail is famously tough to walk, let alone run. But it's also steeped in history and you'll be rewarded with outstanding views and wildlife.
Rob Roy Way, Scotland
Named after an 18th century outlaw, this 94 mile path runs from Drymen on the West Highland Way to Pitlochry in Perthshire. It takes in wonderful landscapes as it crosses from the Lowlands to the Highlands, with views towards the glassy waters of Loch Tay and Loch Earn.
Offa's Dyke Path, English/Welsh border
Following the border between Wales and England, this 177 mile footpath takes you from Sedbury, near Chepstow, to Prestatyn, on the north coast of Wales. Tracing remnants of an 8th century earthwork, it offers opportunities to catch sight of native wildlife as you run through changing landscapes, from riverside meadows up into the rugged Black Mountains.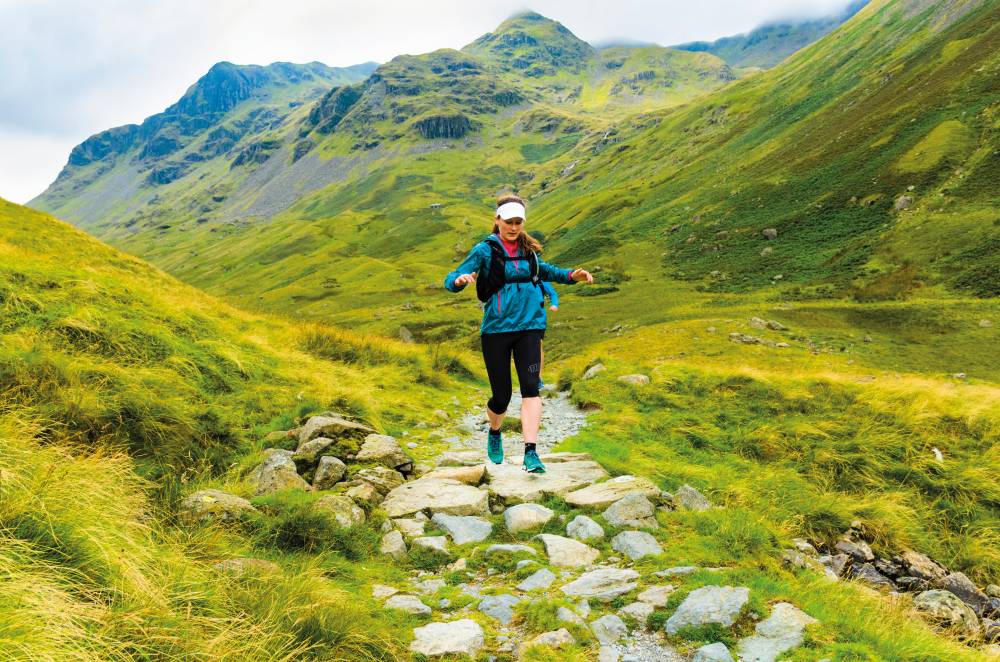 Travel info
Health & safety
Guests should carry a whistle and emergency blanket in their packs, and guides carry first aid kits and radios.
A reasonable level of fitness is required (comfortably running 45 miles a week prior to the trip is recommended).
What to pack
Good trail shoes are essential - Ellie wore inov-8's Roclite 290 trainers, which have excellent grip. Don't forget a waterproof jacket with a hood, a light running backpack with a Camelbak, base layers, hat and whistle.
Our trip
Ellie ran with Coast to Coast Packhorse, who offer a 10-day guided tours from £1,200 and 12-day tours from £1,310. Self-guided packages for 10 days start from £686. All trips include B&B accommodation and luggage transfers.
Getting there
The tour starts at St Bees Head in Cumbria. There are frequent trains from London Euston to Whitehaven, which is a 12-minute taxi ride from the village of St Bees.
Getting around
All transfers were organised by Coast to Coast Packhorse. Regular country buses connect the Lake District.
Food and drink
Breakfast and lunches are included in the tour price, but evening meals are not. Lake District country pubs offer great local fare.
Where to stay
Coast to Coast Packhorse arranges daily accommodation, which ranges from quaint inns such as The Shepherds Arms, doubles from £87 per night, to Quaker meeting houses.