Sponsored content
Dominated by the red rock spires of the Dolomites, Trentino is a land of high altitude pastures, deep alpine lakes, and secluded forest walks. But there's more to this northern Italian province than just the mountains.
Its fine wines, incredible food, and unique and fascinating history are all equally worth exploring, and with an extensive network of quiet, winding roads, strade bianche (dirt tracks) and well-signed mountain bike trails, there's no better way to get around than by bike.  
Riding the new DOGA route
Launched last summer, the new DOGA cycle path links two of Trentino's crown jewels—the Brenta Dolomites (DO), a UNESCO World Heritage site, and the northern shores of Lake Garda (GA). The route includes sections that regularly feature as stages of the Giro d'Italia, but thankfully, it doesn't require legs like Chris Froome's to complete.
It mixes up the tarmac with dirt tracks through the forest and flatter cycle paths along river banks, making it perfect for gravel bikes, eBikes, or hardtail mountain bikes. Which is just as well, because when Active Traveller rode it recently, we had neither the Pinarello road bikes, nor the Froome-like level of fitness required for a full-blown Giro stage.
Our journey begins at the station in Malè, where a tiny train runs regular shuttle services up and down the Val di Sole, or valley of the sun, from Trento, the regional capital. Here, we meet our guide Bruno Ferrari, whose nature, it becomes quickly apparent as we set off pedalling, matches his name. A relatively flat first section along the Noce river quickly turns into a steep climb as we reach the town of Dimaro.
Thankfully Ferrari takes it easy on us, and we scale the switchbacks at a relatively mellow pace until we reach the 1,682m Campo Carlo Magno pass, in the ski resort of Madonna di Campiglio.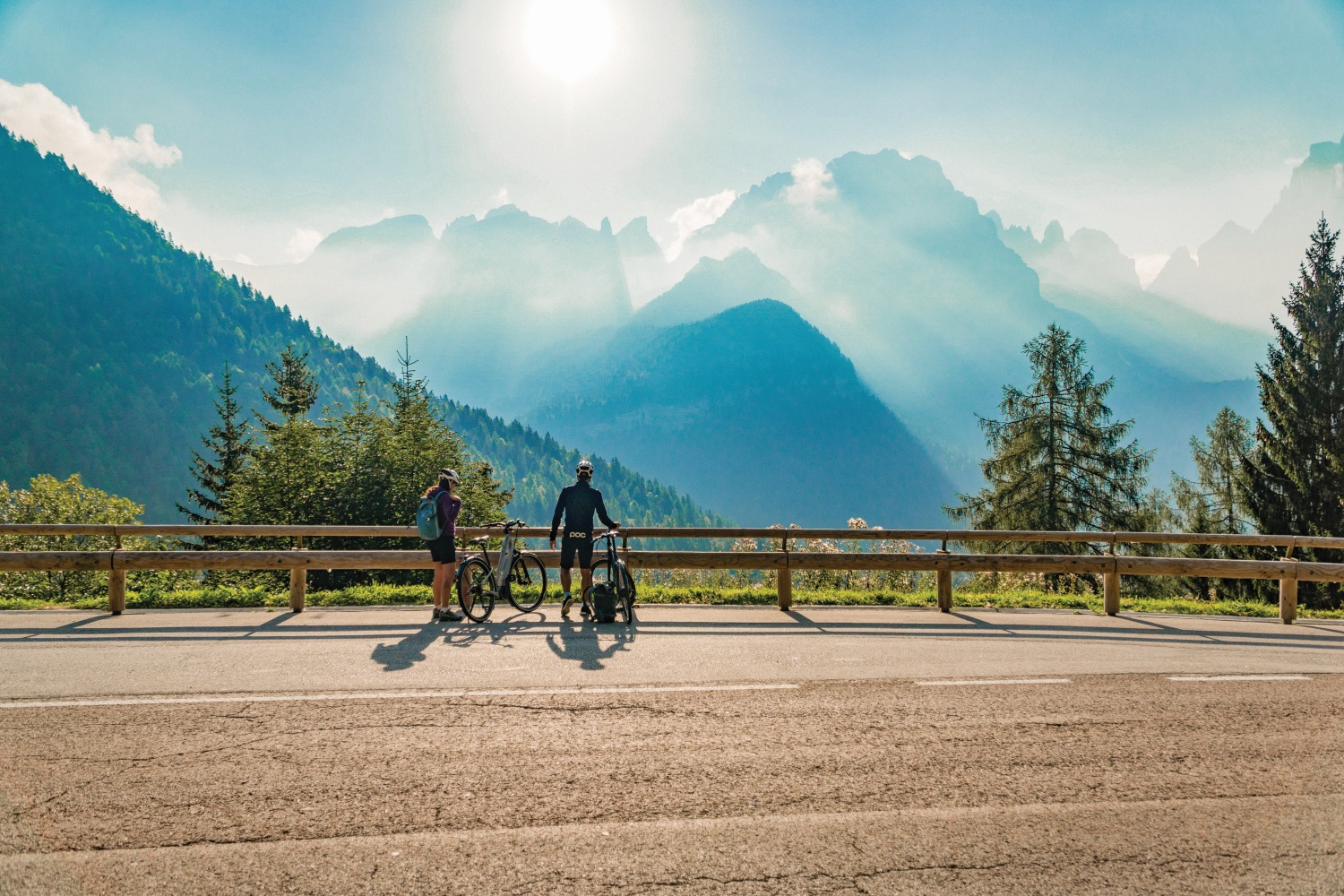 Here, we stop for a quick coffee. If we were racing, Giro style, we'd be grabbing water on the go. But one of the great pleasures of cycling in this part of Italy is the chance to explore the plethora of tiny roadside cafés, ordering an espresso—or in my case, un doppio, 'a double'—in each. Our chosen stopping point offers a particularly spectacular view, over the verdant green beginner slopes of Madonna di Campiglio to the sheer rock spines of the Brenta Dolomites above them.
On our way downhill out of town, we stop again to take photos of the vertical spikes of the Campanile Alto and Campanile Basso — the 'Higher Steeple' and the 'Lower Steeple' — and the jagged semi-circle of peaks which connect them.
As we descend down the valley, Ferrari leads us off onto a dirt track — one of several strade bianche sections on the DOGA route — which cuts through the forest towards the town of Pinzolo. Down in the valleys of Trentino it can get hot in summer, but we've decided to ride the route in late September, when temperatures stay great for cycling right the way through the day.
There aren't really any bad times to visit Trentino—even in the depths of winter, this is one of the sunnier areas of the Alps. But with the trees just starting to don their spectacular, orange-and-yellow autumn coats, this time of year feels particularly perfect.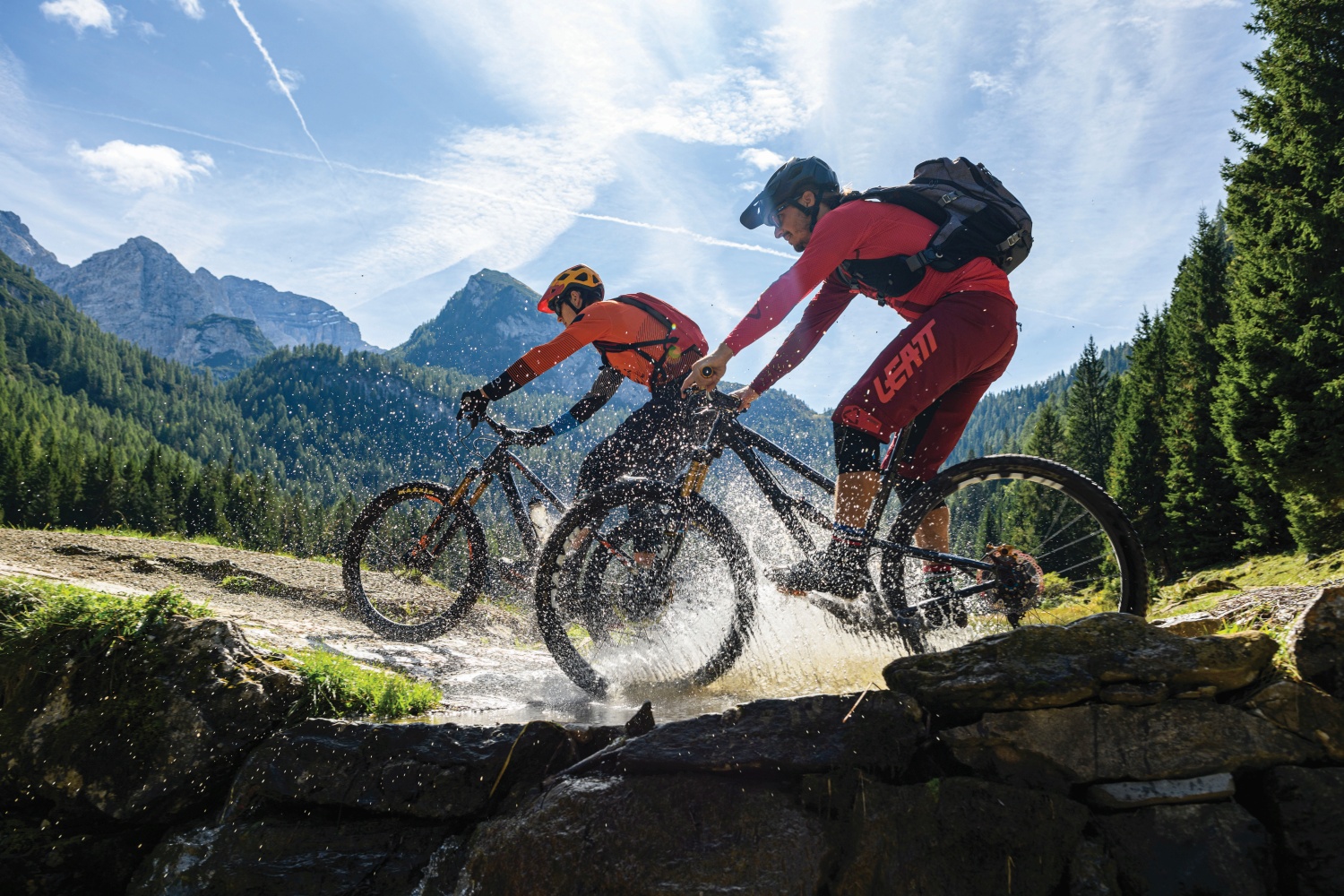 Sampling the full range of flavours
If you were feeling fit, you could complete all 110km of the DOGA in a single day, but we've opted to break it up into two with a night at the Grand Hotel Terme di Comano. It's a chance to rest weary limbs in the terme, or hot springs, from which the hotel takes its name—because while this region is all about adventure and the outdoors, it's also about that well-earned feeling of relaxation that comes afterwards—but it's also a chance to sample some of the culinary delights that make Trentino unique.
"If you were feeling fit, you could complete all 110km of the DOGA in a single day"
Dinner is locally-sourced beef with polenta—a regional specialty— washed down with a dark red bottle of Teroldego, a grape variety specific to the region north of Trento, near to where our trip started.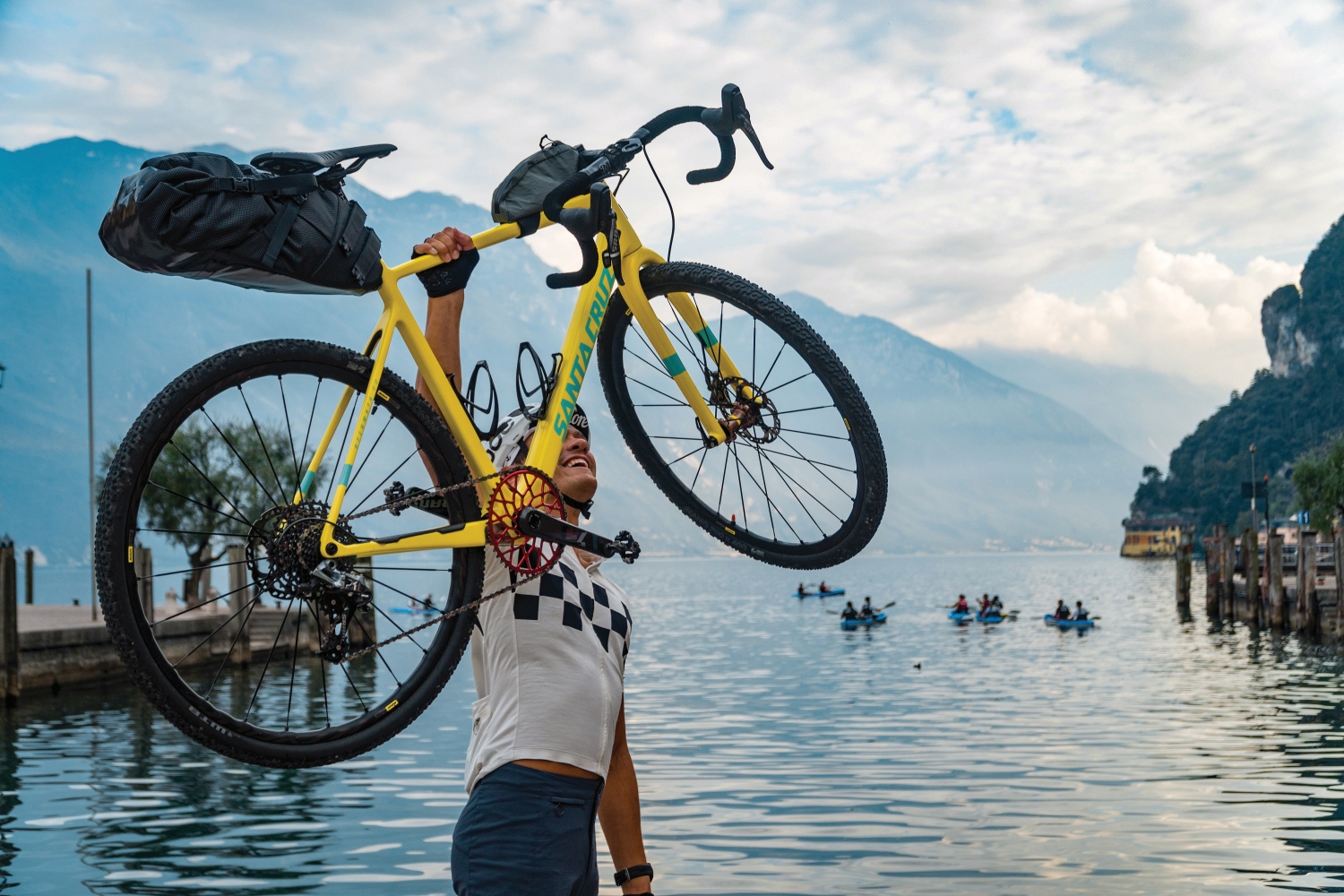 Suitably refreshed, we're ready for the final leg of the trip the following day. Proceedings start with a climb up to a wide open alpine plateau, cruising between cornfields and the tiny farming hamlets that house their owners. Before we begin our final descent towards Lake Garda, Ferrari has one final secret in store. A brief left turn after the turquoise Lago di Tenno takes us up into the Borgo Medievale di Canale, a perfectly-preserved medieval village, and seemingly several centuries back in time.
Stepping off our bikes, we stroll the streets open-mouthed, before remounting to wind our way down towards the pretty resort town of Riva del Garda, where yet another gorgeous three-course meal — this time of fresh lake-caught fish, accompanied by Nosiola, a local white from north Lake Garda— awaits. Afterwards, as we stroll along the lake shore, chatting and enjoying the soft-melting sensation of an exquisite gelato, it's hard to believe that we've packed so much into just two short days.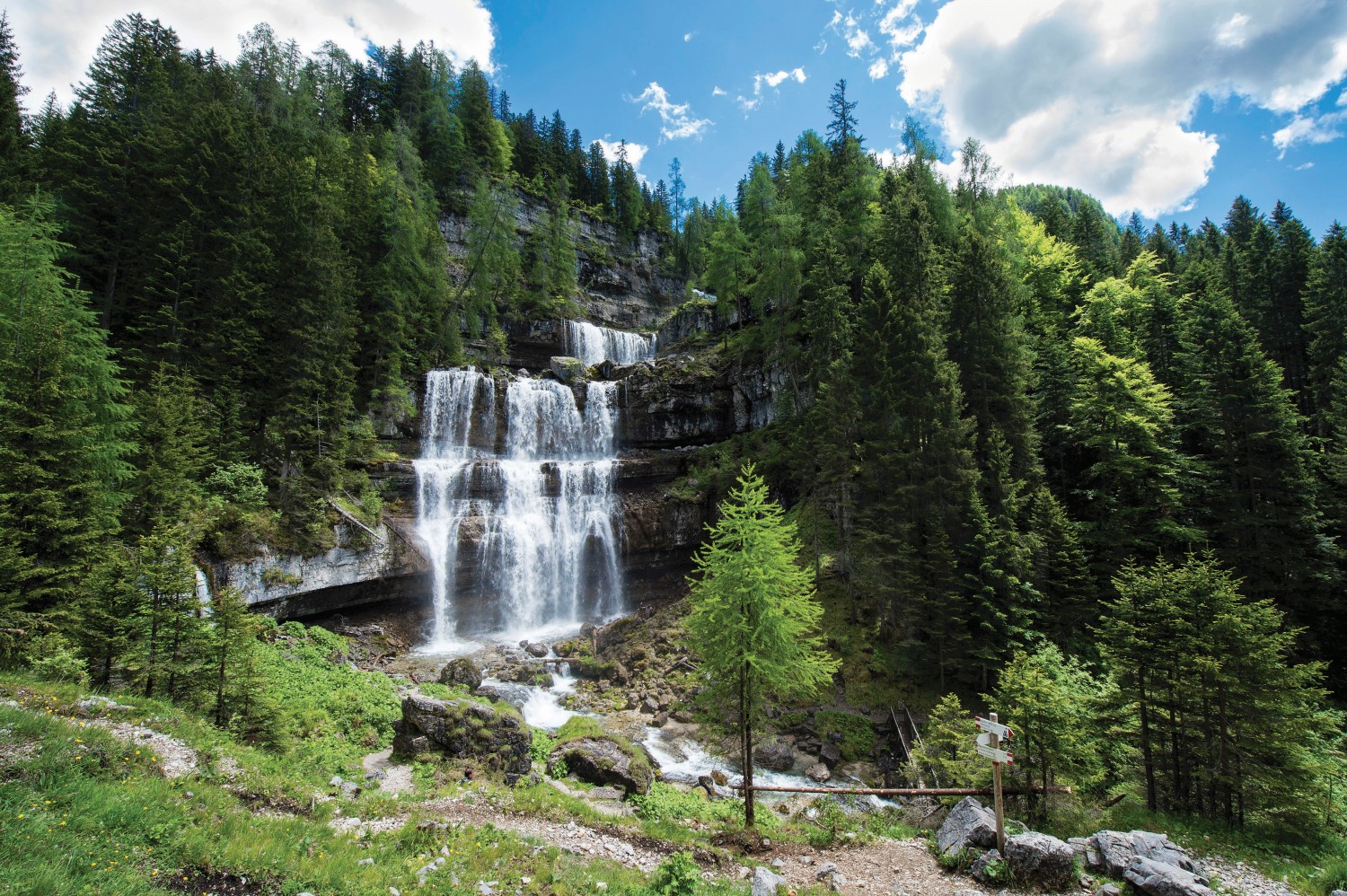 5 More Brilliant Bike Excursions
There's something to suit every subgenre of cyclist in Trentino:
Ossana to Cavizzana - Val di Sole
Designed to be ridden on a gravel bike, this short route covers some of the same ground as the start of the DOGA, but in reverse. Running down the Val di Sole—named for its long exposure to light—this links the villages of Ossana at 1,000m up, to Cavizzana some 350 vertical metres and 22km further down the valley. 
Fucine di Ossana to Passo Tonale - Val di Sole
Setting off from the other side of the river, and in the other direction, this new gravel bike trail is a tougher proposition than the route above. The route climbs steeply for some 14km to reach the Tonale Pass at the top of Val di Sole before looping back around to complete a 39km circuit with a total vertical drop of 1,200 metres.
Oltresemmo Loop - Alpe Cimbra
One for cross country and enduro mountain bikers, this 23km route runs through the mountains near to Trentino's artistic capital, Rovereto. Starting at Monte Cornetto, it winds its way through pretty little farming communities to Lake Lavarone, a popular swimming spot. 
Vigolana Plateau Loop - Alpe Cimbra
Bordered on one side by the Marzola Massif and on the other by the Vigolana, this area was contested territory in WWI. But unless you look closely, you'd never guess that now — these days cows graze peacefully on the pastures between the forts. This 60km mountain bike route is a classic for cross country riders. 
Paganella Bike Park - Fai della Paganella
Built into the side of the steep mountain above Trento, with a stunning view of the Brenta Dolomites, this world-class facility offers trails of every type and difficulty to those riders who prefer to let gravity do the pedalling. From easy downhills like 'Willy Wonka', with its endlessly fun northshore spiral, the trails here run right up to super-techy blacks, called, appropriately enough, 'Clockwork Orange' and 'Apocalypse Now.'  
For more information about everything Trentino has to offer, go to visittrentino.info