We're hopelessly lost but it doesn't matter; heavy, ripe, dark red pomegranates are practically dropping off the trees, wild cyclamen covers the hills around us like a layer of snow, and the views out towards The Turquoise Coast are mesmerising. If we could only get to the sea!

We're on a self-guided hike of The Lycian Way, one of the last unspoilt parts of Turkey's southern coastline and the country's first long distance walk, and this is the annual girl's walking trip I do with five friends.

We're all approaching or have reached our half centuries and, although I'm the exception, between us we have 14 children, so it's an excuse to leave busy lives and domestic humdrum behind for a bit of solitude, hard walking and girl time of giggles and gossip. 

We're with On Foot Holidays, who in fairness have provided detailed maps and walking notes. It's just that often the paths are overgrown, rivers or streams we're supposed to be following have dried up and goat tracks have been mistakenly followed. Even more likely is that we have been too busy chatting to follow the notes properly.

Lycia is the historical name of the Teke Peninsula in south west Turkey, and the Lycian Way which runs through it is approximately 540 km long, stretching from Oludeniz, near Fethiye to Geyikbayn about 20 kilometres from Antalya.

Planned and way-marked in 1999 by renowned Turkish/British amateur historian Kate Clow, the multi-day walk has been listed by The Sunday Times as one of the world's top ten walks, and is best done in sections.

We are walking one of the more popular sections: from Antalya to the sea at ancient Phaselis, a major archaeological site, then south under Mt. Olympus, along the coast via Cirali (home to the city of Olympus and the Chimaera) and then finally from Adrasan to the Gelidonya lighthouse.

Antalya makes a great start or end to the walk. The city has a history dating back to 150 BC, and its cobbled streets are lined with Ottoman houses. It also boasts a Roman harbour filled with yachts and fishing boats, an archaeological museum with one of the top five archaeological collections in the country and, most importantly for the weary walker, plenty of hammans or Turkish baths.
Stepping out
The walk actually begins a short distance and taxi transfer from Antalya in the village of Kuzdere. I'm a big fan of hut-to-hut and village trekking (the likes of which you get in Nepal, India and Peru), as your day is punctuated by soaking up and photographing village life local culture and the people you meet. There are also always plenty of places to buy a snack, some fruit or get water.

Naively I thought this part of The Lycian Way would be similar but the small settlement at Kuzdere, with Turkish women in their baggy, Ottoman style pants herding goats or harvesting the ubiquitous pomegranate was the only one we came across.

Instead, this walk will appeal most to lovers of mountains and sea views, lonely peaks and empty beaches, warm turquoise seas and, of course, ancient ruins in the midst of unspoilt natural beauty.

As for places to fill up your water bottle, forget it. It's recommended you carry a minimum of two litres, which you'll definitely need – just make sure you're used to carrying the extra weight!

We walked this section of The Lycian Way in early October and I was surprised how hot it still was – the two litres of water are a must, as are shorts as opposed to long trekking trousers.

The route is way-marked at regular intervals with red and white stripes painted on the trees, the path and preferably anywhere visible along the way. Our early problem with getting lost was due to not spotting the markers and then mistakenly following a sequence of red, white and yellow markers (we're still unclear as to what route these were for). We should perhaps also have read the instructions to always return to the last way mark if they seemed to have disappeared.
 
The first day (14km and approximately 5 hours walking) is mainly easy (unless of course you get lost!) and takes you inland, through a forest, and up a ridge that once carried an aqueduct to Graeco-Roman Phaselis. The ruins of this city are beautifully sited on a low peninsula with a particularly fine amphitheatre.  

Before we got there though, we ate our picnic lunch on the first beach we came to, a somewhat disappointing stretch of waterfront with fly-ridden picnic tables littered with rubbish and debris from previous occupants.

If only we'd known that 10 minutes' walk around the headland, down from a steep cliff was the tiniest but most magical of little bays, a strip of sand leading into a perfect crescent of crystal clear water and reminiscent of one of those perfect little bays you think only exist in the Caribbean.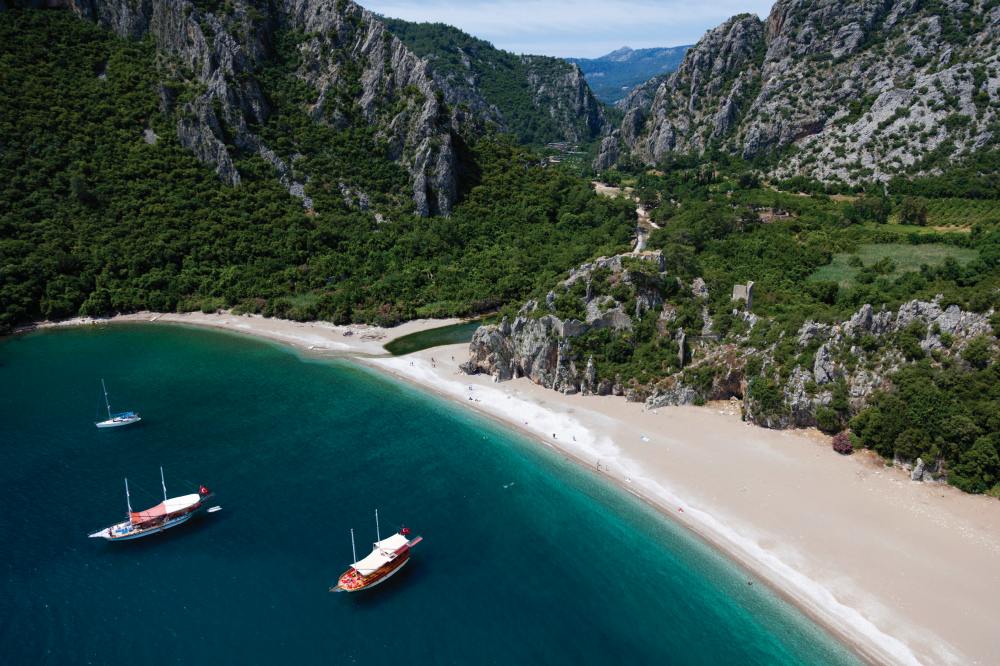 Having most recently trekked in South America and walked in some of its better known national parks, constantly seeing and following a steady stream of fellow Gore-Tex clad walkers, I was surprised by the lack of people walking The Lycian Way. It wasn't until the end of day 2 that we saw any other walkers (a couple from the Ukraine). In fact we only came across a handful during the full six days. The solitude is a big plus, although harping back to our getting lost theme, it does mean there's no-one to ask for directions…
Soft options
Another great thing about the Lycian Way is that it can be as easy or as hard as you want. If you're a mixed ability group of walkers, like us, some of you might prefer the odd morning on the beach instead of a walk in the heat. That being the case, the non-walkers can simply catch a ride along the coast in a wooden motorboat to meet the others.
 
Two of our group opted for the latter, taking a boat from the huts at Sundance, the seventies throwback hippy haven that we stayed at in Phaselis, to Maden Beach.

Day two starts with an uphill climb rewarded with views of 2,366m Tahtali Dagu (Mount Olympus). Today, we're walking on a dirt track road, so easier under foot than the forested paths of the day before with rocks and tree roots, and considerably easier than walking along the beach. You forget how exhausting walking on fine loose sand can be, constantly craving something firmer under foot.

Thankfully we'd all remembered plastic or jelly shoes, which are crucial either for walking through the streams, or around rocky headlands or through the sea itself, the water lapping at your ankles.  

The walk (17 km and 7 hours) is mainly along an old cliff path with plenty of shade. There are no settlements, just spectacular views to secluded beaches. One of these was Maden Beach where we picnicked and swam with not a soul in sight before heading for Cirali.

Having been to Turkey numerous times and seen first-hand the mass development in some of the resorts, I'm amazed that places such as Cirali still exist. Perhaps one of the most overlooked beaches in Europe – or not overlooked so to speak, with not a high-rise or big hotel in site, just a two-mile long stretch of beach. Development is minimal thanks to the protection of the endangered loggerhead turtles that swim ashore to lay their eggs.  

Cirali is home to The Lycian site of Olympos with its rambling ruins and the dramatic Chimaera, which is a series of naturally-occurring eternal flames issuing from cracks in the bare rock. It's also a great place to stop for a day or two to break the walk. 

I'd definitely recommend a day to see the Chimaera – it's what we did, and there was plenty to see – but if you're short of time, you pass through the Olympos site on the way from Cirali to Adrasan on day 3 or 4 of the walk, depending on whether you've had a rest day in the middle or not.

The day started with another short crunching beach walk past Olympos and then a long climb through Arbutus (strawberry tree) woods to the open pinewoods around the lost city of upper Olympos.

The climb was a head-down, one-foot-in-front-of-the-other walk that twisted uphill, under the cover of trees. However, as the trees broke up at the top, we were rewarded with some magnificent views.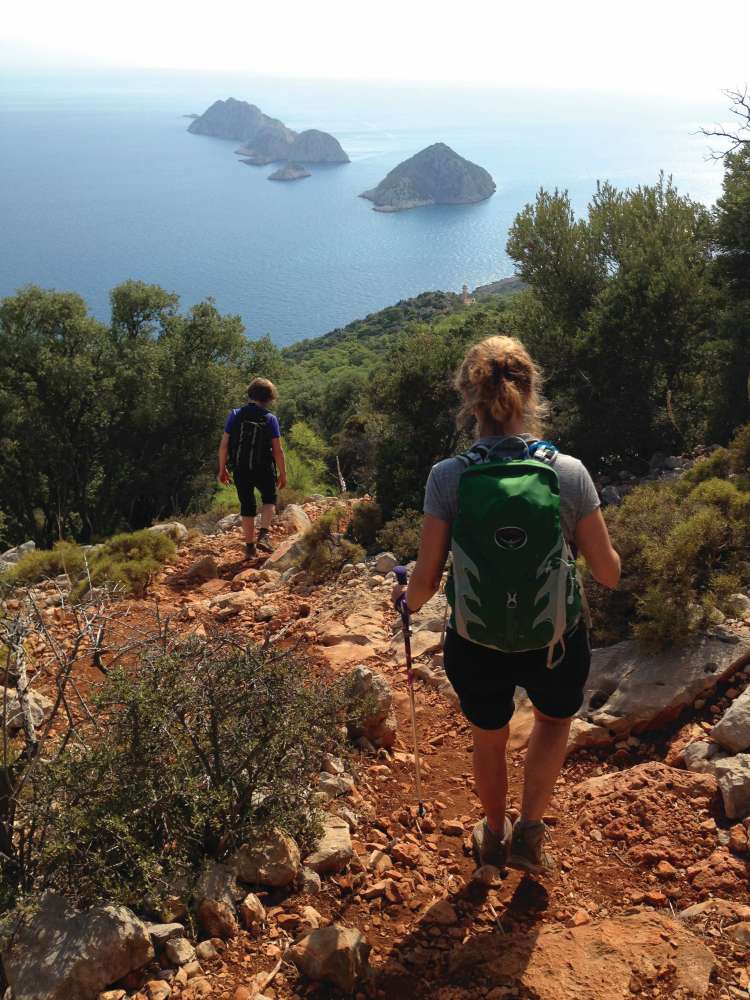 The afternoon took us back down again from high pastures, passing a shepherd's hut through pine and deciduous woods on a pretty and sinuous path towards the final destination of Adrasan. 

I found the whole walk to have a divine feel to it with its historical and archaeological sites, the miracle-like spectre of the eternal flames, Mount Olympos and then, right at the end, as if the gods were really angry, thunder reverberating through the mountains, long before any actual rain reached us.

But when it did, it did so with real purpose, so that our final couple of hours walking to Adrasan were through a storm of biblical proportions that turned path and roads into rivers.

Thankfully we managed to shelter with a local farmer, who in turn was happy to refresh us with a glass of pomegranate juice at 5 euros a glass. Though the price did seem somewhat inflated considering the valley was filled with hundreds of pomegranate trees…

A walk needs a specific end point that needs to be reached, and this short part of The Lycian Way had just that: the lighthouse on the promontory of Gelidonya.

The sign below the lighthouse describes the place as being the most dangerous part of the Pamfilya Sea (Bay of Antalya) due to its strong currents. These are currents which have pulled in many ships to the rocks over the centuries creating an ancient underwater cemetery. To me it was a place to rest and ponder the beauty and power of the sea.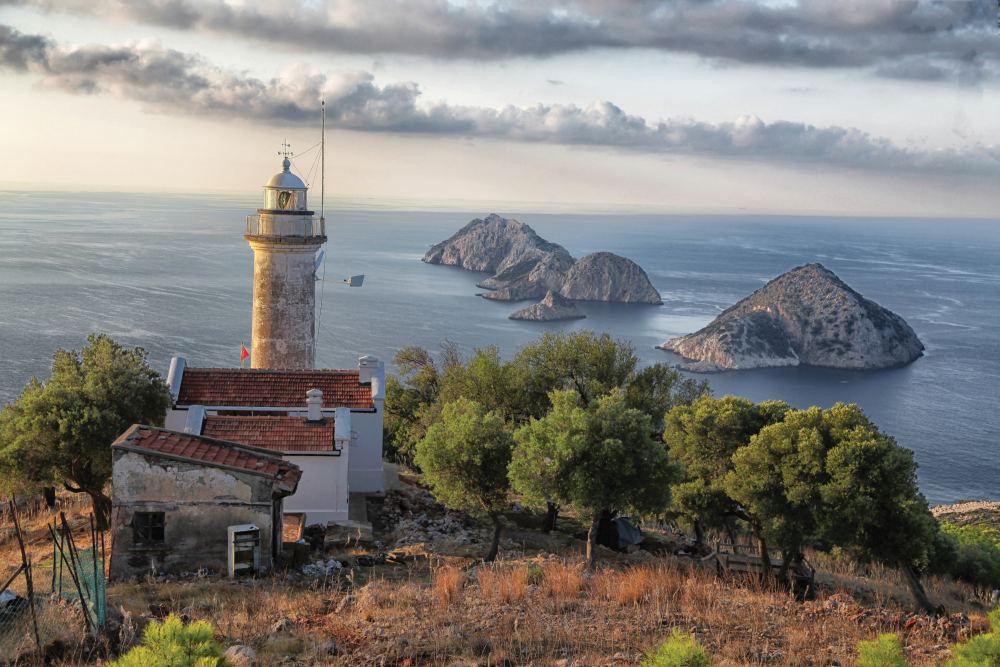 Here the scenery is at its most rugged and mountainous, rising quickly to 420 metres above the sea. The view was captivating, its islands and bays a reminder of what the walk is all about, before we capped it all with a swim at Melanippe Beach in the now familiar but always welcome turquoise, warm water.

As a group of girls travelling alone, we always felt perfectly safe and the only hiccup was occasionally getting lost. All in all we walked for 4 days, walking between 4 1/2 and 8 hours per day. A couple of the days could have been described as medium to hard with at least one steep climb but there was always the sea to cool off in and a beach to relax on.

The walk is perfect for a group of friends some of whom want to be challenged while others want to take it more easily. Even the food is great for groups, with the ubiquitous meze great for sharing. History and archaeological buffs will be thrilled by the ancient sites along the way, and the scenery is stunning: the Lycian Way really is a journey through time and scenic natural beauty.