Only 15 minutes after alighting from a busy train at a mainline Scottish railway station, my friend Paul and I are slipping quickly and quietly into a wild and remote landscape. A rough track, just wide enough for us to ride our mountain bikes side by side, rises steadily ahead through rugged moorland landscape.
An early autumn chill has turned the grass and ferns around us to faded greens, russets and browns, and the occasional stubby wind-blown tree is already bare of foliage. As we pedal along the bumpy trail, we gawp in wonder at ragged-edged lochs of flat, silver water and at the myriad of distant mountain peaks shrouded in low, slowly drifting clouds that line the horizon.
It feels like a such treat to be in such a spectacular setting – and to have escaped here so quickly from our busy, suburban lives.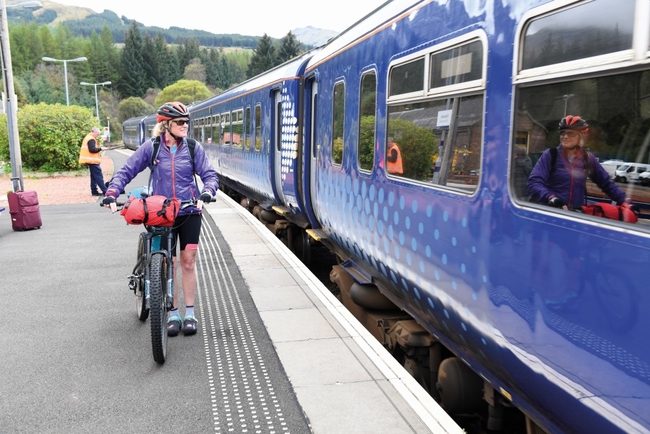 Hit the trail
It was only this morning – a workday Friday – that Paul and I both sat at our city desks, staring at screens, sifting through emails and being distracted by social media. Just a few hours later, we boarded a midday departure on the famously scenic West Highland Line, jumping off the train with our bikes and overnight kit at remote Rannoch Station - bound for a weekend bikepacking adventure.
Our plan was to bike from Rannoch east to Dalwhinnie station over two days, cycling along the edge of the Cairngorms National Park. We had everything we needed for remote sleeping meticulously weighed and packed neatly into panniers and bags fitted to our bikes. It's part of what makes bikepacking so challenging - that you have to carry everything you could possibly need for an adventure.
The forecast has been less than favourable, which made the much packing harder, but so far the sky is calm, and our evening's target of Loch Ossian, around ten miles away, seems conservative enough if the heavens do decide to open. My OS map reveals a choice of tracks and paths criss-crossing the wider landscape, and we stop at each junction to ensure we follow the correct route north.
Keep on rolling
I'm not the most skilled mountain biker, but somehow the miles roll by with relative ease. It's only when we reach some steeper inclines that I notice the weight of my packs - and I'm grateful that I didn't add in many extras. Contouring and climbing the western flanks of a tall ridge, we reach the highest point of the track at 550 metres and see Loch Ossian, at the heart of Corrour Estate, in the distance. The 3.1 mile-long loch is flanked by woodlands, and in the distance we can see the comforting sight of Loch Ossian Youth Hostel, our backup if the weather turns too nasty to camp.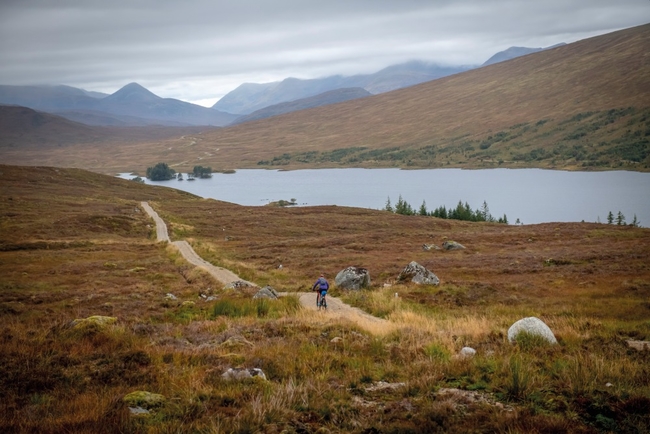 The descent towards Ossian is wonderfully fast, so much so, that we almost miss a significant landmark. Peter's Rock is a memorial stone which remembers Peter J Trowell, the former warden of the hostel who died in 1979 aged just 29. He'd stayed on alone over winter to make some essential repairs, but failed to check in come spring. His body was eventually found in the loch. It's assumed he went through the ice, but the truth may never be known. The moving inscription celebrates the young man's love of the landscape. "Joyous and free outdoors for me; Over the hills in the morning."
They're fitting words for our own journey too as we cycle onwards towards the hostel where Peter worked - one of the most remote in Britain. It looks inviting in the afternoon light, but we're planning a slightly less cushy place to stay.
Scotland's famously free Outdoor Access Code allows you to wild camp wherever you like, as long as you do so responsibly. With such a vast wilderness around us, the toughest decision tonight will be deciding where we want to set up our bivvy.
When bikepacking, a lightweight bivouac bag makes more sense than a bulky tent. Combined with a sleeping bag and an inflatable mat, it's more than enough for a comfortable night's sleep in summer weather. Although I've also packed a luxury item: a flask of whisky, essential for a really good rest.
We awake bright and early on day two to sunshine and huge views of the mountains from our loch-side camping spot. The temperature has dropped dramatically, however, and as we enjoy a coffee and breakfast of oat bars, I realise I'm now wearing all of the clothing I brought with me. On the upside, this means my bike packs are much lighter as we set off for the day's ride - a 37 mile meander along a well-maintained track around the northern shore of Loch Ossian.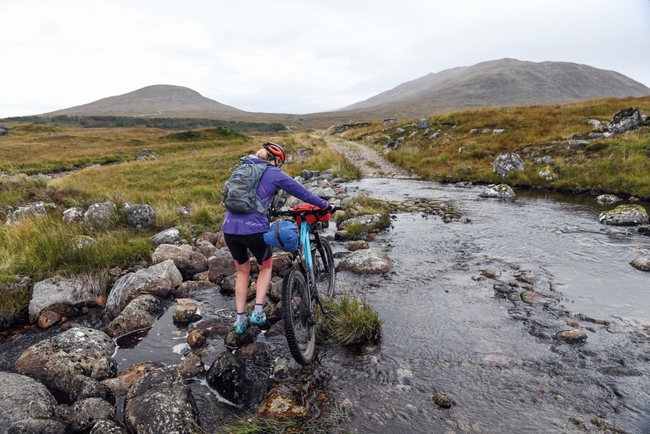 Take the low road
Research before the trip had revealed a few different routes from Corrour to Dalwhinnie, and most involved mile upon mile of the dreaded "hikey-bikey" – half-cycling, half-carrying bikes on foot - over high passes between the many mountains. However, we also unearthed a lower but longer course that cuts around the mountains, making our journey far more rideable. It's this route that we've opted to follow.
Leaving Loch Ossian behind, we cycle north and slowly climb on a rough track through a wide and winding glen, with mountains on both sides. The higher we climb, the more we're rewarded: breathtaking views of rugged peaks, clad with heather that has just turned a glorious shade of autumnal gold. Lochs of all sizes dot the land and provide a mirror for the sky and mountains. We feel like tiny mountain biking ants in a land seemingly created for giants.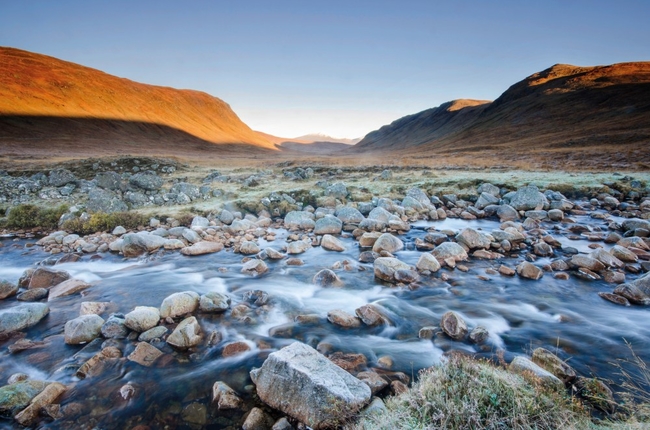 After a long freewheel downhill we head into a coniferous plantation and towards the neighbouring estate of Ben Alder. This is the closest point to a public road of our trip, at Luiblia on the shore of Loch Laggan, and it's a strange affront to the senses to hear road traffic, even after just a few days of quiet. It's not for long, however, because the route soon sends us deep into wild countryside again and along the shore of another narrow waterway, Lochan Na h-Earba. We ride along a small and surprisingly sandy beach and laugh at how tricky it is to keep the pedals turning when our tyres sink into the soft sand.
At the end of the lochan, we edge around Ardverikie Estate and meet a path that heads south and close to the River Pattack. The river feeds into picturesque Loch Pattack, which we edge to the east, before cycling into a flatter – and boggier – plain and towards the western shore of the long ribbon of Loch Ericht. This is the hardest part of the route, and I have to get off to push my bike around some of the wetter sections.
Ten miles of tough 'hikey-bikey' later, and we reach Dalwhinnie train station just as the first drops of that promised rain starts to splatter our bike helmets. As our train rattles back towards Glasgow, it feels as if we have been in the wild for weeks, rather than just a couple of days. Microadventures are rarely so accessible, or so refreshing. After all, what could be simpler than jumping on your bike?
Three more Scottish bikepacking trips
The Hebridean Way
Start: Isle of Vatersay, Outer Hebrides
Finish: Stornoway, Isle of Lewis
Distance: 185 miles
Also known as the National Cycle Network Route (NCR) 780, this beautiful multi-day route, with plenty of wild camping and hostelling possibilities along the way, crosses 10 islands of the stunning Outer Hebrides with ferry journeys between each one.
The Reiver Raid
Start/finish: Tweedbank Station, Scottish Borders
Distance: 102 miles
Follow in the footsteps of the Border Reivers, who patrolled the English-Scottish border between the 14th and the 17th centuries, on this loop created by round-the-world cyclist Markus Stitz. Take the train from Edinburgh to Tweedbank and ride the Ale Water Valley on a mix of farm tracks, singletrack and quiet roads.
Wild About Argyll Trail
Start/finish: Helensburgh, Argyll & Bute
Distance: 407 miles
This multi-day journey is a long-distance adventure on everything from tracks, to forest roads and singletrack. The route winds through Portavadie, Tarbert, Oban, Lismore and Port Appin back to Helensburgh.
Travel info
Health & safety
Be prepared for Scotland's notoriously changeable weather. Take warm layers and carry a map and compass for navigating in low visibility.
Getting there
There are regular trains from London Euston to Glasgow, including the overnight Caledonian sleeper. Book in advance for the best prices.
Getting around
Fiona bikepacked from Rannoch Station east to Dalwhinnie Station. Make rail reservations in advance if you're bringing your bike. You'll find they're cheaper too.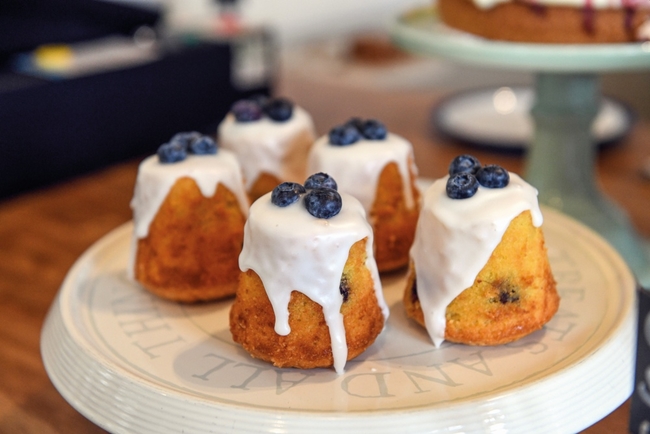 Food and drink
Station House
Accessible only by train – or by 20 mile hike – this has to be one of the most remote places to have lunch in Britain. The venison stew is a favourite.
Rannoch Station Tearoom
This pretty station tearoom serves up hot drinks and homemade cakes to visiting hikers and bikers in the summer months.
Where to stay
For more information and advice on how to legally wild camp in Scotland, see Outdoor Access Scotland.
Loch Ossian Youth Hostel
Hostelling Scotland's remote Loch Ossian Youth Hostel at Corrour is accessible only by train and makes the perfect base if you don't want to wild camp. Dorm beds start from £11.