Alta Badia is a great summer holiday destination for sports enthusiasts, especially cyclists and hikers. The area is full of enchanting routes for all abilities, for both road cycling and mountain biking, as well as meandering walking trails through rolling hillsides and more technical hikes and via ferrata in the spiky Dolomite peaks.
Alta Badia is also famous for its cuisine - from gourmet dishes made with South Tyrol's finest ingredients at numerous mountain huts, to local Ladin cuisine at one of the traditional farmsteads. After receiving Michelin stars again in 2018, Alta Badia has further strengthened its prestigious reputation: in an area of just 15 square kilometres, an amazing four Michelin stars have been awarded.
The local Ladin people have their own language and traditions dating back thousands of years: their warm hospitality gives you the chance to experience the mountains through the way of life and customs of those who know them better than anyone else.
Here are the must-see and must-do experiences for a summer visit to Alta Badia.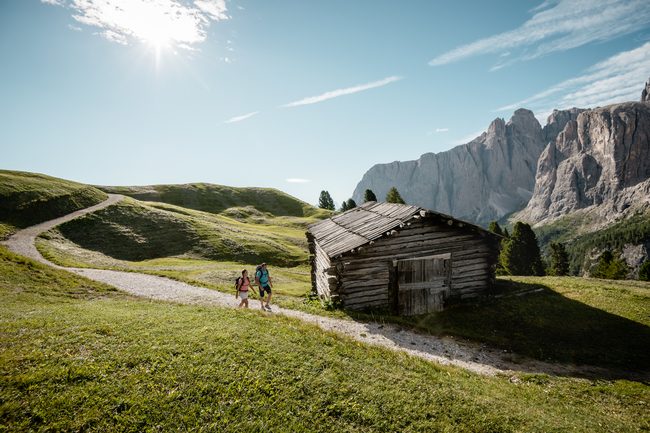 Great walks
Alta Badia offers a well-developed network of hiking and mountain trails, including:
Badia to Santa Croce
An enjoyable hike to the La Crusc/S.Croce sanctuary, which takes you through the breath-taking Armentara meadows, renowned for their abundance of flowers. The panorama is wonderful, extending from the Marmolada to the Grup dl Sela, from Puez-Odle to Pütia and out over Alta Badia's verdant valley.
Hike to the 'Ciaval' peak on the Sas dla Crusc/Santa Croce
One of the most beautiful hikes in Alta Badia and the Dolomites: untouched nature, vertical walls soaring skywards which turn red at sunset, gorgeous views, beautiful Dolomite flora, and maybe a glimpse of marmot squirrels and chamoix goats, all combine to make this a truly unforgettable walk.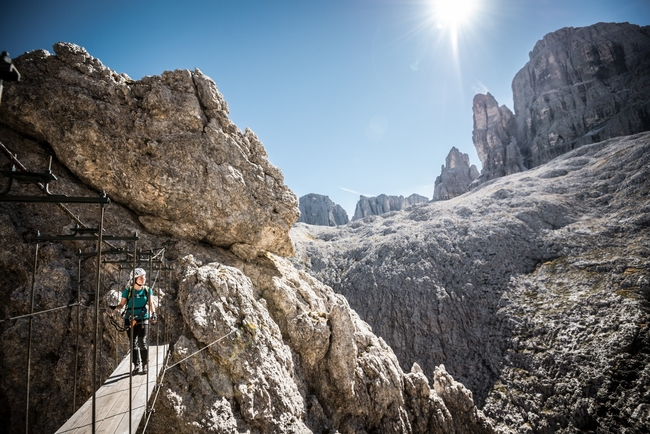 Exciting via ferrata
The Dolomites in and around Alta Badia offer thrilling challenges for rock climbing, via ferrata and mountaineering. Here, every climber, from beginner to experienced mountaineer, will find a suitable tour.
The Sella towers and Mount Santa Croce are legendary and are on mountain legend Reinhold Messner's list of first ascents. One of the most famous fixed-rope routes in the Dolomites is the Via Ferrata Tridentina in the Sella massif. Easily reachable from Colfosco, this route has some intriguing vertical sections and a suspension bridge.
Superb cycling
Summer in Alta Badia is all about cyclists, their love for the sport and for the stunning Dolomite landscape. Over recent years, the area's passion for cycling is really making this destination stand out.
Cycle holidays
Alta Badia offers a range of tourist services for cyclists known as the 'Land of Cycling' initiative, focusing on both road cyclists and mountain bikers. The tourist offices provide road maps with recommended routes, and the partnership with the specialised Dolomite Biking School allows group or individual excursions to be organised daily.
There are plenty of bike rental and gear shops, restaurants, and specialised mountain lodges well suited to visitors on two wheels. 'Bike Expert' and 'Bike Friendly' hotels provide everything that cyclists need, from storage areas where you can clean and repair bikes, to a hearty and well-balanced breakfast to set you up for the day's ride. Cable cars transport bikes free of charge.
In May, June and July, Alta Badia will once again be offering its Guided Bike Tours. From May to July you can go cycling every Monday, Wednesday and Friday accompanied by expert local guides supported by the local tourist office. Each day, two trips will be available to suit two different levels: 'tour' for experts and "hobby" for intermediate cyclists. These trips take you to the most iconic places and passes of the Dolomite mountains made famous in the Giro d'Italia.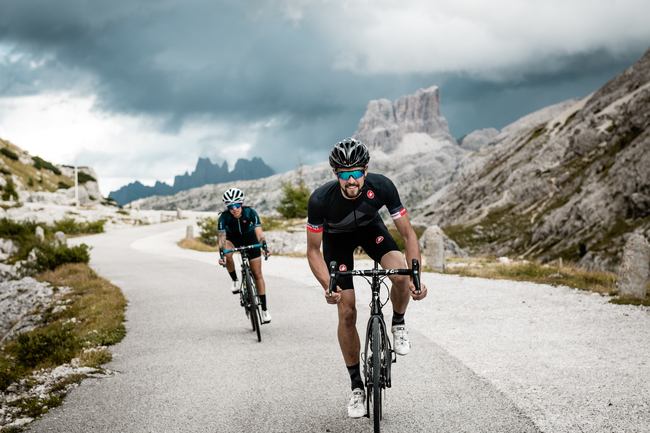 Cycle events
34th Maratona dles Dolomites,
5thJuly 2020
This world-famous event, first held in 1987, gathers some 9,000 cyclists chosen from more than 33,000 requests from all over the world, and packs in a day full of climbing across the famous Dolomite Passes of Campolongo, Sella, Pordoi, Gardena, Giau, Falzarego and Valparola. There are three routes: the Maratona itself covers 138 km with a 4,230m altitude difference; the 'Medium' route covers 106 km with a 3,130 m vertical; and the 'Sella Ronda' route covers 55 km with a 1,780m height difference.
Unbeatable food and wine
In recent years, Alta Badia has confirmed its place as one of the top gastronomic destinations in Italy. New Michelin stars were even awarded to restaurants in Alta Badia in 2018. Norbert Niederkofler, of Restaurant St Hubertus at Hotel Rosa Alpina in San Cassiano earned a third star to join the select group of nine restaurants with three stars in Italy. A star was also awarded to the restaurant La Stüa de Michil at Hotel La Perla, headed by Nicola Laera, a native of this Ladin valley.
Alta Badia is foodie heaven, thanks to numerous initiatives, which bring together open-air life with the pleasure of good cooking. There are culinary events on all summer, both in the mountains and in the valley.



Sommelier in the mountain hut
These special sessions in July and August are dedicated to the best wines of South Tyrol and give guests the chance to spend their afternoon at 2,000m, in the company of an expert sommelier, tasting and learning about the world of wine.
Aperitif at the foot of Gherdenacia
Get together over a range of South Tyrol wines and local snacks to enjoy the magic of the Enrosadira, the term used to describe the natural phenomenon where the Dolomites take on a reddish glow at sunset.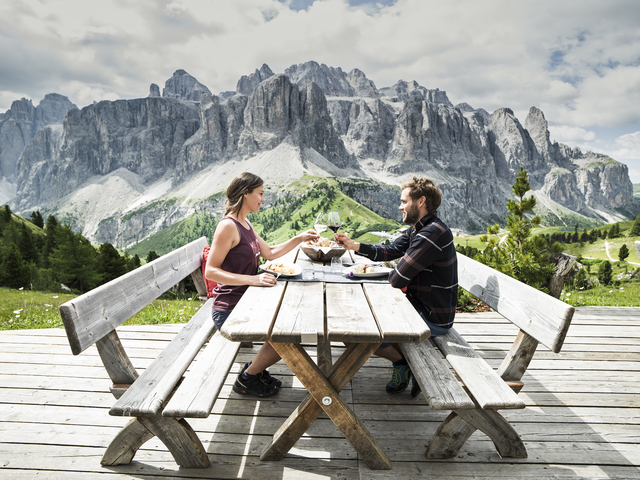 Show-Cooking in the Mountains
Take part in an outdoor cooking session at several mountain huts. Each participant will be able to cook different dishes alongside the chef.
Dinner Under the Stars
Three outdoor dining events let you appreciate the beauty of your surroundings while you eat. First, a long table is set up in front of the steps of the church of San Leonardo, with a menu created by the restaurant at the foot of Sasso Santa Croce.
A highlight of the evening will be the starry sky, which diners will be able to admire while enjoying their meal. There is also a 'Nos dales bales' (dumpling evening) in the centre of the Badia/San Linert village to taste many iterations of this traditional staple, as well as a 'Nos dai strudli' (strudel evening).
Delicacies of the Forest
The second edition of this event will take place at the animal park in Colfosco. The specialties on offer are part of the local culinary tradition, such as turtres (stuffed doughnuts with spinach and ricotta or sauerkraut), barley soup, dumplings, polenta and goulash, organic hamburgers or furtaies (spiral-shaped sweets, traditionally made for weddings). There will be local music at the event.
Booking details of all these events are available at the Tourist Offices of Alta Badia.