These seven cycle rides through the world's most amazing landscapes are bike routes that you'll never forget. Japan's whopping 6,852 islands are best explored by bicycle, and we reckon a ride across Kyushu is the perfect introduction to the Japanese Alps.
Love wildlife? Spot it from the saddle on a bike safari in Namibia, the ultimate African adventure holiday. Or pack your bike bag and head to the 'land of ice and fire' – Iceland's wide empty roads are perfect for a bike touring holiday around glaciers, geysers and volcanoes.
Iceland: Cycle a Nordic Nirvana
Best for: Fire and ice
Welcome to the Land of Ice and Fire – and of truly epic bike routes. This is a landscape like nowhere else on earth, where glaciers, geysers, volcanoes and black sand beaches collide. The fertile south of the island is especially rewarding to cycle, and Freewheeling's flexible trip can be guided or self-guided.
This is the dream holiday if you love all kinds of adventure – go hiking in glacier fields, ride Icelandic horses and explore the beautiful Westman Islands. Summer is the best time to go if you like to fill your days with cycling, as the sun barely sets. And don't forget Iceland's
hot springs – midnight soak, anyone?
Holiday price: £3,582 guided, £3,284 self-guided including accommodation and some meals. Not including bike hire or flights.
Namibia: Safari by Mountain Bike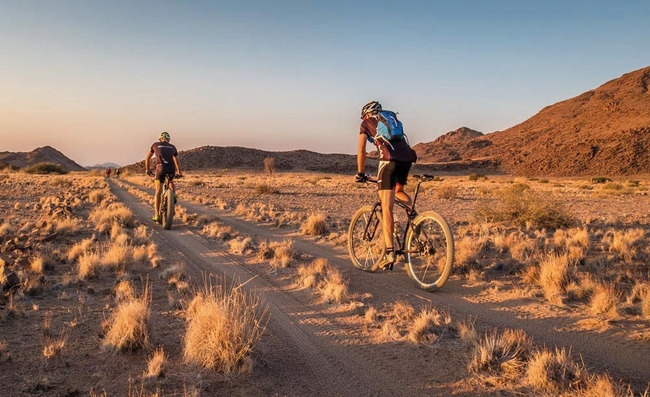 Best for: Seeing the Big Five
It's a safari from the saddle. H+I Adventures organise fantastic mountain biking holidays around the globe, but this African adventure across savannas and sand dunes is one of their best. A safari on a bike is far less invasive than in a noisy jeep, letting you really connect with the incredible wildlife and the local communities of Namibia.
On this 11-day trip you'll ride between 12-50 miles a day. Follow red dirt roads and non-technical singletrack, pass zebra, giraffe and oryx, cycle through Etosa National Park, spend a day with the Himba tribe and camp down under a sky full of stars in luxury safari lodges.
Holiday price: £3,400 including accommodation and most meals. Not including flights and bike hire.
Colombia: Highlands and Jungles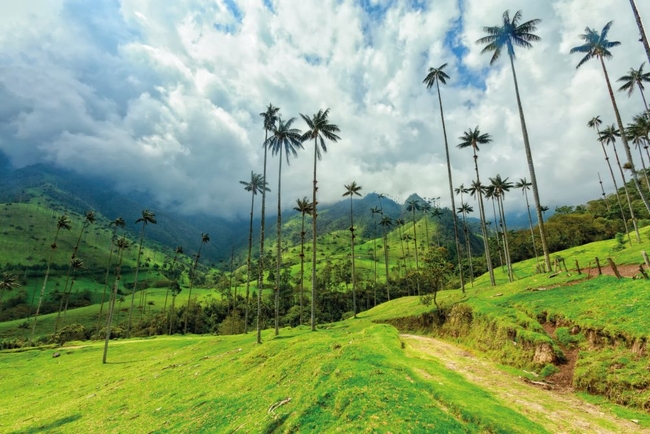 Best for: Vibrant landscapes and quiet roads
Caffeine lovers, look sharp – you'll be cycling through the Colombian Highlands, one of the coffee-growing hubs of the world, on this tour of one of South America's most beautiful countries. Columbia may have a chequered past and a bit of a bad reputation, but it's actually a welcoming and beautiful gem of a country with vibrant landscapes and quiet roads ideal for a cycling adventure.
Cycle 11-50 miles a day on this nine-day guided holiday, with stops in Bogota's brightly-hued markets. You'll ride through jungle, past colonial hill towns and into the lush Cocora valley, where hummingbirds flit among the palm trees.
Holiday price: £1,316 including accommodation, some meals and bike hire. Not including flights.
Japan: Kyushu Coast to Coast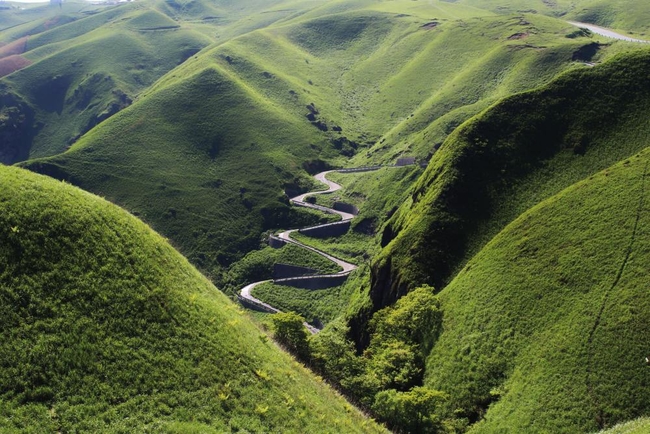 Best for: Exploring Buddhist temples and Shinto shrines
Japan has a whopping 6,852 islands to choose from but the volcanic peaks and lush coastline of subtropical Kyushu make it one of the best places to explore on two wheels. Freedom Treks' tour is ideal if you want to fit a lot of sights into a quick holiday, taking five days to cross the island, exploring Buddhist temples and Shinto shrines, soaking muscles in onsen hot springs and staying in traditional ryokan inns.
You'll be riding around 35 miles a day with your guide along quiet roads, and if you make the trip in March you'll also catch Japan's famed cherry blossoms in bloom.
Holiday price: From £1,773, including accommodation, all meals and bike hire. Not including flights.
Ireland: On the Wild Atlantic Way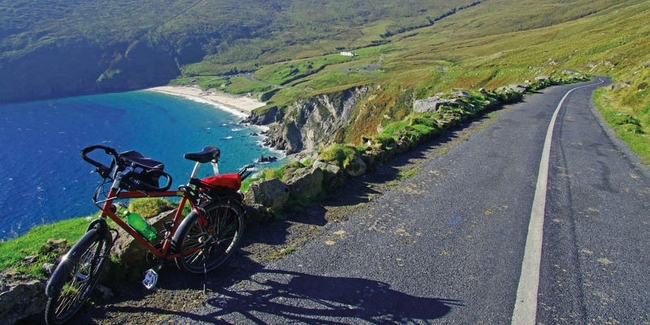 Best for: Seeing the best of Ireland
Wild by both name and nature, Ireland's Atlantic way is famous as a road trip route but is actually far better when experienced the slow way – by cycling this rugged rocky coastline on a self-guided tour.
The whole route is 1,242 miles long and runs up the entire west coast of Ireland, and you could take on the entire thing or pick and mix from the 11 different stages that Ireland Ways offers. Stop in cosy pubs to catch live music, have a day off and go for a surf, cycle the beautiful Ring of Kerry and don't forget a celebratory pint of Guinness at the end of your holiday.
Holiday price: Around £640 for each week-long stage of the Atlantic Way, including accommodation, some meals and bike rental. Not including flights.
Scotland: Outer Hebridean Islands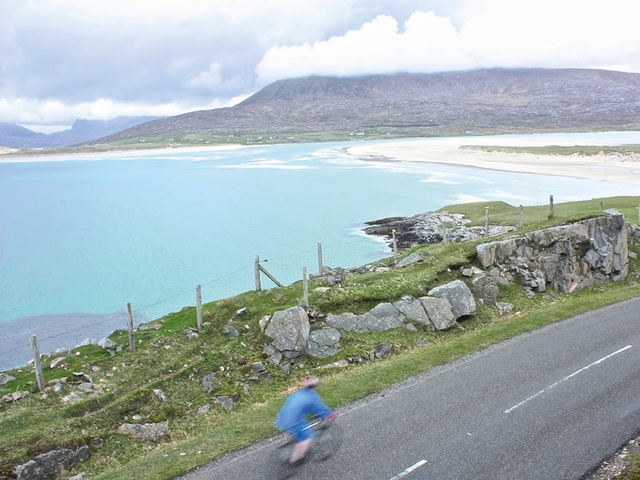 Best for: A taste of the Caribbean in our own fair isles
Empty beaches of sugar-white sand and clear turquoise seas – you'd be forgiven for thinking Scotland's Outer Hebrides were Caribbean islands, until you dipped a toe in the chilly water, of course. This necklace of remote, mountainous islands is a stunningly rewarding place to explore on a bike.
Wilderness Scotland's delightful guided cycling holiday rides across each unique island and then catches a ferry to the next, travelling from Barra up to Lewis over six nights and staying in boutique hotels each evening. Tick off the Callanish stones and the beaches of Harris and end up back in Inverness after a magical week.
Holiday price: £1,795 including accommodation and some meals. Not including bike hire and flights.
Canada: Ultimate Singletrack in British Columbia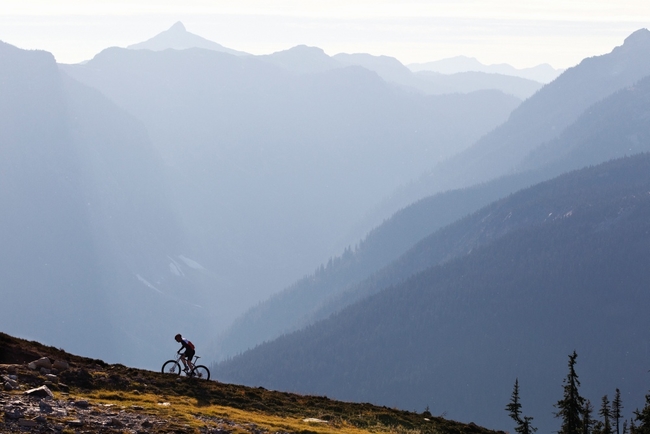 Best for: The ultimate singletrack experience
You could argue that there's no better way to experience the snow-capped mountains of British Columbia than by getting right among them on the world-class singletrack mountain bike trails that lie hidden within their peaks.
This two-week guided ride of a mountain biker's lifetime conquers the coveted local bike trails known as 'Seven Summits' as well as stopping for plentiful beers in the friendly Gold Rush-turned-ski towns of Fernie, Golden, Banff and Nelson. This is best suited to advanced mountain bikers who just can't get enough mountain singletrack, as you'll work hard and play hard, climbing 9,824 metres in total but leaving plenty of time to play on the descents, too.
Holiday price: £3,255 including accommodation, some meals and internal transfers. Not including bike hire and flights.