Insulated jackets, whether synthetic or down are great for keeping you warm in cold weather and can be used as stand-alone jackets when it's not raining. Most insulated jackets aren't waterproof, but may have a water resistant DWR coating, which can help keep rain at bay for a few minutes. However, in real downpours an insulated jacket is generally not the best choice. 
The big choice is the insulation material - either down (usually from geese or ducks) or synthetic are the most common choices. Synthetic is far more weather-resistant than down, as it'll still trap air and keep you warm when wet. Down tends to clump together when it's wet and it's the fluffiness or, specifically the air gaps within the fluffiness that traps warmth, so the effectiveness then reduces greatly. Synthetic insulation works better than down when wet, but, as yet manufacturers have not quite been able to mimic the warmth to weight performance of natural down.
If you opt for a down insulated jacket rather than synthetic, make sure the down conforms to the RDS or Responsible Down Standard which ensures that animals were not treated cruelly in the process of obtaining the down fill. Down traditionally has the highest warmth to weight ratio and is known for being very soft, which is why it has been the material of choice for years in things like bedding and pillows. Also watch out for hydrophobic coatings that many manufacturers apply to the down to stave off the clumping effects of damp - some are more effective than others, but all make some difference, especially when new. 
The lightest insulated jackets tend to use a high quality down fill and high quality lightweight but durable face fabrics. These also tend to be the most technical insulated jackets and are often the most expensive, some costing upwards of £200. These jackets offer enormous warmth, but ideally in cold, dry conditions, where the down can work at it's best. 
For activities like hiking, cycling and skiing in cold weather look for a jacket with highly breathable insulation that has been mapped to specific areas of the body, thicker in some places, thinner in others. This will ensure you don't overheat when on the move. Alternatively, go for an insulated jacket with an athletic cut and interspersed sections of insulation, usually around the core with sections of stretch panelling along the sides of the torso and under the armpits. This gives you great freedom of movement and allows the body to let off steam better.
A hood is often a good choice on an insulated jacket as it offers all over coverage, especially over the cold head. Having said that, a hood can get in the way if you're layering a waterproof shell jacket over your insulated jacket for ultimate protection from the elements. However, bear in mind that even the most breathable shell will trap some moisture, which will hinder the down's performance, so this combination is best used when fairly static. 
A couple of zipped pockets are not only handy for keeping small items in but will also be welcome when your hands get cold. Another tip is to look for an insulated jacket that packs into its own pocket. This will come in handy if you're travelling and tight on space, as the jacket will compress into the pocket, or if you're camping and have forgotten your pillow. Also check for things like lycra cuffs for pulling over gloves, and adjusters at the hem and hood for tweaking the fit and keeping out draughts.
Rab Infinity Microlight Down Jacket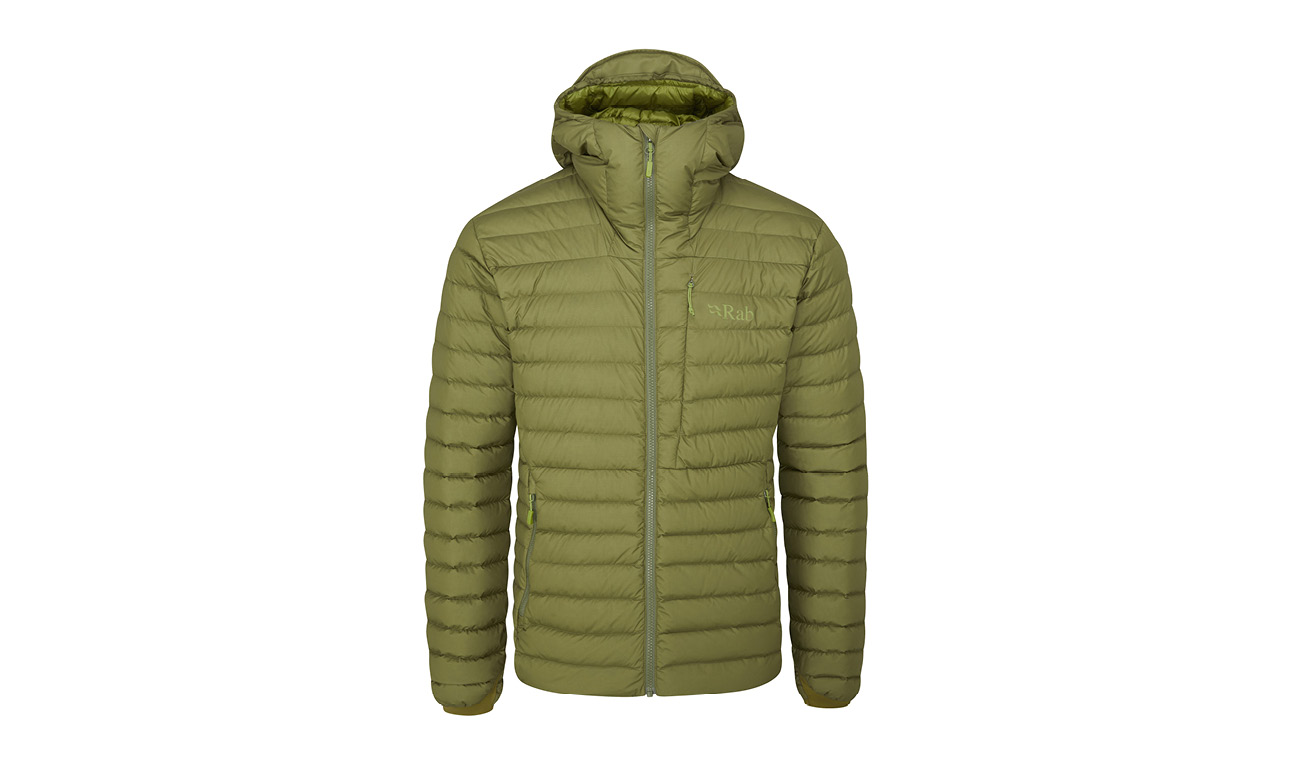 Best for: Winter climbing, scrambling and multi-day hiking trips
+ Superb protection against the elements
- Not the lightest or smallest packed
Rab's new Infinity Microlight down jacket takes the best of the popular Microlight jacket and adds an extra dose of protection. It's filled with top quality 700FP recycled down inside body mapped baffles with micro baffles on the torso, and smaller nano baffles under the arms, enhancing fit and reducing down migration.
Warmth builds quickly inside the Infinity Microlight, exactly what you want on a cold winter's day. The Gore Windstopper face fabric helps that warmth stay inside the jacket, and although completely windproof it's extensively used in garments that require maximum breathability, meaning comfort on long slogs when it's blowing a gale.
The cut is spot on; athletic, with articulation in all the right places so you're free to move how you want when you're hiking, scrambling, or climbing. With the hood up you feel invincible against the elements in part thanks to a wired peak and adjustable volume.
The elasticated cuffs are soft and work well over gloves and the hem adjuster is mega easy to use with gloves on. The zipped handwarmer pockets provide a toasty place for your hands and you can just about squeeze a map into the chest pocket.
Being warm we wouldn't expect the Infinity Microlight to be ultralight, but it does offer excellent warmth to weight. Winter kit weighs more, there's no getting away from that but 425g and about 30 x 20cm inside its stuff sack is still backpack worthy for multi-day hikes.
A classic down jacket reimagined; the Infinity Microlight is set to be as popular as the original. It offers a clever use of fabrics, great fit and excellent warmth.
Buy Rab Infinity Microlight Down Jacket: From £195 at Amazon.co.uk
Jack Wolfskin JWP Down Jacket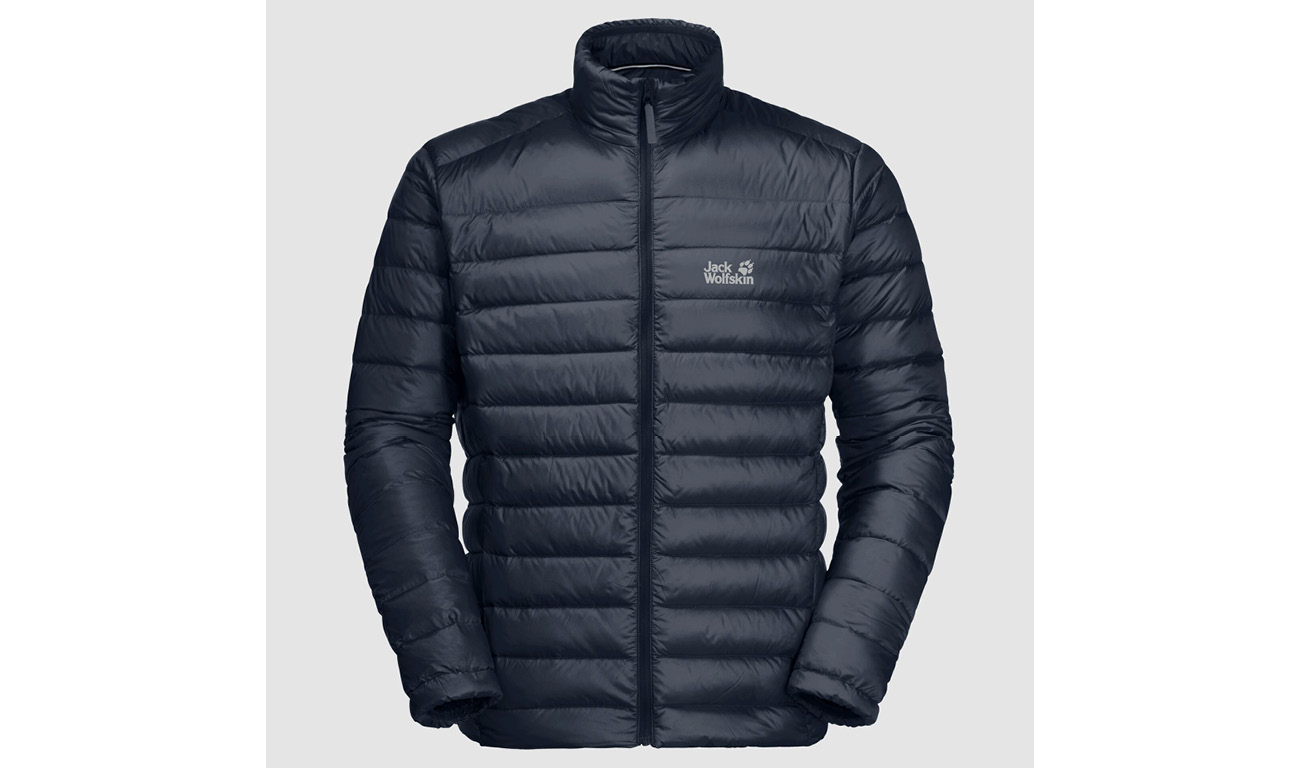 Best for: Lightweight adventures, whether backpacking or active travel.
+ An amazing bargain
- A hem adjuster would have made it perfect
Coming from Jack Wolfskin's Pack-and-Go range, the JWP Down jacket is designed for active travel, so should be the ideal insulated jacket for us here at Active Traveller. It doesn't disappoint. Getting a down jacket this warm and light for the price is practically unheard of.
The down used in the JWP Jacket is 90/10 700 fill power duck down. For those unaware of down specs (we don't blame you!) this is a surprisingly good quality to use in a jacket that retails at around £100. And it shows, with an almost immediate hit of warmth that builds to a very comfortable level on cold winter's days. With a face fabric that's also 100% windproof the JWP Shell is an excellent cold weather jacket.
At 300g the DWP Down Jacket weighs only a smidge more than the pinnacle of lightweight down jackets, the Arc'teryx Cerium. The difference though, is that the Cerium costs three times as much. Despite the down used in the Cerium being slightly better fill power, in practical use the difference in warmth is negligible.
Coming with a stuff sack the JWP Down Jacket packs down to a tiny size which we think is actually slightly smaller than the Cerium LT at 24 x 12cm.
The face and inner fabrics of the JWP Down Jacket are super soft, and the cut is excellent making for a comfortable jacket to wear for long periods of time. Our only gripe is the lack of hem adjuster, which this jacket really needs as the hem feels fairly open at the back.
If you hadn't already guessed, we think this is the biggest bargain in Down Jackets at the moment. It's a perfect down jacket for active travel where you might be hiking, cycling, climbing and sightseeing all in one trip.
Buy Jack Wolfskin JWP Down Jacket: £115.42 at Amazon.co.uk
Bam 73 Zero Insulated Jacket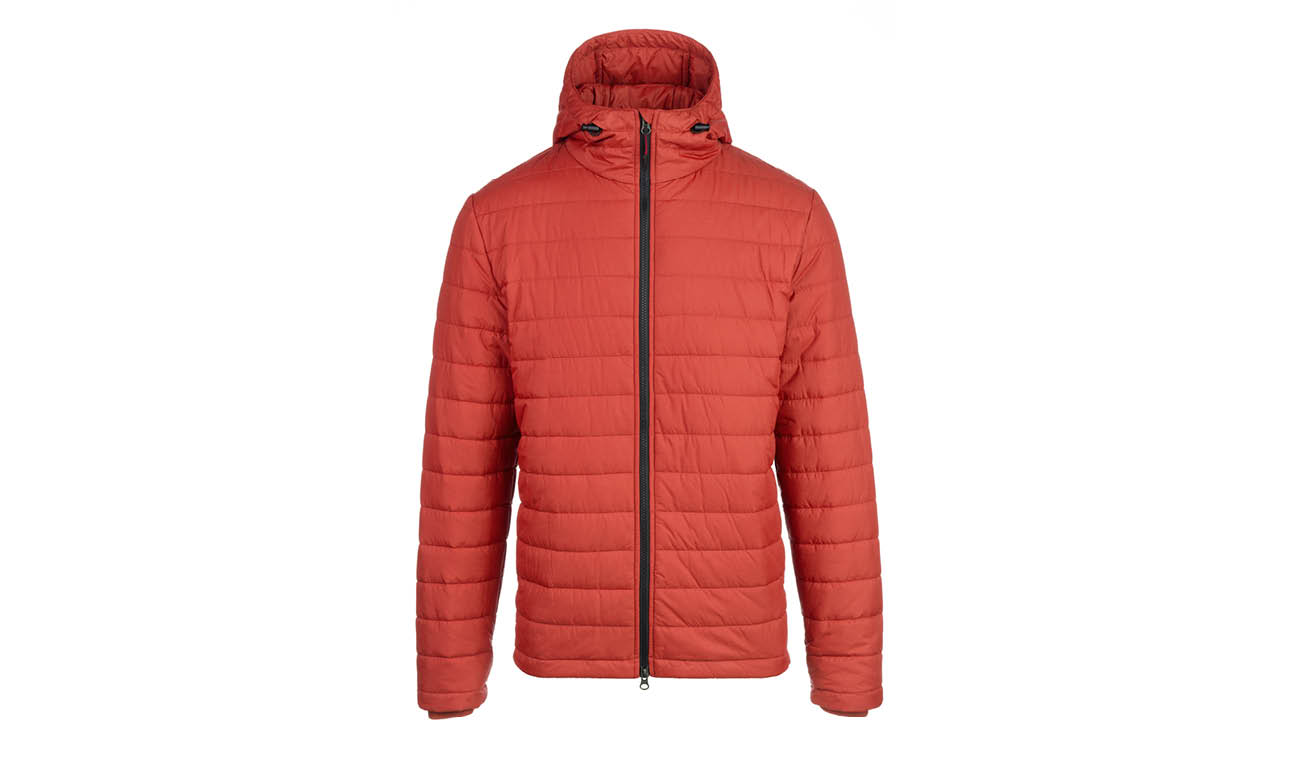 Best for: Your everyday jacket for dry weather.
+ It's comfortable, warm and looks good
- Too heavy and bulky for fast and light adventures
Bam's 73 Insulated is a synthetic insulated jacket to keep you warm in winter. It's a jacket with eco consciousness at its heart, the 73 Zero refers to 73% of clothing ending up in landfill and Bam want to reduce that to zero. It's a lofty ambition but the 73 Zero jacket contains recycled polyester insulation, a PFC DWR treatment and is 100% recyclable.
The DWR treatment gives the 73 zero insulated jacket water repellence if you're caught in a shower, but the real use of this jacket is for cold, dry winter days. We have been wearing the 73 Zero in the recent cold spell down to around 1C, and with a classic tee and jumper combo underneath it keeps you perfectly warm.
The fit is spacious but has shape so it's great for layering underneath but also looks stylish. The soft, ribbed cuffs are a welcome change from more technical insulated jackets made for walking and cycling which tend to have an elasticated piece of polyester and are less comfortable.
The hood works well and has basic adjusters, as does the hem for sealing out draughts. There are two zipped hand pockets which are spacious enough for the usual keys and of course hands and the zipped internal pocket is surprisingly deep.
Although you probably wouldn't use the 73 Zero Insulated for lightweight hiking or cycling, it's perfect for more sedate days out in the countryside and cuts a dash in town.

Rab Xenair Alpine Jacket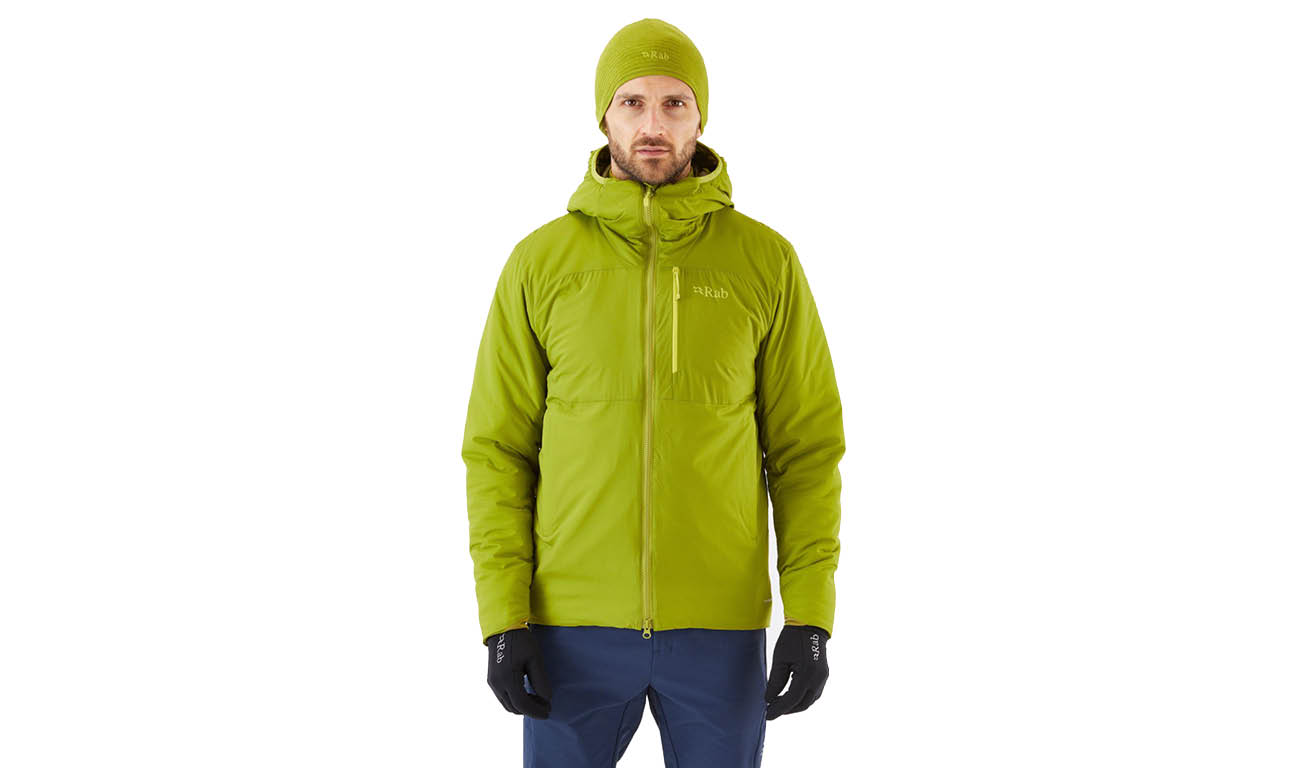 Best for: High Alpine adventures
+ Serious performance on the move
- Boxy, unfashionable cut
Brand new to Rab, the Xenair Alpine is designed for active outdoor use.
The headline feature of this mid layer is the use of body mapped Primaloft Active + synthetic insulation. When you're moving fast in your chosen activity you don't want loads of insulation under sweaty armpits, but you do want to maintain a steady core temperature, so body mapping, with different amounts of insulation in different places makes perfect sense.
Active+ is Primaloft's premium synthetic insulation for outdoor activities so you can be sure you're getting the most breathable option out there.
Rab have paired this with the excellent Pertex Quantum Air outer fabric which is almost magical like in its ability to allow just the right amount of air through to keep you coo,l while letting excess hot air escape from the inside.
You can probably imagine what this combo results in, a highly breathable, non-clammy insulated jacket for going at your chosen pursuit hard, whether climbing, walking or cycling.
The hood is helmet compatible and has an adjuster as well as an elasticated face which keeps it in place on a helmet or bare head. The main zip is two-way, for excellent belaying potential. There's a further adjuster at the hem to keep out cold draughts and the cuffs have an elasticated section to easily pull them over gloves.
The relaxed fit and long hem offers excellent freedom of movement and coverage but as a result the Xenair Alpine isn't quite as fashionable looking as it could be. A slightly trimmer, less boxy cut would give the Xenair more versatility to be worn day-to-day.
Overall though this is a solid active outdoor insulated jacket that will keep you warm and cosy without overheating.
Buy Rab Xenair Alpine Jacket: £195 at Amazon.co.uk
Arc'teryx Atom SL Hoody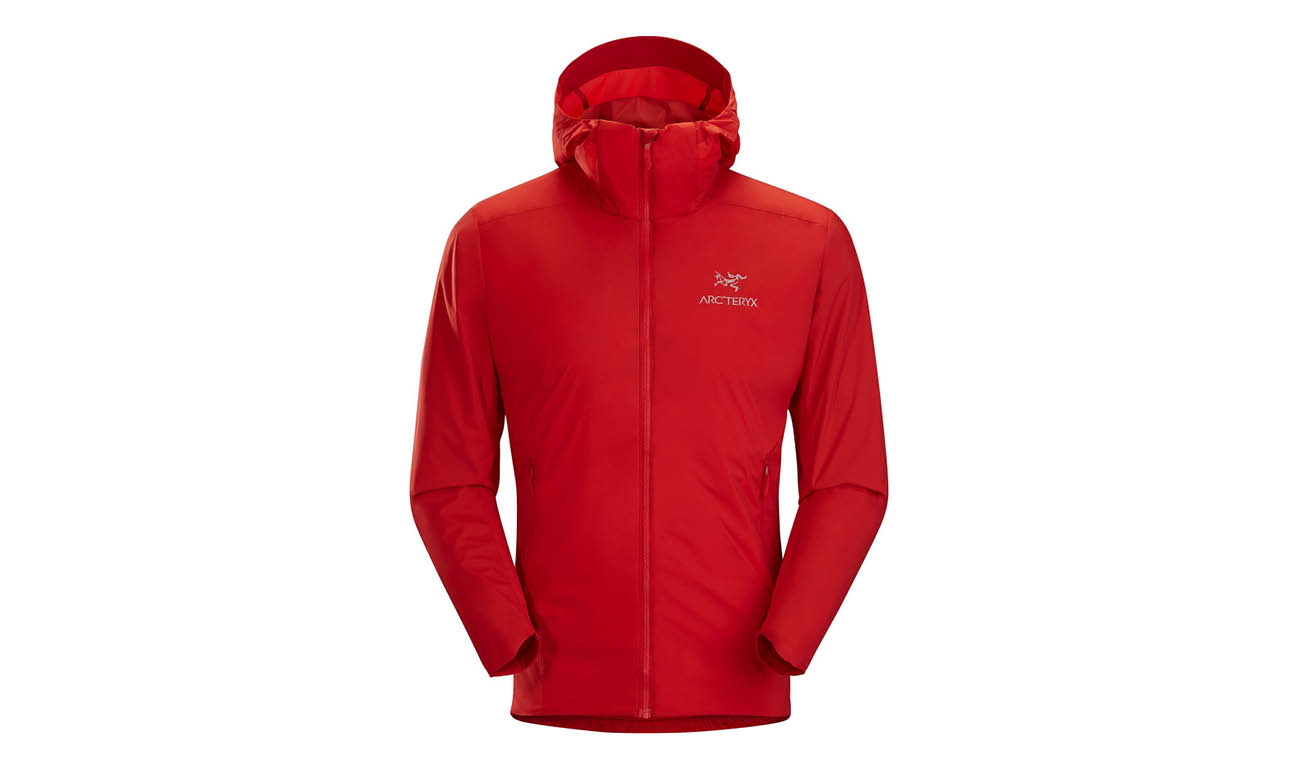 Best for: Fast and light hiking
+ Thin, light and ridiculously usable
- If you're expecting a full-on insulation piece you will be disappointed
A hybrid of an insulation jacket and softshell, the Atom SL is an on-the-go layer that just works. The Atom SL is a chuck in your bag, take anywhere type layering piece, it weighs just under 270g and packs down super small but punches way above its weight. A smidge of synthetic insulation on the chest and back takes the edge of cold weather but the rest of the material is 20 deniers sans insulation and balances wind resistance with breathability perfectly.
Buy Arc'teryx Atom SL Hoody (womens): £179.99 at Ellis Brigham
Montane Fireball Mid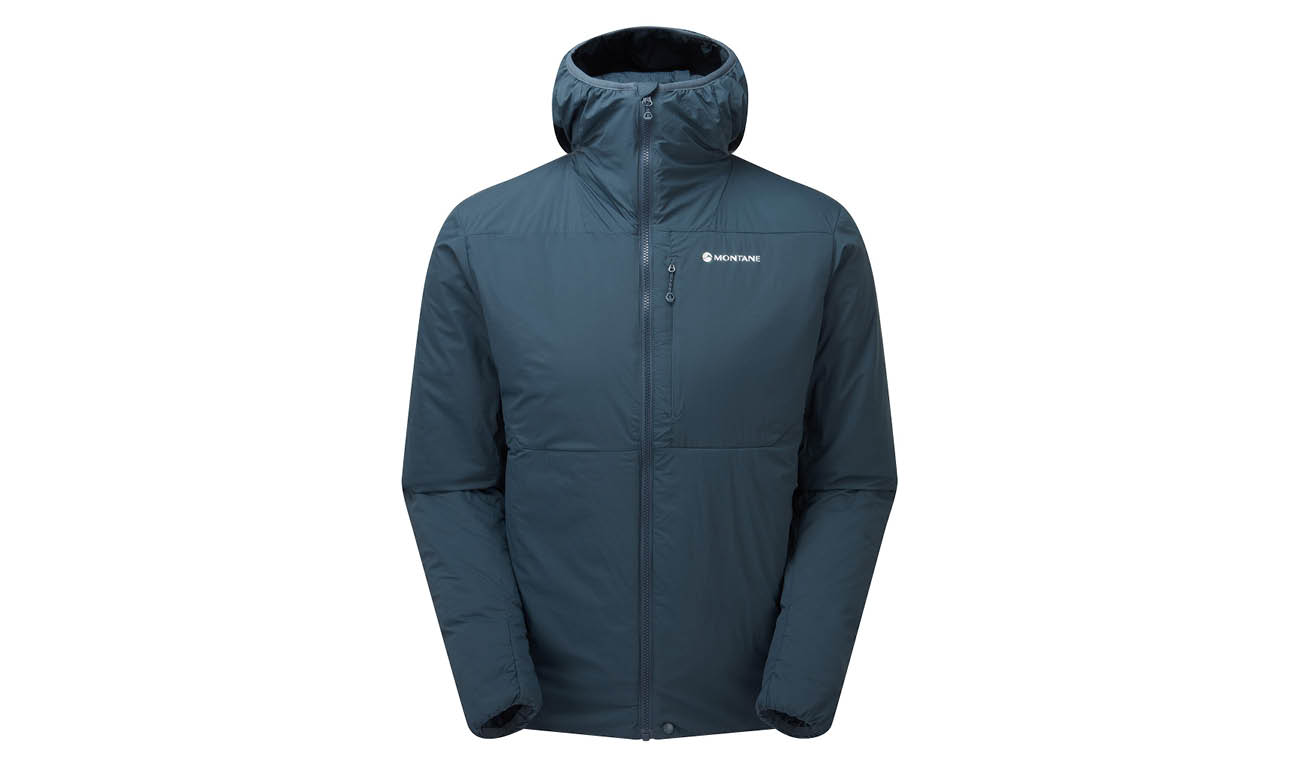 Best for: Genuine versatility across multiple outdoor activities
+ Multi-sport versatility
- No stretch panels
A go-to insulation layer for cold conditions, the Fireball ticks all the boxes of a great mid layer. It features Clo synthetic insulation, which has excellent breathability so is great for skiing and snowboarding and is also 55% recycled. The Featherlite outer material makes for a decent wind breaker but still lets excess moisture escape from the inside. It's semi stretchy for freedom of movement when skiing, and the fit is athletic but not too tight. This also makes it perfect for throwing over a t-shirt in any situation.
Buy Montane Fireball Mid Jacket: From £131 at Amazon.co.uk
Rab Cirrus Flex 2.0 Jacket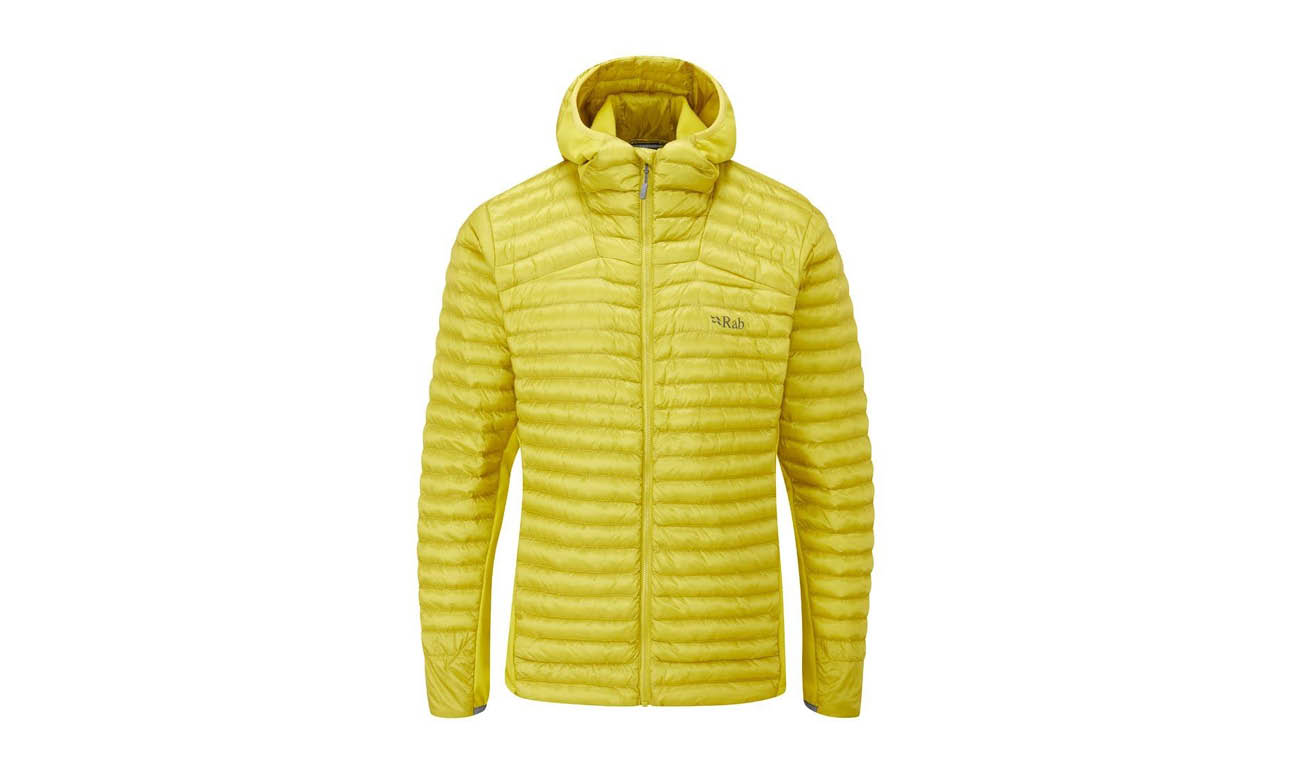 Best for: Technical performance at a great price
+ Excellent cut
-  Heavy for the warmth on offer
Rab's Cirrus Flex 2.0 is a proper active insulation layer, meaning that it keeps you warm when static but can also be used on the go.
Featuring Primaloft Silver insulation the Cirrus Flex gently warms you when you put it on, easily taking the chill off a morning hike. When your body temperature rises you can feel the Cirrus Flex breathing, thanks in part to the stretch panels which run the length of the arms and torso as well as around the neck. These also help with articulation, which in this jacket is excellent.
The cut is ideal for active adventure, it's close on the arms and slightly looser on the body allowing unencumbered freedom of movement but keeping cold spots to a minimum. You get great coverage over the wrists and the hem is just long enough without getting silly, long enough in fact to be useful when cycling winter mountain bike routes.
The hood fits perfectly over the head and the soft touch panels at the chin and into the hood make it extremely cosy to wear. This is helped by the lining fabric which, unlike some feels great next to the skin. We have worn the Cirrus Flex with just a t-shirt underneath and been perfectly comfortable.
Two zipped hand pockets and internal stash pockets take care of storage needs and the whole jacket can be compressed into one of the hand pockets. The result isn't ultra-packable and the in fact the jacket isn't ultralight at 422g but unless you're bikepacking or backpacking this shouldn't be a major issue.
Buy Rab Cirrus Flex 2.0 Jacket: £115 at Cotswold Outdoor
The North Face Thermoball Eco Jacket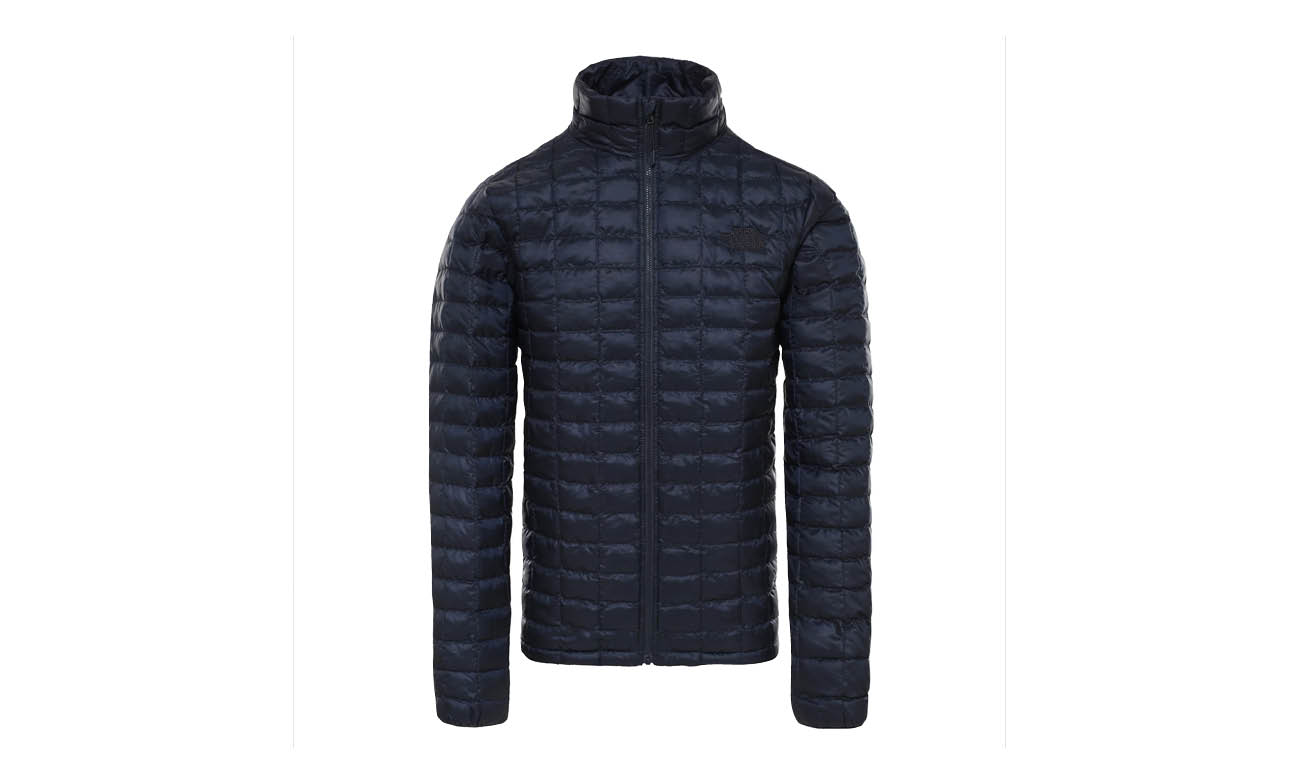 Best for: Everyday wear
+ Looks fantastic
- Plasticky feeling material inside
Sometimes you get a jacket that feels right and the Thermoball Eco is just that. The styling is super nice, with a classic quilted look that works well on the street. Warmth from the Thermoball Eco is bang on for chilly autumn mornings and feels pretty breathable on the move too. I often wear this with just a tee underneath and have to say the inside isn't as nice for next to skin comfort as some. It feels plasticky and you can really feel some of the seams, having said that it isn't something that has put me off throwing it on literally every day.
Putting Eco in the name, the Thermoball should have eco credibility and it does, both the shell and insulation are from 100% recycled materials which makes this jacket a good buy if you're conscious of your environmental impact.
On the outside of the jacket, you get two zipped hand pockets, one of which the jacket packs into for travel and impromptu pillow use and there's a further zipped pocket inside.
A hooded version is available but for daily use the hoodless version looks much more sophisticated. If you're buying the Thermoball Eco purely for active outdoor use like hiking, then the hooded version would be the better choice.
Buy The North Face Thermoball Eco Jacket: £115 at Cotswold Outdoor
Craghoppers Expolite Jacket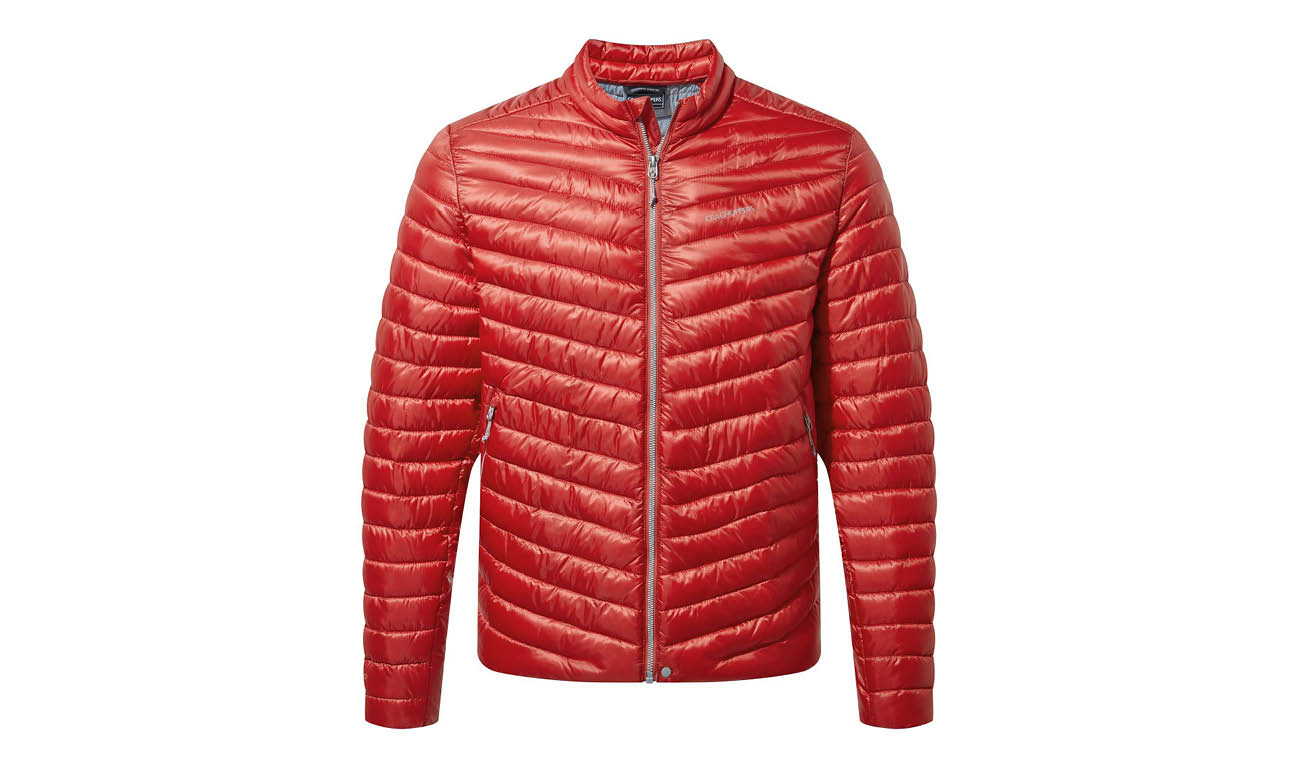 Best for: Warmth without weight
+ Lightweight for the warmth on offer
- Arm length comes up a little short
Beneath the Expolite's handsome exterior lie several technical touches that make it warm, breathable and comfortable all day long.
High loft synthetic ThermoPro insulation mimic down, but at a much lower price. Weight is kept to a very reasonable 395g considering the warmth the Expolite offers. Although this isn't a jacket to keep you toasty in a Siberian winter it will comfortably take the chill off most chilly British days, assuming a decent base layer underneath.
A hidden security pocket with RFID blocker is a nod to Craghoppers' travel heritage and the two external hand pockets are both usefully big and zipped so you don't lose your stuff.
Like many insulated jackets the Expolite can be stuffed into one of its hand pockets, compressing into a handy travel pillow size.
Buy Craghoppers Expolite Jacket: £59.95 at Amazon.co.uk

Berghaus Tephra Stretch Jacket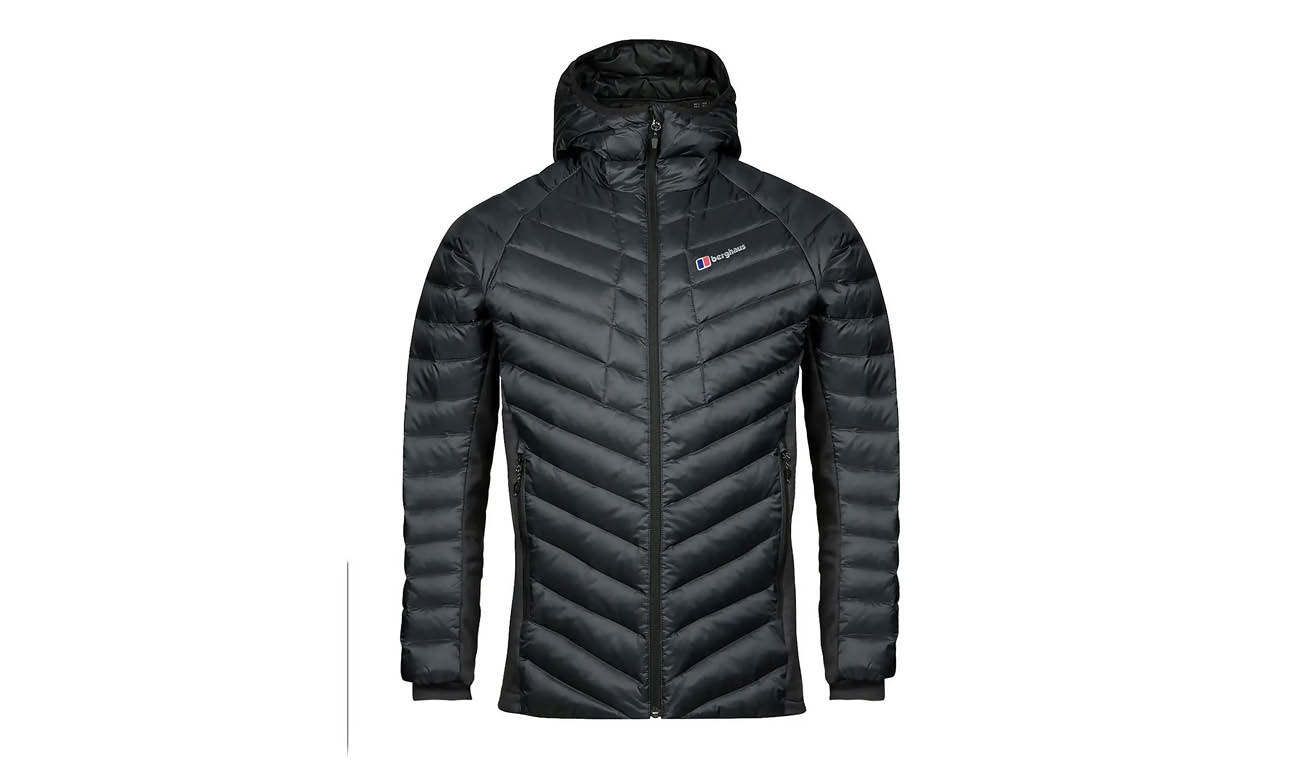 Best for: Ski touring and winter hiking
+ Performance cut and materials
- You would never wear it to the pub
If you genuinely want an insulated jacket for active use like hiking or ski touring rather than to wear to the pub then you need to be looking for something with stretch panels. Body mapped insulation works well but stretch panels give you the best mix of breathability and serious freedom of movement. The Tephra Stretch has a body hugging cut for the best heat retention and combines this with large stretch panels running the length of the torso and along the arms. This is clearly going to be a slightly cooler option than a full coverage of insulation, but Berghaus use reflective technology to keep you warm as well as premium RDS certified Hydrodown in the core, shoulders, arms and hood for excellent overall warmth to weight.
Overall, a stonking performance insulated jacket, we just wish it was a little lighter for fast paced ultralight adventures.
Buy Berghaus Tephra Stretch Jacket: From £107 at Amazon.co.uk
Rab Microlight Alpine Jacket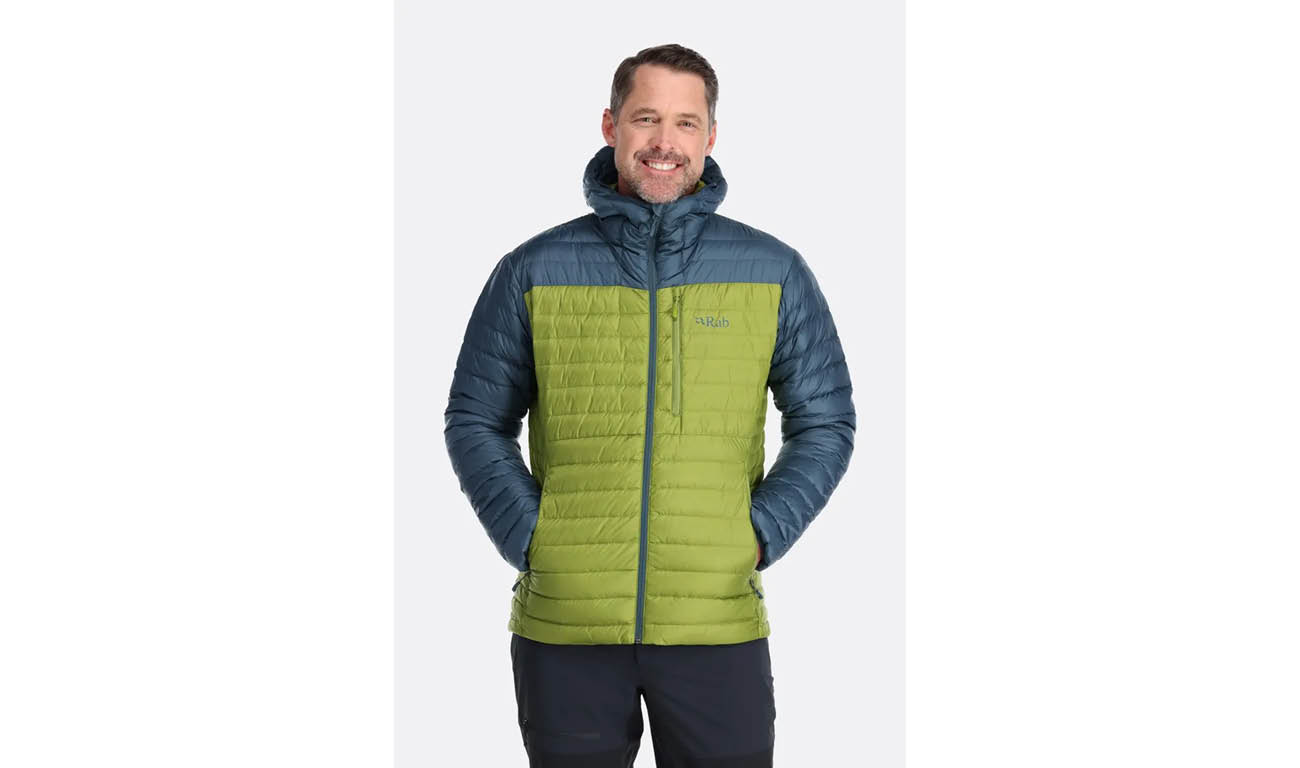 Best for: A seriously versatile down jacket that can be used in the mountains and on the streets.
+ Fantastically comfortable to wear
- A smidge heavier than we would like
Possibly Rab's most recognisable down jacket, the Microlight Alpine is the benchmark by which other down jackets are measured. Although the fill power isn't the highest, at 700FP, this jacket offers plenty of warmth for brisk winter's days. The wind is stopped in its tracks by the 100% recycled Pertex Quantum outer material, which is also highly breathable. The thin layer of down and Pertex Quantum turns out to be a great mix as they work in combination to make the Microlight Alpine a jacket that's comfortable to wear when you're on the go. The two zipped hand pockets are a practical size and there's an additional chest pocket to stash more stuff in. Your head is fully protected by the excellent hood, which is filled with down and has a wired peak and adjusters. There are further adjusters at the hem to seal out draughts and the wrists are elasticated. Of course, down compresses well, and the Microlight Alpine packs down into a small stuff sack.
A fantastic down jacket, providing a great balance between warmth, weight, and cost.
Buy Rab Microlight Alpine Jacket: £180 at Go Outdoors