Osprey makes some of the best backpacks in the world, period. They have been around long enough to develop and refine their backpacks to feature all of the practicality, comfort, and durability you need for your travel and adventures. Whether you're looking for a backpack for serious multi-day hikes, gym visits, travel, or simply for everyday use, Osprey has an option. Here we round up the best Osprey backpacks within each category.
Best carry-on travel backpack
Osprey Farpoint and Fairview 40, £140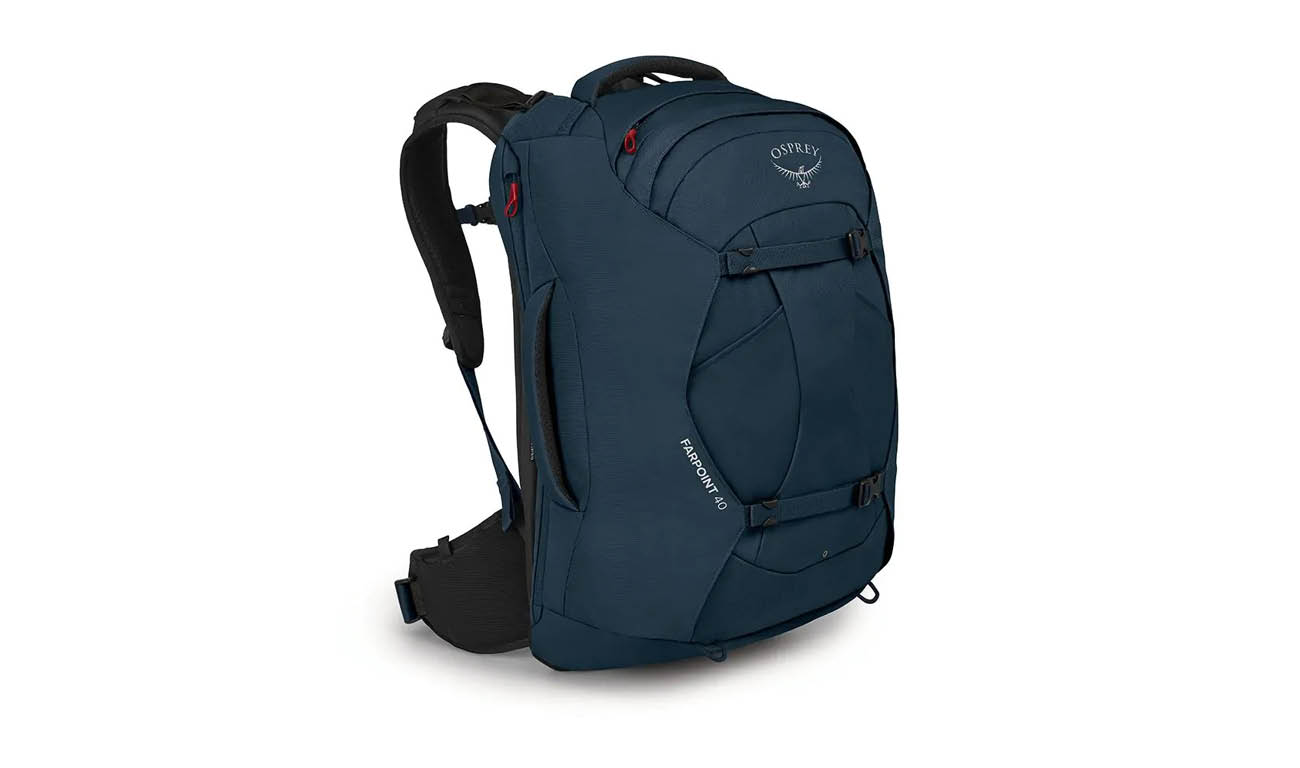 The Farpoint and Women's Fairview 40 are carry-on sized travel backpacks from Osprey that are built to be durable and optimised for practicality. With a comfortable back system, wide hip belt, and cushioned shoulder straps, these backpacks are designed to provide comfortable carrying and excellent load transfer down to the hips. The Farpoint and Fairview are stylish looking packs, with black, grey, green, and muted blue colourways available. The shoulder straps and hipbelt can be packed away into a zipped compartment at the back of the bag for a sleeker look and to protect the bag when in the hold. With a two-way zip for easy access, a padded laptop sleeve for a large 16-inch laptop, and internal compression straps, these backpacks are perfect for weekend trips or longer journeys. The backpack features a front kangaroo pocket and a zipped top pocket for smaller items. The Airscape back panel has torso adjustment and a mesh hip belt pocket. The bag is made of bluesign-approved recycled polyester with a PFC-free DWR treatment, making it durable and water-resistant. This versatile backpack can be used for both business and adventure travel, transitioning easily from airport to the hiking trails.
Buy Osprey Farpoint and Fairview 40 Backpack: £140 at Amazon
Buy Osprey Farpoint and Fairview 40 Backpack: £140 at Blacks
Best hiking backpack
Osprey Talon 22, £130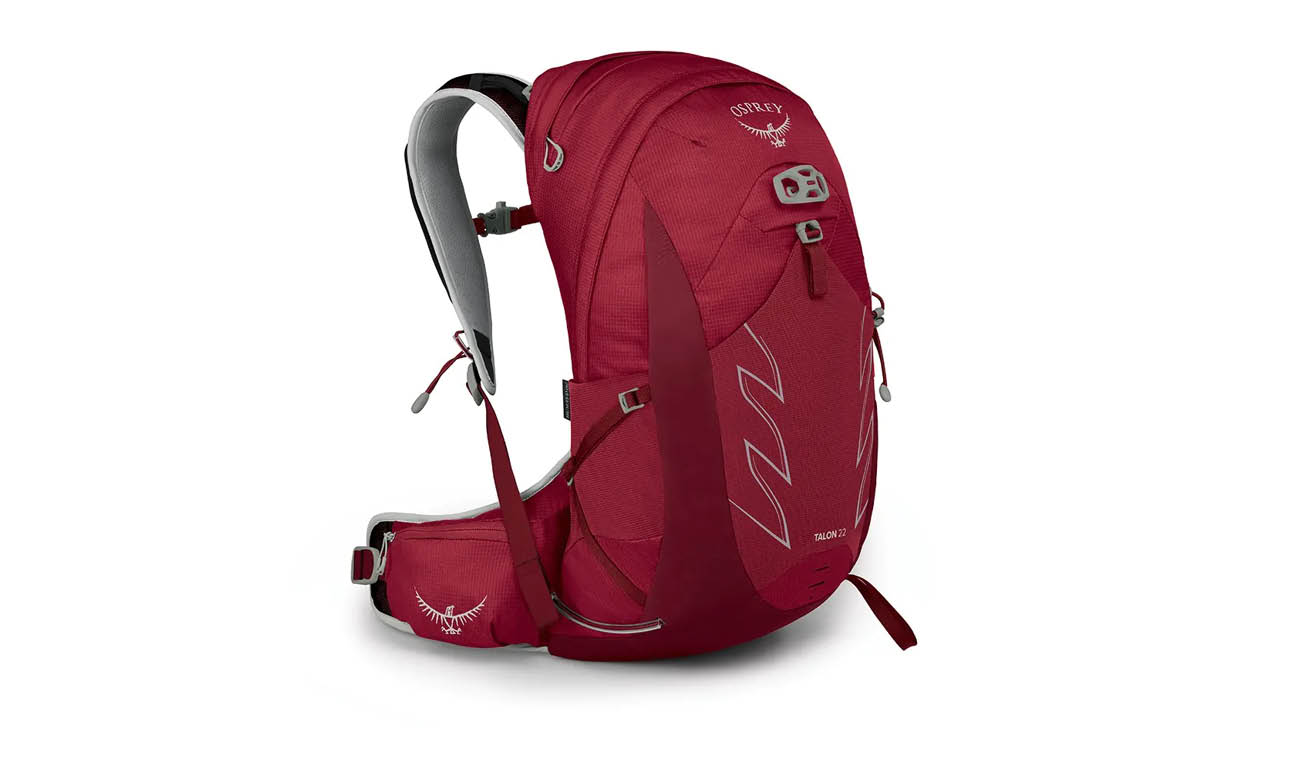 The Osprey Talon 22 is a top-notch daypack with a capacity of 22 liters. It features a comfortable and breathable Airscape back system with adjustable support, cushioned shoulder straps with load lifters, and a wide hip belt with pockets for essentials. The backpack is designed for ease of use with its spacious and zippered top pocket, stretch mesh pocket for gels, Stow on the Go trekking pole attachment, and Lid Lock system for a helmet. The side pockets are big enough to hold 1-liter water bottles, while the front kangaroo pocket has drainage cut-outs for wet gear. The Talon 22 opens wide for easy access and has a mesh pocket with a carabiner clip for your keys. Ideal for day hikes and outdoor adventures, the backpack is built to last with high-quality materials and impressive attention to detail.
Buy Osprey Talon 22 Backpack: From £84.49 at Amazon <<Best Deal>>
Buy Osprey Talon 22 Backpack: £130 at Blacks
Best everyday/commuting backpack
Osprey Daylite, £60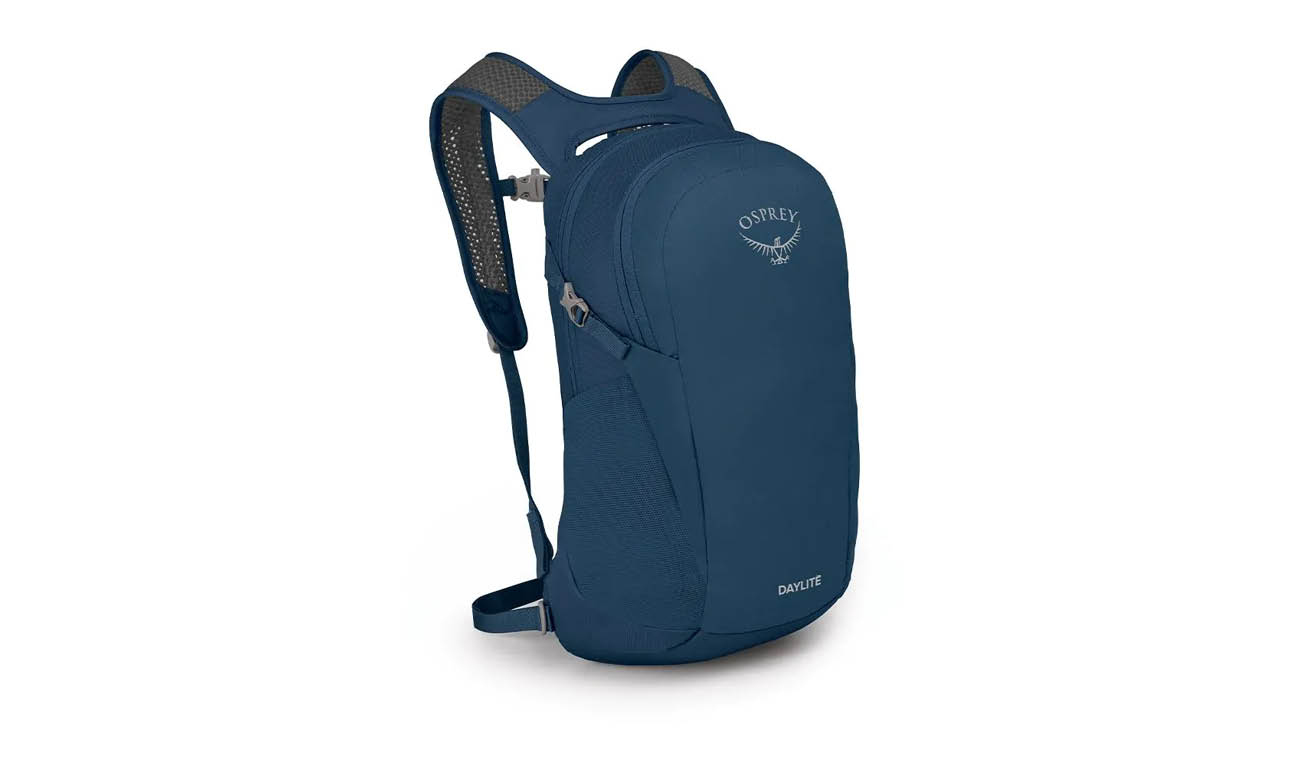 The Daylite is optimised for everyday travel. it bears the same heritage as Osprey's hiking backpacks but loses some of the complexities and dangly straps to make it light and simple to use. There is absolutely nothing to stop you from using the Daylite for hiking, and at only 500g it's just over half the weight of the excellent Talon 22 above. The Daylite is an excellent pack to take with you you on a trip abroad where you pack this within another bag for the travel element of the trip. It's also incredibly useful as an everyday backpack for commuting, gym visits, picnics with the kids, or festivals. Its simplicity is the key to its success but it still has the practical features you might have come to expect from Osprey backpacks. It has the same Airscape back panel as many of Osprey's backpacks but the shoulder straps are only very lightly cushioned and the hip belt is a simple webbing strap. You do however still get decent gear organisation, with stretch mesh side pockets, an external hydration sleeve, and an internal mesh document sleeve. If you're looking for a very lightweight and simple version of an Osprey backpack to use day in and day out then the Daylite is a fantastic option at an excellent price.
Buy Osprey Daylite Backpack: £55 at Amazon <<Best Deal>>
Buy Osprey Daylite Backpack: £60 at Blacks
Best fast and light overnight backpack
Osprey Talon 33, £150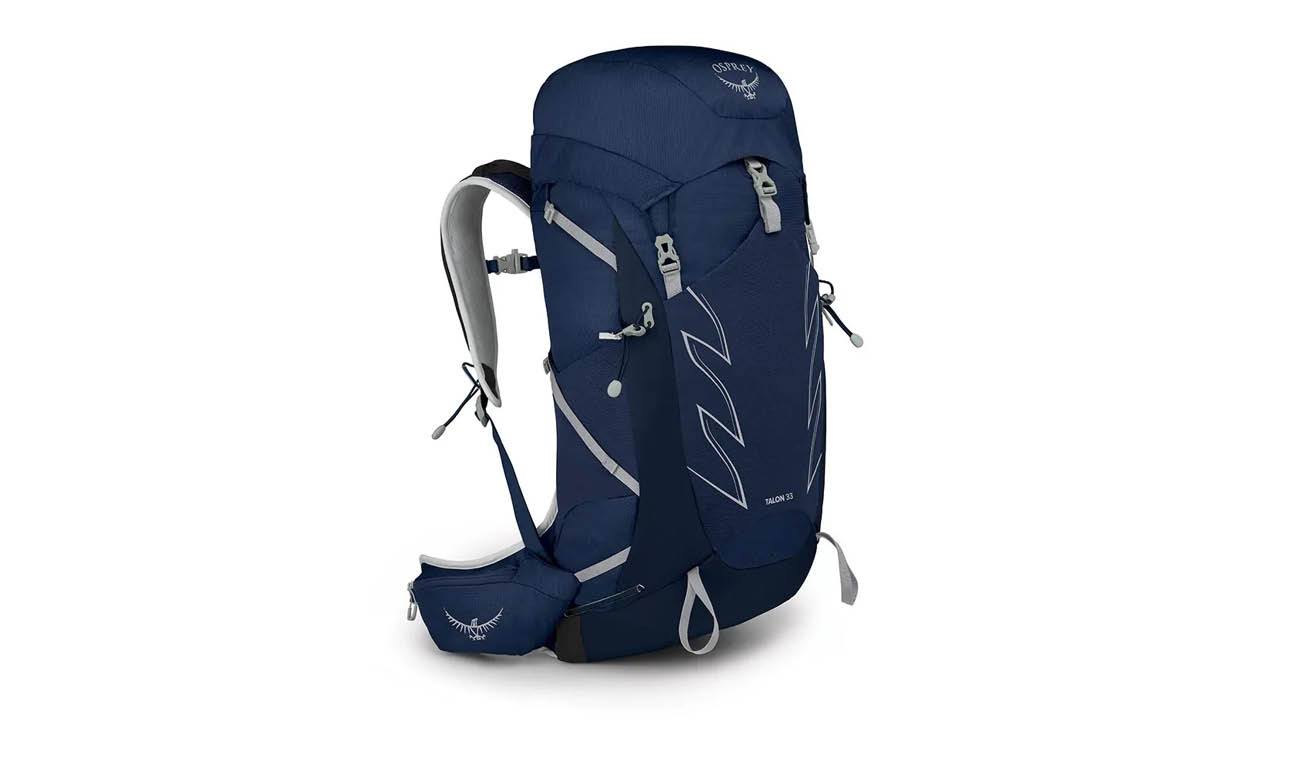 The Talon 33 builds on the success of the Talon 22 daypack but brings the capacity into overnight territory. It is still optimised for hiking, but is the perfect size for fast and light adventures. Coming in at just over a kilo the Tallon 33 is lightweight enough for charging over the hills. Unlike the Talon 22, the 33 features top lid access common to larger packs. Under the lid, you will find a mesh pocket for storage of small items.
The Airscape back panel is comfortable, breathable, and fully adjustable to find a perfect fit. Twin ice axe loops point towards suitability for winter adventures and the long and thin silhouette of the Talon 33 makes it useful for climbing.
The continuous wrap harness and hip belt allow the pack to move with you and provides ultimate comfort levels through long hikes.
The Talon 33 features broadly the same storage configuration as the 22 albeit with a larger main compartment. This means you get large stretched side pockets for water bottles, an external hydration sleeve, a stretch front pocket, twin zippered hip belt pockets, a stretch pocket on the shoulder strap, and a mesh pocket inside. Altogether plenty of options for gear storage and organisation.
Buy Osprey Talon 33 Backpack: From £85.40 at Amazon
Buy Osprey Talon 33 Backpack: £60 at Blacks <<Best Deal>>
Best ultralight multi-day pack
Osprey Exos 48, £190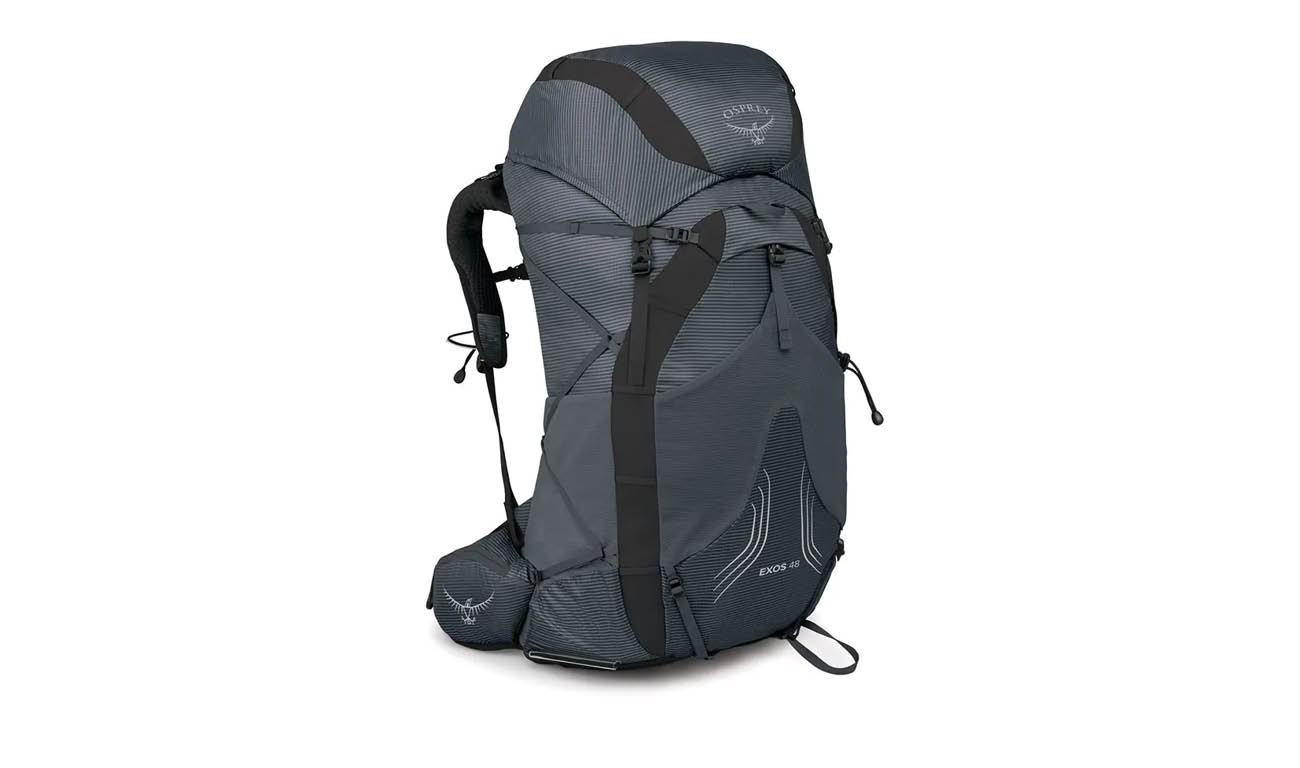 The granddaddy of ultralight backpacking packs, the Exos 48 has been a regular companion on our multi-day hikes. It pares the backpack down to its essential features without losing comfort and practicality. Take a look at the competition and you'll realise that this is quite an achievement, Osprey have done well to find that fine balance.
The trampoline style mesh back panel is fantastically comfortable when you're hiking for hours over really rough terrain. It's amazingly breathable due to the fact that the back panel sits away from the pack itself. Being an ultralight pack, the shoulder straps and hip belt are trimmed down but nevertheless, they are still cushioned enough to be comfortable. The last iteration of the Exos 48 lost one of its hip belt pockets which was the main complaint from users of the bag, and we're glad to see that it has been reinstated.
The floating lid is extendable if you happen to be overpacking, or removable if you want to trim down your gear. In this configuration, a piece of material sits over the opening protecting the contents inside.
Storage has been kept to a sensible minimum, with a pocket in the lid, an internal hydration sleeve, a front stretch mesh pocket, stretch mesh side pockets, removable sleeping pad straps, ice axe loops, and dual hip belt pockets. Anyone that embarks on lightweight overnight adventures knows how important gear organisation is to the success of your trip, and we find the Exos 48 to be absolutely fitting to this application.
At an all-up weight of 1.3 kg the Exos 48 isn't the lightest of ultralight backpacks of this size, but we think it offers the best balance of comfort, practicality, and overall weight.
Buy Osprey Exos 48 Backpack: £171 at Amazon <<Best Deal>>
Buy Osprey Exos 48 Backpack: £189.99 at Ellis Brigham
Best child carrier backpack
Osprey Poco Child Carrier, £350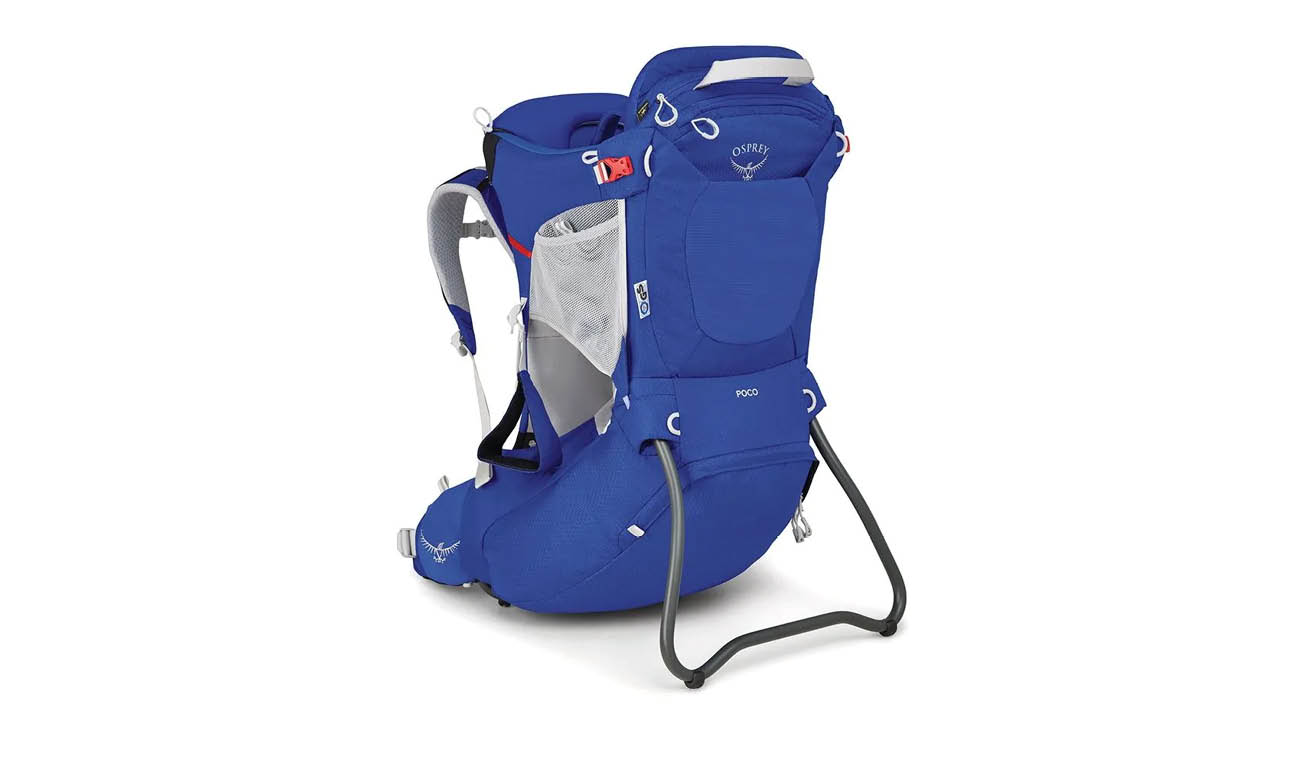 Once again Osprey holds the accolade for the best backpack within its category. Sure, this is expensive and you can certainly find cheaper child carriers online, but this thing is absolutely bombproof and is TUV GS certified as a child carrier. it's astonishing how comfortable the Poco is when carrying a child around and how happy a child is to be carried around in it.
The integrated sunshade is a super neat touch for balmy summer days and the rain cover helps to keep the contents of the pack, as well as your child dry. The child sits in a highly padded comfortable seat with a safety harness and foot stirrups and all of this is adjustable for growing children. The carrying system is one of Osprey's most sumptuous in terms of the heavy padding on the shoulder straps and hip belt, the fantastic anatomical shaping of the back system, and the trampoline mesh providing excellent ventilation.
This pack weighs 3.5 kg and you have to factor in the weight of your child, but the Poco does an amazing job of putting all that weight into the strongest part of your body, the core, and the hips.
The main feature of this pack is of course to carry your child in safety but there are also some clever storage options for small items including a stretch pocket and zipped pocket for the main compartment as well as two hip belt pockets. Although the main compartment isn't massive it fits the child's essentials.
Buy Osprey Poco Child Carrier: £252.74 at Amazon <<Best Deal>>
Buy Osprey Poco Child Carrier: £350 at Blacks
Best travel duffel
Osprey Transporter WP Duffel 70, £250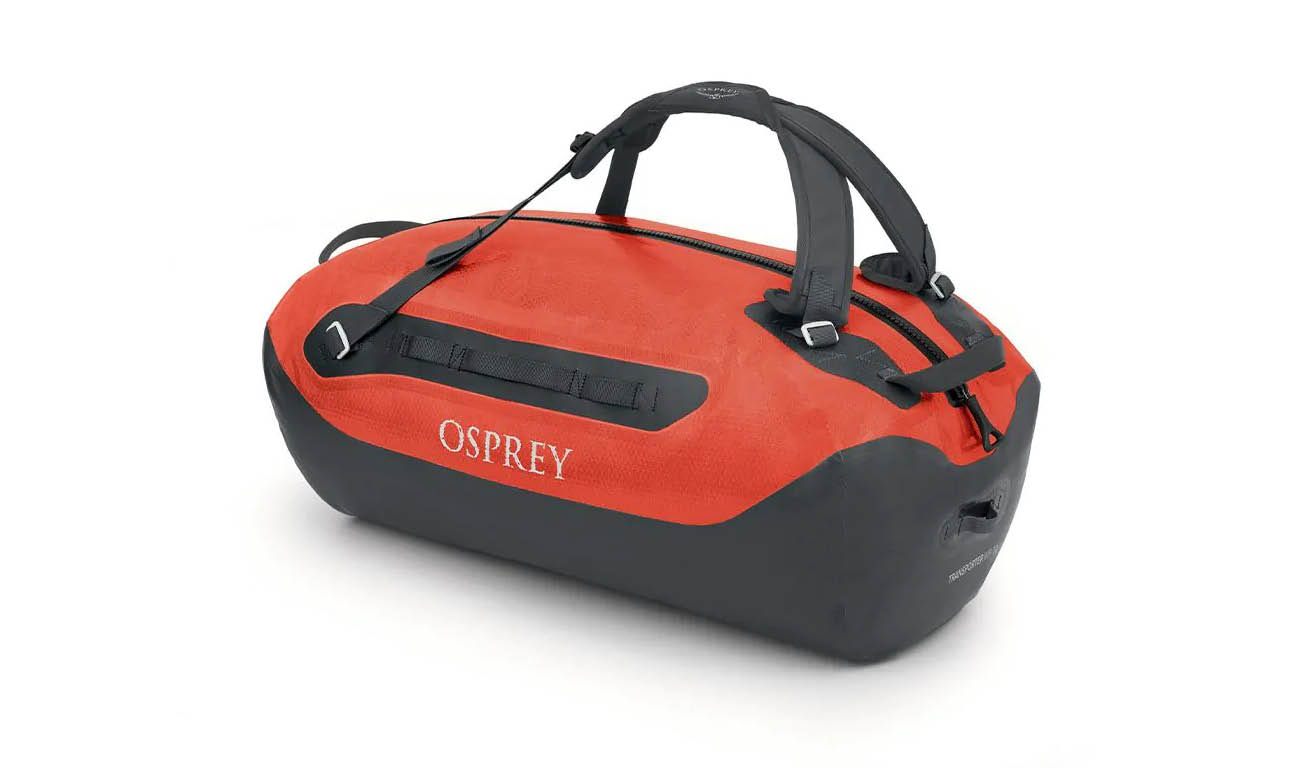 Osprey's Transporter Duffel comes in a few different sizes but here we're focussing on the 70-litre version, which sits in the middle of the range of capacities.
A duffel should be a utilitarian item that's built to haul kit and can stand the test of time. The most impressive thing about this particular duffel bag is its IPX7 waterproof rating, which makes it submersible. The cushioned shoulder straps enable you to carry the Transporter on your back and these are fully removable for a more streamlined look. Multiple lash points allow you to secure the duffel to a car, boat, or mule and the TPU double coated Bluesign approved recycled nylon is tough enough to take a knock or two. Internal compression straps keep your gear in place and a removable mesh pocket gives you easy access to small items.
Buy Osprey Transporter WP Duffel 70: £209.49 at Amazon <<Best Deal>>
Buy Osprey Transporter WP Duffel 70: £249.95 at Alpinetrek